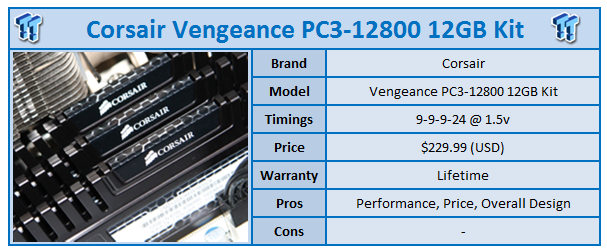 While we see a fair bit of memory from Corsair, something we haven't seen in a while is a new series from the company with most kits being part of the high end Dominator line-up. Recently we checked out
a new addition to the XMS line
, but today we're checking out a kit from the newly launched Vengeance series.
While the Vengeance series is designed with overclockers in mind, they say the added bonus of a lower price tag leaves room in your system build budget for other items. In the technical department, though, the key point to the series is the lower voltage requirement. While most kits carry a need for 1.65v, the Vengeance line up which currently consists of seven kits requires only 1.5v.
While a nice feature for everyone, the clear optimization is intended for the compatibility of the upcoming P67 Sandy Bridge chipset which will take advantage of dual channel memory in January.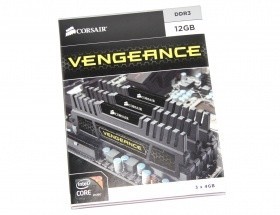 The package as you would expect doesn't hold any surprises; there's no active cooling and we figure that's not present for two reasons. One, it would just add to the price, and Two, it's not needed for these kits which require such low voltage as it is.
Part of the main specification is that voltage requirement of only 1.5v; as for the timings, though, we've got a 9-9-9-24-1T setup at 1600MHz DDR, which as you can see
here
, we had no problems getting by simply using XMP Profile 1.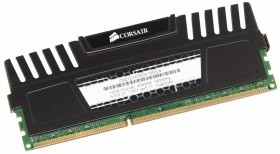 Firing up Everest Ultimate Edition and testing the memory, we ended up with a Read / Write number of
15,890MB/s / 15,009MB/s
. Sandra offered us Integer / Float of
21,850MB/s / 25,850MB/s
.
With some good performance coming out of the kit at stock, it was time to go back to the BIOS and see if we could get some more MHz without changing the voltage or the 9-9-9-24-1T setup. With very little effort we ended up with 1773MHz DDR, which is a nice overclock and can be seen
here
.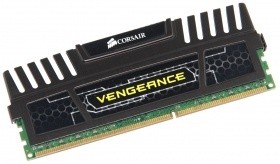 Firing up for the second time Everest Ultimate Edition and testing the memory at its overclocked speed, we ended up with a Read / Write number of
17,111MB/s / 16,503MB/s
. Sandra offered us Integer / Float of
24,110MB/s / 24,000MB/s
.
Like the XM3 kit we looked at recently along with others, the appeal behind the kit is not just its performance and low voltage requirement, but the massive 12GB of system memory it offers.
Priced at $229.99 over at Newegg right now
, the PC3-12800 12GB Vengeance kit is a great buy for people who want more memory. The added bonus of dealing with a new series is nice and it feels fresh. Considering we're going to have Sandy Bridge in the coming weeks it's nice to have a new series of memory from one of the most respected companies to play with.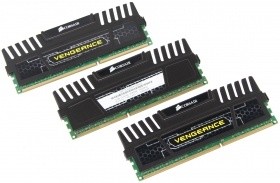 If you're after some new RAM and wanting 12GB, this is a great kit from Corsair that carries with it a lower price tag than others, a good quality heatsink and really low voltage which is all brought together with some good performance. Sure, the Vengeance lacks some of the high speed kits that we see in the Dominator series, but it's clear that Corsair has a different point of focus with this line up.