Usually when a Gran Turismo hits the market, there is a number of controller companies clinging onto the game and releasing a number of new peripherals for gamers to choose from. The release of Gran Turismo 5 has been no different with a number of new wheels in development and releasing soon. However, perhaps the biggest surprise with the GT5 release is the introduction of a new PS3 controller which is licensed by HKS. The fact it's licensed by HKS isn't what makes it unique, though; instead it's the actual control scheme which makes it a lot more suitable for racing games.
I don't know about you, but over the past few weeks my Dual Shocks have been getting quite a beating from me on Gran Turismo 5. I have tried it with a wheel and the game is of course better with one, but nothing beats really the pick up and play nature of the Dual Shock system. So when I saw something which tries to meld the two together, I had to check it out.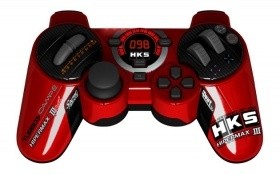 The HKS system replaces two of the buttons on the face pad with two resistive trigger style controls. Going along with the racing theme, these triggers resemble the brake and accelerator in a car. However, that is not what makes the controller interesting. What makes it interesting is that you can control the speed of the car a lot more precisely and this is something that until now has been exclusive to video game wheel peripherals.
Where you see the advantage generally is in higher powered cars. In Gran Turismo, if you hit the accelerator too hard coming out of a corner, generally you will spin. With a wheel and pedal set you can control the rate of acceleration, thus removing this issue and the same can be said of the HKS system. Due to the fact that you can control how much you press the resistive trigger in, you can control your rate of acceleration. However, on a normal dual shock controller it is hold X and hope for the best with little to no control as to how much you are putting the foot down in the virtual car.
Along with this the controller also includes an electronic meter which displays a number out of 100. As you press the trigger down, the number rises with one hundred representing that you have the pedal to the floor. This is great for learning tracks as you will start to learn that this corner is an 80 while the next one is a twenty. We can honestly say this is the best dual shock system for racing games we have played.
As well as the two 'pedals', the game also replaces the analogue stick with a left to right controller. This represents a steering wheel and while it can take time to get used to, generally can give more accuracy when going around a corner.
Initially I found myself going back to the analogue stick, but as I gave the new control more chance, I started to learn to like it. It's no where near as intuitive as the two pedals, but still a very interesting addition.
With two sets of game styles present in racing; arcade and simulation, it was important for the hardware manufacturers to take this into account and they have. On the back of the control there is a switch to change between 'GT' and 'NFS'. I'll let you work out the acronyms. Taking out the game names, it really boils down to arcade versus simulation, where one situation is more twitchy than the other. This makes the controller a lot easier to justify the cost of entry as you can use it with other racing games.
[img]2[/img]
Where the controller falls over, as you would expect, is with other titles. At the time of print, the controller was only marginally cheaper than a regular Sony PS3 dual shock controller, and due to the fact it really is exclusive to racing games, it is hard to compete. While the two triggers do replace current controls and in other games will be picked up as those buttons, you really would only use this situation where you are desperate for a game and your normal controller is out of action. The controller is also corded which means no charging, and also a lack of portability. The cord the controller ships with, however, will easily reach most, if not all people's couches from their PS3 system.
Whether you should consider this controller depends on a few things. Are you against buying a video game wheel? If so, take a look at this. Do you love racing games? Then this might be perfect, but if you said no to either of those questions then this is not the controller for you. HKS has tried to design a casual controller to get gamers into racing games more and to experience more immersion without the high cost of a wheel, and you know what? They just might have succeeded. We think the product is great for those in the right circumstances, but is most definitely not and never will be a controller for everyone.