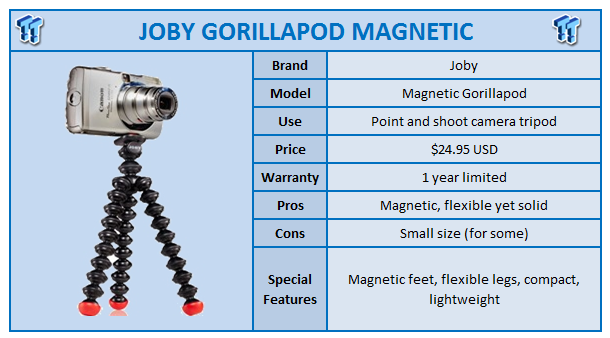 When it comes to taking pictures, most of the time it's pretty straight forward. Line up the shot, click the shutter, and you've got a picture. There are those out there that desire a little more creativity when it comes to the use of their cameras and are looking for items that can give them the funky shots that they want without a ton of hassle. Joby is catering to those with their Gorillapod line of tripods.
The Gorillapod lineup has a tripod for nearly anyone, from simple point and shoot owners to those with big fancy DSLR cameras with enormous lenses. The sample we are looking at today is the magnetic version of the Gorillapod for point and shoot size cameras. Adding Neodymium magnetic feet to the original Gorillapod gives it an extra layer of flexibility in where you can set up your camera, whether in a doorway or on a basketball pole.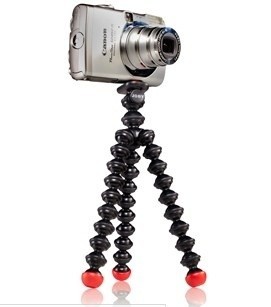 The Gorillapod Magnetic is a small tripod, only measuring about 15cm at its tallest setting. Each leg is made from nine oval shaped pieces that allow flexibility and allow you to wrap the tripod around poles or anything similar that you may want to connect your camera to. The given weight maximum on this version is 325 grams, which is about 11.5 ounces. This covers pretty much all pocket sized cameras and mini-camcorders.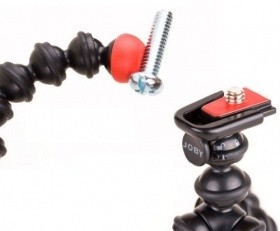 The red bottom feet of the Gorillapod hold a Neodymium magnet that allows that tripod to connect to most metal surfaces. The top of the tripod has a small screw that connects to the camera being used, and the camera clicks into place when fully screwed in. Joby also sells adapters that allow this tripod to be used with mobile phones like the iPhone as well as a mobile kit with a rubber suction cup or an adhesive clip to make the Gorillapod a more permanent fixture where you are going to use it.
As you can see, the Gorillapod can give you some funky connection choices depending on where you decide to put it. The magnets are pretty strong and do their job well; for their size it actually takes a bit of actual pulling to get it to release from a magnetic surface after it takes hold.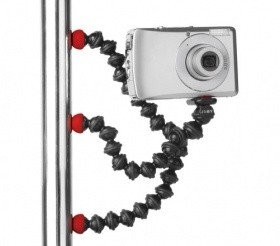 I used my Canon SD1000 camera to tinker with the Gorillapod Magnetic and once I set it into the position I wanted, there was no noticeable movement of the camera after I let go of it.
The legs of the Gorillapod are a bit of fun as well; wrapping them around the pipes in my basement or hanging it from a tree branch outside provided a pretty sturdy base. This tripod will probably provide more fun seeing where you can connect it and hang it from than actually shooting pictures with it.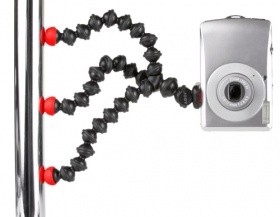 As much fun as the Gorillapod Magnetic was to play with connecting it to things and seeing what kind of funky places I could put my camera, the actual usability when it comes to taking pictures is really the only thing I question. Wherever you put your camera, you still have to get your hand up there to push the shutter and take the shot. Granted, I'm not one of those that takes a ton of pictures outside the reviewing world, so maybe that's just a personal thing.
The place that I can see it being useful is taking videos with your camera. If you want to take a video of a single location and want to be involved in the action, lining up the Gorillapod and letting it fly could come as a pretty useful option. Not only do you avoid the shakey video that comes from holding the camera with human hands, but you also can take it pretty much anywhere for some variety. You could even pull some covert stuff and hide away your camera in a hidden place with the Gorillapod and take videos without even being around if that's something you want to do and your memory card can handle it.
The Gorillapod Magnetic sells for $25 on their website and prices are similar in a ton of places online. The Magnetic only comes in the black color shown here, but their other non-magnetic tripods come in a host of different colors. If you or someone you know is looking for a small tripod that can take pictures or video from any angle you can imagine, this is a product that is worth taking a look at.