ioSafe SoloPRO 1TB Water & Fireproof HDD System
ioSafe is back with two new disaster proof models. One features USB 3.0 and the other eSATA. Today we look at the new SoloPRO eSATA and see exactly what disaster proof really is.
Published Mon, Nov 22 2010 8:48 PM CST
|
Updated Tue, Nov 3 2020 7:02 PM CST
Rating:

92%
Manufacturer: ioSafe
Introduction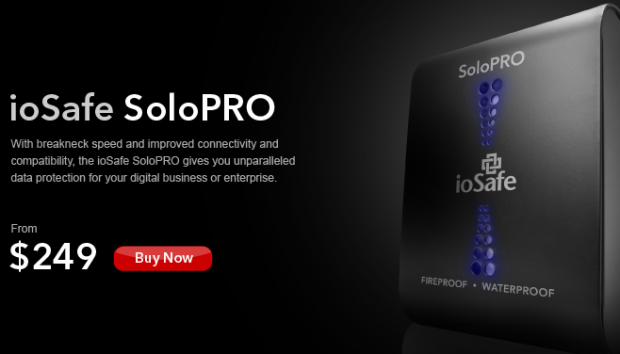 Two years ago at CES we told you about ioSafe and their then new disaster proof external USB 2.0 hard drive that would withstand temperatures up to 1550 Degrees F for up to one half hour. The original Solo was also the first hard drive enclosure that would sustain being fully submerged in water for up to 72 hours. Then,
exactly one year ago we tested the ioSafe
in our own lab too see what kind of performance we could get out of such a robust system.
ioSafe's technology and disaster proof techniques have now been on the market. Not only has the product been tested in simulated fires and pool experiments, but they have endured real world accidents as well. Earlier today I spoke with Brett Callow, Public Relations Director at ioSafe and heard about Mike Smith's testimony. On February 19th Mike's house burnt down with his ioSafe Solo under his computer desk. When the fire department finally let Mike sift through the debris Mike found his ioSafe. The exterior was charred, but his family photos and tax records were safely tucked in and protected from harm.
Most users will never experience a house fire or flood. Let me tell you my story. In 24 hours from now the entire contents of my home will be moved to a new, much larger home. The main reason has to do with space and more specifically the amount of space in my office. The new place has a semi-finished basement which will quickly morph into 900 sq. ft. of computer room bliss. My number one concern is the basement flooding and the ioSafe will give my wife and me peace of mind knowing that her pictures will be safe. I've already gone through a family picture disaster and still hear about it several times a year. If it happens again you might as well bury me somewhere in that basement.
Let's take a look at the specifications and see what has changed since we looked at the first generation Solo.
Specifications, Pricing and Availability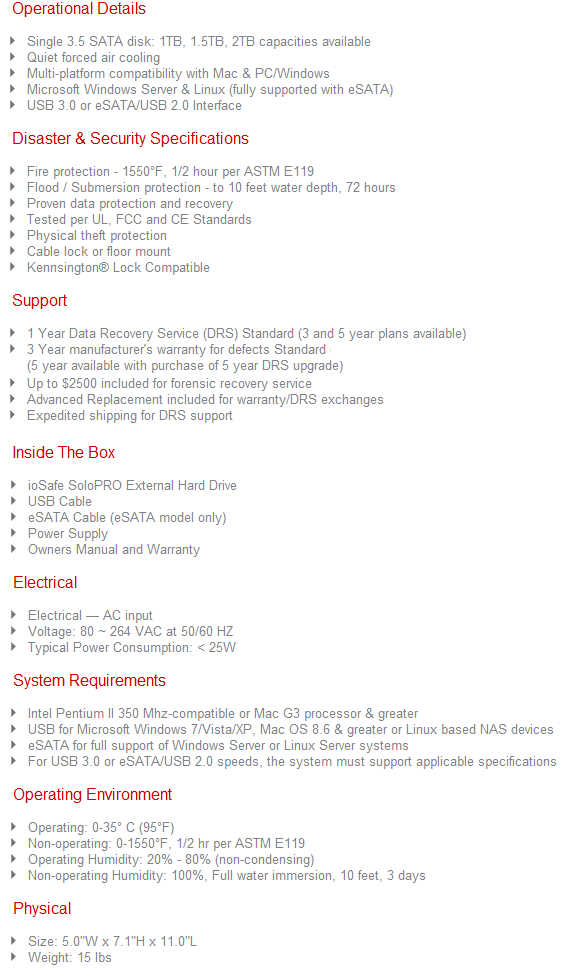 When we last looked at ioSafe, capacities were limited to 1.5TB and connectivity was limited to USB 2.0 (around 32MB/s of bandwidth). The ioSafe SoloPRO ushers in USB 3.0, the new king of the connectivity hill. Despite GIGABYTE's best efforts, not everyone has USB 3.0 in their computer just yet and for those with a PC older than six months ioSafe has an eSATA / USB 2.0 model; the one we are looking at today. To go with the connectivity upgrade ioSafe has bumped capacities up to 2TB and I would be willing to bet a 3TB model will emerge before or around January, just in time for CES.
Of course, the ioSafe isn't about connectivity or storage capacity; it is all at security and peace of mind. As we'd shown on the previous page, the ioSafe Solo and SoloPRO can withstand temperatures up to 1550 degrees F for up to one half hour. There aren't too many house fires that get up to those temperatures.
Fire is one thing, but an even more destructive force and much more occurring comes from water. H2O; it gives us life, but if you live by a river or have a raising water table it makes a mess of things just as fast as fire. The SoloPRO can stay submerged in 10 feet of water for up to 72 hours.
At this point some of you might be asking 'what if'? - Good question, and this is where ioSafe really goes above and beyond what anyone would really expect. If you have a disaster and find that your data is not as it should be, your drive is corrupt, not powering on or just all FUBAR, ioSafe will take care of it no questions asked. I'm not a lawyer and don't want to inject any words into this warranty, so here is what they say on their website.
The ioSafe Solo Data Recovery Service (DRS) provides a one-time use, no questions asked data and hardware recovery service. For any loss, no matter the reason. Whether you're a victim of a drive failure or your child throws your drive in the family swimming pool - we've got you covered.

With the ioSafe Solo DRS you get to enjoy the peace of mind that comes from knowing your data is protected by the best data recovery service in the industry.

- One time use, no questions asked, data recovery service
- Up to $1000 for forensic data recovery
- Global, mail-in repair coverage with free shipping
- Direct access to ioSafe's experts - one point of contact
- Replacement hardware pre-loaded with recovered data
You can read the
full terms and conditions at their website
.
As you can imagine, this type of service after the sale doesn't come cheap; it's also the single area that I think ioSafe can change some aspects of the agreement to enable more people to afford this level of protection. Before we get into all that, let's look at the pricing as it is now.
As you might know, we always try to use Newegg for our pricing data, but the SoloPRO is so new it hasn't hit the 'egg yet. Newegg does list the ioSafe Solo, but the prices are the same or nearly the same as those on ioSafe's website. The SoloPRO is available in USB 2.0 / eSATA or USB 3.0. There is not a cost difference between the two interfaces. As tested, our sample SoloPRO has a cost of 249.99 USD. This is either eSATA / USB 2.0 or USB 3.0 paired with a 1TB HDD. Moving up to a 1.5TB drive will cost you an additional 70 USD and a 2TB drive raises the cost 170 USD, a total of 419.99.
Now for the tricky part; the Disaster Recovery Service (DRS) AKA get your butt out of a jam service. The standard out of the box coverage is one year and it is included with the initial purchase. You can pay an additional 49.99 and move this service out to three years and for an additional 99.99 you get five years of coverage. Maxing the coverage and the capacity out gives us a total of 519.99 USD. That's a lot of money right off the bat. I would really love to see ioSafe come up with a subscription service for the additional coverage that can be paid yearly. In the long run it may even be more profitable for the company and allow those struck by these difficult times the ability to afford world class protection.
I must have rubbed up against someone with that liberal gene today or something. Let's take a look at the ioSafe SoloPRO.
The Packaging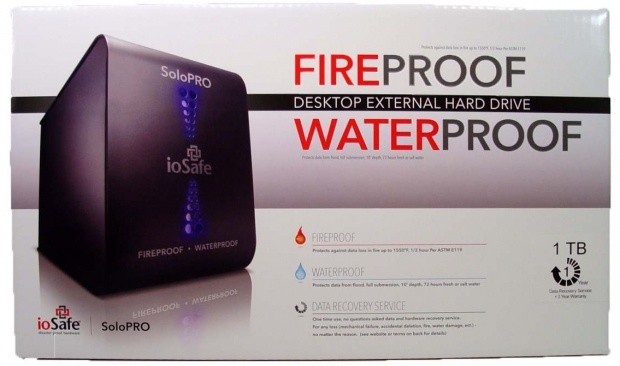 Last year the Solo arrived in a plain brown box, but it looks like ioSafe is all grown up now. The SoloPRO has full retail trim. I really like the package, it's one of the best I have seen all year; they've done a good job on it. On the front we see an image of the unit and it looks all powerful. Obviously the fire and water portion stand out, but aside from the big letters there is a short description at the bottom letting potential retail customers know the short script of what is going on. Also along the right side we see the capacity of the unit.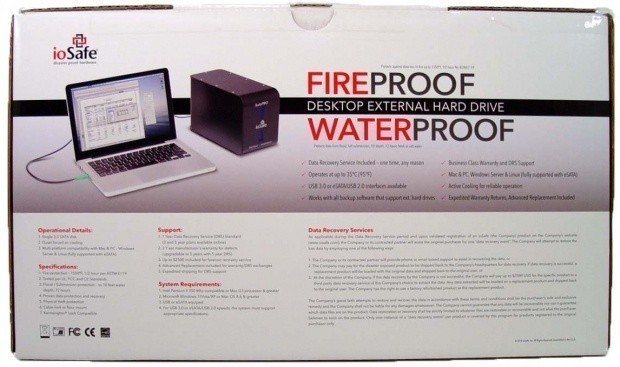 On the back we get some more details and then at the bottom a full breakdown of the DRS. What's really cool is that everything is pretty much covered on the outside of the box. You don't have to buy it and then get home to read the fine print. There really isn't any to begin with anyhow, something we really like.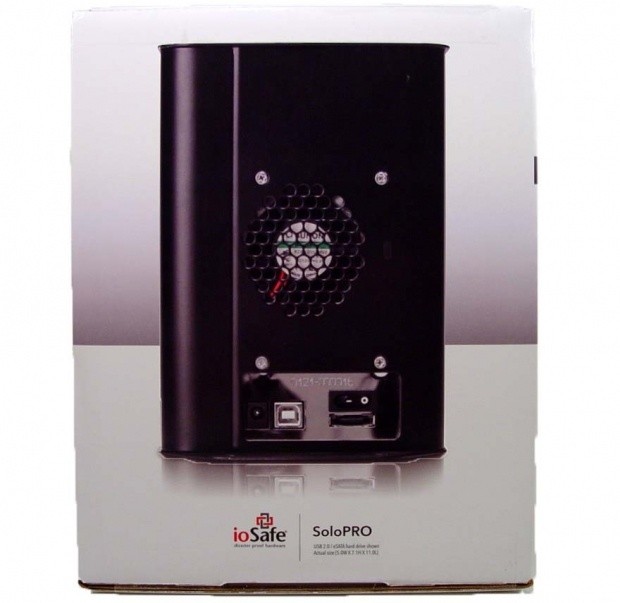 Normally I don't show side images of boxes unless it has a features list or something informative, but I wanted to show off the package work since ioSafe really knocked this one out of the park.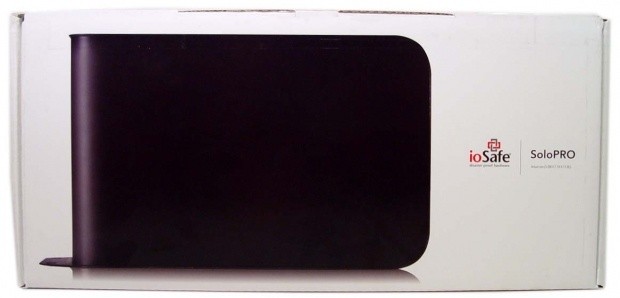 Ok, last one promise.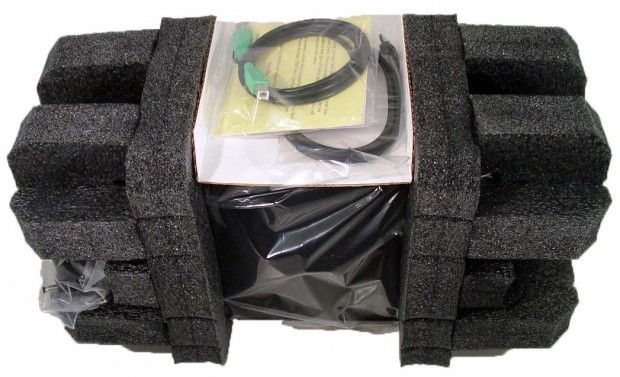 The internal packaging was done very well, too. The main unit is protected with at least one inch all the way around and by more than an inch in the places most likely to suffer an impact.
The ioSafe SoloPRO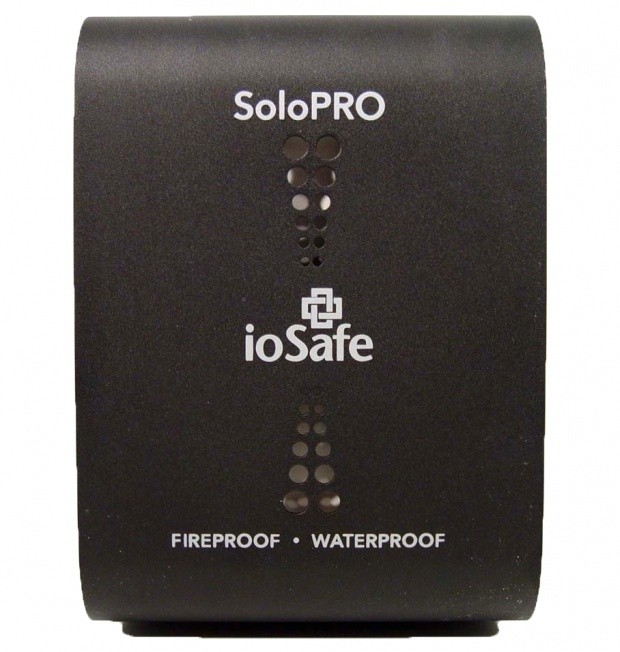 The SoloPRO uses the same external case as the Solo, but is now an attractive black paint scheme. A blue LED is tucked away behind the front panel and illuminates through the holes when the drive is active.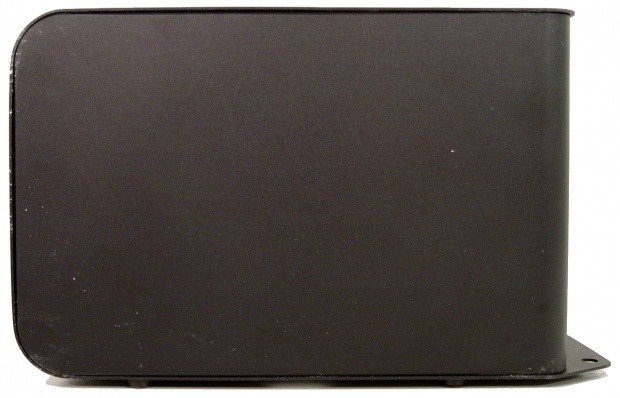 There really isn't anything to get excited over the design from the outside, as it looks like a big black piece of metal. At 15 pounds you aren't going to carry it around like a portable drive either.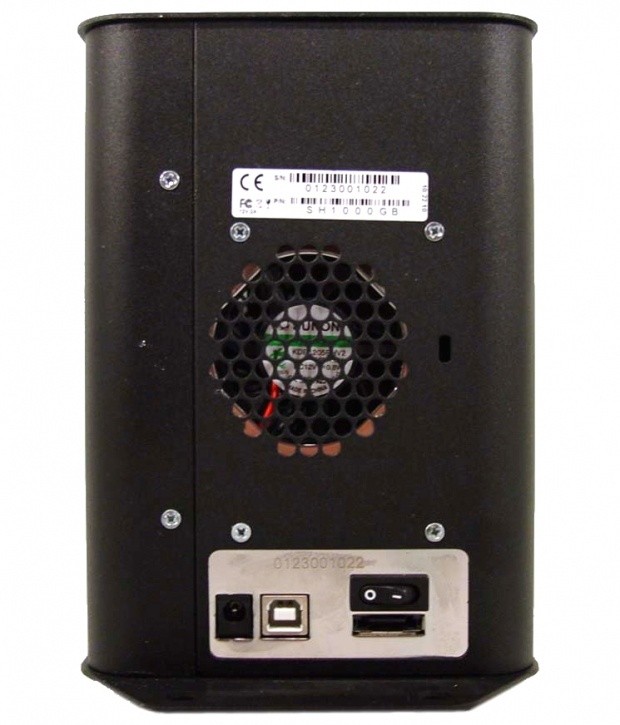 All connectivity happens at the back of the SoloPRO. Here we see the power plug, USB 2.0 and eSATA port just under a rocker power switch. From the back we also get to see the fan. During testing the fan never exceeded what I would call a soft, quiet state. My Noctua fan cooling my processor was almost as loud with the side cover off the PC. For those not familiar with Noctua products, they are designed to be silent.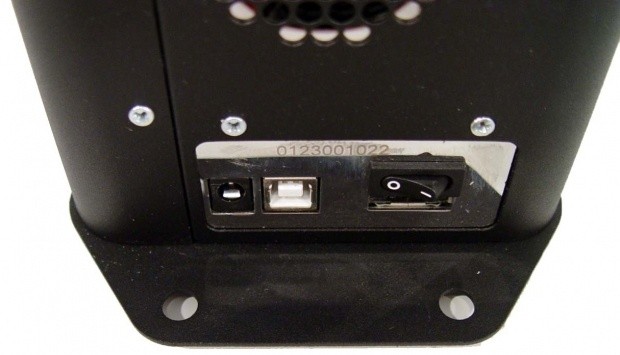 One thing that did strike me as being different were the security openings at the bottom of the enclosure. The Solo had a single hole and the PRO has two.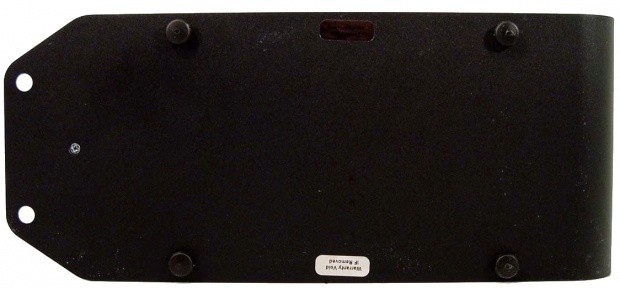 The bottom has four plastic feet that elevate the enclosure about a quarter inch off the underlying surface.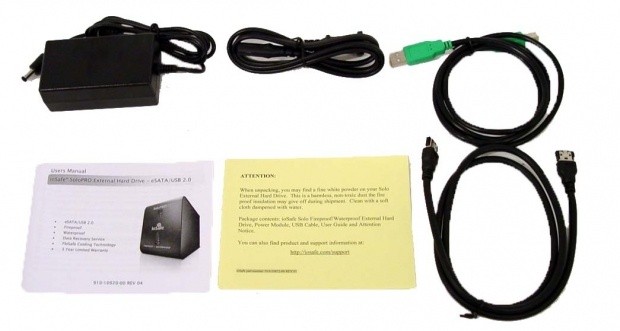 Here is the accessory package. You receive a power brick, USB 2.0 and eSATA cable with the unit we tested. The USB 3.0 model will have a USB 3.0 cable included instead of the legacy cables we received.
Test System Setup and ATTO Baseline Performance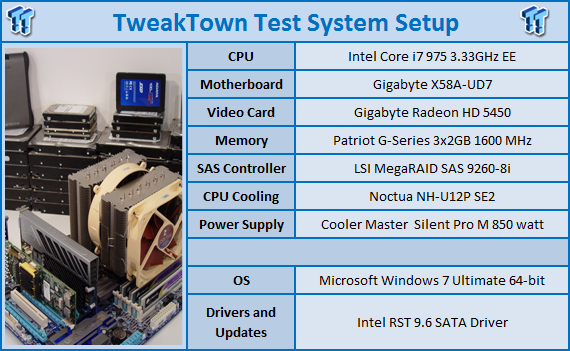 We would like to thank the following companies for supplying and supporting us with our test system hardware and equipment:
AVADirect
,
GIGABYTE
,
Cooler Master
,
LSI
and
Noctua
.
You can read more about TweakTown's Storage Product Testing Workstation and the procedures followed to test products
in this article
.
You didn't think this was just going to be show and tell today did ya? There really isn't anything else on the market like the ioSafe products, so we are going to jump right in and compare the first generation with the second generation. In doing so, we'll be able to tell if our eSATA connection limits the speed of the SoloPRO or if it allows the drive to perform at its maximum speed. I'll guide you through that when we get there.
For eSATA we used our GIGABYTE X58A-UD7 onboard eSATA connector located at the back of the motherboard in the I/O plane. IF you want the absolute highest eSATA performance you will want to invest in a SATA to eSATA adapter. The latter setup will even outpace USB 3.0 implementations that are on the market at this time. USB 3.0 is currently limited to around 200MB/s on most motherboard designs. Next year that will raise to the full 5Gb/s; roughly 500MB/s after overhead.
ATTO Baseline Performance
Version and / or Patch Used:
2.34
ATTO is used by many disk manufacturers to determine the read and write speeds that will be presented to customers.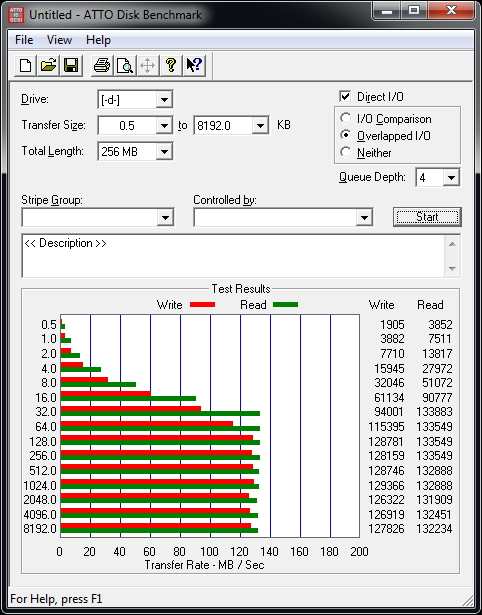 Using ATTO we see that the ioSafe SoloPRO managed to achieve over 130MB/s read speed and very close to 128MB/s write speed. These speeds may have been higher if an adapter running off of the Intel ICH was used.
Benchmarks - HD Tune Pro
HD Tune ProVersion and / or Patch Used:
4.60
Developer Homepage:
http://www.efdsoftware.com
Product Homepage:
http://www.hdtune.com
HD Tune is a Hard Disk utility which has the following functions:
Benchmark: measures the performance
Info: shows detailed information
Health: checks the health status by using SMART
Error Scan: scans the surface for errors
Temperature display
HD Tune Pro gives us accurate read, write and access time results and for the last couple of years has been gaining popularity amongst reviewers. It is now considered a must have application for storage device testing.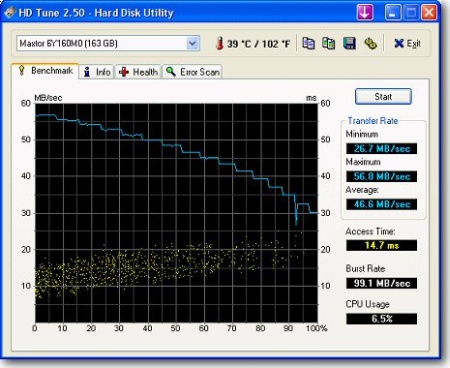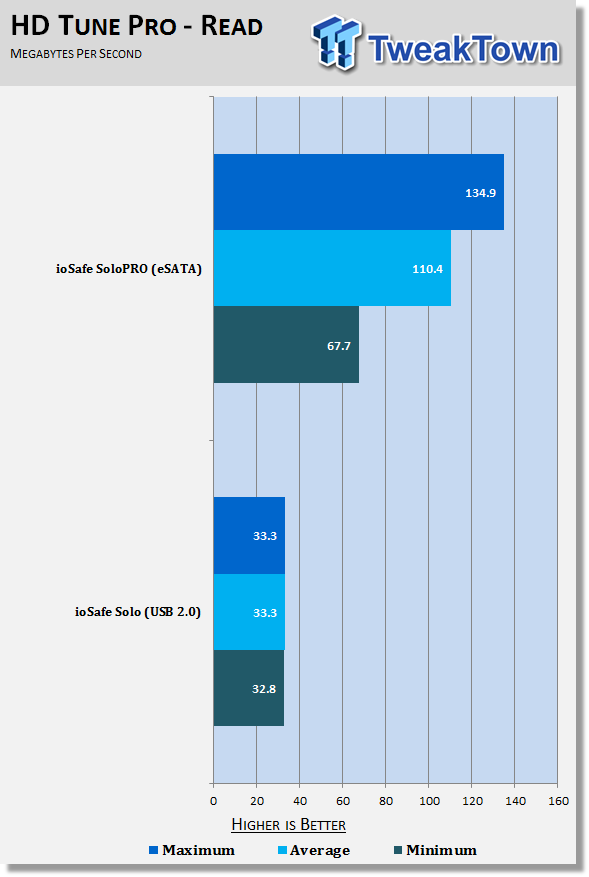 There was no question about the SoloPRO being able to outperform the first generation Solo since the interface has so much more available bandwidth. Here we see exactly how much faster eSATA is over USB 2.0.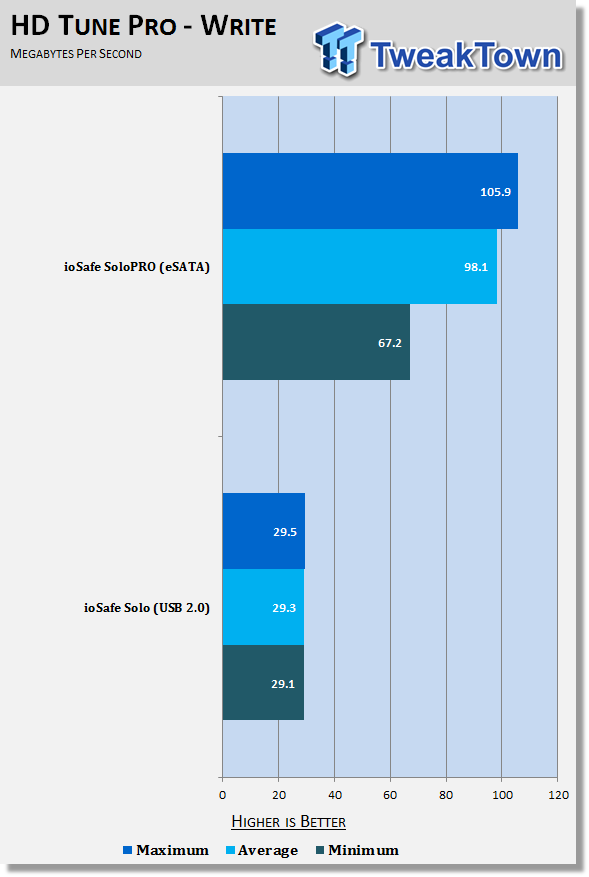 The same is true with the write test across the disk. On average we see a three times speed increase with eSATA, but it should be closer to four times faster.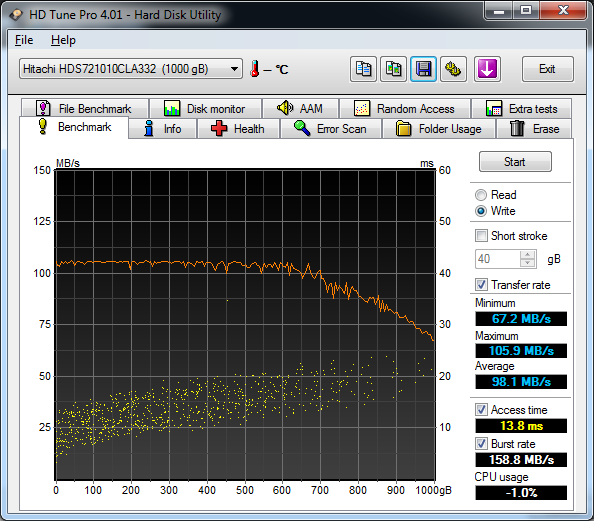 Remember back when I told you that most motherboards implementation of eSATA had a few drawbacks? - In this write performance graph we see a large area where the write speed is static from left to right. A proper graph will show the hard drive slowly winding down like it does at the end of the graph on the right side. This is caused by the eSATA bridge chip that most motherboard companies are using; generally a JMicron chip, AKA the kings of subpar performance.
If you want to get the maximum performance out of your ioSafe SoloPRO, you want to
spend three Dollars and get an adapter bracket
. I'm actually kind of surprised ioSafe didn't include one with the SoloPRO.
Benchmarks - PCMark Vantage Hard Disk Tests
PCMark Vantage - Hard Disk TestsVersion and / or Patch Used:
1.0.0
Developer Homepage:
http://www.futuremark.com
Product Homepage:
http://www.futuremark.com/benchmarks/pcmark-vantage/
Buy It Here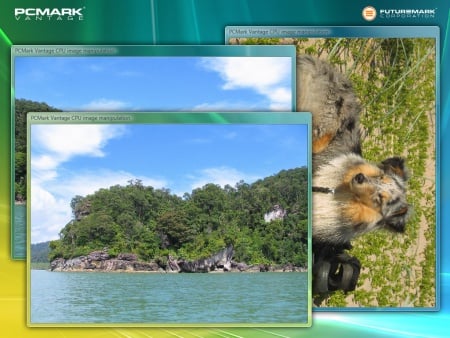 PCMark Vantage is the first objective hardware performance benchmark for PCs running 32 and 64 bit versions of Microsoft Windows Vista. PCMark Vantage is perfectly suited for benchmarking any type of Microsoft Windows Vista PC from multimedia home entertainment systems and laptops to dedicated workstations and high-end gaming rigs. Regardless of whether the benchmarker is an artist or an IT Professional, PCMark Vantage shows the user where their system soars or falls flat, and how to get the most performance possible out of their hardware. PCMark Vantage is easy enough for even the most casual enthusiast to use yet supports in-depth, professional industry grade testing.
FutureMark has developed a good set of hard disk tests for their PCMark Vantage Suite. Windows users can count on Vantage to show them how a drive will perform in normal day to day usage scenarios. For most users these are the tests that matter since many of the old hat ways to measure performance have become ineffective to measure true Windows performance.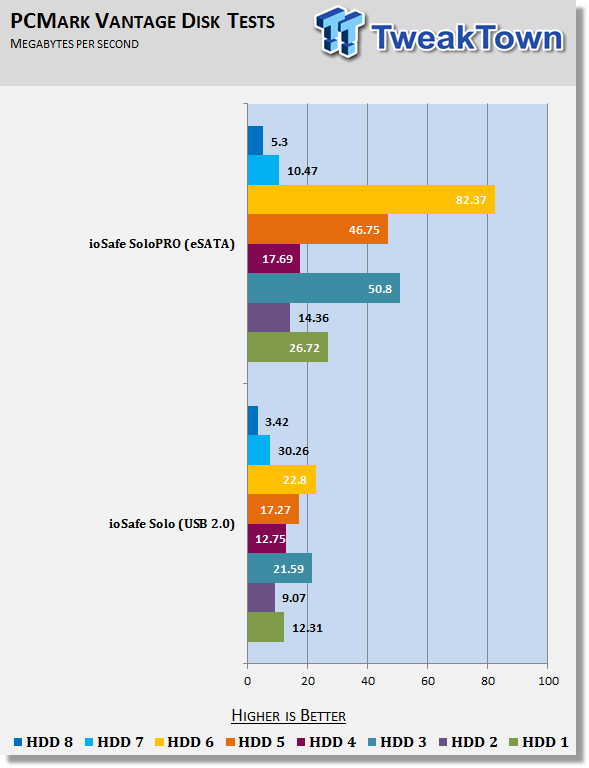 HDD1 - Windows Defender
HDD2 - Gaming
HDD3 - Windows Photo Gallery
HDD4 - Vista Startup
HDD5 - Windows Movie Maker
HDD6 - Windows Media Center
HDD7 - Windows Media Player
HDD8 - Application Loading
At this point you may be thinking that eSATA plays second fiddle to USB 3.0, but some users are not going to want a USB 3.0 unit. If you plan to use your SoloPRO for your operating system, you don't want the USB 3.0 model. Windows 7 will not allow you to install the operating system to a USB 3.0 device. There is a work around, but you would need to install the operating system to the drive while it is connected to a SATA port and then you can put it back in the USB 3.0 enclosure. The ioSafe doesn't make this an easy task and it would surely void your warranty.
Benchmarks - AS SSD
AS SSD BenchmarkVersion and / or Patch Used:
1.2.3577.40358
Developer Homepage:
Alex Intelligent Software
Product Homepage:
Alex Intelligent Software
Download here:
http://www.alex-is.de/PHP/fusion/downloads.php?cat_id=4&download_id=9
AS determines the performance of Solid State Drives (SSD). The tool contains four synthetic as well as three practice tests. The synthetic tests are to determine the sequential and random read and write performance of the SSD. These tests are carried out without the use of the operating system caches.
In all synthetic tests the test file size is 1GB. AS can also determine the access time of the SSD, the access of which the drive is determined to read through the entire capacity of the SSD (Full Stroke). The write access test is only to be met with a 1 GB big test file. At the end of the tests three values for the read and write as well as the overall performance will be issued. In addition to the calculated values which are shown in MB/s, they are also represented in IO per seconds (IOPS).
Note:
AS SSD is a great benchmark for many tests, but since Crystal Disk Mark covers a broader range of 4K tests and HD Tune Pro covering sequential speeds, we will only use the Copy Benchmark from AS SSD.
- Copy Benchmark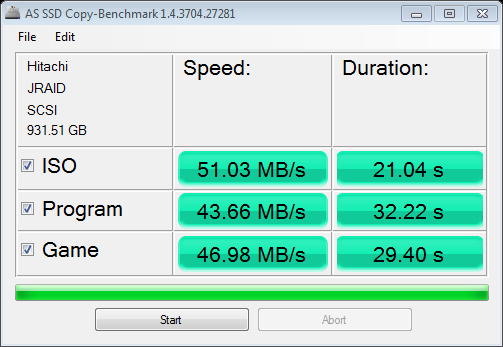 The primary action for nearly all external drives is to transfer data to and from. In the AS SSD Copy test we can see how well the SoloPRO works with three different file formats. The AS SSD Copy Test wasn't part of our standard testing when we reviewed the Solo.
Here we see very acceptable performance, but like all of the other tests the speed would have been faster with the unit connected to the Intel SATA port.
Final Thoughts
ioSafe is certainly on track to come up with a perfect product. The refinements made from the first go-round to the second were quite large, but perfection has yet to be achieved. Luckily everything is right there, just within grasp and knowledgeable users will be able to take advantage of this article and get everything in place to get the most out of their SoloPRO. Even without these finishing touches the ioSafe SoloPRO is a great product. As a full time storage product reviewer and a part time consultant on these matters, I'm always looking for a way to make a product better and get it to the next level. Most people really don't look for ways to pull an extra 15-25MB/s out of a product, but hey, we are TweakTown after all.
When it comes to availability, I ran a quick search for the original Solo and came up with over 90 sellers listing the 500GB model. These weren't just your normal Newegg / MWave guys. Best Buy, Walmart, Meijer and Radio Shack were all listed. The flashy retail package has retail all over it and it looks like ioSafe is already in a position to make that happen. It normally takes a couple of years just to get your foot in the door, but here we are just 18 or so months from hearing about these guys and they are already sitting firmly in the director of sales office smoking a cigar with their feet on the desk. This goes to show just how well ioSafe's products have been received and how highly regarded they are.
There are many points in which we can praise ioSafe, but the top one is that their products work as advertised. When it really comes down to it, that is the only thing we all expect in a product and all too often we are let down. ioSafe is different, they say it and show you that it works as it should. To back that up they even put their own money on the line to help you if something should go wrong.
PRICING: You can find products similar to this one for sale below.

United States: Find other tech and computer products like this over at Amazon.com

United Kingdom: Find other tech and computer products like this over at Amazon.co.uk

Australia: Find other tech and computer products like this over at Amazon.com.au

Canada: Find other tech and computer products like this over at Amazon.ca

Deutschland: Finde andere Technik- und Computerprodukte wie dieses auf Amazon.de
We openly invite the companies who provide us with review samples / who are mentioned or discussed to express their opinion. If any company representative wishes to respond, we will publish the response here. Please contact us if you wish to respond.