Introduction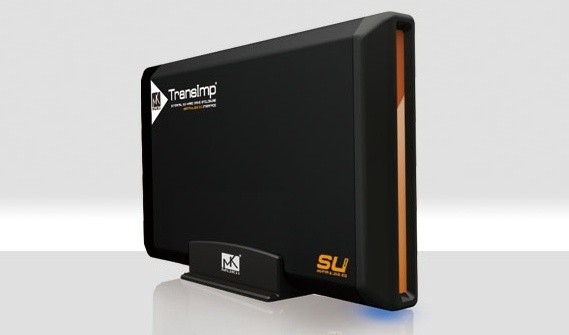 With USB 3.0 quickly gaining acceptance in the mainstream, it's now time for consumers to take advantage of the performance it has to offer. USB 3.0 is literally 10 times faster than USB 2.0 and hundreds of thousands of motherboards have shipped with the new standard onboard with hundreds of millions coming over the next few years. Just like USB 2.0 before it, USB 3.0 will soon be the household universal communication standard.
Now that everyone is starting to get USB 3.0, we have to figure out what to do with it. So far the storage product market has been the only group to put forth a great effort in tackling this great mystery. Then again, it is the storage market that is positioned to make useful the large amount of bandwidth provided by USB 3.0.
Today we are looking at the MUKii TransImp External 3.5 HDD USB 3.0 Enclosure. Say it three times and you win a prize. The title alone pretty much tells the story; we have a USB 3.0 connected hard drive enclosure that can accept 3.5" form factor drives. Let's take a look at the specifications of the....well, you know.
Specifications, Pricing and Availability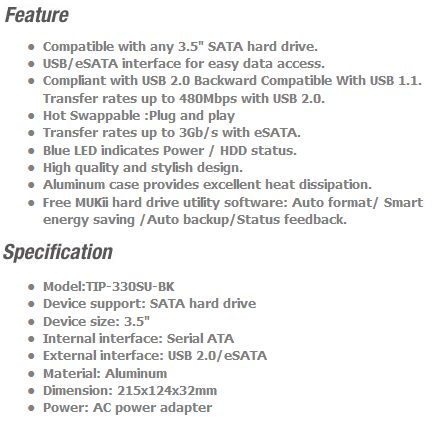 The official name of the enclosure is TIP-330SU-BK and I actually like that better than carpal tunnel syndrome, so we will use it for today. As the name suggests, the enclosure is for SATA 3.5" hard drives and connects to your computer via USB 2.0 or USB 3.0. To get the most out of your drive you will want to use USB 3.0, but in some cases where only USB 2.0 is available you can use that as well. The enclosure is not self-powered, but it does come with a wall wart PSU to get things up and running.
After looking around the web I was able to find the
TIP-330SU-BK available at MWave.com for 37.20
USD. At this time Newegg doesn't list any MUKii products, but that may change over time. After doing some searches online we found the lowest cost aluminum 3.5" form factor USB 3.0 enclosure to be right around 25 USD, so the TIP-330SU-BK is going to have to work really hard to win us over.
The Packaging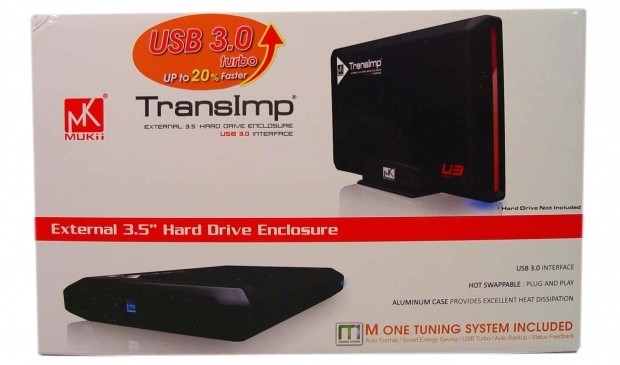 The MUKii TransImp External 3.5" HDD Enclosure arrived in a full retail package that lists several of the products features on the front of the box.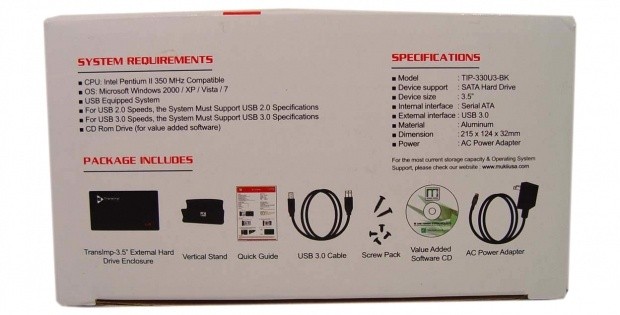 The side of the package lists the full specifications and system requirements. Also on this side is a list of everything included in the box.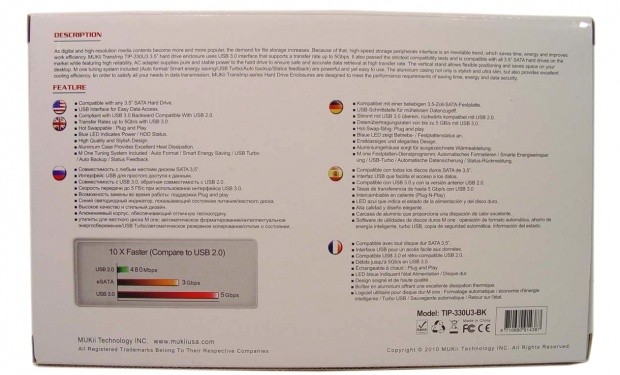 The back panel gives us some generic performance data as well as a description and feature list.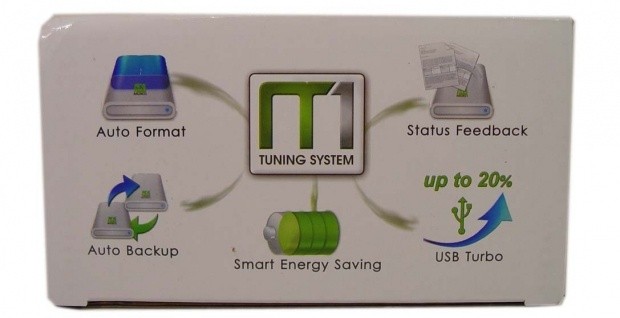 MUKii includes a software tuning system that allows you to setup auto backup instances as well as hand format and other duties.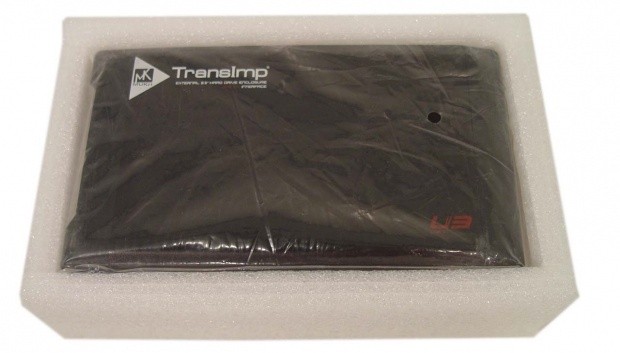 The inner packaging keeps all of the accessories separate from the main unit and everything is individually bagged.
The MUKii TransImp External 3.5" HDD Enclosure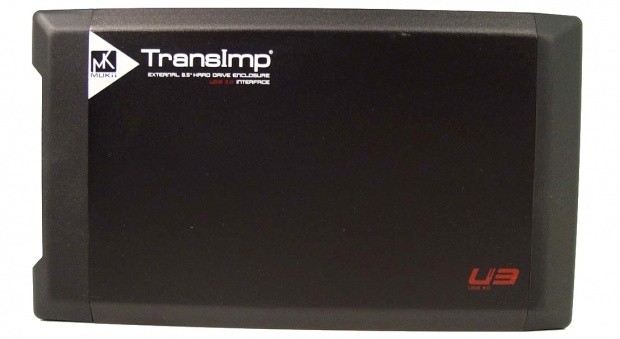 The MUKii TransImp Enclosure has a solid aluminum center shell that has two hard plastic end caps that absorb any vibrations from the drive inside.

Looking at the enclosure from the front, I start to think about Knight Rider. Unfortunately the front doesn't light up while scanning your hard drive, but there is a blue LED on the side that blinks when the drive is active.

The back of the drive has all of the usual components, a place for your USB 3.0 cable, power adapter slot and a push button that turns the drive on and off.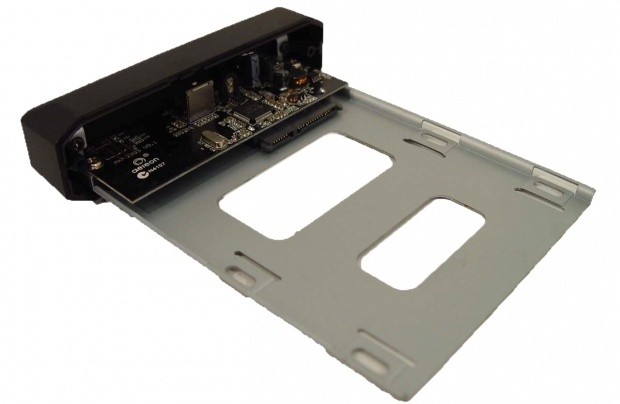 On the inside we found a simple steel tray with a single PCB that attaches to your SATA drive. We did not find any mounting locations for a 2.5" form factor drive, but MUKii also makes a version specifically for that form factor.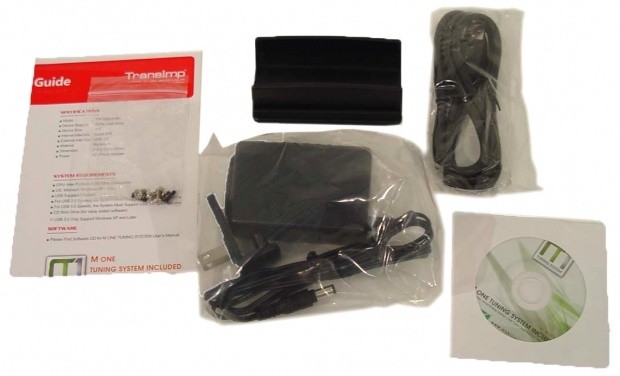 MUKii has included a quick start guide, power adapter, USB 3.0 cable, enclosure stand and a software disk that has backup software, drivers if needed and an auto format utility.
Test System Setup and ATTO Baseline Performance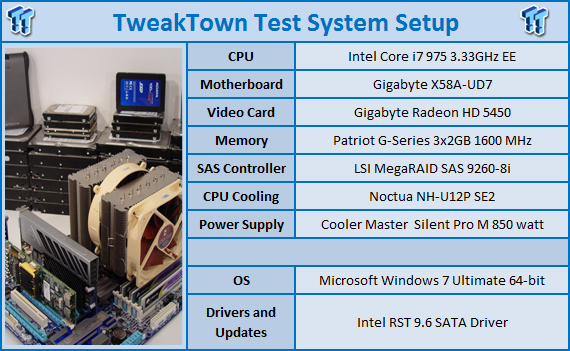 We would like to thank the following companies for supplying and supporting us with our test system hardware and equipment:
AVADirect
,
GIGABYTE
,
Cooler Master
,
LSI
and
Noctua
.
You can read more about TweakTown's Storage Product Testing Workstation and the procedures followed to test products
in this article
.
Currently USB 3.0 is a touchy subject. Most onboard USB 3.0 solutions only allow read speeds to around 200MB/s and write speeds of 180MB/s. A few PCIe aftermarket cards are delivering faster results, but not much faster at this time.
For testing we will use the Crucial RealSSD C300, the world's fastest 256GB SSD. Crucial has graced us with several of these drives for use in all of our storage product reviews. You can learn more about the Crucial RealSSD C300 256GB SSD
here
.
ATTO Baseline Performance
Version and / or Patch Used:
2.34
ATTO is used by many disk manufacturers to determine the read and write speeds that will be presented to customers.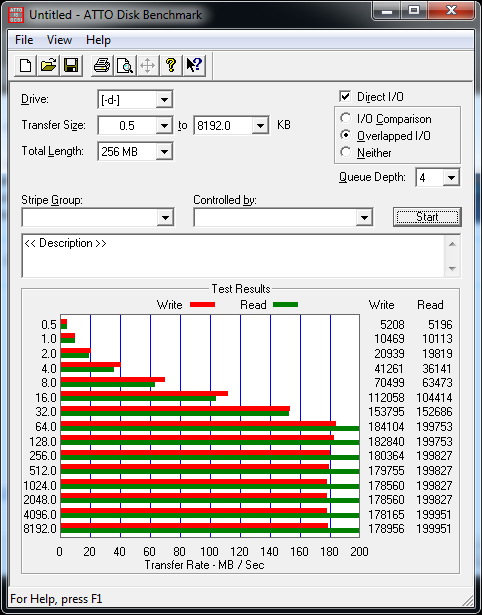 Using ATTO we see that the MUKii electronics are not limiting the drives performance when compared to the other USB 3.0 enclosures we've tested. The GIGABYTE X58A-UD7 has right around a 200MB/s limit and we see the MUKii HDD Dock running into this wall maxing out the motherboards potential.
Benchmarks - HD Tune Pro
HD Tune ProVersion and / or Patch Used:
4.60
Developer Homepage:
http://www.efdsoftware.com
Product Homepage:
http://www.hdtune.com
HD Tune is a Hard Disk utility which has the following functions:
- Benchmark: measures the performance
- Info: shows detailed information
- Health: checks the health status by using SMART
- Error Scan: scans the surface for errors
- Temperature display
HD Tune Pro gives us accurate read, write and access time results and for the last couple of years has been gaining popularity amongst reviewers. It is now considered a must have application for storage device testing.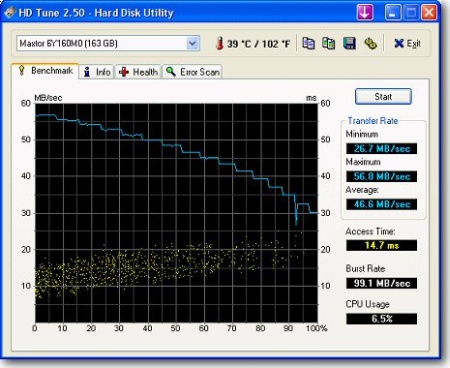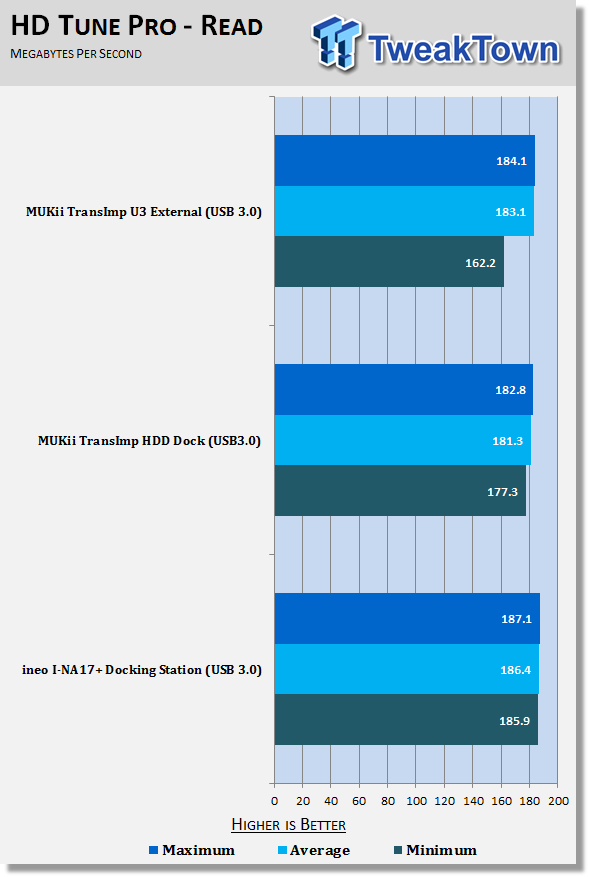 The MUKii external USB 3.0 enclosure delivers very good performance. Here we see the enclosure outpacing the last two USB 3.0 products we tested in read speed.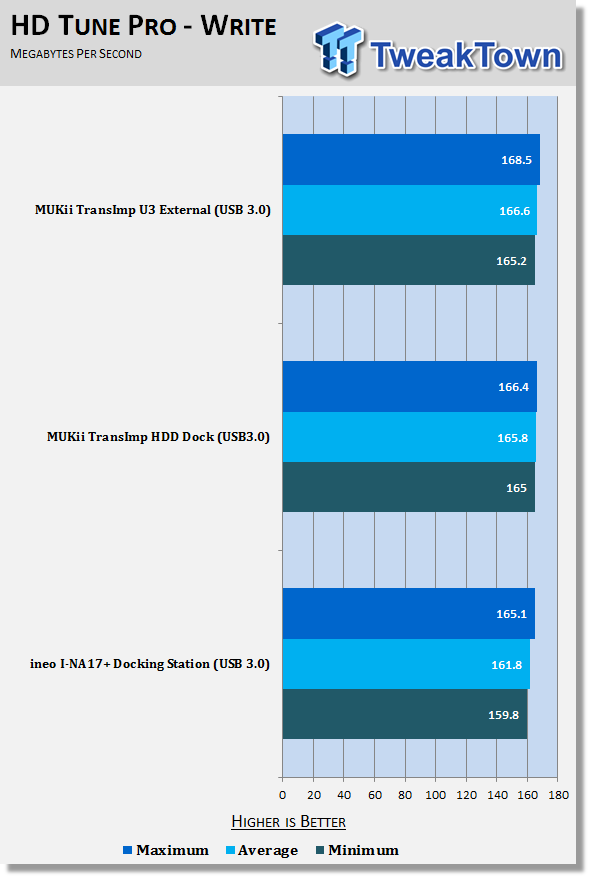 The enclosure takes the win in writing across the drive as well. Here we see a 166MB/s average write speed.
Benchmarks - Everest Random Access Time
Everest Random Access TimeVersion and / or Patch Used:
4.60
Developer Homepage:
http://www.lavalys.com
Product Homepage:
http://www.lavalys.com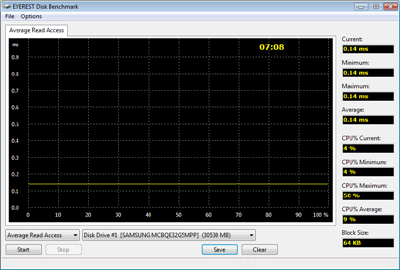 Everest Ultimate and Corporate Edition offer several different benchmarks for testing and optimizing your system or network. The Random Access test is one of very few if not only that will measure hard drives random access times in hundredths of milliseconds as oppose to tens of milliseconds.
Drives with only one or two tests displayed in write the write test mean that they have failed the test and their Maximum and possibly their Average Scores were very high after the cached fills. This usually happens only with controllers manufactured by JMicron.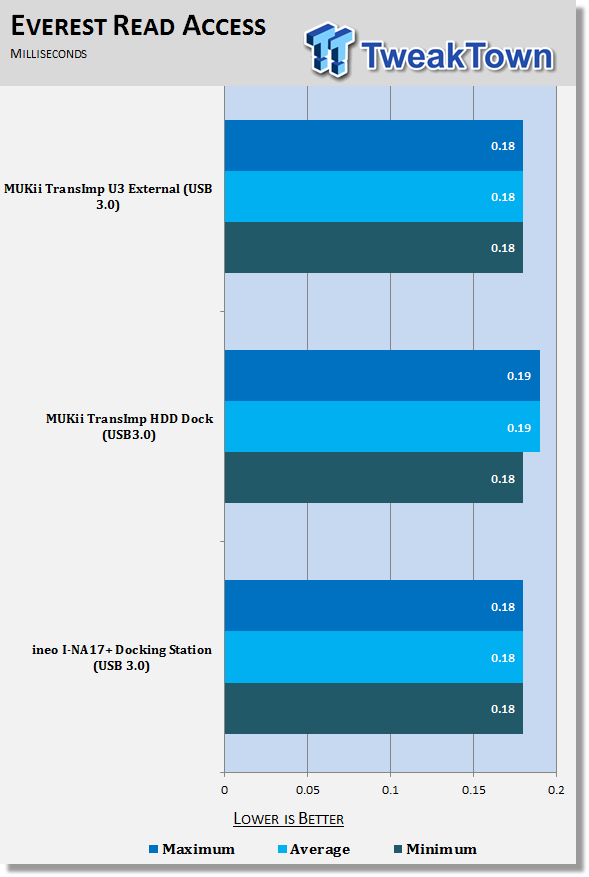 The MUKii External Enclosure doesn't add latency to the drives performance. The .18ms access time is the same as if the drive was connected to a SATA HBA.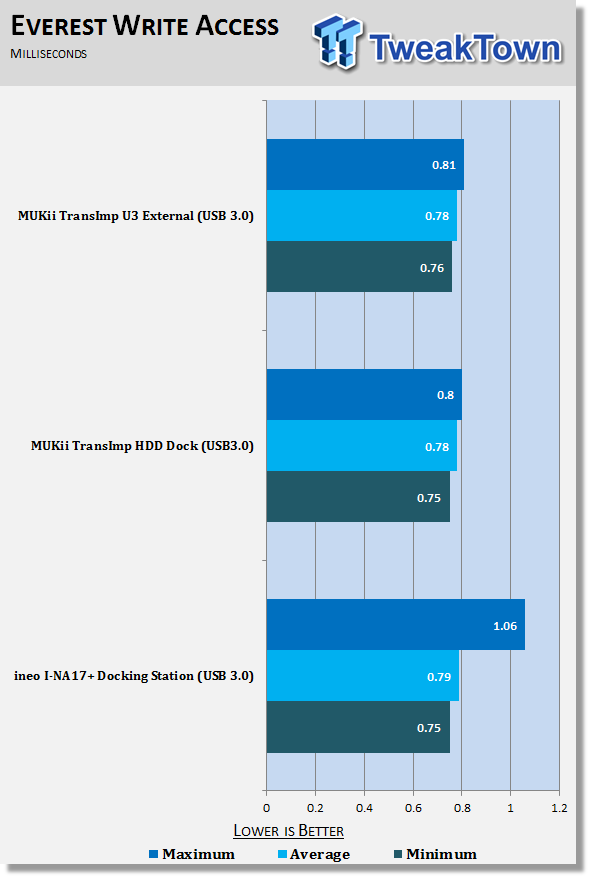 The write latency is also very close to that of the Crucial RealSSD C300 on a standard SATA HBA.
Benchmarks - AS SSD
AS SSD BenchmarkVersion and / or Patch Used:
1.2.3577.40358
Developer Homepage:
Alex Intelligent Software
Product Homepage:
Alex Intelligent Software
Download here:
http://www.alex-is.de/PHP/fusion/downloads.php?cat_id=4&download_id=9
AS determines the performance of Solid State Drives (SSD). The tool contains four synthetic as well as three practice tests. The synthetic tests are to determine the sequential and random read and write performance of the SSD. These tests are carried out without the use of the operating system caches.
In all synthetic tests the test file size is 1GB. AS can also determine the access time of the SSD, the access of which the drive is determined to read through the entire capacity of the SSD (Full Stroke). The write access test is only to be met with a 1 GB big test file. At the end of the tests three values for the read and write as well as the overall performance will be issued. In addition to the calculated values which are shown in MB/s, they are also represented in IO per seconds (IOPS).
Note:
AS SSD is a great benchmark for many tests, but since Crystal Disk Mark covers a broader range of 4K tests and HD Tune Pro covering sequential speeds, we will only use the Copy Benchmark from AS SSD.
- Copy Benchmark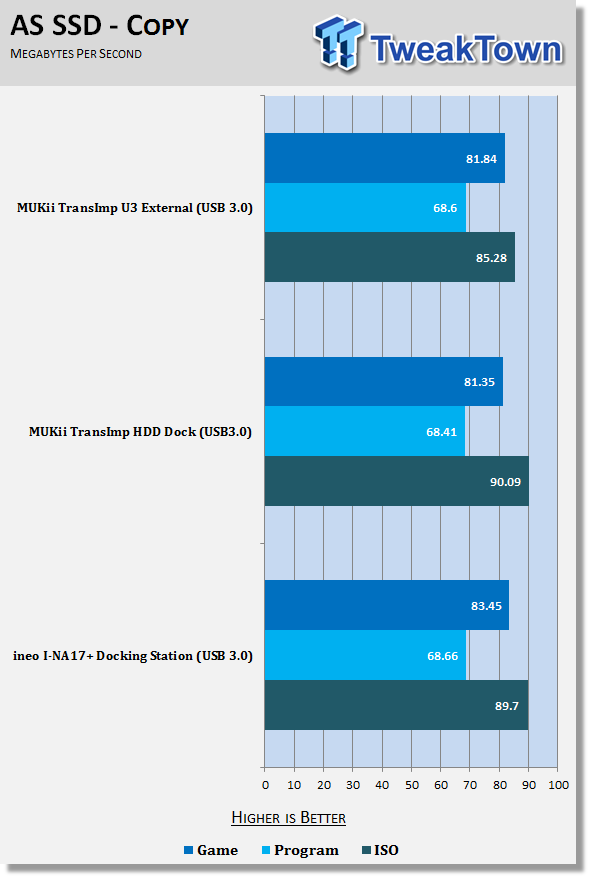 The primary action for nearly all external drives is to transfer data to and from. In the AS SSD Copy test we can see how well an enclosure / drive combo works with three different file formats. All three of our enclosures perform at nearly the same rates, which is remarkably fast.
Final Thoughts
As USB 3.0 gains acceptance and finds its way into more homes and businesses, more people will take advantage of the speeds offered. As the cycle ramps up we'll also see more devices enter the market. These devices are going to need to compete on two fronts; price and features. The MUKii TransImp External 3.5" HDD Enclosure is currently not leading when it comes to price; it's actually pretty far down the list when shopping on price alone. That leaves the features category. MUKii could have added a couple of extra features to make the TIP-330SU-BK more attractive as an enclosure, but did manage to bring additional value to the product by adding a software package.
For most reading this, the included MUKii software package doesn't really bring anything to the table that we don't already have. Windows can back up your data and format your hard drive. Windows doesn't really have an instruction manual, though, and we all know people who can't figure out how to play a game on their PC much less know how to setup an auto back up routine or find Computer Management. For those users the MUKii software package and enclosure will appear to be quite the value. For the rest of us just looking for an enclosure and could really care less what it looks like, there are many lower priced models available online.
When it comes to performance most USB 3.0 devices are limited by the speed of the USB 3.0 implementation used on the motherboard. We have yet to see a full 10x performance increase over USB 2.0 and most likely won't until Intel launches a native USB 3.0 solution on the south bridge. Till then everything is running between 200 and 250MB/s. The MUKii TIP-330SU-BK easily achieves these speeds even though most users will simply use a standard 3.5" desktop drive that is only capable of 100MB/s or so transfer speeds. The MUKii TIP-330SU-BK can easily handle those speeds with quite a bit of room left to go.