OCZ Technology RevoDrive X2 240GB PCIe Solid State Drive
OCZ doubles down with four SandForce controllers and 240GB of flash memory all wrapped up in a convenient PCIe card that rocked our test bench.
Published Fri, Nov 5 2010 11:39 AM CDT
|
Updated Tue, Nov 3 2020 7:02 PM CST
Introduction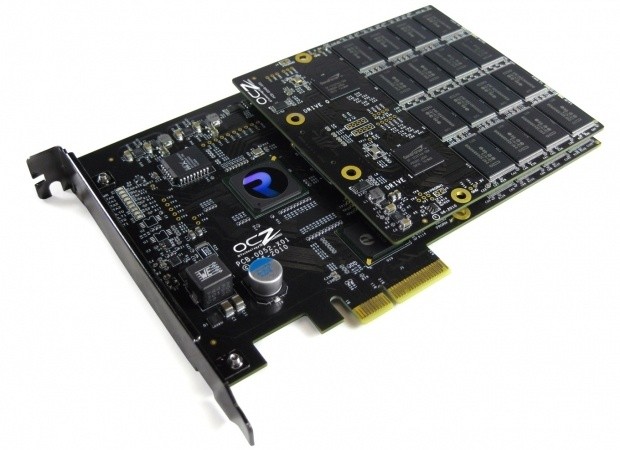 I really feel kind of cheated today after testing OCZ Technology's newest high-performance SSD. Testing hardware gives me a little bit of free time. No kids in the computer room, the wife knows I can't be disturbed and the dog even seems to bark at people driving past a little less. Testing hardware gives me a chance to sit back with my feet on the desk and relax. Normally that is the case and I get a good deal of time to chill, but not with the OCZ RevoDrive X2. I was cheated today.
The OCZ RevoDrive X2 is the extension of the already very fast RevoDrive that
we looked at
just a couple of months ago. As you might have guessed from the name, the X2 has two times the amount of bang; it isn't just a shotgun, it is a double barrel. OCZ achieved twice the nice by adding on a daughter board that doubles the amount of SandForce controllers and flash memory.
The original RevoDrive was essentially a two drive RAID 0 array packed on a convenient PCI Express card and allowed users to indulge in RAID performance without the hassles of building a RAID array. Four SSDs in RAID 0 is kind of like the sweet spot since going over four adds very little to real world performance other than capacity.
If you are someone that likes your intensive tasks to take a while, giving you the opportunity to read the daily newspaper or slowly sip away at your coffee, then quickly close this page and hope your IT guys don't read what I am about to post. If you like it low and slow then the X2 isn't for you, turn away now. If by some chance you actually like your tasks to go very fast, then scoot closer to the screen!
Let's check out the specs on the OCZ Technology X2.
Specifications, Pricing and Availability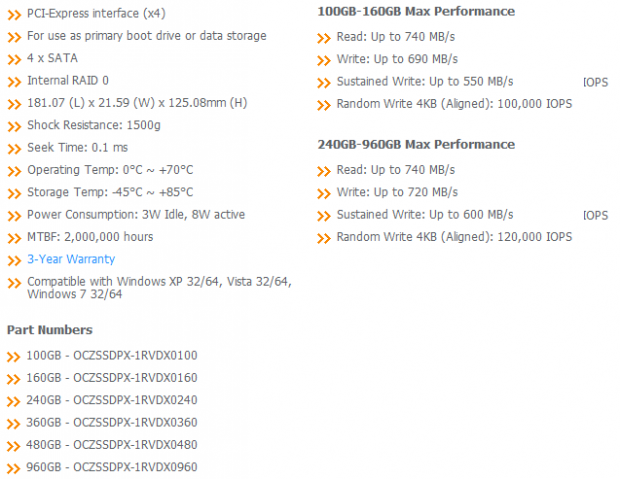 There really isn't a whole lot to discuss here. Once you see 4x SATA SSDs everything else just kind of blurs away in the background. The thing is these are not just four regular SSDs, these are SandForce controllers, the same ones used in the Vertex 2 and Agility 2, two of the highest rated SSDs on the market today. If you really want to get technical, the RevoDrive X2 is essentially four Vertex 2 drives, paired up by twos on uncut PCBs. What is throwing us off here is the name, X2...when there are actually four SSDs.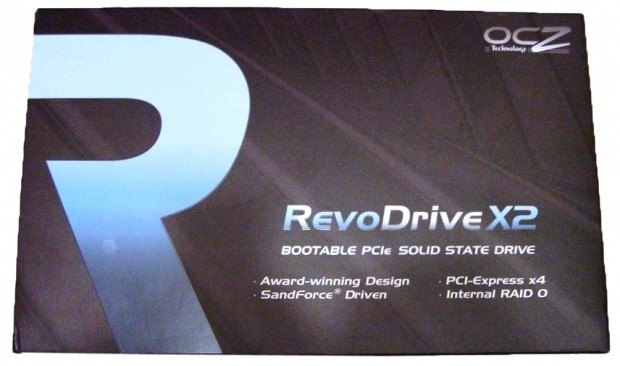 With capacities ranging from 100GB to a massive 960GB, the OCZ RevoDrive X2 covers a very wide range. There are two distinct performance classes, though. The smaller versions of the X2, 100 and 160GB have a read speed rating of 740MB/s and a write speed of 680MB/s. The larger drives; 240, 360, 480 and 960GB fit into category two. The read speeds are the same, 740MB/s, but the write speeds are bumped up to 720MB/s. IOPS changes as well; 100K IOPS for the two smaller RevoDrive X2's and 120K IOPS for the larger. I don't think anyone is going to say anything negative about 100,000 IOPS, though.
Carried over from the original RevoDrive is the boot option. Enthusiasts want to boot their operating system from their super-fast SSD and some competing PCIe SSDs simply don't allow that to happen. At this point in time what fun is a fast SSD if you can't use it to boot your operating system at near instant speeds?
The OCZ RevoDrive X2 is already available in the wild. OCZ even goes as far as lists direct links on their product page for where to purchase the RevoDrive X2, and the links are divided up into capacity categories. Luckily Newegg carries nearly all of the capacities and we are able to compare pricing there for both the RevoDrive and the RevoDrive X2. In some of the capacities there is even some direct competition between the original and the X2. At first we had a bit of sticker shock at some of the X2 prices, but quickly remembered what we were told from some SSD manufacturers about how much each SandForce controller chip actually costs them and things started to make sense.
When it comes to pricing, the RevoDrive X2 breaks down like this; 100GB for 459.00, 240GB (as tested today) for 679.00, 480GB for 1439 USD all at the time of writing. Newegg also has two direct matches in capacity from the original RevoDrive; 240GB at 519.99 and the 480GB RevoDrive at 1249.00 USD. As you can see, there is a price premium for the X2 models, but considering the additional PCB, flash and controllers, this was to be expected.
The Packaging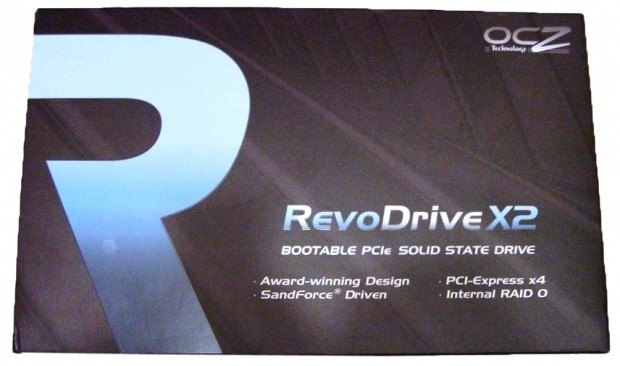 OCZ's packaging is really sharp on this product line. The front of the box doesn't tell us a whole lot about the product, but most consumers who will purchase the RevoDrive X2 will do so online anyhow.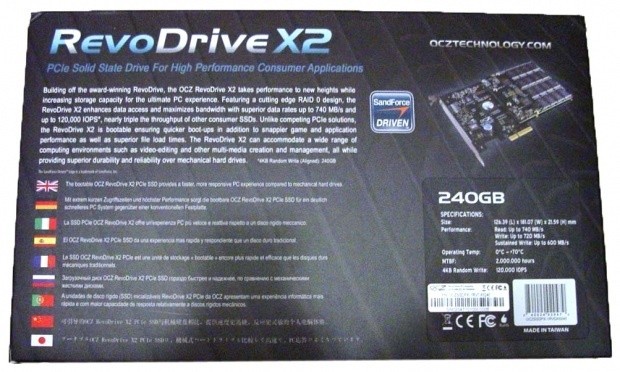 The back of the package gives us a wealth of information about the product. Here we see performance data which is a big plus. We also get a description of the product, capacity size in the package and some generic details about SSD benefits.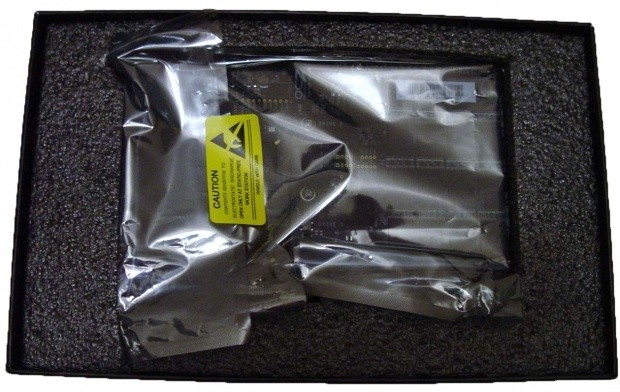 The RevoDrive X2 is packaged very well with closed cell foam surrounding the card and a nice double box setup that will keep the card secure during shipping.
The OCZ Technology RevoDrive X2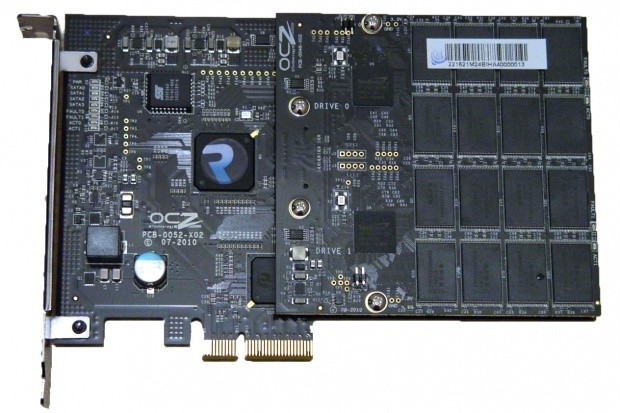 From the PCIe connector signals are routed through a Pericom PCI-X bridge chip. From there the signal goes to
a Silicon Image Sil3124 RAID controller
. This setup allowed OCZ to keep the cost down while still being able to deliver very high data transfer speeds. As we have mentioned already, there are four SandForce SF-1200 controllers; two on the base card and two on the daughter board. OCZ chose Intel NAND flash memory, the same used in the Vertex 2 drives that we rave about from time to time.
Our test system picked up the RevoDrive X2 as a bootable RAID controller and we were able to install Windows on the drive after loading the Silicon Image drivers during the installation process. Since the RevoDrive X2 is based on the Silicon Image RAID controller, you have the option to go into the RAID management BIOS and configure the card several different ways. In the BIOS you can change the stripe size, use RAID 0, RAID 1 or JBOD with what would then appear as four separate 60GB SSDs. Some users may take advantage of this and use RAID 0 on three drives and use a single drive to load Windows on. The stripe size could then be used exclusively for installing programs on which would keep your Windows files separate from your installed programs.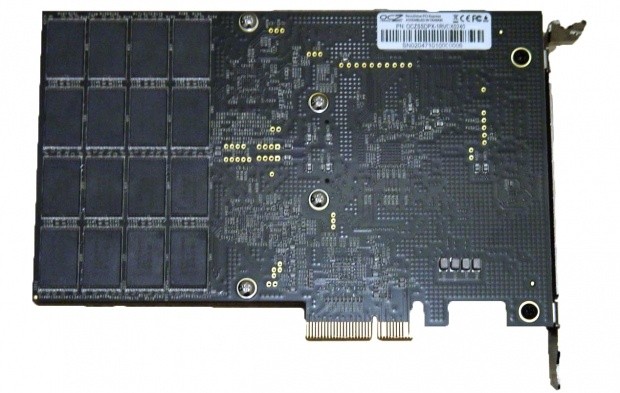 The back side of the RevoDrive X2 is fairly uneventful other than another large block of Intel flash.
Test System Setup and ATTO Baseline Performance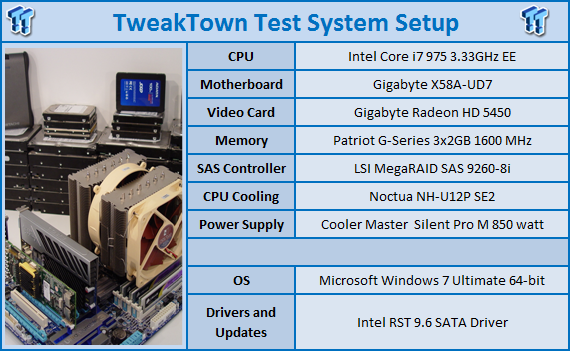 We would like to thank the following companies for supplying and supporting us with our test system hardware and equipment:
AVADirect
,
GIGABYTE
,
Cooler Master
,
LSI
and
Noctua
.
You can read more about TweakTown's Storage Product Testing Workstation and the procedures followed to test products
in this article
.
Today we are going to test the OCZ Technology RevoDrive X2 to the original RevoDrive and also a handful of other significant SSDs past and present. For the X2 we left the card configured as it ships from OCZ.
ATTO Baseline Performance
Version and / or Patch Used:
2.34
ATTO is used by many disk manufacturers to determine the read and write speeds that will be presented to customers.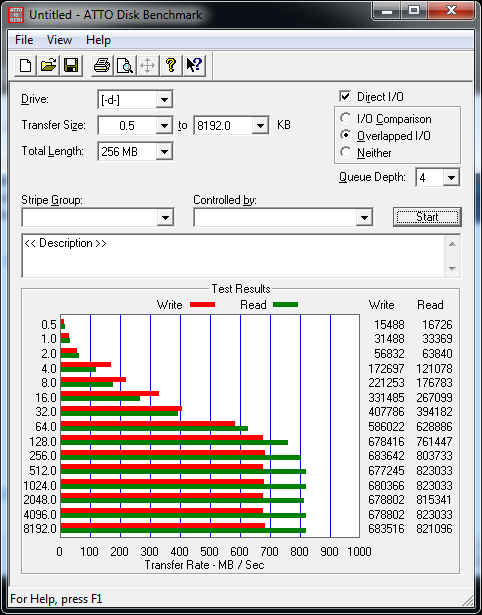 Given that ATTO is the standard in which performance ratings are listed by manufacturers, we see that OCZ is selling the RevoDrive X2 short on the read speeds. Our tests gave us up to 822MB/s. OCZ rates the RevoDrive X2 at 740MB/s. Maybe they were just being conservative.
The write test gave us just over 683MB/s. This is just over what OCZ claims their smaller X2 drives run at, but shy from the 720MB/s that the larger drives are rated for.
Benchmarks - HD Tune Pro
HD Tune ProVersion and / or Patch Used:
4.00
Developer Homepage:
http://www.efdsoftware.com
Product Homepage:
http://www.hdtune.com
HD Tune is a Hard Disk utility which has the following functions:
- Benchmark: measures the performance
- Info: shows detailed information
- Health: checks the health status by using SMART
- Error Scan: scans the surface for errors
- Temperature display
HD Tune Pro gives us accurate read, write and access time results and for the last couple of years has been gaining popularity amongst reviewers. It is now considered a must have application for storage device testing.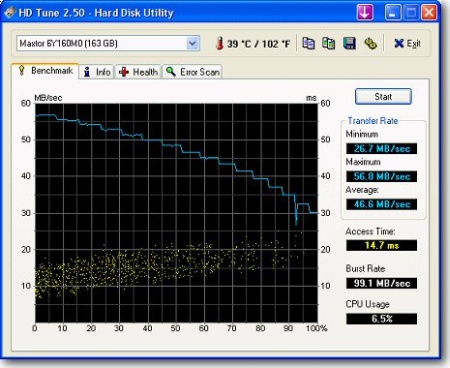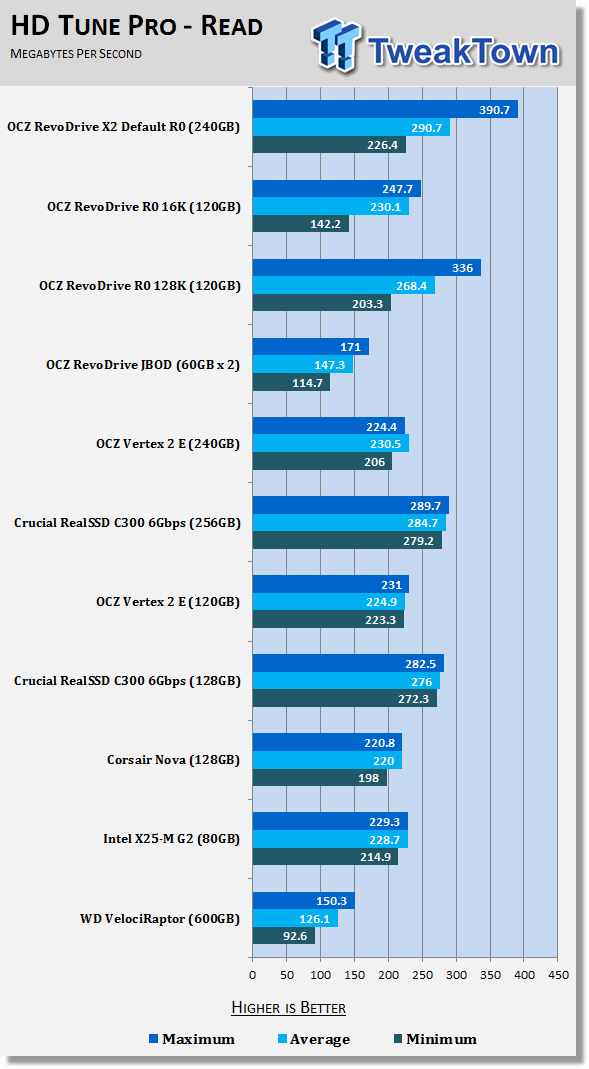 As you can imagine, we are expecting to see some really big numbers today when we get to the real world tests. In HD Tune Pro we see that the X2 delivers a solid average read increase of over 20MB/s and the maximum increase is closer to 50MB/s. The important area to look at, though, is the minimum speed and here we gained around 80MB/s which is very impressive.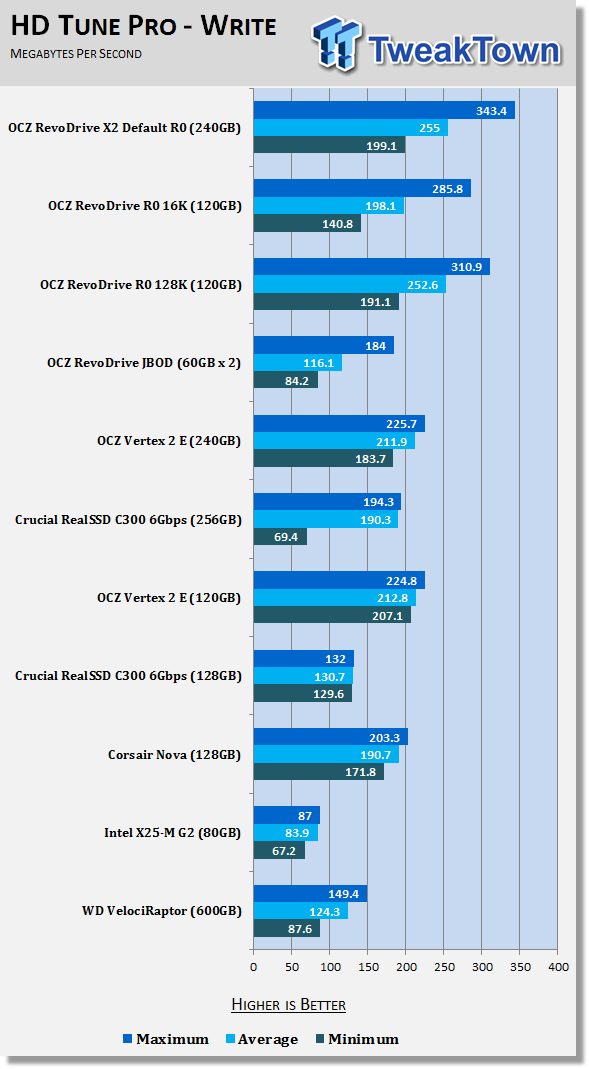 The write speed test also gave a large improvement over the original RevoDrive. The average write speed increased to over 50MB/s and the minimum went up almost 60MB/s.
Benchmarks - Everest Random Access Time
Everest Random Access TimeVersion and / or Patch Used:
4.60
Developer Homepage:
http://www.lavalys.com
Product Homepage:
http://www.lavalys.com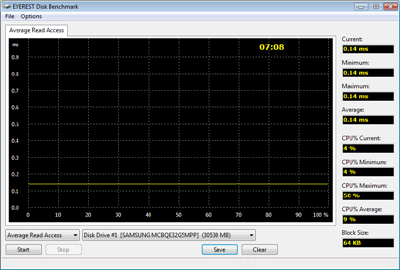 Everest Ultimate and Corporate Edition offer several different benchmarks for testing and optimizing your system or network. The Random Access test is one of very few if not only that will measure hard drives random access times in hundredths of milliseconds as oppose to tens of milliseconds.
Drives with only one or two tests displayed in write the write test mean that they have failed the test and their Maximum and possibly their Average Scores were very high after the cached fills. This usually happens only with controllers manufactured by JMicron.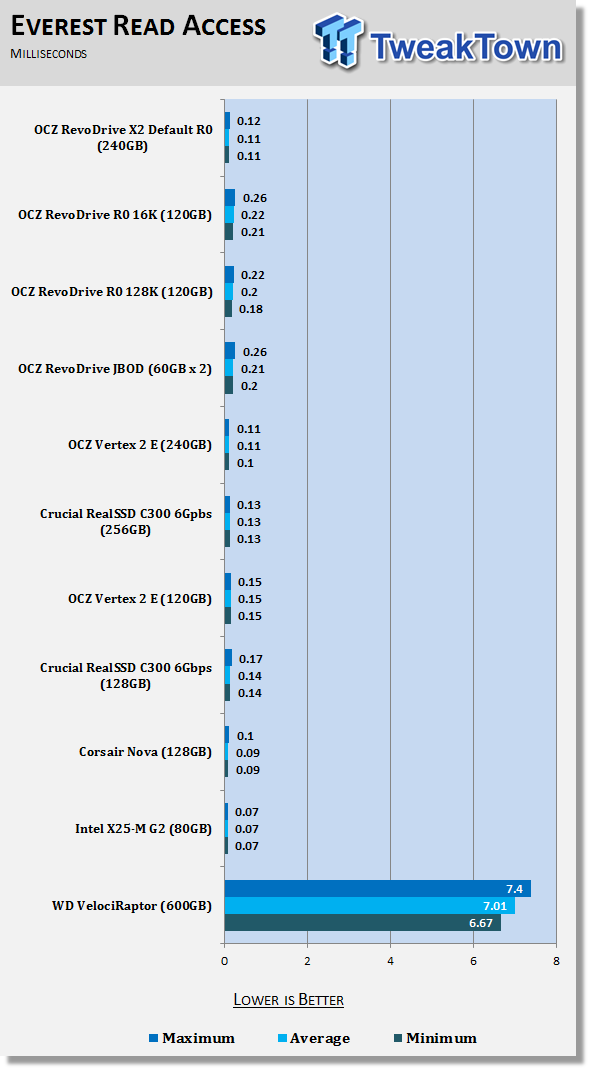 Even though OCZ added more SSD controllers, the read latency decreased to half of what we saw on the original RevoDrive. It is the very low access time that makes SSDs feel so fast and gives your operating system that snappy feel. The lower the access time the better and it appears that OCZ has managed to make things happen nearly instantaneously.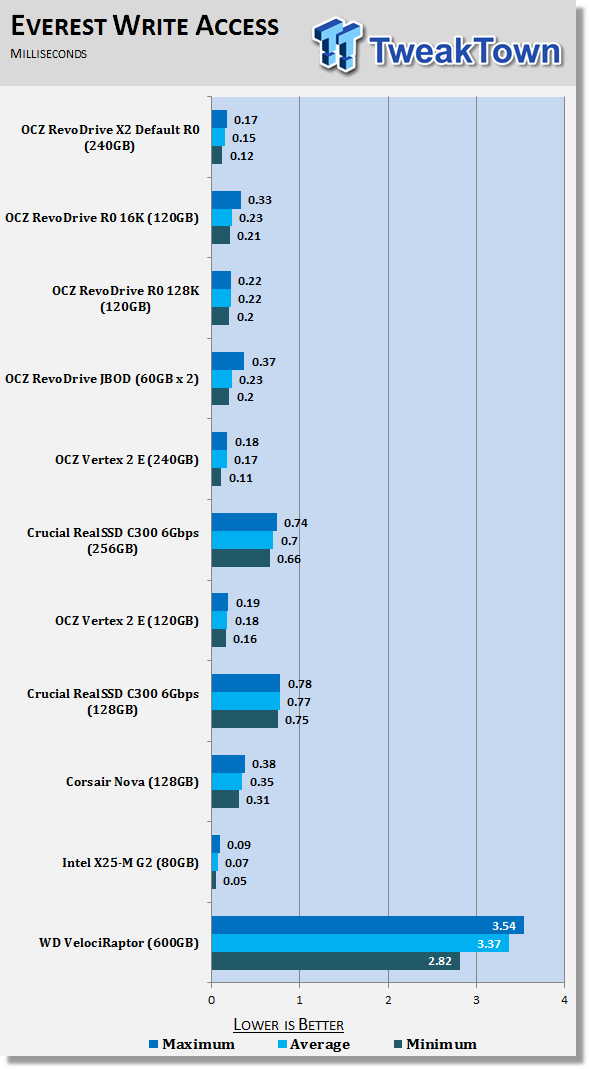 The RevoDrive X2 also decreased the write access time by a large amount.
Benchmarks - CrystalDiskMark
CrystalDiskMarkVersion and / or Patch Used:
3.0 Technical Preview
Developer Homepage:
http://crystalmark.info
Product Homepage:
http://crystalmark.info/software/CrystalDiskMark/index-e.html
Download here:
http://crystaldew.info/category/software/crystaldiskmark
CrystalDiskMark is a disk benchmark software.
Key Features:-
* Sequential reads/writes
* Random 4KB/512KB reads/writes
* Text copy
* Change dialog design
* internationalization (i18n)
Note:
Crystal Disk Mark 3.0 is not available to the public yet, but the Technical Preview does allow us to test 4K performance at queue depths of 4 and 32 in addition to 1. The current release Crystal Disk Mark only shows us QD 1.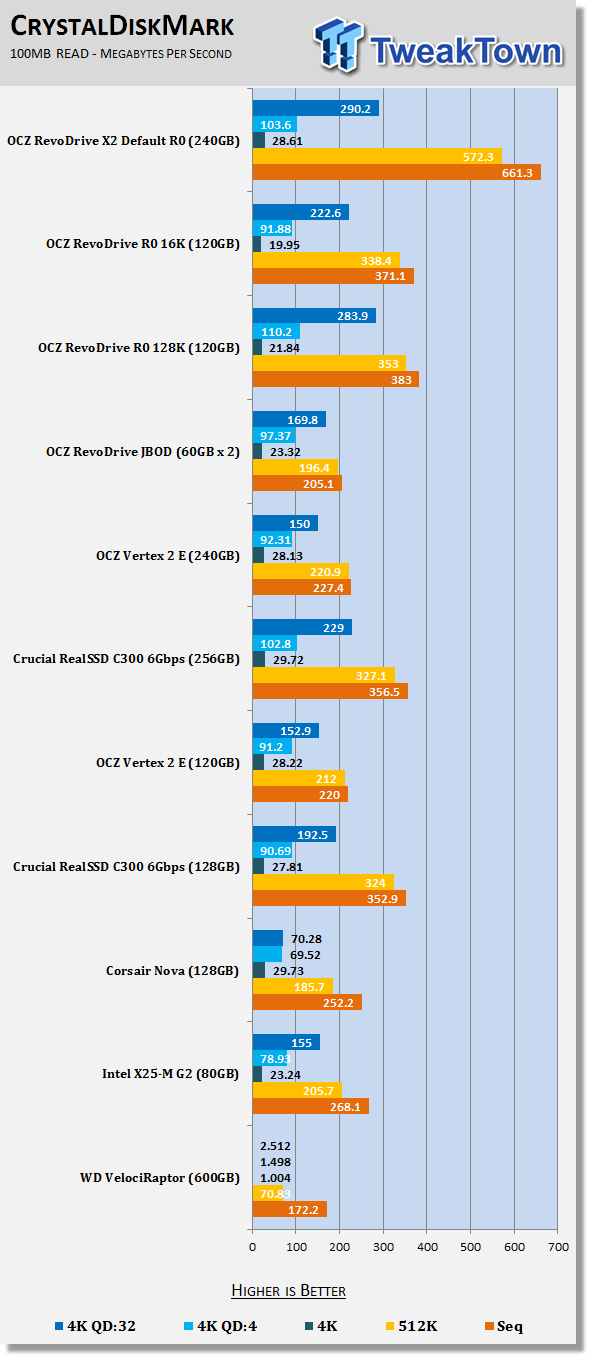 In CDM we are looking at the 4K and 4K queue depth performance. Once again we increase over the default 16K configured RevoDrive.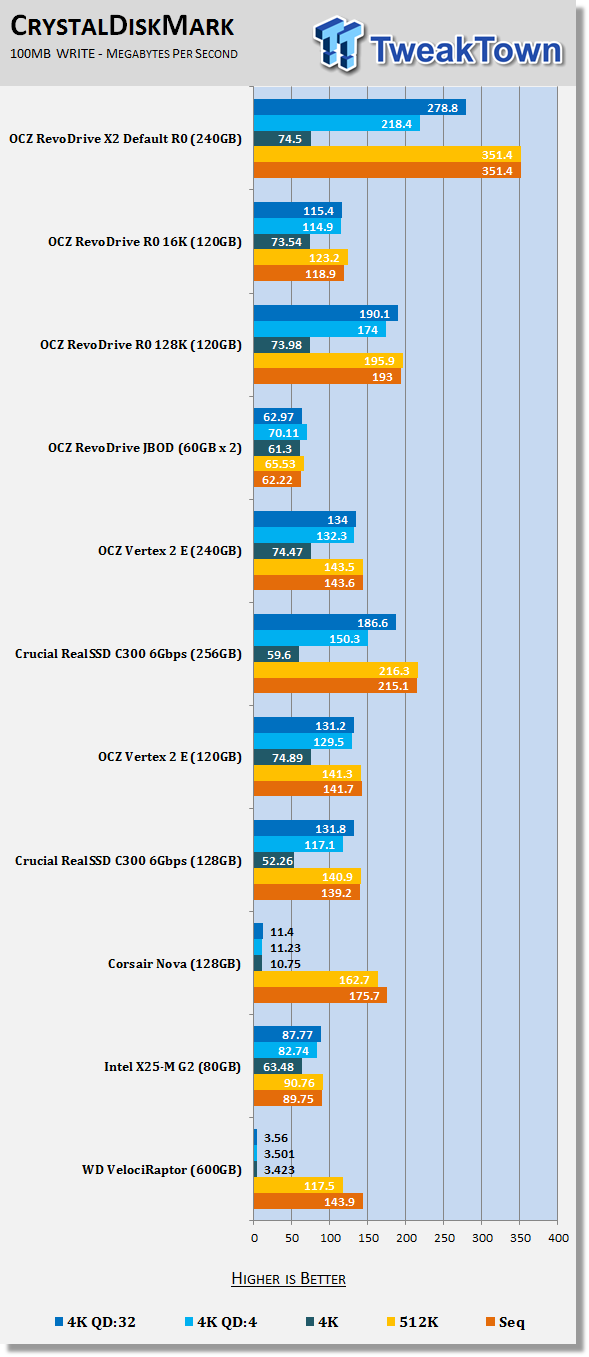 Even more pronounced were the write tests at queue depths (NCQ). Here we see the X2 more than doubling the performance of the RevoDrive in its original 16K configuration.
Benchmarks - PCMark Vantage Hard Disk Tests
PCMark Vantage - Hard Disk TestsVersion and / or Patch Used:
1.0.0
Developer Homepage:
http://www.futuremark.com
Product Homepage:
http://www.futuremark.com/benchmarks/pcmark-vantage/
Buy It Here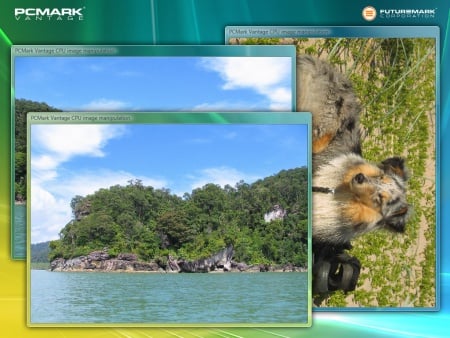 PCMark Vantage is the first objective hardware performance benchmark for PCs running 32 and 64 bit versions of Microsoft Windows Vista. PCMark Vantage is perfectly suited for benchmarking any type of Microsoft Windows Vista PC from multimedia home entertainment systems and laptops to dedicated workstations and high-end gaming rigs. Regardless of whether the benchmarker is an artist or an IT Professional, PCMark Vantage shows the user where their system soars or falls flat, and how to get the most performance possible out of their hardware. PCMark Vantage is easy enough for even the most casual enthusiast to use yet supports in-depth, professional industry grade testing.
FutureMark has developed a good set of hard disk tests for their PCMark Vantage Suite. Windows users can count on Vantage to show them how a drive will perform in normal day to day usage scenarios. For most users these are the tests that matter since many of the old hat ways to measure performance have become ineffective to measure true Windows performance.

HDD1 - Windows Defender
HDD2 - Gaming
HDD3 - Windows Photo Gallery
HDD4 - Vista Startup
HDD5 - Windows Movie Maker
HDD6 - Windows Media Center
HDD7 - Windows Media Player
HDD8 - Application Loading
One of the biggest features of the RevoDrive and RevoDrive X2 is their ability to be used as a boot drive. In PCMark Vantage we run a series of tests that are very common under the Windows operating system and are used every day by most users. Once again we see gains in performance; some tests favoured the new X2 better than others, but still across the board the X2 dominated our tests.
The biggest gains were the sequential tests from Windows Media Center. On the next page we will look at file transfer performance.
Benchmarks - AS SSD
AS SSD BenchmarkVersion and / or Patch Used:
1.2.3577.40358
Developer Homepage:
Alex Intelligent Software
Product Homepage:
Alex Intelligent Software
Download here:
http://www.alex-is.de/PHP/fusion/downloads.php?cat_id=4&download_id=9
AS determines the performance of Solid State Drives (SSD). The tool contains four synthetic as well as three practice tests. The synthetic tests are to determine the sequential and random read and write performance of the SSD. These tests are carried out without the use of the operating system caches.
In all synthetic tests the test file size is 1GB. AS can also determine the access time of the SSD, the access of which the drive is determined to read through the entire capacity of the SSD (Full Stroke). The write access test is only to be met with a 1 GB big test file. At the end of the tests three values for the read and write as well as the overall performance will be issued. In addition to the calculated values which are shown in MB/s, they are also represented in IO per seconds (IOPS).
Note:
AS SSD is a great benchmark for many tests, but since Crystal Disk Mark covers a broader range of 4K tests and HD Tune Pro covering sequential speeds, we will only use the Copy Benchmark from AS SSD.
- Copy Benchmark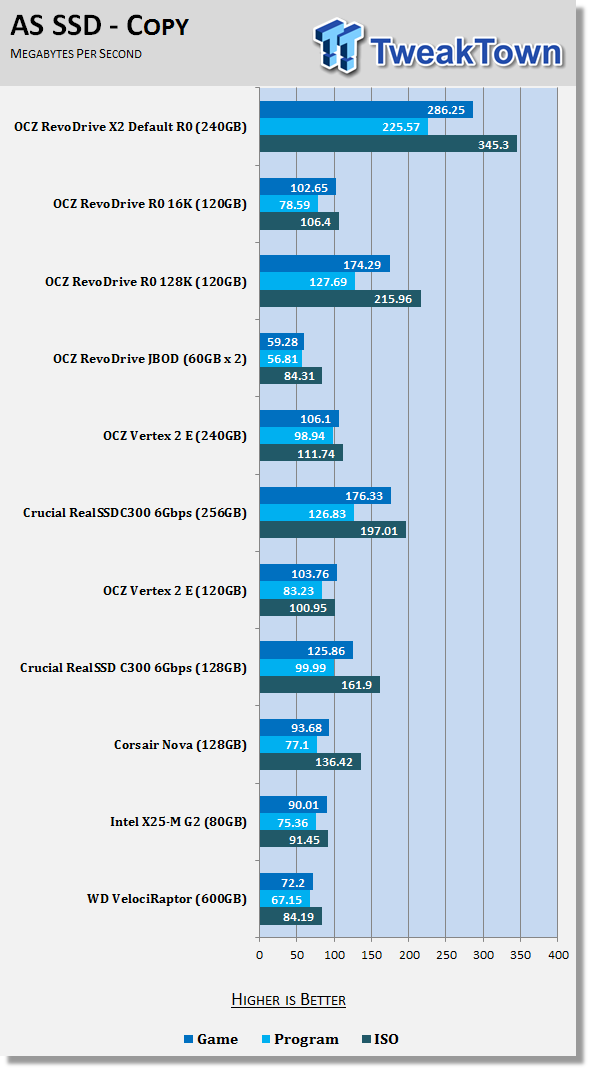 For this round of testing we left the RevoDrive X2 configured as it shipped to us from OCZ and that configuration was a general setting that gave the best balance between small file reads and writes with good sequential reads and writes.
Our first RevoDrive test we ran tests with the original configuration (16K) and our 128K that favored the sequential tests. Here we see that even with the tuned version of the first RevoDrive the X2 was able to outperform our special configuration. I can't wait to start playing with the X2 BIOS and see these tests ran again with a special tune.
Benchmarks - Passmark
Passmark Advanced Multi-User TestsVersion and / or Patch Used:
6.1
Developer Homepage:
http://www.passmark.com
Test Homepage:
http://www.passmark.com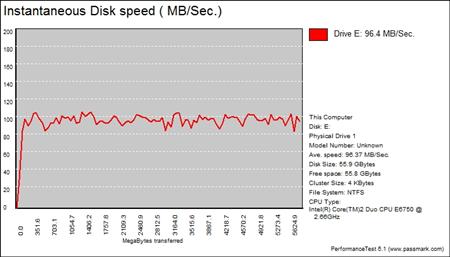 Many users complain that I/O Meter is too complicated of a benchmark to replicate results so my quest to find an alternative was started. Passmark has added several multi-user tests that measure a hard drives ability to operate in a multi-user environment.

The tests use different settings to mimic basic multi-user operations as they would play out on your server. Variances is read / write percentage as well as random / sequential reads are common in certain applications, Web Servers read nearly 100% of the time while Database Servers write a small amount of data.
The Workstation test is the only single user environment and will be similar to how you use your system at home.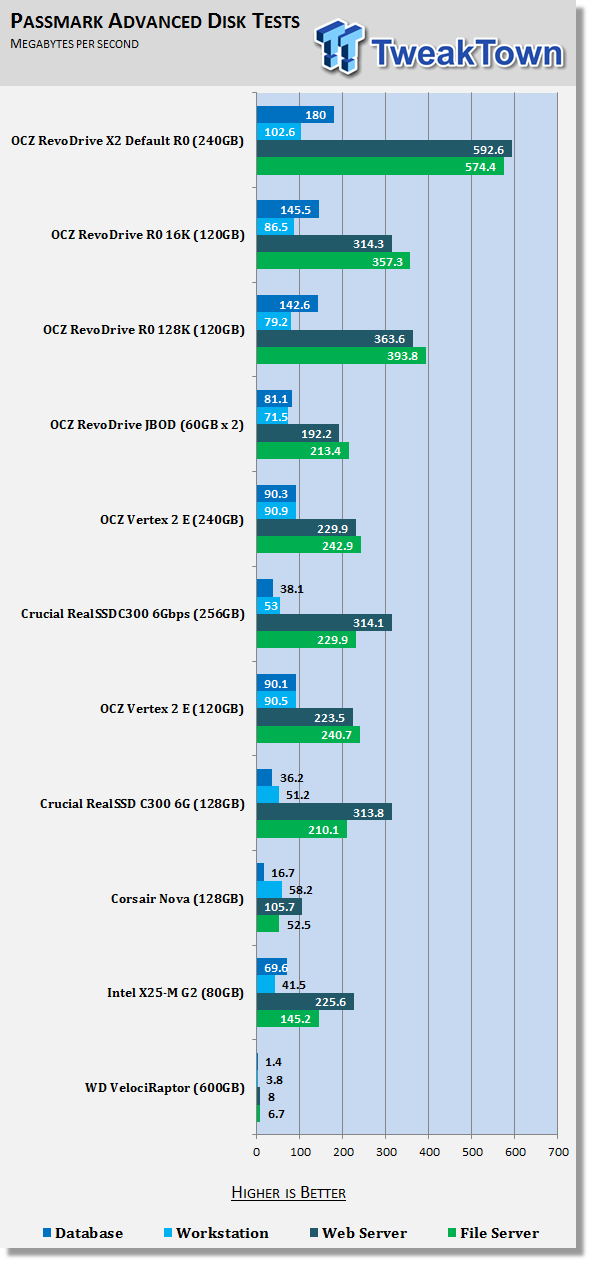 Our server tests had the X2 dominating once again across the board. The File and Web Server tests were close to being off the chart and the Workstation and Database tests showed significant improvements as well.
Final Thoughts
The OCZ RevoDrive X2 is the fastest single SSD product you can install in your system. It is almost inconceivable that it's also one of the easiest RAID products to install as well. Anyone looking to keep their case clutter down and still have the performance benefits of RAID will really like the X2, as will anyone with a small form factor system that is simply incapable of holding four SSDs and the cabling required to attach them to the system. Equally as impressive is the RevoDrive X2's ability to run off PCIe so you don't have to saturate the Intel ICH SATA ports, leaving your SATA ports available for large drives for long term storage or movies, music or whatever your large files consist of.
Just like the original RevoDrive, you can go into the Silicon Image BIOS and tune the array to best fit your needs; high IOPS or faster sequential transfer speeds. OCZ has shipping the card in a well-rounded state so users looking for drop-in performance will be very satisfied with the results right out of the box. Experienced users looking for a new way to tweak more performance out of their system can experiment with the options available and gain even more of a boost.
The only down side is the X2 comes with a price premium, but over time we do look for the price to go down as all computer parts do. Our 240GB RevoDrive X2 is available at
Newegg now for 679.00 USD
. At the time of writing four 60GB Vertex 2 drives would cost you around 536 USD at Newegg, but then you need to either use an additional controller, the Intel ICH which would easily be saturated by just three drives and then have to worry about cluttering your system up with all of the cables required to get the RAID array up and running. I think most users would opt for the X2 and leave the case clutter to someone else. This option also aids in airflow to the other components that enthusiasts will more than likely have overclocked, so the benefits are more than just what shows up on the benchmarks and specifications lists.
One area that we will have to look for over time is how the RevoDrive X2 performs after long term use. There is still not a way to run TRIM in RAID, but the SandForce controllers are very resilient to 'SSD fragmentation'.
I wouldn't hesitate to use the OCZ RevoDrive X2 in my own system and our sample X2 is going to quickly disappear from the inventory list since I am starting my SR2 build this week. With all of the SSD drives we have on hand I will be using the RevoDrive X2 for my OS.
PRICING: You can find products similar to this one for sale below.

United States: Find other tech and computer products like this over at Amazon.com

United Kingdom: Find other tech and computer products like this over at Amazon.co.uk

Australia: Find other tech and computer products like this over at Amazon.com.au

Canada: Find other tech and computer products like this over at Amazon.ca

Deutschland: Finde andere Technik- und Computerprodukte wie dieses auf Amazon.de
We openly invite the companies who provide us with review samples / who are mentioned or discussed to express their opinion. If any company representative wishes to respond, we will publish the response here. Please contact us if you wish to respond.