Hitachi Travelstar 7K500 500GB (HTS725050A9A364) 2.5-inch Hard Drive
Hitachi releases the world's first 5th generation 2.5" 7,200 RPM HDD which we hope will prove itself to be a viable means to improve your notebook's storage subsystem on the cheap.
Published Tue, Nov 2 2010 5:36 AM CDT
|
Updated Tue, Nov 3 2020 7:02 PM CST
Introduction, Specifications, Pricing and Availability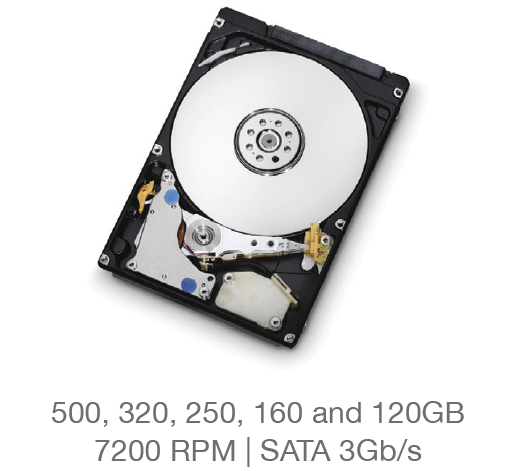 Introduction
With several OEM wins and a growing retail product line, Hitachi has quietly been chipping away at Seagate and Western Digital over the last few years. Gone are the days of Hitachi making 'me too' products and the company is now firmly in the same league as these long time front runners.
The notebook 2.5" sector is where I've seen Hitachi make the most growth. I don't have any data to back up that claim, but since I work on notebooks quite a bit it is easy to see that a larger percentage have come my way with Hitachi drives filling their bays.
Today we are going to look at Hitachi's fifth generation 7,200 RPM 2.5" notebook drive. The 7K500 HTS725050A9A364 is one of Hitachi's newest drives that feature 250GB platters.
Specifications, Pricing and Availability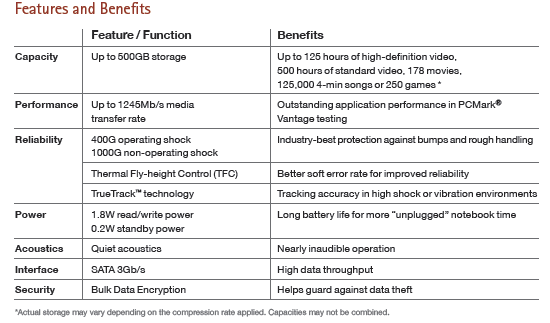 The Hitachi 7K500 (HTS725050A9A364) is the first 5th generation 2.5" 7,200 RPM HDD. Hitachi has released the drive in 120, 160, 250, 320 and 500GB capacities. All models are 7,200 RPM, SATA 3Gb/s and feature a 16MB cache buffer with 250GB per platter. Hitachi's 7K500 also features one of the highest shock ratings found in the traditional platter drive market, 1000G/1ms (half-sine wave).
After giving up searching for the Hitachi under the HTS725050A9A364 model number, I started to look for Hitachi 7K500 and found the drive available at Newegg at the time of writing for just
64.99 after a 10 Dollar mail in rebate
. This makes the Hitachi 7K500 the lowest priced 7,200 RPM 500GB drives available at Newegg and nearly half the price of Seagate's Momentus XT 500GB hybrid drive. With that in mind, we will give the 7K500 some additional consideration because the price is amazing for this class of hard drive.
Today will be a full on battle between the Hitachi 7K500 and Seagate's Momentus XT on the 500GB front. Both drives represent the pentacle of 2.5" platter drive technology and we have them both in house to see who comes out on top.
The Hitachi 7K500 500GB HDD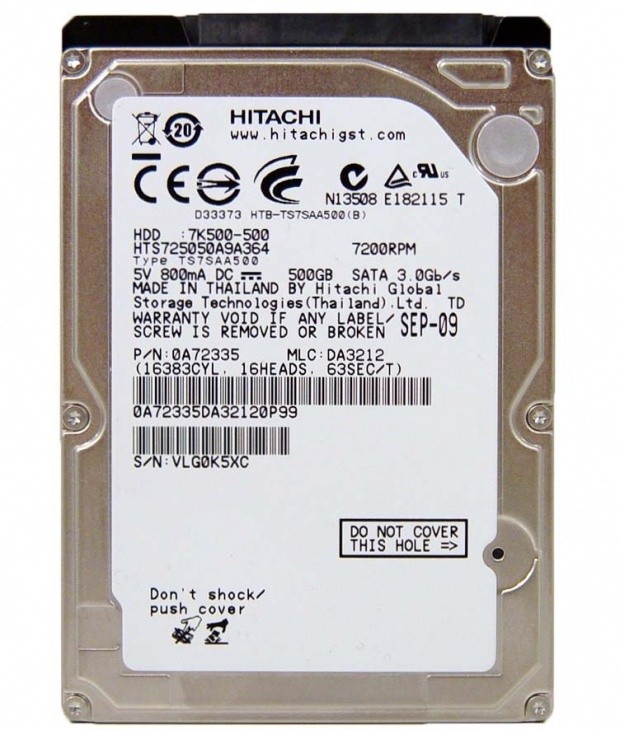 For the most part Hitachi's new 7K500 looks like a standard 2.5" hard drive. With all of the real action happening on the inside there really isn't too much to show in the external shots.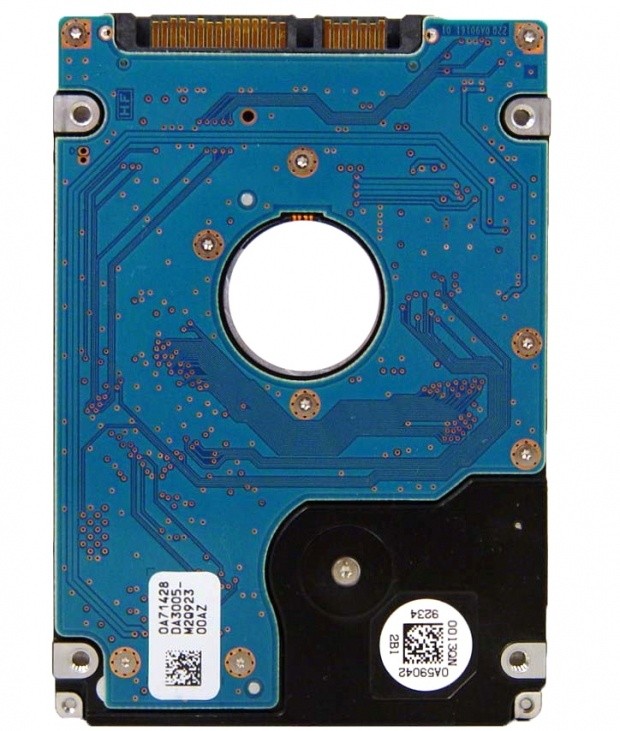 All of the components are tucked away on the other side of the PCB, so there isn't a whole lot to see here either.

Hitachi used the standard mounting locations for the drive, so installing the 7K500 in your notebook will be easy.

Standard SATA power and data connectors are where they should be, making the drive compatible with just about every notebook and external drive enclosure on the market.
Test System Setup and ATTO Baseline Performance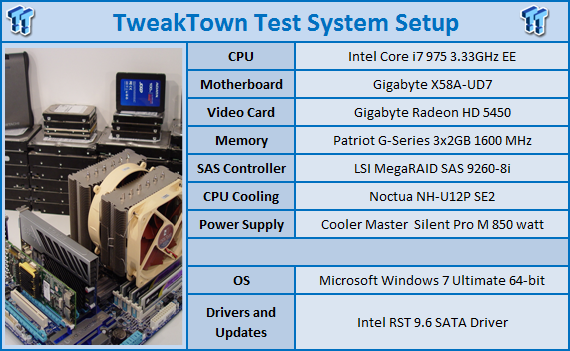 We would like to thank the following companies for supplying and supporting us with our test system hardware and equipment:
AVADirect
,
GIGABYTE
,
Cooler Master
,
LSI
and
Noctua
.
You can read more about TweakTown's Storage Product Testing Workstation and the procedures followed to test products
in this article
.
ATTO Baseline Performance
Version and / or Patch Used:
2.34
ATTO is used by many disk manufacturers to determine the read and write speeds that will be presented to customers.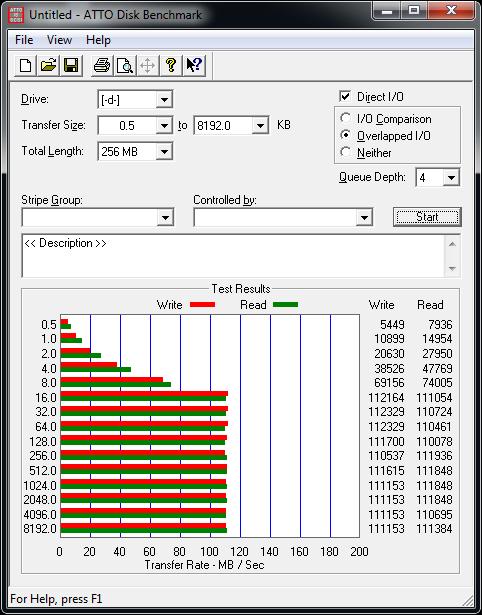 In ATTO we recorded read and write speeds of over 100MB/s which is very potent for a 2.5" platter drive. Let's get right into comparative testing.
Benchmarks - HD Tune Pro
HD Tune ProVersion and / or Patch Used:
4.00
Developer Homepage:
http://www.efdsoftware.com
Product Homepage:
http://www.hdtune.com
HD Tune is a Hard Disk utility which has the following functions:
Benchmark: measures the performance
Info: shows detailed information
Health: checks the health status by using SMART
Error Scan: scans the surface for errors
Temperature display
HD Tune Pro gives us accurate read, write and access time results and for the last couple of years has been gaining popularity amongst reviewers. It is now considered a must have application for storage device testing.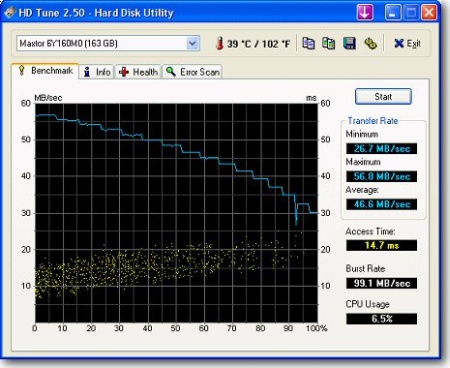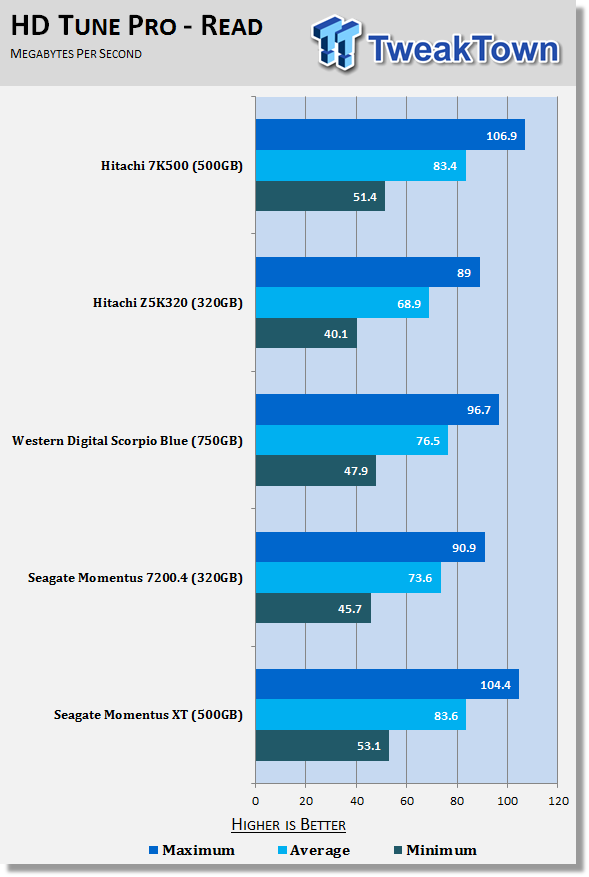 When it comes to reads across the drive we see that the Hitachi 7K500 has a higher peak than the Seagate Momentus XT, but not by a large amount. The average and minimum speeds even everything out. This is going to be an exciting battle between these next generation drives.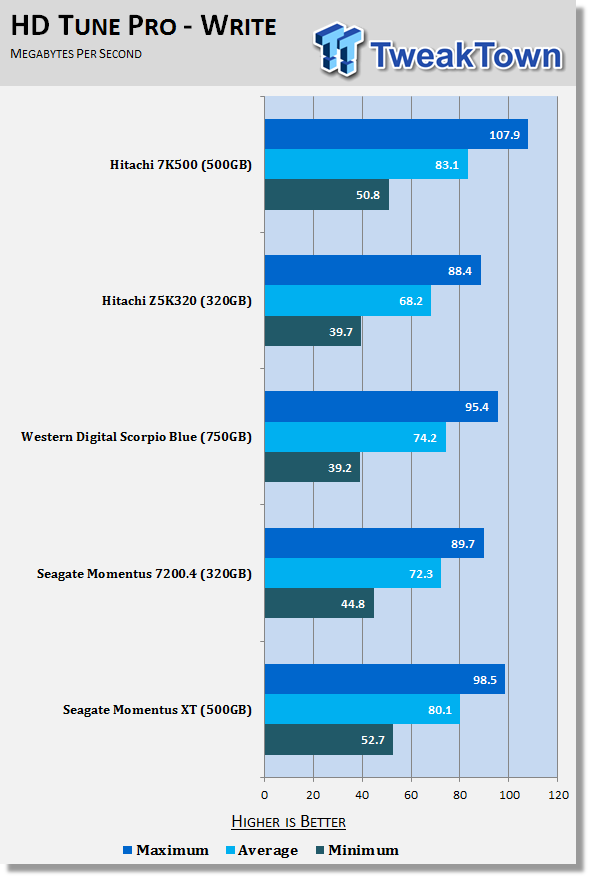 When it comes to write speeds across the drives the 7K500 has a clear advantage over the other drives.
Benchmarks - Everest Random Access Time
Everest Random Access TimeVersion and / or Patch Used:
4.60
Developer Homepage:
http://www.lavalys.com
Product Homepage:
http://www.lavalys.com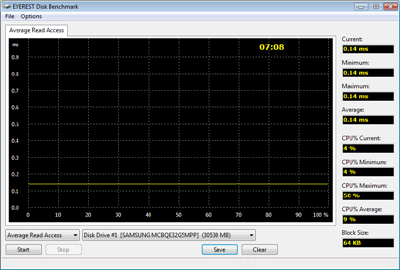 Everest Ultimate and Corporate Edition offer several different benchmarks for testing and optimizing your system or network. The Random Access test is one of very few if not only that will measure hard drives random access times in hundredths of milliseconds as oppose to tens of milliseconds.
Drives with only one or two tests displayed in write the write test mean that they have failed the test and their Maximum and possibly their Average Scores were very high after the cached fills. This usually happens only with controllers manufactured by JMicron.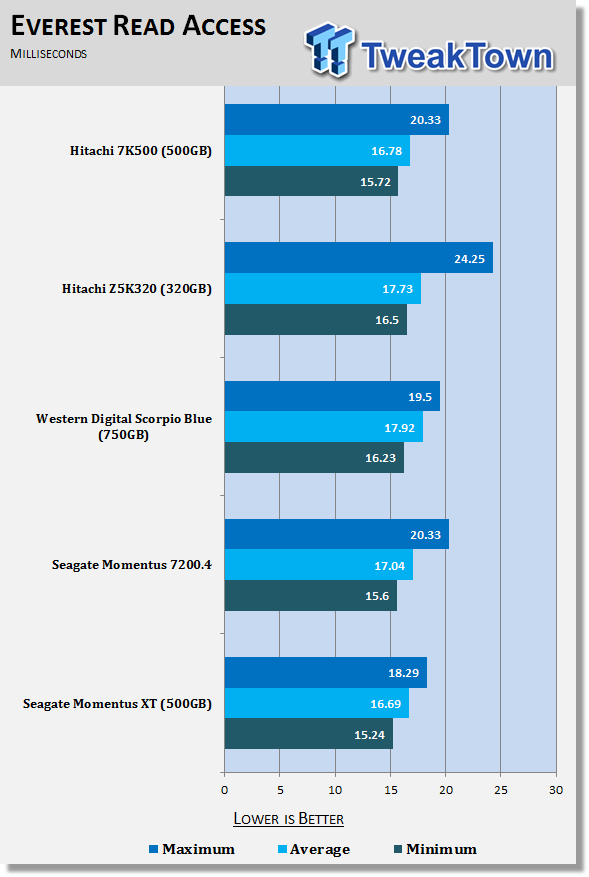 The lower the access time, the faster a drive feels. The average access time of the Hitachi 7K500 and the Seagate Momentus XT are nearly identical. The peak access time is a little higher on the 7K500, but not enough to notice.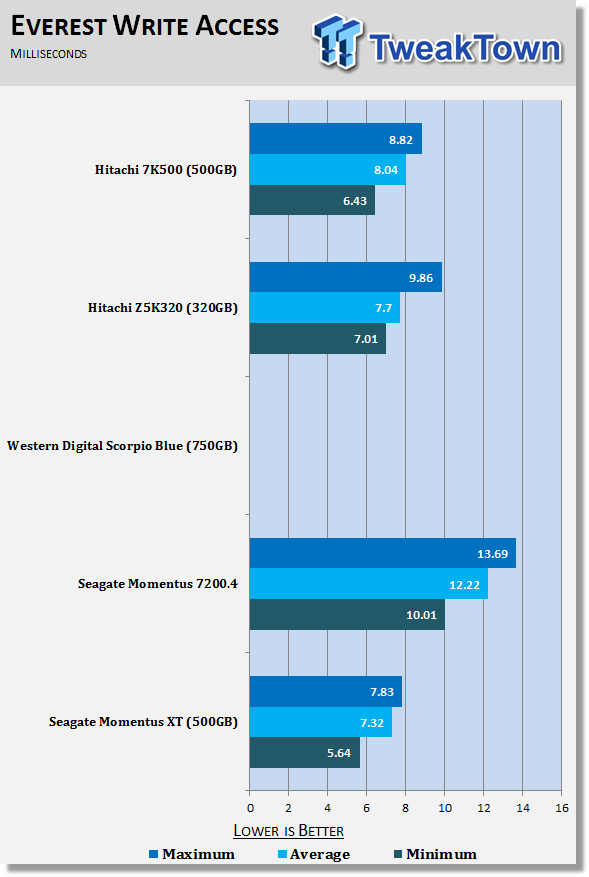 The Western Digital Scorpio Blue had a little issue with this test, so its results didn't make the cut. The real battle here is the 7K500 and the XT anyhow, so we aren't losing much. Here we see that the XT has a slight advantage over the 7K500.
Benchmarks - PCMark Vantage Hard Disk Tests
PCMark Vantage - Hard Disk TestsVersion and / or Patch Used:
1.0.0
Developer Homepage:
http://www.futuremark.com
Product Homepage:
http://www.futuremark.com/benchmarks/pcmark-vantage/
Buy It Here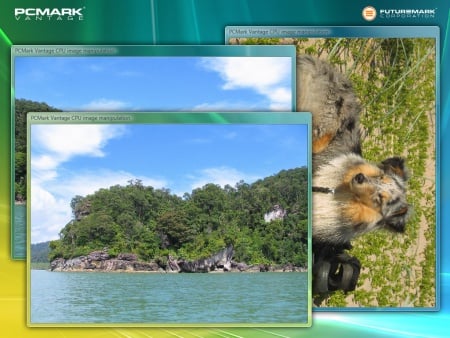 PCMark Vantage is the first objective hardware performance benchmark for PCs running 32 and 64 bit versions of Microsoft Windows Vista. PCMark Vantage is perfectly suited for benchmarking any type of Microsoft Windows Vista PC from multimedia home entertainment systems and laptops to dedicated workstations and high-end gaming rigs. Regardless of whether the benchmarker is an artist or an IT Professional, PCMark Vantage shows the user where their system soars or falls flat, and how to get the most performance possible out of their hardware. PCMark Vantage is easy enough for even the most casual enthusiast to use yet supports in-depth, professional industry grade testing.
FutureMark has developed a good set of hard disk tests for their PCMark Vantage Suite. Windows users can count on Vantage to show them how a drive will perform in normal day to day usage scenarios. For most users these are the tests that matter since many of the old hat ways to measure performance have become ineffective to measure true Windows performance.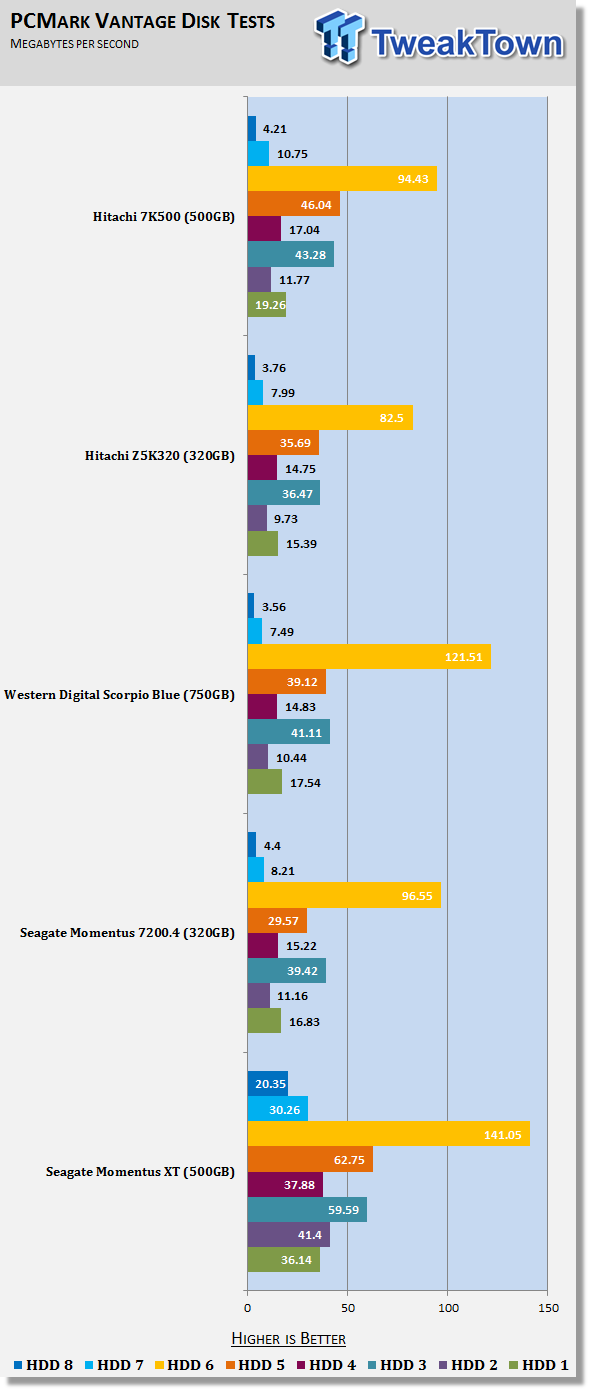 HDD1 - Windows Defender
HDD2 - Gaming
HDD3 - Windows Photo Gallery
HDD4 - Vista Startup
HDD5 - Windows Movie Maker
HDD6 - Windows Media Center
HDD7 - Windows Media Player
HDD8 - Application Loading
For most users these tests have the most meaning since they are what Windows uses every day. The hybrid SSD Momentus XT really shows what it is made of here and leaves everything else behind which is not good for our Hitachi 7K500. Across the board we see the XT nearly doubling and in some tests tripling the speed of the Hitachi 7K500.
Benchmarks - AS SSD
AS SSD BenchmarkVersion and / or Patch Used:
1.2.3577.40358
Developer Homepage:
Alex Intelligent Software
Product Homepage:
Alex Intelligent Software
Download here:
http://www.alex-is.de/PHP/fusion/downloads.php?cat_id=4&download_id=9
AS SSD determines the performance of Solid State Drives (SSD). The tool contains four synthetic as well as three practice tests. The synthetic tests are to determine the sequential and random read and write performance of the SSD. These tests are carried out without the use of the operating system caches.
In all synthetic tests the test file size is 1GB. AS can also determine the access time of the SSD, the access of which the drive is determined to read through the entire capacity of the SSD (Full Stroke). The write access test is only to be met with a 1 GB big test file. At the end of the tests three values for the read and write as well as the overall performance will be issued. In addition to the calculated values which are shown in MB/s, they are also represented in IO per seconds (IOPS).
Note:
AS SSD is a great benchmark for many tests, but since Crystal Disk Mark covers a broader range of 4K tests and HD Tune Pro covering sequential speeds, we will only use the Copy Benchmark from AS SSD.
- Copy Benchmark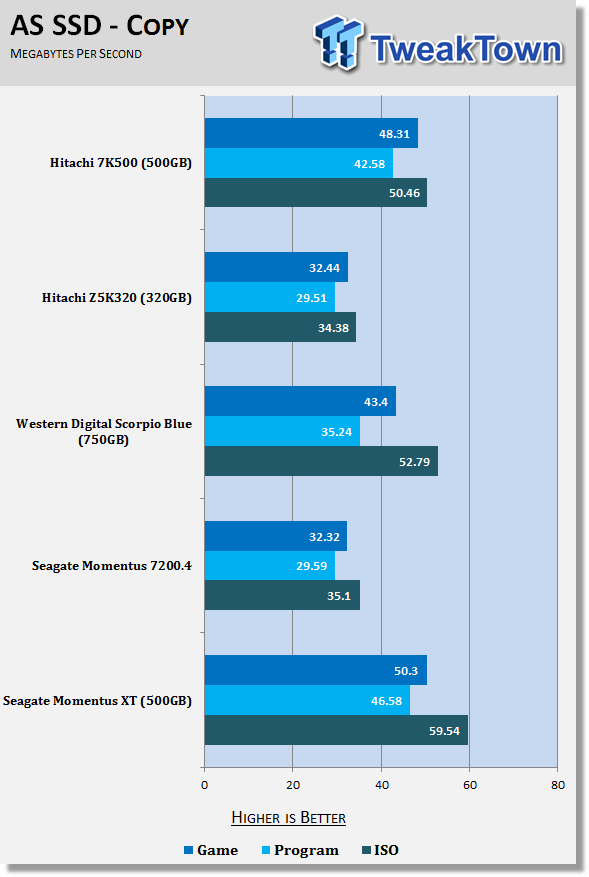 When it comes to transferring data the Hitachi 7K500 is behind the Momentus XT again. This time the performance between the two is much closer, but the XT is clearly in the lead here.
Benchmarks - Passmark
Passmark Advanced Multi-User TestsVersion and / or Patch Used:
6.1
Developer Homepage:
http://www.passmark.com
Test Homepage:
http://www.passmark.com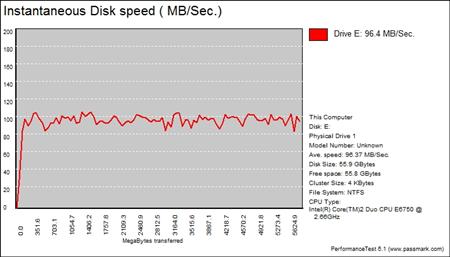 Many users complain that I/O Meter is too complicated of a benchmark to replicate results so my quest to find an alternative was started. Passmark has added several multi-user tests that measure a hard drives ability to operate in a multi-user environment.

The tests use different settings to mimic basic multi-user operations as they would play out on your server. Variances is read / write percentage as well as random / sequential reads are common in certain applications, Web Servers read nearly 100% of the time while Database Servers write a small amount of data.
The Workstation test is the only single user environment and will be similar to how you use your system at home.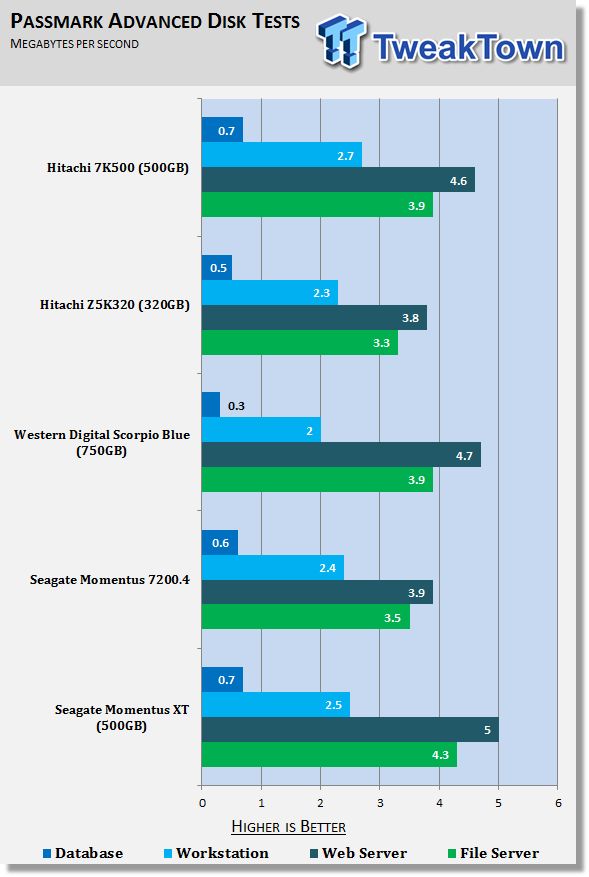 I highly doubt that anyone will be making server arrays with these 2.5" drives, but it is always fun to run these tests to how they would perform. Seagate traditionally has a strong lead in these tests, but here we see that Hitachi has managed to catch up in many of the tests and even outperforms the XT in the Workstation test.
Final Thoughts
The Hitachi 7K500 is able to break the 100MB/s mark and has a few feathers in its cap on the technology side, but the competition's headdress looks like something an Indian chief would wear in ceremony. With 250GB platters spinning at 7,200 RPMs and a 16MB buffer the 7K500 is definitely fast, but Seagate's new Momentus XT is a hard act to follow with its hybrid SSD design.
When it comes to pricing, Hitachi's 7K500 is available at Newegg at the time of writing for
64.99 after a 10 Dollar MIR
. To put the Seagate vs. Hitachi battle in perspective on price, the Momentus XT is available at Newegg for 109.99. The Seagate 7200.4 that we also listed in the performance tests lists at Newegg for 69.99, 5 Dollars more than the Hitachi 7K500, but the Hitachi proved to be a much faster drive in nearly all of our tests. The Hitachi 7K500 is priced as a mainstream product, but delivers performance found only in the high end of the market.
Once you put together the performance with the price, the term
value
really comes to mind. The Hitachi 7K500 is a real value that enhances the user experience while allowing you to keep some money in your pocket.
PRICING: You can find products similar to this one for sale below.

United States: Find other tech and computer products like this over at Amazon.com

United Kingdom: Find other tech and computer products like this over at Amazon.co.uk

Australia: Find other tech and computer products like this over at Amazon.com.au

Canada: Find other tech and computer products like this over at Amazon.ca

Deutschland: Finde andere Technik- und Computerprodukte wie dieses auf Amazon.de
We openly invite the companies who provide us with review samples / who are mentioned or discussed to express their opinion. If any company representative wishes to respond, we will publish the response here. Please contact us if you wish to respond.