Introduction, Specifications, Availability and Pricing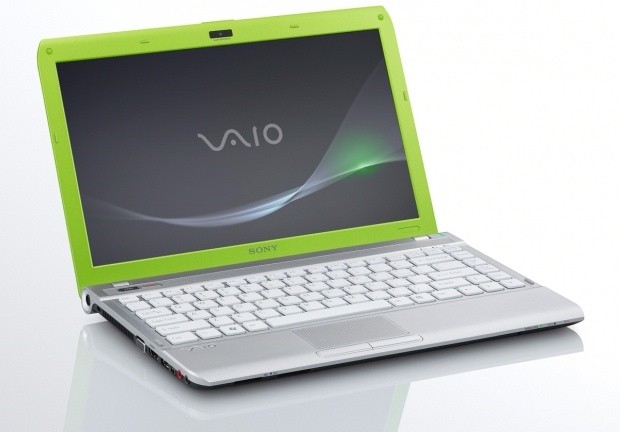 Introduction
It has only been a month since the last Sony notebook came through my hands. Today I am looking at another VAIO that has decent specifications and a price that puts it on par with many other offerings on the market. The machine has a very bright green color that will appeal to some and have others looking for a less colorful option.
This notebook is aimed at the user who needs a machine with portability that doesn't have to be the most powerful machine out there. The Sony VAIO VPCY216FX/G is an ultraportable machine that has some nice features for the office or school and can play when work time is over.
I am impressed to see that a machine this cheap uses a magnesium casing. Not too long ago that tech was only used in high-end machines, but today those high-end offerings have moved to carbon fiber. Green lid and lightweight aside, what shoppers really want to know is how well the Sony VAIO VPCY216FX/G performs, so let's get to it.
Specifications, Availability and Pricing
You can purchase the Sony VAIO VPCY216FX/G from a number of online stores. The MSRP is $819 and you can buy the notebook on
Newegg for $799.99
.
The specifications of my test sample are below: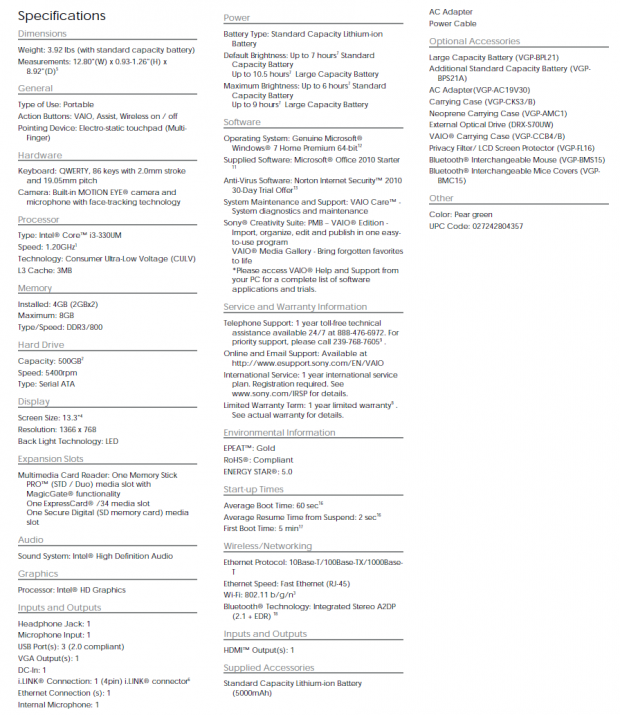 Sony VAIO VPCY216FX/G
[img]2[/img]
The Sony VAIO VPCY216FX/G comes with the necessities and nothing else in the bundle.
[img]3[/img]
The right side of the notebook has a pair of USB ports, Ethernet port, and the ExpressCard slot along with the power switch in the hinge.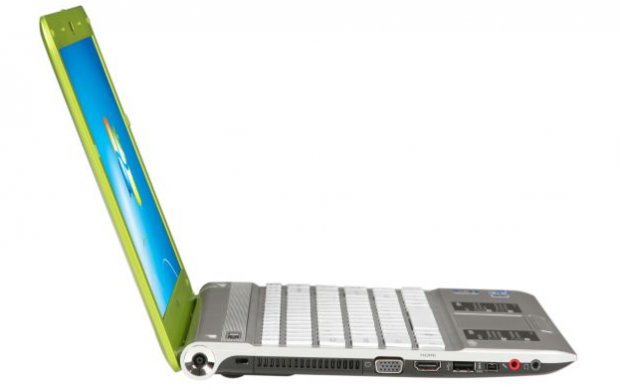 The left side of the notebook has a cooling grate, VGA output, HDMI output, USB, i.LINK connector, mic jack, headphone jack, Kensington lock port, and the AC adapter port is in the hinge.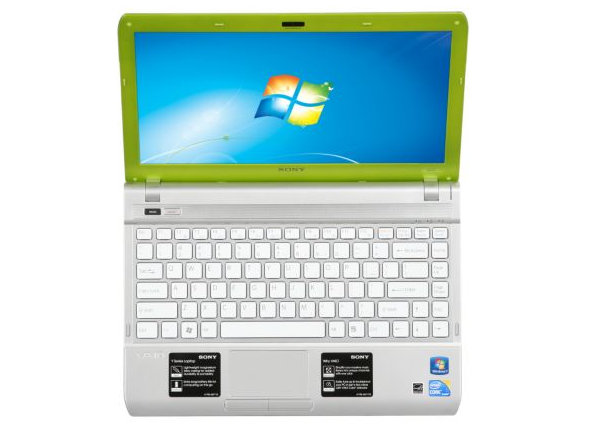 From the top view, you can see the chicklet keyboard and the track pad among other things.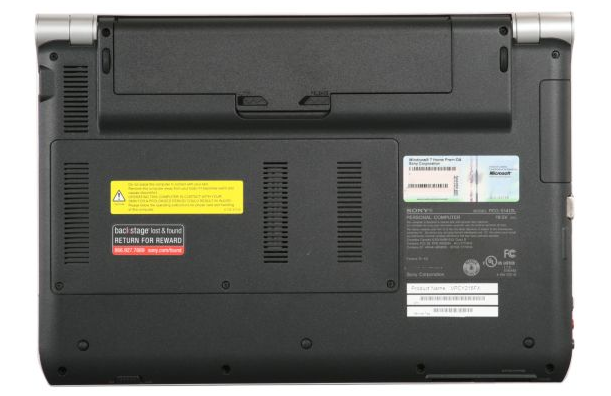 The bottom of the notebook has cooling grates, the battery, and the cover over RAM and storage.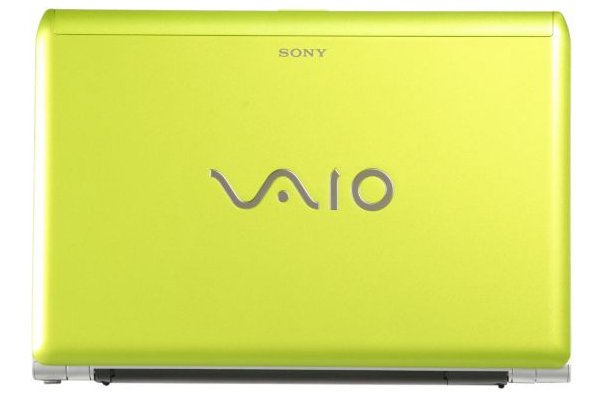 The matte metallic green lid doesn't show fingerprints and proves it really isn't easy being green.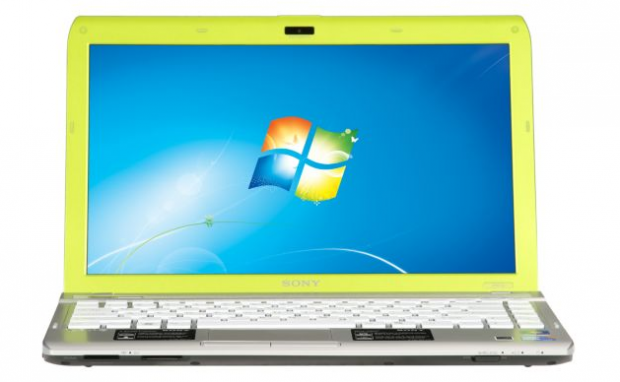 The front edge of the Sony VAIO VPCY216FX/G has indicator lights, wireless on/off switch, and memory card readers.
Performance - A/V Encoding, Battery Life, Boot Time, and Power Consumption
Below is the CPU-Z screen shot so you can see what the machine has inside.
A/V Encoding and Battery Life
The Sony VAIO VPCY216FX/G will be run through the standard notebook/netbook test regime here at TweakTown. This includes iTunes Encoding and Media Transcoding plus Battery Eater Pro for battery life estimation. This machine will also be put through our new expanded benchmark regime with the addition of boot time, PCMark Vantage, SuperPi, and Cinebench.
All systems are tested "as is", which means operating systems and drivers can and do vary and some come pre-installed with applications that may or may not affect performance. Any anti-virus or security applications are disabled and uninstalled before any testing is started as they can affect test numbers.
For the iTunes encoding test I take
Stone Temple Pilots - Core
CD album in MP3 format and encode it to AAC format using iTunes and time the results with a stopwatch.
All tests are performed with the system in High Performance mode with minimum CPU set to 100%.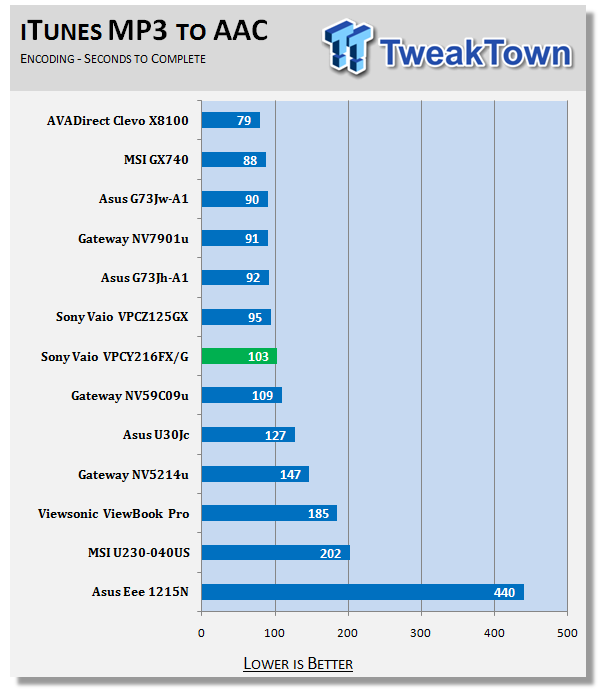 The Sony VAIO VPCY216FX/G was exactly in the middle of the pack here.
For the movie encoding test I take the
Microsoft Magic of Flight
VC-1 WMV video with six channel audio (1080p HD) and transcode it to XviD (1080p HD) with LAME MP3 two channel audio and a MP4 container using MediaCoder 0.7.3.4616 32-bit edition.
All tests are performed with the system in High Performance mode with minimum CPU set to 100%.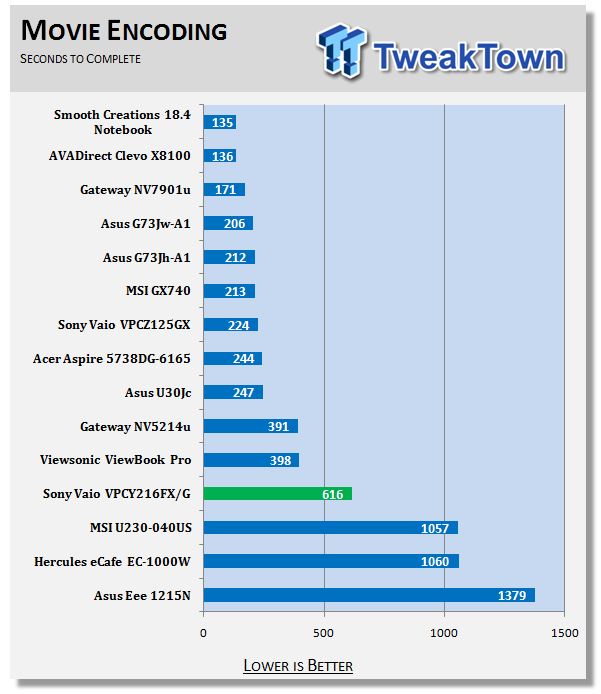 The Sony VAIO VPCY216FX/G was the fourth slowest machine I have ever tested in this benchmark. The only machines slower in this test were netbooks.
Battery Eater Pro
Battery Eater Pro is very hard on batteries, so you are likely to get more run time in the real world, depending on how you use the machine. Since we compare all laptops and netbooks the exact same way though, it creates a fair and balanced playing field for our comparisons.
For the power saving mode test I run the machine in 'Power Saver' mode with turn off display disabled and brightness set to 50%, sleep mode disabled, HDD turn off disabled and minimum CPU set to 5%.
For the performance mode test I run the machine in 'High Performance' mode with turn off display disabled and brightness set to 100%, sleep mode disabled, HDD turn off disabled and minimum CPU set to 100%. Do note that some systems even when set to 100% CPU may force drop down the clock speed when AC power is lost.
Wireless is kept enabled during all tests and nothing else unusual is disabled. Time is rounded up to the nearest minute.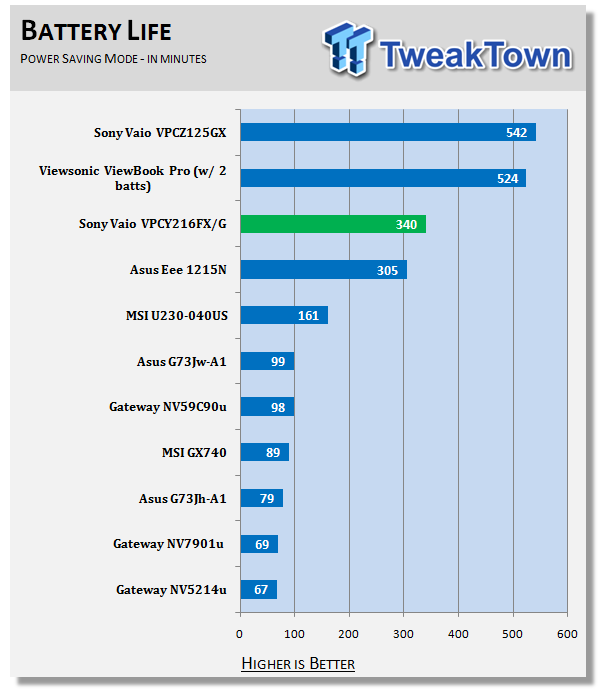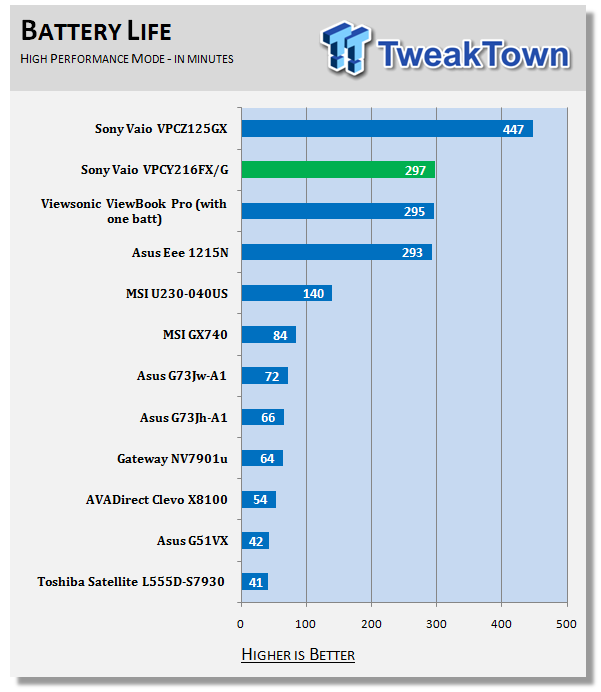 The Sony VAIO VPCY216FX/G has good battery life landing in the top three of all notebooks tested.
Boot Time
We measured boot time using a stopwatch and timed from the point we turned the system on until the very first point the desktop was reached and fully loaded.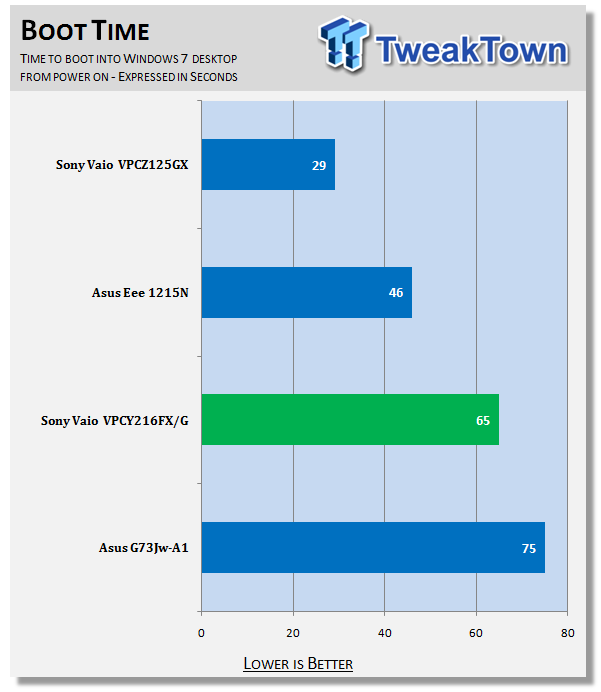 The Sony VAIO VPCY216FX/G is second from dead last in boot time.
Power Consumption
The power consumed by the machine under full load using Prime95 and at idle is recorded with a Kill A Watt wall outlet measuring device and rounded to the nearest watt.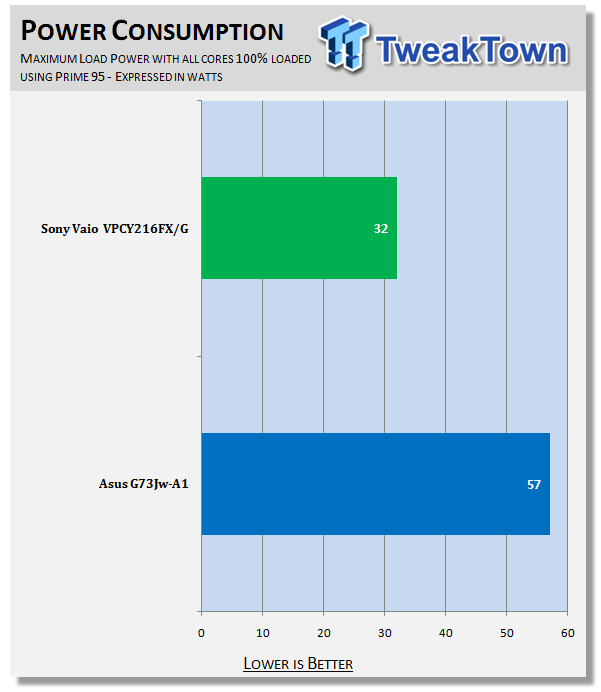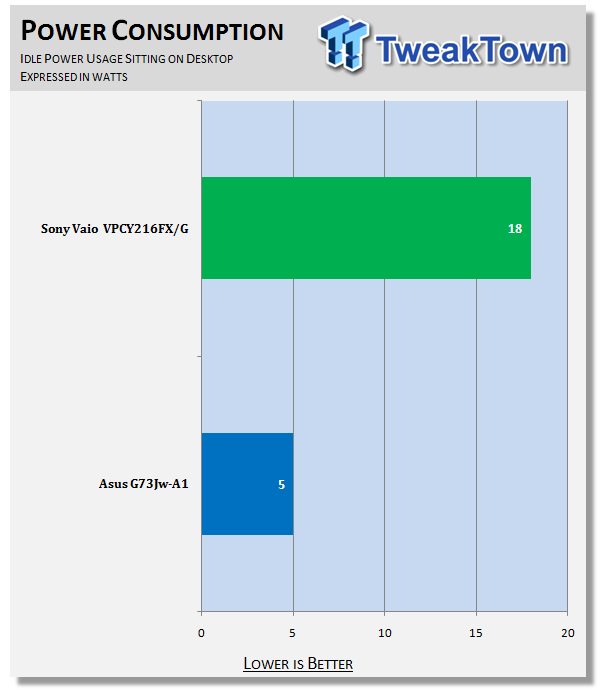 Performance - PCMark Vantage, CINEBENCH, Super Pi, and 3DMark Vantage
PCMark Vantage 64-bitVersion and / or Patch Used:
Nov 2007 Hotfix
Developer Homepage:
http://www.futuremark.com
Product Homepage:
http://www.futuremark.com/benchmarks/pcmark-vantage/
Buy It Here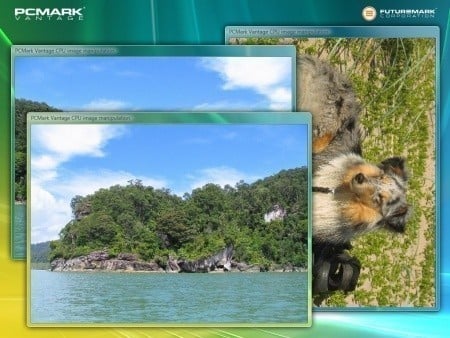 PCMark Vantage is the first objective hardware performance benchmark for PCs running 32 and 64 bit versions of Microsoft Windows Vista. PCMark Vantage is perfectly suited for benchmarking any type of Microsoft Windows Vista PC from multimedia home entertainment systems and laptops to dedicated workstations and high-end gaming rigs. Regardless of whether the benchmarker is an artist or an IT Professional, PCMark Vantage shows the user where their system soars or falls flat, and how to get the most performance possible out of their hardware. PCMark Vantage is easy enough for even the most casual enthusiast to use yet supports in-depth, professional industry grade testing.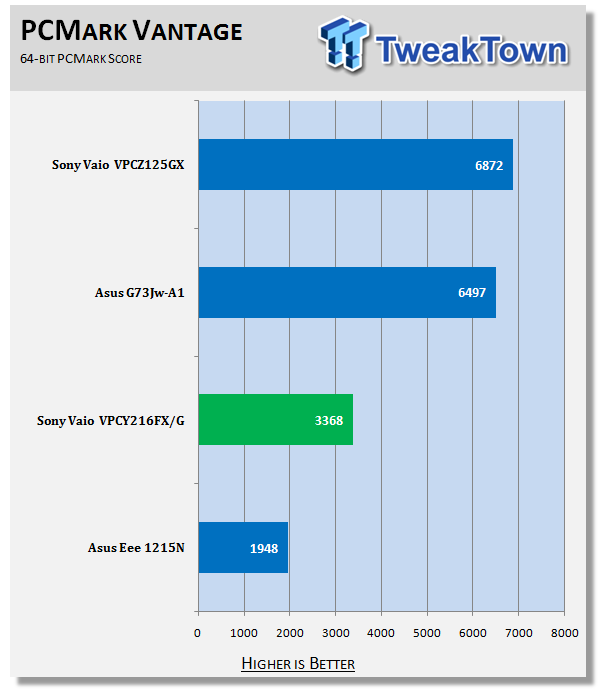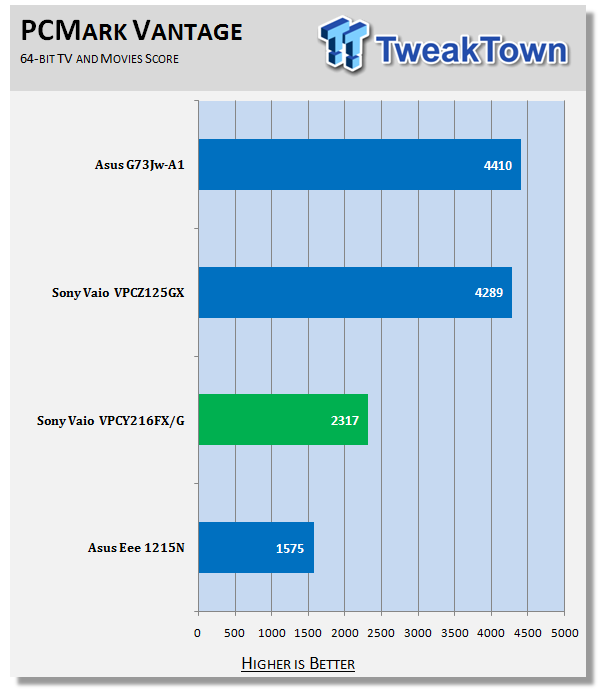 The Sony VAIO VPCY216FX/G took second to last here compared to the three machines that have been through this new benchmark so far in PCMark.
CINEBENCH R11.5 64-bitVersion and / or Patch Used:
Release 11.5
Developer Homepage:
http://www.maxon.net/
CINEBENCH is a real-world test suite that assesses your computer's performance capabilities. MAXON CINEBENCH is based on MAXON's award-winning animation software, CINEMA 4D, which is used extensively by studios and production houses worldwide for 3D content creation. MAXON software has been used in blockbuster movies such as Spider-Man, Star Wars, The Chronicles of Narnia and many more.
MAXON CINEBENCH runs several tests on your computer to measure the performance of the main processor and the graphics card under real world circumstances. The benchmark application makes use of up to 16 CPUs or CPU cores and is available for Windows (32-bit and 64-Bit) and Macintosh (PPC and Intel-based).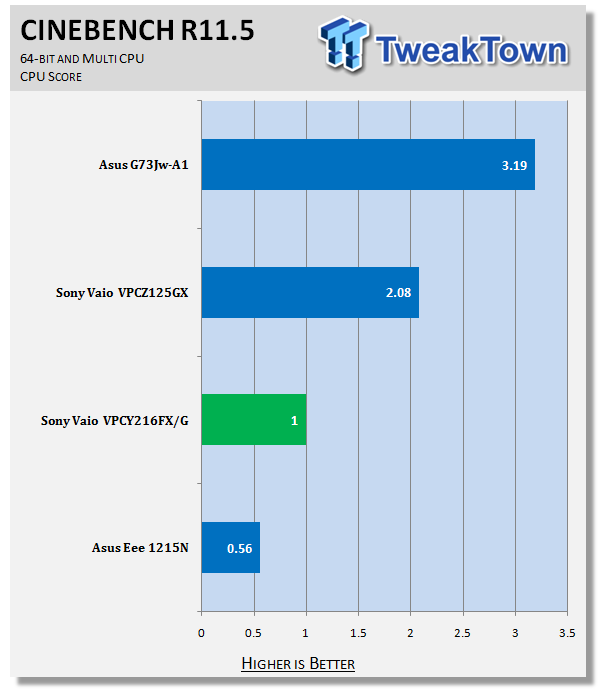 The Sony VAIO VPCY216FX/G was third out of four machines to go through this benchmark with a score half that of the VAIO I tested before.
Super PiVersion and / or Patch Used:
1.5 Mod XS
Developer Homepage:
http://pw1.netcom.com/~hjsmith/Pi/Super_Pi.html
Product Homepage:
http://pw1.netcom.com/~hjsmith/Pi/Super_Pi.html
Developed by some folks from the University of Tokyo (yes, Japan), Super PI is a small utility that does just as the name implies. It figures PI to a set number of decimal places. Since PI is an infinite number to the right of the decimal point, the utility measures the time it takes to figure a set number of places. It runs the calculations a set number of times and gives a time for the completion of the task. This is a simple and effective way to measure the raw number crunching power of the processor being used to compile the results.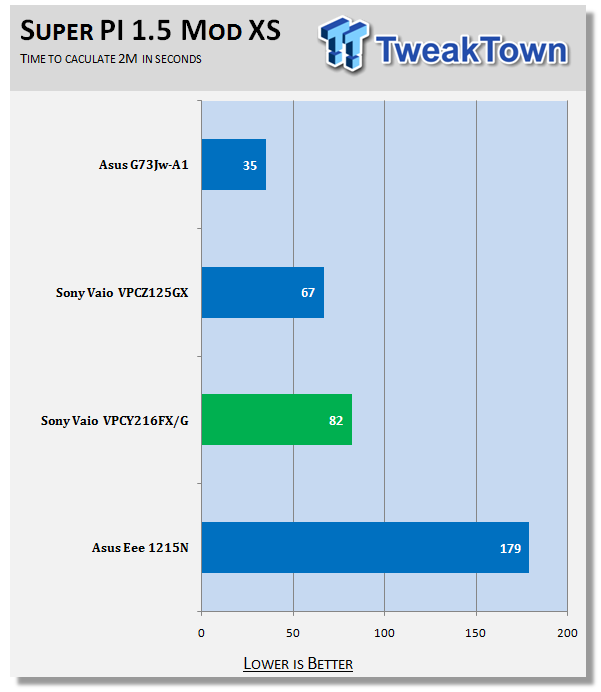 This is another young benchmark here at TweakTown and the Sony VAIO VPCY216FX/G was third of four again in this test.
Hands on Use and Final Thoughts
Hands On Use
The Sony VAIO VPCY216FX/G was not a chart burner when it came to benchmarks, but in real world use the little notebook fares well enough. The machine is very light, thin and portable. You could certainly schlep this notebook with you all day with the reasonable expectation that the battery will last the whole time. The screen of the little notebook is very glossy, and as usual, that means lots of glare.
The screen isn't as up to streaming media as some of the other machines I have tried. The screen had noticeable pixilation in areas of high contrast like the borders of shadow and light on video. The pixilation was also noticeable when streaming video online as well. The Sony VAIO VPCY216FX/G can stream video from Hulu in windowed and in full screen modes. However, there was noticeable stuttering in windowed mode, which only worsened in full screen mode. The stuttering wasn't the worst I have seen, but it was irritating when trying to watch a show. The notebook lacks an optical drive so you can't watch DVDs on the machine. The optical drive is something many ultraportables give up in an effort to save weight.
The sound system Sony uses is like most onboard speakers that I have tested. The sound is flat and the volume is good enough to watch in a reasonably quiet room. If you are trying to hear in a noisy environment, you will want headphones or external speakers.
Sony uses a chicklet style keyboard on the Sony VAIO VPCY216FX/G that is an off-white color. The keyboard looks really cool, but I have to wonder if the color will be stained quickly with oil from skin, makeup and dirt. The keys are well spaced and all keys are where they should be. The right Shift key is a bit smaller than the left shift key, but the right key is large enough to use without any problems.
The trackpad is directly under the keyboard and offset to the left a bit from center. It is well defined from the wrist rest around it and offers the accuracy and sensitivity you expect to find. The buttons are easy to press and have nice feel to them.
Final Thoughts
As I spent my time with the Sony VAIO VPCY216FX/G, I inevitably compared the machine to the VAIO VPCZ125GX that I reviewed not long ago in my mind. The Sony VAIO VPCY216FX/G I am looking at today is no comparison to that other VAIO in performance or price. The VPCZ125GX sells for over $2000, whereas the Sony VAIO VPCY216FX/G today can be found for under $800. Consider the performance you are getting and the price of the Sony VAIO VPCY216FX/G has performance that isn't on par with its cost for many tasks.
The Sony VAIO VPCY216FX/G is really a bit of a step up from a netbook and is more of a step between a netbook and a full-blown notebook in performance. The Sony VAIO VPCY216FX/G can perform all those tasks that you expect of a notebook like general computer work, surfing the web, and watching video; it's just not the best at any of those tasks.
This machine is clearly aimed at the shopper on a budget that can live with performance that is considerably less than other machines out there. The real issue with the Sony VAIO VPCY216FX/G in my book is that you can get notebooks in its price range with considerably more performance if you shop around. Much of the cost of this machine is the Sony brand making it hard to recommend on a price for performance basis. A higher-end netbook will give you similar performance and many offer better multimedia streaming capabilities at the same time. The Sony VAIO VPCY216FX/G is best suited for the shopper who wants the style it offers, the Sony name, and a screen and keyboard larger than you find on netbooks today.