Quick Review: ZOWIE GEAR EC1 Gaming Mouse with P-RF and G-TF Mousepads
Can a gaming mouse deliver high end performance with a simple, low key design? ZOWIE GEAR takes a shot at doing this with the EC1 gaming mouse.
Published Mon, Oct 11 2010 10:46 AM CDT
|
Updated Tue, Nov 3 2020 7:02 PM CST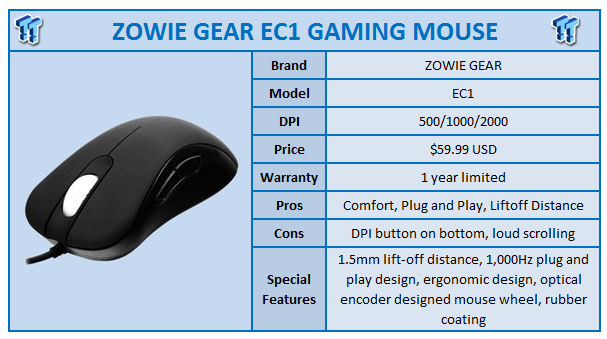 When it comes to gaming mice, nearly everyone you meet is going to have their own preferences and opinions on which ones are best, and most are fiercely loyal to a certain brand once they get comfortable. It can be difficult to get a long time Logitech or Razer owner to give a different mouse a whirl.
ZOWIE GEAR may not be a company that many gamers are familiar with, having only been around since 2008. While the company may be relatively new to the game, the designers at ZOWIE GEAR work with professional gamers to develop new products that even the fiercest competitor would be proud to use in battle. The EC1 gaming mouse that we are looking at today was developed with the help of pro gamer Emil "HeatoN" Christensen, and the G-TF mousepad was designed by Abdisamad "SpawN" Mohamed. ZOWIE GEAR was nice enough to provide both of these items plus the P-RF mousepad as well, so let's take a look at what they have to offer.
ZOWIE GEAR's packaging for the EC1 mouse was simple and informative, with the mouse's features laid out in 13 different languages. The mousepads were also sent in similar boxes, and the design of ZOWIE GEAR products are easy to spot due to the similar coloring and design across all of the boxes. This was the first time I had opened up a mouse and not been greeted by a driver disc. ZOWIE GEAR states on their site that "
most optical mice are 125Hz which can be artificially raised to 500 - 1,000Hz through driver installations. The ZOWIE EC mice are the only optical mice which has 1,000 Hz from standard, without any installation of drivers
."
The ZOWIE GEAR EC1 gaming mouse is an optical mouse that is fairly straightforward and simple in design. The top of the mouse has a rubber coating to increase grip while playing games or just websurfing, while the sides are black plastic.
The two main buttons are nicely designed, giving a solid clicking feel without the loud sound that can come with other mice that give similar tactile feel. The two thumb buttons on the left side are large and easy to find and click. The scroll wheel is large and easy to find, with a similar sound and feel when pressing it to click. The one disappointment I had while using the EC1 was the sound while scrolling. It may just be that it's so comparatively louder than the clicking from the buttons, but the scrolling sound reminded me of the sound you hear when a kid clips a baseball card to get a clicking sound from the back spokes in the wheel.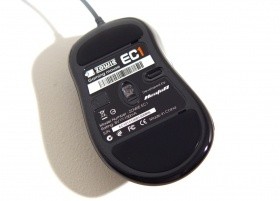 Flipping the EC1 over, we get a look at what really makes this mouse go. ZOWIE GEAR has implemented large feet for this mouse; they dominate the bottom of this mouse much more than you see elsewhere. This does make for a solid base and hopefully longer life for the mouse feet. The optical sensor on the EC1 boasts a 1.5mm lift off distance, which is one of the lowest lift off distances on the market. This means you don't have to worry about the cursor moving around when you have to pick up the mouse while playing games.
The EC1 lists DPI adjustment on the fly as a feature, and the small black button you see on the center right controls this. The scroll wheel changes color to let you know what DPI the mouse is currently using. You get a choice of 500 DPI (red), 1000 DPI (purple), and 2000 DPI (blue). Having to flip the mouse to control DPI is kind of a bummer for those who may like to switch DPI according to the weapon being used in an FPS game or something like that.
The time needed to change the DPI while in a heated multiplayer match may be the difference between dishing out a headshot and being on the receiving end of one. For those who stick with the same DPI throughout, this isn't a problem and the bottom button placement does keep the top of the mouse cleaner.

When taking a look at the performance of the EC1 mouse, I put it through its paces both through daily websurfing and a few different games. The game I'm playing most right now is Borderlands, and the mouse was very comfortable and easy to use during this game. Being someone that is used to a higher DPI mouse, I found myself having to pick up and move the mouse much more than usual and the low liftoff distance is noticeable as the cursor stays pretty much right where you left it. You have to make a real effort to move the cursor without putting the EC1 all the way back down on the mat.
My multiplayer game of choice lately has been Left 4 Dead 1 and 2, and I had no problems during this game either. It would have been nice if the EC1 had been able to save me from myself as I am a pretty horrible player when it comes to multiplayer FPS gaming, but there's no product out there that can save you from an unadulterated lack of skill.
I used the EC1 mouse on both mousepads that were generously provided by ZOWIE GEAR; the ZOWIE P-RF and the G-TF. The higher end G-TF (red logo) was a bit smoother gliding than the P-RF, but both were very comfortable to use and I am actually more drawn to the P-RF due to the smaller size and water resistance of this mousepad. My computer area not only has fairly limited deskspace, but is also used by other members of the family and we are fairly prone to the occasional spilling of beverages. "Splash-proof and easy cleaning" is win-win for me.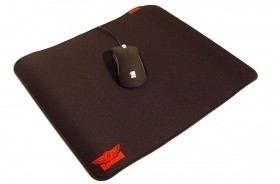 Overall, the ZOWIE GEAR EC1 mouse is a solid product. Sure, it doesn't have the most buttons out there, it doesn't have the 5000 and up DPI that others boast, and it doesn't have a whole lot of the bling and flash of other products. What you get when you order this mouse is a plug and play mouse that can cover anything from websurfing to gaming that would not look out of place on any desk from home, a LAN party, or even in the office.
The ZOWIE GEAR EC1 sells for $59.99 USD at most online places, including NewEgg and ZOWIE GEAR's site. There is also a white version of the EC1 that foregoes the rubber top for an all plastic mouse to reduce sweating, and also a black and white EC2 mouse that offer the same features in a 5% smaller mouse. The G-TF and P-RF retails for $29.99 and $24.99 respectively, which is pretty much in line with similar products out there. If you're looking for a gaming mouse that performs well without all of the bells and whistles that some players can do without, this is definitely a product to check out.
PRICING: You can find products similar to this one for sale below.

United States: Find other tech and computer products like this over at Amazon.com

United Kingdom: Find other tech and computer products like this over at Amazon.co.uk

Australia: Find other tech and computer products like this over at Amazon.com.au

Canada: Find other tech and computer products like this over at Amazon.ca

Deutschland: Finde andere Technik- und Computerprodukte wie dieses auf Amazon.de
We openly invite the companies who provide us with review samples / who are mentioned or discussed to express their opinion. If any company representative wishes to respond, we will publish the response here. Please contact us if you wish to respond.
Related Tags