GIGABYTE GeForce GTS 450 OC 1GB Video Card
We look at the GIGABYTE GTS 450 OC with the new Windforce cooler. Let's see how it performs.
Published Mon, Oct 4 2010 9:34 PM CDT
|
Updated Tue, Nov 3 2020 7:02 PM CST
Introduction, Card and Specifications
Introduction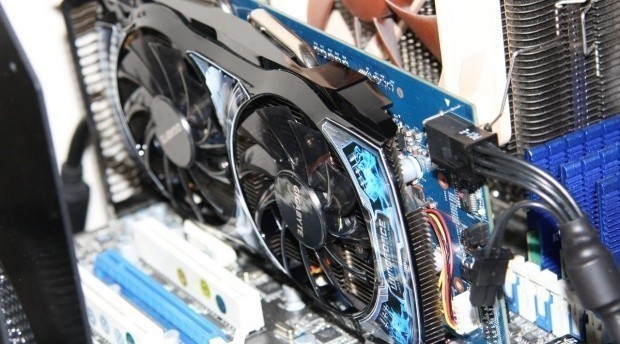 While AMD are no doubt on the verge of releasing new models, from what we've been told the first set of cards that will be offered to us are designed to compete against one of the most well valued video cards on the market right now, known to us as the GTX 460.
For some the $200+ price tag associated with the model continues to be too much and the new GTS 450 we've looked at over the past month seems to be doing a good job of filling that low $100 bracket that users on a budget no doubt appreciate.
The latest version of the card comes from GIGABYTE and carries with it the two things we love most; an overclock and a fancy new cooler. What's missing on this particular one is a retail package, though, so instead of looking at that we'll get stuck straight into the actual card and then have a closer look at its specifications and the overclock that's on offer.
The Card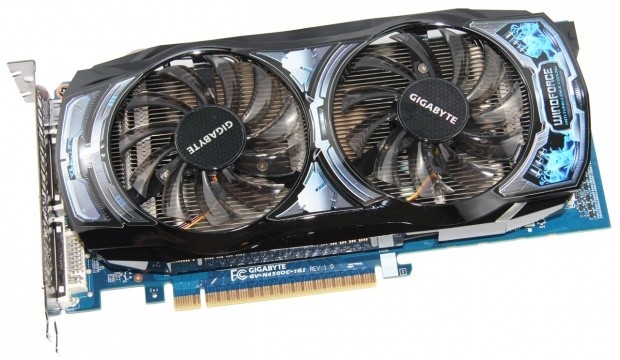 Sporting the dual fan Windforce cooler, the GIGABYTE GTS 450 looks like it's ready for some serious business. You can see for the most part it does a good job of covering up most of the PCB.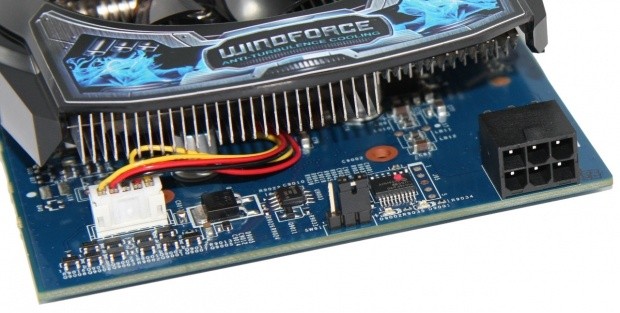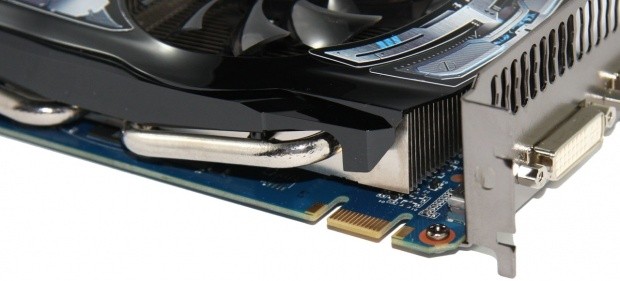 As for the rest of the card, there's not anything that you wouldn't have seen before. Towards the back of the card we've got a single 6-Pin PCI-E power connector, while across the top we have a single SLI connector. As for connectivity, we've got two Dual-Link DVI connectors and a single mini HDMI connector.
Specifications
Like every other GTS 450 we've looked at, and as we mentioned in the introduction, the GIGABYTE version we're looking at is overclocked. By default the core clock is 785MHz, Shader Clock at 1566MHz and memory clock of 3600MHz QDR.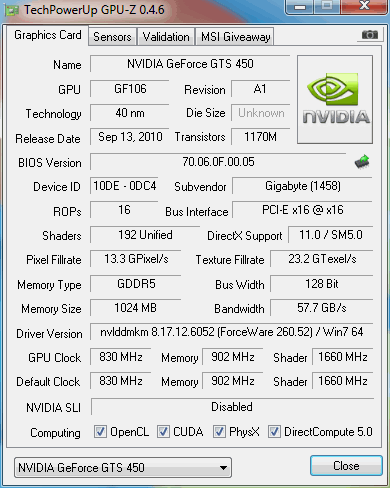 The GIGABYTE OC model comes with a 930MHz core and 1680MHz QDR Shader clock. As for the memory, that's pretty much at the standard clock rate, although slightly bumped up at 3608MHz QDR.
Test System Setup and 3DMark Vantage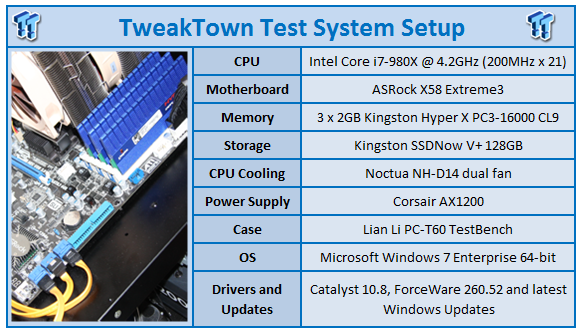 We would like to thank the following companies for supplying and supporting us with our test system hardware and equipment:
Intel
,
ASRock
,
Kingston
,
Mittoni
,
Noctua
and
Corsair
.
We'll be checking out the GIGABYTE GTS 450 OC with a bunch of other cards including the Galaxy GTS 450 Super OC, HD 5750, HD 5770 and ECS Black GTX 460.
Let's get started!
3DMark VantageVersion and / or Patch Used:
1.0.1
Developer Homepage:
http://www.futuremark.com
Product Homepage:
http://www.futuremark.com/products/3dmarkvantage/
Buy It Here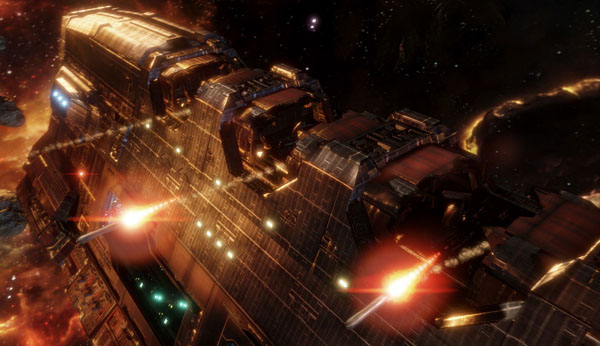 3DMark Vantage is the new industry standard PC gaming performance benchmark from Futuremark, newly designed for Windows Vista and DirectX10. It includes two new graphics tests, two new CPU tests, several new feature tests, and support for the latest hardware.
3DMark Vantage is based on a completely new rendering engine, developed specifically to take full advantage of DirectX10, the new graphics API from Microsoft.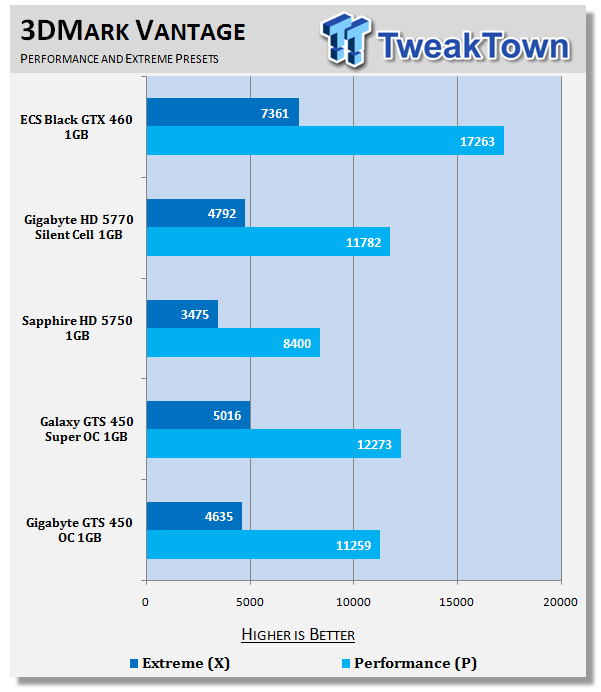 Compared to the HD 5770 we can see that GIGABYTEs GTS 450 sits a little behind.
Unigine Heaven Benchmark
Version and / or Patch Used:
2
Developer Homepage:
http://www.unigine.com
Product Homepage:
http://unigine.com/press-releases/091022-heaven_benchmark//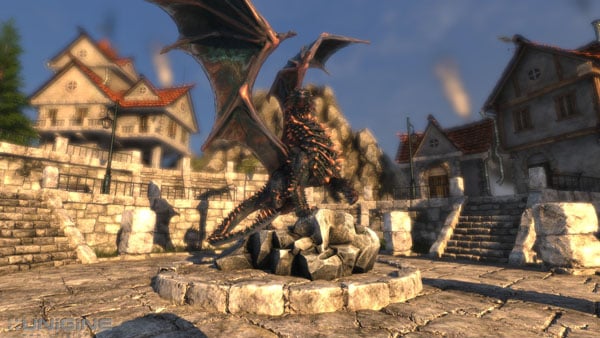 New benchmark grants the power to unleash the DirectX 11 potential in the gift wrapping of impressively towering graphics capabilities. It reveals the enchanting magic of floating islands with a tiny village hidden in the cloudy skies. With the interactive mode emerging experience of exploring the intricate world is ensured within reach. Through its advanced renderer, Unigine is one of the first to set precedence in showcasing the art assets with tessellation, bringing compelling visual finesse, utilizing the technology to the full extend and exhibiting the possibilities of enriching 3D gaming.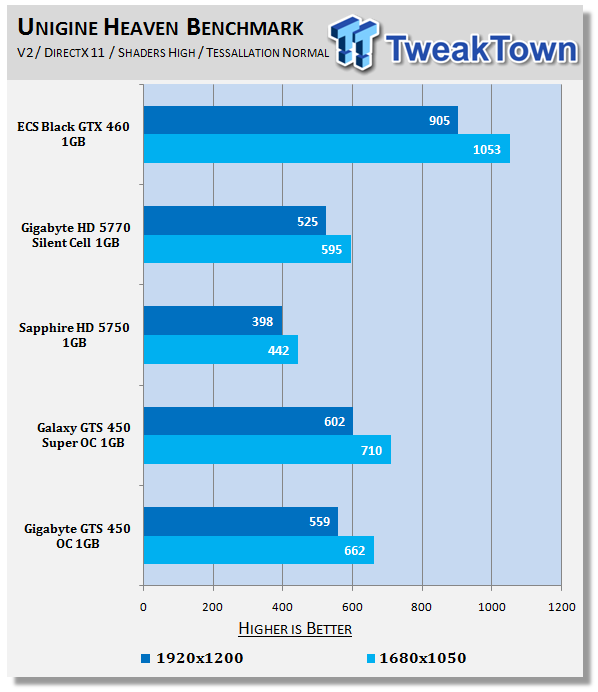 Under Heaven we can see the strong performance for NVIDIA thanks to its tessellation performance. It'll be interesting if this is something AMD concentrate on in the 6000 series.
Benchmarks - Resident Evil 5
Resident Evil 5Version and / or Patch Used:
Demo Benchmark
Developer Homepage:
www.residentevil.com/
Product Homepage:
http://www.residentevil.com/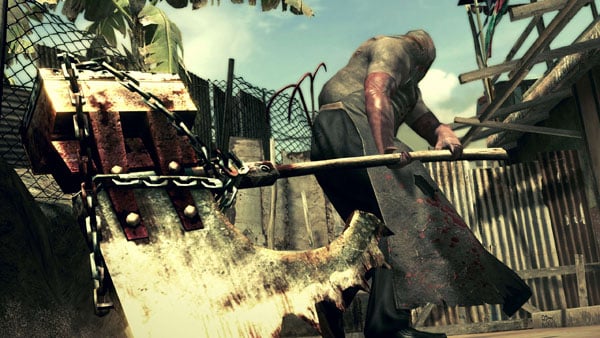 Resident Evil 5 is a survival horror video game developed and published by Capcom. The game is the seventh installment in the Resident Evil survival horror series, and was released on September 18. Resident Evil 5 revolves around Chris Redfield and Sheva Alomar as they investigate a terrorist threat in Kijuju, a fictional town in Africa.
Looking at RE5, we can see the GIGABYTE GTS 450 OC manages to offer us good FPS at both 1680 and 1920.
Benchmarks - Tom Clancy's H.A.W.X.
Tom Clancy's H.A.W.X.Version and / or Patch Used:
Benchmark Demo
Timedemo or Level Used:
Built-in Test
Developer Homepage:
http://www.ubi.com/UK/default.aspx
Product Homepage:
http://www.hawxgame.com/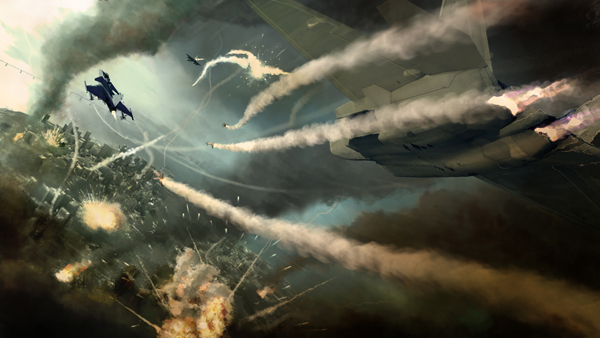 Tom Clancy's H.A.W.X is an arcade-style flight simulator video game developed by Ubisoft Romania and published by Ubisoft for Microsoft Windows, Xbox 360, PlayStation 3, and iPhone OS.
The fundamental gameplay mechanics are similar to those of other console-based flight series. Players take on enemies with over 50 aircraft available. Each mission is at real world locations in environments created with commercial satellite data. A cockpit, first person, and third person view are selectable. The third person view gives the player an external view of both their plane and the target.
Set above the skies of a near-future world, increasingly dependent on private military companies with elite mercenaries who have a relaxed view on the law. As these non-governmental organizations gain power, global conflict erupts with one powerful PMC attacking the United States.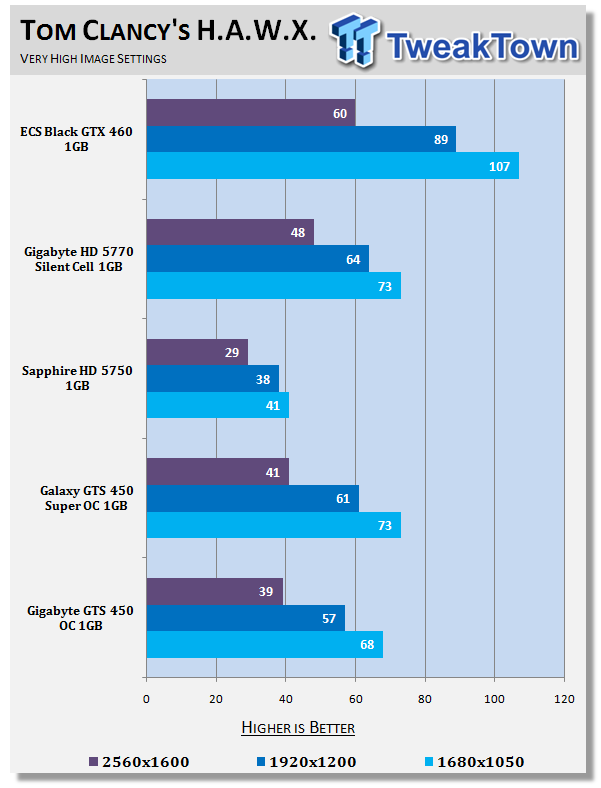 Due to the stock clocks being a little lower on the GIGABYTE offering. we can see it's behind the Galaxy offering which sees 1920 x 1200 performance drop a little under 60 FPS. Fortunately a bit of an OC would get that average up.
Benchmarks - Mafia II
Mafia IIVersion and / or Patch Used:
Latest Steam Update
Timedemo or Level Used:
Built in Benchmark
Developer Homepage:
http://www.2kczech.com/
Product Homepage:
http://www.mafia2game.com/
Buy It Here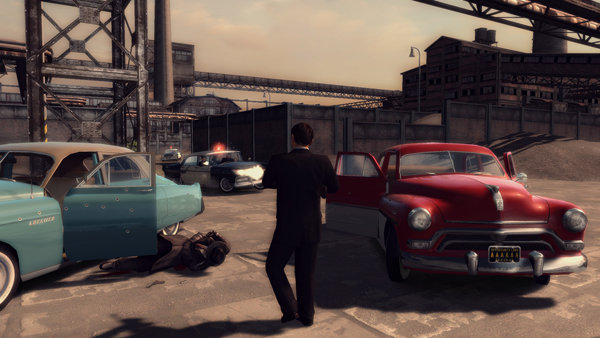 Mafia II is a third-person action-adventure video game, the sequel to Mafia: The City of Lost Heaven. It is developed by 2K Czech, previously known as Illusion Softworks, and is published by 2K Games. The game is set from 1943 to 1951 in Empire Bay (the name is a reference to New York's state nickname "The Empire State"), a fictional city based on San Francisco and New York City, with influences from Chicago and Detroit. The game features a completely open-ended game map of 10 square miles. No restrictions are included from the start of the game. There are around 50 vehicles in the game, as well as licensed music from the era.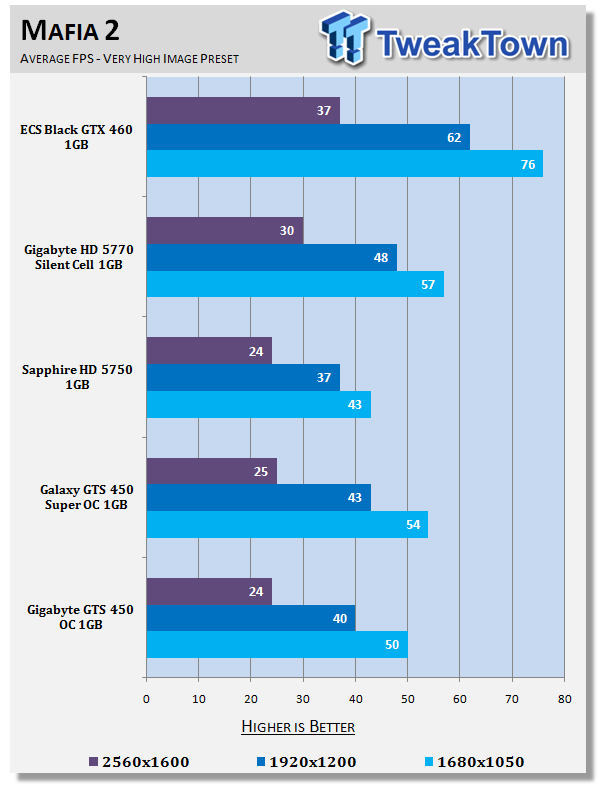 Mafia II is one of the more intensive new games we test and you can see across the board the average is below the 60 FPS we need. Fortunately we're not too far behind at the lowest resolution and a detail drop would bring those numbers up.
Benchmarks - Lost Planet 2
Lost Planet 2Version and / or Patch Used:
Benchmark Demo
Timedemo or Level Used:
Built in Benchmark - Test A Scene 1
Developer Homepage:
http://www.capcom.com/
Product Homepage:
http://www.lostplanet2game.com/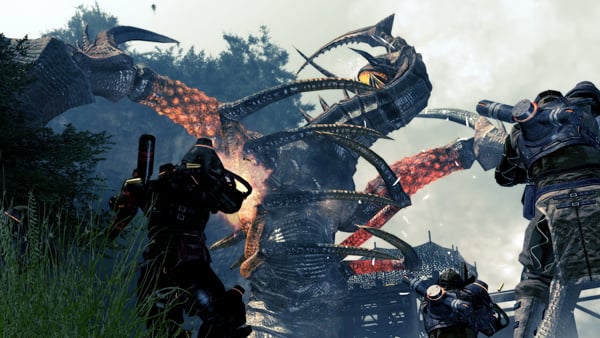 Lost Planet 2 is a third-person shooter video game developed and published by Capcom. The game is the sequel to Lost Planet: Extreme Condition which is also made by Capcom, taking place ten years after the events of the first game, on the same fictional planet. The story takes place back on E.D.N. III 10 years after the events of the first game. The snow has melted to reveal jungles and more tropical areas that have taken the place of more frozen regions. The plot begins with Mercenaries fighting against Jungle Pirates. After destroying a mine, the Mercenaries continue on to evacuate the area, in which a Category-G Akrid appears and attacks them. After being rescued, they find out their evacuation point (Where the Category-G appeared) was a set-up and no pick up team awaited them. The last words imply possible DLC additions to the game, "There's nothing to be gained by wiping out snow pirates... unless you had some kind of grudge."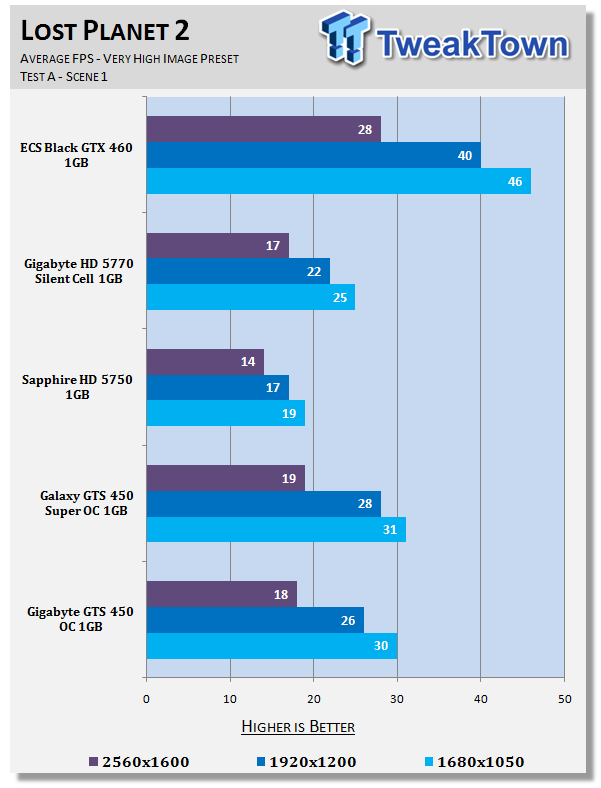 Under Lost Planet 2 we can see with the in game settings maxed out our performance is quite low on all cards we test here.
Benchmarks - Aliens vs. Predator
Aliens vs. PredatorVersion and / or Patch Used:
Standalone Benchmark
Timedemo or Level Used:
Built in Benchmark
Developer Homepage:
http://www.rebellion.co.uk/
Product Homepage:
http://www.sega.com/games/aliens-vs-predator/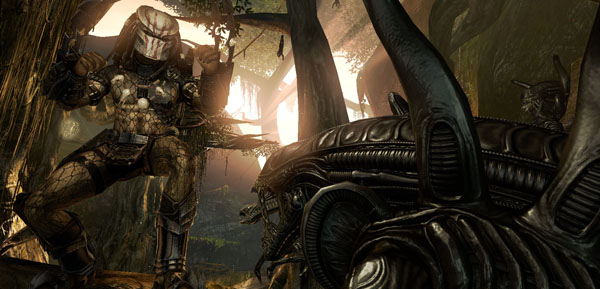 Aliens vs. Predator is a science fiction first-person shooter video game, developed by Rebellion Developments, the team behind the 1999 original PC game, and published by Sega for Microsoft Windows, the PlayStation 3 and the Xbox 360. The game is based on the Alien vs. Predator franchise, a combination of the characters and creatures of the Alien franchise and the Predator franchise. There are three campaigns in the game, one for each race/faction (the Predators, the Aliens and the Colonial Marines), that, while separate in terms of individual plot and gameplay, form one overarching storyline.
Following the storyline of the campaign modes comes the multiplayer aspect of the game. In this Multiplayer section of the game, players face off in various different gametypes in various different ways.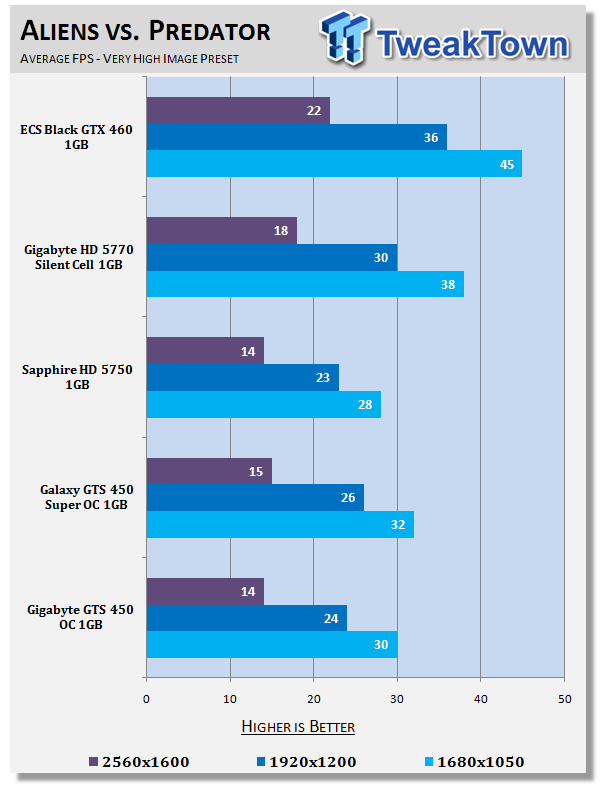 We can see again AVP2 is very strenuous on our test system.
Benchmarks - Final Fantasy XIV
Final Fantasy XIVVersion and / or Patch Used:
Standalone Benchmark
Timedemo or Level Used:
Built in Benchmark - Elezen (Male)
Developer Homepage:
http://www.square-enix.com/
Product Homepage:
http://www.finalfantasyxiv.com/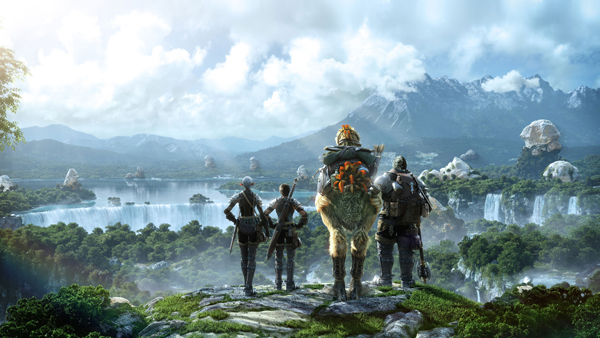 Final Fantasy XIV, also known as Final Fantasy XIV Online, is the fourteenth installment in the Final Fantasy series. The game is a massively multiplayer online role-playing game and is developed and published by Square Enix. The game takes place in a land called Hydaelyn, mainly in a region named Eorzea, which will have a contemporaneously aesthetic blend of science fiction and classic fantasy elements.
The battle and job systems will be different from the one previously used in Final Fantasy XI, which utilized experience points and level-based progression. Final Fantasy XIV is being designed to utilize a skill-based progression[15] system similar to that of Final Fantasy II. Character races will resemble and allow players to create avatars similar to ones in Final Fantasy XI. Group play has been de-emphasized, and now solo and group play have been balanced. Weapon use will alter "character development".
Note: Final Fantasy XIV gives us a score and not a normal FPS rating, our understanding is that anything around 2000 points or above is considered playable.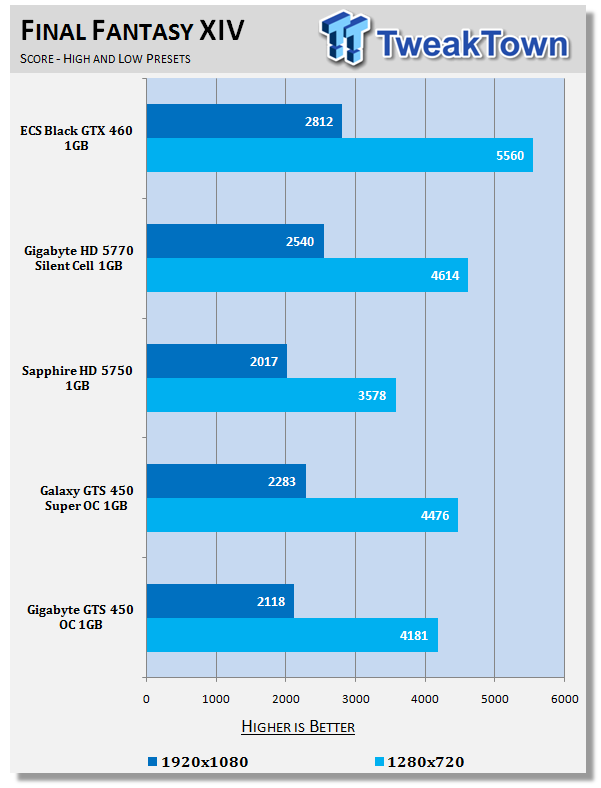 Checking out FF XIV, it seems like performance should be strong at 1920 x 1080 and below.
Benchmarks - Street Fighter IV
Street Fighter IVVersion and / or Patch Used:
Standalone Benchmark
Timedemo or Level Used:
Built in Benchmark
Developer Homepage:
http://www.capcom.com/
Product Homepage:
http://www.streetfighter.com/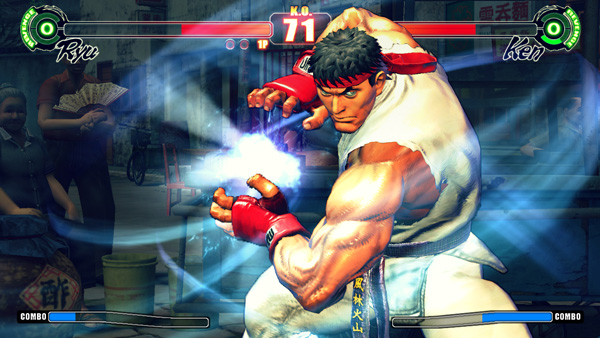 While Street Fighter IV features models and backgrounds rendered in 3D, the gameplay remains on a traditional 2D plane, with the camera having freedom to move in 3D at certain times during fights, for dramatic effect. Producer Yoshinori Ono has stated that he wanted to keep the game closer to Street Fighter II. A new system called "Focus Attacks" ("Saving Attack" for the Japanese version) has been introduced, as well as Ultra moves. The traditional six-button control scheme returns, with new features and special moves integrated into the input system, mixing classic gameplay with additional innovations.
All the characters and environments in Street Fighter IV are rendered as 3D models with polygons, similar to the Street Fighter EX sub-series Capcom produced with Arika. However, there are a couple of key differences. Art director and character designer Daigo Ikeno, who previously worked on Street Fighter III 3rd Strike, opted for non-photorealistic rendering to give them a hand-drawn look, with visual effects accented in calligraphic strokes, ink smudges and ink sprays during the fights.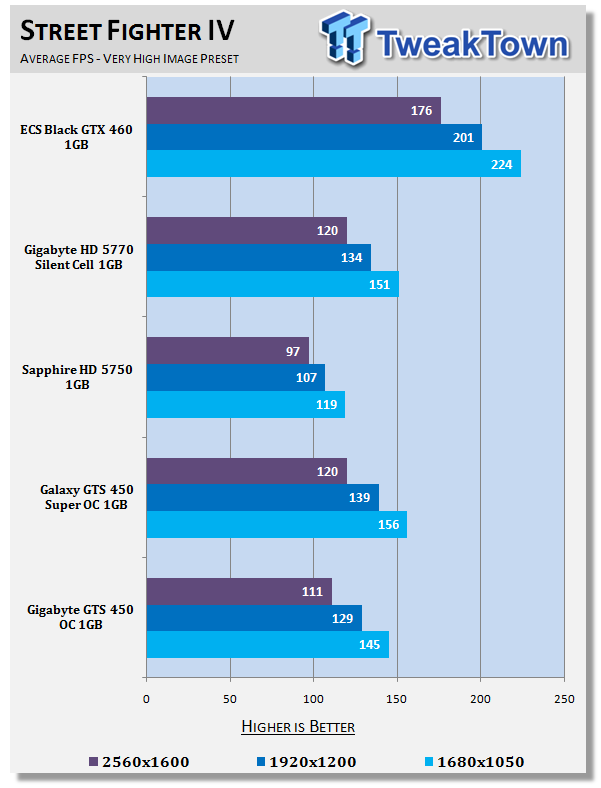 Looking at something less intensive like SF IV, we can see that performance is strong across the board at all resolutions.
Benchmarks - Far Cry 2
Far Cry 2Version and / or Patch Used:
1.01
Timedemo or Level Used:
Ranch Long
Developer Homepage:
http://www.ubi.com/
Product Homepage:
http://www.farcry2.com/
Buy It Here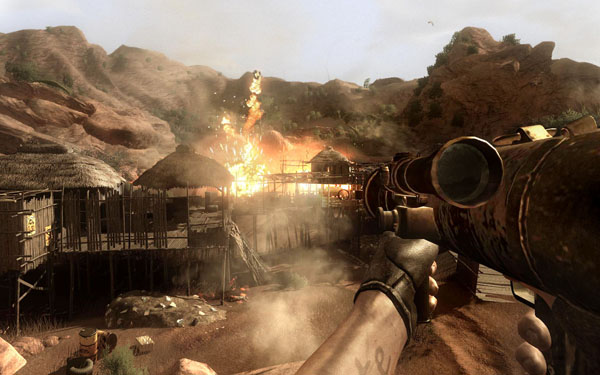 The Dunia Engine was built specifically for Far Cry 2 by the award-winning Ubisoft Montreal development team. It delivers the most realistic destructible environments, amazing special effects such as dynamic fire propagation and storm effects, real-time night-and-day cycle, dynamic music system, non-scripted enemy A.I. and so much more.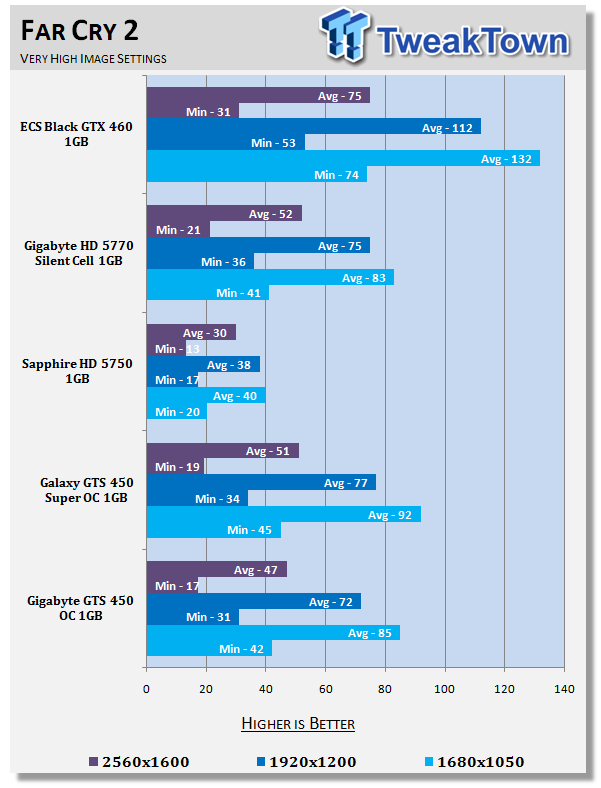 Under FC2 you can see the GIGABYTE GTS 450 OC doesn't have any problems getting that 30 FPS minimum we need at 1920 x 1200 and below.
Benchmarks - Batman Arkham Asylum
Batman Arkham AsylumVersion and / or Patch Used:
1.1
Timedemo or Level Used:
Built-in Test
Developer Homepage:
http://www.batmanarkhamasylum.com/
Product Homepage:
http://www.batmanarkhamasylum.com/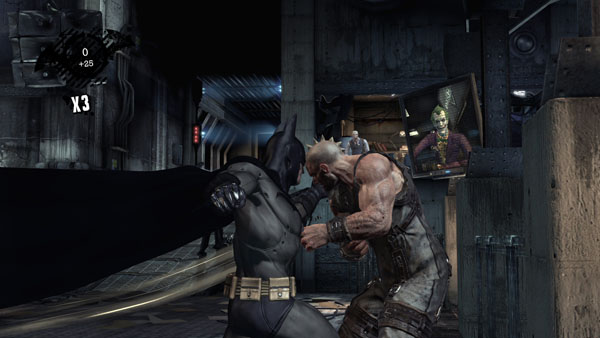 Batman: Arkham Asylum exposes players to a unique, dark and atmospheric adventure that takes them to the depths of Arkham Asylum - Gotham's psychiatric hospital for the criminally insane. Gamers will move in the shadows, instigate fear amongst their enemies and confront The Joker and Gotham City's most notorious villains who have taken over the asylum.
Using a wide range of Batman's gadgets and abilities, players will become the invisible predator and attempt to foil The Joker's demented scheme.
Batman: Arkham Asylum features an original story penned exclusively for the game by famous Batman author and five-time Emmy award winner Paul Dini, whose credits include Lost season one and Batman: The Animated Series.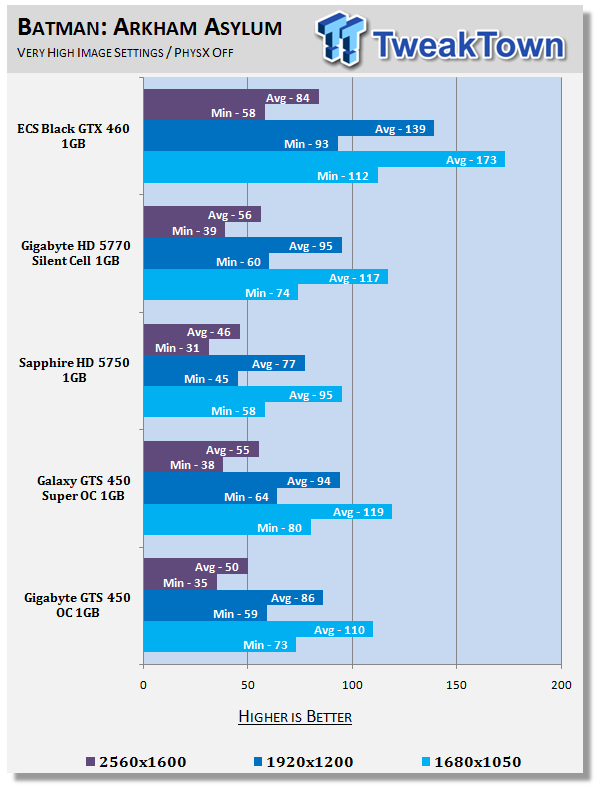 Like FC2, performance under Batman AA is very strong; in this case we're able to break the 30 FPS barrier at 2560 x 1600.
Benchmarks - High Quality AA and AF
High Quality AA and AF
Our high quality tests let us separate the men from the boys and the ladies from the girls. If the cards weren't struggling before they will start to now.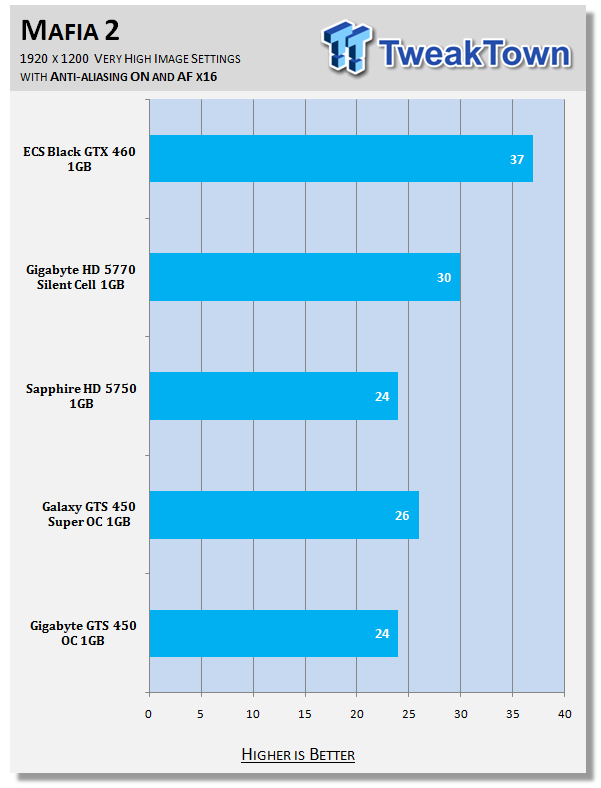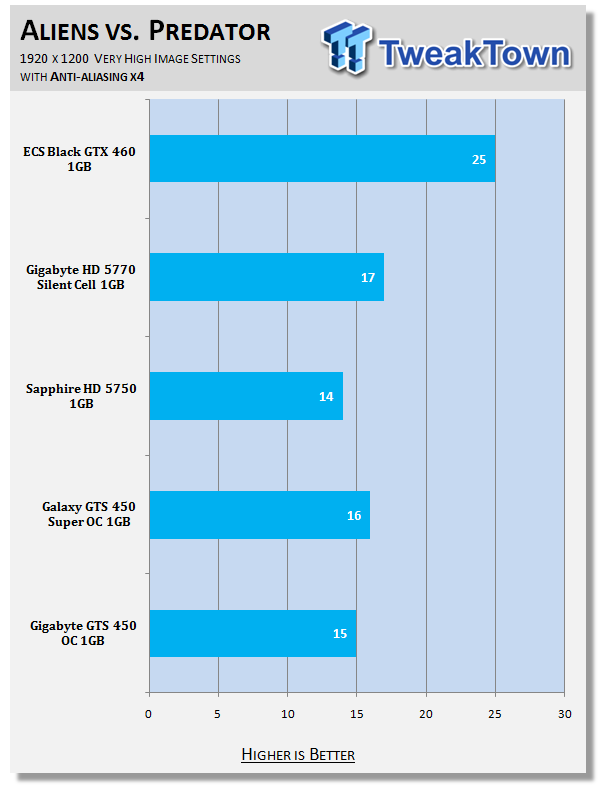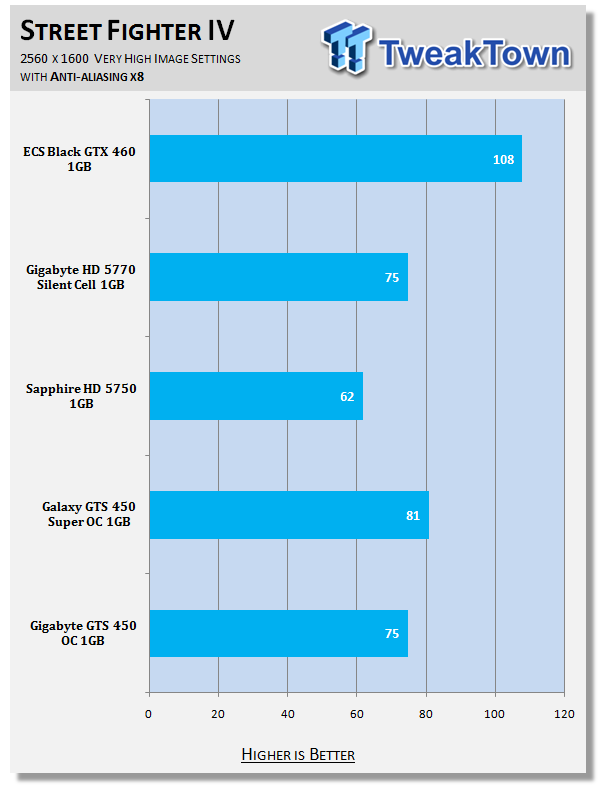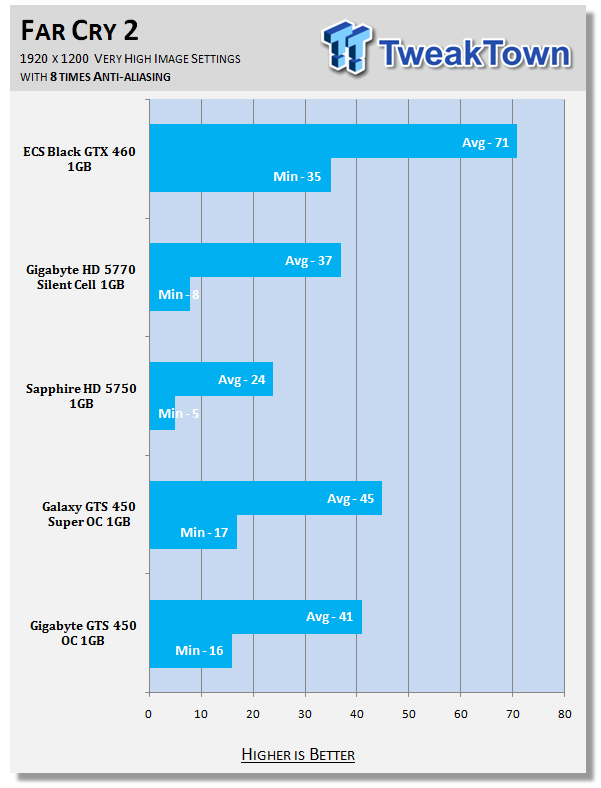 Under SF IV we can see performance is strong with the card having no issue getting over 60 FPS. As for the other games, we see the card struggles which isn't a surprise.
Benchmarks - PhysX Tests
PhysX Tests
Here we're able to find out when PhysX is turned on in games that support it what kind of frame rates we're able to get. We always set PhysX to the highest possible in game settings while also keeping detail at its highest.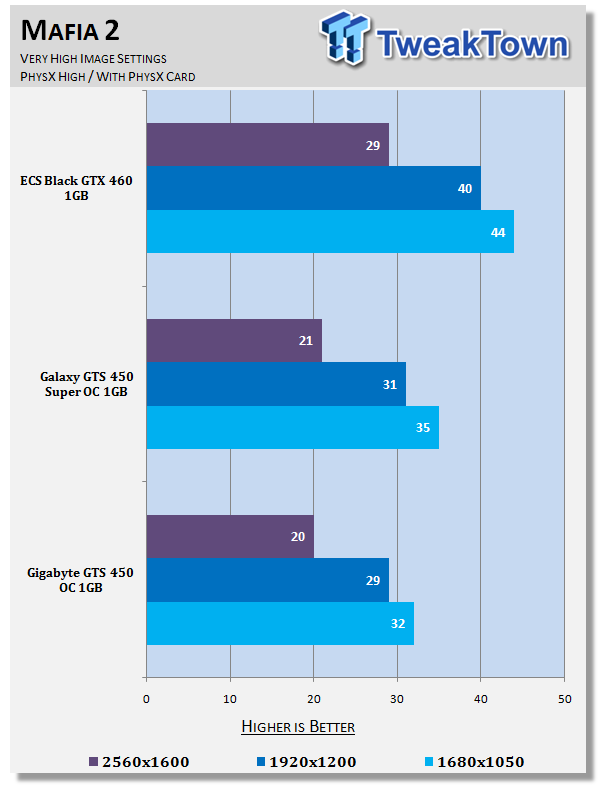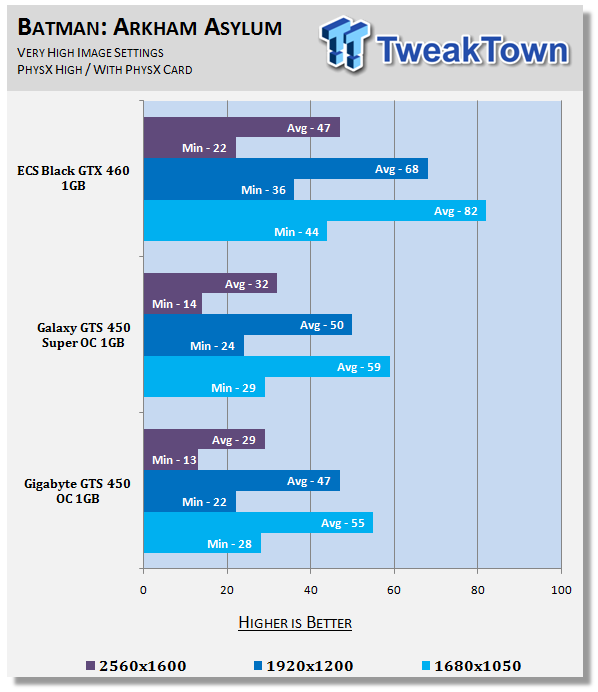 With PhysX we can see Mafia II performance is extremely low. Batman AA performance isn't great either, but we see we're on the edge at 1680 x 1050 with a 28 FPS minimum.
Temperature Test
The temperature of the core is pulled from MSI Afterburner with the max reading used after a completed run off 3DMark Vantage and the Performance preset.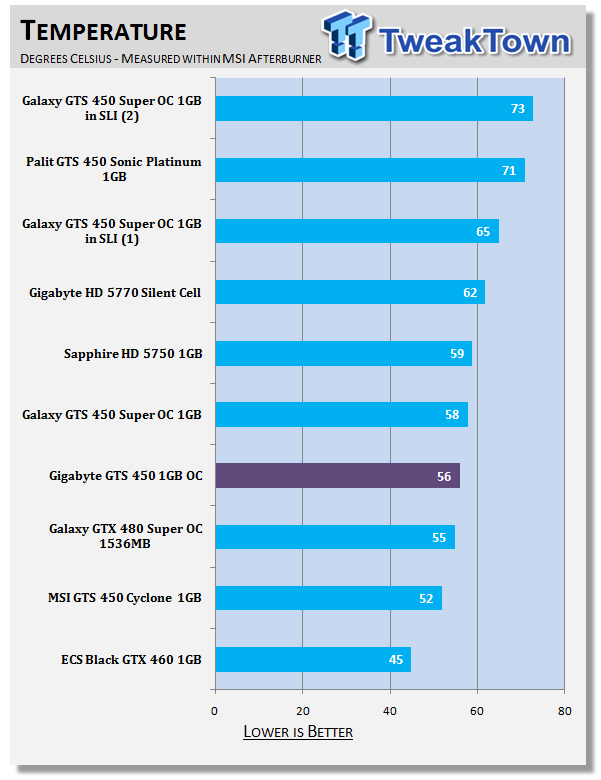 The GIGABYTE Windforce cooler does a very good job of keeping the temperatures down with it being one of the coolest GTS 450s we've tested.
Sound Test
Pulling out the TES 1350A Sound Level Meter we find ourselves quickly yelling into the top of it to see how loud we can be.
After five minutes of that we get a bit more serious and place the device two CM away from the fan on the card to find the maximum noise level of the card when idle (2D mode) and in load (3D mode).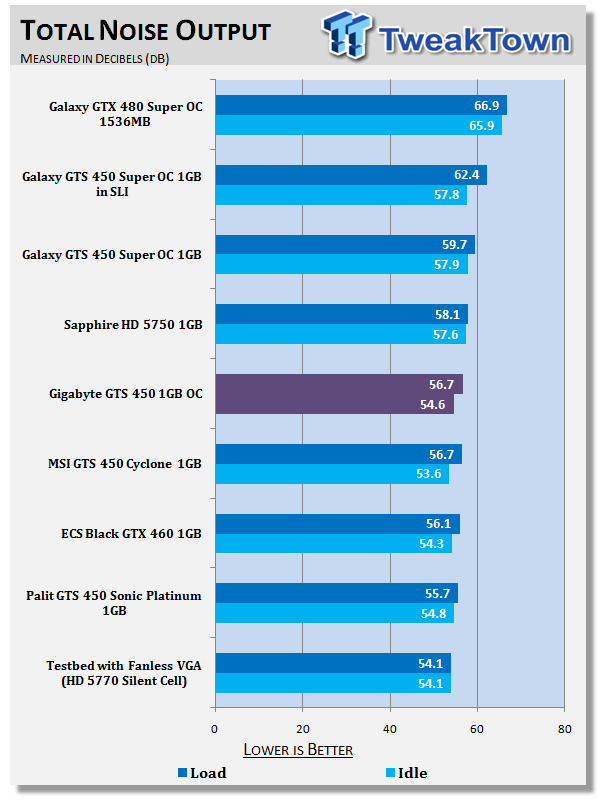 Fortunately those temperature levels don't come at the cost of lots of noise.
Power Consumption Tests
Using our new PROVA Power Analyzer WM-01 or "
Power Thingy
" as it has become quickly known as to our readers, we are now able to find out what kind of power is being used by our test system and the associated graphics cards installed. Keep in mind; it tests the complete system (minus LCD monitor, which is plugged directly into AC wall socket).
There are a few important notes to remember though; while our maximum power is taken in 3DMark06 at the same exact point, we have seen in particular tests the power being drawn as much as 10% more. We test at the exact same stage every time; therefore tests should be very consistent and accurate.
The other thing to remember is that our test system is bare minimum - only a SSD hard drive is used with a single CD ROM and minimal cooling fans.
So while the system might draw 400 watts in our test system, placing it into your own PC with a number of other items, the draw is going to be higher.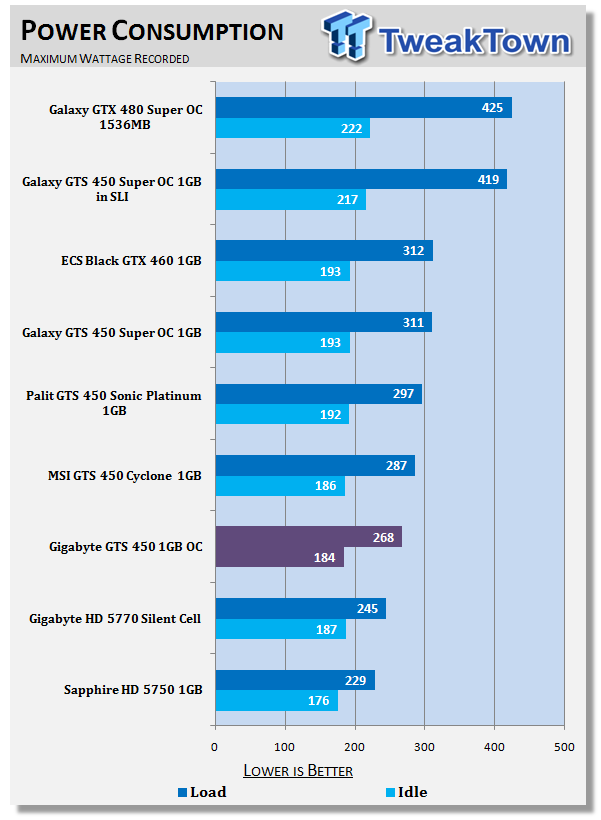 Power draw is the lowest out of the GTS 450s we've tested to date. The lower clocks probably help that a little.
Total Performance Rating (TPR)
Total Performance Rating
The TPR graph is a combination of all our benchmarks in which NVIDIA and ATI are on an even playing field.
The TPR number is a combination of:
3DMark Vantage, Heaven Benchmark V2, Resident Evil 5, Tom Clancy's H.A.W.X., Mafia 2 (PhysX Off), Lost Planet 2, Aliens vs. Predator, Final Fantasy XIV, Street Fighter IV, Far Cry 2, Batman: Arkham Asylum (PhysX Off) and our four High Quality tests which include Mafia 2, Aliens vs. Predator, Street Fighter IV and Far Cry 2.
All of the benchmark results achieved are then combined into a single number. As this graph will grow over time and cards won't be re-tested, next to each model you'll find the driver version that was used when the card was benchmarked.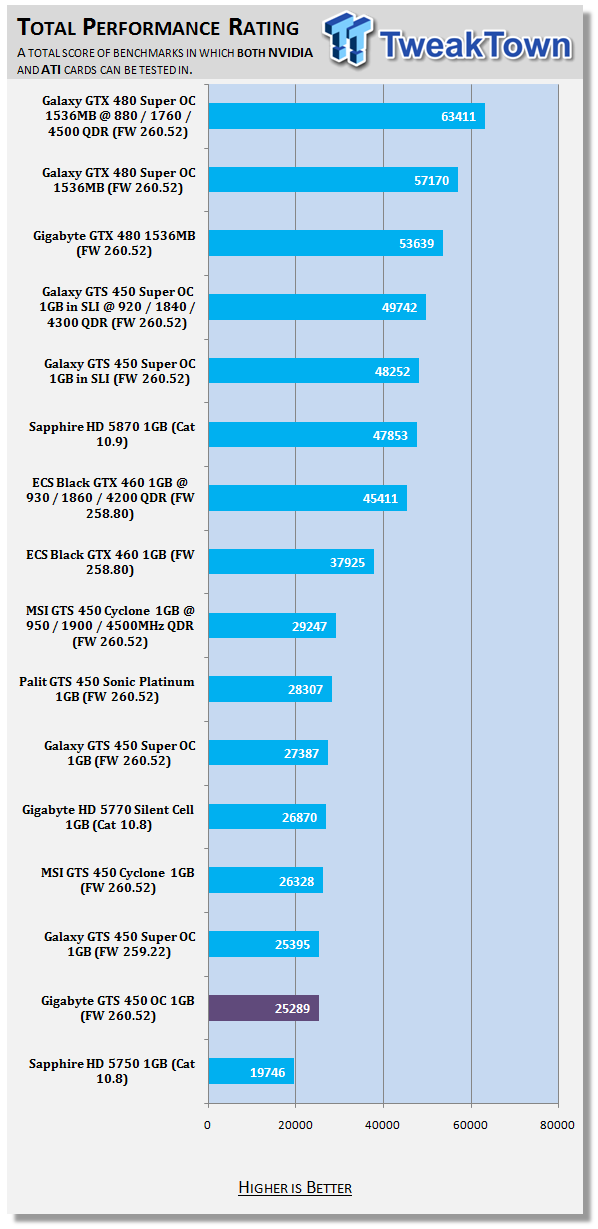 The GIGABYTE GTS 450 is one of the slowest GTS 450s we've tested, but that's due to its lower clock speeds. There's good news though. Read on.
Total Value Rating (TVR)
Total Value Rating
The TVR graph is the TPR score divided by the price of the video card. The price of the video card is based on the list price of the model on Newegg.com. In the event the card isn't listed, it will be based on the U.S. $ MSRP given to us by the manufacturer.
In the event we can't source a price from either, the product will not receive a TVR rating. As with our TPR graph, the amount of video cards on the list will grow over time and the price of the model won't change from what it was when first reviewed. For this reason the U.S. $ price that the card is based off will be included next to the name of the model.
In the event you want to find the TVR rating yourself based on the current price, all you have to do is simply divide the TPR number by the list price.
TVR numbers are rounded to the nearest whole number; 100.3 will be 100; 100.8 will be 101 and 100.5 will be rounded down to 100.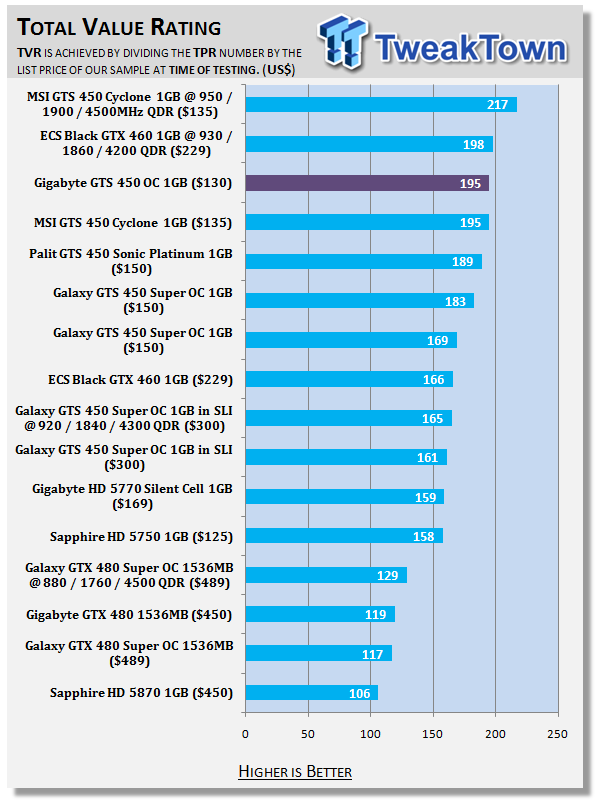 It's one of the cheapest we've tested to date and thanks to that, its TVR rating is very good with it being the best valued model.
Final Thoughts
While the GIGABYTE GTS 450 OC might be the slowest variation of the model we've tested to date, it's also the cheapest, which for some is going to be the best feature of the model. What's great about it, though, is that cooler tacked on. On the GTS 450 it really works and you can see some great temperatures coming out of the model.
For the bargain hunter this is great, especially when you consider its strong cooling performance which should affect overclocking in only a positive manner. What the GIGABYTE version of the GTS 450 does is give people a chance to get in on the GTS 450 cheap and do the overclocking themselves, while giving us an upgraded cooler that's going to perform stronger than a reference one.
While it would've been nice to see the full package of the card, it's safe to say like most other cards these days it would've been on the light side of things, but including everything that you ultimately need in the bundle. It's really to be expected these days with most companies offering smaller bundles, but more importantly offering cheaper prices.
For
130 US at Newegg
, the GIGABYTE GTS 450 OC is a great little buy, especially if you want to do the overclocking yourself. If you're not so interested in overclocking, there are some better options that offer higher overclocks; this of course comes at a higher cost, however. The fact that for the $130 US price tag we've been able to get such a great cooler that works well is clearly the stand out, though.
If you don't want to overclock, there's clearly better options out there, but if you're happy to fire up Afterburner and really increase the value of the product, this is a great variation thanks to that little price tag it carries.
PRICING: You can find products similar to this one for sale below.

United States: Find other tech and computer products like this over at Amazon.com

United Kingdom: Find other tech and computer products like this over at Amazon.co.uk

Australia: Find other tech and computer products like this over at Amazon.com.au

Canada: Find other tech and computer products like this over at Amazon.ca

Deutschland: Finde andere Technik- und Computerprodukte wie dieses auf Amazon.de