Cooler Master USNA 95 Ultra Slim Notebook Adapter
Looking for a replacement adapter for your notebook/netbook? Cooler Master has a suggestion with the USNA 95 Ultra Slim Notebook Adapter.
Published Mon, Sep 20 2010 12:29 AM CDT
|
Updated Tue, Nov 3 2020 7:02 PM CST
Introduction, Package and Contents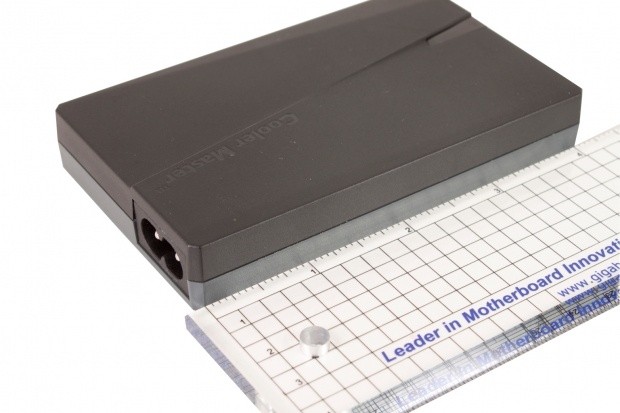 Introduction
One of the annoying things about owning a laptop (there are a few) is that often your adapter will get damaged from constant packing and unpacking. The simple act of wrapping up the cord can damage the wires over time. This has led to more than a few useless adapters sitting in the drawer and a long wait while a new one arrives (not to mention the extra cost of buying a new one).
Even buying a third party adapter can be a pain. Many of these are bulky and fail faster than the original one. So what are you to do? Well, Cooler Master has a good answer for many of you out there. This is their line of USNA adapters; USNA standing for Ultra Slim Notebook Adapter.
The latest one of these is a tiny 95 Watt marvel that allows for the safe removal and storage of both the wall power cord and the cord that runs to your notebook. The USNA 95 also includes a 5 Watt USB charger (sorry for you iPad users); all this in a very small package. So without much delay, let's see if the USNA 95 can take the place of your existing adapter.
Package and Contents
The USNA 95 ships in a small box that none the less manages to convey almost everything you need to know about it. The front box is the usual purple and turquoise that Cooler Master uses (although the only Turquoise that is present is in the CM Logo). The front gives you a clear view of the actual power supply along with some rather obvious icons for what you would use it with.
We also find out that the USNA 95 won an iF product design award for 2010 (not sure how much that means to you, though), but the "up to 150W" emblem is a welcome site. This means that you would be able to at least power devices that require 150 Watts. We will be certain to test this out later.
There is one last item I want to draw your attention to; this is the "Designed by CHOIIX" badge. CHOIIX is a sub company of Cooler Master that is working to blend peripherals with style. They have had some success with this focus and it piques our curiosity to see that they had their hands in the product design.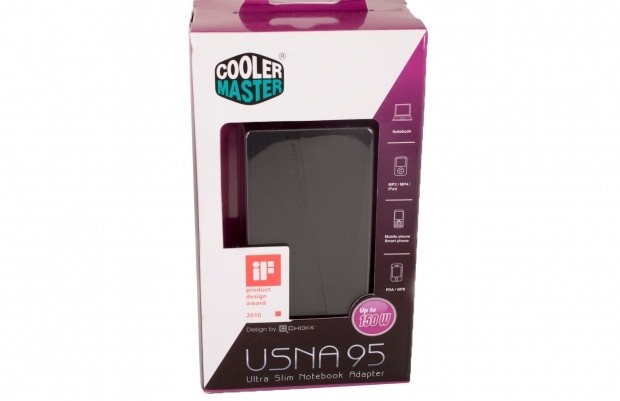 The back of the USNA 95's box has more information for you. You find out about the dual mode LED, some additional features of the device (up to 90% efficiency) and also get a look at the number of charging tips available for you to use.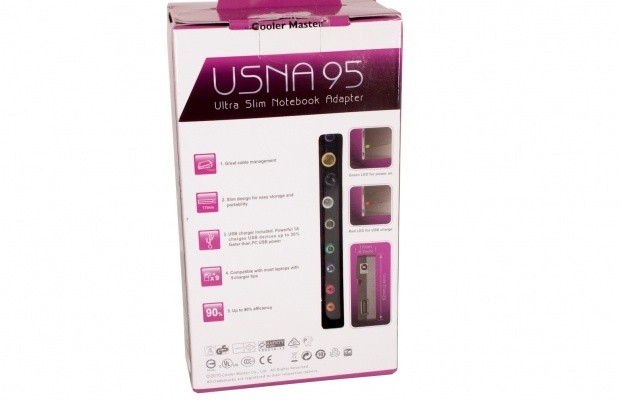 After tearing open the box, you find that Cooler Master has packed everything up for you nicely.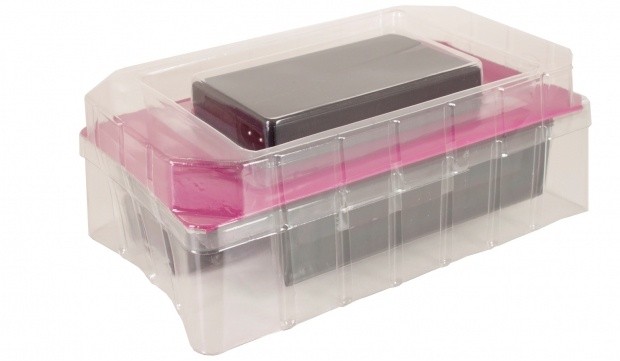 Of course, the type of internal packaging is not as important as the items that are inside it. Here we find the USNA 95 power block, the wall cord, the PSU to computer cord, a rack of charging tips, a cable management clip and a nice bag to carry it all in. Not a bad haul really.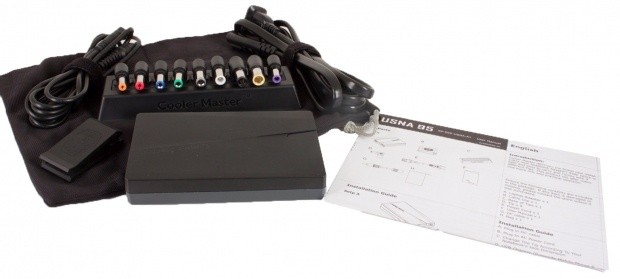 The row of tips is color coded and really does bridge a large array of systems. The one down side to this is that while you might be able to get one of these tips to fit your Dell laptop, it will only provide power to it. Due to the way Dell sets up their charging systems, the USNA 95 is unable to charge it.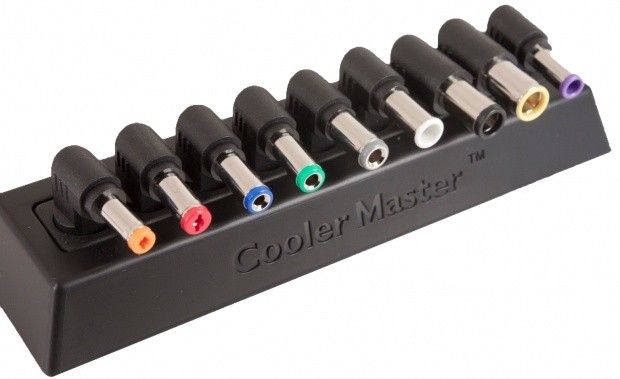 The USNA 95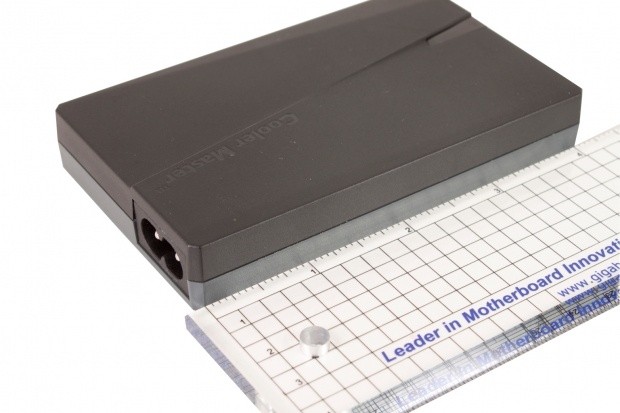 The USNA 95 is billed as the smallest universal power adapter on the market. It is not hard to believe those claims when you consider that it is only about four inches long.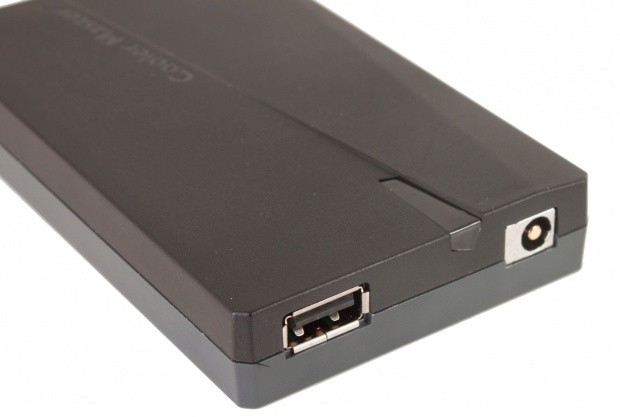 On one end of the power "brick" there is a USB port for charging your 5 watt USB devices. This means that you won't be able to get power to that iPad you have been looking at, but you should be able to charge just about everything else.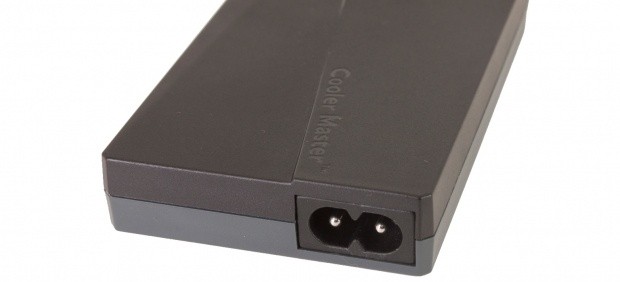 The other end of the device has a port for the wall plug. Now, to some this may seem like an awkward setup, but in reality it is quite smart. One of the big issues with many of today's chargers is that the hard wired cables become damaged over time and use. By making both removable, they eliminate a source of failure.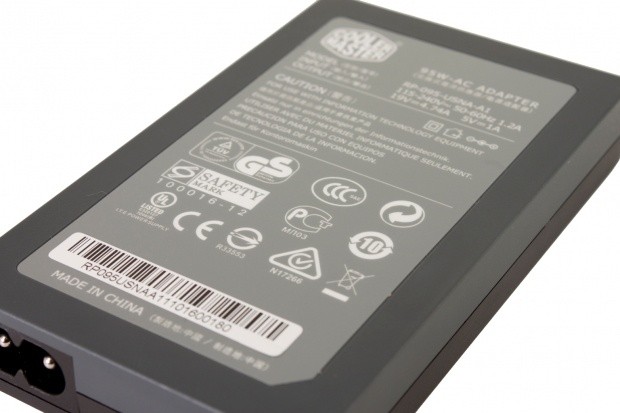 The back is where all the technical information resides along with all of the endorsements, warnings and anything else that the manufacturers have to tell you, but most consumers ignore.
Speaking of specifications, I suppose it is a good idea to include them here.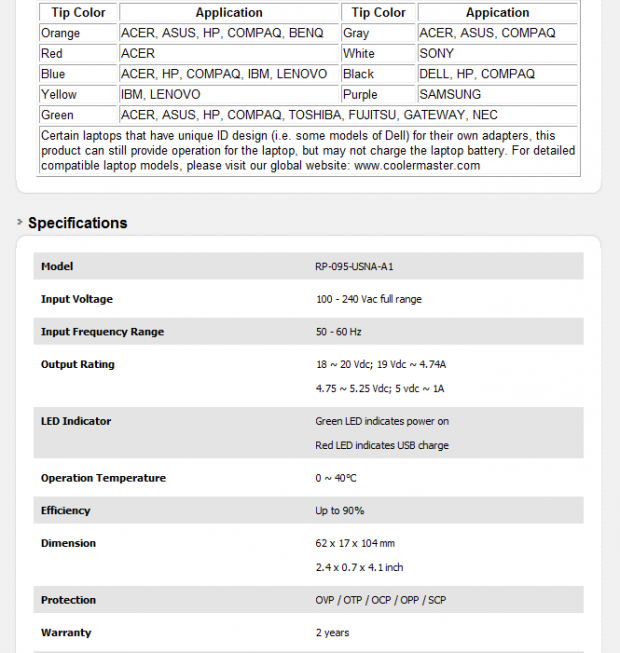 Performance, Usage and Final Thoughts
Performance and Usage
As you might imagine, the performance testing of the USNA 95 was not much more than timing how long it takes to charge different netbooks and notebooks from a dead battery. To do this we setup a couple of them. One was an MSI Wind 200U; the other was a more custom job with an Intel Core i7 CPU, 17-inch display, discrete NVIDIA GTX 285 GPU, 12GB of RAM and a pair of RAIDed 500GB 7200 RPM drives. Each of these was tested with the stock charger to see how long it took to charge while powered off and also while in use. We then ran the same tests using the USNA 95 on each system. To add a little more fun into this, we also tested with a USB device (my HTC EVO) attached and charging. The results were interesting.
The MSI Wind 200U was an easy one to test. We already knew that the charging cycle for this device was just under 2 hours when powered off and around 2.5 hours when running. It is just not a power hungry device. With the USNA 95 the charging times were pretty much the same. We saw a deviation of about plus or minus five minutes either way during our multiple testing runs. We also saw no difference when we plugged in our EVO for charging.
The custom job was a little harder on things. When powered off it takes about 3.5 hours to charge the 12 cell battery that is needed to run it untethered. When the system is on the charge time goes up dramatically. It pushes past the 5 hour mark [5 hours and 18 minutes average]. With the USNA 95, again we find similar times, although the charge time during operation went up a little. Our average charge time while the system was powered on was 5 hours and 33 minutes. Here we saw a change when the EVO was plugged in, but only when the system was in active use. Charging the EVO and the laptop took an additional 10 minutes. Still, when you consider that the USNA 95 is considerably easier to carry around, it is not that much of an issue.
Final Thoughts
The USNA 95 is a handy little product. With the ability to supply up to 150 Watts and a multitude of tips, it can handle almost any situation. The design choice that removed both cords from the charger was a brilliant one. The connection of the cord from the charger to the laptop is the most common point of failure due to wear and tear. This not only makes the USNA 95 easier to carry around, but it is also means that it should last much longer than a traditional charger.
Performance wise you are not going to get better charging times and in some cases (like the 120 Watt custom laptop I have) you will lose a little time. However, this is in comparison to a power "brick" that is almost four times as big volume wise. Granted, the USNA 95 is not smaller (it is thinner) than the stock one that came with the Wind 200U, but it is easier to pack and believe it or not, fits better into the bag I have for it.
Overall, I can see the USNA 95 being a great idea as a replacement for a damaged notebook or netbook charger, or simply as one that you buy for every day travel use. I will be dragging this one with me on my trips and leaving the stock charger at home from now on. It leaves a ton more room in the bag and is easier to use without fear of damage.
PRICING: You can find products similar to this one for sale below.

United States: Find other tech and computer products like this over at Amazon.com

United Kingdom: Find other tech and computer products like this over at Amazon.co.uk

Australia: Find other tech and computer products like this over at Amazon.com.au

Canada: Find other tech and computer products like this over at Amazon.ca

Deutschland: Finde andere Technik- und Computerprodukte wie dieses auf Amazon.de
We openly invite the companies who provide us with review samples / who are mentioned or discussed to express their opinion. If any company representative wishes to respond, we will publish the response here. Please contact us if you wish to respond.