Quick Review: Sony TRiK iPod Dock
Can the Sony TRiK do the trick for you when it comes to kicking out some tunes from your iPod / iPhone?
Published Fri, Aug 27 2010 10:41 AM CDT
|
Updated Tue, Nov 3 2020 7:02 PM CST
Rating:

97%
Manufacturer: Sony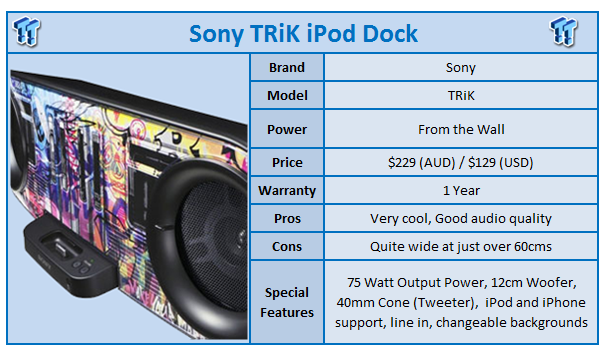 I noticed the Sony TRiK a while back at a local store and I've got to say that from the moment I saw it, I wanted it. With a few emails and a short wait, I had one arrive at my doorstep.
Inside the box there's not a whole lot going on apart from a lot of protective packaging. Aside from that, though, we've got the TRiK unit, small remote control, paperwork, some skins and some connectors depending on the particular iDevice you're plugging in.

Pulling out the TRiK and getting ready to place it down, you realise the stature of the 60cm+ width of the unit which may initially provide some trouble when figuring out where to place the device. Fortunately at less than 20cm deep and tall you don't need to really worry about those areas.
When it comes to looks, it's clear why some people have compared it to a skateboard and an iPod dock having a child. The dimensions alone give it that feel and with a 37.5w speaker placed at each end you really can see the resemblance. The unit's not completely flat and does curve back as we move further from the centre, which makes for a really nice design.
In the middle we've got the place for our iPod or iPhone. Outside of that there's actually very little to the whole device with only a + and - volume button being available along with the receiver for the remote sitting to the right of the Sony logo.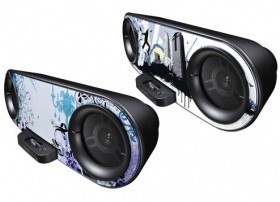 The Sony TRiK's special
trick
is its background and the ability to change it. Inside we've got four included skins (or backgrounds) and it must be said the graffiti inspired one is a personal favourite. If you head to the dedicated
Sony TRiK micro site
you can download the template of the background and make your own designs, or you can follow the links and download some made by others. Once you've done that you can then print them out and swap your background.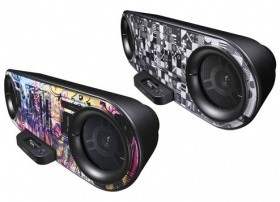 The long stature does again rear its head again here and outside of having a printer that's able to print out sheets of 60cms+, you'll have to become quite handy with the sticky tape which will no doubt not give the same fine finish that we've got on the included Sony skins.
Plugging our iPhone 4 with iOS 4.0.1 installed, we got the typical "This Device is Not Supported" message that we see on most devices. Fortunately it didn't stop the iPhone from charging straight away. From there we fired up the iPod and started to play some tunes.
Enjoying a bit of Ministry of Sound, the audio is good and while you can only expect so much from a 12cm woofer, the bass is clearly audible and not just another sound amongst a mess of other frequencies. Getting into some of that typical "Top 40" music that fills the charts of commercial radio stations, we hear clear treble in non bass heavy music which gives us the opportunity to really crank the sound up with no distortion.
When it came to using the remote, we didn't run into any problems. In typical Sony style it was strong; the range good and the response was fast when it came to adjusting the volume and only a very minor delay when it came to pausing and playing audio and moving to different tracks.
The few stand out bumps that you might run into when it comes to the Sony TRiK would be its long length which is something worth taking into account when figuring out where you would be placing the device. The same length also causes problems when it comes to printing your own skins, as we mentioned.
At
$129 USD
and $229 AUD, the TRiK carries with it the normal Sony tax. In saying that, so many of their products these days can be justified when compared to cheaper alternatives that don't carry the same quality. Finding $5 to $10 US cheaper is very easy and you could probably get a few dollars shaved off the price in Australia, too.
While the TRiK in its own right is a very capable dock, the one thing that stands out to me today and has done since the first moment I saw the TRiK was the simple fact that it's cool. The fact that cool hasn't come at the cost of poor quality is what makes the TRiK a stand out product.

In a time where we like to express ourselves in as many ways as possible, a simple feature like the ability to change the backings is really welcomed. What's different about the TRiK compared to so many other products is it's a product that I not only like and would recommend, but something I would own myself.
PRICING: You can find products similar to this one for sale below.

United States: Find other tech and computer products like this over at Amazon.com

United Kingdom: Find other tech and computer products like this over at Amazon.co.uk

Australia: Find other tech and computer products like this over at Amazon.com.au

Canada: Find other tech and computer products like this over at Amazon.ca

Deutschland: Finde andere Technik- und Computerprodukte wie dieses auf Amazon.de