Silicon Power Armor A80 USB 3.0 640GB Portable HDD
Silicon Power merges the speed of USB 3.0 with military ruggedness to make a portable HDD that can take a beating under water or in our lab.
Published Tue, Aug 17 2010 6:05 AM CDT
|
Updated Tue, Nov 3 2020 7:02 PM CST
Introduction, Specifications, Pricing and Availability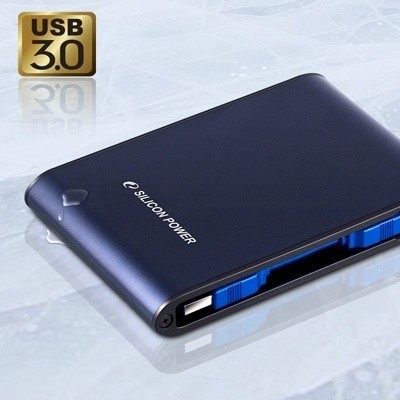 Introduction
When it comes to building tough, nearly indestructible hardware, no one excels better than the United States military. These are the same people responsible for the development of the Hummer, Abrams Tank, AR15 and many other kick your butt up and down the globe projects that we don't even know about. Military specifications are the benchmark for all which many products are judged and many of those products fall short of military expectations.
Silicon Power has taken it on the most stringent drop tests created by people who really know how to drop stuff. The Silicon Power Armor A80 meets or exceeds the MIL-STD-810F 516.5 procedure IV drop test and even went further to match the IEC529 IPX7 waterproof test.
No one knows how to spend money like the US Military either. The consumer version of the Hummer costs considerably less than the mil spec version, but like the saying goes, You Get What You Pay For. With USB 3.0 product pricing falling rapidly, the Silicon Image Armor A80 640GB portable HDD is currently one of the highest priced USB 3.0 drives on the market, but it is still in pre-order status at Amazon. We suspect that when units arrive the price will drop, but will that price drop be enough to satisfy the TweakTown Consumer Price Test?
Let's take a look at the Silicon Power Armor A80 USB 3.0 specs and see if we can get the mil spec to line up with our benchmark and pricing specs.
Specifications, Pricing and Availability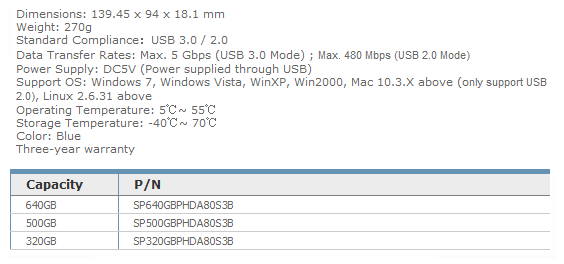 Silicon Power doesn't go into great detail when it comes to performance claims other than giving us the generic USB 3.0 and USB 2.0 claims. This is quite convenient for Silicon Power when it comes to USB 3.0 since there isn't a controller chip able to reach the maximum limits of USB 3.0 on the market yet. To date the fastest USB 3.0 read speed we have recorded was 200MB/s, so we will see if the Armor A80 is able to match that speed.
Silicon Power has already released three capacity models of the Armor A80. Our sample, the Armor A80 640GB is the flagship model at this time and it is currently on pre-order
at Amazon for 169.00 USD
. Silicon Power is also in the process of launching a 500GB (169.00) and a 320GB (157.50) model. With USB 3.0 external enclosures starting to hit the market for as low as 25 USD (barebones, no drive) it is my hope that the Armor A80 pricing is revised after arrival. That said, none of the low cost USB 3.0 enclosures are anywhere near the quality of the Silicon Power Armor A80 or feature the mil spec drop and water features.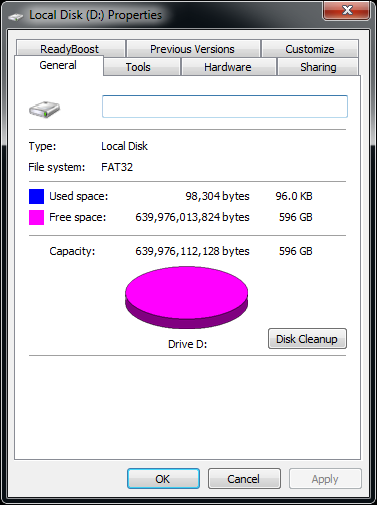 After formatting our Silicon Power Armor A80 we ended up with 596GB of usable space for data. We dissected the Armor A80 and found a Samsung Spinpoint M7E HM641JI 640GB drive that features dual platters, but has a reputation as being designed for high transfer rates at the expense of low I/O performance. This combination is great for benchmarking, but lacks the ability to transfer several small files with high efficiency.
The Packaging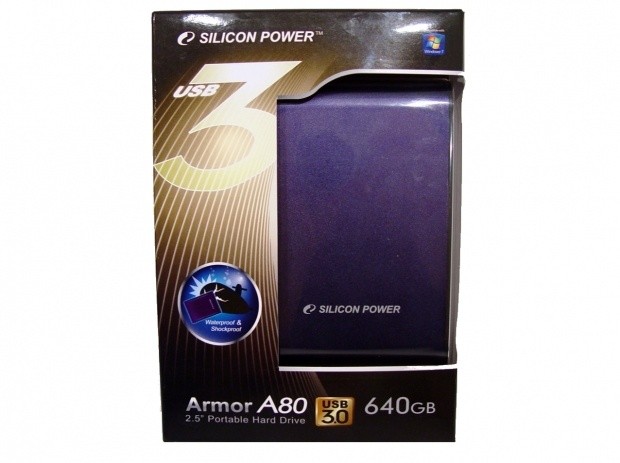 Silicon Power put together a very nice looking package for the Armor A80. On the front we see USB 3.0 all over the place, so you have an idea about what you are getting. The Waterproof and Shockproof logo is very unique; too bad I don't have a submarine to test with.
At the bottom right side we see the capacity size and that also lets us know the package is dedicated for the capacity size since the capacity size isn't just a sticker like some manufacturers are using these days.
When it comes to the actual box material, the cardboard is very thin and somewhat weak. It was difficult to even get the package to sit upright.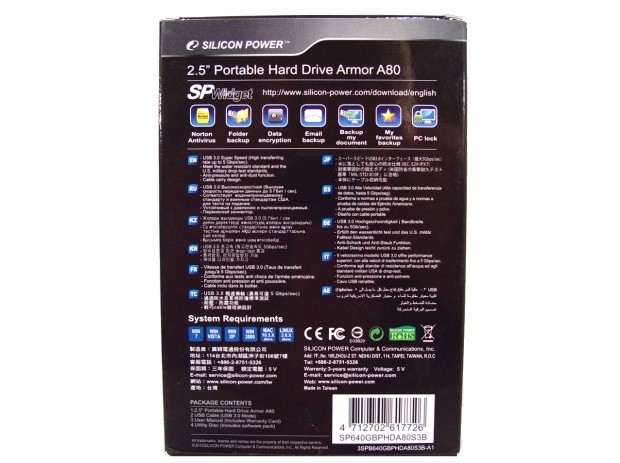 On the back we find more information about the SP Widget software that is available for download at Silicon Power's website. The back of the package also lists some of the features and specifications for the Armor A80, but it is missing specific performance claims other than those of USB 2.0 and 3.0. This is something we don't like since USB 3.0 has yet to live up to the 5Gbps mark.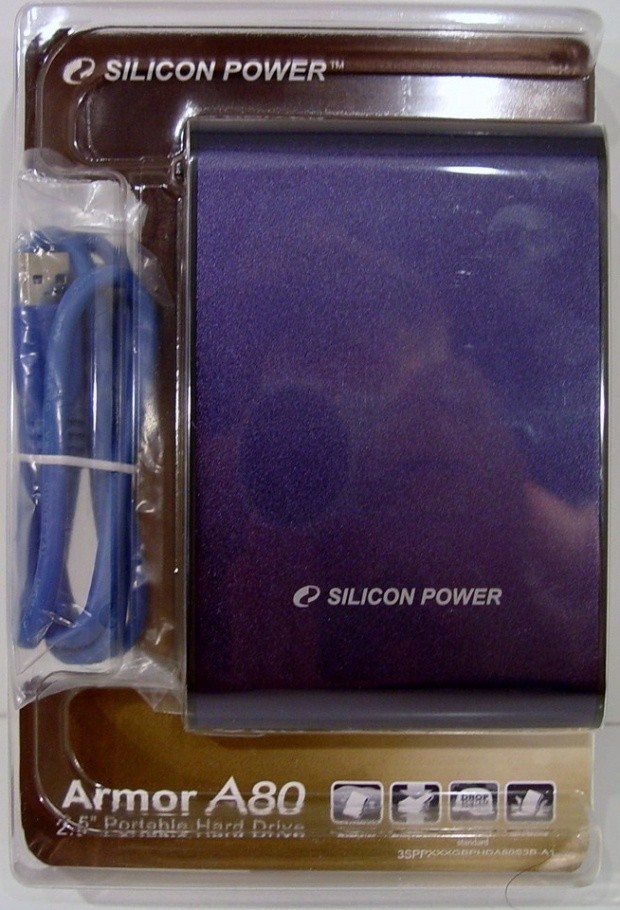 The inner packaging is made up of clear plastic that does a good job of keeping the accessories away from the drive. This will make it so your drive arrives without surface scratches from accessories rubbing against the drive.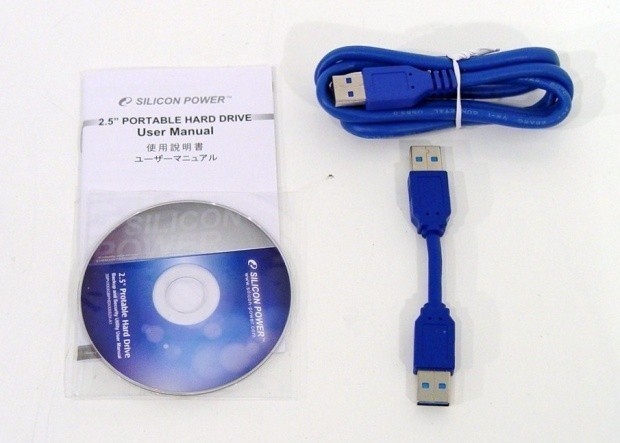 The accessories package is well thought out. Two USB 3.0 cables are included; one a dual Type A plug that is capable of providing extra power to your Armor A80 and the other a portable dual Type A that is stored on the drive. A manual is also included as well as a driver disk if needed.
The Silicon Power Armor A80 640GB Portable HDD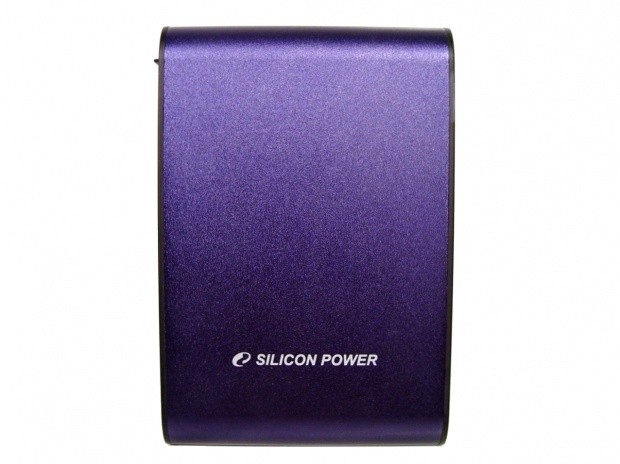 Here we get our first look at the Silicon Power Armor A80. The case is made of aluminum. I wouldn't call the Armor heavy, but it is heavier than most portable drives. This is a result of making the aluminum thick enough to meet or exceed the mil spec drop test.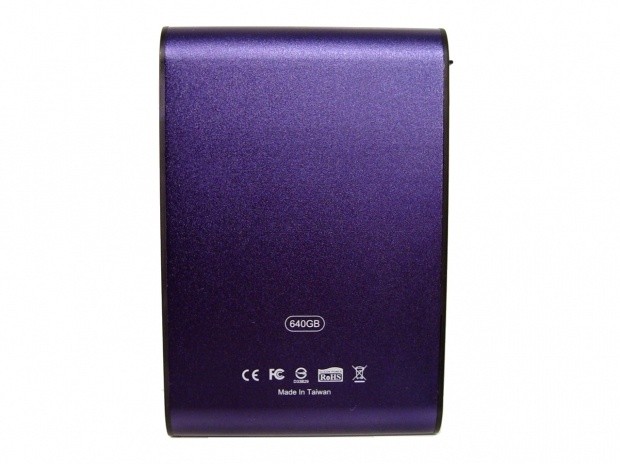 On the back we see that the main portion of the aluminum case is a one piece design that appears to have been sand blasted and then anodized a deep blue color. Also on the back we see the capacity listed at the lower middle of the case.

A very handy, ultra cool, and to just call it like it is, brilliant short USB 3.0 cable can be held directly in a recessed portion of the Armor A80. This is one of the neatest features I have seen to date from a USB 3.0 drive.

On the other side is the USB 3.0 plug that has a rubber door that when closed will allow the Armor A80 to be submerged in up to 1 meter of water for up to a half hour.
Test System Setup and ATTO Baseline Performance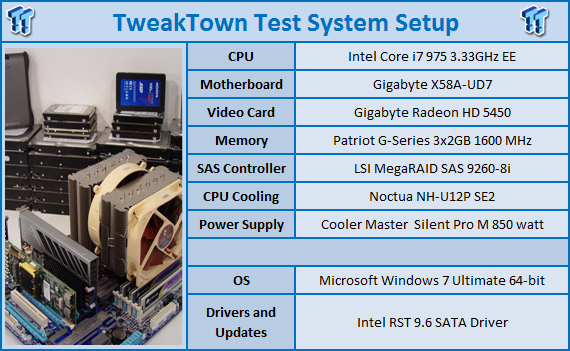 We would like to thank the following companies for supplying and supporting us with our test system hardware and equipment:
AVADirect
,
GIGABYTE
,
Cooler Master
,
LSI
and
Noctua
.
You can read more about TweakTown's Storage Product Testing Workstation and the procedures followed to test products
in this article
.
Today we are testing Silicon Power's Armor A80 USB 3.0 640GB portable HDD. The performance shown today represents the 640GB model, where other capacity sizes will perform a little differently.
ATTO Baseline Performance
Version and / or Patch Used:
2.34
ATTO is used by many disk manufacturers to determine the read and write speeds that will be presented to customers.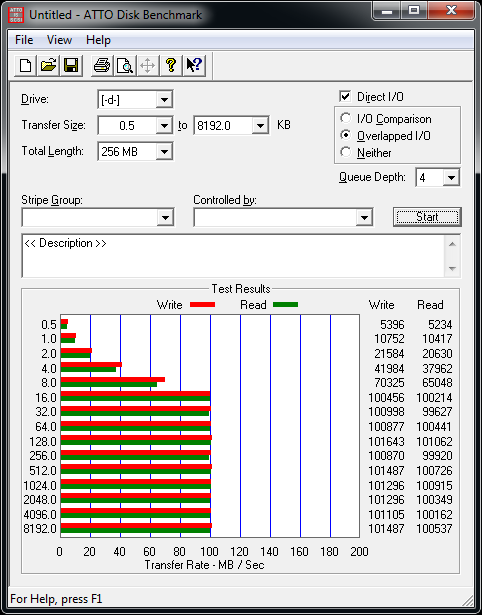 The highest speed we have been able to achieve from our GIGABYTE X58A-UD7's onboard NEC USB 3.0 chip has been just over 200MB/s. This was with a USB 3.0 SSD based on the Indilinx Barefoot SSD controller. While testing the Silicon Power Armor A80 I was surprised to see such an abrupt cut off at 100MB/s for both the read and write speeds. This prompted me to break out the ADATA USB 3.0 SSD again to verify that the motherboard was still handling USB 3.0 data the same as it did in my previous USB 3.0 tests.
The end result was the ADATA drive still being able to reach 200MB/s. That means that the Silicon Power Armor A80 is truly limited to 100MB/s read and write speeds. This is a far cry from the claimed speed of 5Gbps and the number one reason why we hate to see a product only being listed with the generic USB 3.0 speed.
Benchmarks - HD Tach
HD Tach USB 2.0 and 3.0 ComparisonVersion and / or Patch Used:
3.0
Developer Homepage:
http://www.simplisoftware.com
Product Homepage:
http://www.simplisoftware.com/Public/index.php?request=HdTach
Buy It Here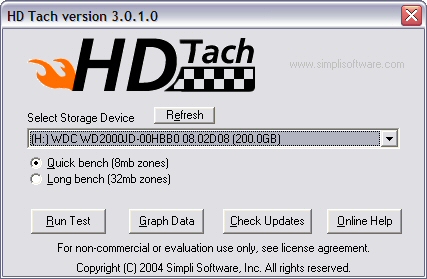 HD Tach has been around for a long time and is excellent when it comes to testing hard drive performance. It is also a very handy program when it comes to testing the controller used on particular motherboards. Tests such as Read, CPU Utilization and Burst are available at a click of the button and give you a good idea of how the hard drive can perform from system to system.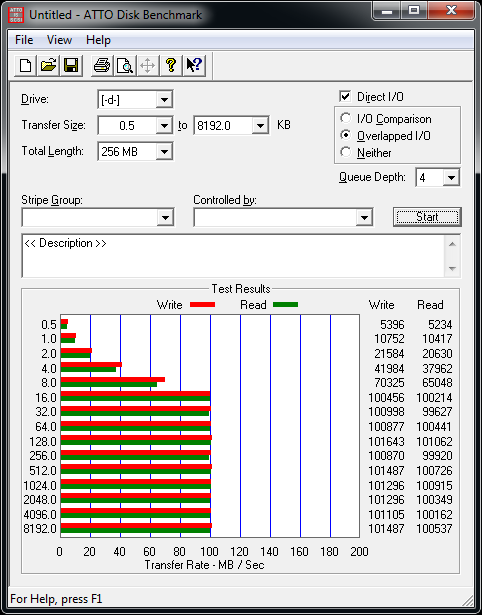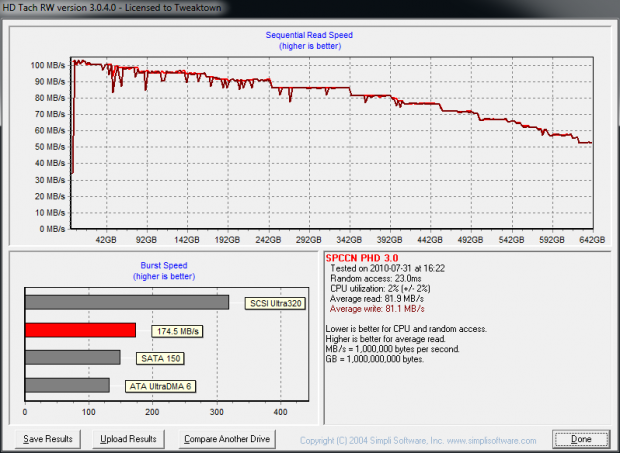 If the maximum speeds didn't leave you disappointed enough, the HD Tune STR read and write test from across the platters might leave you a little angry if you were expecting actual performance to match the claims established by the product packaging and marketing materials.
When all is said and done, the Silicon Power Armor A80 is still much faster than anything possible with USB 2.0.
Benchmarks - Crystal Disk Mark
CrystalDiskMarkVersion and / or Patch Used:
3.0 Technical Preview
Developer Homepage:
http://crystalmark.info
Product Homepage:
http://crystalmark.info/software/CrystalDiskMark/index-e.html
Download here:
http://crystaldew.info/category/software/crystaldiskmark
CrystalDiskMark is a disk benchmark software.
Key Features:-
* Sequential reads/writes
* Random 4KB/512KB reads/writes
* Text copy
* Change dialog design
* internationalization (i18n)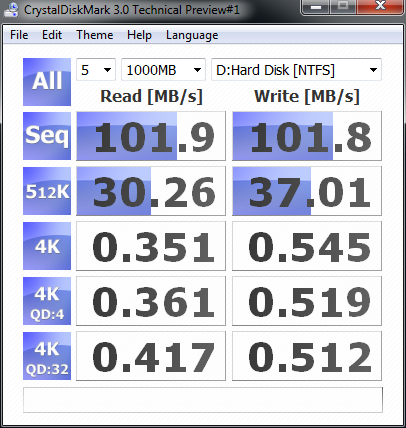 In a recent announcement the makers of CDM stated that they were making the 1000MB test the default benchmark, so we have changed over from the 100MB test and started using the 1000MB test in our reviews.
USB does not take advantage of NCQ so queue depths do nothing for USB 2.0 or 3.0 performances. Here we do get a chance to observe the 4K numbers. Just like in the STR testing we see lower performance than what we would have liked. This is a direct result of the drive chosen by Silicon Power to be used in the Armor A80.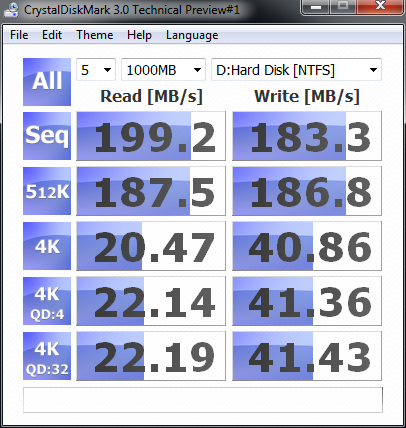 To put this theory into practice, we removed the Samsung Spinpoint drive from the Armor A80 and replaced it with one of our Crucial / Micron RealSSD C300 256GB drives that were donated for testing storage products by Crucial. In the above CDM 1000MB run we see that the Silicon Power Armor A80 hardware is capable of handling up to 200MB/s read speeds. This shows that the Samsung Spinpoint drive chosen by Silicon Power is the limiting factor to the performance.
Benchmarks - AS SSD
AS SSD BenchmarkVersion and / or Patch Used:
1.2.3577.40358
Developer Homepage:
Alex Intelligent Software
Product Homepage:
Alex Intelligent Software
Download here:
http://www.alex-is.de/PHP/fusion/downloads.php?cat_id=4&download_id=9
AS determines the performance of Solid State Drives (SSD). The tool contains four synthetic as well as three practice tests. The synthetic tests are to determine the sequential and random read and write performance of the SSD. These tests are carried out without the use of the operating system caches.
In all synthetic tests the test file size is 1GB. AS can also determine the access time of the SSD, the access of which the drive is determined to read through the entire capacity of the SSD (Full Stroke). The write access test is only to be met with a 1 GB big test file. At the end of the tests three values for the read and write as well as the overall performance will be issued. In addition to the calculated values which are shown in MB/s, they are also represented in IO per seconds (IOPS).
Note:
AS SSD is a great benchmark for many tests, but since Crystal Disk Mark covers a broader range of 4K tests and HD Tune Pro covering sequential speeds, we will only use the Copy Benchmark from AS SSD.
- Copy Benchmark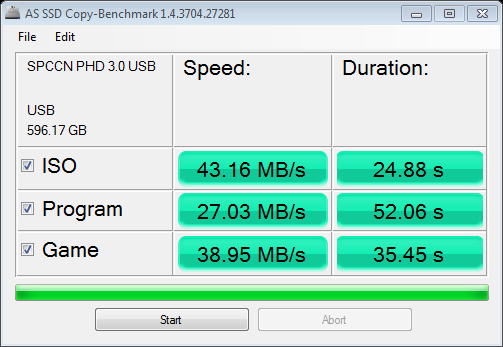 The most commonly used task for external storage products is transferring data to and from the drive. In AS SSD we are able to simulate a controlled transfer of three common file formats. The Armor A80 is capable of transferring an ISO file at 43.16MB/s, Program Files at 27.03MB/s and Game Files 38.95MB/s. USB 2.0 is only able to perform these same tests at 14MB/s so we see significant improvements from the USB 3.0 Armor A80.
Final Thoughts
Silicon Power has a unique external drive that is capable of taking a beating, surviving a dip in the pool and still performing quite well. When it comes to performance, or more specifically claimed performance, we would like to see Silicon Power do a better job of informing consumers of the actual capabilities of their products.
When it comes to actual transfer rate performance, the Silicon Image Armor A80 can read and write data at 100MB/s under ideal conditions. During the worst of times the drive can only perform these tasks at just over 50MB/s. If you are looking for more performance, look elsewhere as we have already tested portable USB 3.0 drives that perform better and cost less.
The drives that we have tested do fall well short of the mil spec housing that Silicon Power uses and that does add value, especially if you travel with portable storage regularly. The included USB 3.0 short cable as well as the physical size of the Armor A80 make it truly portable. The system isn't as portable as a thumb drive, but you are also not going to get up to 640GB of capacity out of the thumb drive at this time either.
When it comes to pricing I am still not sold on the 640GB model listing at close to 170 USD. The Samsung Spinpoint drive is retailing for around 70 USD at Newegg at the time of writing, so that leaves the housing costing right around 100 USD. That is one expensive USB 3.0 enclosure no matter how much abuse it can take. With USB 3.0 enclosures now selling for as low as 21 USD at Newegg, it is safe to say you understand our reservations on pricing.
PRICING: You can find products similar to this one for sale below.

United States: Find other tech and computer products like this over at Amazon.com

United Kingdom: Find other tech and computer products like this over at Amazon.co.uk

Australia: Find other tech and computer products like this over at Amazon.com.au

Canada: Find other tech and computer products like this over at Amazon.ca

Deutschland: Finde andere Technik- und Computerprodukte wie dieses auf Amazon.de
We openly invite the companies who provide us with review samples / who are mentioned or discussed to express their opinion. If any company representative wishes to respond, we will publish the response here. Please contact us if you wish to respond.