Introduction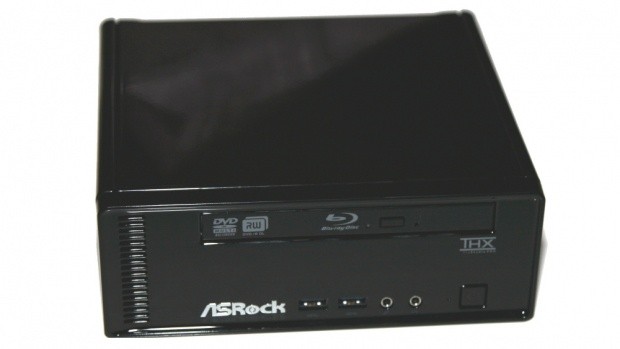 Do you remember the
ASRock ION 330-BD
and
ASRock ION 330HT-BD
nettop computer systems from last year? Well, we ranked them pretty high and found them to be among the best small computers that we had tested at the time. ASRock is back again with its recent launch of its Core 100HT-BD nettop systems.
The ASRock systems we looked at last year made use of Intel Atom technology, undoubtly the most talked about CPU of 2009, but fast forward and ASRock has decided to put the Atom to rest for now with this generation and has gone with the faster Core i3 mobile processor. This should provide a boost in performance compared to the older models, but it's not just all about performance, though.
Besides the implementation of the new processor, ASRock also throws in not one, but two USB 3.0 connectors and the new Intel H55 Express chipset that is perfect for such a system providing HDMI Audio Pass Through or bitstream for the full HD audio experience from Blu-ray movies. If that wasn't enough, the system also gets THX TruStudio PRO audo support. There is also gigabit Ethernet for your networking needs, but if you prefer wireless you'll be happy to know there is 802.11n wireless support for up to 300Mbps transfers.
The Core 100HT-BD looks almost the same as the previous nettops from ASRock, except for the additions of some connectors on the front and comes in either black or white paint jobs. Let's get down to business now, though, and take a good close look at the new nettop system from ASRock and see if it is worth your hard earned dollars as a home theater PC and small office computer.
Specifications, Availability and Pricing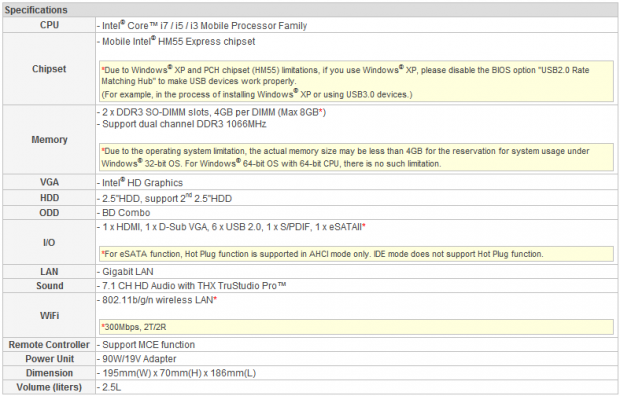 Above we get our first look at the specifications of the ASRock Core 100HD-BD nettop computer. As we just mentioned, this new generation system from ASRock marks the change from the low powered netbook Intel Atom processor to the more powerful Core mobile processors from Intel.
The system which we are looking at today is based on the Core i3-330M processor which comes clocked at 2.13GHz and 3MB of Intel Smart Cache. This Intel Socket PGA988 processor was launched at the start of this year and it is a dual-core Hyper Threading supported processor with a total of four threads. The chipset used is the Intel HM55 Express mobile chipset which comes with Intel HD Graphics. The system we received for review came with a total of 4GB of memory configured in dual-channel mode. The modules installed were two 2GB Elixir DDR3-1333 SO-DIMM sticks.
Along with the included Blu-ray optical drive was a Seagate Momentus 5400.6 500GB laptop sized 2.5-inch hard drive that spins at 5,400 RPM and uses a SATA 3Gb/s interface with 8MB of cache. It was a shame to see that a 7,200 RPM drive wasn't used, but that would only drive up the cost. If you want a speed boost, you would probably just replace it with a much faster SSD anyway.
On the audio side, you are very well covered. You not only get 7.1 channel HD audio with THX TruStudio Pro support, but thanks to use of the H55 chipset, you can also pass through HD audio over the HDMI connector for full Blu-ray HD audio support using bitstream. We have asked for this for a long time from nettop makers and it is fantastic to see ASRock listening. As far as networking goes, there is a single gigabit Ethernet port on the back and the unit also comes with 802.11n wireless for up to 300Mbps transfers. The system uses up to 90 watts of power (typically 50 - 80 watts according to ASRock, but we will measure that ourselves later in the review) and is nice and small with a volume of 2.5 liters and measurements of 195mm(W) x 70mm(H) x 186mm(L). The weight of the system with everything installed is only 1.72Kg; for a full computer that should be capable of some good things - impressive!
As far as price goes, we spotted the system on sale at Newegg
for $699.99 USD
with similar specifications as the unit we are reviewing here today. It's a bit rich for a nettop system, but keep in mind the Core 100HT-BD brings some vast improvements over previous models, so it only fits as to why it costs a couple hundred American bucks more. The cost of entry is set pretty high, but it could still turn out to be a very attractive proposition if it proves to be a solid home theater contender by performing well in our tests.
Package and the System
Starting off with the package, below you get a look at what is included inside.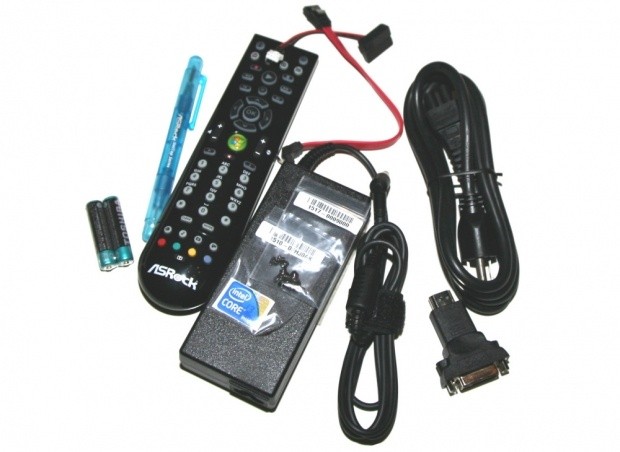 ASRock included a rather healthy bundle to go along with the nettop. You get an MCE remote control and batteries to go with it, a 90-watt power bring and power cable, a spare SATA cable, HDMI to DVI adapter and a screwdriver with multi-sized screw points (which we mistook for a pen in the video below; Oops).
You also get a Core i3 sticker to display proudly if you wish and some spare screws if you want to tinker around a bit.
Let's kick things off here with an unboxing and undressing of the ASRock Core 100HD-BD system. Hit the play button below to check it out.
Yep, we are already pretty impressed, but the show must go on.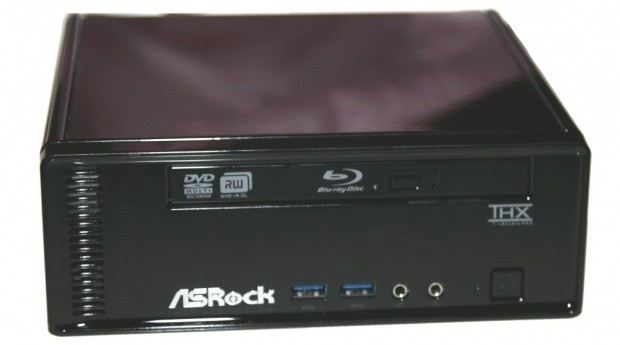 Can we start off by saying just how impressed we were with the overclocking side of the unit? ASRock were the first to introduce overclocking in its previous generation (we never usually see ANY sort of overclocking options in the BIOS of other nettops). You were able to enable an OC boost in the BIOS and increase the CPU speed by 500MHz on the Intel Atom from 1.6GHz to 2.1GHz. They have taken things to a whole new level with the Core 100HT-BD, though.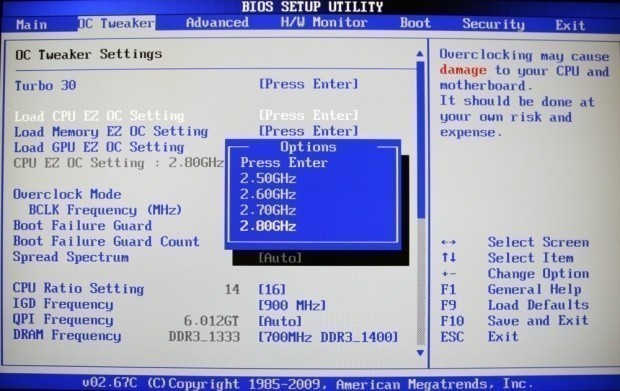 Using the OC Tweaker feature in the BIOS, you can adjust a whole range of settings to improve performance. It's not like the amount of options you would get in a desktop motherboard, but the range is still very impressive nonetheless considering we are working with a basic nettop system!
If you want quick and dirty extra performance you can run the Turbo 30 setting, which automatically increases system performance by either 25% or 30%, very quickly. If you spend a little extra time, you can select the EZ OC Setting and choose one of the pre-tested and stable overclocks by ASRock ranging from a CPU clock speed of 2.5GHz, 2.6GHz, 2.7GHz or 2.8GHz. We of course opted straight for 2.8GHz and it worked perfectly. You have to love the simplicity of this - ASRock has already done the hard work for you in working out which settings work and what is stable.
You can also easily adjust the memory speed from DDR3-1066 to DDR3-1333 and the GPU clock speed from 600MHz to 800MHz or 900MHz. Do keep in mind here that when using the EZ OC settings, you can only do and have one operation active at the same time. You can, however, just select the CPU clock speed to 2.8GHz and then because of ratios, set the memory speed to DDR3-1400. At this memory speed we had to increase the memory voltage to 1.6 volts. We had an issue with keeping the GPU clock speed at 900MHz with the CPU and RAM overclocked, so that had to stay at the default of 600MHz for Windows 7 to boot. It's not a big issue as this is a HTPC with mere Intel HD graphics, so you probably won't be doing too much gaming on this system anyway.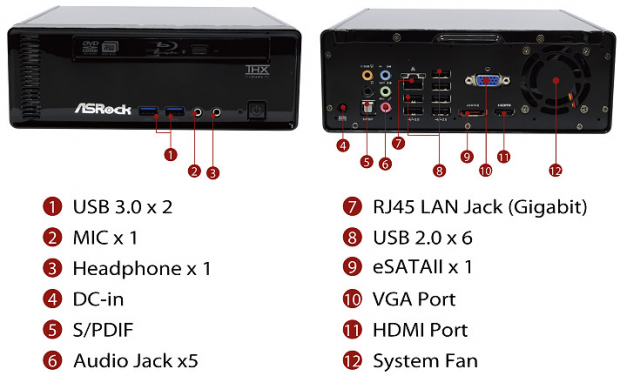 At the front of the unit is where things change a little from previous generation nettops from ASRock. In the past only the power button was present, but with the Core 100HT-BD we also see the inclusion of two USB 3.0 ports for fast external data transfers and one mic and headphone jack. The power button lights up blue when the system is turned on and there is a small orange LED to the left of it that flashes showing system activity. Of course, there is also a Blu-ray optical drive that comes pre-installed on the BD version of the model, too. On the far left of the unit there is a small area where air is taken into the system and then later extracted out of the rear extraction point.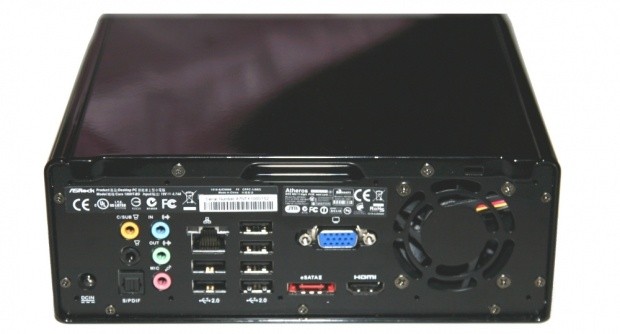 Moving around to the back of the system, there are connectivity options galore. From left to right we have the AC power in, 5.1 analog audio, S/PDIF audio output, a gigabit ethernet port and an impressive total of six USB 2.0 ports (eight USB ports total for a system this size!), an eSATA II port, VGA output as well as HDMI output. The HDMI port is HDMI 1.3 and is able to provide HDMI audio pass through or bitstreaming support which is fantastic and something sorely missed from systems of this kind in the past. ASRock also throw in an HDMI to DVI connector for good measure. As I said, connection options aplenty.
On the back right of the system you can see a fan that effectively extracts air from the system. It is placed in a good spot as the CPU fan pushes hot air in its direction and moves it outside of the system and that's very important for such a small computer. We didn't show the top, bottom or sides of the unit as they are plain with nothing notable to mention.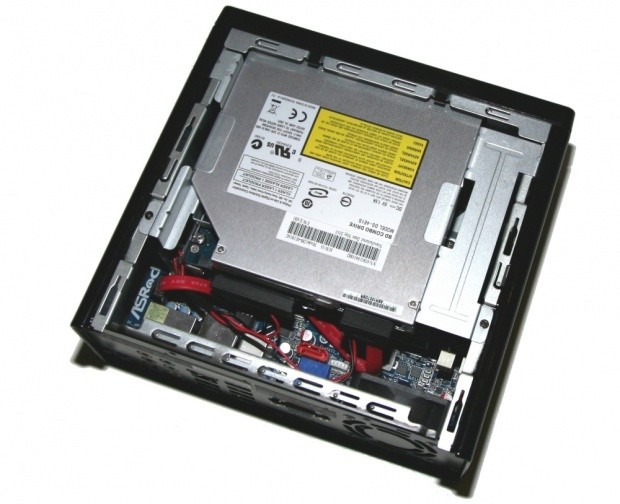 Getting inside the system is very easy and doesn't require fifty million screws to be removed or the patience of someone that has a lot of it. All you need to do is remove two screws at the back of the system that hold on the top case part of the system. Once removed, it just slides off with ease. Revealed is the inside of the system as you can see above. We need to remove the Blu-ray optical drive and hard drive compartment area by undoing a further two screws that hold that part in place.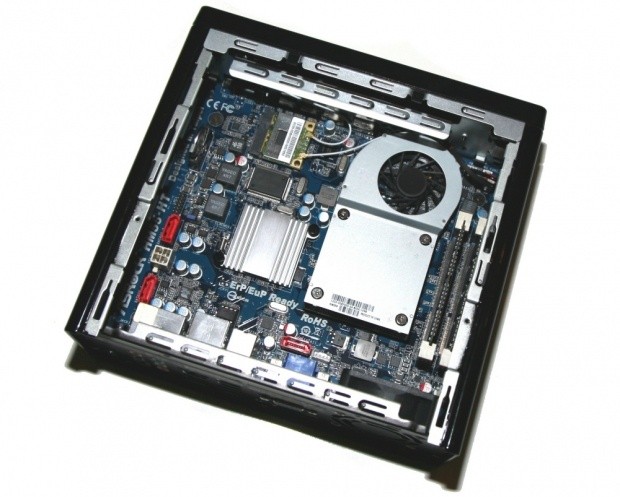 Once the optical drive and HDD is removed, we are presented with something like you see above. Exposed is a fantastically designed little system with the ASRock HM55-HT motherboard at its core. Cooling seems to be handled rather well - we didn't experience any heat related issues - and the unit is rather quiet producing only up to 25dB which is basically inaudible unless you really put your ear up to the system. Do keep in mind that when we had the system overclocked (2.8GHz CPU and DDR3-1400 or 700MHz on the RAM), things did heat up quite a lot and at times the fan was working overtime to keep things under control. The fan while loud was not over the top loud, but definitely audible over the idle fan speed level - and it was pushing out fairly warm air from the rear extraction point.
The Intel HM55 Express chipset is cooled by a small silver heatsink and the Core i3 mobile processor is cooled by a larger actively cooled heatsink. You cannot see it too well in the image above, but the extraction point for the CPU cooler pushes air directly toward the case fan that effectively extracts hot air out of the system.
Overall we are pleased to say we have a very good design from ASRock. The system works well in terms of size, cooling and noise and it also has a whole bunch of different connectors for your home theater PC requirements. That is all good and well, but how does this thing perform? Read on!
Benchmarks - Blu-ray Playback
We will be comparing the ASRock Core 100HT-BD system (with latest Intel drivers and updates from Windows Updates) against the ASRock ION 330-BD nettop system (overclocked to 2.1GHz) and
Giada Slim-N10 NVIDIA Ion Nettop
. All systems had Windows 7 Ultimate x64 installed, but the Giada system uses newer drivers including the NVIDIA GeForce/ION Driver 195.62 and NVIDIA ION Chipset Driver 15.51.
You can see the CPU-Z screenshot of the ASRock Core 100HT-BD system below and the
validation link for reference is here
. We will provide results with the system at stock standard and overclocked speeds.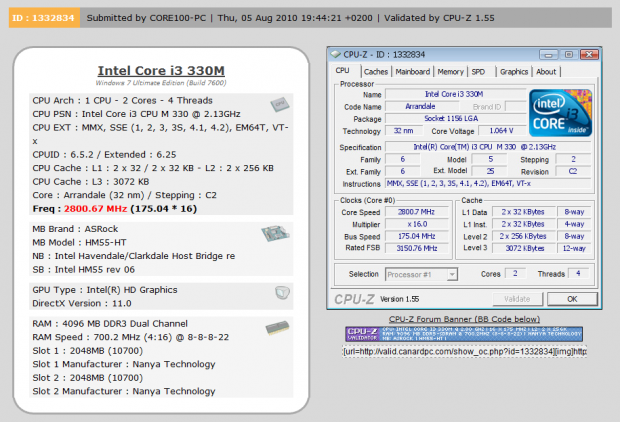 In our first test we measure CPU usage whilst playing back the "hospital" scene from the Blu-ray movie "Harold & Kumar Go to White Castle".
The swear-happy hospital scene is not super intensive, but it's probably a good indication of standard movie playback in a typical conversation type scene. Hardware acceleration was enabled, which means that work was off-loaded to the Intel HD Graphics processor. We measured CPU utilization (maximum and average) using Windows 7 Performance Monitor.
We are happy to report that the ASRock Core 100HT-BD had no issues at all playing back 1080p content; it was very smooth once hardware encoding was enabled in PowerDVD 10 Mark II. We tested to see that bitstreaming was working and we are happy to report that bitstreaming does indeed work after changing a couple settings in PowerDVD 10 Mark II.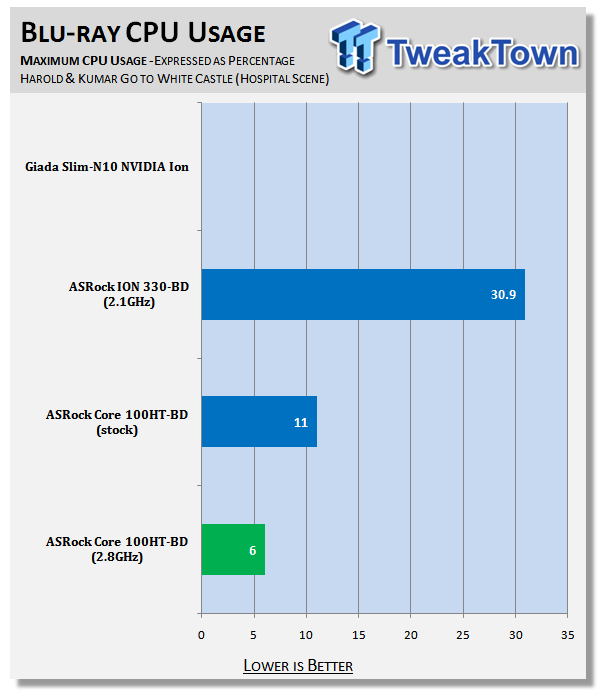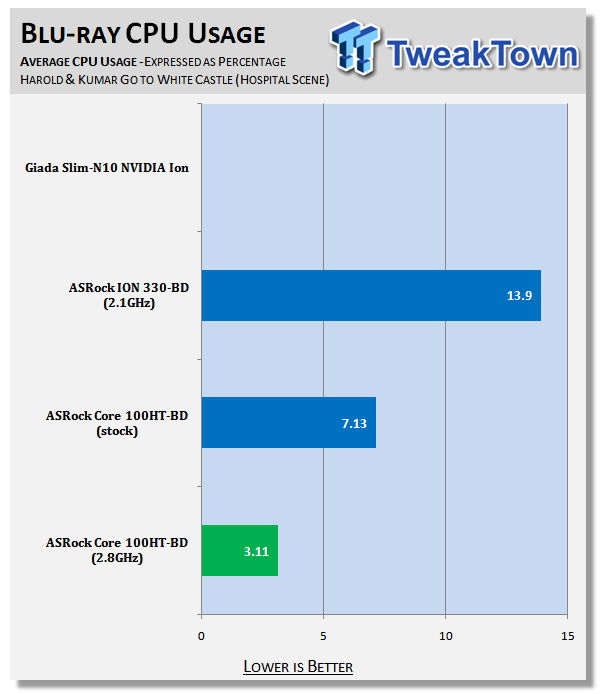 Sadly we didn't have results on hand for the Giada system, but the results speak for themselves.
The new generation ASRock Core 100HT-BD uses hardly any CPU to do its Blu-ray playback duties compared to the ION 330-BD. Playback was very smooth and everything worked as expected.
Benchmarks - PCMark Vantage 64-bit
PCMark Vantage 64-bitVersion and / or Patch Used:
Nov 2007 Hotfix
Developer Homepage:
http://www.futuremark.com
Product Homepage:
http://www.futuremark.com/benchmarks/pcmark-vantage/
Buy It Here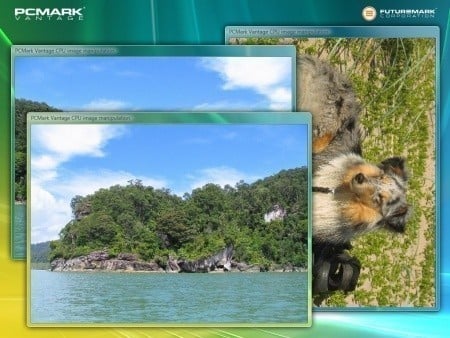 PCMark Vantage is the first objective hardware performance benchmark for PCs running 32 and 64 bit versions of Microsoft Windows Vista. PCMark Vantage is perfectly suited for benchmarking any type of Microsoft Windows Vista PC from multimedia home entertainment systems and laptops to dedicated workstations and high-end gaming rigs. Regardless of whether the benchmarker is an artist or an IT Professional, PCMark Vantage shows the user where their system soars or falls flat, and how to get the most performance possible out of their hardware. PCMark Vantage is easy enough for even the most casual enthusiast to use yet supports in-depth, professional industry grade testing.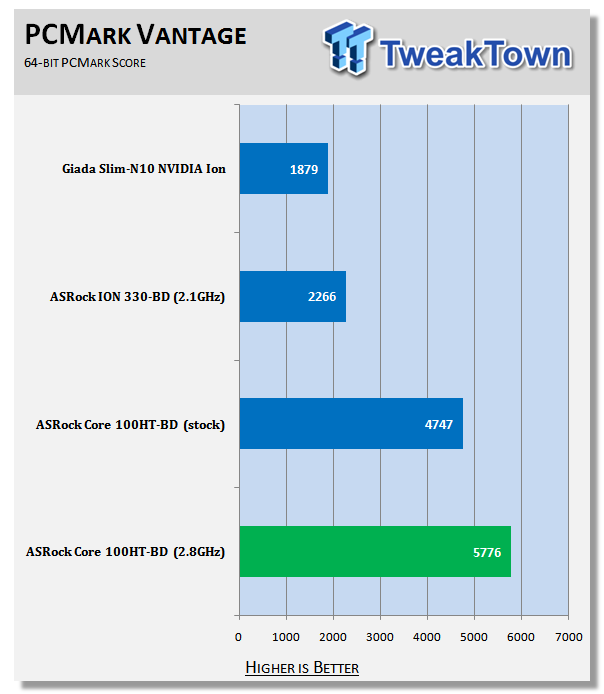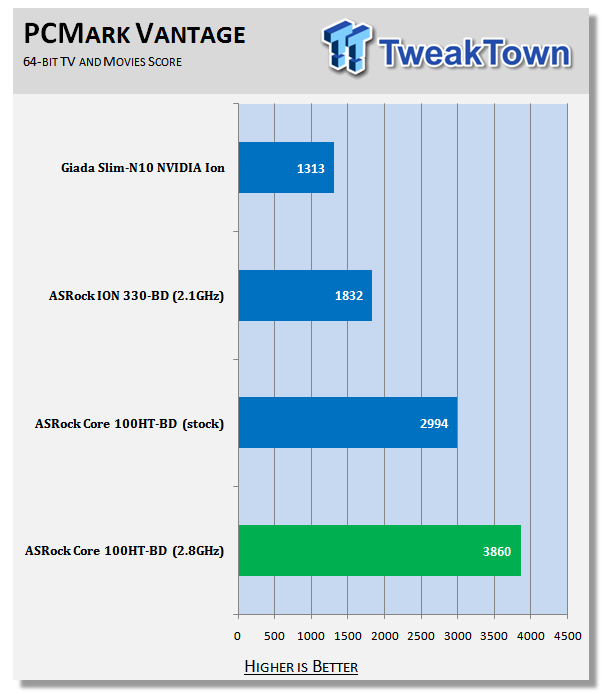 Again we see the new ASRock Core 100HT-BD providing really good performance compared to its older brother. You can really see the difference with the faster four threaded Core i3 mobile processor compared to the slower two threaded Intel Atom processor here. And when overclocked, things are only getting better.
Benchmarks - CINEBENCH R10 64-bit
CINEBENCH R10 64-bitVersion and / or Patch Used:
Release 10
Developer Homepage:
http://www.maxon.net/
Product Homepage:
http://www.maxon.net

CINEBENCH is a real-world test suite that assesses your computer's performance capabilities. MAXON CINEBENCH is based on MAXON's award-winning animation software, CINEMA 4D, which is used extensively by studios and production houses worldwide for 3D content creation. MAXON software has been used in blockbuster movies such as Spider-Man, Star Wars, The Chronicles of Narnia and many more.
MAXON CINEBENCH runs several tests on your computer to measure the performance of the main processor and the graphics card under real world circumstances. The benchmark application makes use of up to 16 CPUs or CPU cores and is available for Windows (32-bit and 64-Bit) and Macintosh (PPC and Intel-based).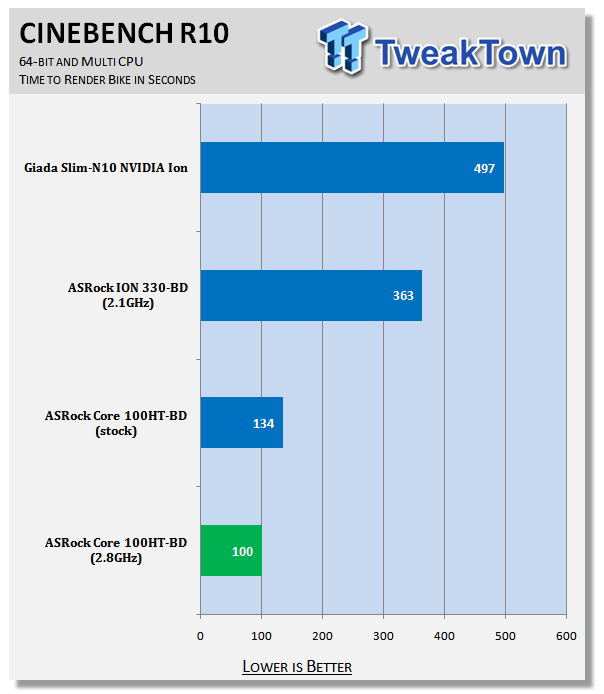 The ASRock Core 100HT-BD when overclocked to 2.8GHz really hammers the older Atom based systems. You can see that the 100HT-BD is almost five times faster than the Giada system at finishing rendering the bike under CINEBENCH R10.
Benchmarks - Super Pi
Super PiVersion and / or Patch Used:
1.5 Mod XS
Developer Homepage:
http://pw1.netcom.com/~hjsmith/Pi/Super_Pi.html
Product Homepage:
http://pw1.netcom.com/~hjsmith/Pi/Super_Pi.html
Developed by some folks from the University of Tokyo (yes, Japan), Super PI is a small utility that does just as the name implies. It figures PI to a set number of decimal places. Since PI is an infinite number to the right of the decimal point, the utility measures the time it takes to figure a set number of places. It runs the calculations a set number of times and gives a time for the completion of the task. This is a simple and effective way to measure the raw number crunching power of the processor being used to compile the results.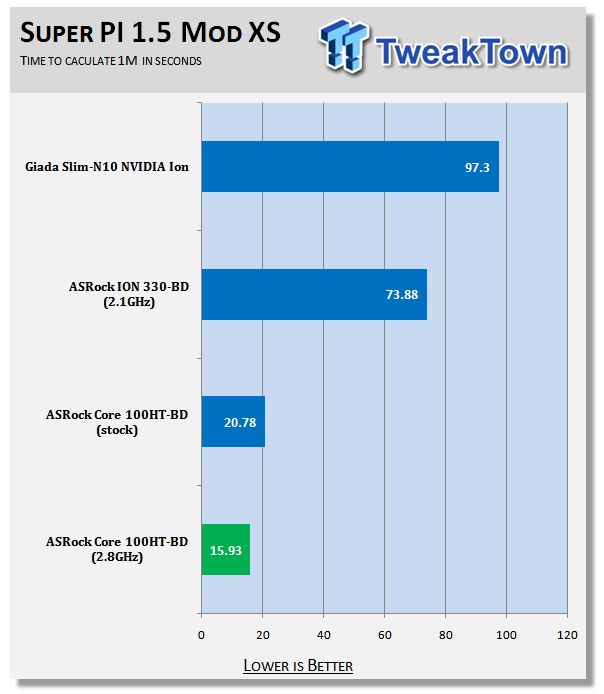 Here we see a similar story being painted, but things only get better with the ASRock Core 100HT-BD showing performance six times better than the Giada system and nearing five times better than the previous generation nettop from ASRock.
Power Consumption & Boot Time Testing
Power Consumption Testing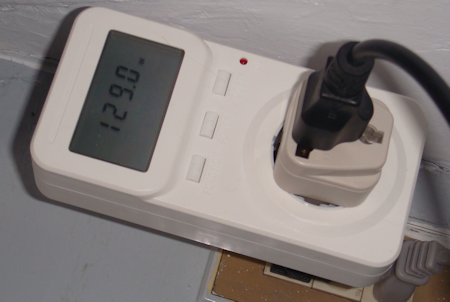 Now we come to probably one of the most important sections of our testing and that is power consumption!
Using the power tester you can see in the picture above, we measured power coming from the wall - it is measuring the full system, everything inside the box.
We used prime95 to fully load the CPU processor cores and a score was recorded after five minutes of loading. We recorded the highest wattage level hit. An idle wattage level was recorded after staying idle on the desktop for five minutes.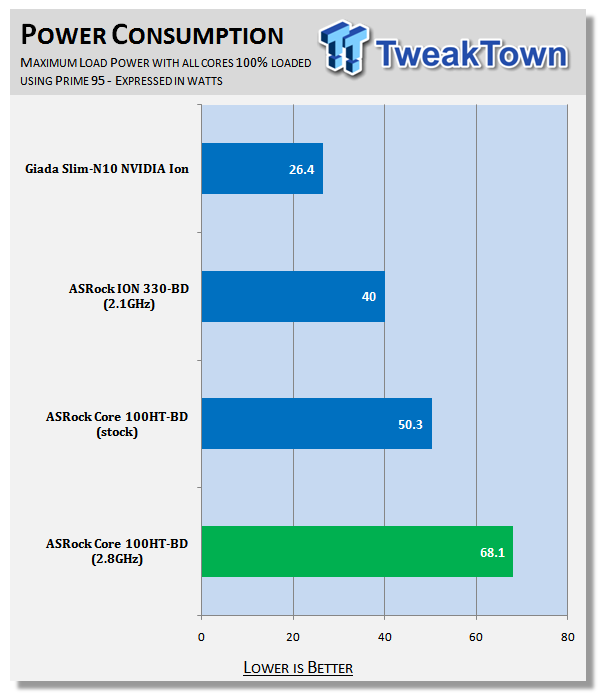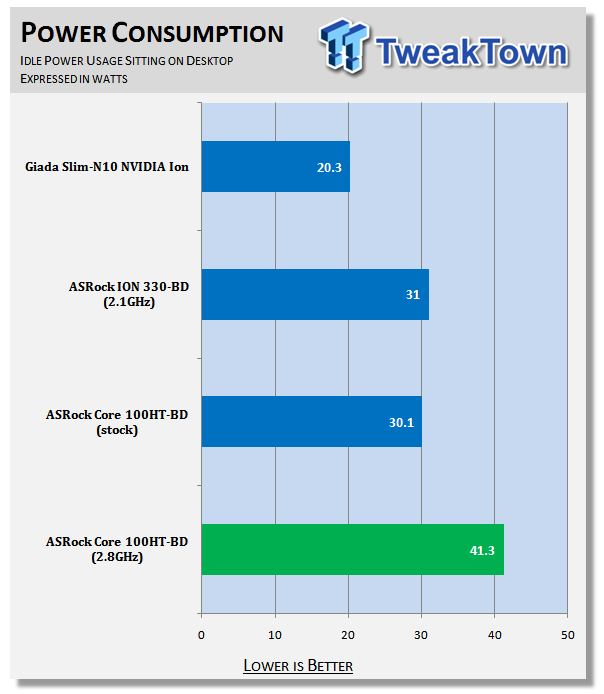 With better performance comes higher power consumption. The ASRock Core 100HT-BD uses almost 2.5 times more power than the Giada system at load and two times more at idle when sitting on the Windows 7 desktop.
When at stock, though, it was a bit of surprise to see that the ASRock Core 100HT-BD actually uses a little less power than the previous generation nettop from ASRock.
Boot Time Testing
We measured using a stopwatch and timed from the point we turned the system on until the very first point the desktop was reached and fully loaded.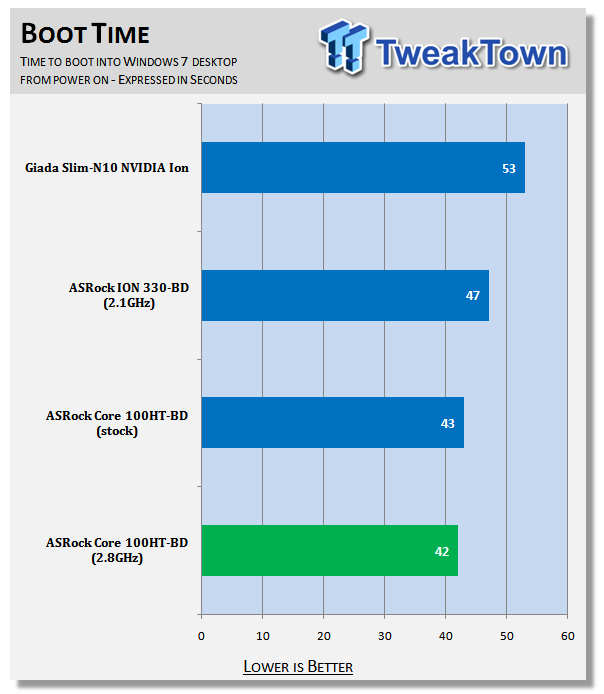 In our final test we can see the difference in performance when it comes to boot times. Performance is closer here with there not being much difference at all with the system running at stock speeds or when overclocked.
Final Thoughts
When we heard of ASRock launching a new nettop system, or actually, a home theater PC as ASRock would like it to be called, we were pretty excited to get our hands on the unit. Knowing what they had done in the past with the successful ION 330 and ION 330HT models, we expected big things from the new Core 100HT-BD HTPC.
And, we are happy to say, big things we got. Not only does the Core 100HT-BD get a fairly big upgrade in the processor department moving from an Intel Atom to a dual-core and four threaded Intel Core i3 mobile processor, but it also tacks on some other important things such as USB 3.0 for much faster external data transfers and impressive 7.1 channel HD audio with THX TruStudio Pro and bitstreaming support that works really well. The package is also very solid with a good quality MCE remote control and batteries thrown in as well as even the small things that all count, such as a multi-point screw driver and a Core i3 sticker to show off if you are so inclined.
If you were to have a quick glance, you may mistake the new Core 100HT-BD for one of the older systems from ASRock. But hey, why change something that works? All that has been changed is the addition of two USB 3.0 ports on the front of the system as well as headphone and microphone jack. The lack of USB ports on the front of the system was one of the only drawbacks we had with the previous generation nettops from ASRock and they've just gone and fixed that now.
So, that leaves me thinking (and I always try and find a drawback with every product I test), what is wrong about the ASRock Core 100HT-BD? Well, we have checked off great new features, impressive performance, bitstream audio support, surprisingly good overclocking support and a good bundle. But, there has to be something wrong with the product. I think we found it. The cost of the unit is set pretty high, it is currently running for
around 700 USD
over at Newegg. That's pretty rich for a nettop system, but hang on, I think ASRock might be right. They have moved away from the slow and aging Intel Atom processor and put a 'real' processor in there (sorry Intel, but it's true!). So, maybe we cannot call it a nettop anymore, we should be calling it a home theater PC. Sure, it's not a high-end HTPC, but it sure does provide enough boost to get the job done really well in terms of very solid video playback and super impressive audio.