After four decades of zombie and virus flicks, you would probably think that there wasn't too much more that the genre could offer and based on what
Carriers
has to offer, you'd be right.
Carriers
finds four teenagers, led by Brian Green (Chris Pine) in a desolated smalltown U.S.A. where a bird flu has seemingly wiped out most of the human race. Traversing the landscape in the hope of finding some semblance of the world they knew, they've set out three rules to preserve themselves. Avoid the infected at all costs. Disinfect everything. The sick are already dead and can't be saved. But when one of these rules is invariably broken, a chain of events unfurls which may exterminate the intrepid gang.
In itself
Carriers
is a solid and entertaining film, with some nice edge-of-the-seat moments, good production values and above average acting, but if you have seen even one or two of the more mainstream post apocalyptic virus films such as
Dawn of the Dead
or
Resident Evil
("Don't go in there!"), you'll no doubt feel a niggling sense of dejà vu. It just doesn't have an original thought to itself. Which is a shame, because I really think there is room in the genre to progress the genre. You just won't get that from
Carriers
.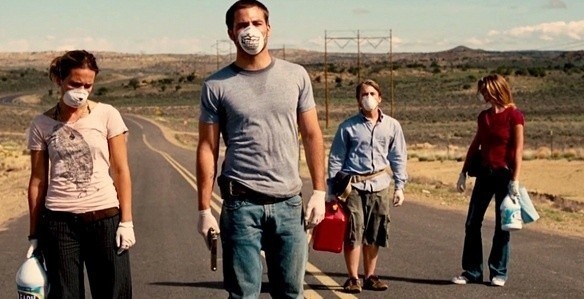 VideoCarriers
is presented in a widescreen aspect ratio of 1.78:1, encoded with AVC compression.
Carriers
has a very specific look, of which I believe the Blu-ray accurately translates (I can't be certain because the movie bypassed Australian cinemas). The film has undergone a beach bypass process which exaggerates the brightness and contrast and blows out the highlights. As such, the transfer has a very warm feel that accentuates certain colours. I did notice a few film artifacts in the form of small white dots, but nothing that really detracted from the film. The transfer is very sharp, with character close ups revealing every pore and hair. I noticed no issues with compression artifacts resultant from the very fine layer of film grain.
As some of the film plays out in shadow, it's a relief that these aren't lost to black crush, but some LCD owners may need to properly calibrate their screens to receive the intended effect.
Overall, an impressive image that accurately depicts what could have been a troublesome transfer.
[img]2[/img]
Audio
The main audio track is encoded in Dolby TrueHD 5.1, at 24 bits.
As the film is high on exposition, the vast majority of the sound emanates from the front soundstage. There I had no problems with audibility of vocals. There was some impressive use of split surround usage, especially to create tension in some of the scarier moments in the film. Some clever sound design definitely helped improve the film and these are well and truly alive in the mix.
Subwoofer usage is fairly good, but in the absence of the explosions, its aim is to create rumbling tension throughout.
Overall, a fairly decent mix, but it will never be accused of being demo-worthy.
[img]3[/img]
ExtrasCarriers
receives a very basic extras package that's light on anything much of interest.
The six minute
Interview
with star Chris Pine (who would later go on to appear in
Star Trek
gives the film a little bit too much credit. Hate to correct to him, but there is nothing very "existential" about the film.
Finally, the
Theatrical Trailer
is included in good quality, but I'd suggest to not watch it before watching the film itself, as it surprisingly reveals almost every plot point. I hate when that happens.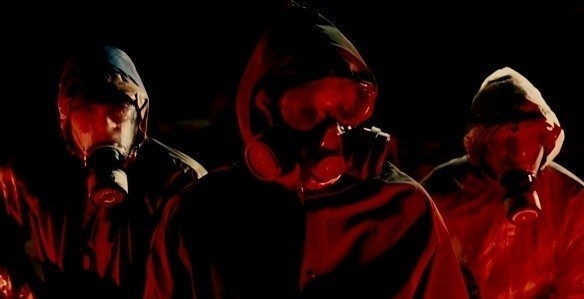 Overall
Review Equipment Used:
Display
: Sony KDL52X3100 LCD (1080p resolution/ 24p playback)
Player
: Sony BDP-S550 Blu-ray, PlayStation 3 (24p playback)
Sound
: Sony STR-DA5400ES Receiver (7.1 configuration), Sony SSX70ED front speakers (x2), Sony SSCNX70ED center speaker, Sony SSFCR7000 surround speakers (x4), Sony SAW3800 Subwoofer (Front), Sony SAWM500 Subwoofer (Rear)