Toy Story Blu-ray Movie Review
"To Infinity...and Beyond!"

Published Sat, Jun 5 2010 7:21 AM CDT
|
Updated Tue, Nov 3 2020 7:02 PM CST
For me, returning to the world of
Toy Story
is like returning to a comfortable old chair, an old blanket, or childhood friends. Originally released in 1995, when I was but 10 years old, I've fond memories of watching and re-watching the old VHS (it's still around here somewhere, unless it's disintegrated). Earlier this year, I was lucky enough to catch the film and its 1999 sequel in 3D, during its cinema re-release, which definitely has re-kindled my appreciation for the film, which dually celebrates its 15th Anniversary and heralds the release of the second sequel, imaginatively titled
Toy Story 3
this month.
The premise of
Toy Story
is that in the presence of humans, toys are inanimate toys. But once left alone, they spring to life, in a world of their own. When Andy, the child protagonist, receives a coveted Buzz Lightyear (Tim Allen) space hero figurine for his birthday, he is quickly favoured over the other toys, led by wild west character Woody (Tom Hanks). But when the toys are separated from their home, the two toys are forced to band together to make it back.
Through the eyes of a ten year old
Toy Story
is a portal to a world that kids imagine as a distinct possibility. As I've grown older and more cynical, I've also become more appreciative of the art and production of the film. As the world's first feature length animated film, it was no mean feat to undertake this level of production in the early 1990's. My mind boggles when I imagine the technological barriers they had to cross, using such ancient hardware and software solutions.
Just like the classic Disney films such as
The Lion King
, The Little Mermaid and
Snow White and the Seven Dwarves
, no matter how much technology progresses,
Toy Story
will always be a classic for the ages. I look forward to a time when I can share it with my own children.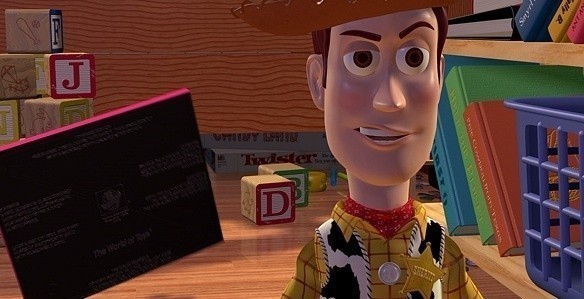 VideoToy Story
is presented in a widescreen aspect ratio of 1.78:1.
Back in 1995, Pixar rendered the master out at just 720p. All theatrical prints and DVD releases have been based off that master up until now. Last year, Pixar went back to the original source files, re-rendering out 2k masters suitable for the 3D theatrical re-release and from this, 1080p transfers were also struck for this Blu-ray release.
Used for many years as a DVD demonstration,
Toy Story
has never been seen as good as now available. It's amazing that this Blu-ray release is the best the movie has ever looked, even in cinemas. The comparatively simple CG animation, which suited the design of the film, translates well. Whilst character models are fairly low tech by today's standards, the high definition transfer frees the image from macro blocking around edges, and the heightened colour spectrum allows the bright blocks of solid colour to be free from colour variation.
Overall, a pretty spectacular effort and testament to the love and care that Pixar and Disney have for their first child.
[img]2[/img]
Audio
The main audio track is encoded in DTS HD Master Audio 5.1, at 24 bits.
Toy Story
has always featured a pretty good audio track, although it came from a time when Disney was a bit more conservative with audio mixing than they are now. Despite this, a bit of massaging was performed for the initial DVD release and this audio track is now presented with lossless audio. It's a fairly lively affair, with some good use of the surrounds. Audio sync is pretty accurate for an animated film. Bass usage is a little light on, but generally pops up when required; notably the climax fireworks.
I'll admit I've never been a fan of the soundtrack by Randy Newman. His nasally tone just flat out annoys me. If anything, though, its sound is distinctly '
Toy Story
'.
Overall, a pretty appropriate and impressive audio mix. This is likely the best that
Toy Story
will ever sound.
[img]3[/img]
Extras
Disney has taken the time to produce a few new extras for this release, whilst including all of the extra features from the 10th Anniversary edition DVD. Unfortunately, the extras produced for the 'Ultimate Toy Box' DVD edition are still missing in action. I'll reflect mostly on the new features offered.
First up is the
Audio Commentary
. This edited together track features many important players from the original Pixar days. As always, the Pixar team speaks very enthusiastically about their work, but most of the time it's always relevant and justified.
A few new
Featurettes
are provided, all presented in high definition.
The Toy Story you Never Saw
discusses some changes made to characters during the production; and thankfully so. Woody comes off as a jerk of a character,
Paths to Pixar
details the recruitment drive for the fledging studio,
Studio Stories
animates a few short stories by Pixar crew members that are seemingly never going to be made into longer stories.
Buzz Takes Manhattan
talks of Buzz Lightyear's inflated cameo at the annual Macy's Parade. Finally,
Toy Story 3 Sneak Peak: The Story
is the requisite plug for the forthcoming sequel.
Hidden away under the DVD archive menu option are all of the original features from the 10th Anniversary DVD.
Most of these features take the form of
Featurettes
; under the headings of 'Design', 'Story', 'Production', 'Music and Sound' and 'Publicity'. Of these, the most notable is the design segment, which shows concept art and ideas for the film that were ultimately jettisoned. Like the Ralph McQuarrie concept artwork for
Star Wars
with an evil looking Chewbacca, it's always interesting, yet also horrifying to see ideas that clash with the status quo and how it almost was.
I'm not a massive fan of the Music and Sound section due to the abundance of my not so favourite musician Randy Newman. The publicity section features an absolute abundance of trailers and slightly variant TV spots.
Making Toy Story
is the closest we get to a well rounded making of featurette for the film, even though other documentaries such as
The Pixar Story
(included on the
Ultimate Pixar Collection
), Blu-ray does it far better.
The Legacy of Toy Story
waxes lyrical on how the film changed the landscape of animation forever.
The
Deleted Scenes
archive brings together a few abandoned or altered sequences which were probably necessary to whittle the film down to its short running time, reflecting needs of the time that dictated that children's needed to be short (the last
Harry Potter
film was over twice the length of
Toy Story
).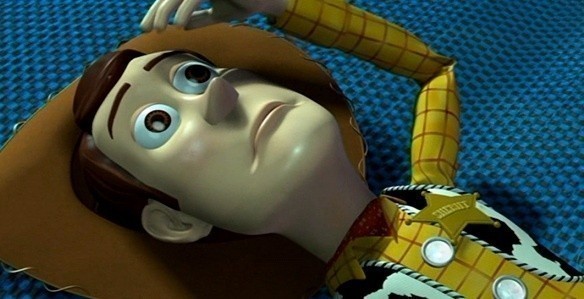 Overall
Review Equipment Used:
Display
: Sony KDL52X3100 LCD (1080p resolution/ 24p playback)
Player
: Sony BDP-S550 Blu-ray, PlayStation 3 (24p playback)
Sound
: Sony STR-DA5400ES Receiver (7.1 configuration), Sony SSX70ED front speakers (x2), Sony SSCNX70ED center speaker, Sony SSFCR7000 surround speakers (x4), Sony SAW3800 Subwoofer (Front), Sony SAWM500 Subwoofer (Rear)
PRICING: You can find products similar to this one for sale below.

United States: Find other tech and computer products like this over at Amazon.com

United Kingdom: Find other tech and computer products like this over at Amazon.co.uk

Australia: Find other tech and computer products like this over at Amazon.com.au

Canada: Find other tech and computer products like this over at Amazon.ca

Deutschland: Finde andere Technik- und Computerprodukte wie dieses auf Amazon.de
We openly invite the companies who provide us with review samples / who are mentioned or discussed to express their opinion. If any company representative wishes to respond, we will publish the response here. Please contact us if you wish to respond.