RunCore Pro V 100GB SandForce SF-1200 Solid State Drive
RunCore changed the Pro V between our preview back in January and the final retail model that we will look at today.
Published Wed, Jun 2 2010 10:13 PM CDT
|
Updated Tue, Nov 3 2020 7:02 PM CST
Introduction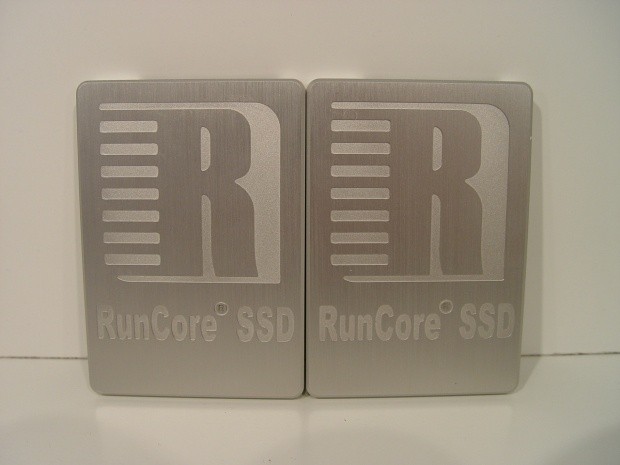 In preparation for CES we learned that RunCore would have a new SandForce model ready for us to test, so we shipped our TweakTown Storage Product Workstation to the desert to
get our first taste of SandForce goodness
. Maybe it was a language issue, but we were told that the CES Pro V we looked at was final hardware and ready to be produced in mass production. If this was the case, then RunCore was in a position to compete head to head with OCZ who had sent Anand an early sample just days before our CES test.
After the CES test things were very quiet from RunCore and for the most part still are. The pair of RunCore Pro V 100GB drives that arrived at the TweakTown U.S. Lab looked nothing like the SandForce SF-1500 / MLC drive we tested at CES. We know OCZ was planning on releasing a similar SF-1500 / MLC drive and that model was scrapped between the time the drive arrived in our test lab and our article went live. The reason given for this by OCZ was a high end user cost from the SF-1500 controller when compared to the relatively cheap SF-1200 consumer part. We heard rumors of these two parts having a cost difference of around 100 USD with the enterprise focused 1500 being one of the most expensive SSD controllers to purchase in recent time.
With OCZ backing down from a hybrid 1500 / MLC drive, it makes since for RunCore to do the same for the consumer market. Think of it kind of like The Cold War; CES was RunCore's partner's big moment and the first shots were fired from the cannons. Since then everyone has realized that they don't want a full on war at this time at a 600 USD price point for a 100GB product.
The war everyone's involved in wants to see it actually paying out now and will get even more heated as time goes on. That is the full consumer class SF-1200 / MLC battle that I have already written five articles on this month alone. When I say everyone, I truly mean everyone; from manufacturer, to distributors and even you, the consumer. As these companies struggle to sell products in this tough economy, it is understood that deep discounts get potential buyers attention. Selling a product at a lower price means less revenue for a company, but at least they are able to make money rather than pay for expensive warehouse storage.
RunCore hasn't taken the 1500 / MLC drive off the table, though; it has just moved into the enterprise category and it is now going by the name Kylin II.
Specifications, Pricing and Availability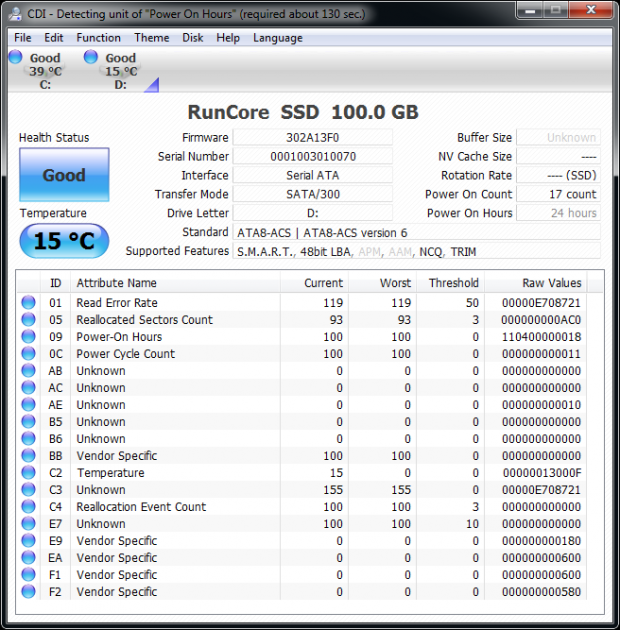 RunCore makes several SSD products, from PCIe SSDs made for a specific netbook model, to desktop / notebook 2.5" form factor drives like the new Pro V. At the time of writing the Pro V wasn't listed on RunCore's website, but the Kylin II enterprise was listed on a RunCore enterprise site that I found off the beaten path.
We will look at the internal hardware on the next page in detail, but for the most part this is a Team SandForce drive that uses the standard SF-1222 chip and pairs it with the same Intel flash we have seen in all but one SF-1200 drive to date. Testing will reveal any performance enhancements built into the RunCore firmware and we will discuss that later as well.
Our drive arrived in white box packaging with the drives in anti-static bags. At CES we actually saw the retail packaging for the Pro V on the show floor, but either RunCore is making a change or didn't realize that we mostly look at products as they are sold when possible. This leads us to a bit of speculation on the Pro V's availability. We know that MyDigitalDiscount.com has RunCore Pro V drives in stock, but they have yet to be listed on the site. Their drives arrived around the same time our samples did and we tend to not want to wait on retail pricing to be set before proceeding to get performance information out.
With availability currently in a short waiting stage, we really have no idea where the pricing is going to be set. Even if RunCore set a retail price last week, they would have to rethink it now. With OCZ dropping the price of their Vertex 2 E 120GB (a sale price of 349 USD after a 20USD rebate) everyone is now rethinking their pricing structure.
The RunCore Pro V 100GB SSD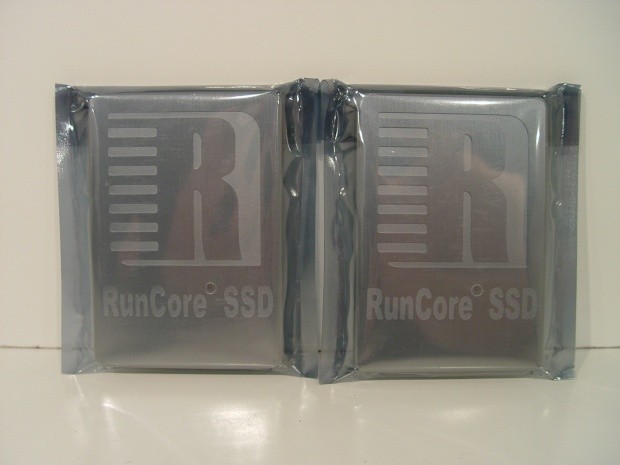 Double the Flavor, Double the Fun. At least that is how the commercial went back in the '80s. RunCore made good on their promise from CES to allow us to get in a RAID Report for the Pro V drives and we will get that online for you real soon.
Here we see how our drives arrived. Western Digital and Seagate also send over products without their retail package, so we are pretty used to this.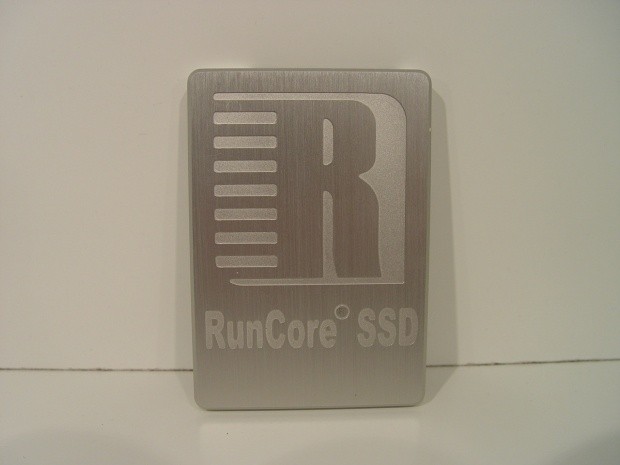 Here we get our first look at the RunCore Pro V. As you can see, the gold case is now gone, lost to the Kylin II, but the silver brushed aluminum packaging is identical except for the color. This is also the same case that was used on the Pro IV Indilinx Barefoot based products we looked at last year. It is a very sturdy case for an SSD.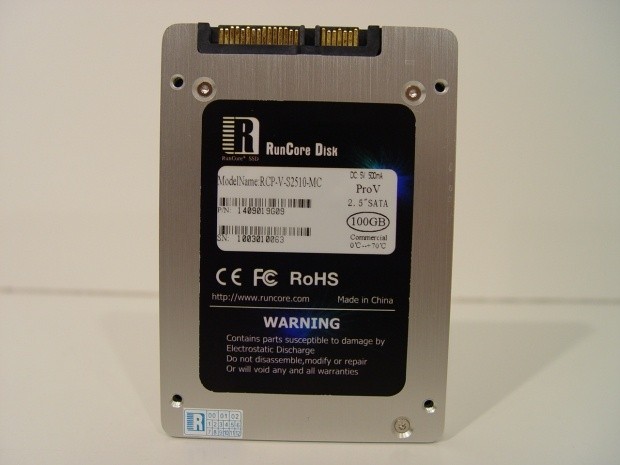 On the back we found all of the additional information for the Pro V. The model and serial number are also located here and we found something else interesting, too.
On the back of the drive we found the same 500mA at 5 volts rating; this is the same as the G.Skill Phoenix. The Phoenix used older Samsung M Die flash that uses more power than the Intel 3Xnm flash used in the Pro V. When we get back from Computex one of our main goals is to start measuring power draw for SSDs.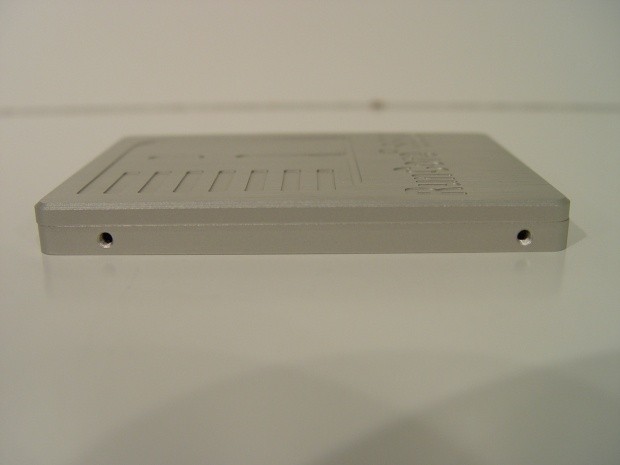 On the side we found standard mounting connectors for the Pro V.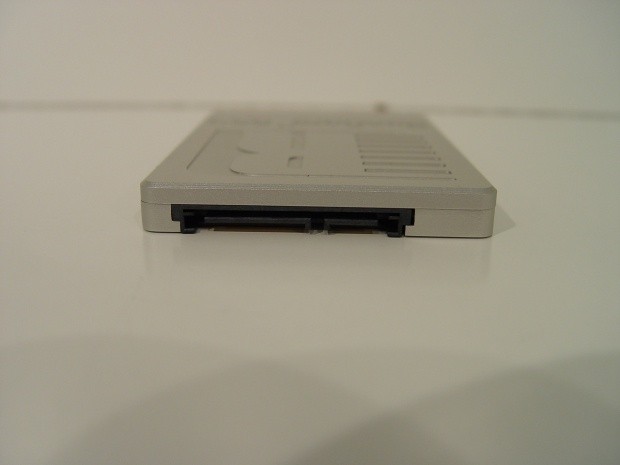 The SATA power and data connectors are also located in the standard configuration, so you will not have a problem installing the Pro V in your desktop with an adapter or notebook.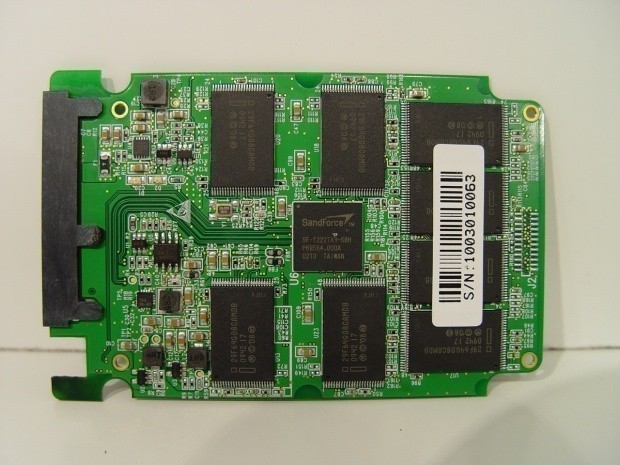 I have yet to see this PCB before in the other SandForce drives we have reviewed. Here we see the SF-1200 controller in the middle and eight Intel flash modules surrounding it.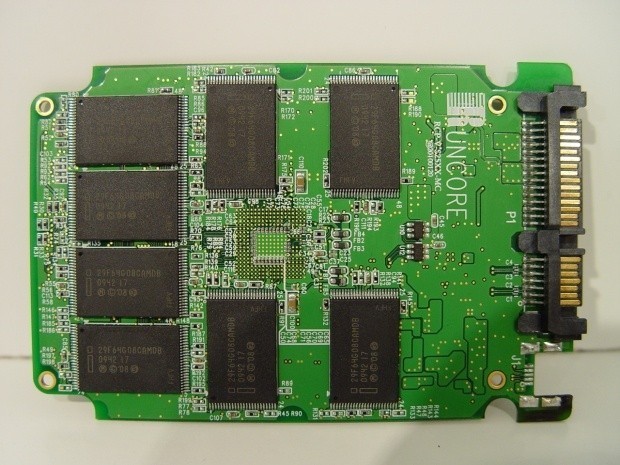 On the back side we see that this is actually a RunCore PCB with their name silk screened on it.
Test System Setup and ATTO Baseline Performance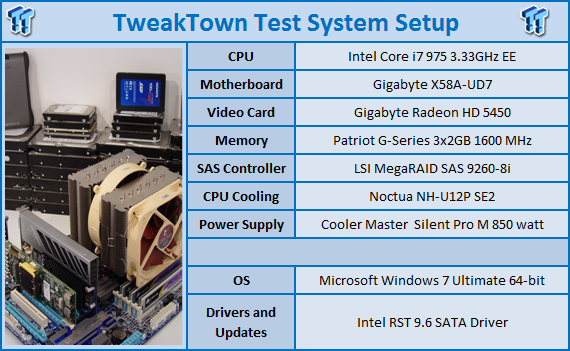 We would like to thank the following companies for supplying and supporting us with our test system hardware and equipment:
AVADirect
,
GIGABYTE
,
Patriot Memory
,
Cooler Master
,
LSI
and
Noctua
.
You can read more about TweakTown's Storage Product Testing Workstation and the procedures followed to test products
in this article
.
ATTO Baseline Performance
Version and / or Patch Used:
2.34
ATTO is used by many disk manufacturers to determine the read and write speeds that will be presented to customers.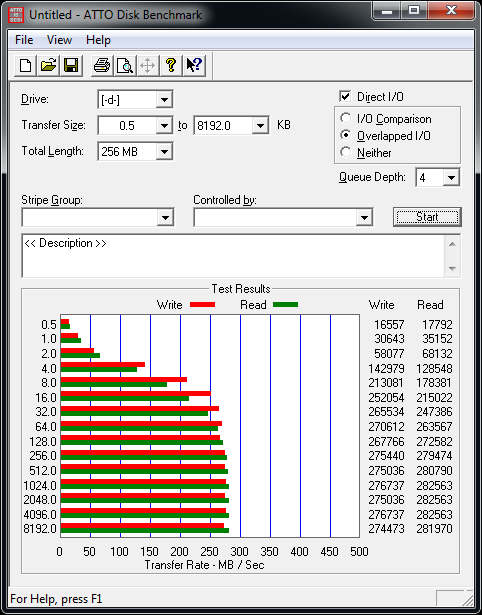 So far when testing SandForce SF-1200 drives we have pegged the SATA II needle on our GIGABYTE X58A-UD7, but the Pro V appears to have come up right around 4MB/s short on the read tests. The write tests are down a couple of MB/s as well from what we normally see.
Both can be explained by the error rate that is associated with testing, since the loss is so small, but it is something that we will look for once getting into some of the other tests. I did notice while checking the drive over in Crystal Disk Info that RunCore had ran the drive for 24 hours prior to shipping.
Benchmarks - HD Tune Pro
HD Tune ProVersion and / or Patch Used:
4.00
Developer Homepage:
http://www.efdsoftware.com
Product Homepage:
http://www.hdtune.com
HD Tune is a Hard Disk utility which has the following functions:
Benchmark: measures the performance
Info: shows detailed information
Health: checks the health status by using SMART
Error Scan: scans the surface for errors
Temperature display
HD Tune Pro gives us accurate read, write and access time results and for the last couple of years has been gaining popularity amongst reviewers. It is now considered a must have application for storage device testing.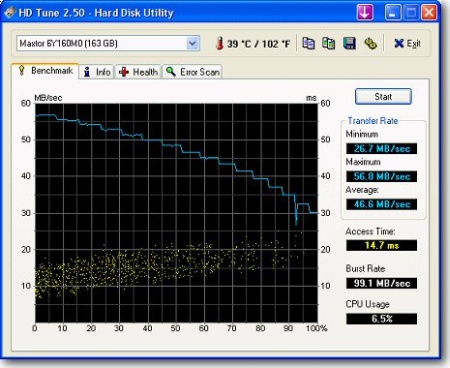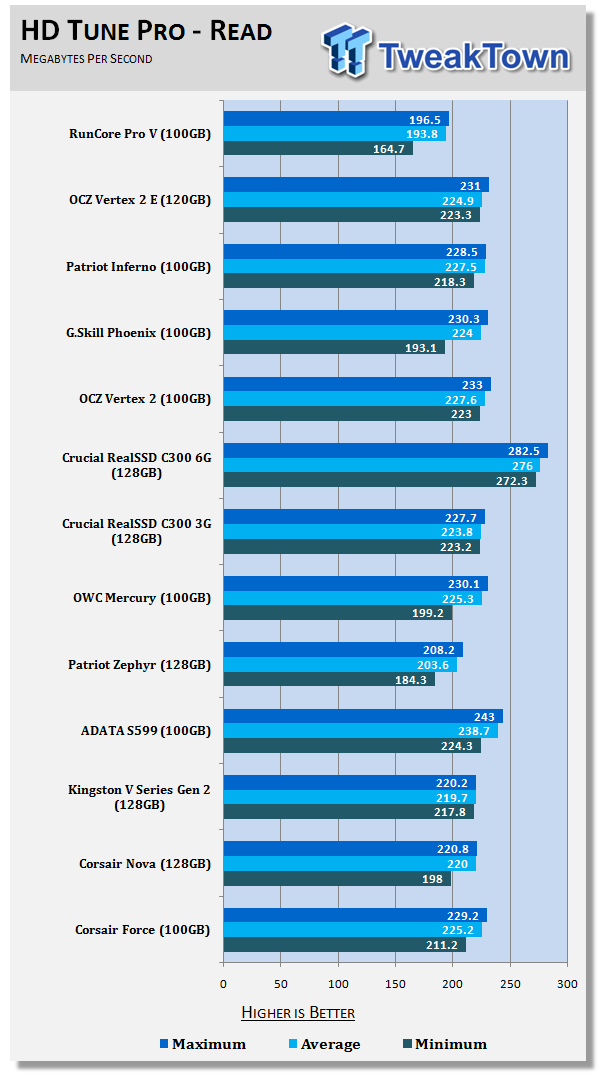 Between RunCore's preconditioning and my own preconditioning, we see that the drive is going to show lower numbers in most of the synthetic tests. Luckily for us we are not too worried about the synthetic tests and just use them to get a picture of why a drive performs the way it does in the real world tests.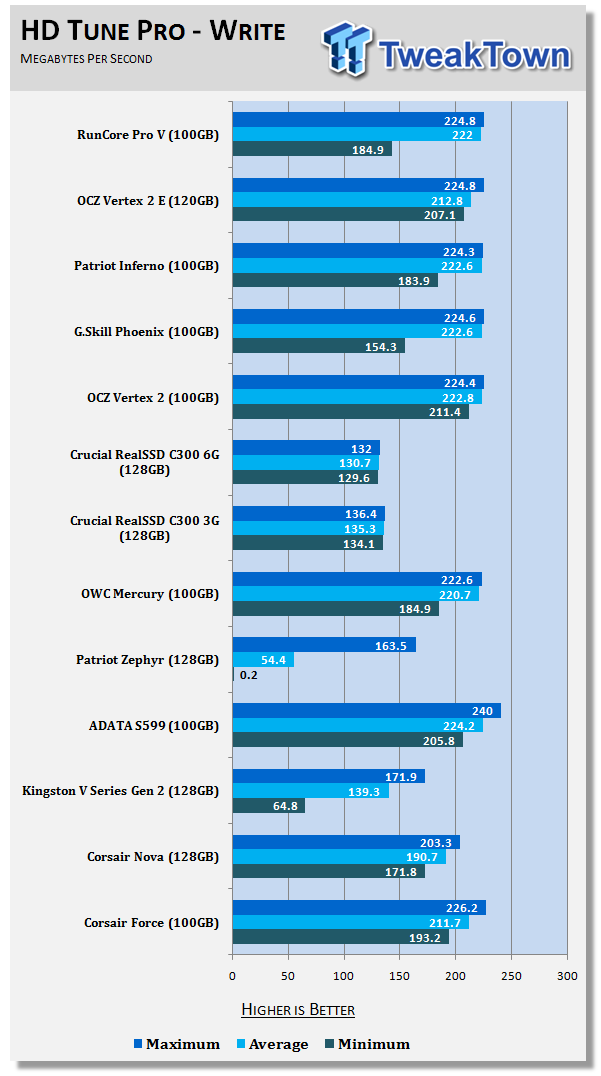 When it came to the write tests across the drive, the RunCore Pro V started out slow for a split second and then quickly reached its maximum speed. Once at its peak the Pro V held that speed through the rest of the run.
Benchmarks - Everest Random Access Time
Everest Random Access TimeVersion and / or Patch Used:
4.60
Developer Homepage:
http://www.lavalys.com
Product Homepage:
http://www.lavalys.com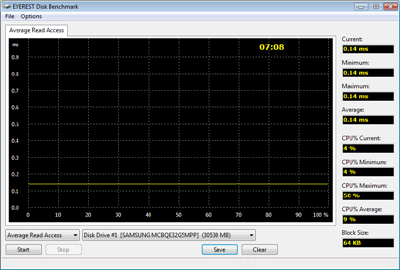 Everest Ultimate and Corporate Edition offer several different benchmarks for testing and optimizing your system or network. The Random Access test is one of very few if not only that will measure hard drives random access times in hundredths of milliseconds as oppose to tens of milliseconds.
Drives with only one or two tests displayed in write the write test mean that they have failed the test and their Maximum and possibly their Average Scores were very high after the cached fills. This usually happens only with controllers manufactured by JMicron.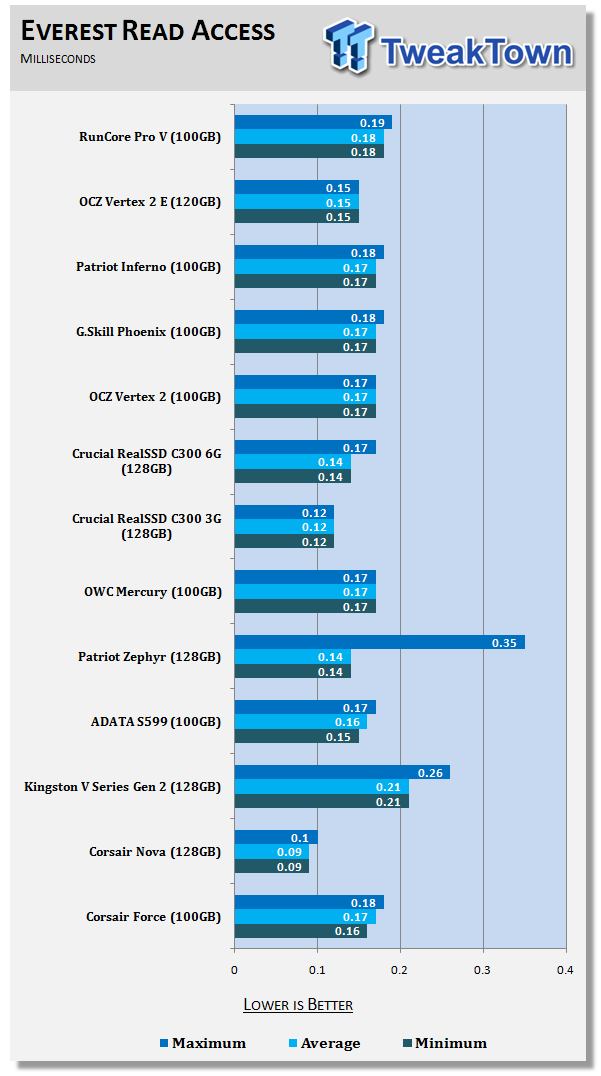 The SandForce SF-1200 controller has already been proven to give users great access performance and the RunCore Pro V follows the same path, delivering read access that is in line with the other SF-1200 drives.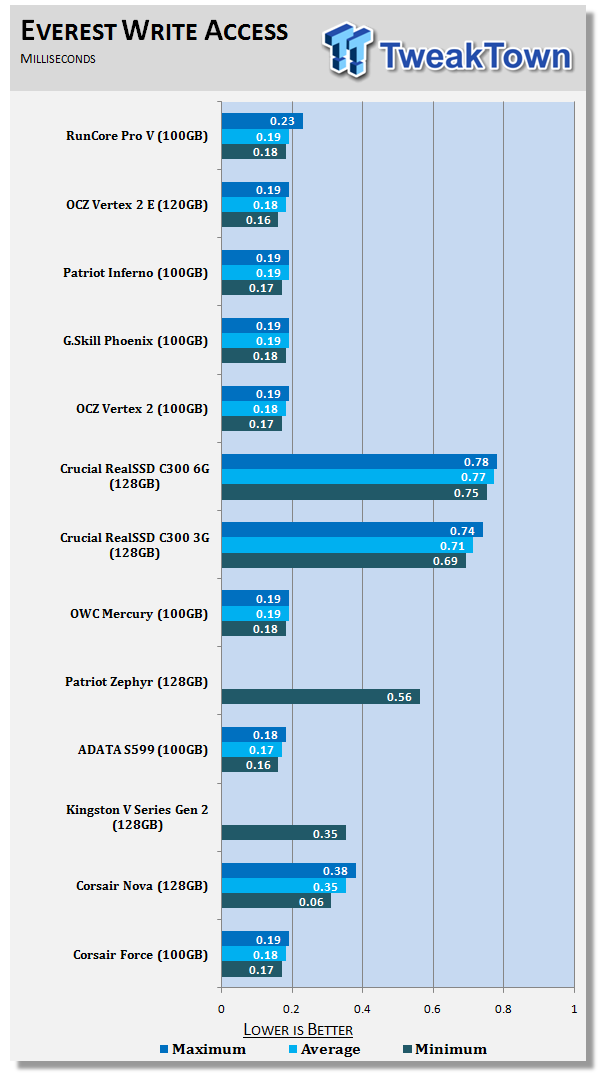 The write performance shows a split second of higher write access when compared to some of the other drives. I think this is due to the double preconditioning, but even with that the average falls in line with the other SandForce drives.
Benchmarks - Crystal Disk Mark
CrystalDiskMarkVersion and / or Patch Used:
3.0 Technical Preview
Developer Homepage:
http://crystalmark.info
Product Homepage:
http://crystalmark.info/software/CrystalDiskMark/index-e.html
Download here:
http://crystaldew.info/category/software/crystaldiskmark
CrystalDiskMark is a disk benchmark software.
Key Features:-
* Sequential reads/writes
* Random 4KB/512KB reads/writes
* Text copy
* Change dialog design
* internationalization (i18n)
Note:
Crystal Disk Mark 3.0 is not available to the public yet, but the Technical Preview does allow us to test 4K performance at queue depths of 4 and 32 in addition to 1. The current release Crystal Disk Mark only shows us QD 1.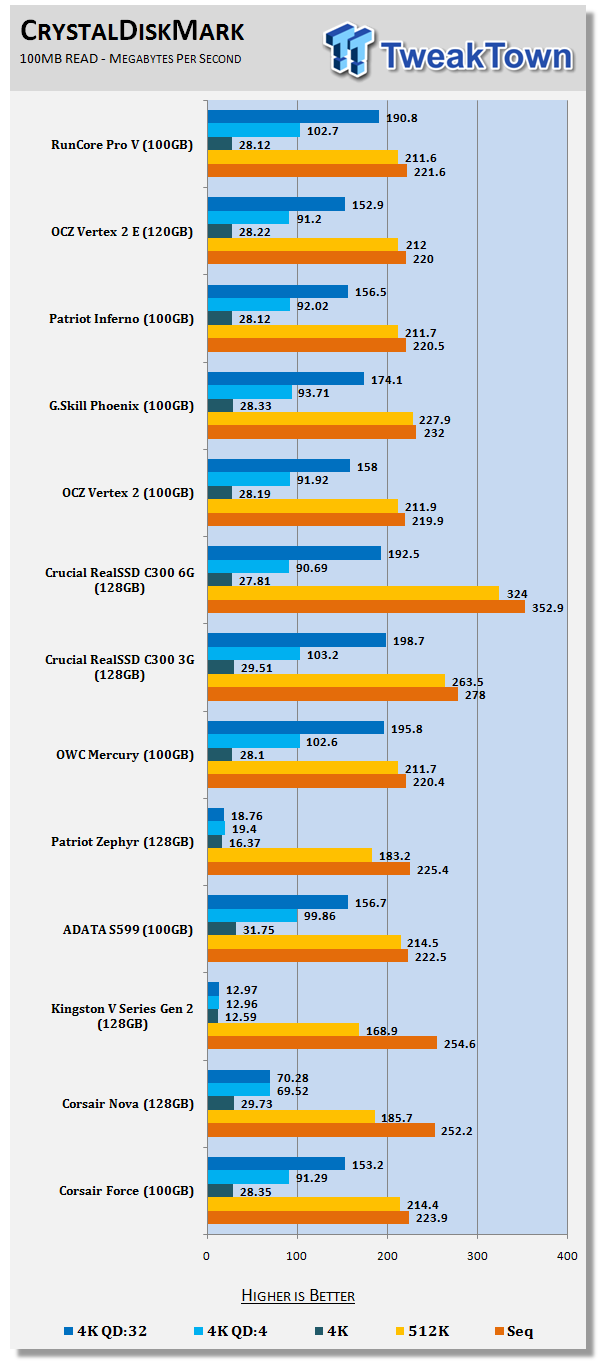 Our final synthetic test is CDM and we use it for the advanced 4K and 4K at queue depth tests. Here we see the RunCore Pro V running right with the Vertex 2 in the standard 4K test, but once we start adding commands with NCQ the Pro V starts to break free from most of the other drives.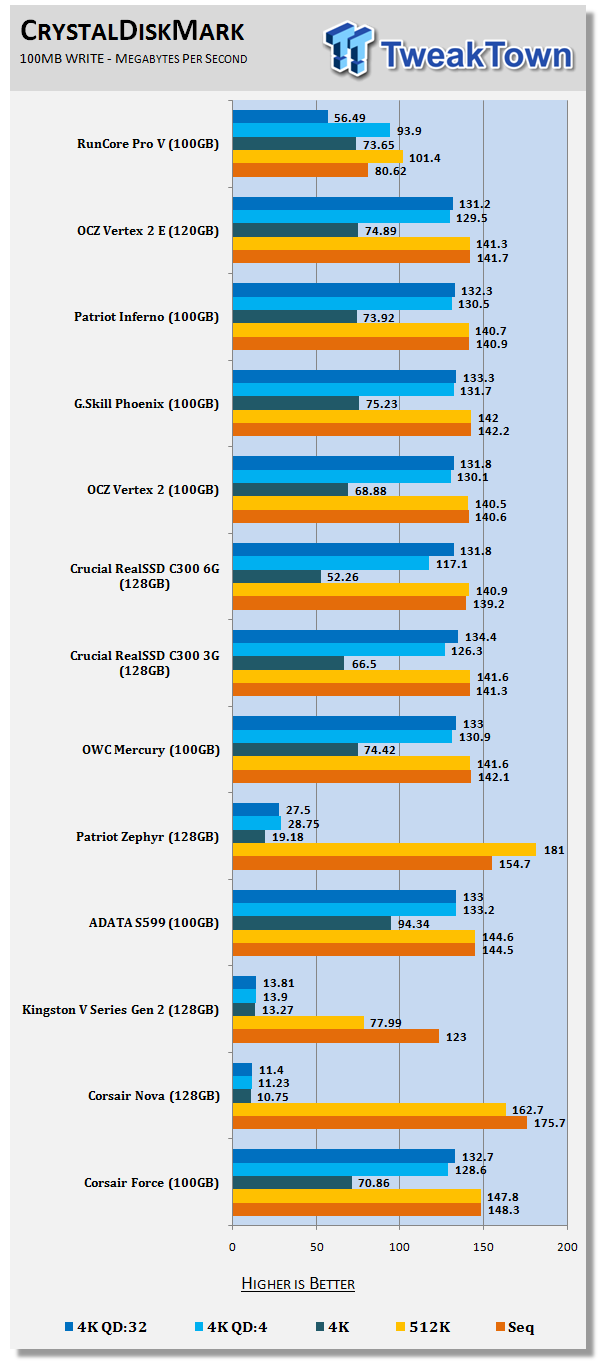 The 4K at depth write numbers seemed to suffer a bit with the Pro V. Once again, this is a preconditioning issue that we were not able to avoid.
Benchmarks - PCMark Vantage Hard Disk Tests
PCMark Vantage - Hard Disk TestsVersion and / or Patch Used:
1.0.0
Developer Homepage:
http://www.futuremark.com
Product Homepage:
http://www.futuremark.com/benchmarks/pcmark-vantage/
Buy It Here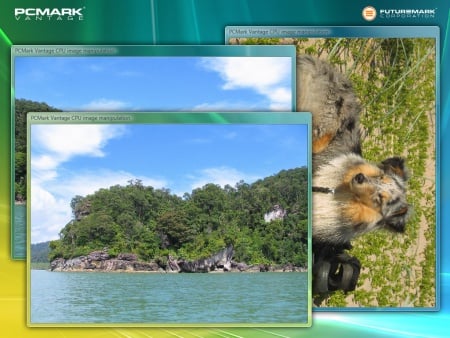 PCMark Vantage is the first objective hardware performance benchmark for PCs running 32 and 64 bit versions of Microsoft Windows Vista. PCMark Vantage is perfectly suited for benchmarking any type of Microsoft Windows Vista PC from multimedia home entertainment systems and laptops to dedicated workstations and high-end gaming rigs. Regardless of whether the benchmarker is an artist or an IT Professional, PCMark Vantage shows the user where their system soars or falls flat, and how to get the most performance possible out of their hardware. PCMark Vantage is easy enough for even the most casual enthusiast to use yet supports in-depth, professional industry grade testing.
FutureMark has developed a good set of hard disk tests for their PCMark Vantage Suite. Windows users can count on Vantage to show them how a drive will perform in normal day to day usage scenarios. For most users these are the tests that matter since many of the old hat ways to measure performance have become ineffective to measure true Windows performance.

HDD1 - Windows Defender
HDD2 - Gaming
HDD3 - Windows Photo Gallery
HDD4 - Vista Startup
HDD5 - Windows Movie Maker
HDD6 - Windows Media Center
HDD7 - Windows Media Player
HDD8 - Application Loading
Here we finally get a look at the real world numbers and see that when comparing the RunCore Pro V to the OCZ Vertex 2 E(xtended) drive, the two are able to battle it out evenly with one each taking a few wins from the other.
These are the tests that show your coming day to day tasks inside Windows and when it comes to the 100 to 128GB category, the SandForce SF-1200 has been dominant in many of the tests and the Application Loading test that most of us want to see very high numbers in the SandForce drives deliver the best results in this capacity class.
Benchmarks - AS SSD
AS SSD BenchmarkVersion and / or Patch Used:
1.2.3577.40358
Developer Homepage:
Alex Intelligent Software
Product Homepage:
Alex Intelligent Software
Download here:
http://www.alex-is.de/PHP/fusion/downloads.php?cat_id=4&download_id=9
AS determines the performance of Solid State Drives (SSD). The tool contains four synthetic as well as three practice tests. The synthetic tests are to determine the sequential and random read and write performance of the SSD. These tests are carried out without the use of the operating system caches.
In all synthetic tests the test file size is 1GB. AS can also determine the access time of the SSD, the access of which the drive is determined to read through the entire capacity of the SSD (Full Stroke). The write access test is only to be met with a 1 GB big test file. At the end of the tests three values for the read and write as well as the overall performance will be issued. In addition to the calculated values which are shown in MB/s, they are also represented in IO per seconds (IOPS).
Note:
AS SSD is a great benchmark for many tests, but since Crystal Disk Mark covers a broader range of 4K tests and HD Tune Pro covering sequential speeds, we will only use the Copy Benchmark from AS SSD.
- Copy Benchmark
The one area that we criticize SandForce controlled drives in is in how they handle compressed data. Ironically the controller's ability to compress data is also one of the reasons why they are so fast and should have a longer lifespan when compared to other products on the market.
In the AS SSD File Copy Test we see that moving data from one area of the drive to another has the 100GB RunCore Pro V running slightly behind other SandForce drives.
Benchmarks - Passmark
Passmark Advanced Multi-User TestsVersion and / or Patch Used:
6.1
Developer Homepage:
http://www.passmark.com
Test Homepage:
http://www.passmark.com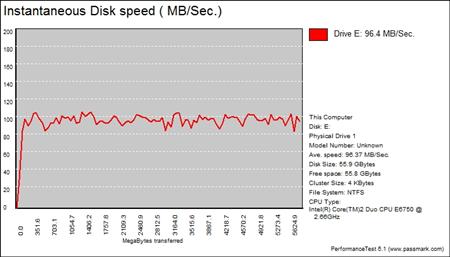 Many users complain that I/O Meter is too complicated of a benchmark to replicate results so my quest to find an alternative was started. Passmark has added several multi-user tests that measure a hard drives ability to operate in a multi-user environment.

The tests use different settings to mimic basic multi-user operations as they would play out on your server. Variances is read / write percentage as well as random / sequential reads are common in certain applications, Web Servers read nearly 100% of the time while Database Servers write a small amount of data.
The Workstation test is the only single user environment and will be similar to how you use your system at home.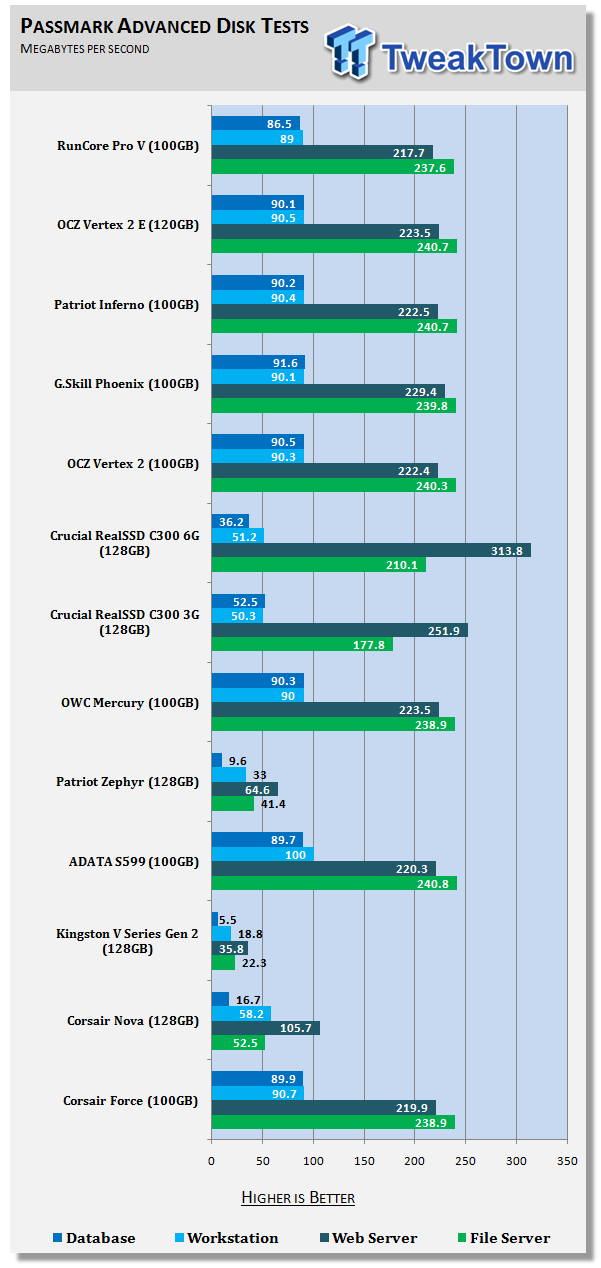 SandForce started out looking to build the ultimate enterprise SSD and the SF-1200 is based on the same technology. RunCore also has strong roots in the enterprise market and even though our drive arrived preconditioned, the RunCore Pro V is able to run at the same speeds as the other drives.
Final Thoughts
RunCore makes some of the strongest cases for their SSDs and they are a cut above what most manufacturers are putting out now. This isn't something that just happened to come about for the company; they have been making products for the government and military for many years and this level of quality has trickled over into their consumer products. The only problem with that is the price tends to be higher for the high grade products and in this economy most people are looking to skate by with a just enough to get by attitude. Also, it is not like other manufacturers SSD are considered fragile at this point.
At this time we are not certain on the pricing structure RunCore will use to bring the Pro V to market. With OCZ, A-DATA and other manufacturers hitting new lower price points weekly, RunCore will need to price their Pro V drives fairly low to be competitive in the US and European markets. To be honest, I am not really sure if this is something RunCore will be able to do.
As it sits right now, RunCore is an SSD company, but they are like a teenager who does not know what he wants to do when he grows up. Obviously the focus is on SSDs, but RunCore spends so much time in netbook and specialty SSDs that the 2.5" market seems like an afterthought these days. The 2.5" SSD market is the strongest, but also the most competitive. You can't just dabble in it and expect to sell the volume of drives needed to make money unless you are charging more per part and crossing your fingers that something sells. Retailers don't like this approach and end users aren't going to buy a drive with a super strong case if the price is 100USD more.
As it sits right now we don't have pricing information, but the RunCore Pro IV is currently priced at a level where they are not competitively in the market. I really hope RunCore is able to keep their prices down on the Pro V, but only time will tell.
When it comes to performance, the RunCore Pro V can be considered one of the fastest drives on the market, but the same can be said about a handful of Team SandForce products that are already cheap and listed online as being in stock, ready to ship.
PRICING: You can find products similar to this one for sale below.

United States: Find other tech and computer products like this over at Amazon.com

United Kingdom: Find other tech and computer products like this over at Amazon.co.uk

Australia: Find other tech and computer products like this over at Amazon.com.au

Canada: Find other tech and computer products like this over at Amazon.ca

Deutschland: Finde andere Technik- und Computerprodukte wie dieses auf Amazon.de
We openly invite the companies who provide us with review samples / who are mentioned or discussed to express their opinion. If any company representative wishes to respond, we will publish the response here. Please contact us if you wish to respond.