I generally find CG animation hit or miss these days, either being well constructed with a smart and savvy script (like most Pixar films) or cookie cutter generic ("
Planet 51
or
How To Train Your Dragon
). I'm glad to say that
Cloudy With A Chance Of Meatballs
falls into the former category.
A fairly madcap throwback to the zany animation of Chuck Jones and bordering on Tex Avery,
Cloudy With A Chance Of Meatballs
tells the story of nerdy inventor Flint Lockwood (Bill Hader) whom after a string of failures finally invents something that not only works, but works a little too well. When his food replicator begins to spew forth too much food, the famine becomes a feast which threatens to destroy his town.
Sony's sumptuous visuals are a highlight, but the real heart is in the quick witted script, brought to life by some very talented comedians who I'm sure contributed quite a bit to the process. I was very pleasantly surprised by how much I enjoyed
Cloudy With A Chance Of Meatballs
. There's enough in this to entertain young and old alike; I laughed more than a little.
One recurring sight gag of an animal hybrid is used frequently throughout the film, but so fleetingly that it works every time. You'll know what I refer to when you watch the film!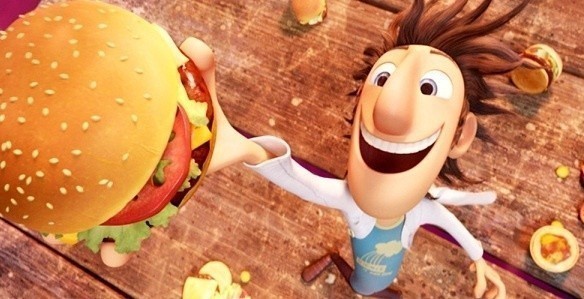 VideoCloudy With A Chance Of Meatballs
is presented in a widescreen aspect ratio of 2.40:1.
If anyone has seen a CG animated film presented on Blu-ray, they pretty much know what to expect; pristine animation presented flawlessly. And they'll not be disappointed. What differs
Cloudy With A Chance Of Meatballs
from most others CG animated fare is the wider aspect ratio of 2.40:1 (generally CG films are produced in 16:9 aspect ratio), which gives this film a slightly more epic tone. Coupled with this is the overly colourful and vibrant animation, which makes
Cloudy With A Chance Of Meatballs
very impressive on a HD display.
Of note is that this initial Blu-ray release of
Cloudy With A Chance Of Meatballs
is presented in standard 2D, but a 3D version of the film has already been announced by Sony Pictures for release later this year. Something to keep in mind if you like clean food fights.
[img]2[/img]
Audio
The main audio track is encoded in DTS HD Master Audio 5.1, at 24 bits.
Equally impressive is the aggressive audio mix that's been crafted from the ground up. Audio sync is as good as can be expected from an animated film. Surround channels roar to life to facilitate a food apocalypse. Particularly impressive was the sound design; the Foley recorders must have had barrels of fun squishing and throwing food into the microphones to create realistic sound effects.
The score soundtrack by Mark Mothersbaugh (of
Rugrats
and Devo fame) is fairly appropriate, but pretty forgettable, punctuated by some well chosen songs such as "Sunshine, Rainbows and Lollipops".
Overall, a really appropriate and impressive audio mix.
[img]3[/img]
Extras
Sony Pictures have stuffed the single disc Blu-ray to the gills, without compromising the audio and picture quality. Let's take a look at what's here.
First up is the
Audio Commentary by Directors Phil Lord, Christopher Miller and voice artist Bill Hader
. The directors are fairly young guys, crazy as hell and really funny to boot. That said, only the most die-hard fans will listen through a commentary for what is essentially a kids film.
The
Interactive Splat Feature
is a kid friendly game which gives you the opportunity you've always wanted; to throw food at your TV screen whilst a movie plays. Virtually, of course.
Flints Food Fight Game
is a interactive BD Java game, a clone of the old, albeit classic
Space Invaders
. Which reminds me; when are they going to make a movie based on that? It's as good a pedigree as any!
Next up are two making of
featurettes
. The first;
A Recipe for Success: The Making of Cloudy With A Chance of Meatballs
is a brief 10 minute segment hosted by the directors whom use food metaphors to describe the elements of the film, illustrating their points by squishing raw mince into the
Cloudy with a Chance of Meatballs
book. I'm unsure as to what the author would make of this. The second;
Key Ingredients: The Voices of Cloudy With a Chance of Meatballs
is an equally short featurette which takes the cameras into the recording booths, with the opportunity for the artists to talk about their characters and showing how their gestures influenced the animation.
The
Progression Reels
and
Early Development Scenes
show how the story evolved during production and how many layers of elements that go into the final pass of CG animation. Particularly fascinating was how close many shots were to the original concept animation. It appears this was a highly organised production.
The
Extended scenes
are scant at just a few minutes long and show two brief excised scenes.
The
music video
to the song 'Raining Sunshine' performed by Miranda Cosgrove is best avoided, as is the
Making of featurette
for said 'song'.
Finally, there is a collection of
trailers
, but none for the film itself.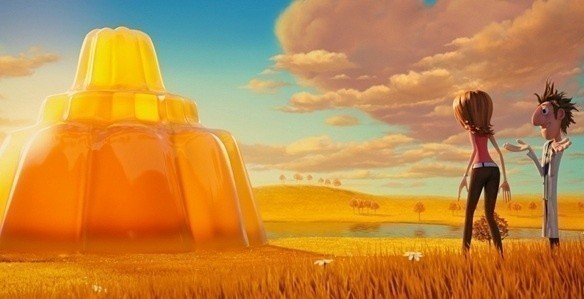 Review Equipment Used:
Display
: Sony KDL52X3100 LCD (1080p resolution/ 24p playback)
Player
: Sony BDP-S550 Blu-ray, PlayStation 3 (24p playback)
Sound
: Sony STR-DA5400ES Receiver (7.1 configuration), Sony SSX70ED front speakers (x2), Sony SSCNX70ED center speaker, Sony SSFCR7000 surround speakers (x4), Sony SAW3800 Subwoofer (Front), Sony SAWM500 Subwoofer (Rear)