Introduction

A few days after we
published the Crucial RealSSD C300 review
a second drive arrived so that we could publish a RAID report. That was the beginning of February and by now most people think we just completely dropped the ball and forgot about actually publishing a RAID article on the C300's. There is actually quite a bit more to it than that, but we are really not trying to make this article about the C300's. In order to take a deeper look at the HighPoint RocketRAID 640 SATA 6G RAID Controller, we have to get into the details of the other first.
When motherboard manufacturers released their new SATA 6G enabled products, a couple of different paths were chosen and we covered that pretty extensively
here
and
here
. ASUS chose not to go down the RAID path while GIGABYTE chose to include the Marvell SATA 6G RAID controller. At that time Crucial hadn't released their SATA 6G SSD so we were left to test with the Seagate Barracuda XT, a drive that really doesn't need SATA 6G since its 7,200 RPM platters can't break 280 MB/s.
When we finally gained possession of a pair of C300's we quickly went into testing mode and came out the other end of the tunnel quite disappointed. The X58A-UD7 had major issues that limited our write speed to less than 1MB/s. For over a month we were left hanging with the issue, but this really wasn't something that was in the hands of GIGABYTE; this was an issue with a Marvell RAID controller not working right with a Marvell SSD controller. Who would have thought?
Even now as I type this I have the latest BIOS loaded on my X58A-UD7, a pair of C300's and a fresh benchmark system running the combination of the above and am seeing read speeds of 228MB/s average and write speeds even lower than those. Clearly this is not acceptable performance for two drives in RAID 0 that run 350MB/s read and 200MB/s write as single drives. Hopefully the issue gets cleared up one of these days.
Until then we have to take a look at other options to run the very impressive Crucial RealSSD C300 drives in RAID for enthusiasts. One option is to spend around a thousand dollars on an LSI or Intel SATA 6G RAID controller that is designed for enterprise use. I didn't think most of you would really like that option too much since a pair of 128GB C300's is already going to cost over 800 USD and the 256GB drives will set you back a little over 1400 USD.
Enthusiasts on a budget now have another option for SATA 6G RAID and it comes to us from HighPoint Technology. Most of us old timers remember HighPoint from the early ABIT days when their UltraATA 66 controller was all of the rage and set us down the path of onboard RAID coming standard on high end motherboards. Back then a high-end motherboard only set you back around 200 USD and thankfully for us the HighPoint RocketRAID 640 costs even less than that.
Today we are finally going to be able to test our matched pair of Crucial RealSSD C300 drives in RAID 0 while only hitting the wallet for around 1500 USD, drives included. Let's take a look at the product features and then dive right into the benchmarks!
Specifications, Pricing and Availability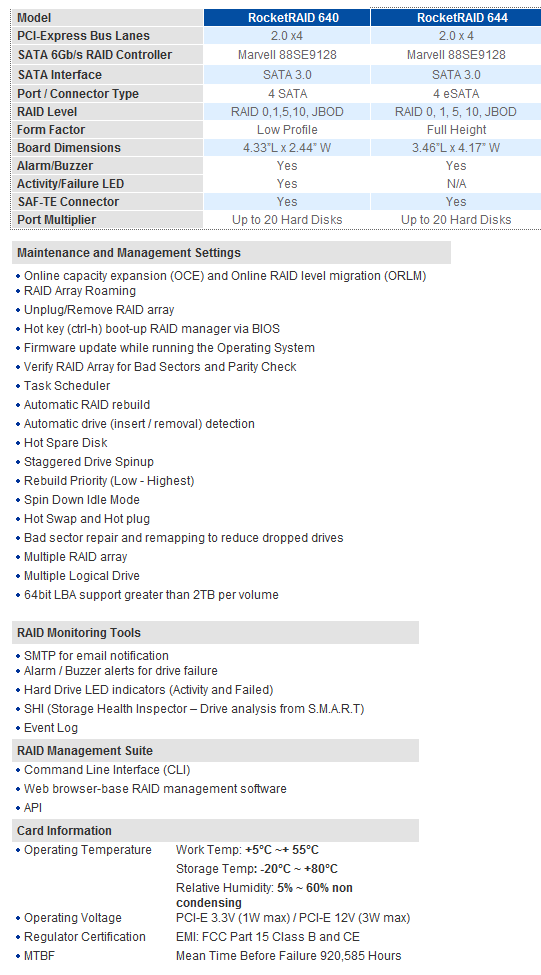 As you can see, HighPoint has come a long way since the
HPT370 found on the ABIT BX133
. I was able to find quite a bit of information on their website and put it all together in the specification image above. As you can see, the RocketRAID Series now includes several enterprise class features and leaves the onboard controllers found on motherboards left wanting.
There are two closely related versions of the RocketRAID 600 Series, the 640 and 644. Both controllers feature four SATA 6G ports and their only difference has to do with the location of the ports. The 644 has external eSATA and the 640 uses internal SATA. The 640 that we are testing here today is the half-height controller that can be used in smaller rackmount servers easily.
The heart of the controller is the new Marvell 88SE9128 which is also the heart of the GIGABYTE X58A-UD7. The difference is that the HighPoint card is a PCIe plug in controller that can be moved to other motherboards as you upgrade systems. Hopefully the HighPoint optimized drivers are able to perform better than the GIGABYTE and Microsoft drivers.
Speaking of drivers, there is a huge debate going on in various SSD manufacturers forums over the Marvell drivers and their ability to pass along the TRIM command. In a point blank question to HighPoint I was told that the HighPoint 600 Series does pass along the TRIM command to the drives, even when used in a RAID 0 array. This is great news, but it is not the final say to the story at this time.
When it comes to the cost, Newegg already lists the HighPoint RocketRAID 640 as being in stock and
ready to ship for 164.99 USD
. This is less than the cost of most new motherboards with SATA 6G and much less than an enterprise controller.
The Packaging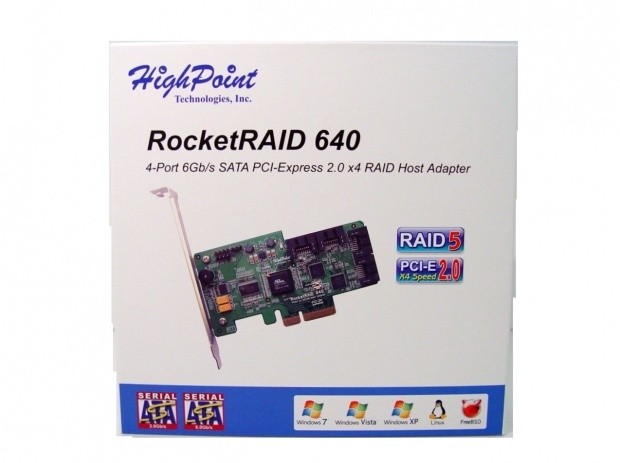 It has been many years since I have seen a HighPoint retail product. From the looks of it, it appears that HPT was able to get most, if not all of the useful information right on the front of the package. Here we see all of the buzz words; SATA 6G, PCIe 2.0 4x, RAID and at the bottom right, supported operating systems.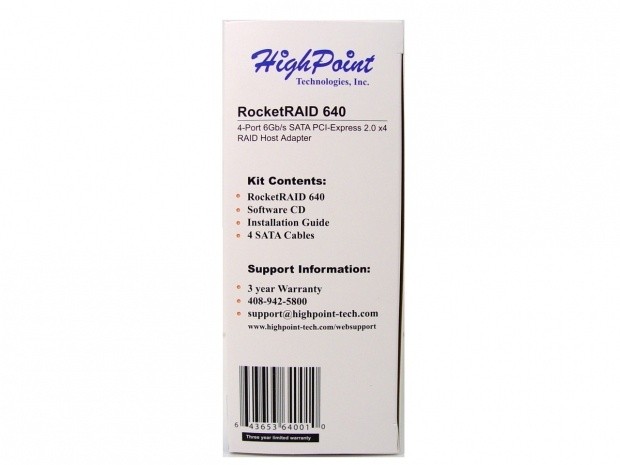 On the side we found the package contents and more importantly, easy access to support. It seems that more companies are trying to hide their support telephone number deep in their websites, but here we see HighPoint taking the high road and listing it right on their box.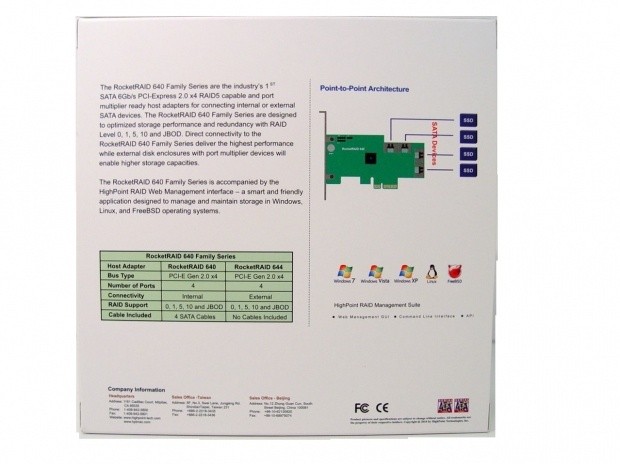 The back of the package offers some general information about the controller and RAID.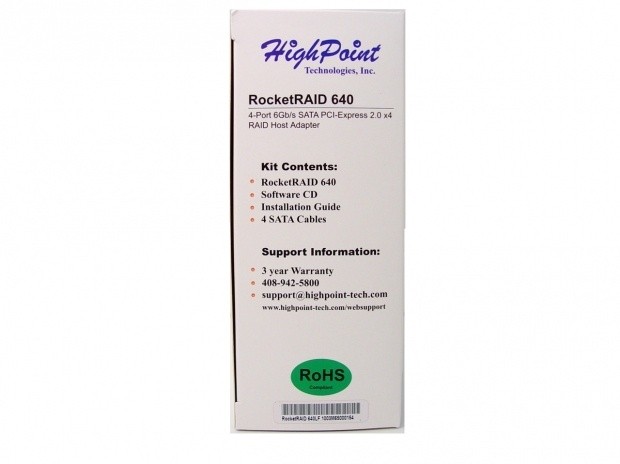 The other side of the box matches the first side with support information.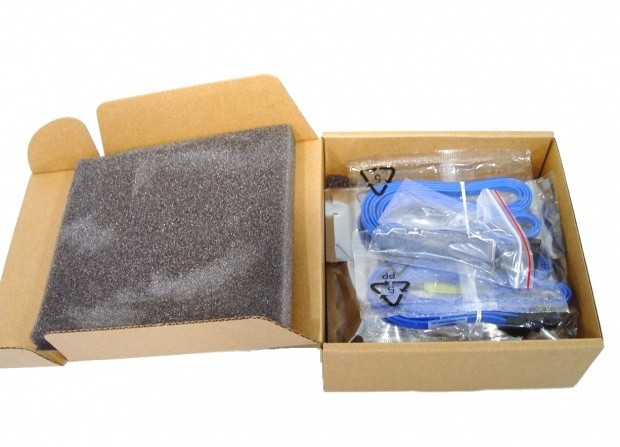 Finally we have the inner package and see that the controller is in an antistatic bag with the cables and manual in the same compartment.
The HighPoint RocketRAID 640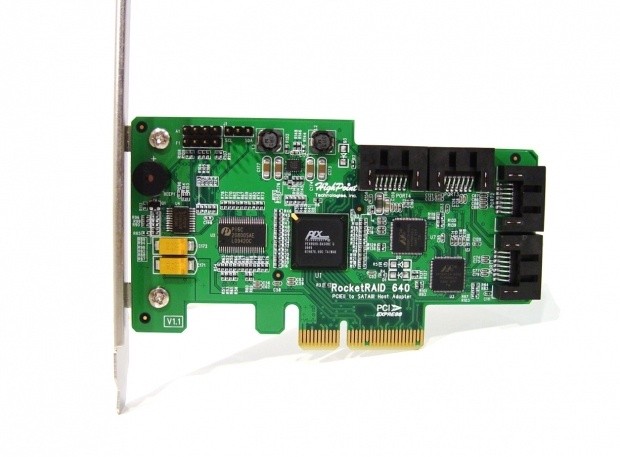 Here we get our first look at the adapter. We found a PLX chip as well as dual Marvell SATA 6G controllers. The four SATA ports are at the back of the card and face two different directions; each side ran off a separate Marvell chip.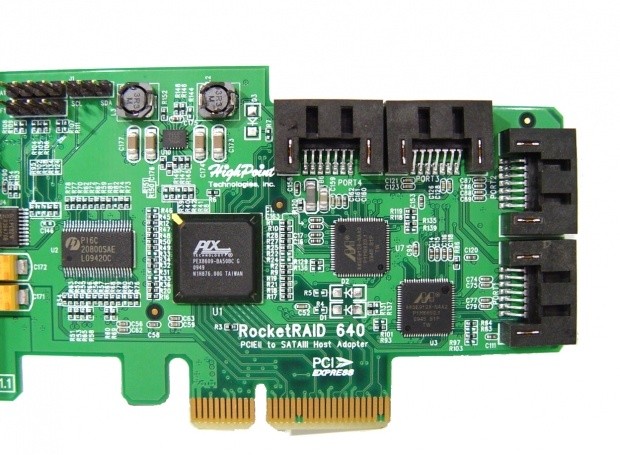 Here we see the layout a bit closer. To maximize performance with two drives it is best to run one drive on each Marvell controller.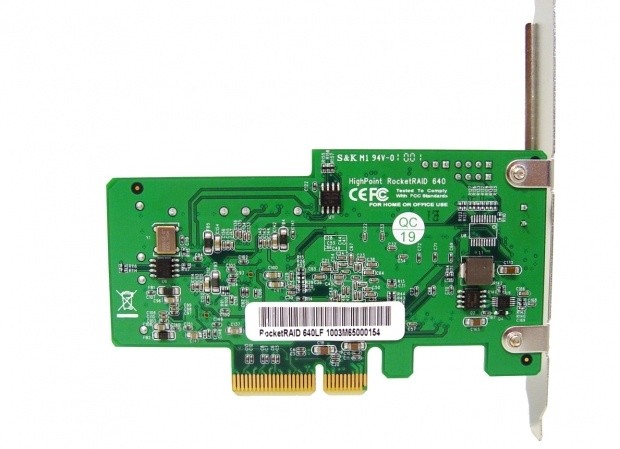 The back of the controller is fairly uneventful with little to dive deeper into.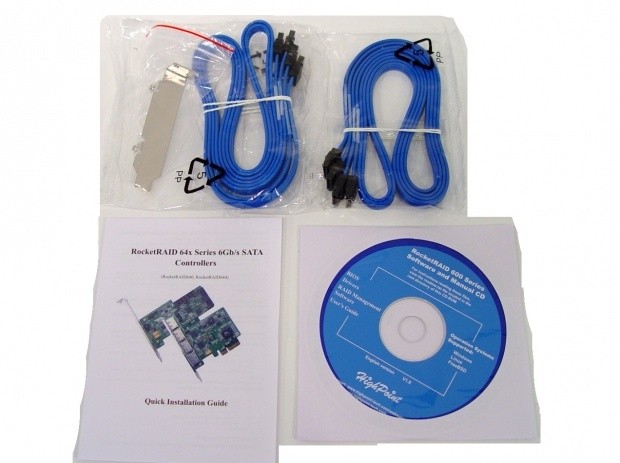 In the package we found round longer than average SATA cables, a driver / manual disk, a printed quick install manual and finally, a low profile bracket.
Test System Setup and ATTO Baseline Performance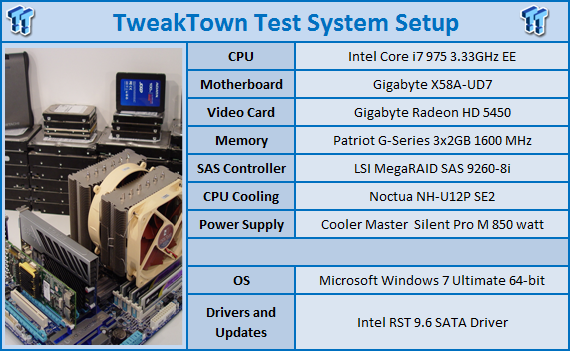 We would like to thank the following companies for supplying and supporting us with our test system hardware and equipment:
AVADirect
,
GIGABYTE
,
Patriot Memory
,
Cooler Master
,
LSI
and
Noctua
.
You can read more about TweakTown's Storage Product Testing Workstation and the procedures followed to test products
in this article
.
Today we will be testing the HighPoint RocketRAID 640 4-port, SATA 6G RAID controller with two Crucial RealSSD C300 256GB SATA 6G drives.
We ran two sets of tests with the controller. The first was a single drive test that used the controller and a single Crucial C300 and another set of tests with dual drives in RAID 0. For comparison we are also including benchmarks from dual A-DATA S599 drives on the GIGABYTE X58A-UD7 SATA 3G ports.
ATTO Baseline Performance
Version and / or Patch Used:
2.34
ATTO is used by many disk manufacturers to determine the read and write speeds that will be presented to customers.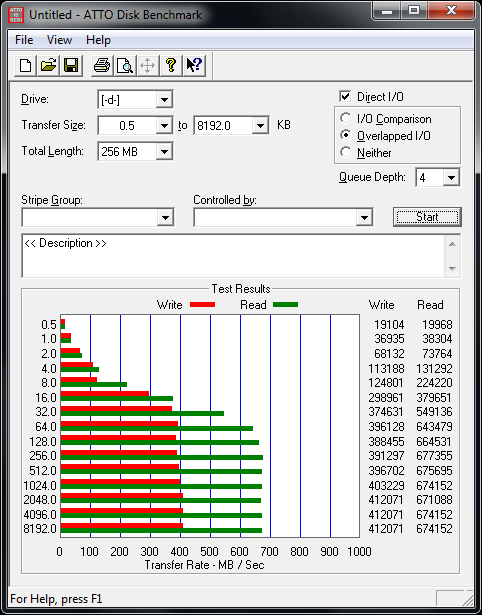 In ATTO we tested the 2 drive C300 RAID 0 array to see what the best case scenario performance would be. After looking back at the single drive performance we see that performance pretty much doubled with two C300's on the HighPoint RocketRAID 640. It appears that we are off to a great start!
Benchmarks - HD Tune Pro
HD Tune ProVersion and / or Patch Used:
4.00
Developer Homepage:
http://www.efdsoftware.com
Product Homepage:
http://www.hdtune.com
HD Tune is a Hard Disk utility which has the following functions:
- Benchmark: measures the performance
- Info: shows detailed information
- Health: checks the health status by using SMART
- Error Scan: scans the surface for errors
- Temperature display
HD Tune Pro gives us accurate read, write and access time results and for the last couple of years has been gaining popularity amongst reviewers. It is now considered a must have application for storage device testing.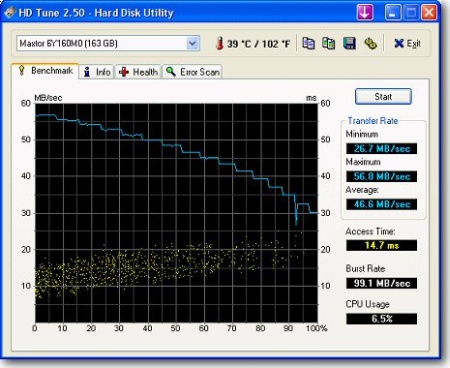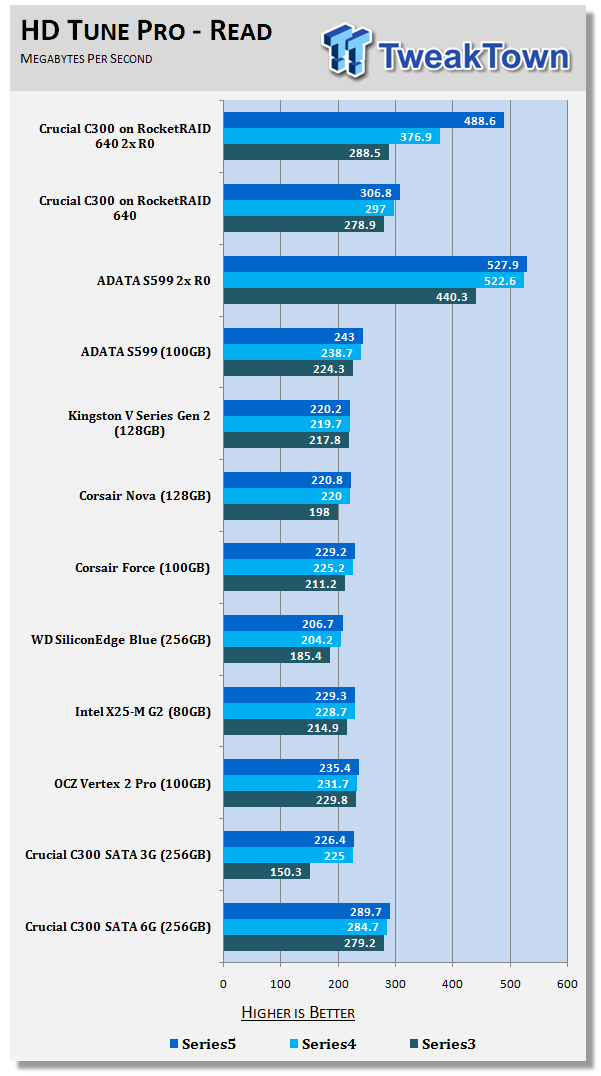 When it comes to reads we see that today's article will be a real battle between the Intel ICH / SandForce SSD and the HighPoint (Marvel) HBA / Crucial (Marvel) SSD combination drives.
In ATTO we saw C300 R0 performance over 650MB/s, but in HD Tune the numbers drop quite a bit. We still see the average and maximum performance increase from a single drive, but the patterns on the graph show a constant yet predictable change in data flow.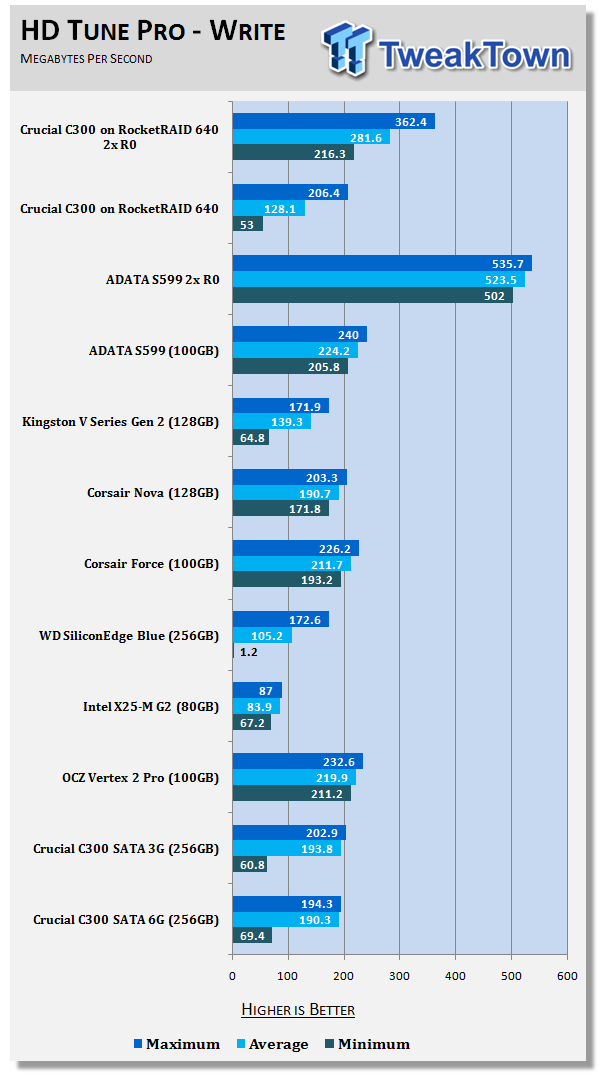 The SandForce SF-1200 and Crucial RealSSD C300 256GB both write data at around the same speeds, 200MB/s as single drives. In RAID 0 we see the Intel / SandForce combo is able to pull away from the C300's on the HighPoint RocketRAID 640.
Benchmarks - Everest Random Access Time
Everest Random Access TimeVersion and / or Patch Used:
4.60
Developer Homepage:
http://www.lavalys.com
Product Homepage:
http://www.lavalys.com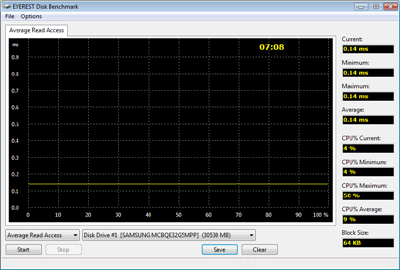 Everest Ultimate and Corporate Edition offer several different benchmarks for testing and optimizing your system or network. The Random Access test is one of very few if not only that will measure hard drives random access times in hundredths of milliseconds as oppose to tens of milliseconds.
Drives with only one or two tests displayed in write the write test mean that they have failed the test and their Maximum and possibly their Average Scores were very high after the cached fills. This usually happens only with controllers manufactured by JMicron.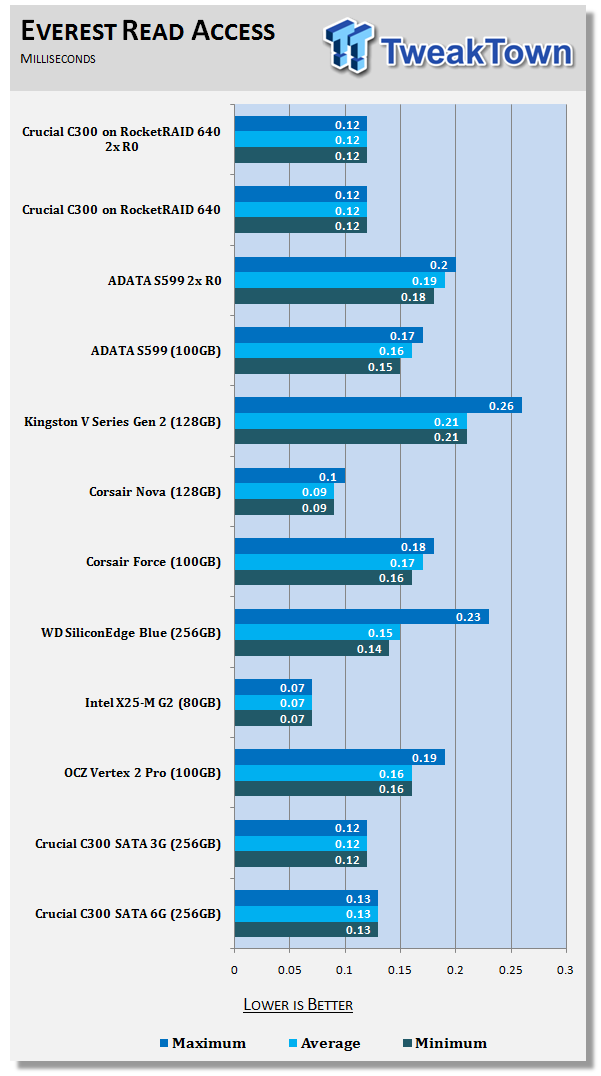 The read access with the RocketRAID and C300's in RAID or with a single drive shows that the controller doesn't add latency.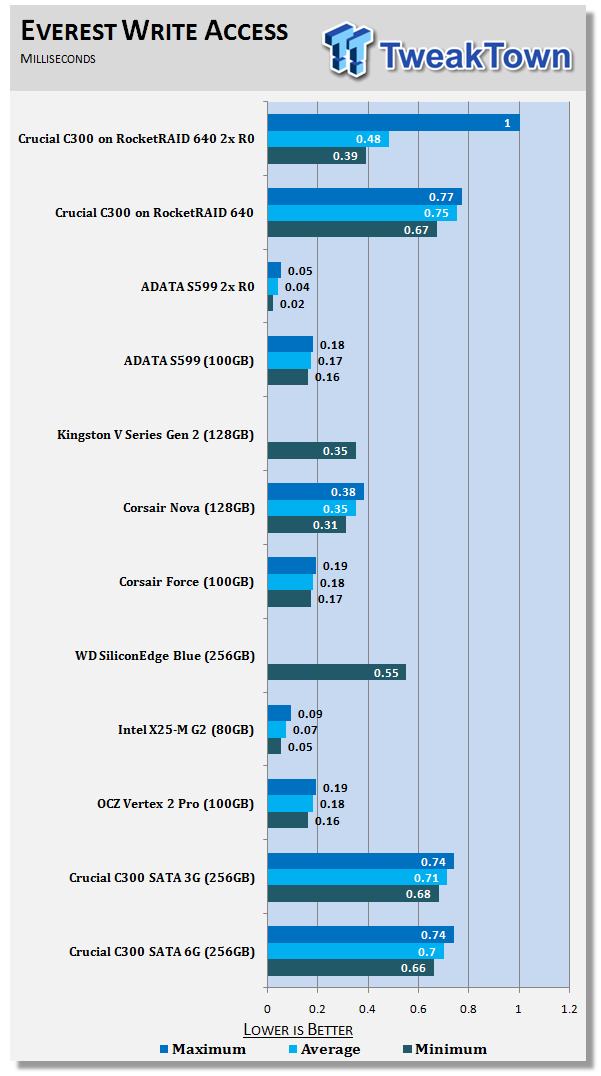 The write latency of the C300 is high on its own when compared to other SSDs, but it is important to keep in mind that we are now measuring SSD performance in thousands of a second. With a single drive the HighPoint RocketRAID 640 doesn't add latency to the write process, but with an array of two drives we see a little delay added.
Benchmarks - Crystal Disk Mark
CrystalDiskMarkVersion and / or Patch Used:
3.0 Technical Preview
Developer Homepage:
http://crystalmark.info
Product Homepage:
http://crystalmark.info/software/CrystalDiskMark/index-e.html
Download here:
http://crystaldew.info/category/software/crystaldiskmark
CrystalDiskMark is a disk benchmark software.
Key Features:-
* Sequential reads/writes
* Random 4KB/512KB reads/writes
* Text copy
* Change dialog design
* internationalization (i18n)
Note:
Crystal Disk Mark 3.0 is not available to the public yet, but the Technical Preview does allow us to test 4K performance at queue depths of 4 and 32 in addition to 1. The current release Crystal Disk Mark only shows us QD 1.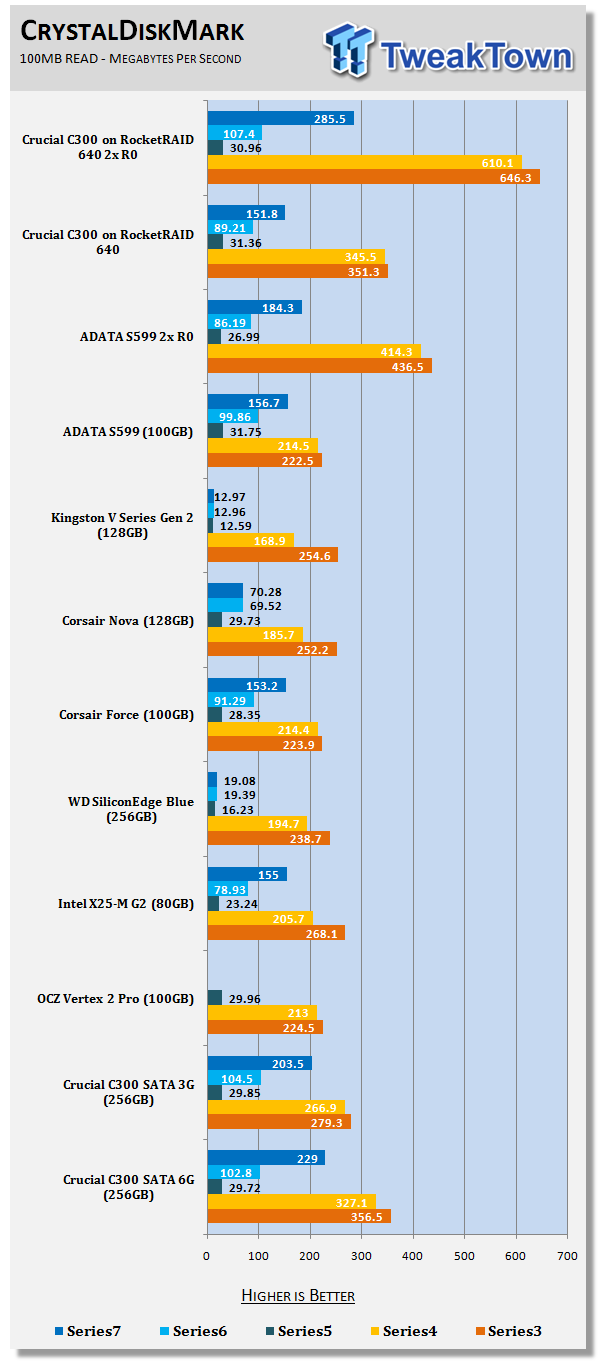 Our last synthetic test before we get to the real world tasks. Here we are looking for 4K speeds and 4K at 4 and 32 Queue Depths with NCQ. Here we see the HighPoint RocketRAID with two C300 256GB drives dominating the 4K 32QD test and taking a lead in the 4K 4QD.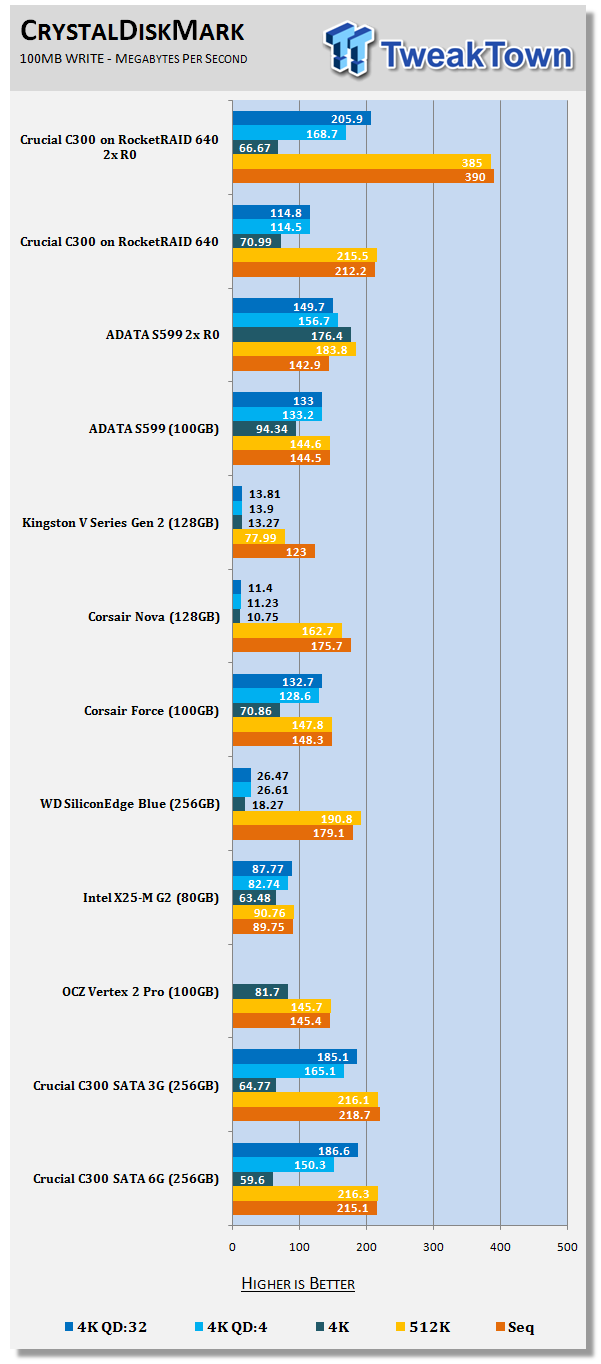 The HighPoint / Crucial combo again takes a strong lead when multiple instructions are sent, but in a single 4K write the Intel SandForce combo has a bit of an advantage. Now that we have the synthetics taken care of, we can move onto the real world performance testing.
Benchmarks - PCMark Vantage Hard Disk Tests
PCMark Vantage - Hard Disk TestsVersion and / or Patch Used:
1.0.0
Developer Homepage:
http://www.futuremark.com
Product Homepage:
http://www.futuremark.com/benchmarks/pcmark-vantage/
Buy It Here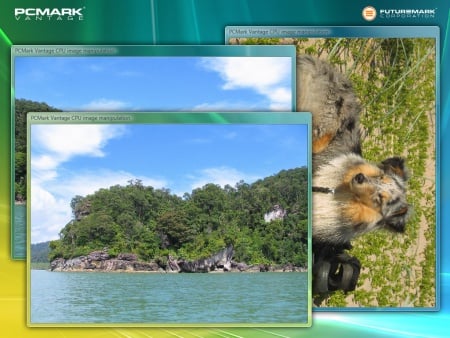 PCMark Vantage is the first objective hardware performance benchmark for PCs running 32 and 64 bit versions of Microsoft Windows Vista. PCMark Vantage is perfectly suited for benchmarking any type of Microsoft Windows Vista PC from multimedia home entertainment systems and laptops to dedicated workstations and high-end gaming rigs. Regardless of whether the benchmarker is an artist or an IT Professional, PCMark Vantage shows the user where their system soars or falls flat, and how to get the most performance possible out of their hardware. PCMark Vantage is easy enough for even the most casual enthusiast to use yet supports in-depth, professional industry grade testing.
FutureMark has developed a good set of hard disk tests for their PCMark Vantage Suite. Windows users can count on Vantage to show them how a drive will perform in normal day to day usage scenarios. For most users these are the tests that matter since many of the old hat ways to measure performance have become ineffective to measure true Windows performance.

HDD1 - Windows Defender
HDD2 - Gaming
HDD3 - Windows Photo Gallery
HDD4 - Vista Startup
HDD5 - Windows Movie Maker
HDD6 - Windows Media Center
HDD7 - Windows Media Player
HDD8 - Application Loading
For most Windows users these are the tests that equate to what you will see in real world daily computing activities. We can start to see some interesting activity with the two RAID arrays. In some tests the HighPoint C300 array is faster than the Intel / SandForce array. The missing test on the SandForce gave us a ridiculous score of over 2500 MB/s. This was most likely some type of high cache hit in reading data.
The very important application load test shows the Intel / SandForce combo outperforming the HighPoint C300 array.
Benchmarks - AS SSD
AS SSD BenchmarkVersion and / or Patch Used:
1.2.3577.40358
Developer Homepage:
Alex Intelligent Software
Product Homepage:
Alex Intelligent Software
Download here:
http://www.alex-is.de/PHP/fusion/downloads.php?cat_id=4&download_id=9
AS determines the performance of Solid State Drives (SSD). The tool contains four synthetic as well as three practice tests. The synthetic tests are to determine the sequential and random read and write performance of the SSD. These tests are carried out without the use of the operating system caches.
In all synthetic tests the test file size is 1GB. AS can also determine the access time of the SSD, the access of which the drive is determined to read through the entire capacity of the SSD (Full Stroke). The write access test is only to be met with a 1 GB big test file. At the end of the tests three values for the read and write as well as the overall performance will be issued. In addition to the calculated values which are shown in MB/s, they are also represented in IO per seconds (IOPS).
Note:
AS SSD is a great benchmark for many tests, but since Crystal Disk Mark covers a broader range of 4K tests and HD Tune Pro covering sequential speeds, we will only use the Copy Benchmark from AS SSD.
- Copy Benchmark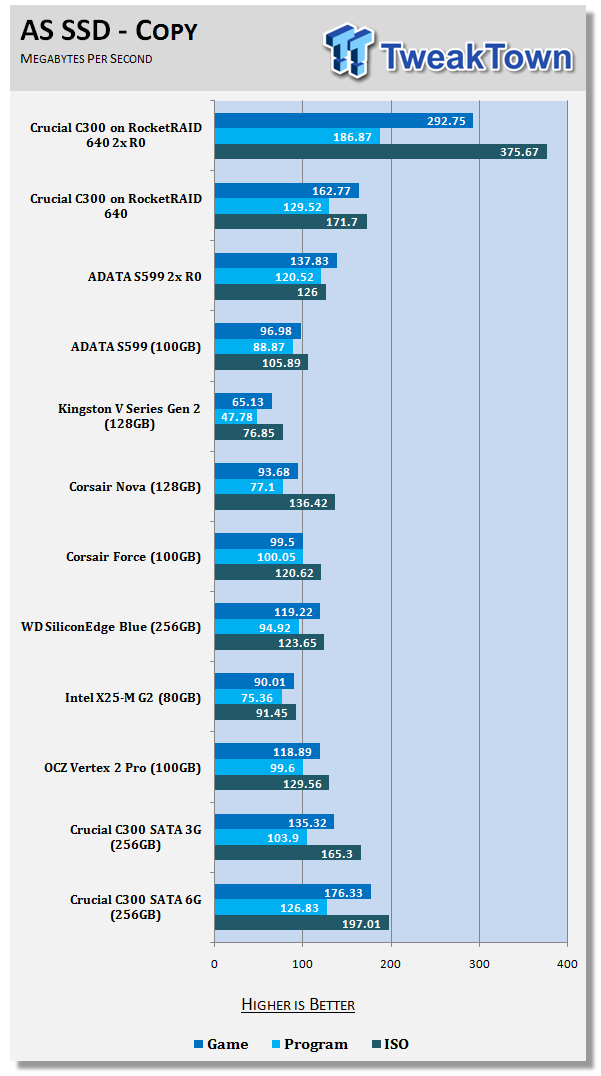 When it comes to file transfers, the HighPoint RocketRAID 640 is a beast! - Here we see the combo running away from everything we have ever seen, at least without a large array of drives on an enterprise class controller. The ISO transfer was nearly 400MB/s. You could transfer a full audio CD in around a second and a half with the RocketRAID 640 and two C300 drives.
Benchmarks - Passmark
Passmark Advanced Multi-User TestsVersion and / or Patch Used:
6.1
Developer Homepage:
http://www.passmark.com
Test Homepage:
http://www.passmark.com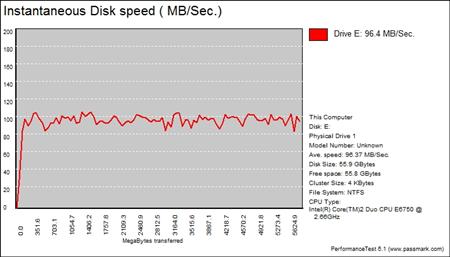 Many users complain that I/O Meter is too complicated of a benchmark to replicate results so my quest to find an alternative was started. Passmark has added several multi-user tests that measure a hard drives ability to operate in a multi-user environment.

The tests use different settings to mimic basic multi-user operations as they would play out on your server. Variances is read / write percentage as well as random / sequential reads are common in certain applications, Web Servers read nearly 100% of the time while Database Servers write a small amount of data.
The Workstation test is the only single user environment and will be similar to how you use your system at home.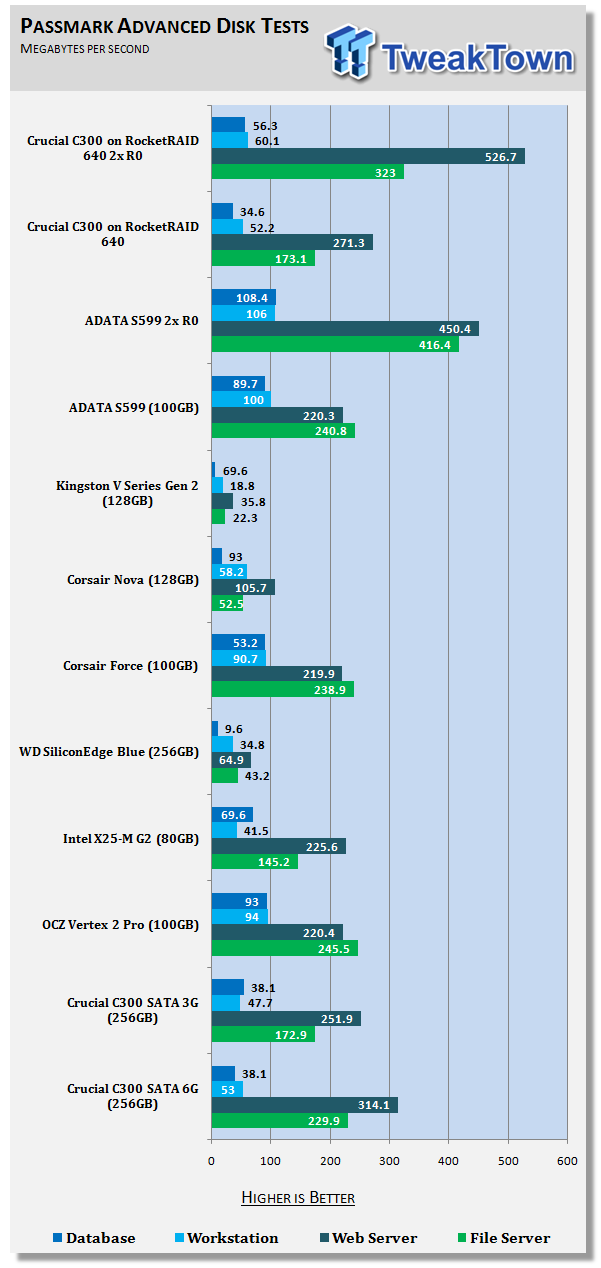 Even though the SandForce drives were designed with an enterprise background, we see the C300's when paired with the RocketRAID 640 once again transferring data faster than the SandForce array.
Final Thoughts
In the last few weeks the tide has started to turn when it comes to the Crucial RealSSD C300 and SandForce drives. We have tested the 128GB C300 and final production SF-1200 drives in both 100 and 120GB sizes and determined that most users will have a better experience with the SandForce drives in this capacity. When move to the 200, 240 and 256GB capacities the leader is still the C300, but only by a small margin.
In time more SATA 6G drives will come to market and eventually everything new will be SATA 6G and SATA II will be a standard for the history books. If you are starting to look at drives using native SATA 6 now and don't want to spend the kind of money needed to have onboard 6G compatibility then the HighPoint RocketRAID 640 is a good place to start since it offers good performance at a lower cost than most SATA 6G motherboards.
The only real problem we see is that once SATA 6G takes over the market Intel will have SATA 6G built into their ICH. We are hearing rumors that the next ICH will have eight SATA 6G ports instead of six SATA 3G, so at that time the need for a consumer class add-in card will decrease unless you are looking specifically to have a card handle your RAID arrays.
As it sits now, though, the only way to get SATA 6G is to invest in an expensive motherboard, expensive enterprise class HBA like the LSI card we use for testing or the HighPoint 640. Users on a budget will find the HighPoint RocketRAID 640 to be the cheapest solution. This option will allow the user to also keep their current motherboard, a big benefit if you have already invested several hundred Dollars in an enthusiast class main board.