Thecus N4200 4-Bay NAS Server
Two exclusive features are just the starting point for this innovative new NAS appliance.
Published Tue, May 4 2010 8:58 AM CDT
|
Updated Tue, Nov 3 2020 7:02 PM CST
Rating:

92%
Manufacturer: Thecus
Introduction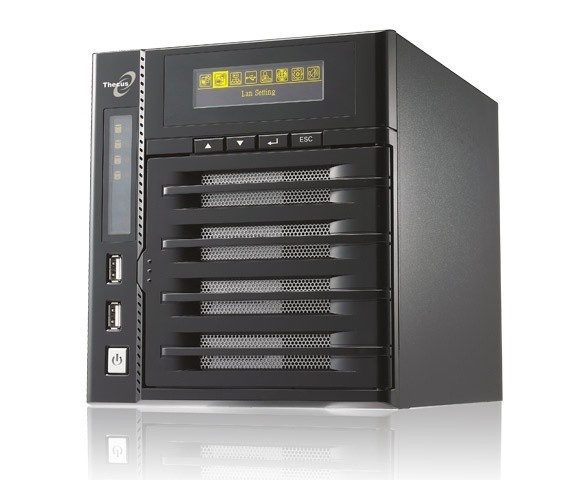 When Thecus asked me to take a look at their new N4200 small office NAS, I wasted no time agreeing to get the unit in for review. I had seen the press release and the email announcements and upon glancing over them could see right from the start that it was a little different than some of the other NAS appliances I reviewed in the past, but it was just another day at the office so to speak.
These things kind of just all blend in together after years of press releases, tests, reviews and Q&A time with readers. Thecus has yet to release a poorly designed product or even anything that I would question the validity of in their marketing statements, so when they have something coming out it is all most a given that the product will be great, but great is really just their normal, day-to-day way of doing things. It can be a bit like the guys that review Ferraris from the Robb Report at times.
"OK, cool, another red Ferrari. Send it over and I will take a look then let you know what I think. I gotta run for now but keep in touch...the kids need me to get breakfast ready. Yes I am sure it is fantastic with a bunch or horsepower and built in GPS that can talk and park the car." Then they just go about their day.
The Thecus N4200 arrived and since NAS servers take a very long time to test, I dove right in taking my pictures of the box, kind of glancing over things and moving along. When it was time to open things up is when it hit me like a steam roller. The new OLED display is just gorgeous, a real improvement over the old display. At that point I turned the unit around and the real shock came; there is a battery slot and more importantly, a battery!
Thecus' marketing material may hype up the display that is so clear you can read it from 10 feet away and is actually useful for more than just checking your IP address, but the real standout product feature of the N4200 is the included battery that slides into the back of the NAS, making it one of the most cost effective, less pain in the behind NAS servers ever made for the small office market. This isn't a feature that is equivalent to a car parking itself; it is more like an autopilot. How many of you have a car that can drive itself? Well, that is the same number of other NAS appliances on the market that have built in battery protection.
Specifications, Availability and Pricing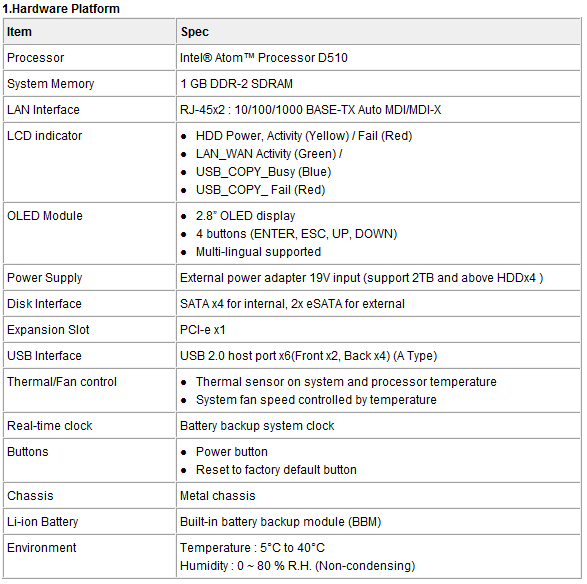 If you don't really understand the importance of this battery backup module (BBM) thing, then let me continue. Let's say you have a NAS appliance that you and your wife share. At some point the NAS is switched over to RAID 0 and you forget about it and your wife has been storing pictures; five years of pictures on this NAS. One day the power goes out causing an aging HDD to have a non-recoverable error, effectively eliminating the array. It is bad enough that you may lose years of software, music, pictures from race tracks and all of that other stuff you have, but what if your wife's stuff was gone, too?
At that point it is really kind of a tough choice. Do I try to cope with a year of hell on Earth, or do I just run into the street while a big truck is coming? - A battery backup, or in the case of the Thecus N4200, a built-in battery backup module would have saved the day when the power went out and not caused the drive to have a panic moment.
I think that pretty well covers the importance of a battery backup, but that is not the only thing new to the Thecus N4200. The other new feature is a beautiful OLED display that is capable of very clear images. This is a first for SOHO NAS appliances and for that matter any NAS ever. Instead of just one display, the N4200 has two; the first for setup and modification of the settings and a second for monitoring activity and status.
Other features that are fairly new, but not exclusive to the N4200 include a new Intel Atom dual core processor, 1GB DDR2 system memory, dual gigabit Ethernet and just as many USB ports as your top of the line motherboard has. This is just where it all starts. The N4200 also uses speed controlled fans that allow the system to run at optimal temperatures, yet stay quiet at all times. A built in PCIe 1x slot is also included for future upgrades.
When it comes to cost you should keep in mind that the Thecus N4200 is the flagship model for the small office market. Newegg currently has the
N4200 in stock and ready to ship today for 799.99 without drives
. If you are not comfortable installing hard drives in a NAS appliance or setting the system up, we have learned that
AVADirect offers free setup, drive installation and configuration
of NAS servers and appliances when you purchase a NAS and drives from them. For many this type of service is much easier since it also includes support and is ready to run with your network the moment you take it out of the box.
Software Features

As you can see, the software features list is quite impressive and offers more options and add-on tools than any one office or person could use. That was really the idea behind offering a total package to consumers and businesses. If everything is covered, then no one is left out.
For more detailed information on the Thecus software package please take a few minutes to read over our
Thecus Software Deep Dive article
.
The Packaging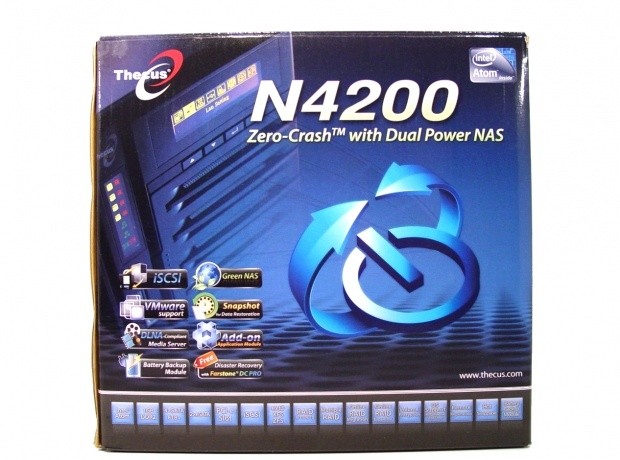 Thecus ships their NAS servers and appliances with very retail friendly packages. Even though there is a lot of information to share with consumers, the package does a good job of showing most of the important features.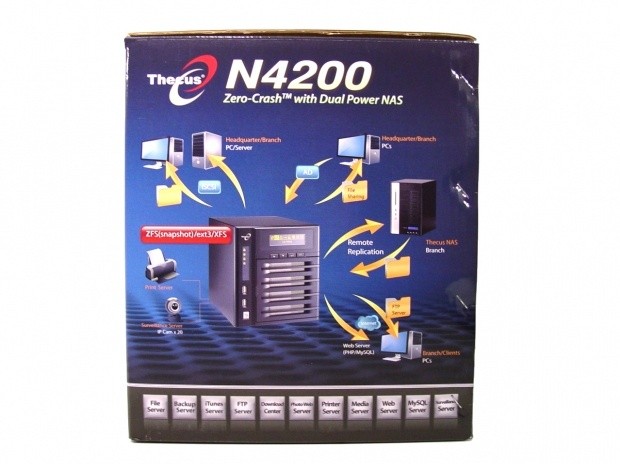 The side of the package shows a few of the items that you can connect to the N4200.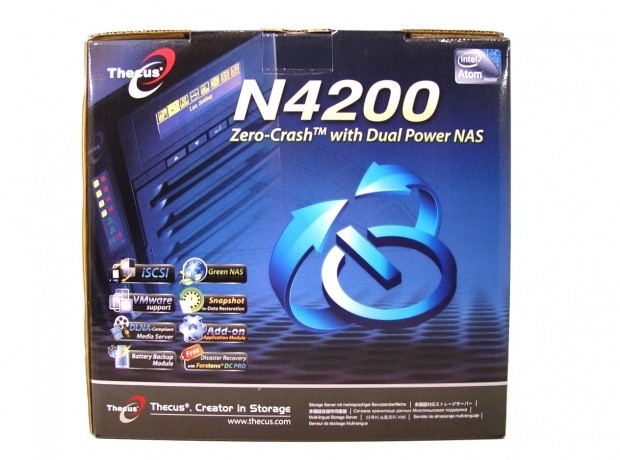 The back of the package shows the same information as the front.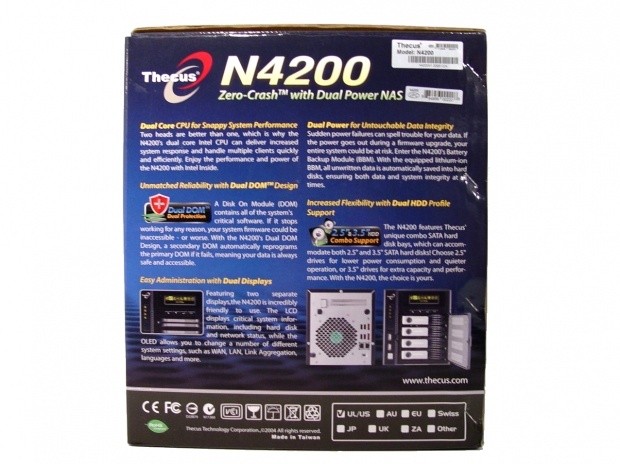 The other side of the package touches on many of the finer details involved in the data protection features that are found on the N4200.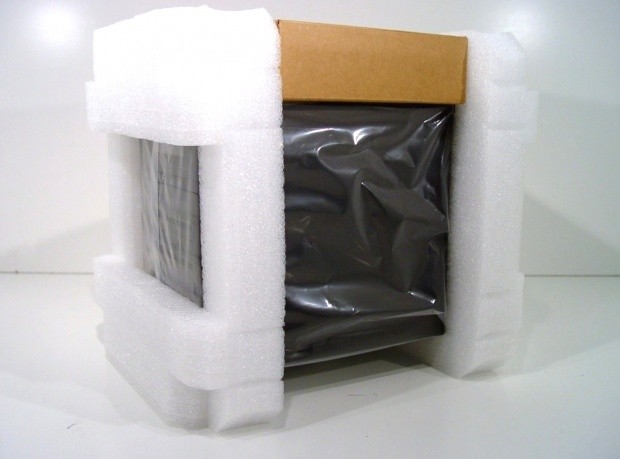 A product that offers protection must first be protected during shipping. Here we see that Thecus does a really good job of keeping their products safe during shipping by exceeding the limits of express shipping agencies.
The Thecus N4200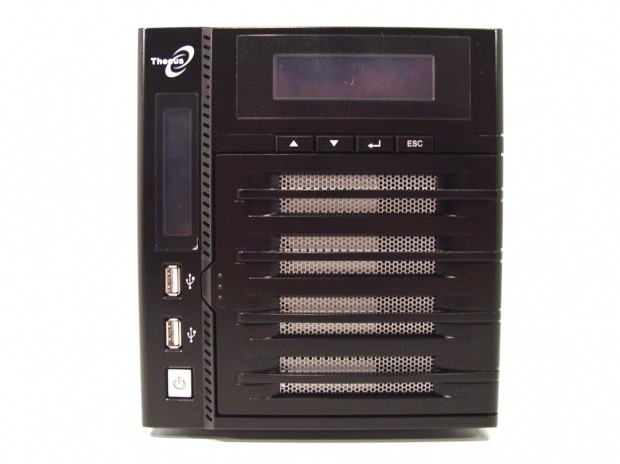 Here we get our first look at the Thecus N4200. With the power off you can't really see the displays all that well, but you can see the front door, power button, USB ports and buttons for controlling the NAS without a client machine.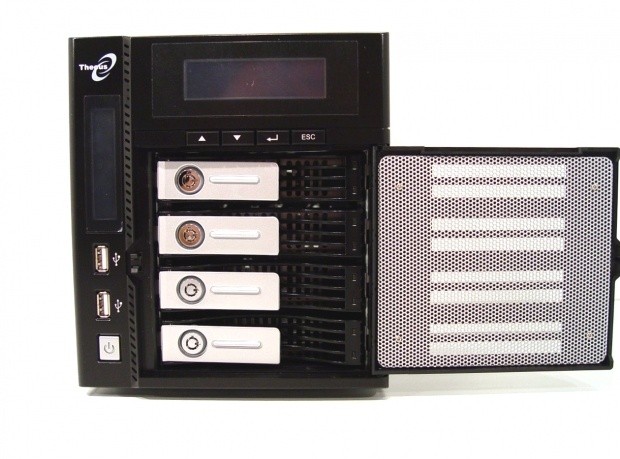 With the front door open we can see the drive sleds that lock individually. Each drive sled can now accept either a 3.5 or 2.5 inch form factor drive.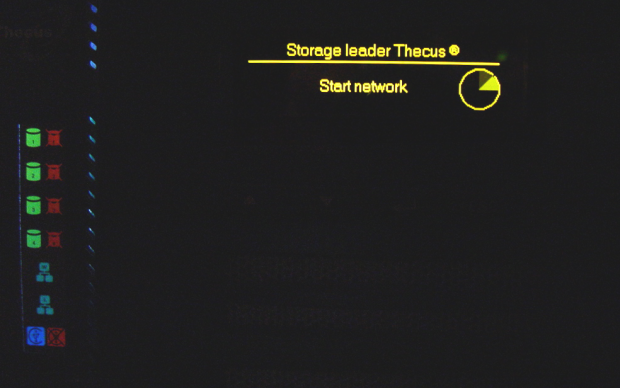 During startup the dual screens come to life and show the systems status. With the new OLED screen you can read what is going on from across the room since the image quality has so much detail.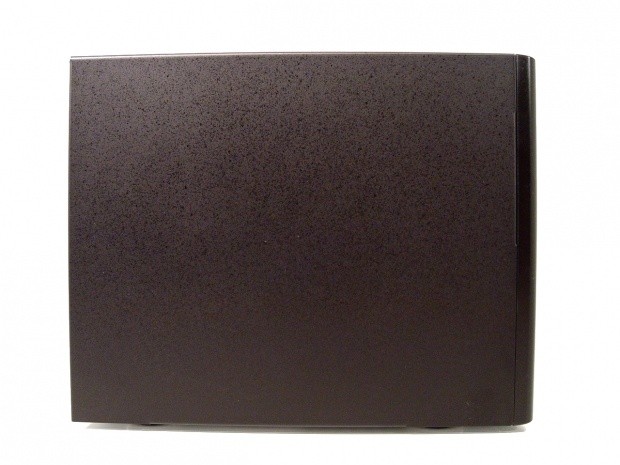 Looking at the side of the N4200 we see that it uses a steel exterior; no plastic here.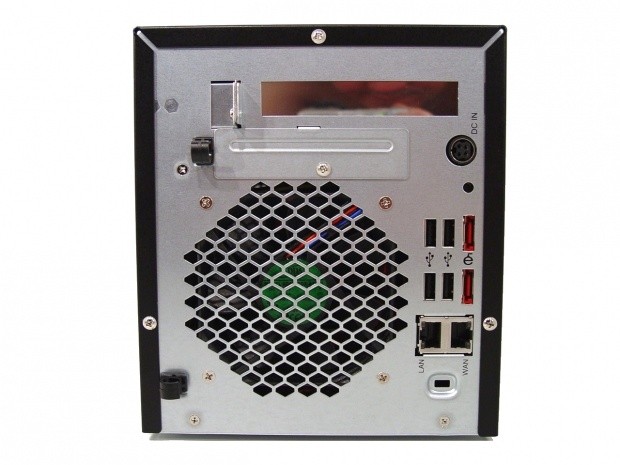 Nearly all of the connections are made in the back of the unit. The N4200 has an external power supply which keeps the drive temperatures down without the need to run the fan at high speeds. Quad USB ports are also located in the back for printers and additional battery back up units. In the upper middle is the area where the BBM gets installed and at the top Thecus included a PCIe slot for future add-on components.
Dual gigabit Ethernet is also standard and if you run a Link Aggregated switch in your office you can take advantage of running a 2 gigabit link to your network backbone. Rounding out the view from the back is dual eSATA ports.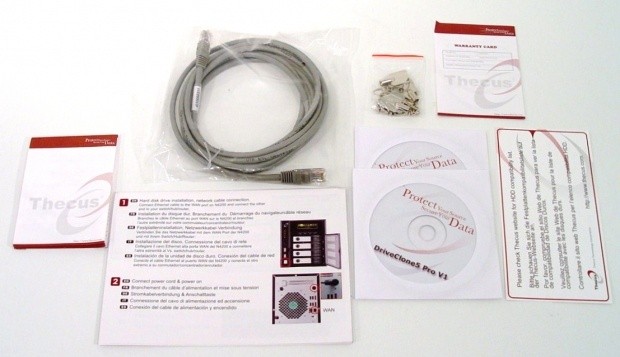 Thecus includes several paper notices and a quick start guide as well as a full manual on a disk and another disc with backup software that is free. Also provided is a couple of sets of keys for locking the drives and screws for mounting drives in the N4200.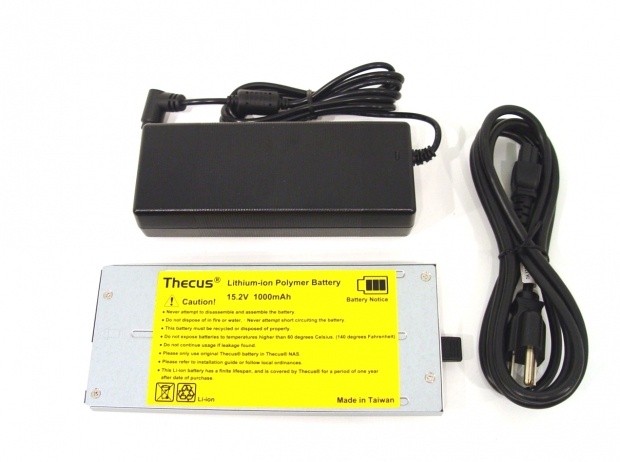 The N4200 does use an external power supply and we see that here with the power cord and battery that will keep you out of trouble.
Test System Setup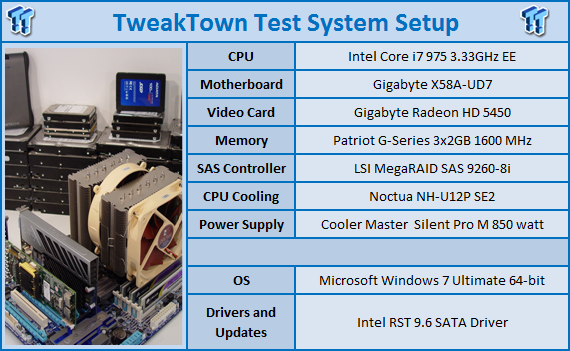 We would like to thank the following companies for supplying and supporting us with our test system hardware and equipment:
AVADirect
,
GIGABYTE
,
Patriot Memory
,
Cooler Master
,
LSI
,
Noctua
and
Seagate
.
Intel NASPT
The Intel NAS Performance Toolkit (NASPT) is a file system exerciser and analysis tool designed to enable direct measurement of home network attached storage (NAS) performance. Designed to emulate the behavior of an actual application, NASPT uses a set of real world workload traces gathered from typical digital home applications. Traces of high definition video playback and recording, office productivity applications, video rendering/content creation and more provide a broad range of different application behaviors.
With version 1.71 we are able to test with Windows 7 64-bit, but to keep the results accurate you must limit your system RAM to 2GB or less. With only a single 2GB stick of memory installed you can test with Windows 7 64-bit. Also, a new test was added, Office Productivity, but several tests were removed by default like 3 Source HD Video Playback and Backup / Restore.
Today we will be testing the Thecus N4200 and comparing its performance to the QNAP TS-419P TurboNAS, a similar 4-drive NAS server. The QNAP TS-419P compares in capability and has a comparable price to the Thecus N4200.
Both NAS servers we tested with Seagate ES.2 1TB drives that have been provided to us by Seagate for all of our NAS server and RAID controller testing.
Benchmarks - HD Playback
HD Video Play - 720p HD stream from Windows Media Player* 256kB reads
2HD Video Play - 2x playback
4HD Video Play - 4x playback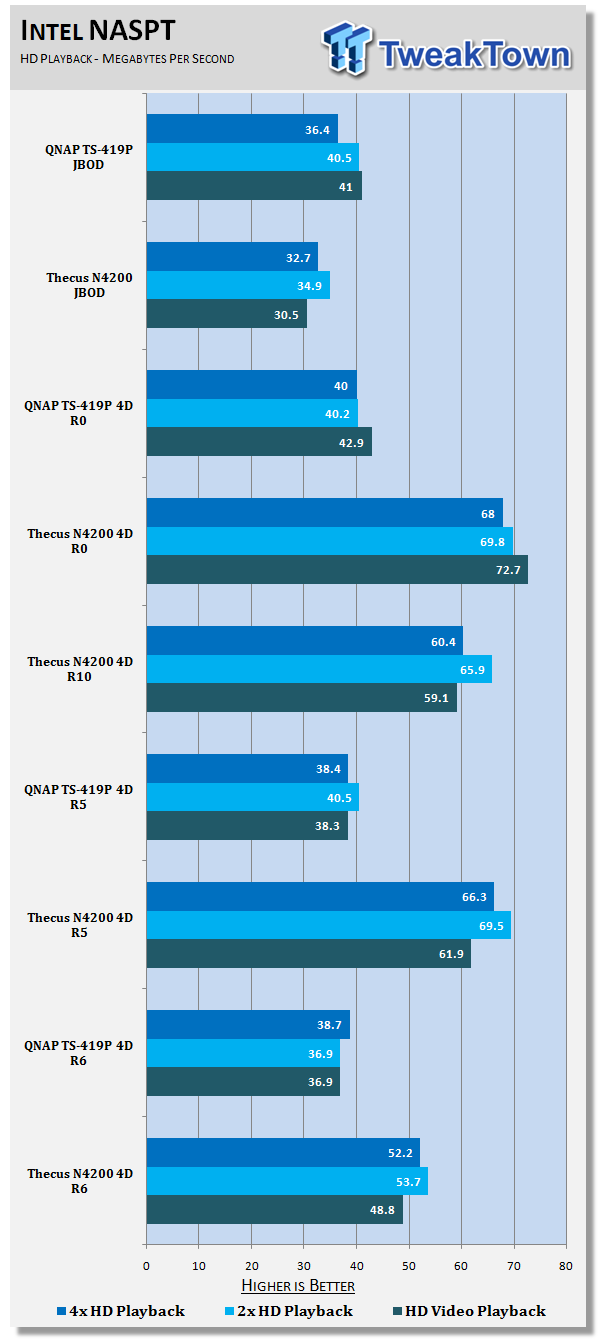 The HD Playback performance of the Thecus N4200 is similar to some of the other 4 drive NAS appliances that we have tested in the past. Here we see that the N4200 is faster than the QNAP TS-419P in all but the single drive, JBOD category.
One area that stands out in the tests shown here is how well RAID 5 performs when compared to RAID 0. Many users will use this and I will go as far as suggest running the system in RAID 5 so you get the benefit of data redundancy. Here we see that the typical performance hit of running RAID 5 is not apparent with the N4200.
Benchmarks - HD Record
HD Video Record - 720p HD stream, 256kB writes
HD Video Play & Record - 1 playback, 1 record simultaneously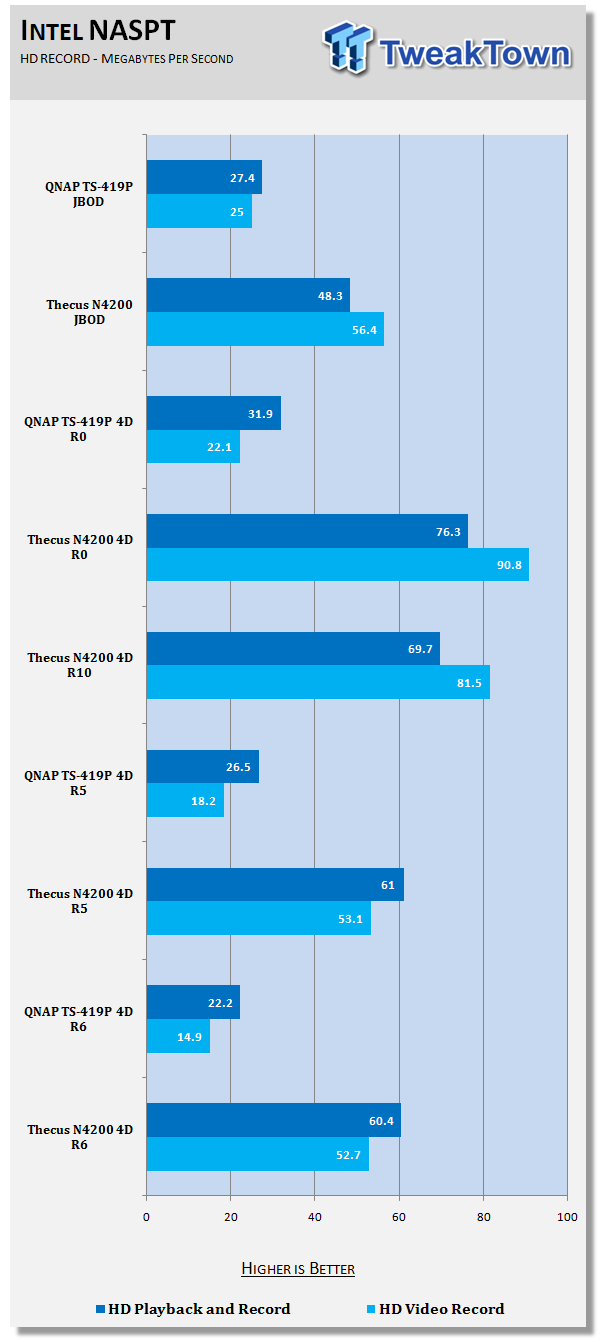 When recording HD video, the Thecus N4200 is able to handle more streams than the QNAP TS-419P and in some configurations by a significant margin.
Benchmarks - Content
Photo Album - All reads - wide distribution of sizes
Office Productivity -
Content Creation - 95% writes; 1k, 4k & little reads; Writes up to 64kB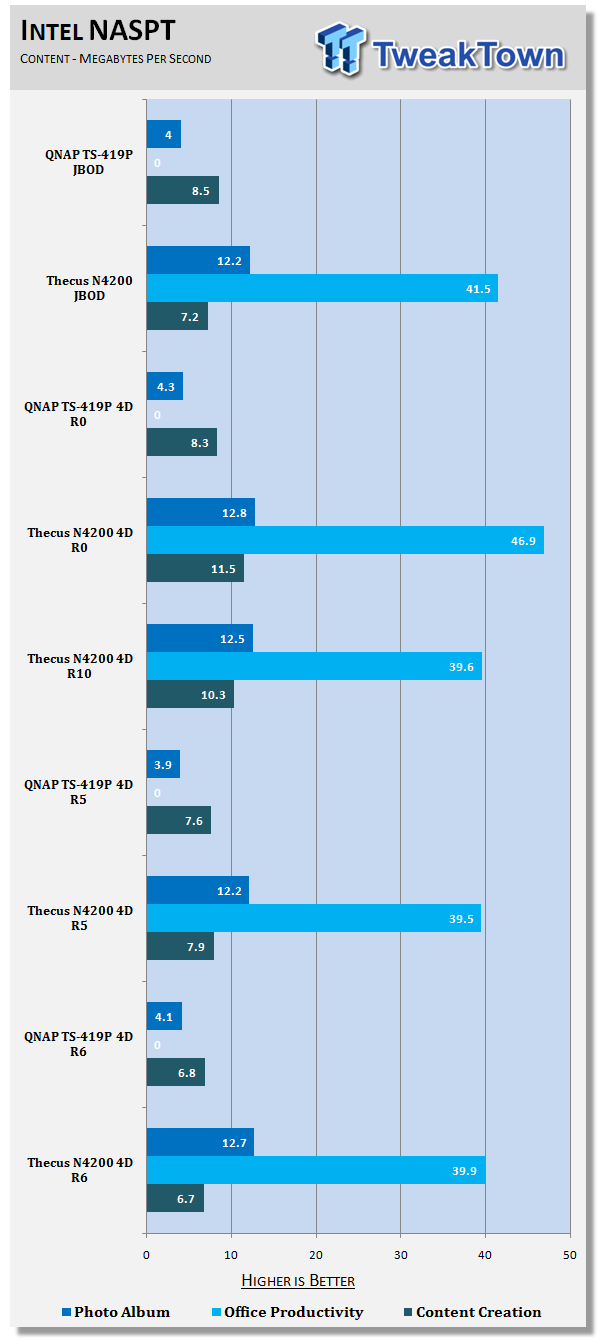 When we tested the QNAP TS-419P the Office Productivity test was not available, so results are not shown for that test.
Once again we see the Thecus N4200 performing very well for its class and also outperforming the TS-419P.
Benchmarks - Copy
Directory Copy From NAS - 64kB reads
Directory Copy To NAS - Predominantly 64kB writes, wide scattering under 16kB
File Copy From NAS - 4GB file copy, 64kB reads
File Copy To NAS - 64kB writes

One of the most used features on any NAS is simple long term storage, but the process of getting data to and from the box is one of the most memorable since moving large amounts of data can take between seconds to hours, depending on the amount of data being delivered.
In these tests we see that the Thecus N4200 is capable of near attached storage speeds when moving large files. This is important since in the office time is money and if your employee has to wait for a file to be delivered, you still have to pay even during their idle time.
Final Thoughts
At first glance the Thecus N4200 might appear to be just an upgrade to a nicer setup display, but once you start peeling back the layers you find that this NAS appliance is more than just a pretty face. The addition of a battery backup module in my mind will be much more beneficial in the long run, giving users peace of mind, all the time.
As a frequent user of NAS appliances and servers I can tell you that having a nice display makes quick configuration changes very easy, but it is a feature used very little outside of the initial setup. For the most part NAS products are set and forget; you set them up and then access the unit from a client PC. Don't get me wrong, the new OLED display is very nice and having it does add to the overall value, functionality and appearance, but when given the option between one of the other features, I will take a BBM any day of the week. Luckily we don't have to choose because Thecus has given us both.
Neither of those two features add to transfer rate performance, but the new Intel Atom dual core processor takes care of that area. The Thecus N4200 is able to deliver files at near attached storage speeds and for many users is the main gauge of how well a unit performs since it is the most often used feature. RAID 5 and RAID 6 require large amounts of memory and draw quite a bit of processing power. The Thecus N4200 has all of the processing power to handle your needs even when RAID 5 and RAID 6 are used.
When it comes to the cost, the Thecus N4200 is at the upper end of the appliance bracket, but it also has the features to justify the cost. Thecus offers many other models if the cost or feature set don't match your needs.
PRICING: You can find products similar to this one for sale below.

United States: Find other tech and computer products like this over at Amazon.com

United Kingdom: Find other tech and computer products like this over at Amazon.co.uk

Australia: Find other tech and computer products like this over at Amazon.com.au

Canada: Find other tech and computer products like this over at Amazon.ca

Deutschland: Finde andere Technik- und Computerprodukte wie dieses auf Amazon.de
We openly invite the companies who provide us with review samples / who are mentioned or discussed to express their opinion. If any company representative wishes to respond, we will publish the response here. Please contact us if you wish to respond.