VIZO SPEED-UP USB 3.0 ExpressCard
One of the hottest new technologies for 2010 is here in a low cost solution that will add connectivity to your notebook.
Published Tue, Apr 13 2010 11:30 PM CDT
|
Updated Tue, Nov 3 2020 7:02 PM CST
Rating:

89%
Manufacturer: VIZO
Introduction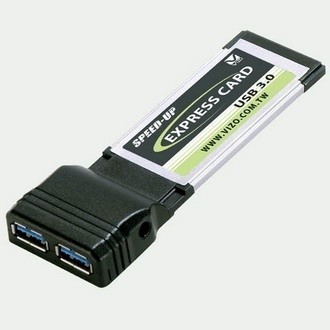 Notebooks tend not to get upgrades as often as desktops. For the most part our desktops are easy to work on and swapping out a processor, memory or HDD can be done in just a few minutes. It is possible for average consumers to do these tasks on notebook, but the process tends to be a bit more involved and in some cases a pain in the rear. Motherboards for notebooks are another matter entirely. Rarely will you be able to find something that is an exact fit for your notebook and if you did, the new board would be quite expensive. I have held onto my Lenovo T61P for the last three years and while I am starting to take a look around to see what is available on the market, I don't see two grand being spent anytime soon on a new Thinkpad W700.
At this time it is not like I can even find a notebook with the two main features I desire most of all, SATA 6G and USB 3.0. The wait to get those new technologies in a mobile powerhouse is currently set for the middle of next year when Intel will release a new chipset with both technologies tied into a new Southbridge. I guess Intel wasn't nearly as ready as I was to get Crucial's new SATA 6G RealSSD C300 in a notebook as quickly as I am.
SATA 6G mobile computing is just going to have to wait, but obtaining USB 3.0 is not as far away as you might think. VIZO recently launched their new SPEED-UP ExpressCard that features two USB 3.0 ports into a 34mm wide card that resembles what your first PCMCIA wireless card looks like, only a bit thinner.
Obviously the technology has changed a bit since your old WiFi card. That slot on your notebook is now tapped directly into a PCIe 1x lane and is capable of transferring data much faster now. Most likely on your notebook you have a double row 54mm slot that is much wider than the card you will see here today, but there is little need to worry; ExpressCard has been around since 2004 and most notebooks are shipping with ExpressCard 2, a PCIe 2.0 1x lane, but unfortunately for me my T61p uses the old PCIe 1.0 technology, but it should still be fast enough to blow the doors off USB 2.0 and give at least 100MB/s data transfers. As with most things in this industry, if there is a big slot something small can plug into it too, so you will be able to use the 32mm wide card in a 54mm slot.
Let's take a look at the specifications for VIZO's USB 3.0 ExpressCard.
Specifications, Pricing and Availability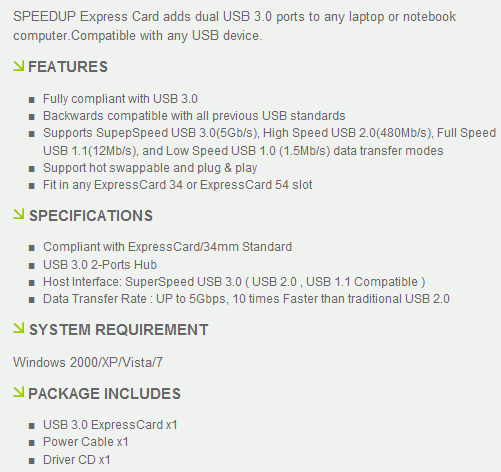 We have already debunked the 10x USB 3.0 claims made by many companies selling USB 3.0 products today. There is not a bridge chip on the market that is fast enough to push 5Gb/s, but there is also not a HDD on the market that can even come close to that mark yet either. Right now we are looking for products to break the 100MB/s barrier, or at least get close to it. The fastest USB 2.0 products we have tested have never broken 35MB/s, so tripling that slow speed in today's world of instant access to movies, music and everything else digital is a welcome goal.
At the time of writing I was unable to find the VIZO SPEED-UP ExpressCard USB 3.0 on etail websites for sale. We know that they are on the way to U.S. shores but are still uncertain of the cost. Our hope is that they will arrive very soon since there are so many great USB 3.0 external storage products already shipping. Anything to break the 35MB/s ceiling of USB 2.0 is welcome at this point for transferring and backing up data.
Let's take a look and see what you get in the VIZO SPEED-UP ExpressCard package.
The Packaging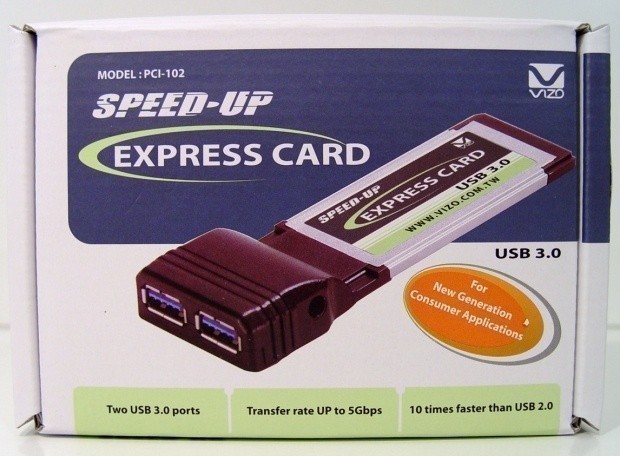 VIZO put together a pretty good package for the ExpressCard. Here we see that right on the front there is an image of the actual card as well as some specific claims to the performance and what it offers the consumer.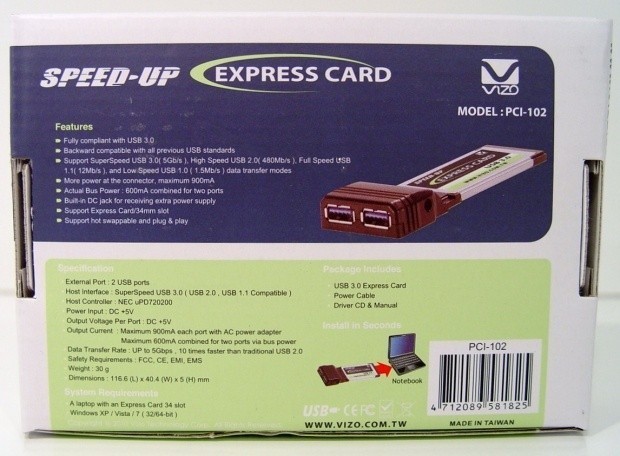 The back of the package has all of the features and specifications listed as well as what could double as a quick install guide in the form of the picture of the card being inserted into a notebook.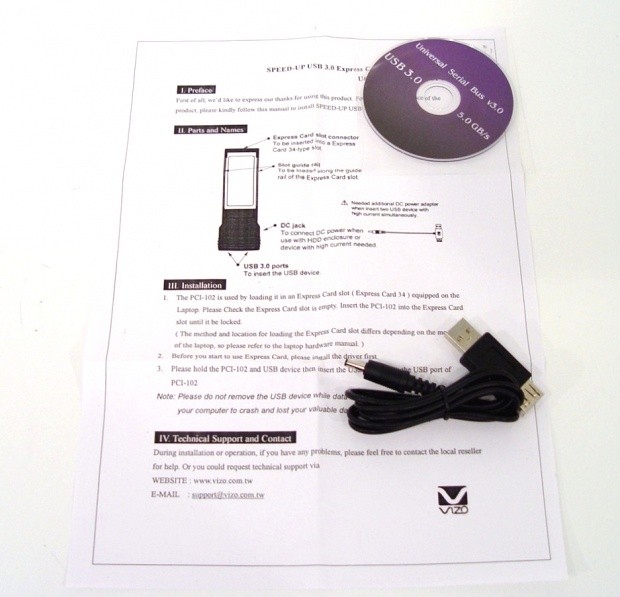 If you need even more detail on how to install the ExpressCard, VIZO has included a manual as well as a driver disk.
The VIZO SPEED-UP USB 3.0 ExpressCard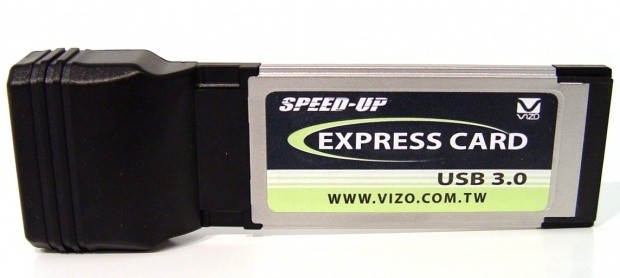 Here we get our first look at the VIZO USB 3.0 ExpressCard. There really isn't much to see on the top of the card except for the label that has nearly all of the information about the product.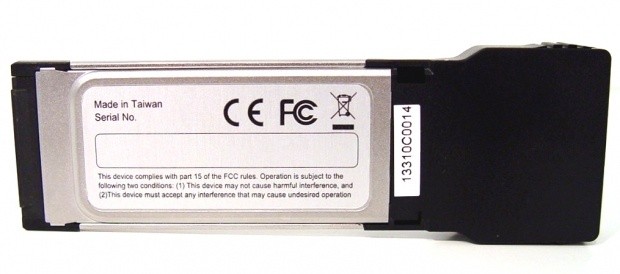 The bottom does contain some info for the FCC and the serial number would be listed here as well.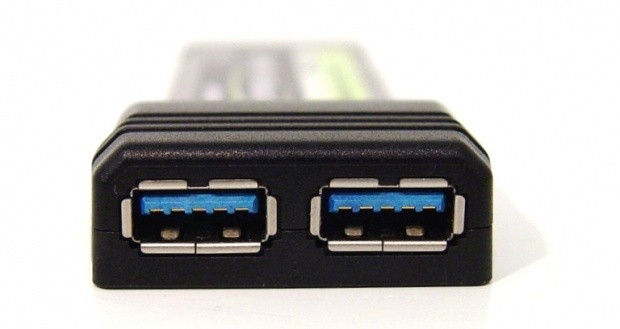 The exposed portion of the card sticks out about an inch from your notebook and has two USB 3.0 ports.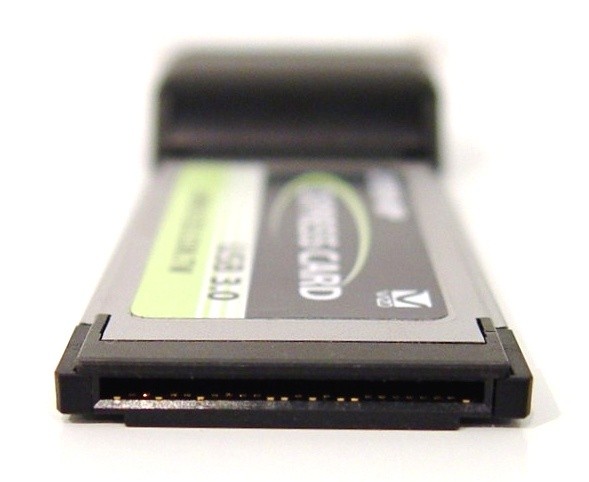 ExpressCard 2.0 was released on retail products this year and will allow the card to operate at full speed. Most users dating back to 2004 have ExpressCard 1.0, a slower version just like PCIe 1.0 is to PCIe 2.0. The VIZO SPEED-UP ExpressCard is still able to perform very well with ExpressCard 1.0, as we will show you today.
Test System Setup and ATTO Baseline Performance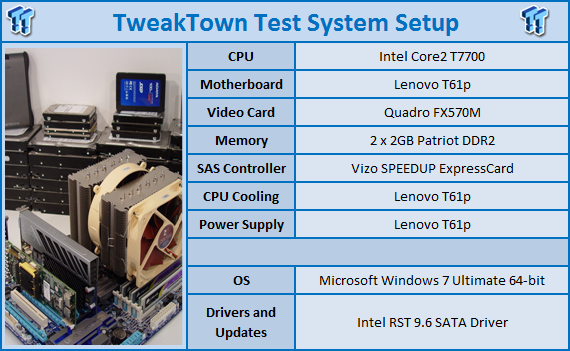 You can read more about TweakTown's Storage Product Testing Workstation and the procedures followed to test products
in this article
.
Today we are going to test the VIZO SPEED-UP ExpressCard USB 3.0 in my trusty but aging Lenovo T61p mobile workstation. We are using the A-DATA N007 USB 3.0 solid state drive as the test drive and will attempt to see just how much data is allowed to pass through the ExpressCard running on the ExpressCard 1.0 standard with a solid state drive that is able to saturate the interface. A majority of users are still using notebooks that use ExpressCard 1.0, but most notebooks released at this time use ExpressCard 2.0.
For comparison, we used the A-DATA N007 solid state drive once again and connected it to the Lenovo T61p's USB 2.0 port.
ATTO Baseline Performance
Version and / or Patch Used:
2.34
ATTO is used by many disk manufacturers to determine the read and write speeds that will be presented to customers.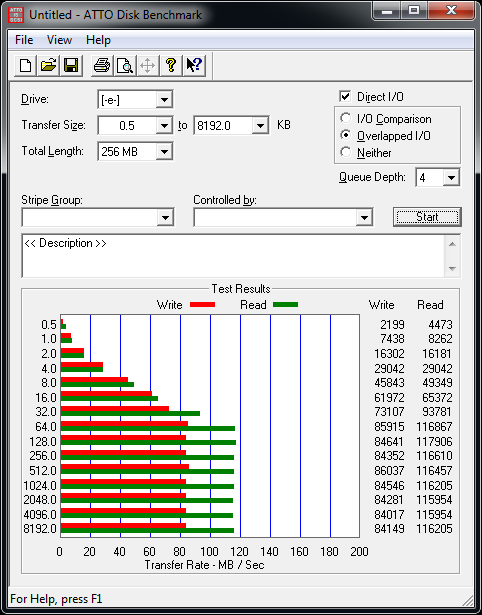 VIZO ExpressCard USB 3.0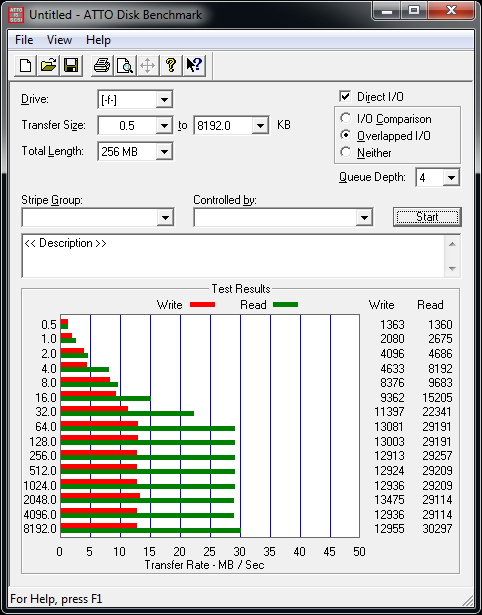 Lenovo USB 2.0
As you can see, there is a huge divide between the current and future standard. USB 3.0 has an awesome advantage when used with storage products.
Benchmarks - HD Tach
HD TachVersion and / or Patch Used:
3.0
Developer Homepage:
http://www.simplisoftware.com
Product Homepage:
http://www.simplisoftware.com/Public/index.php?request=HdTach
Buy It Here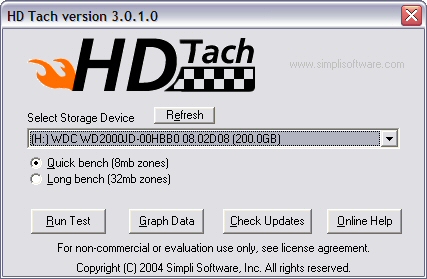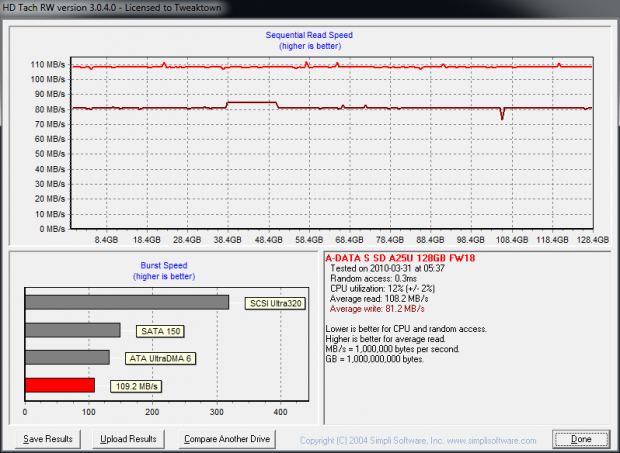 VIZO ExpressCard USB 3.0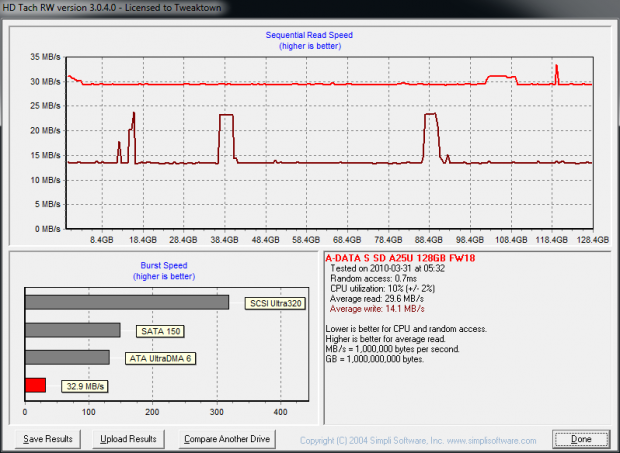 Lenovo USB 2.0
On a linier scale we see the differences between the onboard USB 2.0 and the VIZO ExpressCard USB 3.0. If you move data to and from your drive with an external HDD then USB 3.0 is clearly the way to go.
Benchmarks - Crystal Disk Mark
CrystalDiskMarkVersion and / or Patch Used:
3.0 Technical Preview
Developer Homepage:
http://crystalmark.info
Product Homepage:
http://crystalmark.info/software/CrystalDiskMark/index-e.html
Download here:
http://crystaldew.info/category/software/crystaldiskmark
CrystalDiskMark is a disk benchmark software.
Key Features:-
* Sequential reads/writes
* Random 4KB/512KB reads/writes
* Text copy
* Change dialog design
* internationalization (i18n)
Note:
Crystal Disk Mark 3.0 is not available to the public yet, but the Technical Preview does allow us to test 4K performance at queue depths of 4 and 32 in addition to 1. The current release Crystal Disk Mark only shows us QD 1.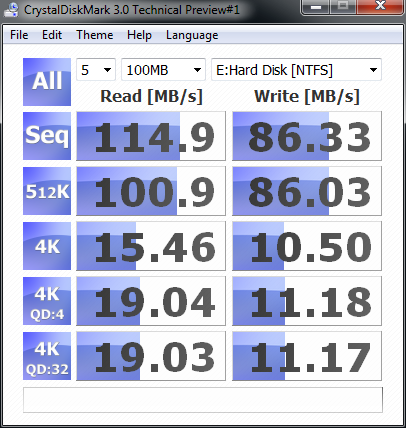 VIZO ExpressCard USB 3.0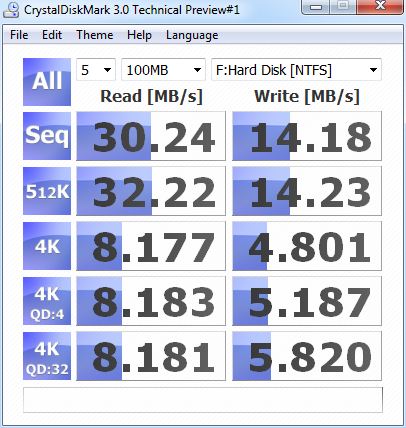 Lenovo USB 2.0
There is one last synthetic test for this article. Here we see that USB 3.0 does not handle queue depths form NCQ like SATA does, but neither does USB 2.0.
Benchmarks - PCMark Vantage Hard Disk Tests
PCMark Vantage - Hard Disk TestsVersion and / or Patch Used:
1.0.0
Developer Homepage:
http://www.futuremark.com
Product Homepage:
http://www.futuremark.com/benchmarks/pcmark-vantage/
Buy It Here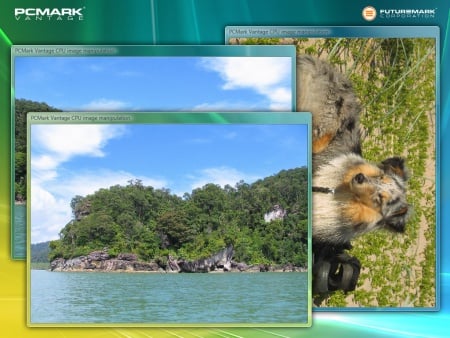 PCMark Vantage is the first objective hardware performance benchmark for PCs running 32 and 64 bit versions of Microsoft Windows Vista. PCMark Vantage is perfectly suited for benchmarking any type of Microsoft Windows Vista PC from multimedia home entertainment systems and laptops to dedicated workstations and high-end gaming rigs. Regardless of whether the benchmarker is an artist or an IT Professional, PCMark Vantage shows the user where their system soars or falls flat, and how to get the most performance possible out of their hardware. PCMark Vantage is easy enough for even the most casual enthusiast to use yet supports in-depth, professional industry grade testing.
FutureMark has developed a good set of hard disk tests for their PCMark Vantage Suite. Windows users can count on Vantage to show them how a drive will perform in normal day to day usage scenarios. For most users these are the tests that matter since many of the old hat ways to measure performance have become ineffective to measure true Windows performance.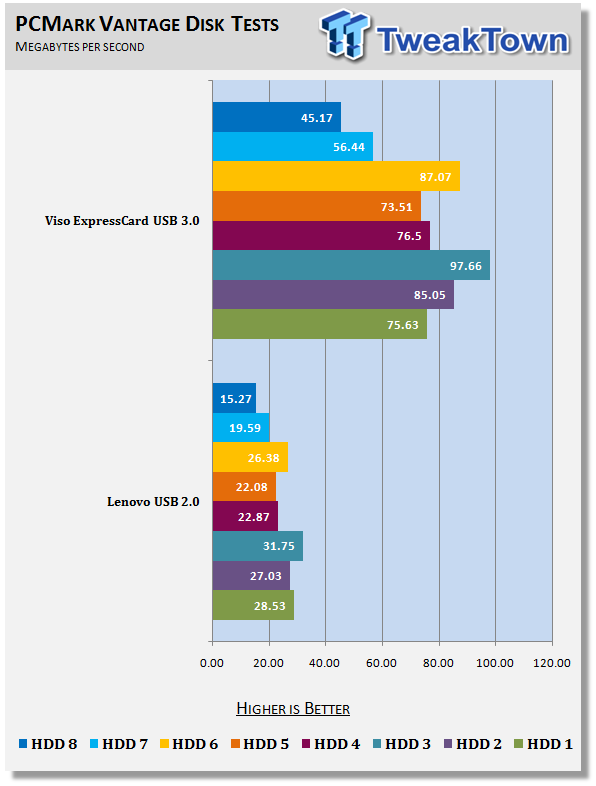 HDD1 - Windows Defender
HDD2 - Gaming
HDD3 - Windows Photo Gallery
HDD4 - Vista Startup
HDD5 - Windows Movie Maker
HDD6 - Windows Media Center
HDD7 - Windows Media Player
HDD8 - Application Loading
There is little need to run your external drive as an operating system disk, but these tests do show how USB 3.0 is much faster than USB 2.0.
Benchmarks - AS SSD
AS SSD BenchmarkVersion and / or Patch Used:
1.2.3577.40358
Developer Homepage:
Alex Intelligent Software
Product Homepage:
Alex Intelligent Software
Download here:
http://www.alex-is.de/PHP/fusion/downloads.php?cat_id=4&download_id=9
AS determines the performance of Solid State Drives (SSD). The tool contains four synthetic as well as three practice tests. The synthetic tests are to determine the sequential and random read and write performance of the SSD. These tests are carried out without the use of the operating system caches.
In all synthetic tests the test file size is 1GB. AS can also determine the access time of the SSD, the access of which the drive is determined to read through the entire capacity of the SSD (Full Stroke). The write access test is only to be met with a 1 GB big test file. At the end of the tests three values for the read and write as well as the overall performance will be issued. In addition to the calculated values which are shown in MB/s, they are also represented in IO per seconds (IOPS).
Note:
AS SSD is a great benchmark for many tests, but since Crystal Disk Mark covers a broader range of 4K tests and HD Tune Pro covering sequential speeds, we will only use the Copy Benchmark from AS SSD.
- Copy Benchmark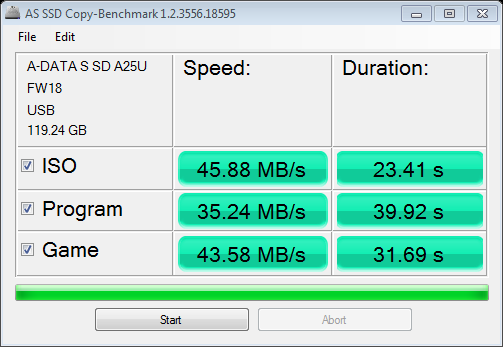 VIZO ExpressCard USB 3.0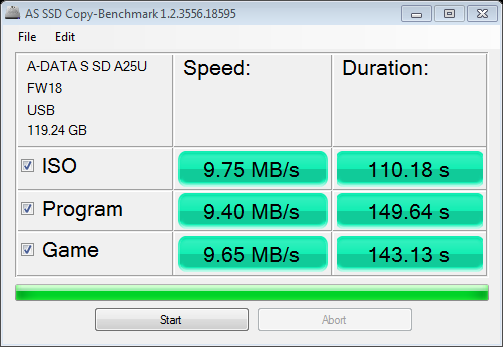 Lenovo USB 2.0
Of all the tests ran today this one covers what most users actually use their external HDD for. The Copy Test is able to transfer files to and from the VIZO ExpressCard USB 3.0 connected drive much faster than the native USB 2.0 found on the Lenovo T61p's USB 2.0.
Final Thoughts
Obviously what the world really wants is to see USB 3.0 integrated into motherboard and notebook chipsets. Desktop motherboards are already on the market that have add-in chips to handle USB 3.0, but the notebook products are a bit more power conscious and this feature will be few and far between until we see chipset integration. Until Intel gets us a USB 3.0 chipset our only option for notebooks will be ExpressCard solutions like the VIZO SPEED-UP ExpressCard.
I really wish I had solid numbers to give you when it comes to pricing, but at this time they are nowhere to be found. We do know that the products are shipping to retailers right now and should show up online any day now. I really don't expect to see the cost go much over 50 USD, but I have been wrong before at making assumptions on retail pricing. If it does come in at a 50 USD price point and you move data back and forth between your notebook and an external drive then the performance increase makes the 50 Dollar purchase (plus the other cost of an external USB 3.0 enclosure) quite a bargain considering the amount of time that will be saved moving files.
You are just going to have to be honest with yourself next time you are moving files and ask if cutting the time required by a third or more is worth the 75+ Dollar investment. If you do it enough then your answer will quickly turn to yes, because you are watching that transfer bar slowly go from left to write and imagine what you could be doing instead of sitting on your butt watching the time pass by.
USB 3.0 performance as it sits right now is nowhere near the claimed 10x increase over USB 2.0. That notion is a fairy tale with today's hardware, but one day it might be true. Either way, the only thing is really need right now is to be able to break the 100MB/s mark since that is the speed of most large modern HDDs and will give us enough bandwidth to quit losing hair while transferring data. The VIZO SPEED-UP ExpressCard is able to deliver on that, so we are very happy with its performance today.
PRICING: You can find products similar to this one for sale below.

United States: Find other tech and computer products like this over at Amazon.com

United Kingdom: Find other tech and computer products like this over at Amazon.co.uk

Australia: Find other tech and computer products like this over at Amazon.com.au

Canada: Find other tech and computer products like this over at Amazon.ca

Deutschland: Finde andere Technik- und Computerprodukte wie dieses auf Amazon.de
We openly invite the companies who provide us with review samples / who are mentioned or discussed to express their opinion. If any company representative wishes to respond, we will publish the response here. Please contact us if you wish to respond.