ViewSonic VNB108 Pinetrail Atom N450 10.1-inch LED-backlit Netbook
ViewSonic has introduced its Asian only sold VNB108 10.1-inch LED-backlit netbook soon after Intel came out with the new Pinetrail platform.

Published Wed, Apr 7 2010 8:56 AM CDT
|
Updated Tue, Nov 3 2020 7:02 PM CST
Introduction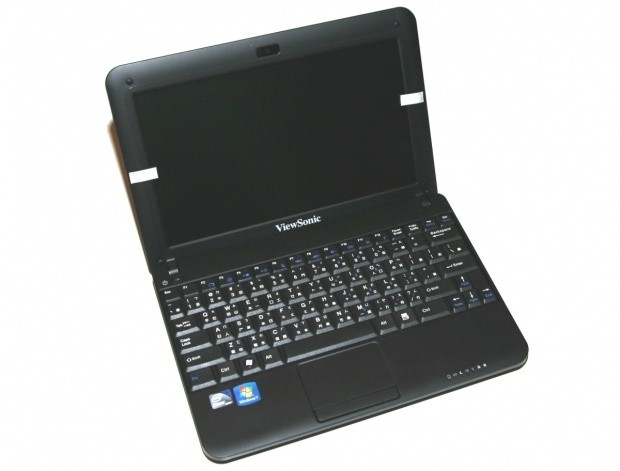 Netbooks still continue to be popular, just ask Acer and ASUS who own the market and who have literally flogged millions of units in the past few years. Reports have surfaced recently that netbook orders are slowing, but that doesn't stop more and more companies coming out with new models on almost a daily basis.
ViewSonic is a company you would likely associate with monitors, but the Taiwanese company has had its nose in new various different businesses for a little while now and one of those is computers. ViewSonic produce a range of regular laptops, but also got in on the netbook thing when Intel released its first Atom processor.
Now that Intel's new Pinetrail netbook platform is out on the market, the one with the Atom N450 processor with built-in graphics and memory controller for better battery life, ViewSonic is also out with a new netbook built on the same platform.
Today we get a close-up look at the ViewSonic VNB108. It may only be on sale in Asian markets, but it promises some lovely worded features such as 802.11n wireless networking, an advanced anti-glare LED screen and Windows 7 support. But how does it really perform?
Follow us over the next few pages as we attempt to give you an answer! It does have a really competitive price, so we are keen to check it out.
Specifications, Availability, and Pricing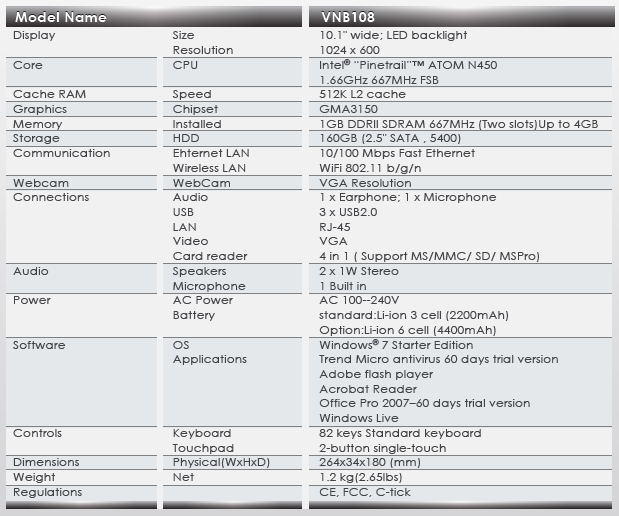 The ViewSonic VNB108 is actually only for sale in Asia at the moment, so if you want one, you'll have to order it and have it shipped if you are not in Asia.
The VNB108 is on sale right now in Taiwan for 11,900 NTD or around 376 USD at the time of writing. This we feel is a very reasonable price for such a new netbook based on the new Intel Atom N450 Pinetrail platform.
You can pick between black, white, red and blue colors - the particular version we are looking at today is the black version. Full specifications are in the image above. Move onto the next page for a close up look at the netbook itself.
The ViewSonic VNB108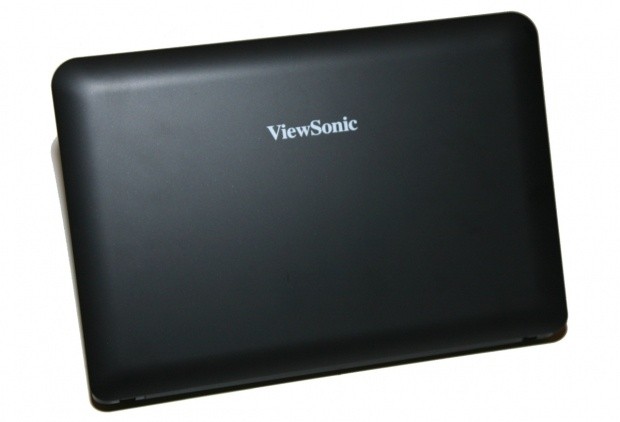 First up we get a look at the top lid of the VNB108 and it is very basic with a simple ViewSonic logo towards the top. As we said, this is of course the black version, but the VNB108 also comes in white, red and blue depending on your color choice. It uses a very smooth black plastic finish and it is clear that decent quality materials have been used due to the smooth touch and also decent durability of the material that feels quite strong.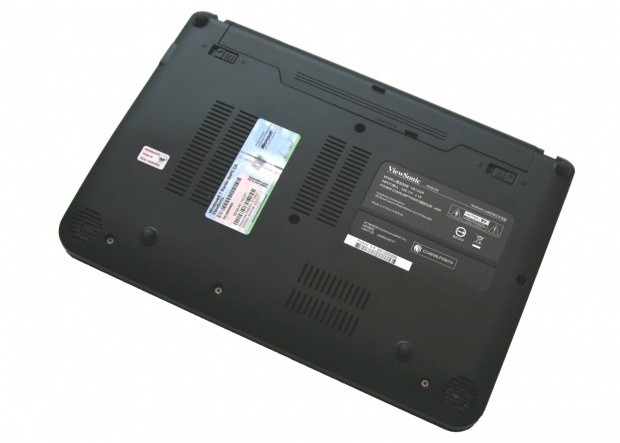 The base of the netbook is pretty standard with several air vent holes and two 1 watt speakers at the bottom left and right. At the back you can see the included Li-ion 3 cell (2200mAh) battery installed.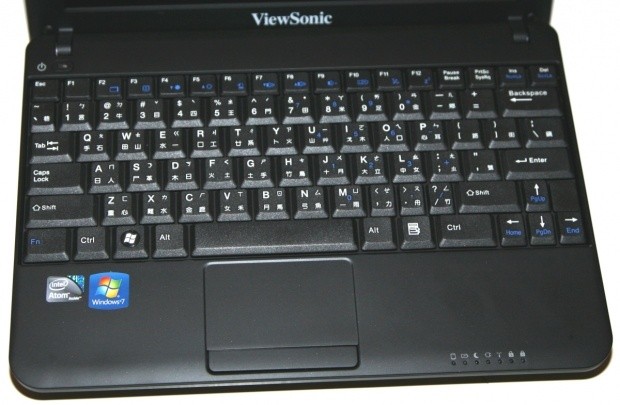 The keyboard on the VNB108 is pretty decent - it takes up the full size of the netbook front and has a standard full size left shift. The track pad is a decent size and while not the biggest we've seen, it's rather workable. There are plenty of hotkey functions such as increasing and decreasing screen brightness and speaker volume and disabling or enabling wireless and the webcam.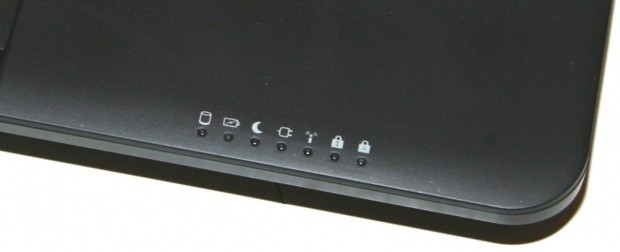 At the front right of the netbook on the front you get a series of LED indicators that tell you what is happening.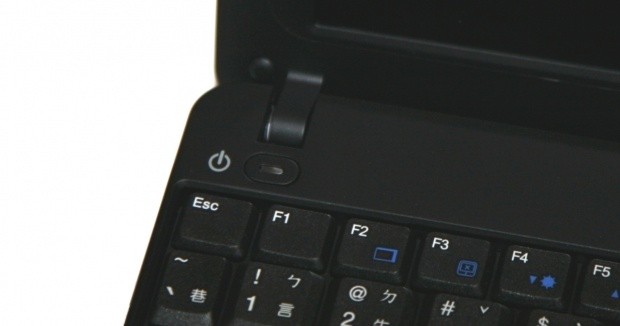 There is only one button above the keyboard and that is the power on button that glows blue when the netbook is turned on. Simple, yet stylish!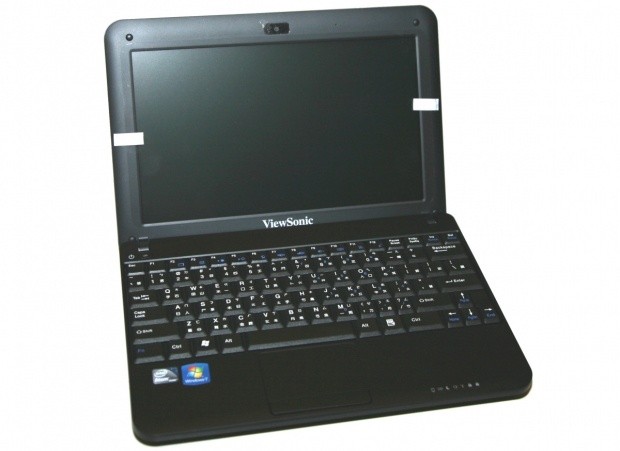 The VNB108 uses what ViewSonic calls an 'advanced' 10.1-inch or 25cm LED-backlit screen and from a company that specializes in displays, you would expect this part of the netbook to excel above others on the market. The screen is capable of a 1024 x 600 resolution (we would have preferred 1280 x 720 for 720p HD support) and is easy on the eye, simple to read and very bright. It also uses an anti-glare material which eliminates annoying finger prints as well as annoying reflections. Some people like a glossy display while others prefer this type, so it is something to keep in mind.
Just above the monitor in the center area is a web camera that is capable of a 640 pixel resolution.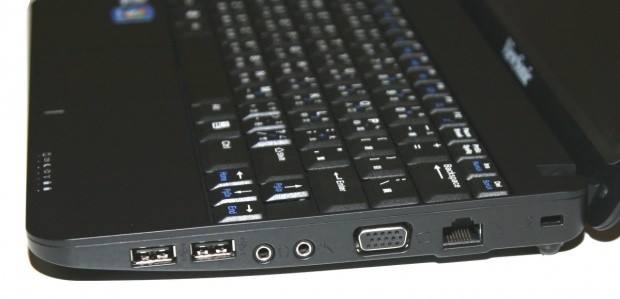 Starting on the right side of the netbook looking from the front, we have two USB 2.0 ports, headphone and microphone jacks, VGA output, the 10/100 Ethernet port (Gigabit would have been much nicer!) and a Kensington lock port for security.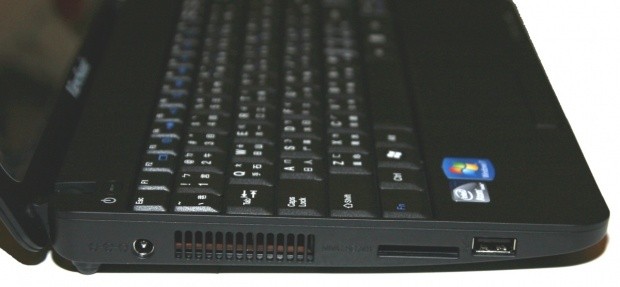 Now on the left side of the netbook looking from the front we have another USB 2.0 port (making a total of three), a 4 in 1 card reader supporting MS, MMC, SD and MSPro flash memory cards, a hot air extracting vent and the AC power input jack.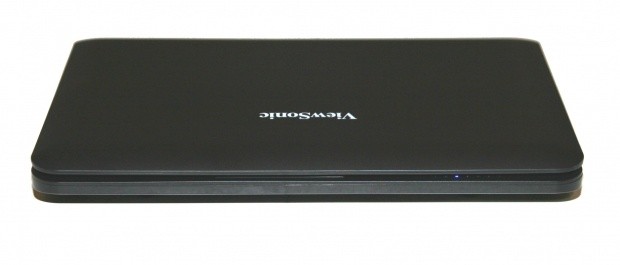 Here we get a look at the front profile of the VNB108 netbook. It is rather sleek and slim and is only 34mm high. We didn't show the back profile as it is blank with nothing to expose.
Overall the ViewSonic VNB108 is a rather plain looking notebook with unassuming looks, but that is what I like about it. The simplicity it possesses is stunning and has a simple style that is well designed and rather functional with a good keyboard and fantastic screen. Of course, being a netbook it is lightweight and only comes in at 1.2Kg net with the battery installed. It's almost like a feather compared to my regular notebook.
Performance
Battery Life and Audio and Video Encoding Performance
Below you get a look at the main screen CPU-Z screenshot to give you a look at the actual specifications of the unit that we will be testing further on below.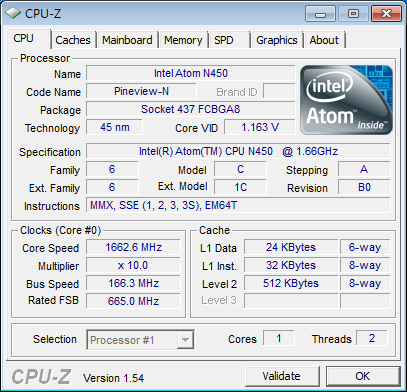 The ViewSonic VNB108 will be run through the standard netbook test regime here at TweakTown. This includes Battery Eater Pro, iTunes Encoding and Media Transcoding.
Please note that no 3DMark or game tests are included for our netbook reviews since they are not powerful enough to run the graphics intensive tests. All systems are tested "as is", which means operating systems and drivers can and do vary and some come pre-installed with applications that may or may not affect performance. Any anti-virus or security applications are disabled and uninstalled before any testing is started as they can affect test numbers.
Battery Eater Pro is very hard on batteries so you are likely to get more run time in the real-world, depending on how you use the machine. Since we compare all laptops and netbooks the exact same way, though, it creates a fair and balanced playing field for our comparisons.
For the power saving mode test I run the machine in 'Power Saver' mode with turn off display disabled and brightness set to 50%, sleep mode disabled, HDD turn off disabled and minimum CPU set to 5%.
For the performance mode test I run the machine in 'High Performance' mode with turn off display disabled and brightness set to 100%, sleep mode disabled, HDD turn off disabled and minimum CPU set to 100%. Do note that some systems even when set to 100% CPU may force drop down the clock speed when AC power is lost.
Wireless is kept enabled during all tests and nothing else unusual is disabled. Time is rounded up to the nearest minute.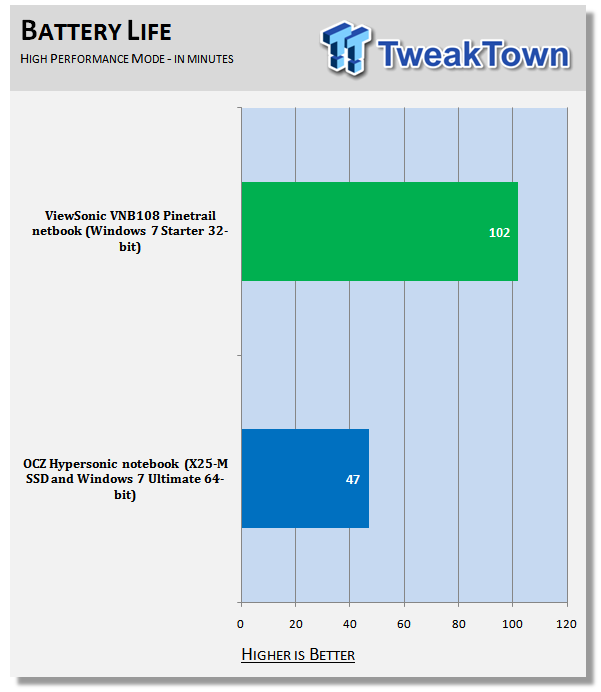 Under High Performance mode we see the VNB108 offer great battery life at 102 minutes, which is more than double that of the regular notebook from Hypersonic.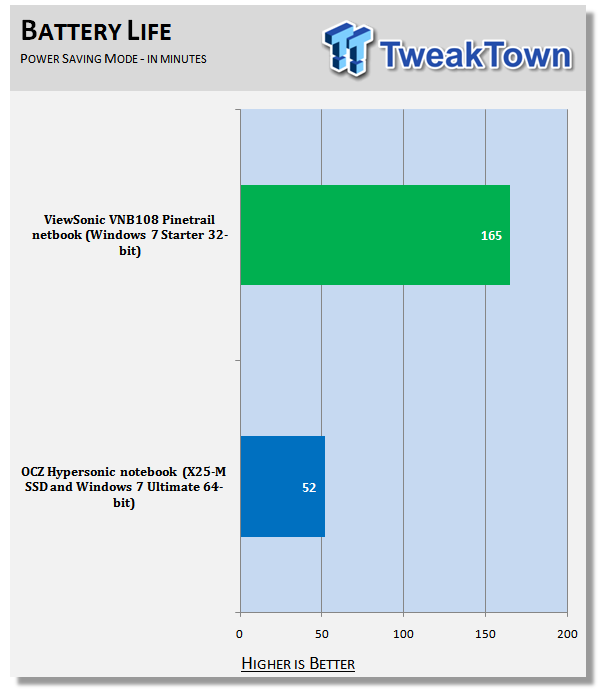 In Power Saving mode we can see that again the VNB108 offers great performance being able to provide almost three hours of battery life even with Battery Eater Pro stressing out the system.
For the iTunes encoding test I take
The White Stripes - Under Great White Northern Lights
CD album in MP3 format and encode it to AAC format using iTunes and time the results with a stopwatch.
All tests are performed with the system in High Performance mode with minimum CPU set to 100%.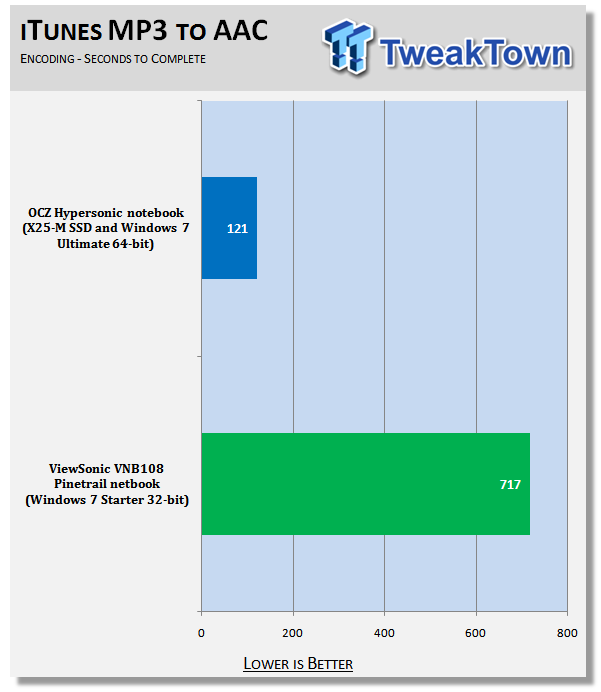 Here we see a rather typical result for the ViewSonic VNB108 netbook.
For the movie encoding test I take the
Microsoft Magic of Flight
VC-1 WMV video with six channel audio (1080p HD) and transcode it to XviD (1080p HD) with LAME MP3 two channel audio and a MP4 container using MediaCoder 0.7.3.4616 32-bit edition.
All tests are performed with the system in High Performance mode with minimum CPU set to 100%.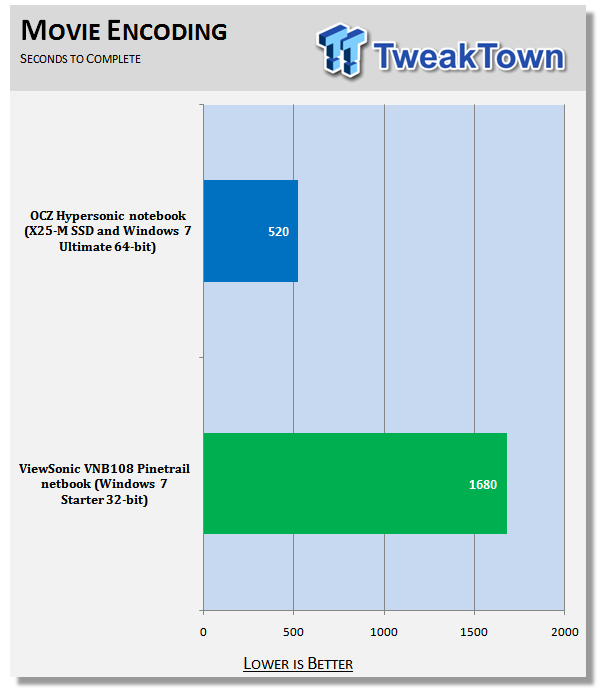 Again we see typical netbook-like results from the VNB108.
Hands On Usage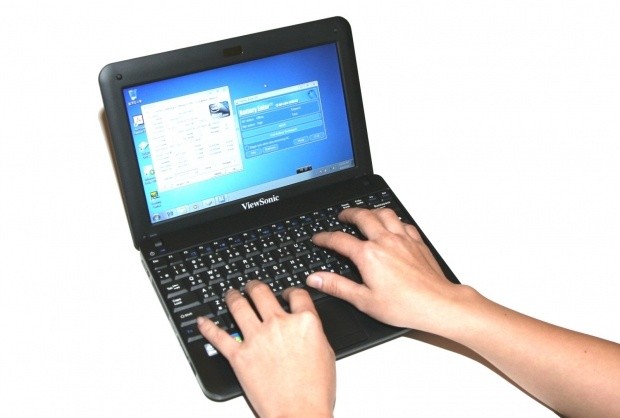 As I've mentioned, I am pretty impressed with the ViewSonic VNB108 netbook. It does take some adjusting getting used to a netbook after using a desktop PC and larger laptop, but the VNB108 really isn't that bad.
Performance is as can be expected. It is a netbook and it will never win any performance benchmarks, but for the price and what it is intended (email, web surfing, IM and light office work), it works very well. Impressions of the unit are solid with a very good build quality. The black version we tested uses a high quality plastic finish that is very smooth to touch and feels fairly solid.
The keyboard is pretty good. It uses about 98% of the front and that is good as we sometimes do see some netbooks that do not use up the full space allowed and that is real bad. The keys are a pretty good size, lager than usual, but we have seen some netbooks with larger keys. Still, typing is pretty comfortable and I adjusted in a very short time and my hands or fingers are not small. Yeah, they aren't mine above if you were wondering! The space bar is a little small, but there is a handy little menu key on the right in between the alt and control keys. The right side shift is a pretty good size and the enter key is good enough.
The track pad mouse buttons are a little unique in that there is a single button for both left and right 'clicks', but after only a few minutes I was adjusted. You do need to push down rather firmly, though - and a little too much I feel. I would like to see this improved in future models by ViewSonic as it is really only one of the faults I could find.
As far as the screen goes, we are left rather impressed. The 10.1-inch LED screen is one of the best we have seen on a netbook. It comes with an anti-glare coating that is fantastic in two ways in that it eliminates finger prints as well as annoying reflections. From just about all angles the screen is visible and some business travelers for instance may not like this for privacy reasons and those people with busy eyes.
As far as the sound quality goes, you get stereo audio in the form of two 1 watt speakers at the front base of the netbook. I am no audio expert, but the quality I experienced was pretty good. It is nowhere near as good as the desktop Logitech speakers I use, but adequate enough I think. The volume level is quite loud actually and that surprised us; it does not sound tinny, but it is lacking some bass - but do not forget that we are talking about a netbook here.
Wireless performance may a bit of an issue. Sitting in the same position about 7 or 8 meters away from the router, a normal laptop gets 5 bars (full strength) signal, but the VNB108 only gets 3 bars (medium strength) signal. I haven't tested enough Pinetrail based netbooks to tell if this is normal, but it's something to keep in mind.
Final Thoughts
ViewSonic's VNB108 is your typical netbook without too many unusual surprises.
Having said that, it's probably one of the better ones on the market right now. It is based on Intel's new Pinetrail N450 CPU which offers around about 20% better battery life than previous models. It also offers a brilliant 10.1-inch LED-backlit screen that blocks out annoying reflections as well as basically eliminates finger print issues.
As far as styling goes, it is one good looking netbook. The black model which we tested uses a high quality plastic material that not only looks good, but is also solid. The surface is also smooth. It is a very simplistic looking netbook, but manages to create enough style that it is also very easy on the eye. The keyboard is also one of the better ones when comparing to other netbooks, taking up about 98% of the front and offering medium sized keys. Even someone like myself with big fingers adjusted in only a short time from a full size desktop keyboard.
As for the down sides, the screen resolution only supports a maximum of 1024 x 600. We would have much preferred a 1280 x 720P HD resolution, though we understand that all current 10.1" netbooks only go as high as 1024 x 600 (as far as we know, that is) to keep with the 16:10 widescreen ratio. The track pad is a good size, but the mouse buttons need some work. I found the right click button particularly hard to get used to as it does require quite a hard push to get response from it and this is something ViewSonic needs to address in upcoming models.
As far as performance goes, it's a netbook and they basically all offer rather similar performance. We cannot comment too much on price as the netbook is only available for sale in Asia, but in Taiwan it has a price tag that works out to be around 376 USD which is a little higher than other comparable models, but also pretty good value for money in my books.
PRICING: You can find products similar to this one for sale below.

United States: Find other tech and computer products like this over at Amazon.com

United Kingdom: Find other tech and computer products like this over at Amazon.co.uk

Australia: Find other tech and computer products like this over at Amazon.com.au

Canada: Find other tech and computer products like this over at Amazon.ca

Deutschland: Finde andere Technik- und Computerprodukte wie dieses auf Amazon.de
We openly invite the companies who provide us with review samples / who are mentioned or discussed to express their opinion. If any company representative wishes to respond, we will publish the response here. Please contact us if you wish to respond.