GIGABYTE M8000 Xtreme Gaming Mouse
Shane steps away from video card benching and looks at a mouse. Will he wish he was reviewing a HD 5970 instead?
Published Thu, Feb 25 2010 8:07 AM CST
|
Updated Tue, Nov 3 2020 7:02 PM CST
Introduction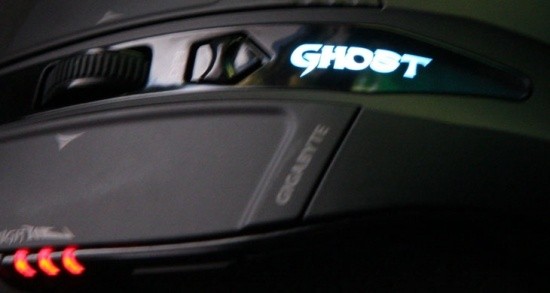 I'm reviewing a mouse! It's been a while since I've looked at a peripheral and when I say a while, I mean years. Since Chinese New Year was coming in fast and GIGABYTE wanted to get a sample of the M8000X out before the factories shut down, I said to send it over to me.
To be honest, I was looking at getting a new mouse sometime soon, though GIGABYTE didn't even cross my mind. If I want a motherboard the chances are it's going to be from GIGABYTE. I'm a huge fan of their boards and I use an X58 one in my main testbed and my main machine. Video cards are much the same story with more GIGABYTE VGAs lying around than I can poke a stick at.
If I want a mouse, however, I'm going straight to Logitech. I started with a Logitech mouse and after that I had another one. After that I slightly defected to Razer for a while before coming back to Logitech and getting another and then another one in the form of the G5 which I still use today.
With the press document sitting in my inbox on the GIGABYTE M8000X, I took the time to really look through it. Damn, it looked oh so sweet. But features and software are only half the story; what really matters is how it feels. Something that most companies struggle to achieve is the greatness in a fantastic feeling mouse. Let's find out how GIGABYTE is traveling in this segment these days.
The Package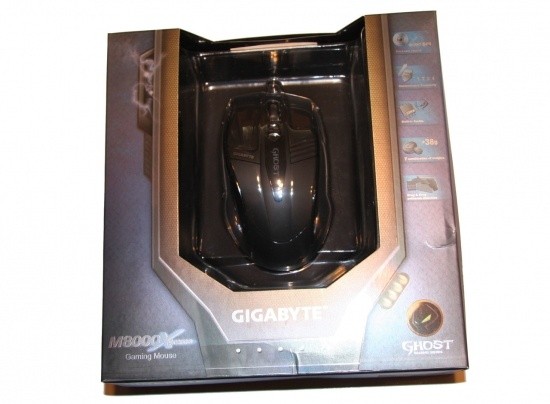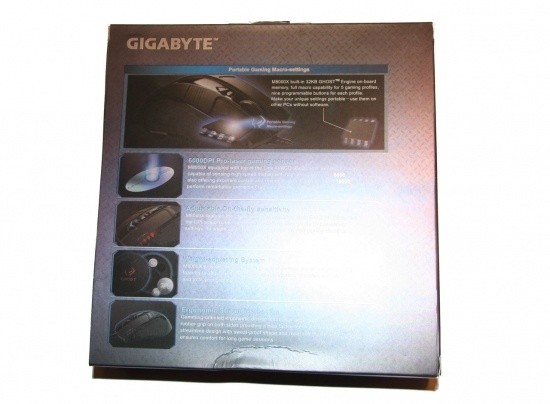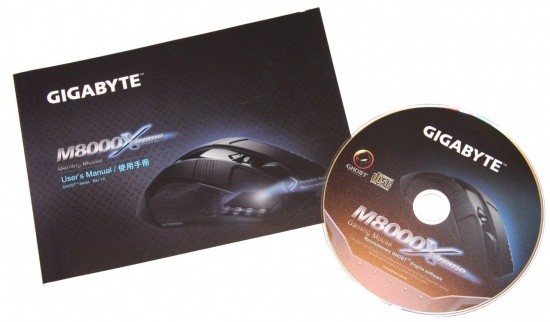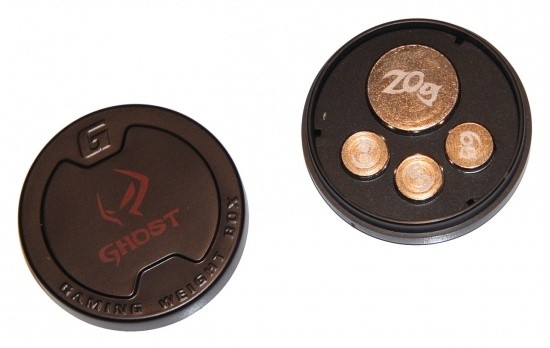 Checking out the package, you've got a really nice design going on that gives us a good idea of some of the features that are on offer. From the front we also get a great straight on look of the mouse.
As far as extras go, the item that stands out the most is the little Ghost Weight Box which carries with it three 6g weights and a single 20g one. Weights are a fantastic extra these days. As someone who hates wireless mice and the technology, I do love that heavy feel they offer.
Also included, but not pictured is a set of Teflon feet that can be installed on the mouse in the event you want your mouse to glide around a little more.
The Mouse
Taking the mouse out of the box for the first time, it feels so light. Instantly I feel so glad that GIGABYTE have chosen to implement the ability of adding weights to the device. I would be so concerned that if I had to deal with the out-of-the-box weight I would be throwing it off the table constantly.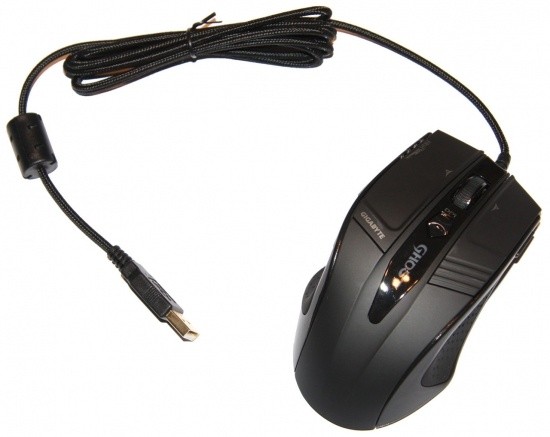 Looking at the top of the mouse, we've got a fair bit going on. We've got our two standard left and right buttons along with a wheel in the middle that has the ability to go left and right. From the wheel point of view this particular one is the clicky type (that's what I'm calling it!). When you scroll up and down you can feel each time you click over. For someone who uses the wheel a lot in documents, this makes moving up and down through pages feel so much more precise.
Below the wheel we have another little button that goes up and down; this adjusts the DPI on the fly which is really just a fancy way of saying that it increases or decreases the sensitivity. Below that we have a little Ghost logo which has some LEDs sitting behind it that glow, as you probably saw in the introduction picture.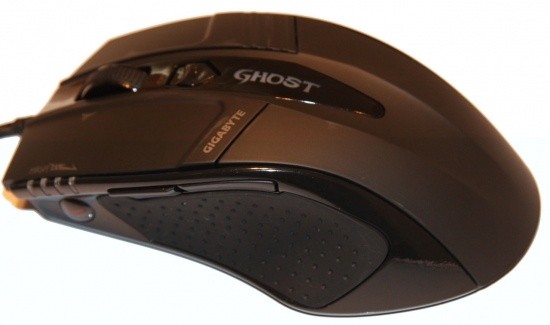 Moving to the left side, we have our two thumb buttons which give us the ability to move forward and backwards throughout Explorer or your internet browsing software. On the far left we've got four little LEDs which let you know what level the sensitivity is at and to finish it all of we've got a nice bit of rubber that prevents slipping and feels really great.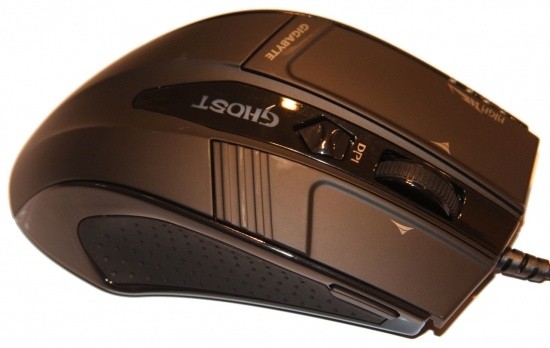 Moving to the other side, we again have a bit of rubber along with another single button. This button is used to change the gaming profiles which we'll get into a bit more when we check out the software.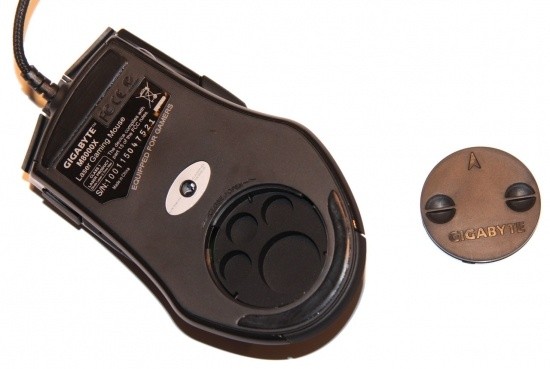 Flipping the mouse over, we can see there's a little cartridge where the weights can be installed. You can use a number of combinations that will let you include up to 38 grams of extra weight.
Specifications and Software
Specification and Software
On paper the M8000 Xtreme Gaming Mouse packs everything you would want from a serious gaming mouse. We've got a massive 6000 DPI on offer which out shines most of its competitors along with the ability to add extra weight to the mouse which is something that many companies still aren't offering.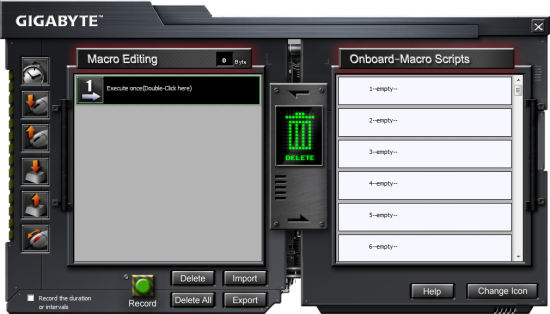 Macros are something we're seeing more and more companies offer and for any serious gamer it's something that you'll appreciate. On the M8000X GIGABYTE are offering a massive 70 macros along with an easy to use macro editor that offers drag and drop.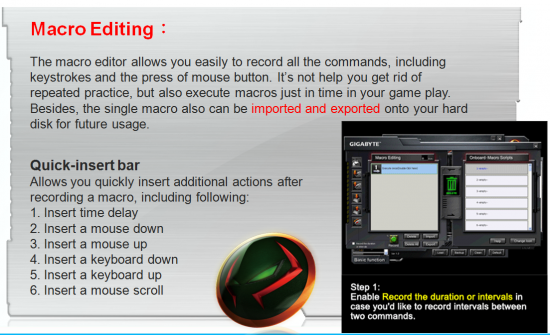 While I'm not a huge user of macros, the software is pretty easy to use and combined with the game profiles you're able to switch between the different macro scripts with a click of the button.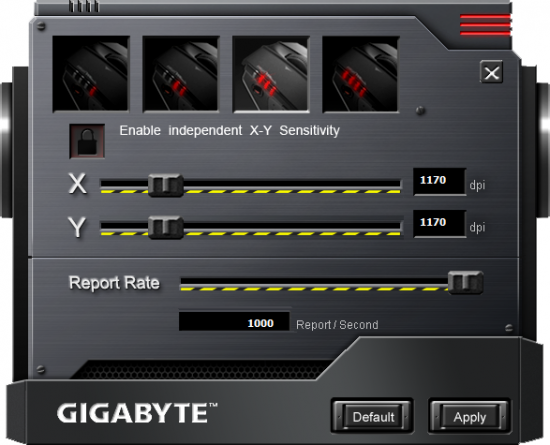 As we mentioned above, we've got support for a massive 6000 DPI which is really just a crazy amount of sensitivity. Like most gaming mice these days, we've got the ability to adjust the DPI on the fly. Inside the Ghost software we can adjust the sensitivity and save them in four separate profiles. Here we've also got the ability to adjust the X and Y axis separately if you want.
Other features that make the mouse stand out include the gold-plated USB connector and high quality nylon braided cord. As also mentioned, the ability to adjust the weight of the mouse from an extra 6 grams to 38 grams and some fancy LED lighting that make the mouse stand out.
Software - Continued
Software
While we've had a look at some of the windows within the main software, let's just take the time to have a quick look at the Ghost software as you see it when you open it.
In the middle of the screen you're greeted by a picture of the mouse and all the buttons.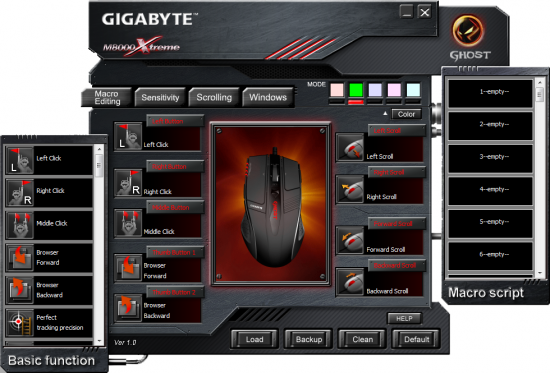 From here you can change what you want each button to do. There are a number of presets on the left hand side which you can use to change the action of your buttons. On the right side of the window you have the macros scripts that you've setup which you're able to drag and drop into the button you want to associate it with.
Across the top we've got two sections; the first is the left side which lets us get into some of the other windows which include the macro editing and sensitivity editing which we looked at on the last page. The scrolling one opens up a screen that lets you adjust the amount of lines that you scroll with each click, while the Windows button simply fires up the Windows mouse settings.
On the other side you're able to select the color of the LED. You've got a couple of preset ones and if you click the Color button it opens a box up with even more options. To be honest, some of the colors don't really look like they do on-screen with the white being more of a pale blue, but the chances are you'll find a color you like without any real drama. If the LED annoys you, all that has to be done is to select the color black.
All in all, the software is pretty nice. It looks fancy, but isn't complicated. If you're interested in macros you've got loads of options. In the event you're thinking that it's a feature you might like to try out, the drag and drop setup is really nice and easy to get used to.
Final Thoughts
Looking at the GIGABYTE M8000 Xtreme Gaming Mouse, I felt that if it could knock my Logitech G5 which has served me for the past few years off its perch, it could be a winner. I have confidence in GIGABYTE in many areas, but when I plugged the M8000X into my system I left the G5 still plugged in.
Today, though, the G5 has been unplugged and the M8000X sits in the top spot that is my mouse pad. While I don't consider myself a huge gamer, the M8000X from GIGABYTE does what I consider the most important feature to me well, and that is that it feels comfortable.
As a gaming mouse the M8000X is great; it carries with it all those features you want including a huge amount of buttons, big DPI numbers, on the fly DPI adjustment and a massive amount of macro support.
It has to be comfortable, though. When you combine the fact that you will probably also use the mouse a lot just around the desktop, it's important that you're able to grip it for hours on end. While it took me a few days getting used to the back and forward buttons over the G5, there are little things like this which will happen with any new mouse as it's surely different to what you're currently using.
At 60 bucks over at Newegg
it comes in cheaper than other gaming mice like the Razor Lachesis, Microsoft SideWinder and Logitech G9, while managing to offer some more features including the highest DPI out of the batch.
If you've got a hand that enjoys that larger bulge that mice like the G5 offer and a lot of the gaming orientated mice from Microsoft, you'll find it very comfortable. And the extra touches like the rubber on the side are nice and let your hand really relax.
While you might feel a little worried that GIGABYTE are an option you should only consider for motherboards and video cards, I'm here today to tell you that when it comes to gaming mice they know what they're doing. They've been making peripherals for a while now and it's clear they're getting into the swing of things these days. Throw in the fact that they're more aggressive when it comes to pricing and this is a real winner of a product.
PRICING: You can find products similar to this one for sale below.

United States: Find other tech and computer products like this over at Amazon.com

United Kingdom: Find other tech and computer products like this over at Amazon.co.uk

Australia: Find other tech and computer products like this over at Amazon.com.au

Canada: Find other tech and computer products like this over at Amazon.ca

Deutschland: Finde andere Technik- und Computerprodukte wie dieses auf Amazon.de