Vantec USB 3.0 PCI-e Host Card w/ NexStar 3 SuperSpeed Enclosure
The race is on for SuperSpeed USB 3.0 devices. Today we look at a prototype enclosure from Vantec paired with their PCIe Host Card.
Published Thu, Feb 11 2010 10:46 PM CST
|
Updated Tue, Nov 3 2020 7:02 PM CST
Rating:

85%
Manufacturer: Vantec
Introduction

The race to USB 3.0 has been fast and furious. When GIGABYTE and ASUS launched their revised P55 motherboards that supported the new SuperSpeed USB 3.0 protocol, it was like dropping the green flag at the 500 Mile Race. Since then everyone has been quickly gathering the needed personnel and equipment to get their own USB 3.0 device on store shelves. CES proved that the race was far from over and that a leader has yet to be crowned. At the show we saw more prototypes than retail ready products. Buffalo Technology picked up an early lead when they launched their
DriveStation HD-HXU3
in Japan with other markets seeing availability soon after, but 500 miles is a long way to go.
Enthusiasts are the early adapters and most don't want a drive with their enclosure when it costs over 300 USD. These users already have piles of hard drives and see little need for an all-in-one solution. Toaster products like the
Sharkoon QuickPort USB 3.0
are nice for product reviewers and those that never need to travel with a high speed data device, but the system lacks portability and is a high security risk for bleeding edge business users. What the world needs is an external USB 3.0 enclosure that is durable, has a low cost of ownership and is portable.
Just before CES we were made aware of an incoming package from Vantec. Instead of bogging us down with a sit down meeting where we could go over performance graphs, pie charts and a bunch of nonsense that you guys wouldn't want to read even if you were stuck at your in-laws all weekend, Vantec has done us all a favor and just shipped over their latest products. In our package we received a PCIe USB 3.0 controller card (PN: UGT-PC302) and the latest prototype of the soon to be released NexStar 3 SuperSpeed (PN: NST-280S3-BK).
The USB 3.0 PCIe Host Controller is a two port device that is so small that it may just fit GIGABYTE's X58A-UD7 with the massive heat sink installed. This card uses a single PCIe lane and uses the NEC USB 3.0 controller that is the standard for USB 3.0 connectivity at this time. The Vantec host card is already on the shelves at Newegg and other retail / e-tail locations.
The Vantec NexStar 3 SuperSpeed appears more like a retail unit than a prototype. The only thing that gives it away is the white box that it was shipped in. Everything inside of the box appears to be ready to go, so I don't think we will have to wait too long for retail availability. The NexStar 3 SuperSpeed is even listed on Vantec's website, but a Coming Soon label is also listed.
Let's take a look at Vantec's USB 3.0 solutions.
Specifications, Availability and Pricing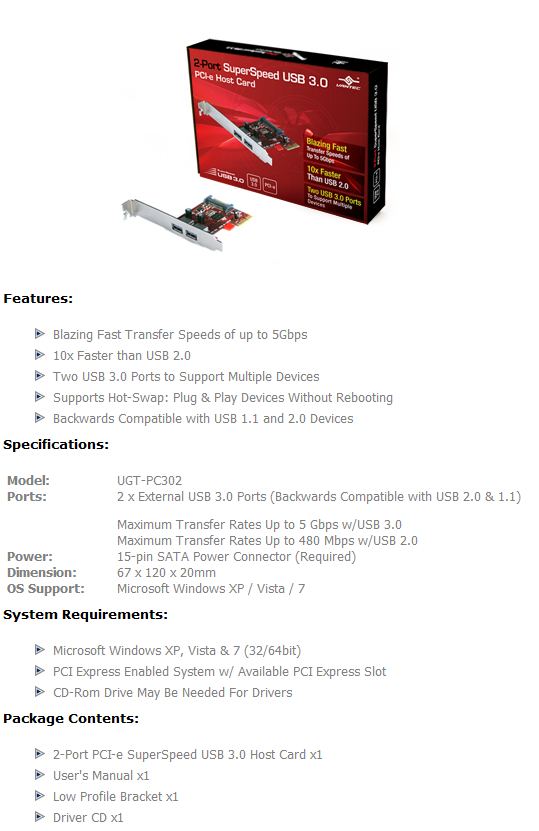 The first part we are going to take a look at will be the USB 3.0 host card since it is already available. Vantec is very vague in their marketing literature to the PCIe standard used. We have seen a few PCIe 2.0 cards already on the market and some even use four lanes to route the data. Still, PCIe 1.0 can handle 250MB/s before the cost of overhead, but testing will show us what the performance is like.
The Vantec USB 3.0 host card is tiny. I really couldn't believe just how small it actually was even when holding it in my hand. Several motherboards have PCIe 1x connectors that are setup so a longer card couldn't fit. If you have one of these motherboards and wondered what in the world you could actually use in that slot, this is it.
I have already touched on the availability of the host controller; you can get it now from a number of places. Newegg currently has the card
listed at 43.99
with stock available. To me the price seems ridiculously high considering the ASUS S6U3, another add-in card with two USB 3.0 ports and two SATA 6G ports that is
listed for only 29.99
. ASUS does only support the use of the card in their own motherboards and more specifically their P55 boards, but we have used it in several other boards with success. Looking at both the ASUS and Vantec cards side by side, I just can't come to grips with how the pricing is working out considering the U3S6 has 5x the number of components, uses 4 PCIe Lanes and has a PCB that looks like it came off an entry level video card production line. Then again, USB 3.0 is new and you take what you can get, right?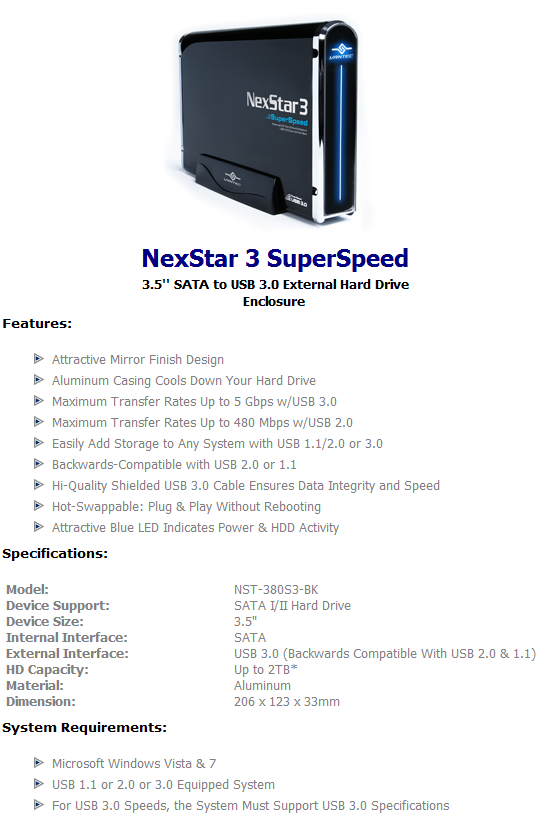 Vantec's website shows two NexStar 3 models, the first is a 3.5 inch form factor unit and the second is a 2.5 inch form factor unit. When these do become available be sure to double check that you are purchasing the right version for the type of drive you are planning on using with the enclosure.
As mentioned previously, the NexStar 3 is not currently available on the market and we should point out that changes could be made between now and the time of retail availability. This also includes the benchmark performance numbers that we will see later in this article. Our sample unit arrived in a white box so we know that at the time it was shipped the retail package was not available. The fit, finish and accessory package with the enclosure appears to be ready to ship out of the door.
The NexStar 3 is quite an attractive piece of work as you will see in a couple of pages. The enclosure has a nice blue LED that you can manually choose to disable when installing the drive. The drive sled fits nicely in the outer cover and even though it is metal, the weight is low enough that it will not be noticed in your backpack or briefcase. Vantec included a nice USB 3.0 cable, but the unit does need an external power cable as with any 3.5 inch form factor enclosure since USB does not send 12 volts. The power brick isn't very bulky, but it does add to the nuisance factor when looking to transport the enclosure from one place to another. Because of this I can't wait to see the 2.5 inch form factor NexStar 3 since it may not actually require an external power source. Vantec's website does list a power brick as included in the accessory pack, but we will just have to wait and see.
The Packaging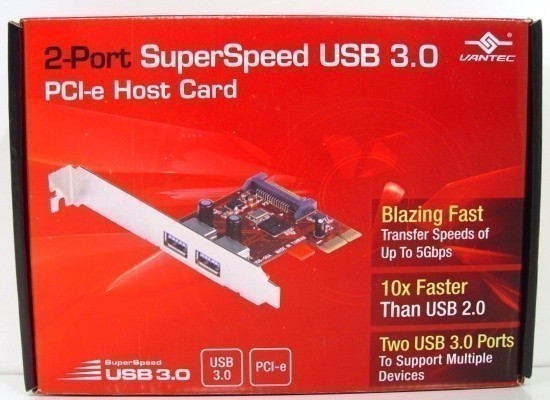 Here we see Vantec's retail package for the 2-Port SuperSpeed USB 3.0 PCIe Host Card. There are some pretty big claims on the front that show the full potential of USB 3.0 like 10x USB 2.0 speeds and 5Gbps.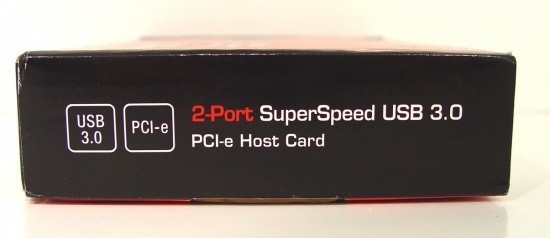 The side of the package mimics the information on the front.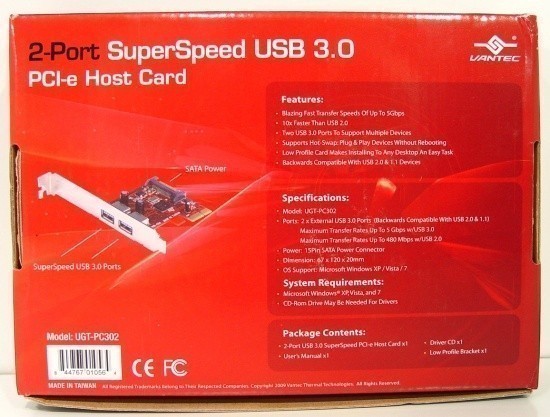 The back side of the package lists the features, specifications and package contents as well as showing a nice image of the card and the ports / power connector.
The Vantec 2-Port SuperSpeed USB 3.0 PCIe Host Card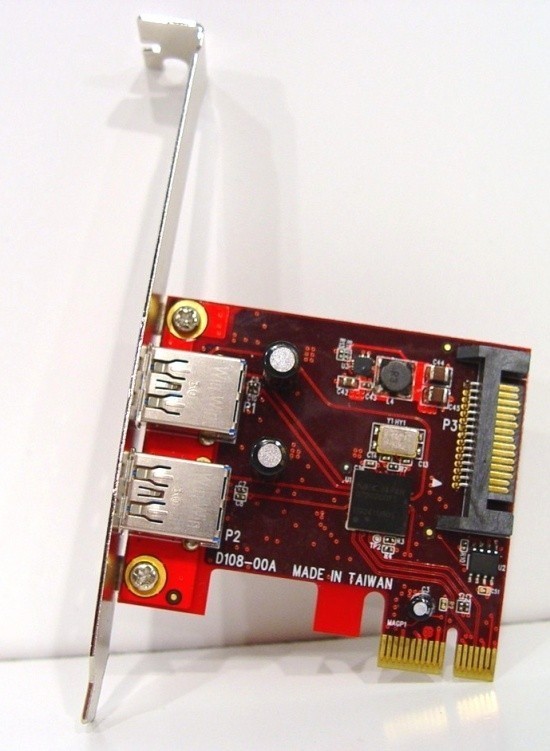 Here we get our first look at the Vantec Host Card. The back of the card has the two USB 3.0 ports and along the leading edge is where you will find the SATA power connector. Vantec does include a 4-pin Molex to SATA power adapter, but either way you will need to provide additional power to the card for it to operate (verified in the TT Test Lab).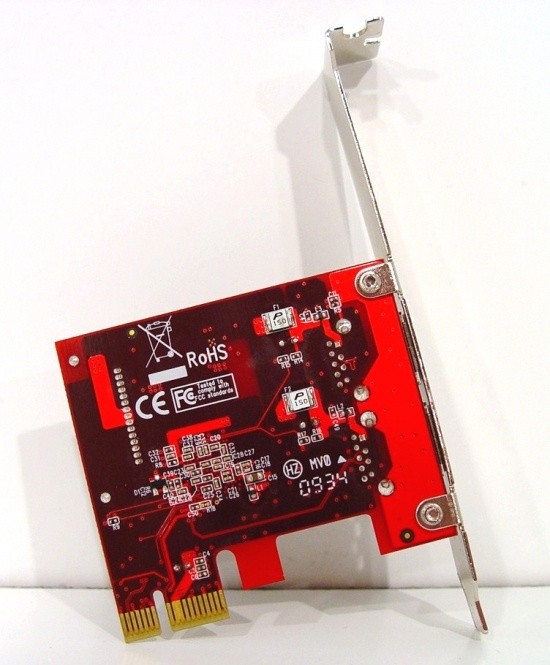 There is not much going on with the back of the card.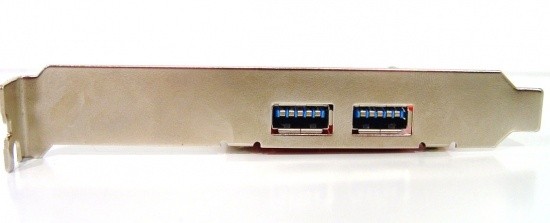 Here we see the USB 3.0 ports. USB 3.0 is backwards compatible with USB 1.1 and 2.0 so you can plug any number of existing devices into the card.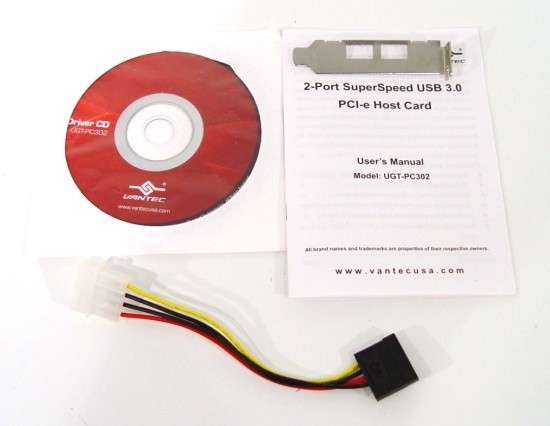 Included in the package are a driver disk, power cable, miniPCIe bracket and manual.
The Vantec NexStar 3 USB 3.0 3.5" Enclosure
The Vantec NexStar 3 USB 3.0 3.5" Enclosure Card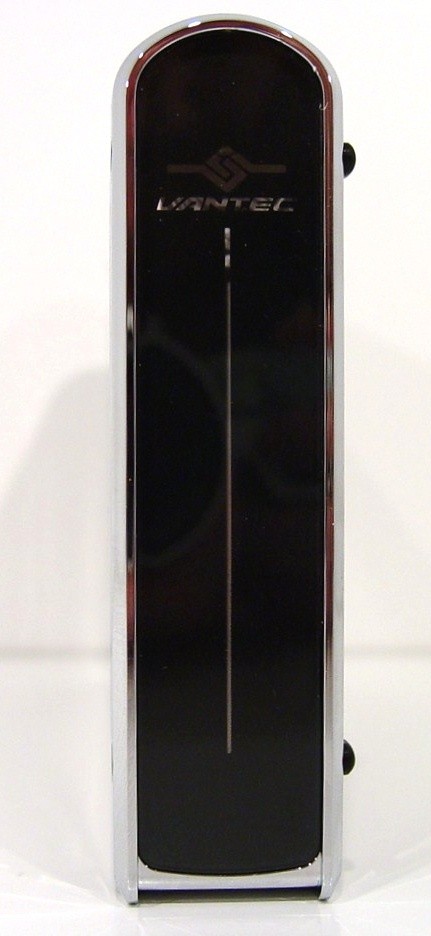 The beauty of next generation hardware lust is right here. The Vantec logo shines a brilliant blue when power is connected and the rest of the enclosure is piano black with a couple of touches of chrome. Put together, the enclosure looks very nice, but chances are after a couple of trips the small scratches made from other items rubbing up against it will show.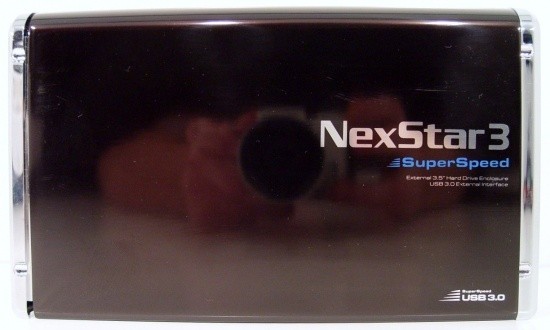 The top of the enclosure is very reflective. We had to get some finger prints on it just to be able to take a picture that wasn't like a mirror reflecting the photo.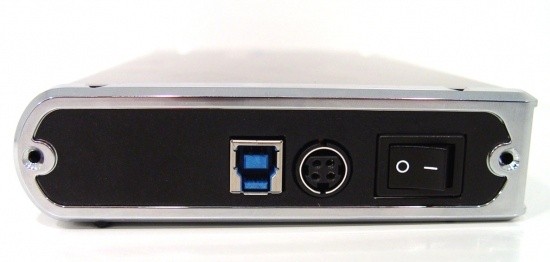 Now we are getting to the good stuff. On the back of the enclosure we have the power plug, switch and USB 3.0 cable connector. If you are in a bind you can use a USB 2.0 cable on USB 3.0 ports, but you will only get 2.0 speeds. Plugging in the power cable requires looking at the plug and port since they need to be aligned.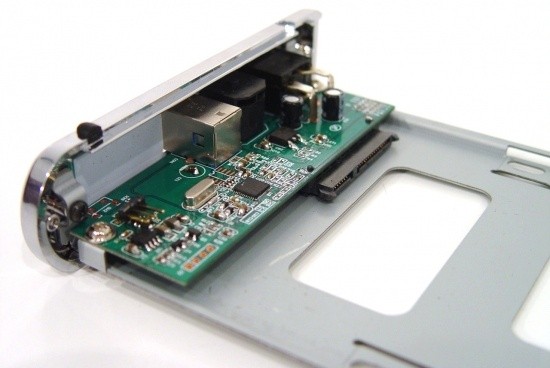 On the inside we see all of the tech goodies. The three pin connector is for plugging in the front blue LED. If you don't like a bunch of blue lights sitting on your desk, you can forgo using the plug, but you will then have to feel for vibration to see if the drive is on.
One thing we have noticed a lot recently on drive sleds for enclosures, NAS and DAS products is the inclusion of mounting locations for 2.5 inch form factor drives. Here we see that Vantec did not include them.
With the market going this direction
, it would have been nice to see a few extra holes for 2.5 inch drives.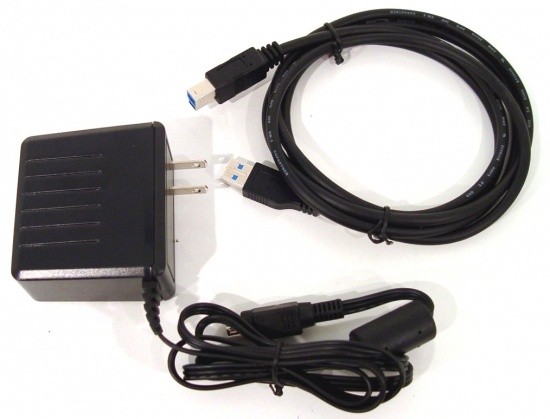 Vantec includes a nice quality USB 3.0 cable with the enclosure and here we also see the power brick. The shape of the power brick is a little odd. It will work perfectly on a wall socket, but when used on most power strips it will need to go at the end to not block another plug.
Test System Setup
Test System
Motherboard
: ASUS P6T7 WS SuperCoputer (Supplied by
ASUS
)
Processors
: Intel 975 EE (Supplied by
AVADirect
)
Memory
: Corsair Dominator 1600 MHz Triple Channel Kit
Graphics Card
: Leadtek Quadro FX1700 (Supplied by
Leadtek
)
Enclosure
: Lian Li V2000
Cooling
: Noctua NH-U12P SE2 (Supplied by
Noctua
)
SAS Controller
: LSI MegaRAID SAS 9260-8i (Supplied by
LSI
)
Operating System
: Microsoft Windows 7 Ultimate X64
You can read more about TweakTown's Storage Product Testing Workstation and the procedures followed to test products
in this article
.
Not all reviews go as smooth as we would like to see, but sometimes what should take no more than a couple of hours turns into a weekend long affair. We were all set to test the NexStar 3 enclosure against the Buffalo DriveStation HD-HXU3 that we previously reviewed using the same controller, but the HD-HXU3 passed away on the first test. After taking the HD-HXU3 apart, we learned that the drive was fine but the USB 3.0 electronics were no longer operating as they should be.
The next phase of testing had us trying to run an Indilinx controlled solid state drive in the NexStar 3 on the Vantec supplied USB 3.0 controller card, but that too led us down a path of sorrow. In Cameron's review of the
Sharkoon QuickPort
he stumbled upon an issue with a used Intel X25-M and the NEC USB 3.0 controller chip. At the time it was written off as an issue with a used drive (TRIM was not supported on his first generation X25-M), but we are quickly learning that the issue rests elsewhere. I first started testing with a previously tested drive and after finding that the combination wouldn't work, tried a new, fresh out of package drive.
In Cameron's testing he was able to complete all of his tests, but the write speeds would drop to near 0 readings. My testing confirmed his write test scores with solid state drives used over USB 3.0, but I was not able to finish any extensive write test without the NexStar 3 dropping off of the system. This is clearly not an issue that plagues just the Vantec NexStar 3, but at this time looks to be a compatibility issue with early USB 3.0 hardware. We will investigate this further in the future.
To find something to test Vantec's new USB 3.0 products against, we had to dig deep into the storage room. When we emerged it was either one of two USB 3.0 motherboards, or the ASUS U3S6 USB 3.0 / SATA 6G controller card. Since the ASUS card was already used for a price comparison, we thought it would be a good time to show how the two USB 3.0 cards performed against each other. I would have really liked to have used another USB 3.0 enclosure to test with as well, but the DriveStation was the only other one we had on hand and as you have already read, it didn't survive past 50 hours of use.
Our last hurdle was finding a drive to use for all of the tests. Our stack of Seagate 7200.11's were being used to test a new high capacity NAS server so we quickly decided on the new Seagate Barracuda XT 2TB drive that has been hanging round the office for weeks unused. To get a fresh start, we tested the Barracuda XT on the P6T7 WS SuperComputer's native Intel SATA II port and used that for our baseline performance.
Ideally we are hoping to see USB 3.0 enclosures running at the same speeds as drives attached to native SATA 3G motherboard ports. How close it gets remains to be seen, but we are going to find out today.
Benchmarks - HD Tune Pro
HD Tune ProVersion and / or Patch Used:
3.00
Developer Homepage:
http://www.efdsoftware.com
Product Homepage:
http://www.hdtune.com
HD Tune is a Hard Disk utility which has the following functions:
- Benchmark: measures the performance
- Info: shows detailed information
- Health: checks the health status by using SMART
- Error Scan: scans the surface for errors
- Temperature display
HD Tune Pro gives us accurate read, write and access time results and for the last couple of years has been gaining popularity amongst reviewers. It is now considered a must have application for storage device testing.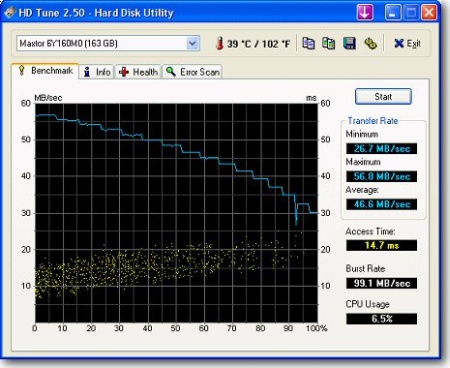 Read Tests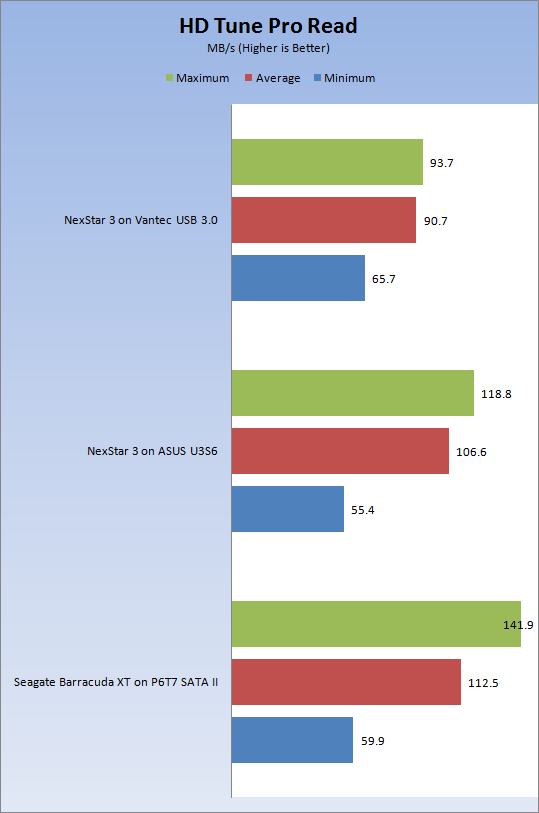 The group of performance numbers on the bottom shows us what the drive is capable of running at. Ideally we would see similar results for the two sets of numbers on the top, but it doesn't look like that is going to happen today.
When it really comes down to it, both USB 3.0 cards limit our maximum speeds and on the performance graph it was very obvious since we just saw a straight line that held its ground over half of the benchmark.
The Vantec USB 3.0 PCIe Host Card is limited more than the ASUS U3S6 by more than 20MB/s at peak and around 16MB/s on average.
Write Tests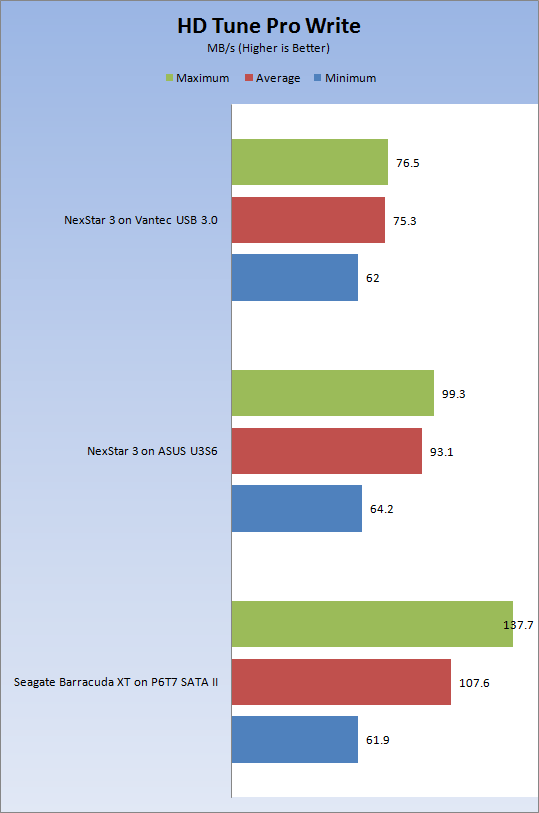 The write speeds of the Vantec USB 3.0 PCIe Host Card are also severely limited. Here we see a 20 to 25 MB/s difference between the ASUS U3S6 and the Vantec card.
Benchmarks - Everest Random Access Time
Everest Random Access TimeVersion and / or Patch Used:
4.60
Developer Homepage:
http://www.lavalys.com
Product Homepage:
http://www.lavalys.com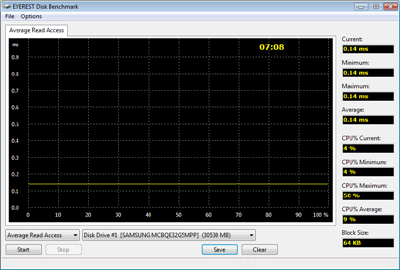 Everest Ultimate and Corporate Edition offer several different benchmarks for testing and optimizing your system or network. The Random Access test is one of very few if not only that will measure hard drives random access times in hundredths of milliseconds as oppose to tens of milliseconds.
Read Tests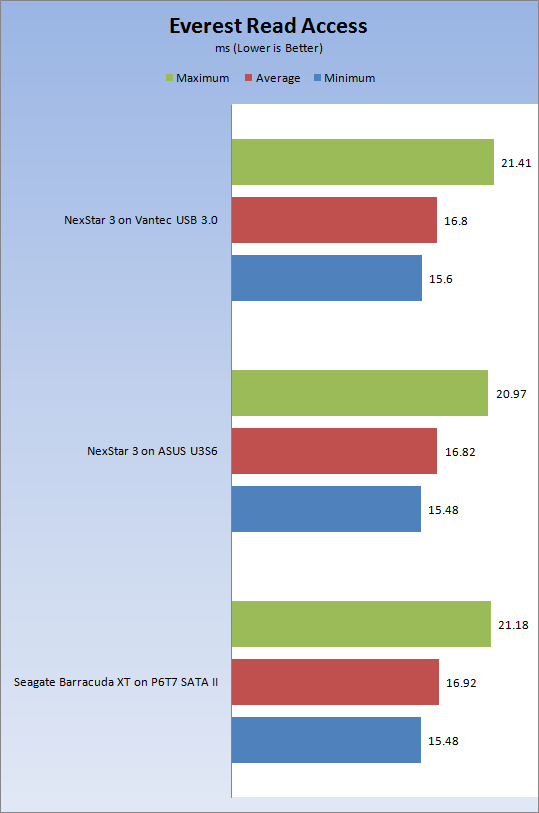 The good thing is that neither USB 3.0 controller card injects latency when it comes to reading the drive.
Write Tests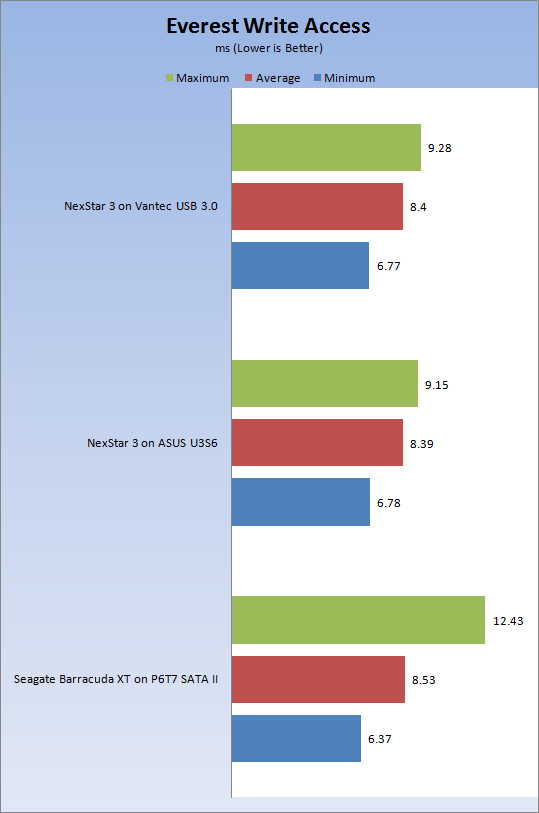 Write latency is no different; USB 3.0 has around the same as native SATA.
Benchmarks - PCMark Vantage Hard Disk Tests
PCMark Vantage - Hard Disk TestsVersion and / or Patch Used:
1.0.0
Developer Homepage:
http://www.futuremark.com
Product Homepage:
http://www.futuremark.com/benchmarks/pcmark-vantage/
Buy It Here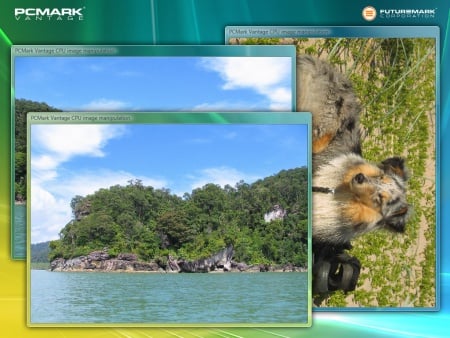 PCMark Vantage is the first objective hardware performance benchmark for PCs running 32 and 64 bit versions of Microsoft Windows Vista. PCMark Vantage is perfectly suited for benchmarking any type of Microsoft Windows Vista PC from multimedia home entertainment systems and laptops to dedicated workstations and high-end gaming rigs. Regardless of whether the benchmarker is an artist or an IT Professional, PCMark Vantage shows the user where their system soars or falls flat, and how to get the most performance possible out of their hardware. PCMark Vantage is easy enough for even the most casual enthusiast to use yet supports in-depth, professional industry grade testing.
FutureMark has developed a good set of hard disk tests for their PCMark Vantage Suite. These tests are based on real world applications that many of us use daily.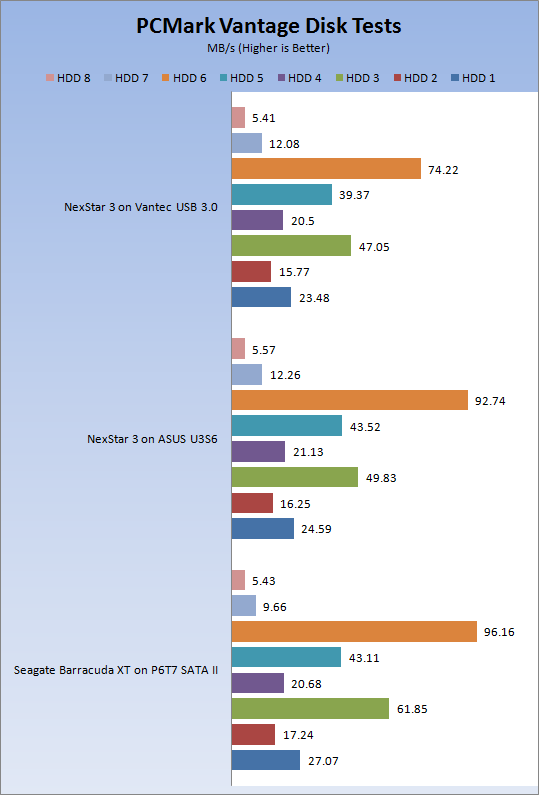 HDD1 - Windows Defender
HDD2 - Gaming
HDD3 - Windows Photo Gallery
HDD4 - Vista Startup
HDD5 - Windows Movie Maker
HDD6 - Windows Media Center
HDD7 - Windows Media Player
HDD8 - Application Loading
In the real world Windows tests we see little distinction between USB 3.0 and native SATA. This is quite interesting as it means we should be able to run an operating system off of a USB 3.0 drive and not notice much difference when performing day to day tasks. Peak transfer rates are rarely achieved while doing normal activities.
Benchmarks - AS SSD Benchmarks
AS SSD BenchmarksVersion and / or Patch Used:
1.2.3577.40358
Developer Homepage:
Alex Intelligent Software
Product Homepage:
Alex Intelligent Software
Download here:
http://www.alex-is.de/PHP/fusion/downloads.php?cat_id=4&download_id=9
AS determines the performance of Solid State Drives (SSD). The tool contains four synthetic as well as three practice tests. The synthetic tests are to determine the sequential and random read and write performance of the SSD. These tests are carried out without the use of the operating system caches.
In all synthetic tests the test file size is 1GB. AS can also determine the access time of the SSD, the access of which the drive is determined to read through the entire capacity of the SSD (Full Stroke). The write access test is only to be met with a 1 GB big test file. At the end of the tests three values for the read and write as well as the overall performance will be issued. In addition to the calculated values which are shown in MB/s, they are also represented in IO per seconds (IOPS).
Synthetic Transfer Rate Tests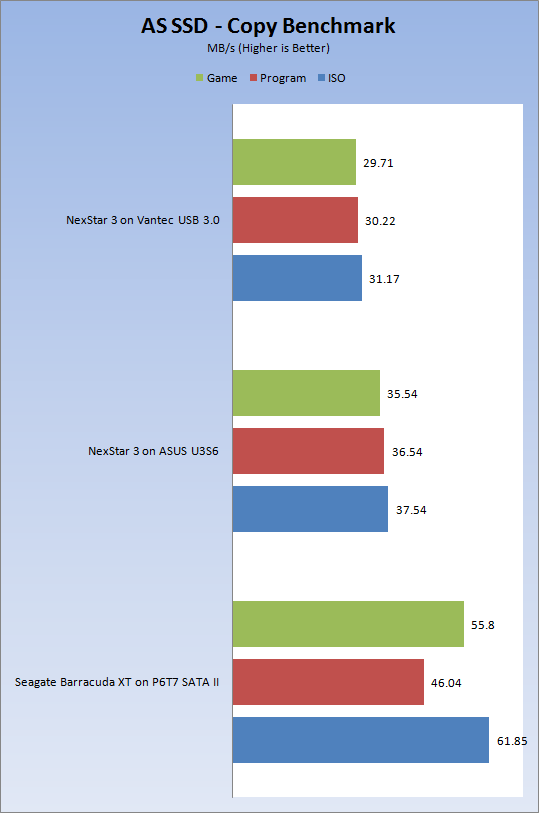 Here we see our most relevant test for external enclosure products. These tests migrate files from one location to another, just as you would copy and paste files to and from your external USB enclosure.
What we can take away from this test is that a single PCIe lane used for USB 3.0 does not provide us with a large enough pipe to the drive for the kind of data transfer we are looking for. Furthermore, the ASUS U3S6, at least when used with a non-PLX paired motherboard, also does not give us the results we are after.
Final Thoughts
As you can see in the benchmarks, the race for equal speed between USB 3.0 and SATA 3G is still underway when it comes to USB 3.0 add-in boards. When we tested the Buffalo Technology DriveStation USB 3.0 on the GIGABYTE P55A-UD4P we didn't run into a ceiling while testing. Over the next few months we will see several new USB 3.0 controllers, enclosures and motherboards and get all of our data graphed so you can make an informed decision on what to purchase when the time is right.
The Vantec 2-Port SuperSpeed USB 3.0 PCIe Host Card is a neat little product that has potential, but not at its current going rate at Newegg. If you have a motherboard that is filled with several add-in cards and need something to fit in a small space, the card is the perfect solution and the price may be justified out of necessity. For everyone else who can use a larger card, you can find other products that cost half as much as the Vantec 2-Port SuperSpeed USB 3.0 PCIe Host Card and some that offer more features, but with only a 10 USD price difference. We would really like to see the Vantec Host Card at a 15 to 20 USD price point and given the small amount of components needed to make the card, it may just be possible.
The Vantec NexStar 3 is a very nice USB 3.0 enclosure that is small enough for travel and will satisfy the performance needs of most users when paired with the right adapter card or motherboard. We are going to hold onto the NexStar 3 one more day and get some tests on the new Storage Product Workstation motherboard that will be here in a few hours, the GIGABYTE X58A-UD7. As we get closer to the release of the retail product, we will know more about pricing and be able to make a final judgment as to its overall value.
Since we do not officially score prototype hardware, the following scoring is just for the Vantec 2-Port SuperSpeed USB 3.0 PCIe Host Card.
PRICING: You can find products similar to this one for sale below.

United States: Find other tech and computer products like this over at Amazon.com

United Kingdom: Find other tech and computer products like this over at Amazon.co.uk

Australia: Find other tech and computer products like this over at Amazon.com.au

Canada: Find other tech and computer products like this over at Amazon.ca

Deutschland: Finde andere Technik- und Computerprodukte wie dieses auf Amazon.de
We openly invite the companies who provide us with review samples / who are mentioned or discussed to express their opinion. If any company representative wishes to respond, we will publish the response here. Please contact us if you wish to respond.