Western Digital Caviar Black 2TB Hard Disk
When we tested the Barracuda XT we didn't have the Caviar Black in for testing, that has changed and we have a potential new favorite on our hands.
Published Wed, Dec 9 2009 1:35 AM CST
|
Updated Tue, Nov 3 2020 7:02 PM CST
Introduction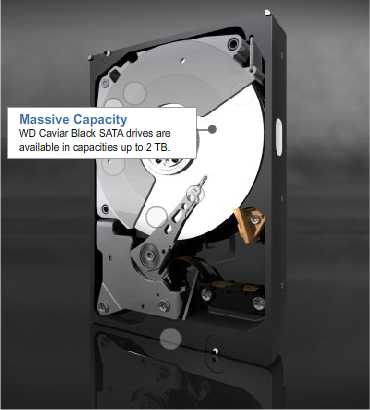 When Seagate sent over their new SATA 6 Gb/s Barracuda XT 2TB hard drive we were caught off guard. At the time I was neck deep in enterprise products and working with LSI on their new RAID controllers. If the Caviar Black 2TB drive would have been tested before the Barracuda XT, would our final thoughts have been different than they were? Today we are going to put the two drives head to head in a battle of the two flagship 2TB, 7,200 RPM contenders (for your 299.99 each).
We have already tested two 2TB drives from Western Digital this year. The first drive was the Caviar Green. The Caviar Green
performed very well
, but we didn't like its 299 Dollar price. Since then Newegg has lowered their price on the Caviar Green 2TB and you can now pick up the
Green version for 139.99
. At that price the drive made our
Holiday Gift Guide
as a must have (or receive).
Our second 2TB drive review from Western Digital
was the RE4-GP
, an enterprise class drive meant for near line, NAS and general enterprise duty. While testing the RE4-GP we found that the drive was a little slower than we expected, but once paired with another drive in RAID it was like someone flipped the switch. In RAID, what the RE4-GP was designed for, the drives really came alive, especially in our server tests.
Today we are looking at Western Digital's third 2TB HDD, the Caviar Black. As with all of the company's latest products, the Caviar Black packs a lot of exciting technology, some of which has carried over from their enterprise line-up. Let's have a look!
Specifications, Availability and Pricing

-
Key Features
High Performance Electronics Architecture:
Dual processor - Twice the processing power to maximize performance.
Colossal cache - Bigger, faster cache of up to 64 MB means faster performance.
Rock Solid Mechanical Architecture:
Dual actuator technology - A head positioning system with two actuators that improves positional accuracy over the data track(s). The primary actuator provides coarse displacement using conventional electromagnetic actuator principles. The secondary actuator uses piezoelectric motion to fine tune the head positioning to a higher degree of accuracy. (2 TB only)
StableTrac - The motor shaft is secured at both ends to reduce system-induced vibration and stabilize platters for accurate tracking, during read and write operations.
NoTouch ramp load technology - The recording head never touches the disk media ensuring significantly less wear to the recording head and media as well as better drive protection in transit.
Massive Capacity - WD Caviar Black SATA drives are available in capacities
up to 2 TB.
Compatible - We perform tests on hundreds of systems and a multitude of platforms in our FIT Lab and Mobile Compatibility Lab to give our customers confidence that our drives will work in their systems.
5 Year Limited Warranty
The Western Digital Caviar Black 2TB comes with a lot of the same technology that we found on the RE4-GP. Also like the RE4-GP, the 2TB version of the Caviar Black comes with a 5 year warranty. The other drives in the Black Series are sold with a 3 year warranty.
Western Digital currently offers the Caviar Black in 500GB, 640GB, 750GB, 1TB and 2TB capacity sizes.
Newegg lists every drive
in the series and the prices range from 69.99 for the 500GB drive to 299.99 for the 2TB drive that we are reviewing here today. With the 1TB Caviar Black
selling for only 109.99
, you will need to be prepared to pay a hefty premium for the largest drive in the series, but we suspect that even though the 2TB Caviar Black is a hot item that often sells out, the prices will start to come down within a few short weeks.
The Western Digital Caviar Black 2TB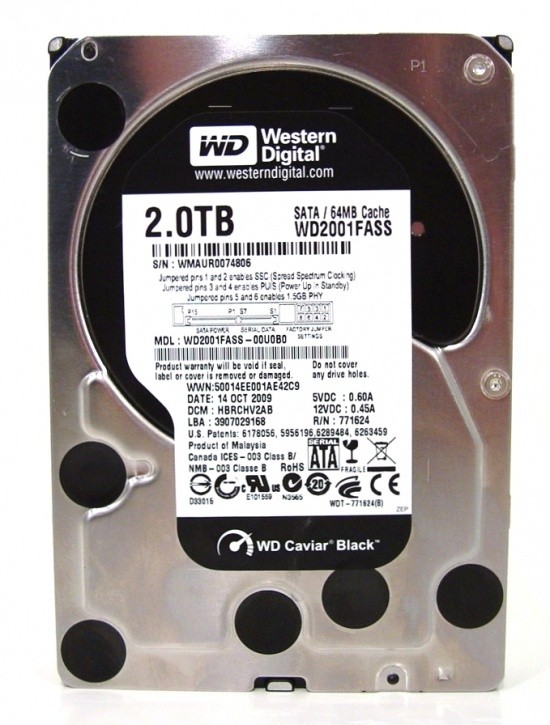 Western Digital sends their media samples in an OEM package, but we have all seen their retail packaging on the shelves of retail stores.
All of the information found on the drive is located on the top cover sticker. Here we see in large letters that the drive is a 2TB model that uses a SATA interface and has 64MB of cache.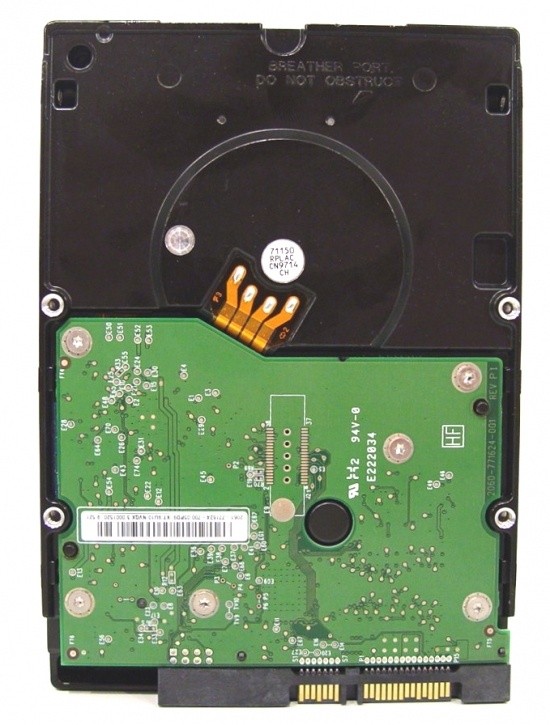 All of the components mounted to the PCB face toward the inside of the drive which helps protect them from accidental abuse (first hand experience here). This gives us little to talk about, but I would rather have a drive that is more robust instead of having something to point to.

A quick glance at the side of the drive shows that all of the standard mounting holes are present.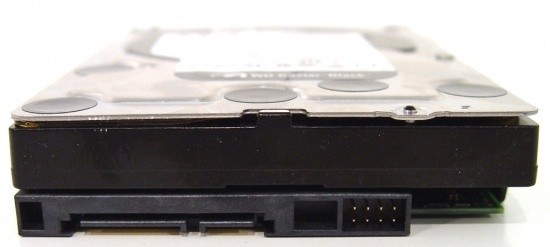 The Caviar Black also has the power and data ports where they should be. Let's get to the testing.
Test System Setup
Test System
Motherboard
: GIGABYTE P55A-UD4 (Supplied by
Gigabyte
)
Processors
: Intel Core i7 870 (Supplied by
AVADirect
)
Memory
: Corsair Dominator 1600 MHz Triple Channel Kit
Graphics Card
: Leadtek Quadro FX1700 (Supplied by
Leadtek
)
Enclosure
: Lian Li V2000
Cooling
: Noctua NH-U12P SE2 (Supplied by
Noctua
)
SAS Controller
: LSI MegaRAID SAS 9260-8i (Supplied by
LSI
)
Operating System
: Microsoft Windows 7 Ultimate X64
You can read more about TweakTown's Storage Product Testing Workstation and the procedures followed to test products
in this article
.
We have been testing some new products on the GIGABYTE P55A-UD4 lately and put the ASUS P6T7 WS SuperComputer on the shelf for a little while. The P55A-UD4 features USB 3.0 and SATA 6G so we were able to test both the Seagate Barracuda XT and Western Digital Caviar Black on the Intel SATA 3G and Marvel SATA 6G ports. Both drives have 2TB of capacity and are sold at the same 299.99 USD price.
If you are comparing our benchmark numbers to those of other sites, please be aware that several companies are pushing for storage products to be tested with a policy change that is found in device manager under each hard drive. The option, "Turn off Windows write-cache buffer on the device" will give you a small performance increase when the box is checked, but we feel it is dangerous since if you have a power outage all of the data in the hard drive's cache will be lost. Most users do not even know about the enhancement and we are trying to test drive performance as you, the user would see it.
Benchmarks - HD Tune Pro
HD Tune ProVersion and / or Patch Used:
3.00
Developer Homepage:
http://www.efdsoftware.com
Product Homepage:
http://www.hdtune.com
HD Tune is a Hard Disk utility which has the following functions:
- Benchmark: measures the performance
- Info: shows detailed information
- Health: checks the health status by using SMART
- Error Scan: scans the surface for errors
- Temperature display
HD Tune Pro gives us accurate read, write and access time results and for the last couple of years has been gaining popularity amongst reviewers. It is now considered a must have application for storage device testing.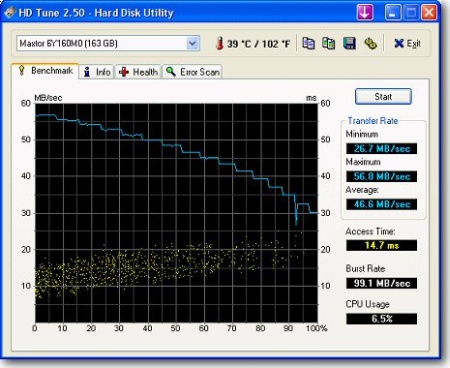 Read Tests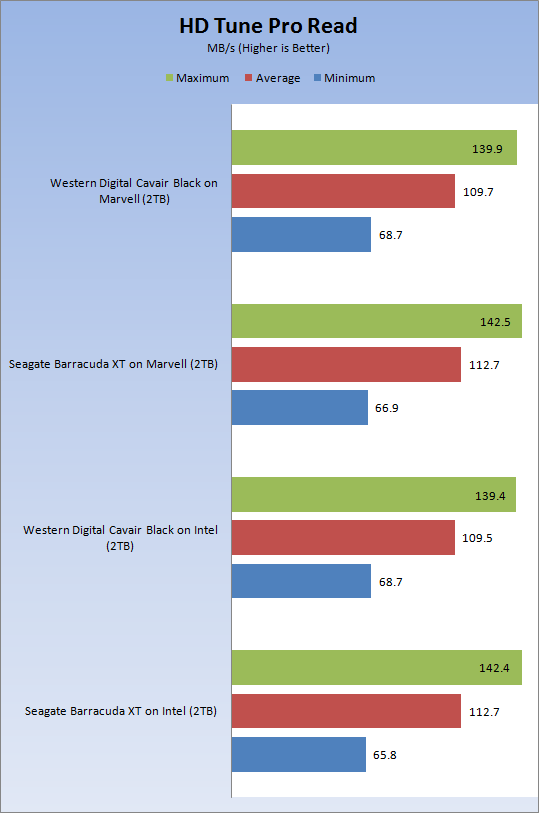 I have to admit that I am fascinated with running different drives on different controllers to see how certain combinations work better than others. Here we see that the controller really doesn't play much of a roll in the read STR speeds. Looking at the averages it appears that the Caviar Black has a higher minimum speed, but loses out to the Barracuda XT in both average and maximum. The numbers are so close together that a consumer will never notice the difference.
Write Tests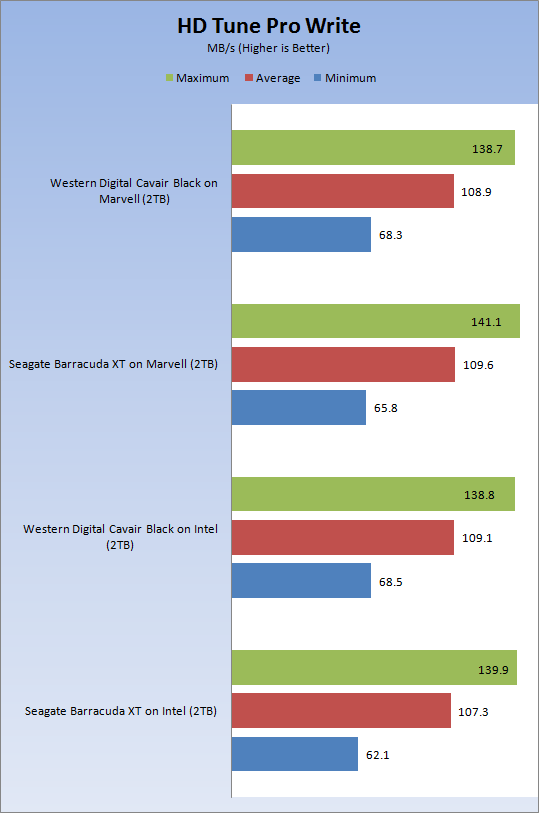 The STR write test gives us the exact same results, the Caviar Black is able to retain its performance better at the end of the run, but the middle and high end go to the Barracuda XT.
Benchmarks - Everest Random Access Time
Everest Random Access TimeVersion and / or Patch Used:
4.60
Developer Homepage:
http://www.lavalys.com
Product Homepage:
http://www.lavalys.com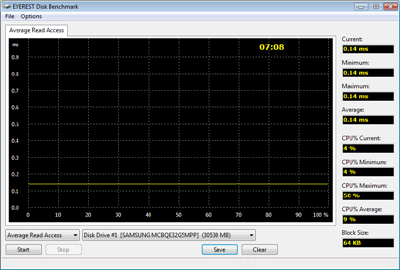 Everest Ultimate and Corporate Edition offer several different benchmarks for testing and optimizing your system or network. The Random Access test is one of very few if not only that will measure hard drives random access times in hundredths of milliseconds as oppose to tens of milliseconds.
Read Tests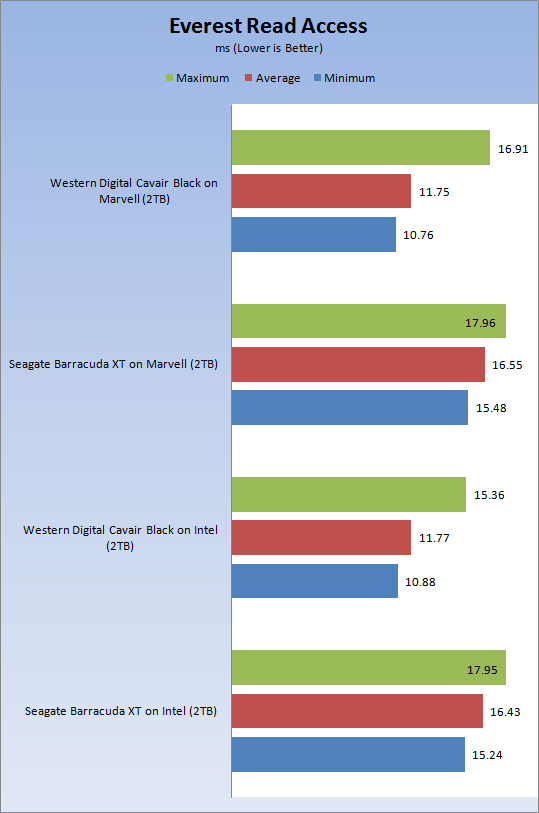 The read access times with the Caviar Black are lower than the Barracuda XT by a good margin. This amount of latency reduction would definitely be noticeable if you were using either of these drives as an operating system drive that you boot off of.
Write Tests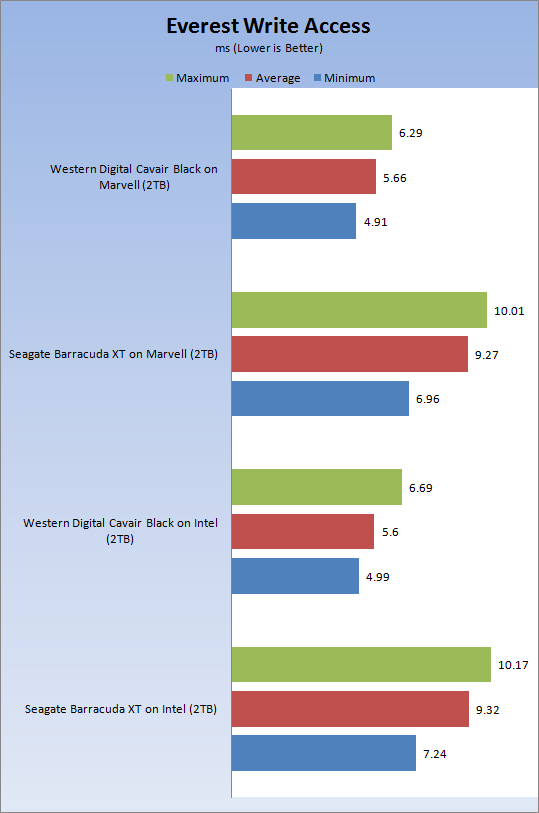 Western Digital has really done a good job with their cache and the chart shows just how much lower the write latency is compared to the Barracuda XT.
Let's see how all of these synthetic benchmarks relate to real world applications.
Benchmarks - PCMark Vantage Hard Disk Tests
PCMark Vantage - Hard Disk TestsVersion and / or Patch Used:
1.0.0
Developer Homepage:
http://www.futuremark.com
Product Homepage:
http://www.futuremark.com/benchmarks/pcmark-vantage/
Buy It Here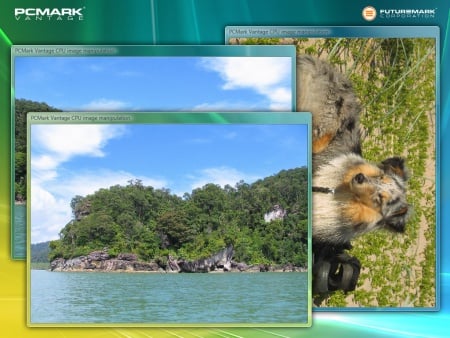 PCMark Vantage is the first objective hardware performance benchmark for PCs running 32 and 64 bit versions of Microsoft Windows Vista. PCMark Vantage is perfectly suited for benchmarking any type of Microsoft Windows Vista PC from multimedia home entertainment systems and laptops to dedicated workstations and high-end gaming rigs. Regardless of whether the benchmarker is an artist or an IT Professional, PCMark Vantage shows the user where their system soars or falls flat, and how to get the most performance possible out of their hardware. PCMark Vantage is easy enough for even the most casual enthusiast to use yet supports in-depth, professional industry grade testing.
FutureMark has developed a good set of hard disk tests for their PCMark Vantage Suite. These tests are based on real world applications that many of us use daily.

HDD1 - Windows Defender
HDD2 - Gaming
HDD3 - Windows Photo Gallery
HDD4 - Vista Startup
HDD5 - Windows Movie Maker
HDD6 - Windows Media Center
HDD7 - Windows Media Player
HDD8 - Application Loading
In the Windows tests we see that each drive and controller combination has its advantage in certain situations. Overall the performance crown goes to the Caviar Black which beats the Seagate Barracuda XT in many tests, even when the XT is on a SATA 6G controller.
Benchmarks - Passmark
Passmark Advanced Multi-User TestsVersion and / or Patch Used:
6.1
Developer Homepage:
http://www.passmark.com
Test Homepage:
http://www.passmark.com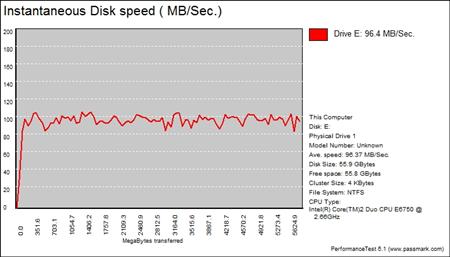 Many users complain that I/O Meter is too complicated of a benchmark to replicate results so my quest to find an alternative was started. Passmark has added several multi-user tests that measure a hard drives ability to operate in a multi-user environment.

The tests use different settings to mimic basic multi-user operations as they would play out on your server. Variances is read / write percentage as well as random / sequential reads are common in certain applications, Web Servers read nearly 100% of the time while Database Servers write a small amount of data.
The Workstation test is the only single user environment and will be similar to how you use your system at home.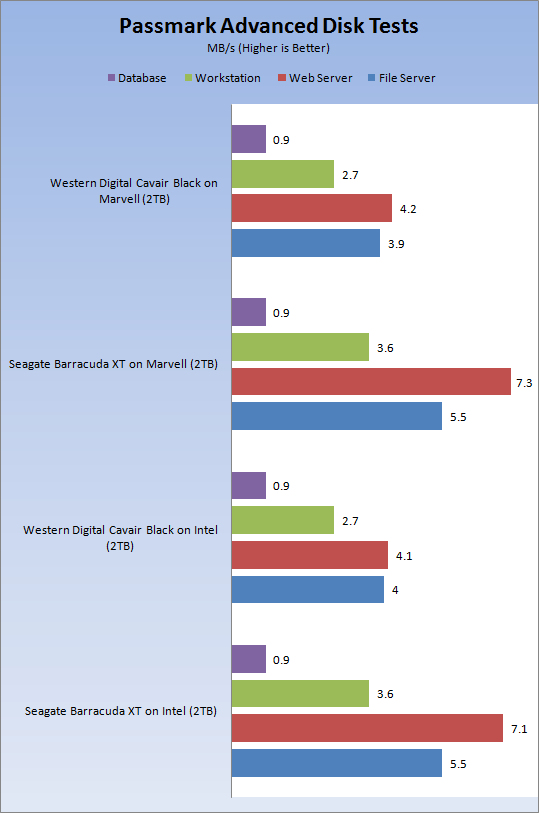 Seagate's bread and butter come from the server market so we are not surprised to see the Barracuda XT outperforming the Caviar Black in these tests.
Benchmarks - AS SSD Copy Benchmark
AS SSD Copy BenchmarkVersion and / or Patch Used:
1.2.3577.40358
Developer Homepage:
Alex Intelligent Software
Product Homepage:
Alex Intelligent Software
Download here:
http://www.alex-is.de/PHP/fusion/downloads.php?cat_id=4&download_id=9
AS determines the performance of Solid State Drives (SSD). The tool contains four synthetic as well as three practice tests. The synthetic tests are to determine the sequential and random read and write performance of the SSD. These tests are carried out without the use of the operating system caches.
In all synthetic tests the test file size is 1GB. AS can also determine the access time of the SSD, the access of which the drive is determined to read through the entire capacity of the SSD (Full Stroke). The write access test is only to be met with a 1 GB big test file. At the end of the tests three values for the read and write as well as the overall performance will be issued. In addition to the calculated values which are shown in MB/s, they are also represented in IO per seconds (IOPS).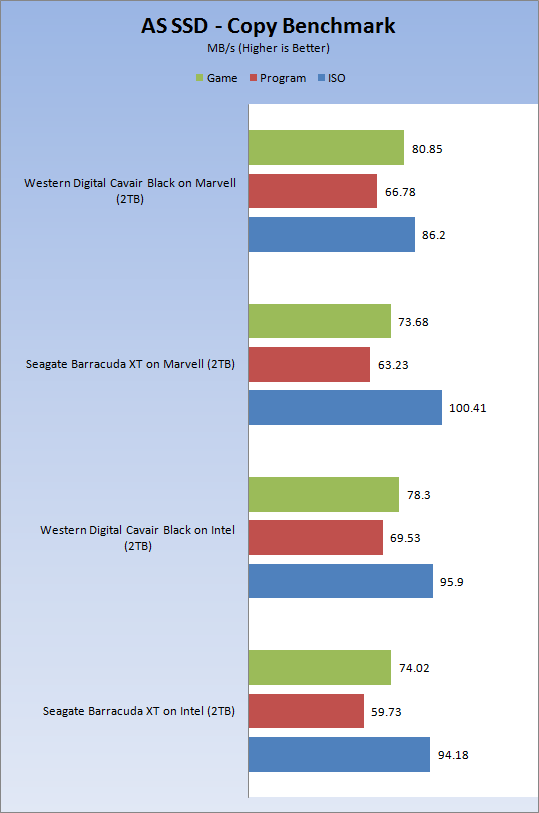 In the copy test we see that the numbers are very close with both controllers.
Final Thoughts
It is a relief to see that Western Digital was able to deliver a product with best in class performance without the need to invest in expensive SATA 6G products. Just like when the Caviar Green was introduced, we are put off by the initial high cost of ownership, but over time we should see the prices start to drop. Western Digital has been on a roll this past year with their dual controller and other technology advancements and the Caviar Black keeps the steak alive.
SATA 6G is the latest and greatest, but we found out today consumer hard drives are just not ready to take advantage of the increase in available bandwidth. The Western Digital Caviar Black 2TB managed to outperform the Barracuda XT in many of our real world tests despite using an older SATA 3G chipset. Being an apples to apples performance comparison, we can safely say that the Caviar Black is defiantly the way to go if you are looking for a 7,200 RPM 2TB drive.
The only real issue we found with the Caviar Black 2TB is the price. With the 1TB drive selling for roughly a third and the Caviar Green selling for half the cost of the Caviar Black, you are going to have to dig deep in your wallet to get a Caviar Black. At the time of writing Newegg has the drive
listed at 299.99 USD
, but I think we will see these prices go down at least 10% in the next month or two. With the Holidays coming up we may see a few e-tailers offering the drives for sale, so keep an eye out for sales. The Caviar Black is already a hot item, so when you do see them on sale you will need to act quickly.
PRICING: You can find products similar to this one for sale below.

United States: Find other tech and computer products like this over at Amazon.com

United Kingdom: Find other tech and computer products like this over at Amazon.co.uk

Australia: Find other tech and computer products like this over at Amazon.com.au

Canada: Find other tech and computer products like this over at Amazon.ca

Deutschland: Finde andere Technik- und Computerprodukte wie dieses auf Amazon.de
We openly invite the companies who provide us with review samples / who are mentioned or discussed to express their opinion. If any company representative wishes to respond, we will publish the response here. Please contact us if you wish to respond.