Introduction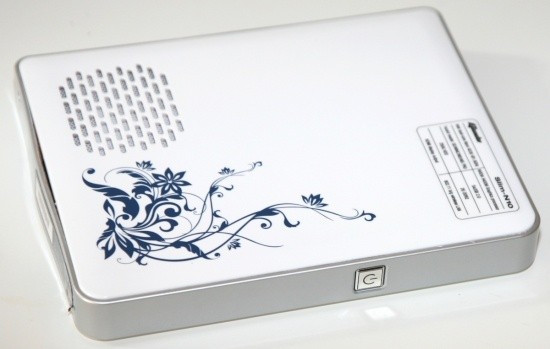 Mini desktop computers or "nettops" as they are called in the industry were one of the hit products for 2008 and the momentium has not slowed down in 2009 either.
Nettops were innovatively a result of netbook computers. Once Intel launched its low-cost and low-power Atom processor onto the market last year, which saw brilliant results, Acer and ASUS were furst up selling them like hot cakes, and then others followed with also good success.
Not too long after, the nettop computer system entered the fray - it took the same principles and concepts of the small and affordable netbook to the desktop. These new style of desktop computers were never going to get any awards for performance, but they performed well enough as a student PC or basic office system for the price and hence left off where the netbooks started - and sold well, too.
NVIDIA wisely and smartly noticed an area in where it could get its nose in on the action and create a chip for netbook and nettops systems, which would provide a solid boost in performance in two important areas, where these systems didn't enjoy the best of numbers - HD movie playback and basic gaming. Try and playback a 1080p movie or get in some basic gaming action on one of the latest titles and your little system all of a sudden didn't look all that good anymore. On came the NVIDIA Ion chipset (the GeForce 9400M, to be exact) and it added an important kick up in the performance stakes by replacing the suitable, but not desireable Intel onboard graphics.
Companies such as ASUS and ASRock are familiar to us for creating nettop systems with the NVIDIA Ion chip, but a new one that we hadn't heard of until today is Giada. Today we get a look at its Slim-N10 Ion nettop, which just happens to be the smallest computer system we've ever tested. Continue on with us as we get a really close look outside and inside the system and see if it is worth buying or not.
Specifications, Availability and Pricing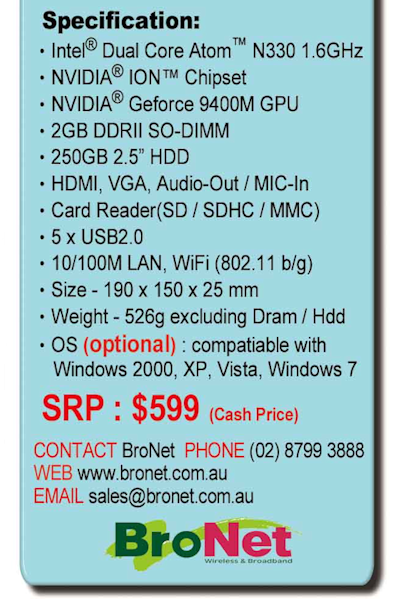 Above we get our first look at the specifications of the Slim-N10 nettop computer. Starting from the top, you can see that it uses the Intel Atom N330 dual-core processor running at 1.6GHz. It also comes with the NVIDIA Ion chipset, which is the GeForce 9400M GPU. You get 2GB of DDR2 memory, SO-DIMM style which is laptop sized memory, but sadly it is only single-channel and not dual-channel. There is a Samsung 250GB 2.5-inch hard drive inside and it only spins at 5,400 RPM. Rounding out the specs, you have a HDMI, VGA, analog audio out as well as a card reader, five USB 2.0 ports, 10/100 wired LAN and 802.11g wireless.
We got the system in for review from BroNet in Australia (the distributor) and they will be selling the system on their Giada website by the time we publish this review or shortly after. The price of the system is listed at $599 AUD (around $550 USD at the time of writing), but that also includes $279 AUD worth of free bonus goodies - some software, a graphic tablet and a USB HDTV tuner from Kworld. If you're not in Australia, I guess you could contact BroNet (details above in the image) and ask what can be done, if you are interested.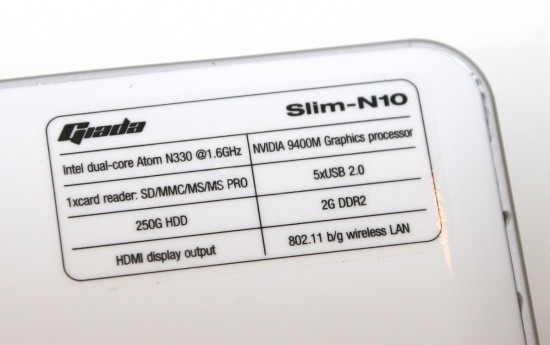 So as for the price, it's not cheap. I actually expected it to be quite a bit cheaper than this, but you do get some extras thrown in, but the particular Slim-N10 that we are looking at today is not optioned out. Meaning it only has a 250GB HDD when the best option is a 500GB HDD, it only has 2GB of RAM where the best option is 4GB and it only has 802.11g wireless when the best option is the faster 802.11n. The hard drive only spins at 5,400 RPM and is rather slow - we'd much rather see a 7,200 RPM HDD installed or better yet, an SSD, which would really bring the system to life.
Nevertheless, let's power onto the next page where we have a great video for you to check out the package as well as outside and inside of the Slim-N10 nettop system.
Package and the System
Now we can move onto the exciting part of the review where we get an unboxing of the product and then a look around the system and inside this tiny little computer. Hit play on the video below and then continue reading on below.
Impressed? As you can tell from the video, I certainly was.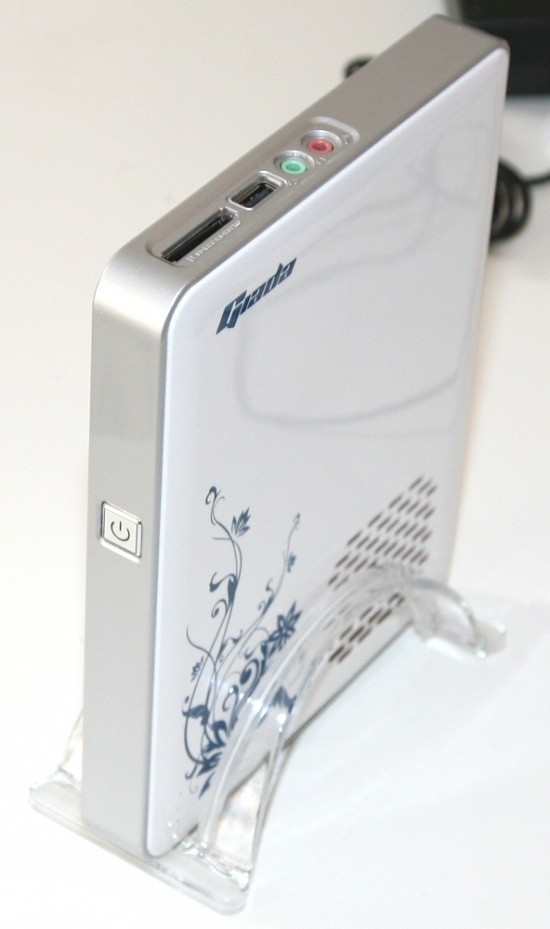 The Giada Slim-N10 dimensions are 190mm (L) x 150mm (H) x 25mm (W). This thing is the slimmest and smallest computer I have ever seen. I mean, it's only 25mm thick! That is 1mm thinner than the ASUS EeeBox, but it is also shorter and not as high. And as you saw in the video above, when we sat it next to a Nintendo Wii, it is literally half the size of this already compact gaming console. Amazing! It is all made possible by the use of a custom made dual-sided motherboard. That means it's been specially designed for this product and has components and connectors on both sides of the board. There are air event holes on both sides of the system, but the system does run rather warm. We were a bit concerned by the heat it was generating, but did not notice any system stability issues during testing.
As for the package, it's rather basic. You get all the stuff required such as a user manual and plastic molded stand for the unit to sit in vertically or horizontally, but that's about it. There is no HDMI to DVI adapter if you are using a monitor or TV that doesn't have HDMI. There is no remote control. You just get the basics.
As for the system, we've already mentioned how stunned we were by the size. The build quality seems to be quite good with a majority plastic finish, but it is also light and relatively strong. I've got short pants where this system would easily and comfortably fit in the side pocket. The system we were sent is white, but you can also pick from blue, black and pink depending on your taste. The blue floral design on both sides of the system looks modern, stylish and attractive, fitting the "fashion PC" user needs that Giada reckons their Slim-N10 matches.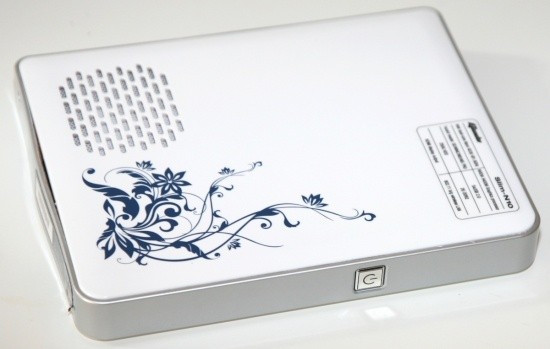 As for the specifications of the system, though, we do have several issues we need to discuss. It is great to see that it makes use of the popular NVIDIA Ion chipset - that takes a lot of pressure off of the Intel Atom processor and means you can easily playback 1080p movies and Blu-ray's (although this nettop doesn't come with any sort of optical drive) and you can even get some basic gaming in with new titles, just with the graphics quality settings turned down. On the negative side, though, we have to comment - what were Giada thinking when they only created the motherboard with a single SO-DIMM DDR2 memory slot? This limits us to single-channel memory and we see a reduction in performance because of it. In future revisions of Giada systems, we must see dual-channel support.
Next up we come to the decision on which hard drive to use. First of all, it's a 2.5-inch laptop drive and that's perfectly understandable due to the size constraints of the system. But Giada decided to use a slow Samsung 5,400 RPM drive and sadly it doesn't perform that well at all. Giada should have gone with a 7,200 RPM drive or better yet, added in an SSD drive. The Intel Atom + NVIDIA Ion platform is not a performance beast at the best of times and installing a 5,400 RPM hard drive is just a mistake in my opinion. If an SSD were installed, it would have effectively disguised a lot of the slowness of the system by highly improving responsiveness thanks to fast flash memory technology. If you really like this system, the good news is that you can replace the installed hard drive with an SSD, but we think there should really be an option for an SSD model.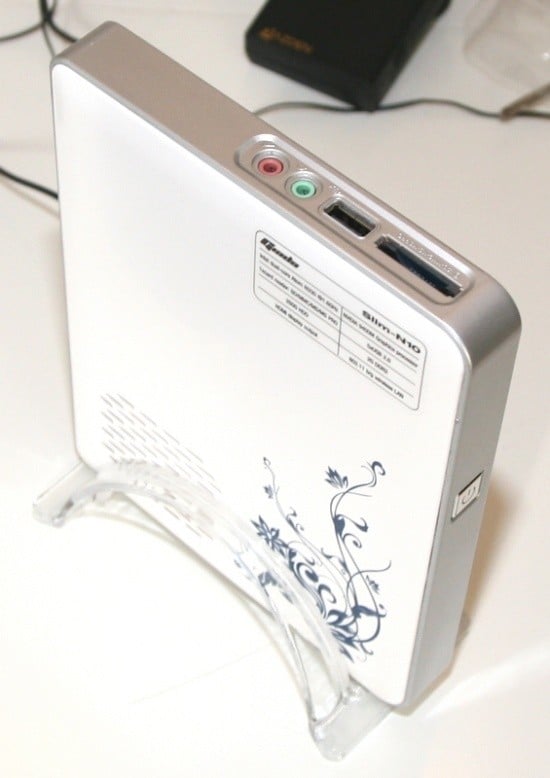 The next issue we have with the system concerns networking. The system only comes with 10/100 LAN, not Gigabit ethernet as we have come to expect as the standard these days. While 10/100 is fast enough to stream movies and music, as soon as you want to do some file copying or the like, you really see how much of a disappointment it is only being able to copy at around 12MB/s. And the model we were sent only came with 802.11g wireless networking. In this day and age, I'm not sure why they even have the option - it should just be 802.11n all the way.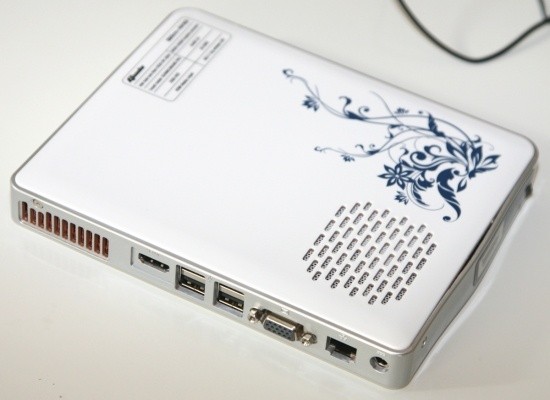 The other important thing to remember is that because of such small size of this system, there is no optical drive. Nowadays we can survive without external storage such as floppy drives and even optical, but keep in mind this system doesn't come with an operating system, so you'll need to hook up a USB 2.0 optical drive or install from a USB pen drive, or you could install a flash card into the included card reader on the system. Also of note is that the only digital audio output from the system is via HDMI and if you aren't using a device that supports it, you only have analog audio output. Even though it only supports up to 1.5Mbit (Dolby Digital 5.1 and DTS), where is the optical audio output?
Let's move onto the testing and benchmarks now!
Benchmarks - Note on 1080p HD and Blu-ray Playback
Now that we have had a good close look inside and outside of the system, we can move onto the benchmarking side of things and see how the Giada Slim-N10 performs.
Before we move onto the actual benchmarks, though, I want to make a couple notes about 1080p HD playback as well as Blu-ray playback.
We tested SDTV, 720p and 1080p playback on the system and we can happily report that the system had no issues playing back this sort of HD content. Playback was smooth without dropping frames and the image quality produced was fine. We can notch all this up to the NVIDIA Ion chipset taking charge and offloading the work from the CPU.
As for Blu-ray playback, unfortunately we were unable to do any tests since we no longer have a USB 2.0 Blu-ray optical drive handy. However, based on our testing with the ASRock ION 330-BD nettop system back in June of this year, thanks again to the NVIDIA Ion chipset, we can say that the Giada Slim-N10 won't have any issues with Blu-ray playback. You can see our
CPU usage results here
with the ASRock system for rough comparison. That means that the movies will playback smooth and look fine, but it does not mean you will get the full HD audio experience since these types of system are not capable of outputting Dolby TrueHD and DTS-HD MA as bitstream. This is normal for most computers, so don't let it concern you too much.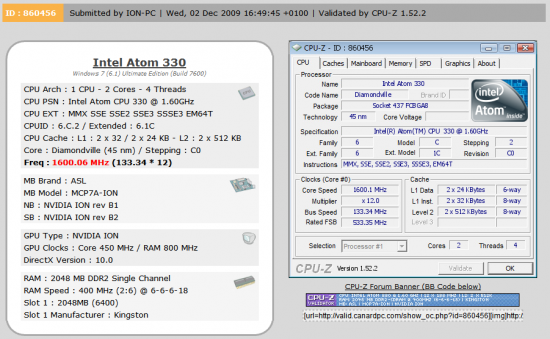 Now let's move onto our first benchmark on the next page. We will be comparing the Giada system against the ASRock ION 330-BD nettop system back in June of this year, which you can
read more about here
. Both systems have Windows 7 Ultimate x64 installed, but the Giada system uses newer drivers including the NVIDIA GeForce/ION Driver 195.62 and NVIDIA ION Chipset Driver 15.51. You can see the CPU-Z screenshot of the Giada system above and the
validation link for reference is here
.
Benchmarks - PCMark Vantage 64-bit
PCMark Vantage 64-bitVersion and / or Patch Used:
Nov 2007 Hotfix
Developer Homepage:
http://www.futuremark.com
Product Homepage:
http://www.futuremark.com/benchmarks/pcmark-vantage/
Buy It Here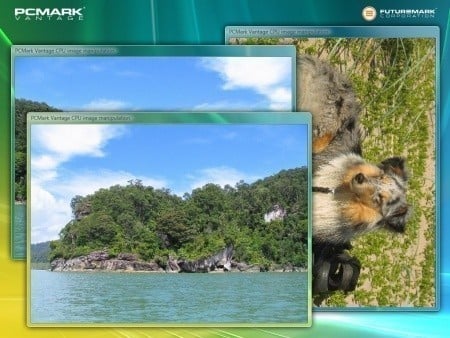 PCMark Vantage is the first objective hardware performance benchmark for PCs running 32 and 64 bit versions of Microsoft Windows Vista. PCMark Vantage is perfectly suited for benchmarking any type of Microsoft Windows Vista PC from multimedia home entertainment systems and laptops to dedicated workstations and high-end gaming rigs. Regardless of whether the benchmarker is an artist or an IT Professional, PCMark Vantage shows the user where their system soars or falls flat, and how to get the most performance possible out of their hardware. PCMark Vantage is easy enough for even the most casual enthusiast to use yet supports in-depth, professional industry grade testing.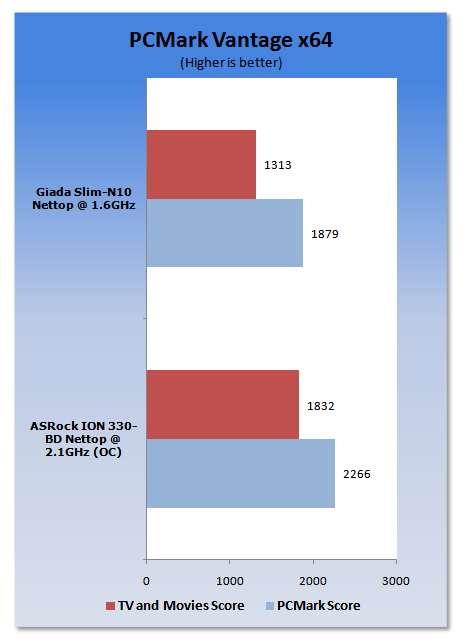 In our first benchmark here we can see that the ASRock system has a clear advantage over the Giada nettop.
Do keep in mind that the ASRock nettop has its CPU overclocked to 2.1GHz while the Giada nettop is running its CPU at the default 1.6GHz clock speed of the Intel Atom N330.
Benchmarks - CINEBENCH R10 64-bit
CINEBENCH R10 64-bitVersion and / or Patch Used:
Release 10
Developer Homepage:
http://www.maxon.net/
Product Homepage:
http://www.maxon.net

CINEBENCH is a real-world test suite that assesses your computer's performance capabilities. MAXON CINEBENCH is based on MAXON's award-winning animation software, CINEMA 4D, which is used extensively by studios and production houses worldwide for 3D content creation. MAXON software has been used in blockbuster movies such as Spider-Man, Star Wars, The Chronicles of Narnia and many more.
MAXON CINEBENCH runs several tests on your computer to measure the performance of the main processor and the graphics card under real world circumstances. The benchmark application makes use of up to 16 CPUs or CPU cores and is available for Windows (32-bit and 64-Bit) and Macintosh (PPC and Intel-based).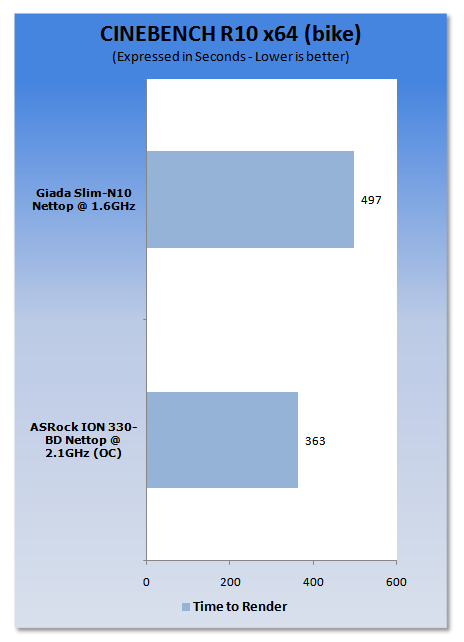 In our second test we pull out CINEBENCH R10 and run the multi-core rendering benchmark and we can see that both systems struggle with a rather high render time, but again being the faster system and with an overclocked CPU, the ASRock nettop comes out in front.
Benchmarks - Super Pi
Super PiVersion and / or Patch Used:
1.5 Mod XS
Developer Homepage:
http://pw1.netcom.com/~hjsmith/Pi/Super_Pi.html
Product Homepage:
http://pw1.netcom.com/~hjsmith/Pi/Super_Pi.html
Developed by some folks from the University of Tokyo (yes, Japan), Super PI is a small utility that does just as the name implies. It figures PI to a set number of decimal places. Since PI is an infinite number to the right of the decimal point, the utility measures the time it takes to figure a set number of places. It runs the calculations a set number of times and gives a time for the completion of the task. This is a simple and effective way to measure the raw number crunching power of the processor being used to compile the results.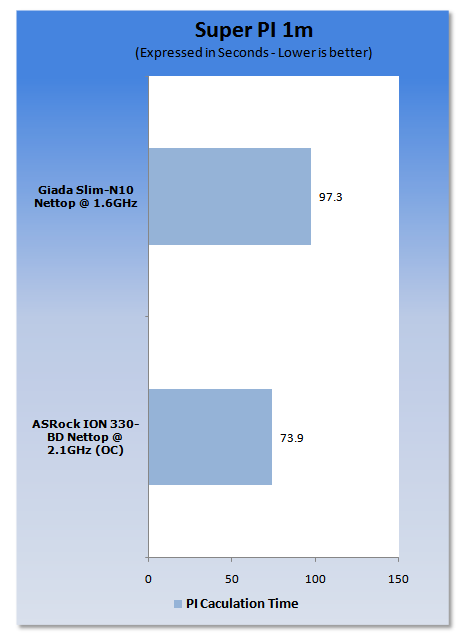 Under Super PI when PI needs to be calculated, the results seem closer in the graph here, but the ASRock nettop is able to complete the test around 24% quicker than the Giada system.
Interestingly, the CPU overclock of the ASRock system represents a 23.8% faster clock speed than the CPU clock speed that the Giada system is running, possibly leaving some headroom for the slower single-channel DDR2 memory setup with the Slim-N10.
Power Consumption & Boot Time Testing
Power Consumption Testing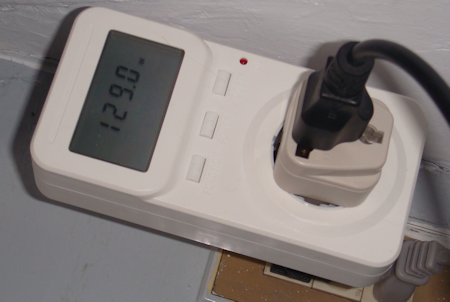 Now we come to probably one of the most important sections of our testing and that is power consumption!
Using the power tester you can see in the picture above, we measured power coming from the wall - it is measuring the full system, everything inside the box.
We used prime95 to fully load the CPU processor cores and a score was recorded after five minutes of loading. We recorded the highest wattage level hit. An idle wattage level was recorded after staying idle on the desktop for five minutes.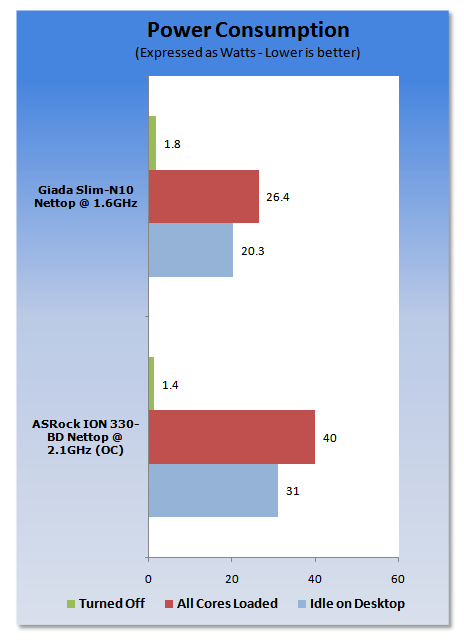 Here we see the advantages of the Giada Slim-N10 nettop system. Not only is it smaller than the ASRock nettop, but it also uses less power. We are talking about 35% less power when idle on the Windows 7 desktop and 34% less power usage when every core is fully loaded using prime95.
During our power testing phase, the lowest we saw the reading drop to was 19.6 watts and for a computer system that can playback Blu-ray movies, that's impressive!
Boot Time Testing
We measured using a stopwatch and timed from the point we turned the system on until the very first point the desktop was reached and fully loaded.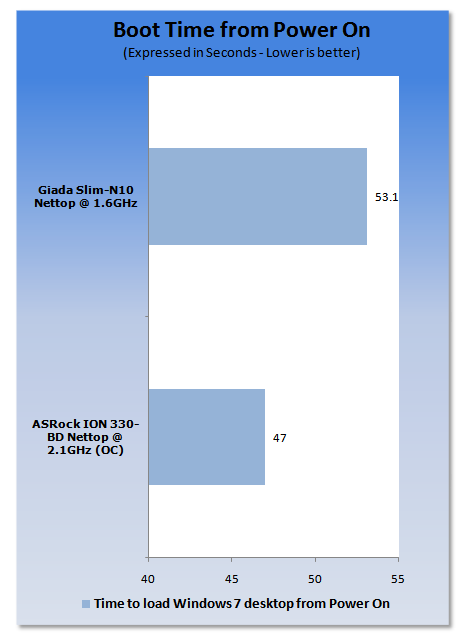 The ASRock nettop system was able to boot into Windows 7 and fully load about 11 - 12% faster than the Giada system.
Final Thoughts
Giada's Slim-N10 nettop computer system is one that is filled with both plenty of positive points and also plenty of negative points that cannot just be ignored. Where do we begin?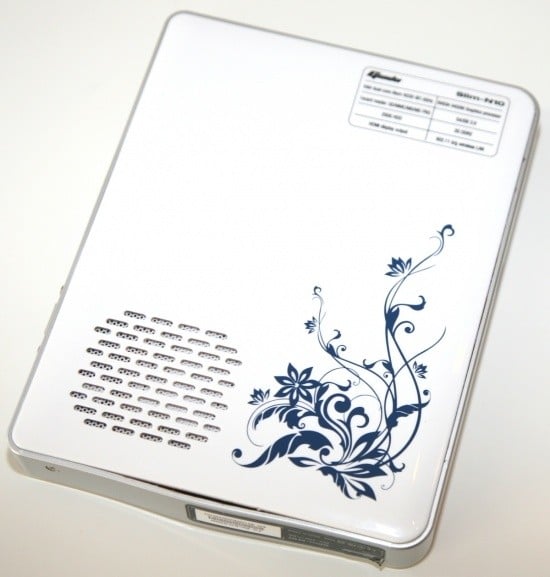 The Slim-N10 is easily the smallest "desktop" computer that I have ever seen or used. Once I pulled it out of the box and saw the size of this unit, I knew I was holding something pretty special - almost an engineering masterpiece, if you will. Once I pulled the thing to bits, things started to make sense. Giada created a specially designed motherboard for the N10 that is one of the more interesting ones we have seen. It is a dual sided motherboard with components and connectors on both sides - that is the trick to creating such a small little computer.
Build quality is up to standard and it's a pretty solid unit for the size. The white version we received for testing features a trendy blue floral pattern on both sides of the system and it should appeal to many people. The plastic molded stand that comes in the package is really basic, but it allows the N10 to sit horizontally or vertically and on the base of the stand are rubber pads that stop the system from slipping on your desk.
On the negative side of things, though, there is no shortage of things we need to mention. The big issue for us is performance and some of the choices made by Giada. Clearly they've tried to keep the price down as low as possible and that's all good and well, but it's really only a little cheaper than the ASRock nettop system we compared against. Why on earth would you only design the motherboard with a single DO-DIMM DDR2 memory slot? Dual-channel memory technology is a must and single-channel just slows down a system of this kind that needs all the little tricks in the book to make it as fast as possible, as after all it is based on an cheap and low-power Intel Atom processor.
Next up is the selection of hard disk drive by Giada. Sure, we expected a 2.5-inch laptop sized HDD to be installed, but the selection of a 5,400 RPM is pretty crazy. We need at least a 7,200 RPM hard drive for that extra performance boost and it would have been even better with an SSD, which is able to effectively disguise some of the performance issues with a netbook or nettop system. And finally, we come to the networking side. As for the wired LAN side, there is only 10/100 ethernet, which means you need to deal with around 12MB/s file transfers, even though 1080p media streaming is possible. The particular model we tested only came with 802.11g wireless networking also. In my opinion, it shouldn't even be an option - every mode should come with the faster 802.11n wireless networking standard.
But after everything is said and done, we are still pretty impressed with the Giada Slim-N10. I know we just bagged it for a range of performance issues, but that is not the be all and end all for everyone. I like my computers to be cutting edge and super fast, but that's not a requirement for everyone. Students, people on a budget, people with not much room to spare or those who like fashionable computers such as this one will love the N10. It gets a bit hot under normal operating, but we didn't notice any stability issues while we were testing it out.
The Giada Slim-N10 comes recommended for certain users, but others will probably want to avoid it.