Buffalo DriveStation HD-HXU3 USB 3.0 External Hard Disk
The world's first USB 3.0 external HDD is in for testing straight from Japan.
Published Sun, Nov 29 2009 10:01 AM CST
|
Updated Tue, Nov 3 2020 7:03 PM CST
Introduction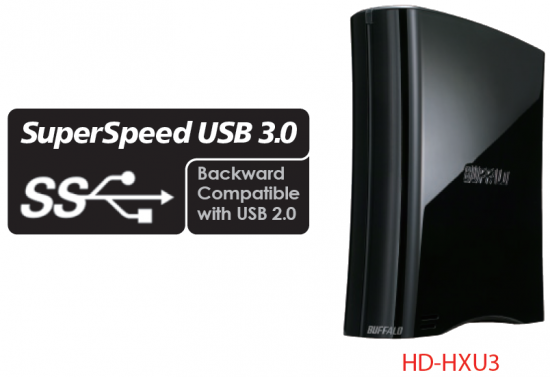 We have seen a lot of gimmicky external hard drives over the years. Some companies have made their external drives able to handle being dropped, while others have made them in crazy colors with lights all over the place. But the one thing they have all had in common is that they were slow as molasses. The great savior to USB 2.0's slow speed was supposed to be eSATA, but the interface and technology never caught on like the industry hoped. eSATA could have been a worthwhile successor to USB 2.0 for storage devices, but USB, like the name implies, is universal and has even broken through to the consumer electronics market. With the high adaption rate, USB has been a huge success and that pretty much meant that eSATA never had a prayer for anything outside of the enthusiast market.
SuperSpeed USB brings a whole host of improvements to the universal serial bus standard. The most prominent has to be higher transfer rates, now up to 4.8 Gbps and full duplex communication. Most users will just think of USB 3.0 simply as being a speed increase, which is fine. Later this month we will have a full report on USB 3.0 and include all of the products available and all of the differences between USB 2.0 and USB 3.0.
A few weeks ago GIGABYTE and ASUS launched their revised P55 motherboards that included SuperSpeed USB and SATA 6Gbps. Ever since then we have been looking to source our first USB 3.0 enclosure. Several companies have TweakTown at the top of their list to send products to, but so far we have only received the Buffalo DriveStation HD-HXU3. One manufacturer did tell us that a key component is in very short supply and that is why there has been such a long delay. Luckily for us GIGABYTE had an extra SuperSpeed DriveStation on hand that they purchased in Japan and sent it over for a full workout on the new GIGABYTE P55A-UD4. A big thinks goes out to the GIGABYTE crew for thinking of TweakTown!
Specifications, Availability and Pricing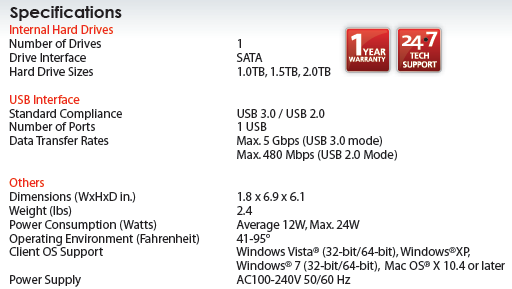 The Buffalo HD-HXU3 is a single drive enclosure that is available in three different configurations. You can get the HD-HXU3 in 1, 1.5 or 2TB capacity sizes and MSRPs range from 199.99 to 399.99 USD. All three models come with Memeo's award winning data AutoBackup software and a USB 3.0 cable.
Even though USB 3.0 has an increased current limit to provide more power to a device, the HD-HXU3 uses a standard 3.5 inch form factor hard drive that requires 12 volt power, so an external power plug is included and needed to operate the enclosure. The power brick is auto ranging so you can use it in the U.S. or take it with you while traveling abroad.
No matter how you slice it, USB 3.0, for now, is all about the speed increase. Buffalo states a maximum read and write speed for the HD-HXU3 as being 130 MB/s, which is pretty average for a 1TB HDD. What is not stated is if the internals will support the new SATA 6 Gbps drives, but since the DriveStation is not designed to be taken apart easily we may never know what the speeds would be with a new Seagate Barracuda XT install.
Let's take a look at the packaging and get to some performance numbers.
The Packaging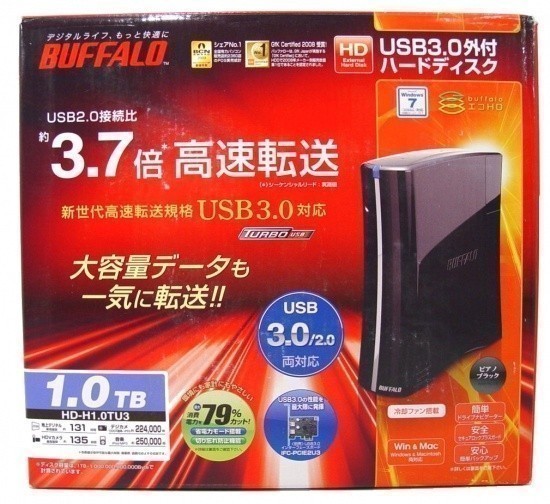 You may have been wondering what the package would look like since it came from Japan. Since the entire package is in a language that I can't read, we will move on.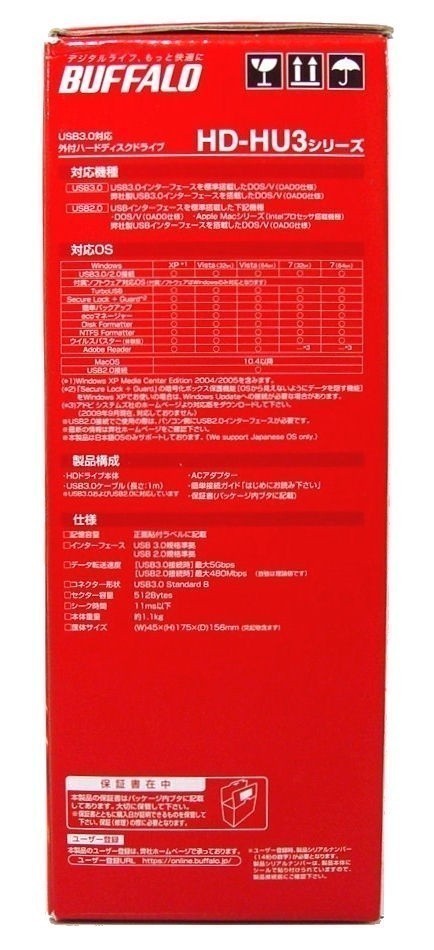 The side shows a graph with some of the features listed.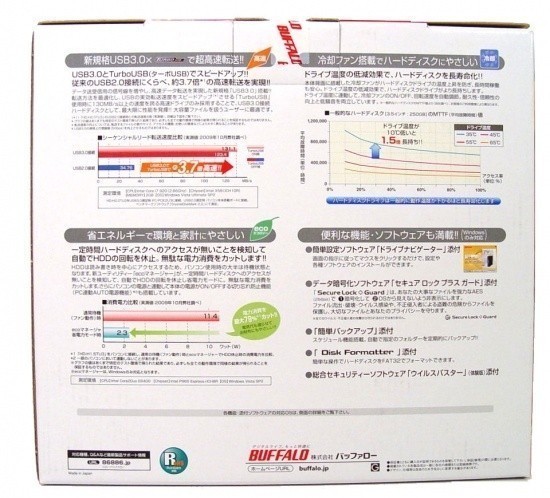 On the back we see some references to the speed of USB 3.0 and 3.7x faster than USB 2.0 is shown in several places.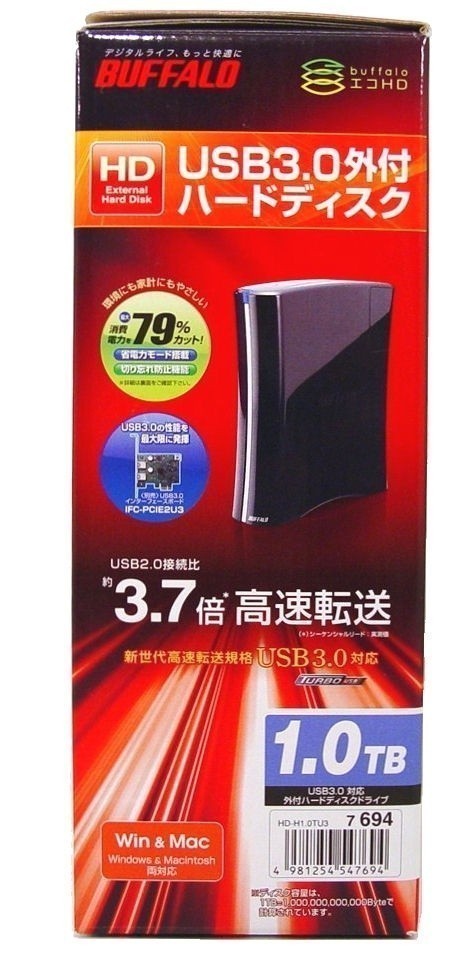 The other side of the package shows the product image and the capacity of the unit inside.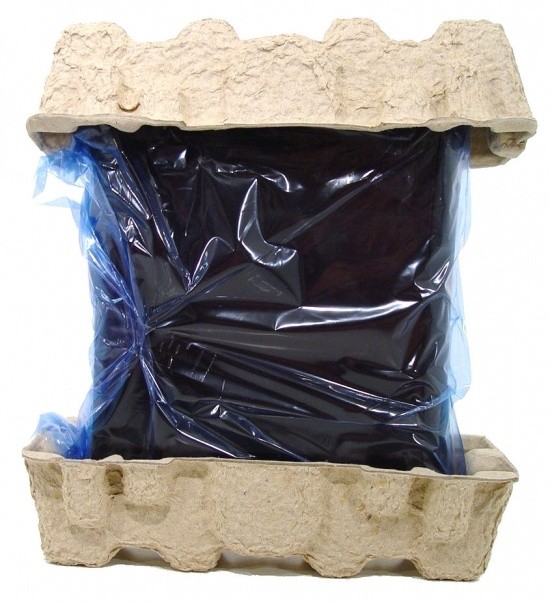 The inner packaging is universal and here we see that a paper carton is what keeps the enclosure secure during shipping. Our unit was brought over from Japan to Taiwan and then from Taiwan to Indiana and it survived, so no complaints here.
The Buffalo DriveStation HD-HXU3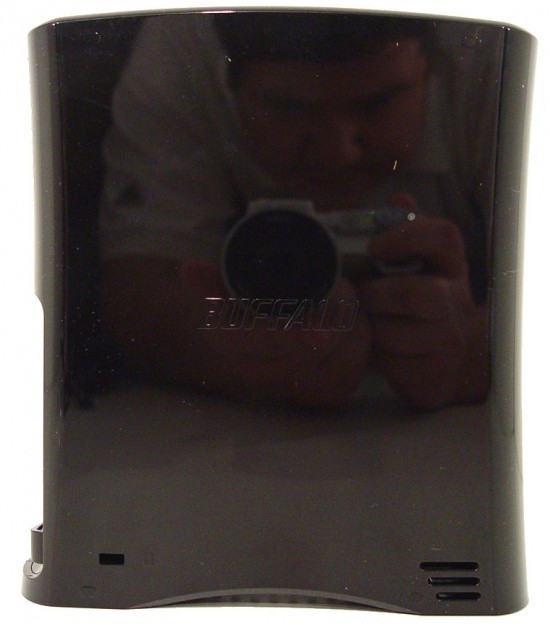 The Buffalo HD-HXU3 arrived to us in piano black and is quite attractive. At the bottom left there is a slot for a security cable and at the bottom right some ventilation slots.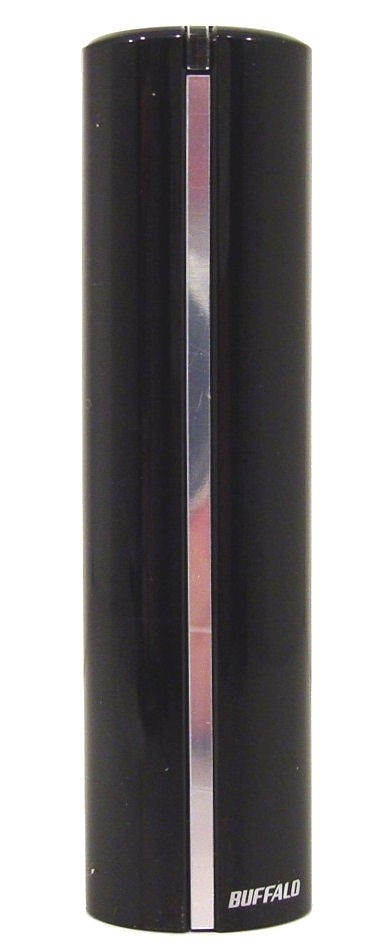 The front of the unit is pretty straight forward. At the top there is an LED that lights up blue when the device is connected to a USB 3.0 port.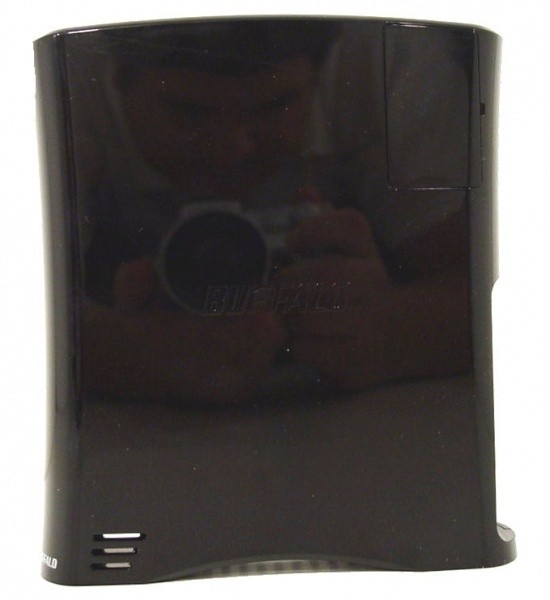 The other side has more vents to allow air to pass through the system and in this image we can also see that the bottom has vents as well.

Starting at the top, we see more ventilation. Just behind the openings is a small fan that circulates air past the hard drive keeping it cool. In testing we found the drive to be very quiet and were not able to hear it at a two foot distance.
At the bottom is where you will find the USB 3.0 data port as well as the power plug.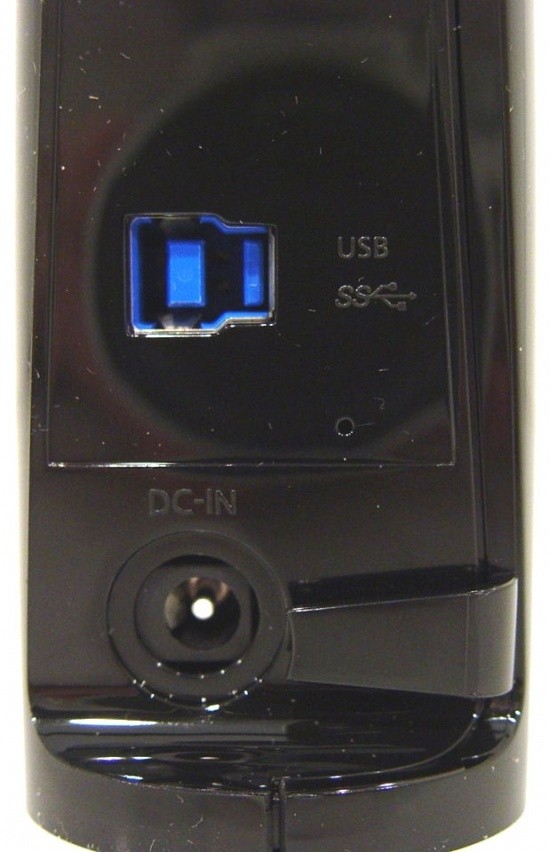 Here we can take a closer look at the USB 3.0 data port. A regular USB 1.1/2.0 plug can be inserted into the plug, but it will only operate at USB 2.0 speeds.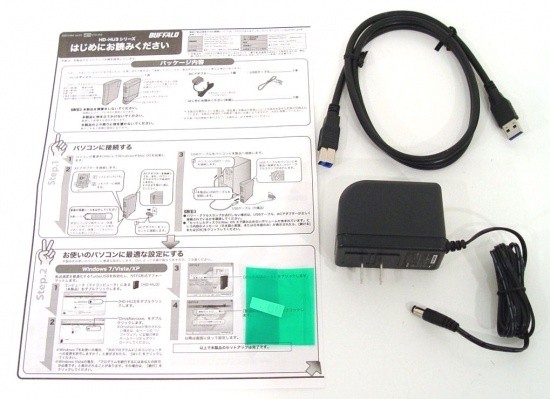 The Buffalo USB 3.0 DriveStation comes with a full instruction manual, a USB 3.0 data cord and the external power supply for the enclosure. Buffalo also included four rubber feet that will help keep the drive from slipping on your desk.
Test System Setup
Test System
Motherboard
: Gigabyte P55A-UD4 (Supplied by
Gigabyte
)
Processors
: Intel i7 870 (Supplied by
AVADirect
)
Memory
: Corsair Dominator 1600 MHz Triple Channel Kit
Graphics Card
: Leadtek Quadro FX1700 (Supplied by
Leadtek
)
Enclosure
: Lian Li V2000
Cooling
: Noctua NH-U12P SE2 (Supplied by
Noctua
)
Operating System
: Microsoft Windows 7 Ultimate X64
You can read more about TweakTown's Storage Product Testing Workstation and the procedures followed to test products
in this article
.
For this test we swapped out our ASUS P6T7 WS SuperComputer and used the GIGABYTE P55A-UD4. The GIGABYTE P55A-UD4 has been in the TweakTown U.S. office now for a couple of weeks and has been running non-stop since its arrival. So far we have been able to overclock the board with the
AVA Direct
supplied Intel Core i7 870 processor very easily, achieving speeds that I didn't think were possible.
In the coming days we will have a full work up on the ins and outs of running a P55 system with SATA 6Gbps and USB 3.0.
Benchmarks - HD Tune Pro
HD Tune ProVersion and / or Patch Used:
3.00
Developer Homepage:
http://www.efdsoftware.com
Product Homepage:
http://www.hdtune.com
HD Tune is a Hard Disk utility which has the following functions:
- Benchmark: measures the performance
- Info: shows detailed information
- Health: checks the health status by using SMART
- Error Scan: scans the surface for errors
- Temperature display
HD Tune Pro gives us accurate read, write and access time results and for the last couple of years has been gaining popularity amongst reviewers. It is now considered a must have application for storage device testing.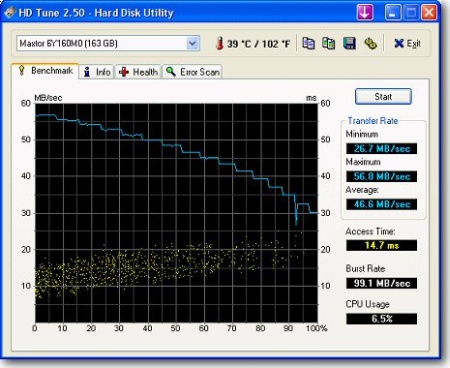 Read Tests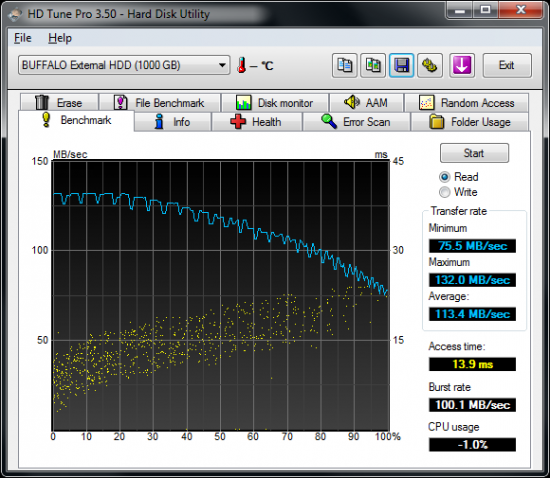 On the Read test we see a nice downward performance slope like we are supposed to see with a platter drive. Since there are no flat spots, we can tell that the drive is not limited by the bus speed.
Write Tests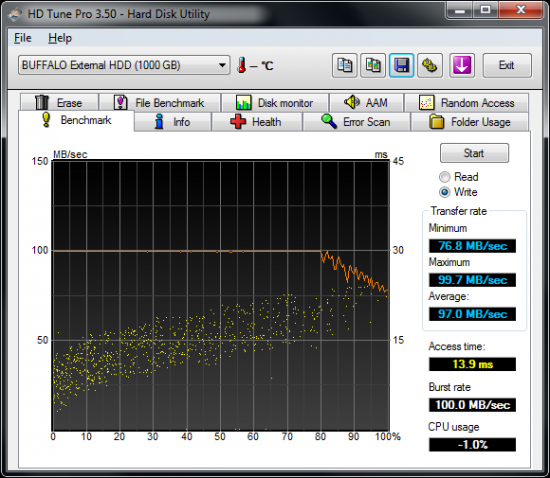 Our first write test had us scratching our heads, but we quickly realized that a SATA 6 Gbps drive was connected to the SATA 6 Gbps port and the P55A-UD4 was sharing.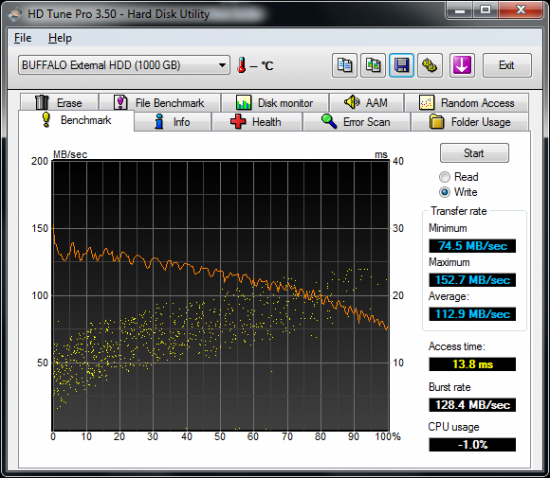 With the SATA 6 Gbps drive unplugged and the BIOS set to TURBO USB 3.0, we were able to run the Buffalo HD-HXU3 at full speed.
Benchmarks - Everest Random Access Time
Everest Random Access TimeVersion and / or Patch Used:
4.60
Developer Homepage:
http://www.lavalys.com
Product Homepage:
http://www.lavalys.com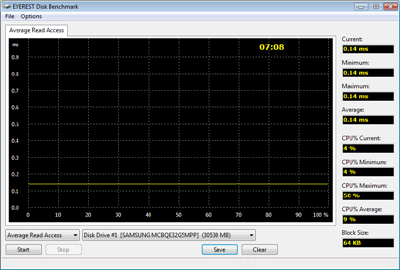 Everest Ultimate and Corporate Edition offer several different benchmarks for testing and optimizing your system or network. The Random Access test is one of very few if not only that will measure hard drives random access times in hundredths of milliseconds as oppose to tens of milliseconds.
Read Tests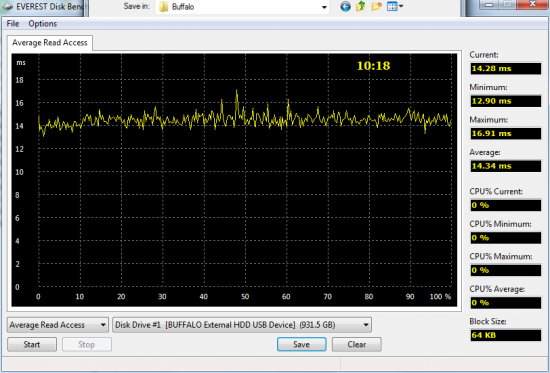 In this test we are looking for increased latency. There are several chips that the data will need to pass through to get to the motherboard. It appears that the Buffalo HD-HXU3 doesn't add a large amount of latency, if any at all. We will know more once we disassemble the enclosure and retest with a known drive.
Write Tests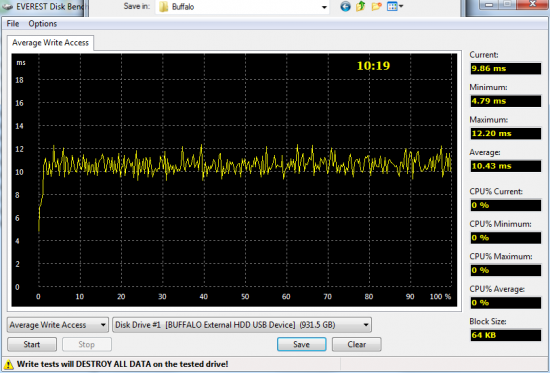 The same is true for the write access times, but we will need to either test the drive in the enclosure on a SATA II port or replace it with a drive that we have already ran the numbers on. So far so good, though.
Benchmarks - PCMark Vantage Hard Disk Tests
PCMark Vantage - Hard Disk TestsVersion and / or Patch Used:
1.0.0
Developer Homepage:
http://www.futuremark.com
Product Homepage:
http://www.futuremark.com/benchmarks/pcmark-vantage/
Buy It Here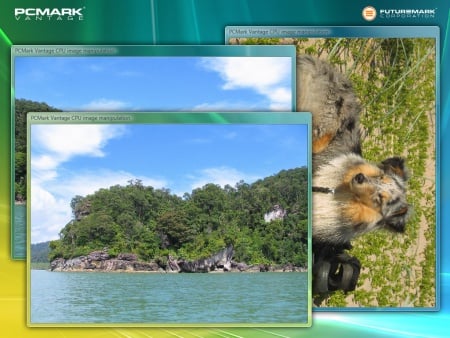 PCMark Vantage is the first objective hardware performance benchmark for PCs running 32 and 64 bit versions of Microsoft Windows Vista. PCMark Vantage is perfectly suited for benchmarking any type of Microsoft Windows Vista PC from multimedia home entertainment systems and laptops to dedicated workstations and high-end gaming rigs. Regardless of whether the benchmarker is an artist or an IT Professional, PCMark Vantage shows the user where their system soars or falls flat, and how to get the most performance possible out of their hardware. PCMark Vantage is easy enough for even the most casual enthusiast to use yet supports in-depth, professional industry grade testing.
FutureMark has developed a good set of hard disk tests for their PCMark Vantage Suite. These tests are based on real world applications that many of us use daily.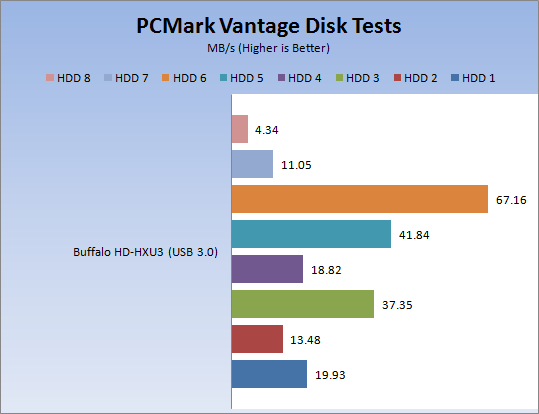 HDD1 - Windows Defender
HDD2 - Gaming
HDD3 - Windows Photo Gallery
HDD4 - Vista Startup
HDD5 - Windows Movie Maker
HDD6 - Windows Media Center
HDD7 - Windows Media Player
HDD8 - Application Loading
The Windows tests look similar to what we normally see when testing fast 5,400 RPM or middle of the road 7,200 RPM drives over a SATA II bus.
Benchmarks - AS SSD Benchmarks
AS SSD BenchmarksVersion and / or Patch Used:
1.2.3556.18595
Developer Homepage:
Alex Intelligent Software
Product Homepage:
Alex Intelligent Software
Download here:
http://www.alex-is.de/PHP/fusion/downloads.php?cat_id=4&download_id=9
AS determines the performance of Solid State Drives (SSD). The tool contains four synthetic as well as three practice tests. The synthetic tests are to determine the sequential and random read and write performance of the SSD. These tests are carried out without the use of the operating system caches.
In all synthetic tests the test file size is 1GB. AS can also determine the access time of the SSD, the access of which the drive is determined to read through the entire capacity of the SSD (Full Stroke). The write access test is only to be met with a 1 GB big test file. At the end of the tests three values for the read and write as well as the overall performance will be issued. In addition to the calculated values which are shown in MB/s, they are also represented in IO per seconds (IOPS).
Synthetic Tests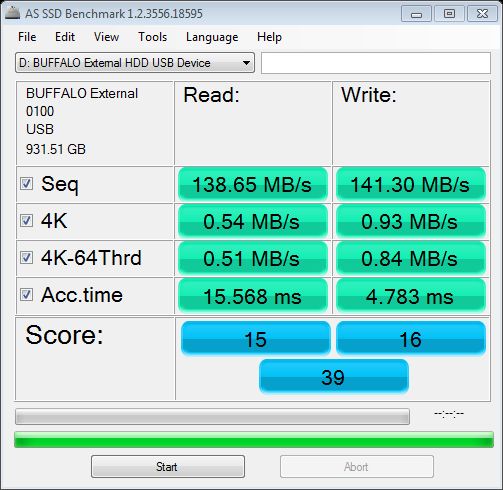 We are starting to test more with AS SSD as a benchmark and it is showing promise in the lab. So far we have tested over 50 drives with around 20 being traditional platter based. The test is growing in popularity, so I thought I would include it here today.
Copy Tests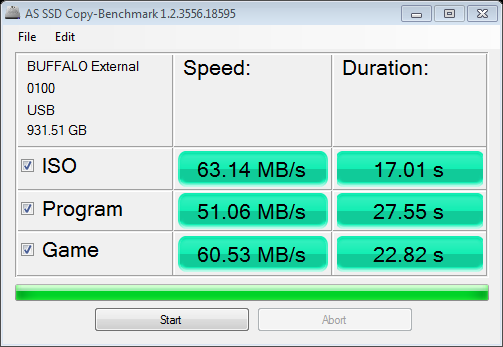 For the platter drives like what is inside of the Buffalo HD-HXU3, I tend to prefer the Copy Test. Here we see the USB 3.0 drive performing like a standard platter drive on a SATA II bus.
Final Thoughts
While the benchmark results may seem underwhelming when compared to some of the more recent drives we have tested like the Barracuda XT, the feeling goes away as soon as you remember that we are testing an external drive! USB 3.0 has delivered internal performance in an external case that should be as common as USB 2.0 is now by the middle of next year. We are already starting to see motherboard makers like GIGABYTE implementing USB 3.0 in their latest designs and looking to build new X58 chipset boards with USB 3.0 included. Just like with USB 2.0, we should start to see add-in boards with the new standard and exciting new products that can take advantage of the new standard.
Of all the external enclosure manufacturers, I didn't expect Buffalo to be the first company to actually get products on the market. Seagate, Western Digital or one of the motherboard manufacturers would have been my first guess, but it appears that Buffalo Tech pulled it off and delivered the first consumer USB 3.0 enclosure.
The Buffalo HD-HXU3 is constructed very well, much better than any of the enclosures that are sold without a drive that I have tested. Their implementation of USB 3.0 works very well and we didn't experience any issues with the unit at all. When it comes to cost, the MSRP looks a little steep; our 1TB model should be available soon for around 199.99 USD. Since most 1TB HDDs are available for less than 80 Dollars, you are paying a premium to have the latest technology. To take advantage of USB 3.0 you are also going to need a motherboard with USB 3.0 or at least a PCIe USB controller card and that will also raise your initial cost of ownership.
In the long run USB 3.0 will be more widespread than eSATA and within a year nearly all new PCs will have USB 3.0 onboard, even though Intel will not have it built into their chipsets until 2011.
PRICING: You can find products similar to this one for sale below.

United States: Find other tech and computer products like this over at Amazon.com

United Kingdom: Find other tech and computer products like this over at Amazon.co.uk

Australia: Find other tech and computer products like this over at Amazon.com.au

Canada: Find other tech and computer products like this over at Amazon.ca

Deutschland: Finde andere Technik- und Computerprodukte wie dieses auf Amazon.de
We openly invite the companies who provide us with review samples / who are mentioned or discussed to express their opinion. If any company representative wishes to respond, we will publish the response here. Please contact us if you wish to respond.