Seagate Savvio 15K.2 SAS 2.0 6Gb/s 146GB 2.5-inch Hard Disk
Today Chris looks at Seagate's second generation Savvio 15K.2 series hard disk which comes in a 2.5-inch form and makes use of SAS 2.0.
Published Fri, Nov 6 2009 7:49 AM CST
|
Updated Tue, Nov 3 2020 7:03 PM CST
Introduction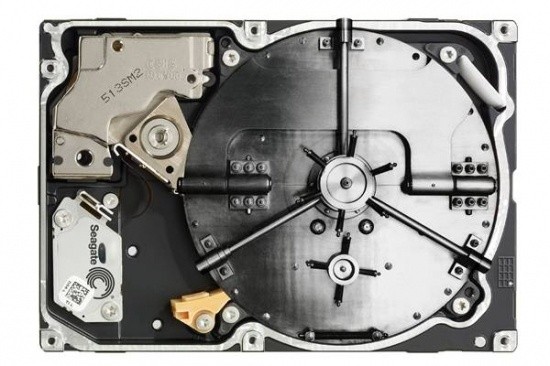 In February 2004 Seagate Technology announced the world's first 2.5 inch form factor enterprise hard drive. The product series was Savvio and although the first year was a little slow, the market has now caught on and the 2.5 inch standard has taken off like a rocket. Unlike notebook and most solid state drives, Seagate's enterprise drives are 12.5mm tall and do not fit in a majority of notebooks due to the height and SAS interface.
While the consumer market has been slow to adapt the 2.5 inch form factor standard, progress is being made. The QNAP TS-419P we just reviewed weeks ago was the first consumer level NAS to accept both 2.5 and 3.5 inch drives. QNAP also has a couple of 2.5 inch only NAS servers in their product line up. SSDs have been a hot topic for the past year and desktop chassis manufacturers are starting to include 2.5 inch adapters in their cases.
Real progress for 2.5 is coming from the enterprise market where many servers have been launched with bays only for these miniature drives. The premise is simple; smaller drives means you can fit more in the same amount of space. When it comes to rack mount servers space comes at a premium and it is sold in 1.75 inch sections. In a typical 1U server where the hard drives are mounted in removable bays, you could fit four 3.5 inch bays. Take that same server and configure it for 2.5 inch drives and you can add an extra row vertically and horizontally to make it a ten drive server.
The Seagate Savvio 15K.2 is a second generation 2.5 inch form factor hard drive that uses the SAS 2.0, 6Gb/s interface. Let's move on and check out the full specifications.
Specifications, Availability and Pricing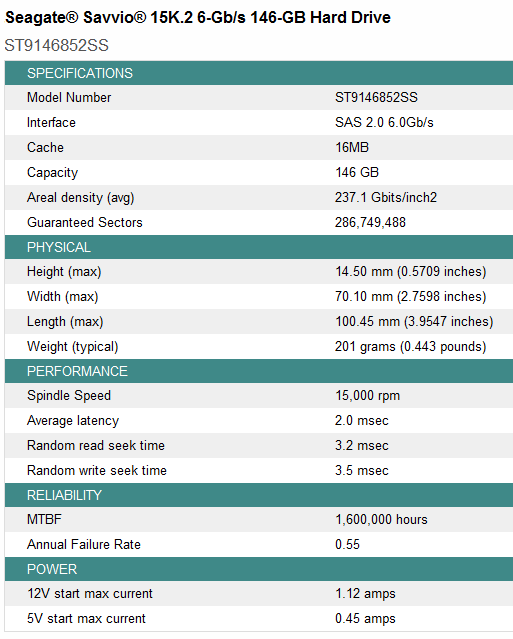 Seagate makes both 10 and 15K RPM drives for their Savvio Series and you can distinguish them apart by the model number quite easily. All Savvio drives are 2.5 inch form factor; the two newest models are the 15K.2 that we are reviewing here today and the 10K.3 that we will review shortly. Both of the drives offer support for SAS 2.0, the latest 6 Gb/s interface that just recently started to emerge on the market. For this review we are going to focus on the Seagate Savvio 15K.2.
Looking at the specifications list, the Savvio 15K.2 reminds us of the Cheetah 15K.7 that we reviewed just recently. Both drives share the same amount of cache and the performance is similar. The Cheetah series drives are Seagate's 3.5 inch form factor flagship models that are capable of more capacity, but that capacity comes at the cost of higher power consumption. That said, the 2.5 inch form factor drives use significantly less power than their 3.5 inch counterparts. 2.5 inch drives also produce less heat on average and of course you can fit more of them into the same amount of available space.
The Savvio 15K.2 is available in 73 and 146GB capacities. Other than the capacity differences, both drives share the same amount of cache and SAS 2.0 interface. After doing a few searches I was able to find the 73GB version for 220 USD and the 146GB for 266 from CDW. Obviously the better value when it comes to capacity to cost is the 146GB version that we are testing here today.
Let's dive in and have a look at the Seagate Savvio 15K.2.
The Seagate Savvio 15K.2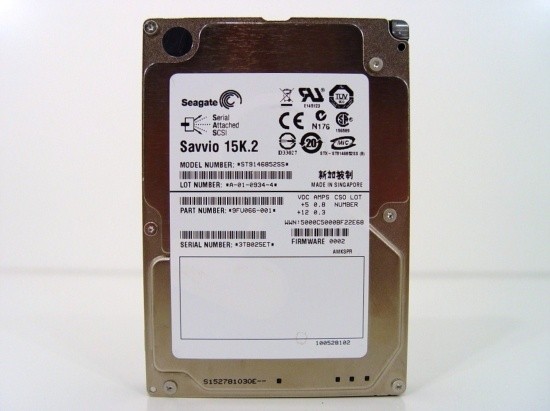 The top of the drive is typical Seagate. All of the model and serial information is located on the label on the top of the drive. You can tell just from holding the drive that it is sturdier than a standard notebook drive.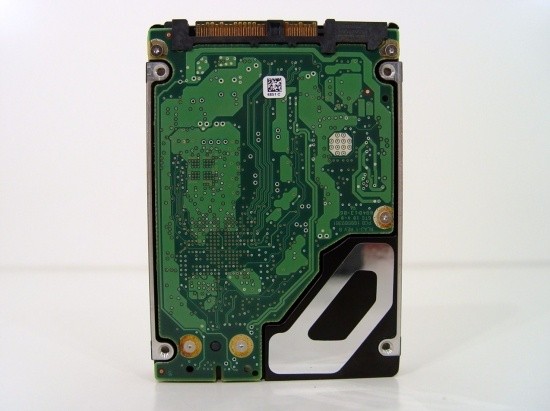 A couple of years ago Seagate started mounting all of the components on the other side of the board, so there isn't much to see here.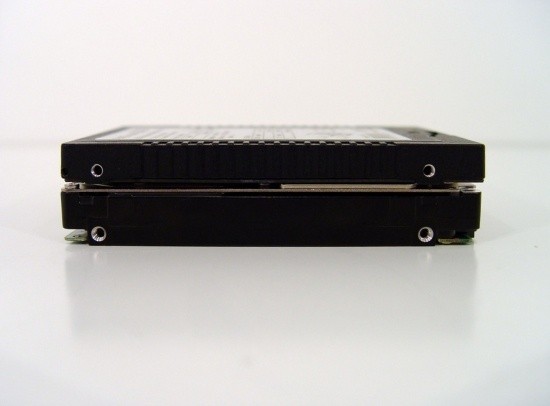 The top drive is 9mm and the bottom is our 12.5mm Savvio 15K.2.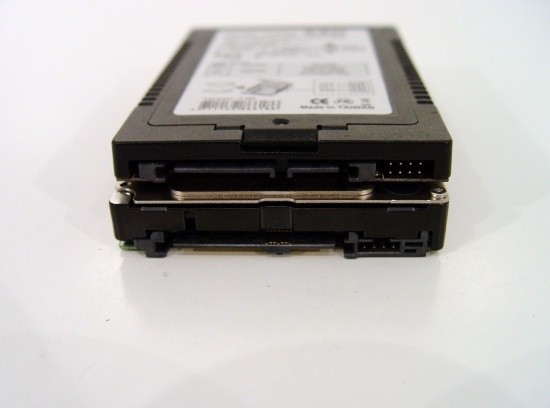 The power and data connectors for SAS are a little different than SATA. Here we see SAS on the bottom and SATA on the top.
Test System Setup and ATTO Baseline
Test System
Motherboard
: ASUS P6T7 WS SuperCoputer (Supplied by
ASUS
)
Processors
: Intel 975 EE (Supplied by
AVADirect
)
Memory
: Corsair Dominator 1600 MHz Triple Channel Kit
Graphics Card
: Leadtek Quadro FX1700 (Supplied by
Leadtek
)
Enclosure
: Lian Li V2000
Cooling
: Noctua NH-U12P SE2 (Supplied by
Noctua
)
SAS Controller
: LSI MegaRAID SAS 9260-8i (Supplied by
LSI
)
Operating System
: Microsoft Windows 7 Ultimate X64
You can read more about TweakTown's Storage Product Testing Workstation and the procedures followed to test products
in this article
.
Benchmarks - HD Tune Pro
HD Tune ProVersion and / or Patch Used:
3.00
Developer Homepage:
http://www.efdsoftware.com
Product Homepage:
http://www.hdtune.com
HD Tune is a Hard Disk utility which has the following functions:
- Benchmark: measures the performance
- Info: shows detailed information
- Health: checks the health status by using SMART
- Error Scan: scans the surface for errors
- Temperature display
HD Tune Pro gives us accurate read, write and access time results and for the last couple of years has been gaining popularity amongst reviewers. It is now considered a must have application for storage device testing.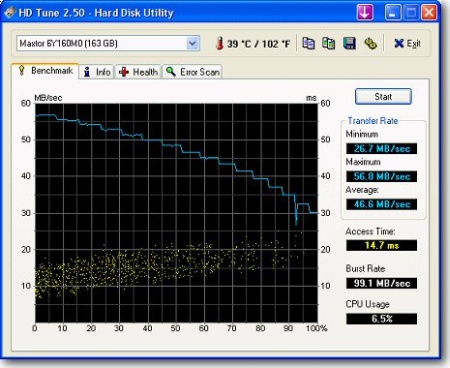 Read Tests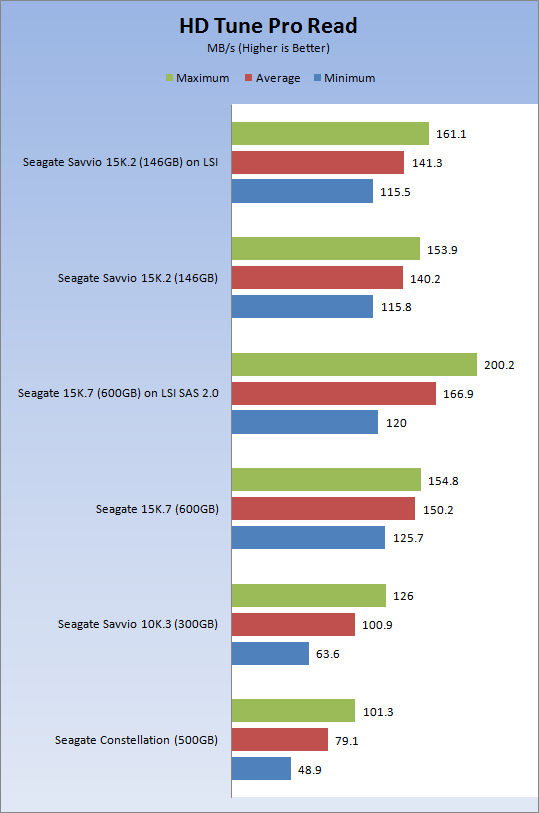 Just like the Cheetah 15K.7, the Savvio 15K.2 also sees a performance increase from the SAS 2.0 LSI MegaRAID controller. The average STR is pretty much the same with and without the controller. When compared to the 3.5 inch 15K.7, the Savvio 15K.2 is slower by around 20 MB/s average.
Write Tests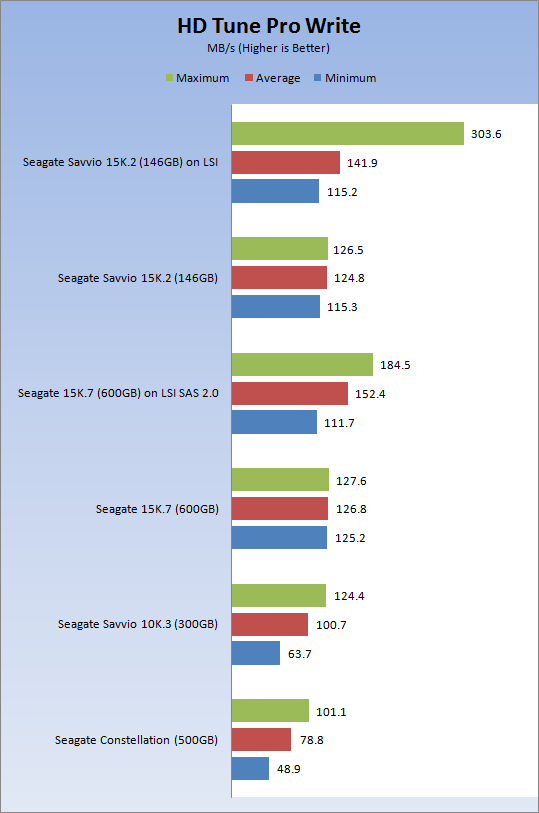 The LSI MegaRAID 92600-8i has 512MB of cache that sometimes throws the maximum write speed numbers off, so we are going to ignore the 300 MB/s burst of the 15K.2 and focus on the average numbers. Here we see that to get the most out of the 15K RPM SAS drives, you really need to use a SAS 2.0 controller. Here the averages are significantly higher with the controller for both the Cheetah and Savvio 15K's. The Savvio 15K is a little slower once again than the Cheetah, but as you can see, much faster than the Savvio 10K.
Benchmarks - Everest Random Access Time
Everest Random Access TimeVersion and / or Patch Used:
4.60
Developer Homepage:
http://www.lavalys.com
Product Homepage:
http://www.lavalys.com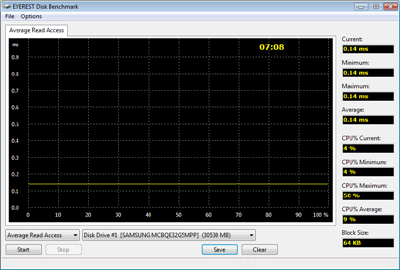 Everest Ultimate and Corporate Edition offer several different benchmarks for testing and optimizing your system or network. The Random Access test is one of very few if not only that will measure hard drives random access times in hundredths of milliseconds as oppose to tens of milliseconds.
Read Tests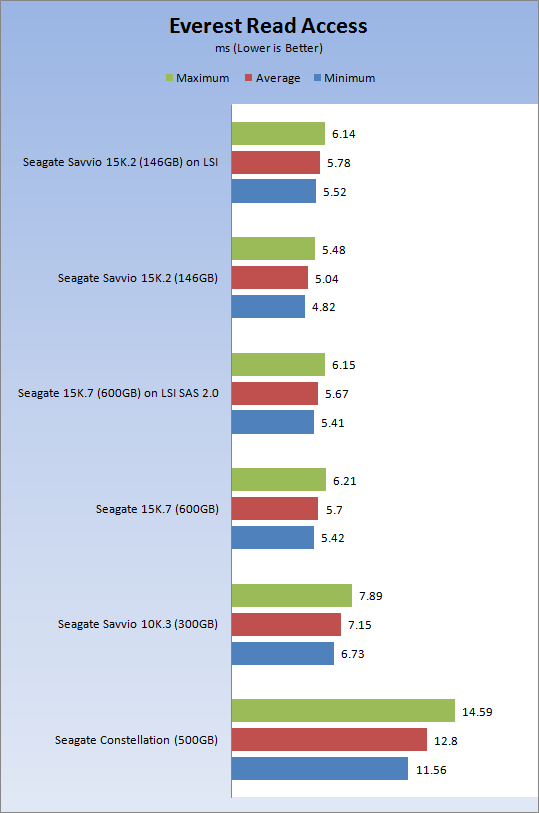 The Random Access Times for the 15K drives is a lot lower than the 7,200 and 10K drives, as it should be.
Write Tests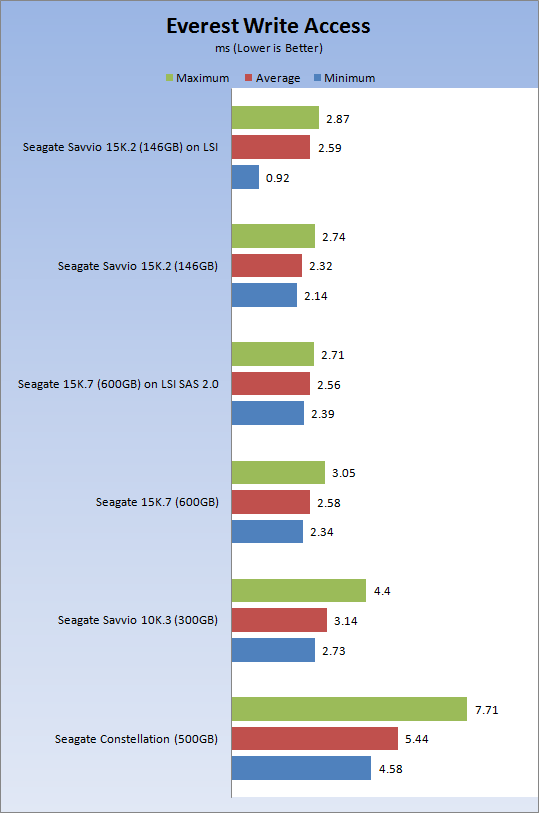 The 512MB cache on the LSI MegaRAID does play games with our write access time numbers, but we get a good idea from the random access numbers. The 15K.2 has very lower write access times that are on par with the Cheetah 15K.7.
Let's see how all of these synthetic benchmarks relate to real world applications.
Benchmarks - PCMark Vantage Hard Disk Tests
PCMark Vantage - Hard Disk TestsVersion and / or Patch Used:
1.0.0
Developer Homepage:
http://www.futuremark.com
Product Homepage:
http://www.futuremark.com/benchmarks/pcmark-vantage/
Buy It Here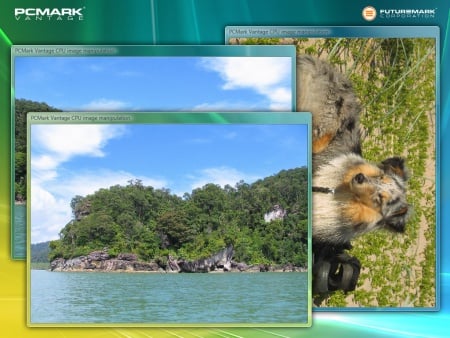 PCMark Vantage is the first objective hardware performance benchmark for PCs running 32 and 64 bit versions of Microsoft Windows Vista. PCMark Vantage is perfectly suited for benchmarking any type of Microsoft Windows Vista PC from multimedia home entertainment systems and laptops to dedicated workstations and high-end gaming rigs. Regardless of whether the benchmarker is an artist or an IT Professional, PCMark Vantage shows the user where their system soars or falls flat, and how to get the most performance possible out of their hardware. PCMark Vantage is easy enough for even the most casual enthusiast to use yet supports in-depth, professional industry grade testing.
FutureMark has developed a good set of hard disk tests for their PCMark Vantage Suite. These tests are based on real world applications that many of us use daily.

HDD1 - Windows Defender
HDD2 - Gaming
HDD3 - Windows Photo Gallery
HDD4 - Vista Startup
HDD5 - Windows Movie Maker
HDD6 - Windows Media Center
HDD7 - Windows Media Player
HDD8 - Application Loading
Once again we see the Seagate Savvio 15K.2 with and without SAS 2.0. Without it the drive is plenty fast, but with the aid of the controller the drive opens up and gets to really stretch its legs. The 15K.2 also shows it dominance to the Savvio 10K.3.
Benchmarks - Passmark
Passmark Advanced Multi-User TestsVersion and / or Patch Used:
6.1
Developer Homepage:
http://www.passmark.com
Test Homepage:
http://www.passmark.com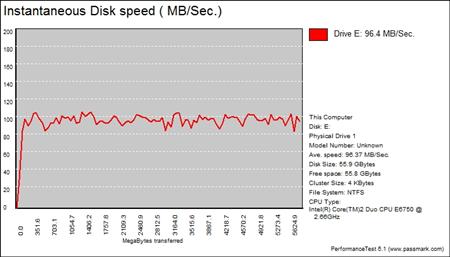 Many users complain that I/O Meter is too complicated of a benchmark to replicate results so my quest to find an alternative was started. Passmark has added several multi-user tests that measure a hard drives ability to operate in a multi-user environment.

The tests use different settings to mimic basic multi-user operations as they would play out on your server. Variances is read / write percentage as well as random / sequential reads are common in certain applications, Web Servers read nearly 100% of the time while Database Servers write a small amount of data.
The Workstation test is the only single user environment and will be similar to how you use your system at home.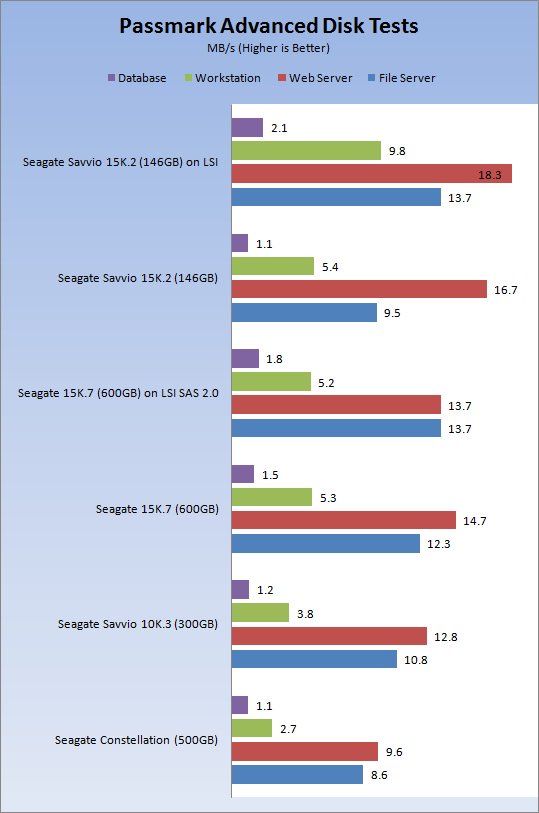 The Passmark Advanced Disk Tests are what the Savvio is made for. Here we see stellar performance over the 7,200 and 10K drives. Once again the tests ran with SAS 2.0 show a performance improvement right from the start, something that we are not seeing with SATA 6 Gb/s.
Final Thoughts

The Savvio Series with its 2.5 inch form factor has really caught on for enterprise use. We are now starting to see consumer and small business products use the same interface. QNAP in January launched their TS-439 Pro Turbo NAS, a 2.5 inch form factor only NAS server. While the system can only use SATA interface hard drives, it is a start. Thecus has recently started selling two SAS systems, the N7700 SAS and N8800 SAS. Both are built for full size 3.5 inch drives, but it should not be long before we see a convergence of the two, making affordable, consumer and small business NAS servers available to everyone.
For now servers like the one above from Sun make full use of the 2.5 inch standard. In the picture above we see a 2U (around 3 inch tall) rack mount system that can house 16 drives and still keep an optical ROM drive as well as some direct ventilation to cool processors and memory.
When it comes to the performance of the Seagate Savvio 15K.2, the 146GB drive is capable of churning data at near Cheetah speeds while using less power and having a smaller footprint that allows more drives to occupy less space. Even more surprising is the fact that the Savvio drives cost less than the Cheetah Series products. Generally smaller form factory technology is the opposite and costs more, but for once this is not the case. Couple a lower cost of ownership with lower power consumption with higher drive density and your company could see significantly lower overall cost in the server room.
PRICING: You can find products similar to this one for sale below.

United States: Find other tech and computer products like this over at Amazon.com

United Kingdom: Find other tech and computer products like this over at Amazon.co.uk

Australia: Find other tech and computer products like this over at Amazon.com.au

Canada: Find other tech and computer products like this over at Amazon.ca

Deutschland: Finde andere Technik- und Computerprodukte wie dieses auf Amazon.de
We openly invite the companies who provide us with review samples / who are mentioned or discussed to express their opinion. If any company representative wishes to respond, we will publish the response here. Please contact us if you wish to respond.