Seagate Barracuda XT 2TB SATA 6 Gbit/s Hard Drive Performance Review
SATA 3.0 has arrived and Seagate was the first through the door. Let's have a look at the new Barracuda XT and how it performs.
Published Thu, Oct 29 2009 7:12 AM CDT
|
Updated Tue, Nov 3 2020 7:03 PM CST
Introduction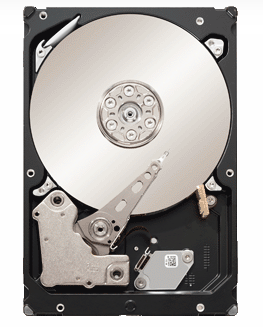 Third generation Serial ATA technology is finally here. Today we are going to take a look at the new Seagate Barracuda XT, the first SATA 6 Gb/s hard drive to hit the TweakTown Test Lab.
A few weeks ago LSI sent over their first next generation SAS / SATA controller to review with a set of Seagate 15K.7 SAS drives that were also the first SAS 6 Gb/s products to hit the market. I think it is fair to say that Seagate is leading the charge when it comes to these next generation products that will improve the productivity of our daily computing experience for years to come.
When SATA was first introduced most SATA hard drives were ported from PATA with a bridge chip and the technology was little more than an improvement in the size of the cable used for connectivity. It wasn't long before the four groups who are responsible for the standard realized the error in their ways and announced SATA 3 Gb/s, the second generation standard that brought us AHCI, Native Command Queuing (NCQ), staggered spin-up and hot swapping. Clearly SATA 3Gb/s was a significant update.
In July 2008 SATA-IO, one of four groups that work on the SATA standards introduced the latest standard, SATA 6Gb/s. This updated version allows for the following changes (via Wiki):
A new Native Command Queuing (NCQ) streaming command to enable Isochronous data transfers for bandwidth-hungry audio and video applications.
An NCQ Management feature that helps optimize performance by enabling host processing and management of outstanding NCQ commands.
Improved power management capabilities.
A small Low Insertion Force (LIF) connector for more compact 1.8-inch storage devices.
A connector designed to accommodate 7 mm optical disk drives for thinner and lighter notebooks.
Alignment with the INCITS ATA8-ACS standard.
The enhancements are generally aimed at improving quality of service for video streaming and high priority interrupts. In addition, the standard continues to support distances up to a meter. The new speeds may require higher power consumption for supporting chips, factors that new process technologies and power management techniques are expected to mitigate. The new specification can use existing SATA cables and connectors, although some OEMs are expected to upgrade host connectors for the higher speeds. Also, the new standard is backwards compatible with SATA 3 Gbit/s.
In order to avoid parallels to the common SATA II misnomer, the SATA-IO has compiled a set of marketing guidelines for the new specification. The specification should be called
Serial ATA International Organization: Serial ATA Revision 3.0
, and the technology itself is to be referred to as SATA 6 Gbit/s. A product using this standard should be called the SATA 6 Gbit/s [product name]. The terms SATA III or SATA 3.0, which are considered to cause confusion among consumers, must not be used.
Now that we have the standards down, let's move on and focus on the Seagate Barracuda XT.
Specifications, Availability and Pricing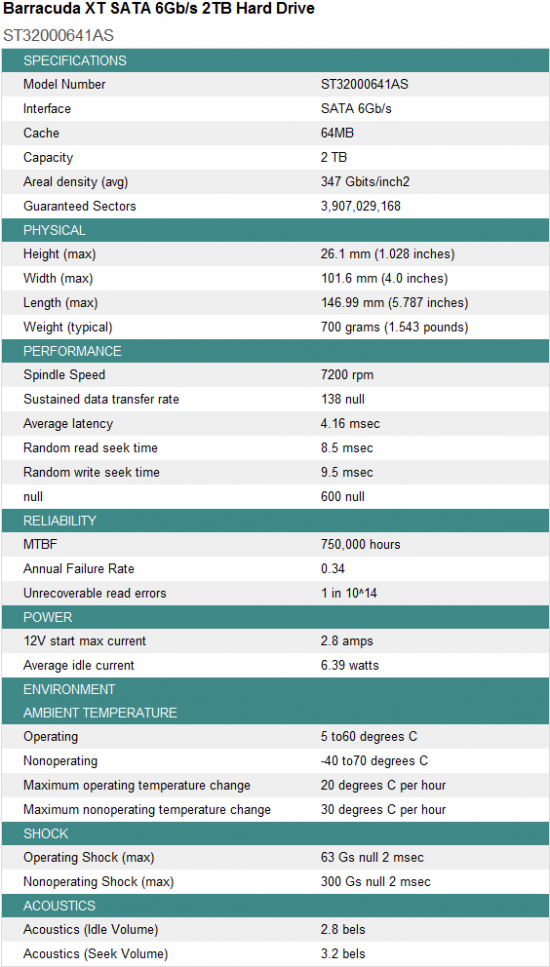 To date there have been a handful of 2TB hard drives released on the market, at least one for each major hard drive manufacture. Most of these drives have been of the slower desktop platter speeds, 5,400 or 5,900 RPMs. Hitachi and Western Digital both market a 7,200 RPM 2TB drive and now Seagate has entered the fray. Seagate's high performance Barracuda is unique since it is the only hard drive to use the next generation SATA 6 Gb/s standard.
Seagate has also given the Barracuda XT a massive 64MB of cache that should allow the drive to burst faster than the SATA 3 Gb/s standard is capable of. This gives the move to SATA 6 Gb/s some validity and not just a check in the box upgrade.
At the time of writing the Barracuda XT was not available in stores or Newegg but we were told to expect a 299 USD MSRP and stock to arrive within a week. Seagate's mainstream 5,900 RPM 2TB drive is one of the lowest priced 2TB drives on the market and is available for less than 160 Dollars so you are paying quite a premium for the latest and greatest technology. Also to get the most out of the drive you will need to get purchase a controller card or a motherboard with the latest SATA standard onboard. At this time there are just a couple of P55 boards from ASUS and GIGABYTE (and ASRock has one by means of an add-on card) with SATA 6Gb/s, but I suspect the motherboard companies are scrambling to get support on other boards.
One interesting feature that is not shown on the specifications table is the ability to short stoke the new Barracuda XT. This will allow the drive to perform better at the cost of capacity. We will follow up with an additional review testing this feature when out new motherboard arrives with onboard SATA 6Gb/s support.
Let's have a look at the Seagate Barracuda XT.
The Seagate Barracuda XT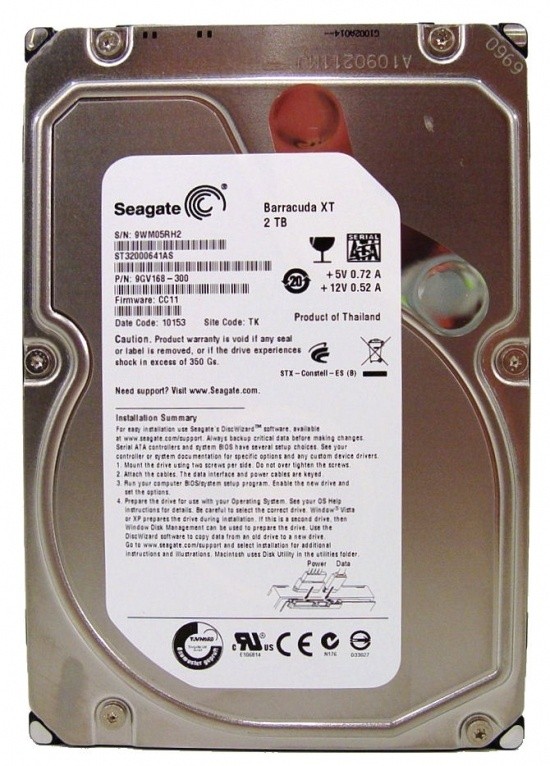 Our drive was so new that it arrived in a less than OEM style box, it wasn't even wrapped in an antistatic bag but we aren't complaining about getting a drive right from the factory. Like nearly all of Seagate's hard drives the label on the front shows the model name and serial number.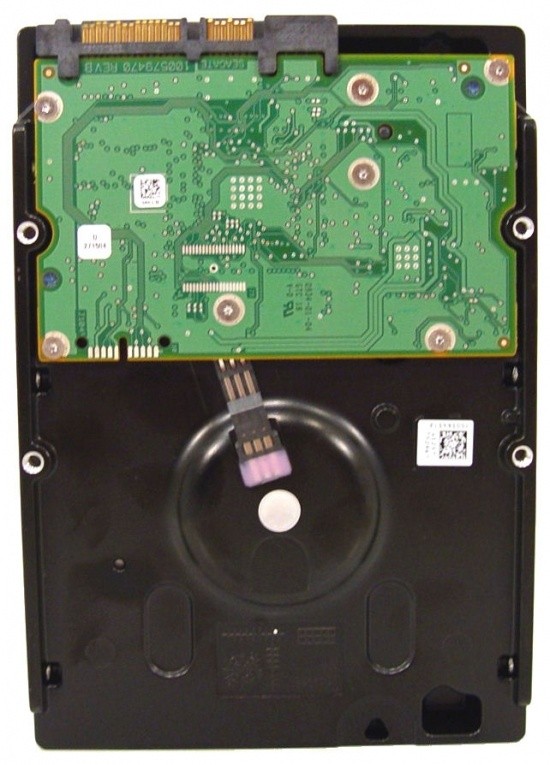 On the outside there isn't really much to see. On the back side of the drive all of the electronics are on the opposite side of the board.

The side of the drive has all of the standard mounting locations for a 3.5 inch form factor drive.

The power and data ports are where they should be located. There are a couple of jumpers on the back as well for special configurations.
Test System Setup
Test System
Motherboard
: ASUS P6T7 WS SuperComputer (Supplied by
ASUS
)
Processors
: Intel 975 EE (Supplied by
AVADirect
)
Memory
: Corsair Dominator 1600 MHz Triple Channel Kit
Graphics Card
: Leadtek Quadro FX1700 (Supplied by
Leadtek
)
Enclosure
: Lian Li V2000
Cooling
: Noctua NH-U12P SE2 (Supplied by
Noctua
)
SAS Controller
: LSI MegaRAID SAS 9260-8i (Supplied by
LSI
)
Operating System
: Microsoft Windows 7 Ultimate X64
You can read more about TweakTown's Storage Product Testing Workstation and the procedures followed to test products
in this article
.
A special note for this article, we have yet to receive our motherboard with SATA 6Gb/s from ASUS or GIGABYTE, but we already had an LSI MEgaRAID SATA / SAS 6 Gb/s controller card on hand so we were able to test the drive in its native mode.
We scrambled and tested a handful of other drives on the same controller to get true apples to apples numbers for comparison. It should be mentioned that the LSI controller's cache will change the drives write performance benchmarks by a large margin.
At a later time we will go back and test the Seagate Barracuda XT on a motherboard with 6 Gb/s SATA onboard via a new Marvell controller and bridge chip. Stay tuned for the SATA 3 Gb/s to 6Gb/s review with the XT.
Benchmarks - HD Tune Pro
HD Tune ProVersion and / or Patch Used:
3.00
Developer Homepage:
http://www.efdsoftware.com/
Product Homepage:
http://www.hdtune.com/>
HD Tune is a Hard Disk utility which has the following functions:
- Benchmark: measures the performance
- Info: shows detailed information
- Health: checks the health status by using SMART
- Error Scan: scans the surface for errors
- Temperature display
HD Tune Pro gives us accurate read, write and access time results and for the last couple of years has been gaining popularity amongst reviewers. It is now considered a must have application for storage device testing.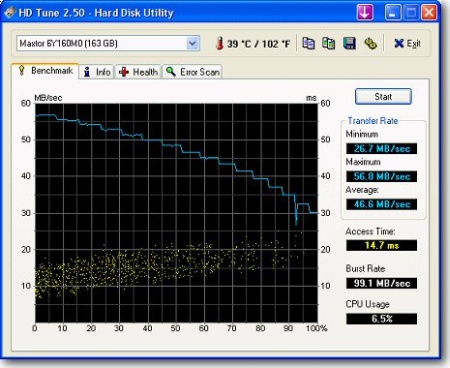 Read Tests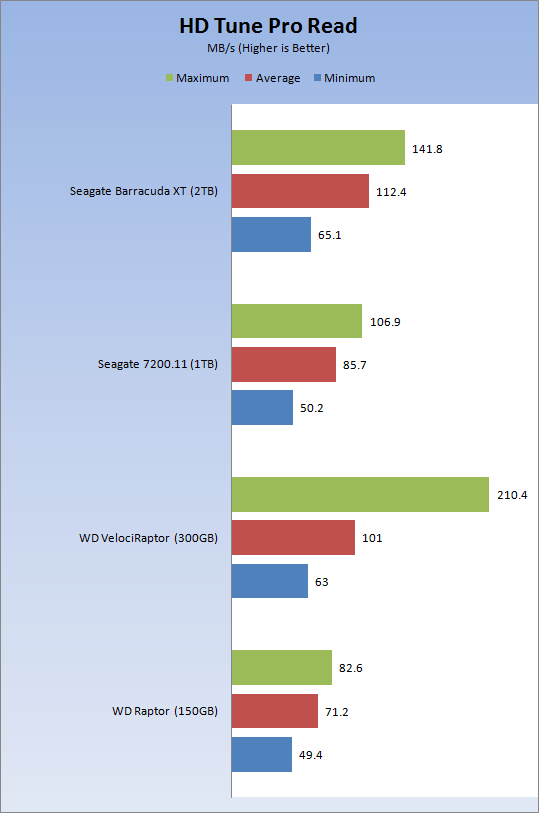 The average read performance of the Seagate Barracuda XT is actually higher than the Western Digital VelociRaptor. At the low end where platter drives are the slowest the XT is also faster than the VR.
Write Tests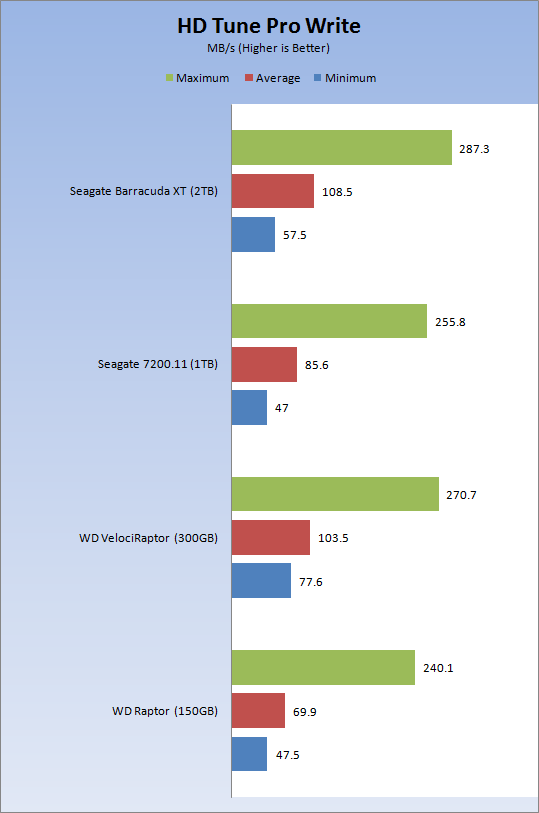 As mentioned earlier the LSI controller is going to give us maximum burst numbers that are much higher than you would see on a motherboard SATA header. Because of this you will want to pay more attention to the average numbers, a statistic we like to look closer at anyhow. Here we see the XT writing data faster than the VelociRaptor once again.
Benchmarks - Everest Random Access Time
Everest Random Access TimeVersion and / or Patch Used:
4.60
Developer Homepage:
http://www.lavalys.com/
Product Homepage:
http://www.lavalys.com/ >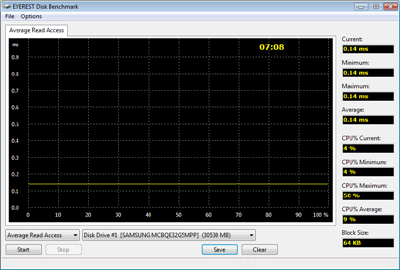 Everest Ultimate and Corporate Edition offer several different benchmarks for testing and optimizing your system or network. The Random Access test is one of very few if not only that will measure hard drives random access times in hundredths of milliseconds as oppose to tens of milliseconds.
Read Tests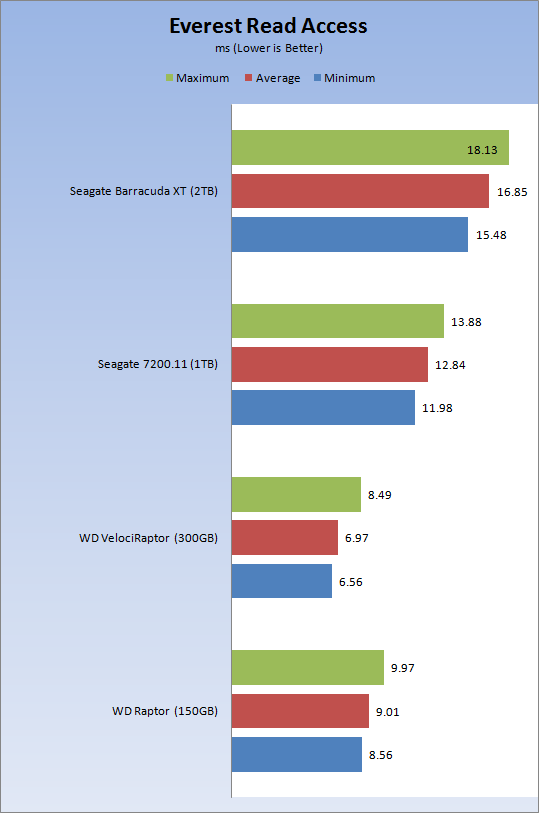 The Seagate Barracuda XT has the highest read latency of all of the drives tested, even higher than the Seagate 7200.11.
Write Tests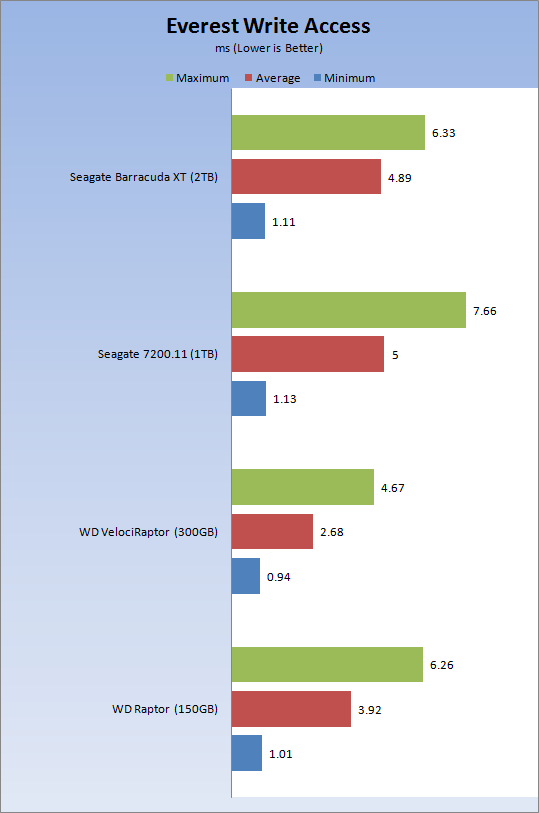 The write latency is lower than the older 7200 RPM drive from Seagate. There was little chance of either Seagate drive to beat the Raptors since the Raptors have a rotational speed of 10,000 RPMs.
Let's see how all of these synthetic benchmarks relate to real world applications.
Benchmarks - PCMark Vantage Hard Disk Tests
PCMark Vantage - Hard Disk TestsVersion and / or Patch Used:
1.0.0
Developer Homepage:
http://www.futuremark.com
Product Homepage:
http://www.futuremark.com/benchmarks/pcmark-vantage//
Buy It Here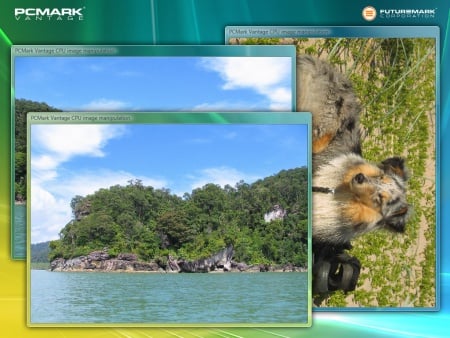 PCMark Vantage is the first objective hardware performance benchmark for PCs running 32 and 64 bit versions of Microsoft Windows Vista. PCMark Vantage is perfectly suited for benchmarking any type of Microsoft Windows Vista PC from multimedia home entertainment systems and laptops to dedicated workstations and high-end gaming rigs. Regardless of whether the benchmarker is an artist or an IT Professional, PCMark Vantage shows the user where their system soars or falls flat, and how to get the most performance possible out of their hardware. PCMark Vantage is easy enough for even the most casual enthusiast to use yet supports in-depth, professional industry grade testing.
FutureMark has developed a good set of hard disk tests for their PCMark Vantage Suite. These tests are based on real world applications that many of us use daily.

HDD1 - Windows Defender
HDD2 - Gaming
HDD3 - Windows Photo Gallery
HDD4 - Vista Startup
HDD5 - Windows Movie Maker
HDD6 - Windows Media Center
HDD7 - Windows Media Player
HDD8 - Application Loading
Here we see the Barracuda XT producing big numbers thanks to its interface, cache and platter density. The XT mixes it up with the VelociRaptor winning some benchmarks and really showing its might in the Media Center test.
Benchmarks - Passmark
Passmark Advanced Multi-User TestsVersion and / or Patch Used:
6.1
Developer Homepage:
http://www.passmark.com/
Test Homepage:
http://www.passmark.com/ >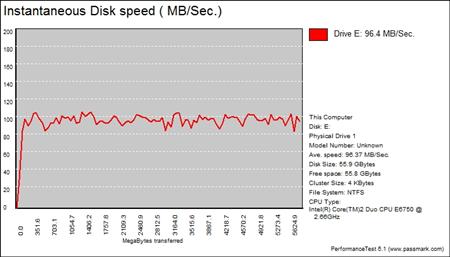 Many users complain that I/O Meter is too complicated of a benchmark to replicate results so my quest to find an alternative was started. Passmark has added several multi-user tests that measure a hard drives ability to operate in a multi-user environment.

The tests use different settings to mimic basic multi-user operations as they would play out on your server. Variances is read / write percentage as well as random / sequential reads are common in certain applications, Web Servers read nearly 100% of the time while Database Servers write a small amount of data.
The Workstation test is the only single user environment and will be similar to how you use your system at home.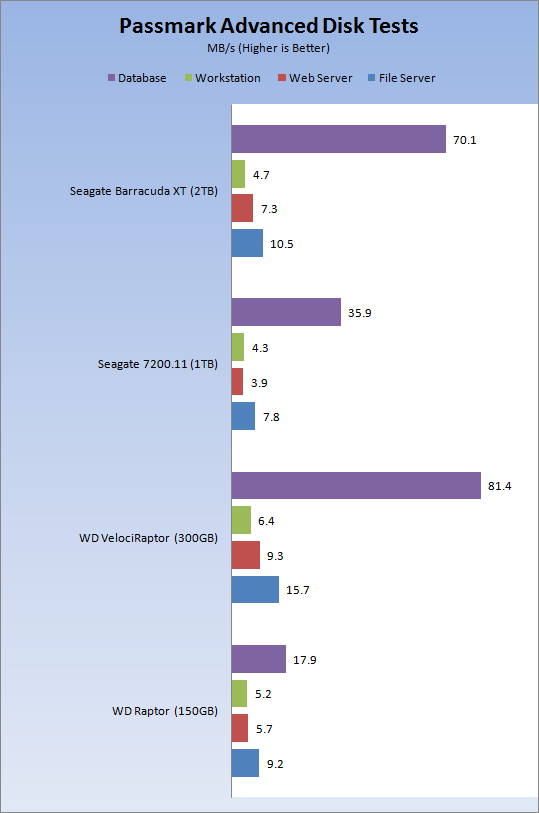 The server tests benefit from higher platter speeds but we can see that Seagate's latest drive runs much faster than the previous generation. In the Web Server test the XT manages to almost double to speed of the 7200.11.
Final Thoughts
Seagate wasn't the first to market with a 2 terabyte desktop drive, but they did manage to pull off the first and at this time only SATA 6 GB/s drive.
On one hand this is a big feat for the company, but on the other being the first doesn't always make for a successful product. The good thing is that Seagate has a very fast drive with the Barracuda XT, one of the fastest and quietest platter based drives I have tested. The problem is the rest of the industry is going to have to catch up. At this time LSI and Intel both have SAS / SATA controllers like the one we used today to test with. Promise and Highpoint Technology just announced their controllers today as well. ASUS and GIGABYTE have motherboards in stores or shipping to stores and they will both use a PCIe 2.0 to SATA 6 Gb/s bridge chip to Marvell controller.
ASUS has also told us that they will have a PCIe 2.0 controller card in our hands in the next few days so that will also be an option. These controllers are going to go a long way for users who want to add SATA 6 Gb/s to their existing systems, more importantly enthusiasts that have already chosen their X58 motherboard and who are not looking to downgrade to a P55 based product. These are the types of users who will look to add a SATA 6 Gb/s drive or several in RAID to their systems.
SATA 6 Gb/s with a Seagate Barracuda XT does add some interesting features, but nothing as groundbreaking as NCQ did with SATA 3 Gb/s. Just like the first SATA 1.5 drives, SATA 6 Gb/s will not show major improvements until the drives can really start to break the barriers put in place by the previous generation. Burst speeds will be improved with SATA 6 Gb/s, but how many times will this fraction of a second of performance increase really add to the user experience?
The cost of the Seagate Barracuda XT is really the biggest challenge for enthusiasts and mainstream users. At 299 USD there is a huge price premium over the 5,900 RPM 2TB Seagate drive. Enthusiasts will be ready to take advantage of the additional cache, platter density and increased peak performance from the additional platter rotational speeds but spending nearly double for those is a hard package to sell.
PRICING: You can find products similar to this one for sale below.

United States: Find other tech and computer products like this over at Amazon.com

United Kingdom: Find other tech and computer products like this over at Amazon.co.uk

Australia: Find other tech and computer products like this over at Amazon.com.au

Canada: Find other tech and computer products like this over at Amazon.ca

Deutschland: Finde andere Technik- und Computerprodukte wie dieses auf Amazon.de
We openly invite the companies who provide us with review samples / who are mentioned or discussed to express their opinion. If any company representative wishes to respond, we will publish the response here. Please contact us if you wish to respond.