GELID Solutions GC-Extreme - Cutting Edge Thermal Compound
GELID Solutions enters another member to the thermal compound market. This time we look at their GC-Extreme cutting edge thermal compound.

Published Thu, Aug 6 2009 6:41 AM CDT
|
Updated Tue, Nov 3 2020 7:03 PM CST
Introduction
Just not too long ago I tested another sample from GELID Solutions, their
GC-2 thermal compound
. Test results showed that the GC-2 is quite the contender for your hard earned dollar. Talking with my GELID representative, I was assured that I should really look at their newest sample if I liked the GC-2, as results were coming in showing even better results. This in itself made me eager to get a layer in the T.E.C.C. and see just what all the talk is about.
I received a bit of a heads up on its performance potential; I assume this new compound is a bit different than the GC-2. I mean, they have to have changed something to make this submission perform, from what I was told, much better. I plan to point out the similarities and differences that would persuade you to this new sample over an already tested top competitor.
Today we are looking at the GC-Extreme from GELID Solutions. Many sites have gotten their hands on this compound and the numbers that I have seen were outstanding. I don't doubt that any of those sites got the numbers they reported, but I do have some doubts on how controlled their methods of testing are. So, let's get to the task at hand and see if I can achieve similar results to what others are showing.
Specifications, Availability and Pricing
- Ultimate Heat Conductivity
- Net Contents are 3.5 grams
- Optimal Heat Conductivity
- Low Thermal Resistance
- Non-Conductive
- Non-Corrosive
- Non-Bleeding
- Non-Curing
- User Friendly
GELID's GC-Extreme offers all the same characteristics of the previous GC-2 sample with just a few exceptions. This time around, GELID doesn't list a specific gravity of the compound, but they do add "ultimate heat conductivity" to this list. I also noticed that the GC-Extreme is only available in a 3.5 gram tube versus the GC-2 which comes in a 7 gram syringe. I hope we do see some impressive numbers here to warrant purchasing half as much compound.
Doing the typical Google search for e-tailers, at this time there are only three. Give it time, GC-Extreme is fairly new and they need a bit of time to fill the stores with their product. Either way, you should have no issue finding it as I did, if you decide this is the thermal compound for you.
GC-Extreme can be found
at Newegg for $13.99 plus shipping
and is currently showing stock on hand. Once they receive stock the price may drop a bit, so don't let their pricing scare you off just yet. I was able to locate the GC-Extreme at another e-tailer for around $10 plus shipping and yet another listed at
$8.75 plus shipping
. This $8.75 price tag is higher than the GC-2 and even more so when you think that you are only getting half as much compound for the dollar versus GELID Solution's previous submission. Yet another reason the temperatures need to show good improvement.
Packaging and Contents
Packaging and Content
As with most things labelled "Extreme", they tend to all come with black packaging and GELID is no exception. Using the black insert really highlights the bright yellow/green colouration of the syringe of compound and the moniker on the handle of the included spreader. Just like the GC-2, GELID sent early samples to be reviewed so they could add the awards to the front of the packaging. Sad to say, this time it wasn't our award pasted there.
On the flip side of the insert there is GELID's own statement of the GC-Extreme followed by excerpts from the three sites that gave each award. Also included is the temperature comparison chart from one site using Intel's stock cooler to test with.
Carefully cutting through the plastic package, you can release the compound and spreader really easy. There is a very similar theme with the labeling of the GC-Extreme to the GC-2, just the color of the label and of course the names are different. The spreader has a different look to the previous one supplied with the GC-2; it doesn't help it spread any better, but I thought it was worth a mention.
GELID Solution's GC-Extreme Thermal Compound
Putting a glob on my old E6400, the first thing I noticed was the thinner viscosity of the GC-Extreme versus the GC-2. No stiff peak of compound present on the top of this sample when I pulled the syringe away. Let's see how well it spreads.
Unlike the GC-2, the thinner GC-Extreme levels out really well, even with the tip of a finger. I actually spread around the compound that was used for the previous image. I was left with a bit of compound on my finger, as expected, but the GC-Extreme doesn't clump and stick to your finger like the GC-2. To me, that's a plus, as I don't always know where my spreader is when I'm in the middle of a CPU swap or maintenance of a graphics card.
Using the processor as it was in the previous image, I clamped it all into a motherboard to show how well or how poorly the compound covers and spreads. This is the result I got from the finger spread method. You can see it covers really well.
Placing a similar amount in the center of the IHS and strapping down the cooler yields this result. Not exactly what I would call good coverage at all, on either the heatpipes or the IHS.
This is the result from the five dot method, as I used with the GC-2. This time the coverage isn't even as good as the results I got with the GC-2. I highly suggest the GC-Extreme be spread in a thin even layer for best results, and so does GELID. Why else would they send the spreader?
Methodology and Results
TweakTown uses a different method for testing CPU heatsinks which allows for an even playing field across all product tests. We feel that by using the same ambient temperature and strict lab-like testing procedures we are able to accurately compare one product to another. More information on our testing procedure can be found in the T.E.C.C. article
here
.
Just like in my previous run, all three methods of application were tested and the best results are posted in the chart. I have cut out the completion of compounds in this article, but if you would like to reference them, they can be seen
here
.
The results of the GC-Extreme testing are superb! I really thought the GC-2 was a good thermal compound, but the GC-Extreme passes it right by. I wasn't able to achieve a three degree difference between the two, but I was using a much more efficient CPU cooler. Even so, I got just over a full degree improvement during my tests; not an easy task to accomplish.
Final Thoughts
I am impressed to say the least with GELID's latest submission of GC-Extreme thermal compound. Not only does it beat the GC-2, which I thought was a great compound already, but handles the competition very easily. Considering the "industry standard" to be very similar to the results achieved with AS-5, the GC-Extreme is well above "standard".
Application is made much easier this time around, partly due simply on the viscosity of the GC-Extreme. The supplied spreader can make short work of this task, very easily, and evenly. While I did spread it with my finger and found it very similar to the way MX-2 spreads, I have to say follow the manufacturer instructions and spread this compound before mounting the cooler; you will achieve much better results for the minimal effort needed for this small step.
With the results in, leaving the GC-Extreme proudly atop the podium, we are left with the obvious question. Is it worth the price? I say yes it is! Looking at Newegg and comparing apples to apples, most of the ones listed in the competition are in the $10 price range. Newegg is getting
$13.99 currently for the GC-Extreme
, plus shipping. With a bit of searching the GC-Extreme can be had considerably cheaper, which makes this easy to use compound that yields great results a "no brainer" to intently ponder when you look to make your next compound purchase.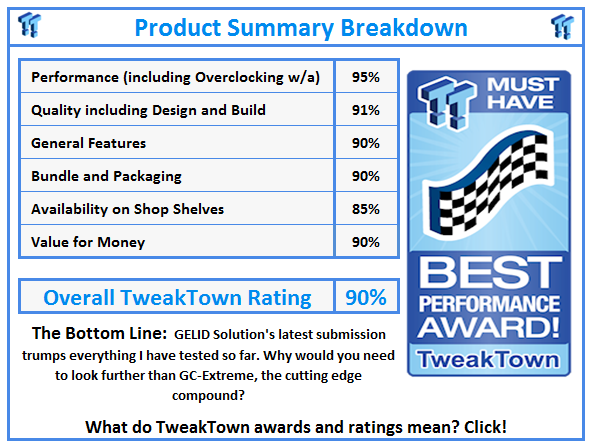 PRICING: You can find products similar to this one for sale below.

United States: Find other tech and computer products like this over at Amazon.com

United Kingdom: Find other tech and computer products like this over at Amazon.co.uk

Australia: Find other tech and computer products like this over at Amazon.com.au

Canada: Find other tech and computer products like this over at Amazon.ca

Deutschland: Finde andere Technik- und Computerprodukte wie dieses auf Amazon.de
We openly invite the companies who provide us with review samples / who are mentioned or discussed to express their opinion. If any company representative wishes to respond, we will publish the response here. Please contact us if you wish to respond.
Related Tags