GIGABYTE MA785GPM-UD2H 785G AM3 Motherboard
Today we have just been released from NDA GIGABYTEs first AMD 785G based motherboard. How does it perform? - Step inside and see.
Published Mon, Aug 3 2009 8:14 AM CDT
|
Updated Tue, Nov 3 2020 7:03 PM CST
Introduction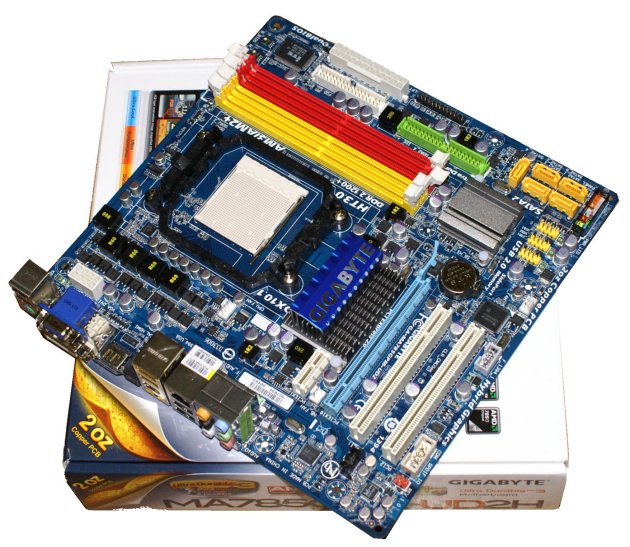 While a lot of the limelight has been pushed on Intel and Core i7 based boards, AMD still has managed to make a good dent in the market with Phenom II processors. These have to be the most versatile processor with 64-bit instructions, native 3 and 4 core designs as well as support for DDR2 or DDR3 memory through the on-die memory controller, something Intel has no intention of doing. Phenom II is definitely the big processor to have for a small budget.
While the processors keep coming, chipsets to support it are still making their way from AMD's fabs. And since AMD has taken over ATI's graphics and chipset departments, their 7 series chipsets have been anything but disappointing, especially with regard to the integrated graphics.
To that end, we have the latest instalment from AMD's chipset division. Fresh from NDA today we have the 785G chipset. Based around the 790GX chipset, this puppy is aimed at the budget users. However, it does get one major upgrade, DX10.1 IGP, something the 790GX doesn't.
Unfortunately, due to the early release there is no Newegg price on this board.
The Box and What's Inside
Package and Contents
Starting off as we normally do, we check out the package and contents. The board is packed in a small box, so right off the bat we know that this board uses the Micro ATX format. The box is coloured in the standard UD3 decorations with only the model number different from the other boards.
On the back there is just marketing hype about UD3 and the 2 ounce PCB. There are no pictures of the board on the back.
For a small board, GIGABYTE packs in three user manuals; one for the board and two multi language quick start manuals. The drivers are provided on a DVD for both XP, Vista and early Windows 7 support.
For the accessories bundle there are only two SATA data cables and a single IDE cable. Very small, but enough to get you started.
The Motherboard
The Board
Now we start on the board itself. With reference to the small box, we were right on the form factor. Unless the box is like a TARDIS there are no surprises on the board size.
GIGABYTE uses its familiar blue PCB. The layout is extremely clean, even for a Micro ATX board. The 24-pin power connector, FDD and IDE connector are all located behind the four DDR2 memory slots. That's right; this board makes use of DDR2. The 4/8 pin power connector is located at the top left, behind the USB/PS/2 combo port.
The board's power regulation system is a 5 phase voltage system for the CPU using all solid state components. There are no heatsinks or heatpipes to cool the Mosfets, however, the 785G Northbridge and SB750 are both passively cooled.
The new AMD 785G chipset boasts the same features as the 790GX with one major upgrade; that's a new IGP capable of DX10.1 graphics. Included from the 790GX brother is support for Sideband memory which puts a 512MB DDR3 memory chip clocked at 400MHz on the board as cache memory for the IGP. However, you can also use system memory for extra capacity, though it is slower to access.
On the right hand edge of the board GIGABYTE places five of the six SATA ports. The sixth SATA port is routed to the rear I/O panel for convenient eSATA port use.
Moving to the rear I/O, we get to see what GIGABYTE has in store for this board. In all, a very good setup. There are a total of three video output slots; a CRT D-SUB, DVI-I and HDMI outputs. Digital audio is handled through a Toslink S/PDIF port and a single eSATA port is included for high speed mass storage connections.
Lastly on the board front we have the expansion slots. There is a single PCIe x16 slot for a discrete GPU if you don't want to use the onboard graphics. Or if you want to combine a discrete ATI graphics card with the onboard graphics to help bolster performance, you can also do this. A single PCIe x1 slot and two PCI legacy slots make up the rest of the expansion possibilities of this board.
BIOS and Overclocking
BIOS
Moving along to the configuration side of things, we now come to the BIOS setup. GIGABYTE's familiar BIOS setup greets us with the Award 6 Modular setup with all of the overclocking settings located under the Motherboard Intelligent Tweaker (M.I.T) menu.
Under the M.I.T. menu you can change quite a few settings including FSB, CPU ratio, voltages for various components on the board etc. - If you're using the IGP you can even overclock the IGP core clock and the sideband memory.
Overclocking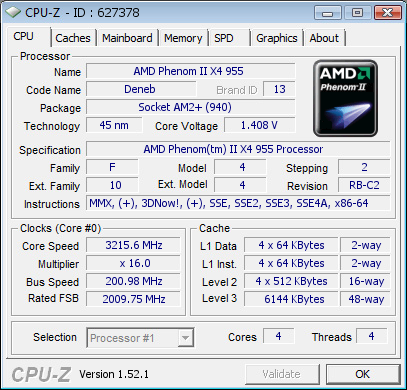 Validation Link:
http://valid.canardpc.com/show_oc.php?id=627378
We didn't get a lot of time to overclock the board unfortunately, so we had to stick to stock settings due to time constraints. However, we will revisit this during a later article testing the 790GX vs.785G. We did all our tests at stock speeds.
Important Editor Note: Our maximum overclocking result is the best result we managed in our limited time of testing the motherboard. Due to time constraints we weren't able to tweak the motherboard to the absolute maximum and find the highest possible FSB, as this could take days to find properly. We do however spend at least a few hours overclocking every motherboard to try and find the highest possible overclock in that time frame. You may or may not be able to overclock higher if you spend more time tweaking, or as new BIOS updates are released. "Burn-in" time might also come into play if you believe in that.
Test System Setup and Memory Performance
Test System
Processor
: AMD Phenom II 955 (16x200MHz)
Memory
: 2x 2GB DDR2-1200 Gskill (Supplied by
Corsair
)
Hard Disk
: Intel X25-M 80GB SSD (Supplied by
Intel
)
Graphics Card
: GIGABYTE 9800GX2 1GB (Supplied by
GIGABYTE
)
Cooling
: GIGABYTE 3D Galaxy II
Operating System
: Microsoft Windows Vista X64 SP1
Drivers
: ATI Catalyst 9.6, ForceWare 180.24
Now it's onto testing and we have two boards to compare with in the fray today. Along with the new 785G chipset board from GIGABYTE, we use a 790GX based board from ASRock and a 790FX from ASUS.
EVEREST Ultimate EditionVersion and / or Patch Used:
2006
Developer Homepage:
http://www.lavalys.com
Product Homepage:
http://www.lavalys.com
Buy It Here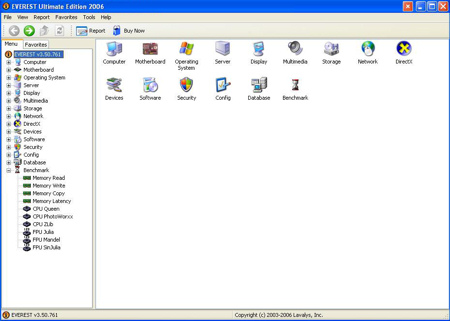 EVEREST Ultimate Edition is an industry leading system diagnostics and benchmarking solution for enthusiasts PC users, based on the award-winning EVEREST Technology. During system optimizations and tweaking it provides essential system and overclock information, advanced hardware monitoring and diagnostics capabilities to check the effects of the applied settings. CPU, FPU and memory benchmarks are available to measure the actual system performance and compare it to previous states or other systems.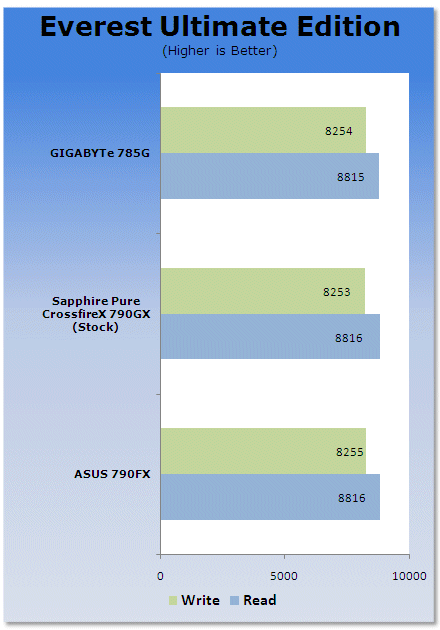 First off, we look at EVEREST. All three platforms perform identically in regards to memory performance. With the integrated memory controller on the CPU the chipset doesn't come into play.
Benchmarks - Sisoft Sandra
SiSoft SandraVersion and / or Patch Used:
2009
Developer Homepage:
http://www.sisoftware.co.uk
Product Homepage:
http://sisoftware.jaggedonline.com/index.php?location=home&a=TTA&lang=en
Buy It Here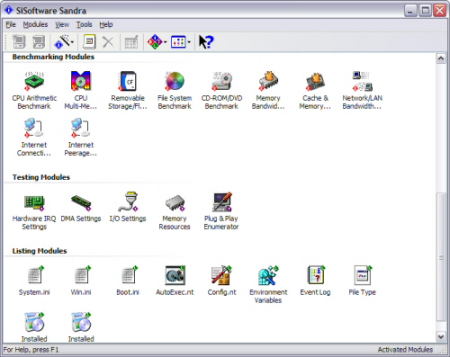 SiSoft Sandra (
S
ystem
AN
alyser,
D
iagnostic and
R
eporting
A
ssistant) is a synthetic Windows benchmark that features different tests used to evaluate different PC subsystems.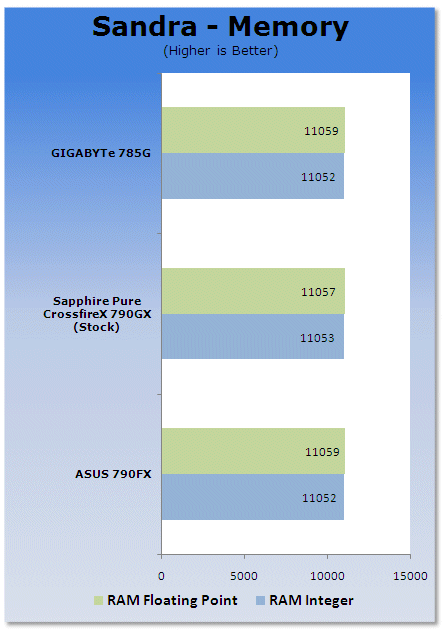 Again in Sandra we see that the memory performance identical across the three platforms.
Benchmarks - PCMark Vantage
PCMark VantageVersion and / or Patch Used:
Unpatched
Developer Homepage:
http://www.futuremark.com
Product Homepage:
http://www.futuremark.com/benchmarks/pcmark-vantage//
Buy It Here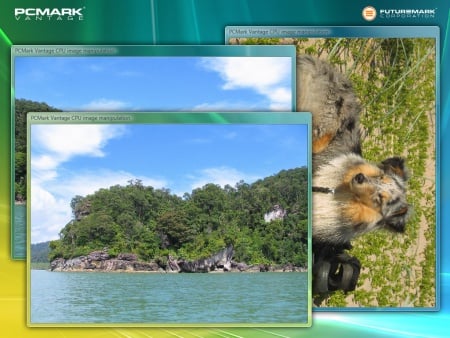 PCMark Vantage is the first objective hardware performance benchmark for PCs running 32 and 64 bit versions of Microsoft Windows Vista. PCMark Vantage is perfectly suited for benchmarking any type of Microsoft Windows Vista PC from multimedia home entertainment systems and laptops to dedicated workstations and high-end gaming rigs. Regardless of whether the benchmarker is an artist or an IT Professional, PCMark Vantage shows the user where their system soars or falls flat, and how to get the most performance possible out of their hardware. PCMark Vantage is easy enough for even the most casual enthusiast to use yet supports in-depth, professional industry grade testing.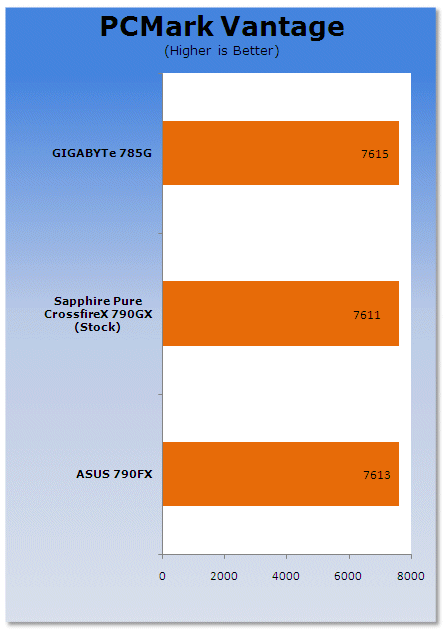 Into synthetic benchmarks for the system and PCMark Vantage puts all three platforms level across the board.
Benchmarks - SYSmark 2007 Preview
SYSmark 2007Version and / or Patch Used:
1.04
Developer Homepage:
http://www.bapco.com/
Product Homepage:
http://www.bapco.com/products/sysmark2007preview/>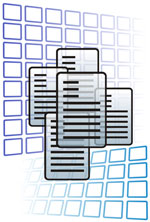 SYSmark 2007 Preview is the latest version of the premier performance metric that measures and compares PC performance based on real world applications.
SYSmark 2007 Preview extends the SYSmark family, which has been widely accepted by IT Managers, PC OEMs, press and analysts worldwide to support Windows Vista.
SYSmark 2007 Preview allows users to directly compare platforms based on Windows Vista to those based on Windows XP Professional and Home.
The new release also incorporates numerous new features and enhancements such as an improved GUI allowing streamlined start-up and run along with a heads-up-display (HUD) and automated error reporting.
SYSmark 2007 Preview is an application-based benchmark that reflects usage patterns of business users in the areas of Video creation, E-learning, 3D Modeling and Office Productivity. This new release includes a robust and refreshed set of applications.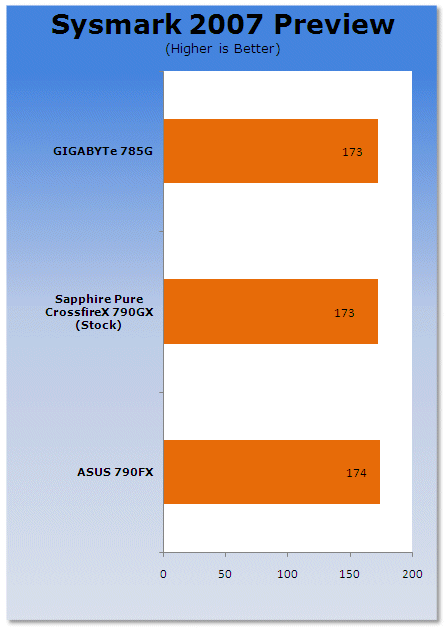 A similar trend is seen in SYSmark 2007, but this is based in the real world application field. All three platforms come across identical once again.
Benchmarks - 3DMark Vantage
3DMark VantageVersion and / or Patch Used:
1.01
Developer Homepage:
http://www.futuremark.com
Product Homepage:
http://www.futuremark.com/products/3dmarkvantage/
Buy It Here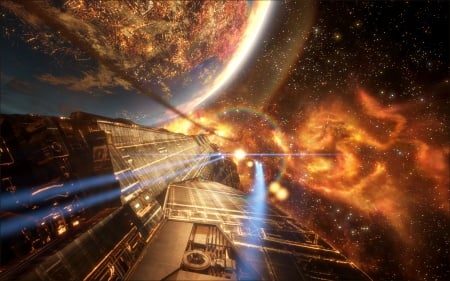 3DMark Vantage is the new industry standard PC gaming performance benchmark from Futuremark, newly designed for Windows Vista and DirectX10. It includes two new graphics tests, two new CPU tests, several new feature tests, and support for the latest hardware.
3DMark Vantage is based on a completely new rendering engine, developed specifically to take full advantage of DirectX10, the new graphics API from Microsoft.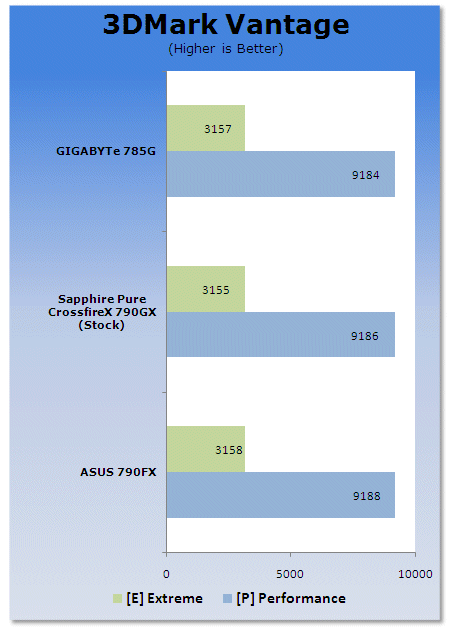 Under synthetic gaming we see that the three platforms again perform identical.
Benchmarks - Crysis
CrysisVersion and / or Patch Used:
1.1
Timedemo or Level Used:
Custom Timedemo
Developer Homepage:
http://www.crytek.com/
Product Homepage:
http://www.ea.com/crysis/
Buy It Here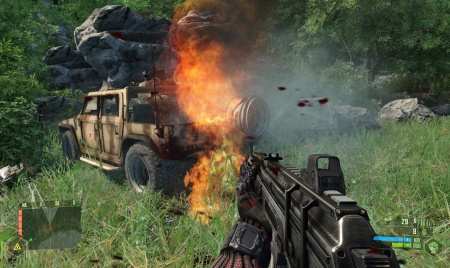 From the makers of Far Cry, Crysis offers FPS fans the best-looking, most highly-evolving gameplay, requiring the player to use adaptive tactics and total customization of weapons and armor to survive in dynamic, hostile environments including Zero-G.
Real time editing, bump mapping, dynamic lights, network system, integrated physics system, shaders, shadows and a dynamic music system are just some of the state of-the-art features the CryENGINE 2 offers. The CryENGINE 2 comes complete with all of its internal tools and also includes the CryENGINE 2 Sandbox world editing system.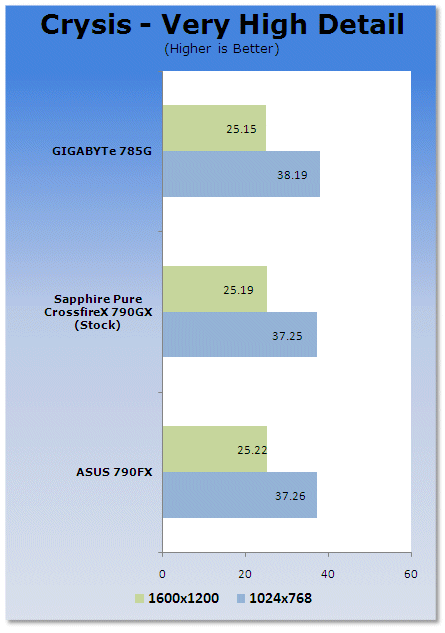 And once again, under real world gaming all three are right on top of each other.
Power Usage and Heat Tests
Power Consumption
We are now able to find out what kind of power is being used by our test system and the associated graphics cards installed. Keep in mind; it tests the complete system (minus LCD monitor, which is plugged directly into an AC wall socket).
There are a few important notes to remember though; while our maximum power is taken in 3DMark06 at the same exact point, we have seen in particular tests the power being drawn as much as 10% more. We test at the exact same stage every time; therefore tests should be very consistent and accurate.
The other thing to remember is that our test system is bare minimum - only a 7,200RPM SATA-II single hard drive is used without CD-ROM or many cooling fans.
So while the system might draw 400 watts in our test system, placing it into your own PC with a number of other items, the draw is going to be higher.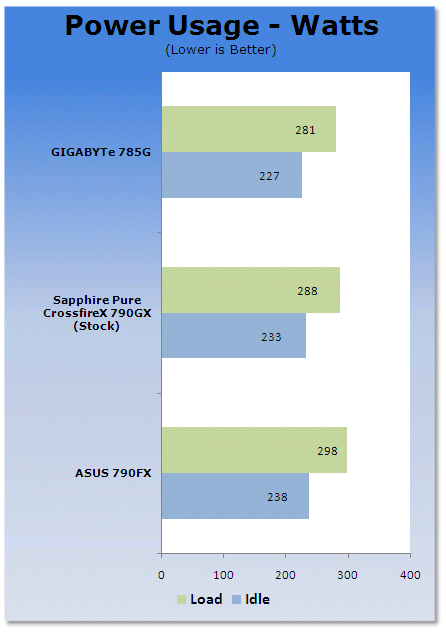 Power consumption between the 790GX and 785G chipsets is almost identical.
Heat Generation
As a new measure, we are now monitoring the heat generation from the key components on the motherboards, this being the Northbridge, Southbridge (if it contains one) as well as the Mosfets around the CPU. The results are recorded at idle and load during the power consumption tests.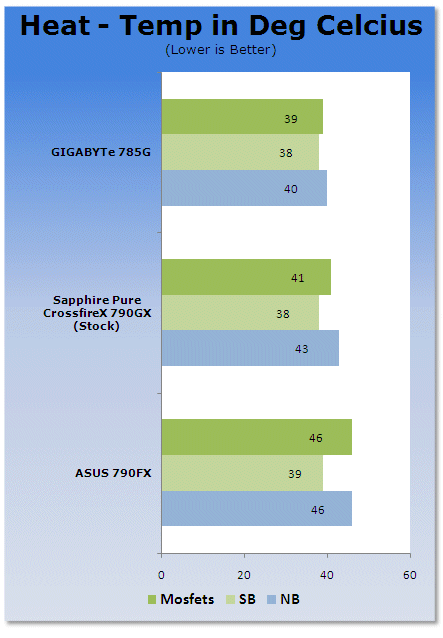 Both the new 785G and older 790GX chipsets keep similarly cool with the 785G having the edge, while the 790FX runs noticeably warmer.
Final Thoughts
AMD's chipset lineup has no intention of stopping. In fact, it's proven they are willing to keep things going. AMD's 7 series chipsets have been extremely impressive and the 785G chipset is nothing short of this either.
While we have only tested the first board we've been given so far, along with this one being Micro ATX, we don't know the full potential yet. And due to the limited time of testing we didn't get a lot of time to check out the overclocking or onboard graphics. However, we are coming back to a second article later next month with testing of the 785G's IGP vs. the 790GX's, so stay tuned for that one.
On the GIGABYTE implementation of this board, everything is just how we would expect. However, the accessories could perhaps be a bit more in depth to better round off the package.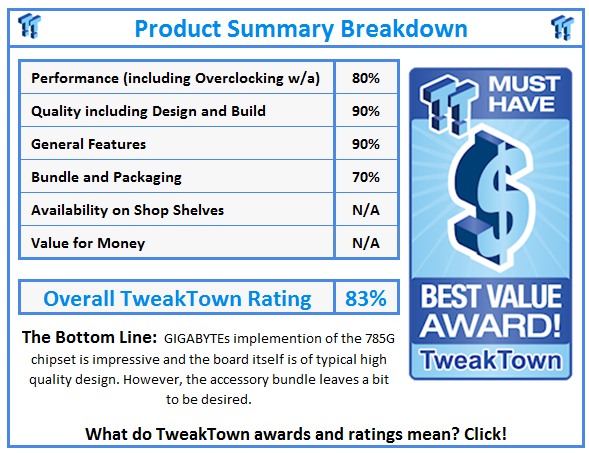 PRICING: You can find products similar to this one for sale below.

United States: Find other tech and computer products like this over at Amazon.com

United Kingdom: Find other tech and computer products like this over at Amazon.co.uk

Australia: Find other tech and computer products like this over at Amazon.com.au

Canada: Find other tech and computer products like this over at Amazon.ca

Deutschland: Finde andere Technik- und Computerprodukte wie dieses auf Amazon.de
We openly invite the companies who provide us with review samples / who are mentioned or discussed to express their opinion. If any company representative wishes to respond, we will publish the response here. Please contact us if you wish to respond.