Introduction
As we move up in MHz the one thing that we have to sacrifice is the latency or timings of the modules. At first we saw PC3-16000 kits launch with timings of 9-9-9-24, but as time has gone on we've seen companies improve upon that. The Dominator GT kit
we looked at
from Corsair just recently carried with it an 8-8-8-24 setup while also still being able to keep to that 1.65V maximum we want to see.
OCZ has kicked it up another notch, though. The low latency, low voltage kit we have with us today carries with it the same 2000MHz clock speed but some even more aggressive timings. We can see on the new OCZ Blade series modules that the company is able to offer us a very impressive 7-8-7-20 setup.
What the lower latency does is exactly that, it lowers the latency which in turn means that the modules are accessed quicker and should perform faster. What we'll do before having a closer look at the timings and their performance is check out the package while also having a closer look at the modules themselves.
The Package and Modules
The Package
Having a look at the package, we can see that OCZ has opted for a design that lets us see what the modules look like thanks to a couple of windows in the middle of the design. While we can see only two modules, we can see across the bottom that this is a triple channel kit.
Across the top we have the brand, while below that we have the model; in this case it's the Blade series. Below that we can see mention that this DDR3 kit is of course high performance and while there's no real detail of the speeds, we can see the sticker on the module gives us all the information we need. We'll be looking closer at that in just a moment.
Turning over, we've got a bit of a run down on what triple channel memory is along with what the Blade performance series offers. We've also got a bit of information on OCZ, their customer support along with pictures of some of the awards the company has won.
The Modules
Having a look at the modules now, we can see that one side is very plain with no stickers or logos being seen. We can see a couple of screws which holds the heatsink together, unlike a lot of other companies that simply use thermal tape to hold the two pieces of heatsink together. The design OCZ has opted for gives us a much higher quality feeling which is nice when you're spending a fair bit of money.
On the other side we can see in the middle we have the OCZ Technology logo while to the left we have a sticker that gives us a run down on the main specifications of the modules. We can see that we've got a few fins on the top of the module to help move the heat away, but nothing too out there.
As we've previously mentioned, the left side of the modules have a sticker that gives us the main specifications on the modules. In this case we can see it's a PC3-16000 module which translates to 2000MHz. We're also able to see that the modules timings are 7-8-7 @ 1.65V. A few other details are that the module is part of the Blade series and is 2GB, making it part of a 6GB kit. We can also see the part number which again lets us know that it's a 2000MHz 6GB kit.
Overclocking
I have to say that even though OCZ say the modules are 7-8-7-20, we thought that it would take a bit of mucking around to get the modules to behave at this frequency. Pleasantly surprised, we moved to 1.66V (Our GIGABYTE board does 1.64v or 1.66v) adjusted our timings and we were in Windows and benchmarking at 2000MHz with the correct timings within minutes.
As for overclocking even further, we were able to boot around 1030MHz and 1040MHz, but performance was a bit flakey. With a bit more time we think you should be able to get the modules benching at these speeds.
Important Editor Note: Our maximum overclocking result is the best result we managed in our limited time of testing the memory. Due to time constraints we weren't able to tweak the motherboard to the absolute maximum and find the highest possible FSB, as this could take days to find properly. We do however spend at least a few hours overclocking every motherboard to try and find the highest possible overclock in that time frame. You may or may not be able to overclock higher if you spend more time tweaking, or as new BIOS updates are released. "Burn-in" time might also come into play if you believe in that.
Test System Setup and wPrime
Test System SetupProcessor(s):
Intel i7 920 @ 4GHz (200MHz x 20)
Cooling:
Noctua NH-U12P (Supplied by
Noctua
)
Motherboard(s):
GIGABYTE EX58-UD5 (Supplied by
GIGABYTE
)
Graphics Card(s):
ASUS GTX 285 (Supplied by
ASUS
)
Hard Disk(s):
Western Digital 300GB Velicorapter (Supplied by
Western Digital
)
Operating System:
Windows Vista SP1 64-Bit
Drivers:
ForceWare 185.65
What we'll be doing is having a look at how this kit runs against the A-DATA one we looked at the other day which uses similar timings at 1600MHz, but also managed to run at 2000MHz with more relaxed timings.
We'll find out if the extra aggressive timings OCZ offer us gives us some more performance which is pretty much what you want out of an expensive 2000MHz kit.
wPrimeVersion and / or Patch Used:
1.62
Developer Homepage:
http://www.wprime.net/
Product Homepage:
http://www.wprime.net/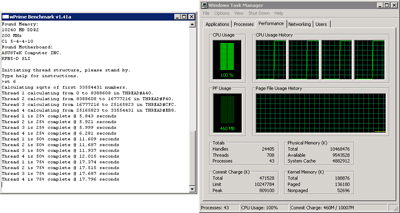 wPrime uses a recursive call of Newton's method for estimating functions, with f(x)=x2-k, where k is the number we're sqrting, until Sgn(f(x)/f'(x)) does not equal that of the previous iteration, starting with an estimation of k/2. It then uses an iterative calling of the estimation method a set amount of times to increase the accuracy of the results. It then confirms that n(k)2=k to ensure the calculation was correct. It repeats this for all numbers from 1 to the requested maximum.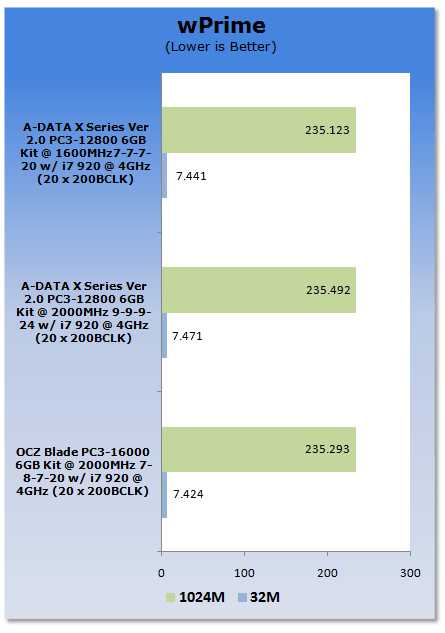 In our first test we can see that at 2000MHz both modules perform quite similarly. The OCZ modules do come in slightly lower, but not by a huge amount.
Benchmarks - EVEREST Ultimate Edition
EVERESTVersion and / or Patch Used:
Ultimate Edition
Developer Homepage:
http://www.lavalys.com/
Product Homepage:
http://www.lavalys.com/products/overview.php?pid=3&ps=UE&lang=en
Buy It Here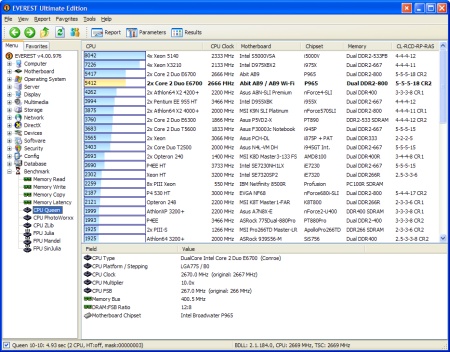 EVEREST Ultimate Edition is an industry leading system diagnostics and benchmarking solution for enthusiasts PC users, based on the award-winning EVEREST Technology. During system optimizations and tweaking it provides essential system and overclock information, advanced hardware monitoring and diagnostics capabilities to check the effects of the applied settings. CPU, FPU and memory benchmarks are available to measure the actual system performance and compare it to previous states or other systems. Furthermore, complete software, operating system and security information makes EVEREST Ultimate Edition a comprehensive system diagnostics tool that offers a total of 100 pages of information about your PC.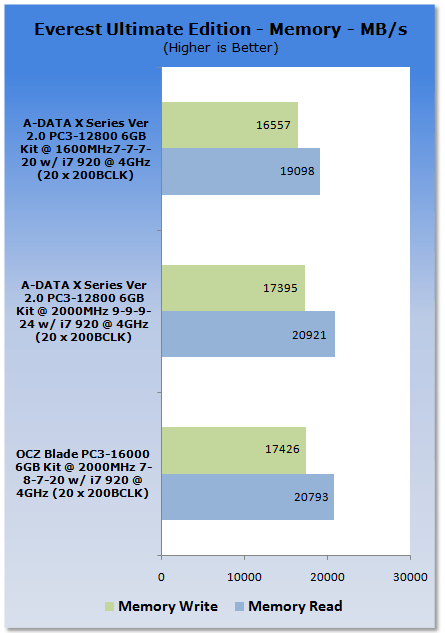 In EVEREST we can see that our write performance is up while our read performance is very similar between the two 2000MHz setups.
Benchmarks - SiSoft Sandra
SiSoft SandraVersion and / or Patch Used:
Professional Home
Developer Homepage:
http://www.sisoftware.co.uk
Product Homepage:
http://sisoftware.jaggedonline.com/index.php?location=home&a=TTA&lang=en
Buy It Here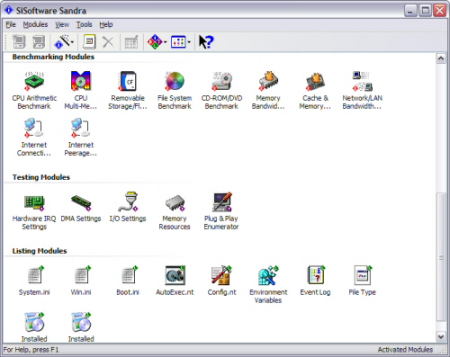 SiSoft Sandra (
S
ystem
AN
alyser,
D
iagnostic and
R
eporting
A
ssistant) is a synthetic Windows benchmark that features different tests used to evaluate different PC subsystems.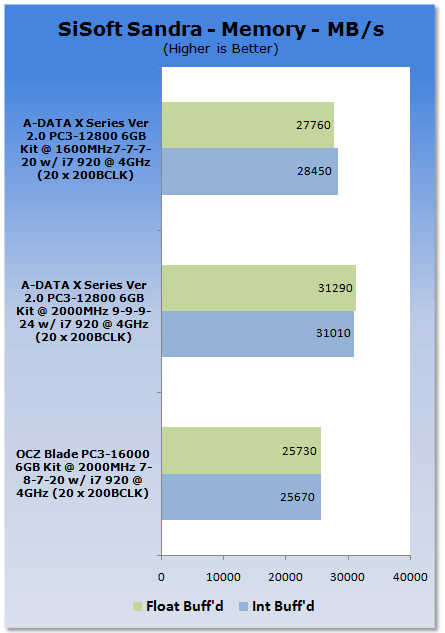 Under SiSoft Sandra it's really interesting to see that performance was a fair bit down on the OCZ modules compared to the other 2000MHz kit and even slightly down on the modules that are clocked at 1600MHz. We even tried multiple reboots and no matter what we couldn't get the Blade modules to spit out a number higher than 26000 in this test.
Benchmarks - Sciencemark
ScienceMark 2.0
ScienceMark 2.0 is a mathematical program designed to stress the memory subsystems of both desktop/workstation and server environments to determine the read/write latency as well as the overall memory bandwidth available between the CPU and the memory controller.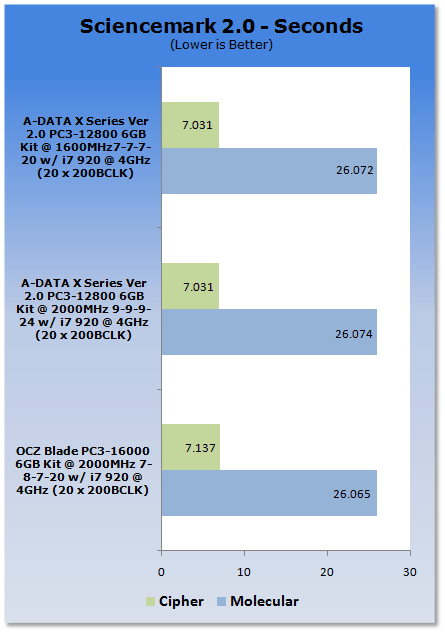 We can see the Molecular test shows the OCZ kit a little faster, while our Cipher test puts the OCZ modules ever so slightly higher.
Benchmarks - Far Cry 2
Far Cry 2Version and / or Patch Used:
1.01
Timedemo or Level Used:
Ranch Long
Developer Homepage:
http://www.ubi.com/
Product Homepage:
http://www.farcry2.com/
Buy It Here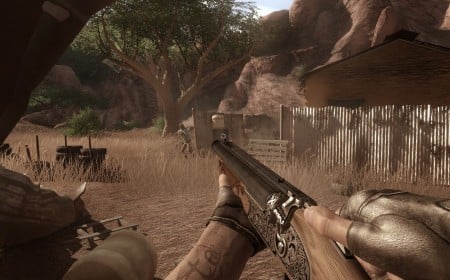 The Dunia Engine was built specifically for Far Cry 2 by the award-winning Ubisoft Montreal development team. It delivers the most realistic destructible environments, amazing special effects such as dynamic fire propagation and storm effects, real-time night-and-day cycle, dynamic music system, non-scripted enemy A.I. and so much more.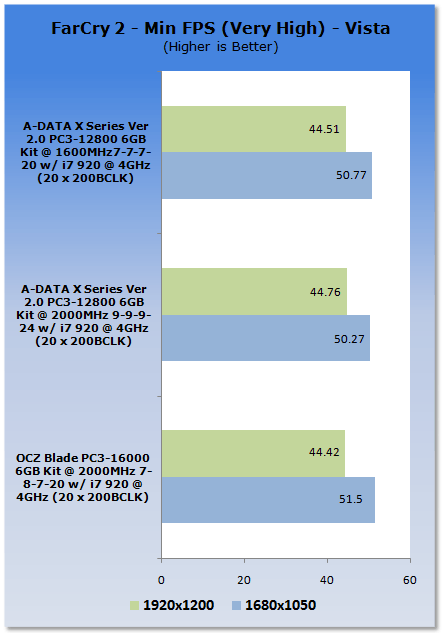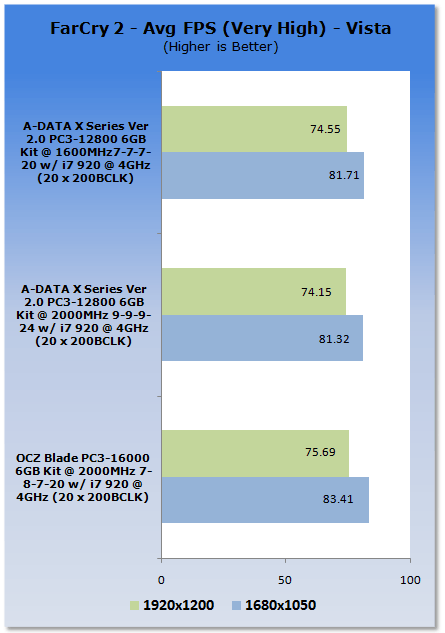 In the real world environment it's interesting to see that the OCZ modules put out the best performance in both the average and minimum department at both resolutions. Really, at the end of the day real world performance is more important than synthetic results.
Final Thoughts
It was clear that SiSoft didn't want to have any part of the modules with quite low numbers being put out. As for EVEREST, performance was similar to slightly better with the OCZ modules and their lower latency.
What was really interesting was that when we fired up Far Cry 2 and ran the default benchmarks the results were highly impressive. The increase isn't huge; the complete opposite really with only a 1 - 2 extra FPS being seen, but the result was consistent in all tests.
Another stand out point on the modules would have to be the quality of the heatsink. What's also good to see is that OCZ hasn't had to use any extra cooling to get the modules to run at these speeds.
What's the cost of all this, though? - Honestly, it's a question you probably don't want an answer to.
At 450.99 U.S. Dollars
it's the most expensive PC3-16000 kit on Newegg. For most people this kind of memory is simply out of reach; the price is just too high and people could buy a considerably better graphics card with the money saved and go with a 1600MHz kit versus a 2000MHz one.
That said, though, it doesn't mean it won't sell. The timings are aggressive, the real world performance is good and the overall quality is excellent. Sure it would be nice if the modules where cheaper, but it's simply not a realistic option considering the time that goes into making sure the modules are 100% stable at these aggressive timings and speeds.