Introduction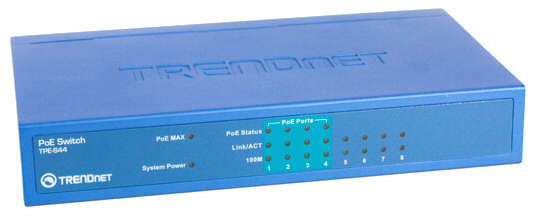 Power over Ethernet (PoE) was once an enterprise only standard. It was simply not something that the average home (or even small business) could afford. PoE is extremely useful for home security and monitoring; it can be used to extend camera coverage to places where no power has been run.
However, until recently PoE devices and switches were too costly for use in the average home. But as we have shown in a few of our recent reviews, managed switches, KVM over IP and PoE are now an affordable option. Today we take a look at three products from TRENDnet that help bring PoE to home security without breaking the bank; the TPE-S44 10/100 PoE Switch, the TPE-111GI PoE Injector and the TPE-112GS PoE Splitter.
Amazingly, you can get the TPE-S44 from
Newegg for $68.99
U.S. Dollars with free shipping; an incredible price for a Power over Ethernet Switch. Can the TPE-S44 and the TPE-112GS PoE Splitters really bring cost effective PoE into your home? Read on to find out.
The Package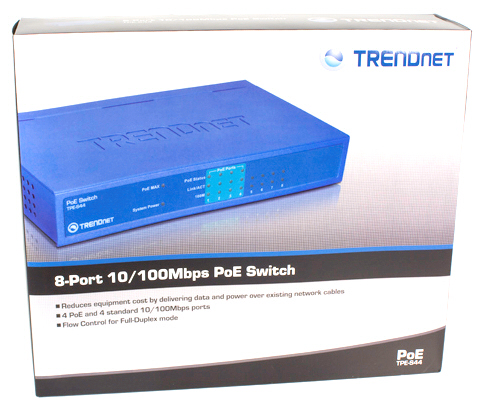 The right packaging can make all the difference in the world. If you have the right combination of information and images you can get people to grab your products over another. This is something that TRENDnet seems to understand very well as they have some of the best packaging for networking products I have seen (with the exception of some color choices).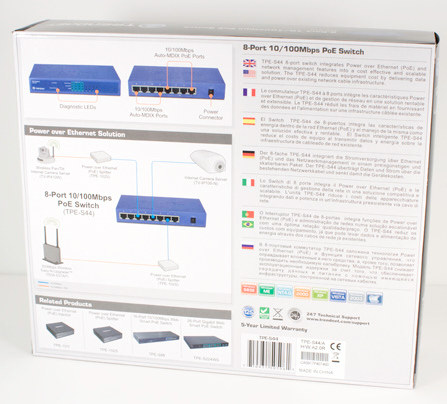 As you can see, there is just enough information and great images of the devices to get you to pick up the TRENDnet products.

Inside the TPE-S44 box you will find all the pieces and parts you need to get going for most set ups.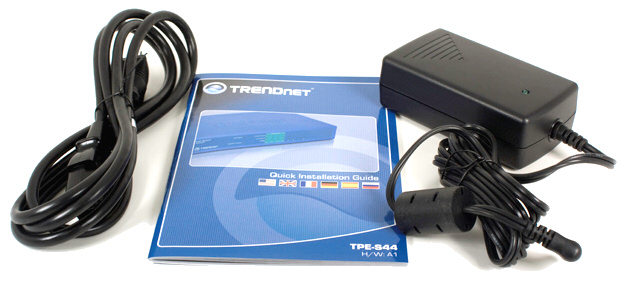 We did find that for some non-PoE products (including the TV-IP422W we used for testing) you will need an adapter to go from a 12mm power plug to an 8mm. This is an option that can be purchased from TRENDnet but for many cameras and devices will not be needed.
The Switch
The TRENDnet TPE-S44 is a small product and looks more like a cheap home switch or router than a PoE device. However, I can tell you that in this case looks are very deceiving. The first nice touch is a metal casing rather than the usual cheap plastic favoured by many manufacturers these days. Not only does the metal offer more protection but it also helps to dissipate some of the heat any switch generates.
With the TPE-S44 you get eight 10/100 ports, four of which have the ability to send power over a standard Ethernet cable (up to 100 meters). These ports can push up to15.4 watts of power out to your devices at 5, 7.5, 9 or 12 Volts (with a 30 Watt Max for all ports)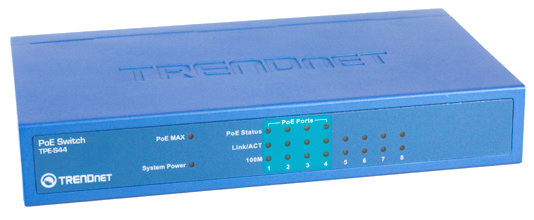 Taking a look at the front of the TPE-S44, we see pretty much what you would see on an ordinary 8-port switch, but there are a couple of extra lights over the first four ports.
One of the extra lights is to indicate that you are pulling power from the switch. TRENDnet also added in a light to indicate that you have reached the maximum power output capable from the TPE-S44.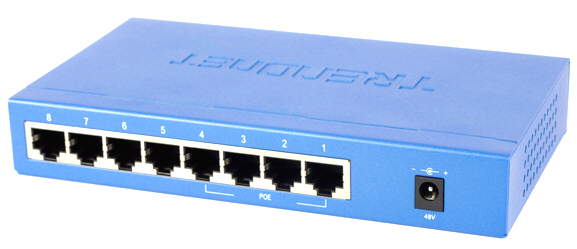 The back of the TPE-S44 looks like any other switch out. TRENDnet did add in a label to indicate which ports are PoE and which are not.
The Splitter
For devices that are not PoE compatible TRENDnet offers the TPE-112GS. This takes power from a PoE switch and splits it back to two channels, power and Ethernet. It is a great product as it is capable of supporting up to 1Gb/s networking and power out to about 100 meters. This can help reduce the costs of needing to replace exiting cameras or devices. The TPE-112GS is going to cost you much less than a PoE camera.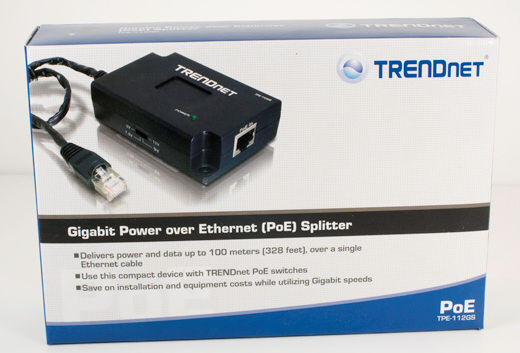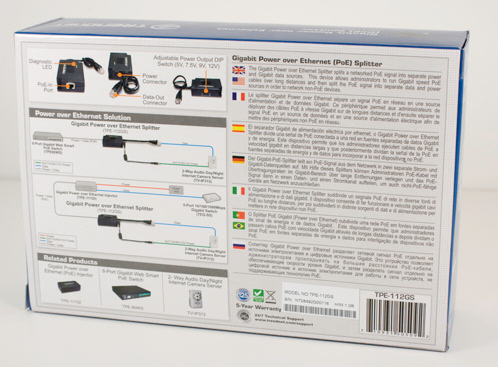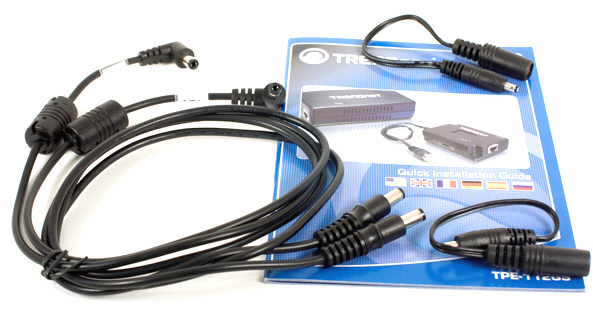 The TPE-112GS is a very compact device; it has inputs for the PoE cable from the switch on one end and a built in Ethernet cable and power plug on the other.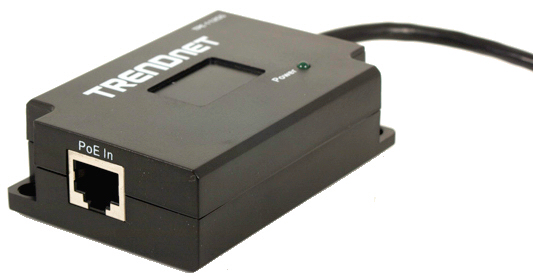 A small switch lets you adjust the level of voltage you need for your connected device. A light on the top indicates power to the device.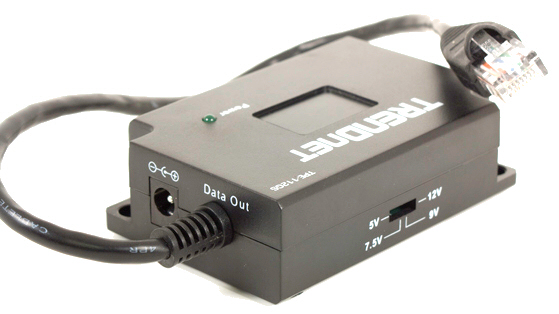 The Injector
The TPE-111GI is a Gigabit speed PoE device that allows you to take a standard Ethernet connection and "inject" power to the line. This is a handy little device if you do not need something like the TPE-S44. In some cases you may only need one PoE line; with the TPE-111GI you can run this straight from your regular switch and not have to foot the extra cost for a full PoE switch.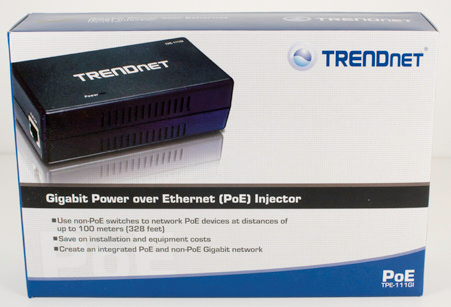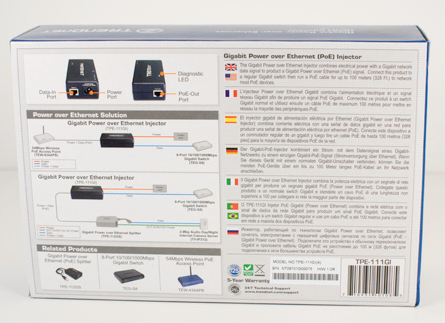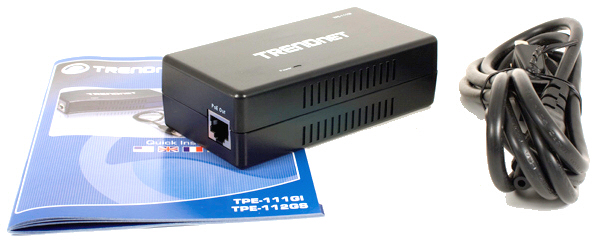 The design is quite simple and really consists of not much more than a "brick" that you would plug into the wall. On one side you would have the non power Ethernet connection and on the other would be the powered side.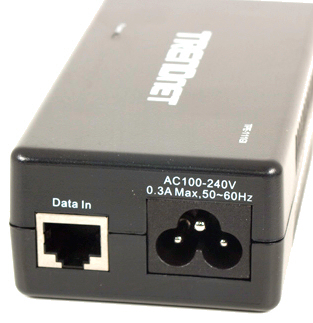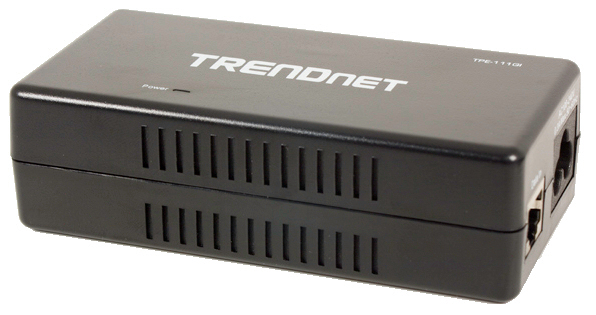 Setup and Installation
The setup of the TPE-S44 is almost non-existent. You simply plug it into power and then connect your networked and PoE devices. At that point you are done.
For the TPE-112GS you have to make sure you select the proper voltage on the side before plugging in your non-PoE device, but otherwise it is a very easy process.
For the TPE-111GI you plug the "brick" into wall power and connect your Ethernet cables.
It is really as simple as that.
Testing
We used PerformanceTest 6.1 by PassMark which you can find out more information about
here
. It has a handy Advanced Networking section which is perfect for our testing.
Doing our best to emulate a real-world performance scenario, I setup a server running Windows 2008 (x64) Server (Intel i7 965, 2GB DDR3 1600, 2x 146GB SAS drives RAID 1), a workstation running Windows Vista Ultimate x64 (Intel QX9770 4GB DDR3 1x 500GB Seagate 7200.11) and a client PC (MSI Wind U100 With built-in Intel 802.11n adapter).
The results were gathered by sending data from the Wind notebook to the server which was connected to a TRENDnet TEG-240WS and to the workstation that was connected to the TPE-S44 at different distances and determining the average transmission speed. I also had two TRENDnet TV-IP422W cameras connected using the TPE-S44 and two TPE-112GS splitters.
- Bandwidth
As usual I chose three common working points inside my house. One was in the lab within 10 feet of the DIR-655; the next was in the bedroom roughly 35 feet away and requiring the signal to travel through a wall containing the main house electrical panel and a "wet wall". The last was outside on the back porch, roughly 45 feet from the router. Both the second and third positions were out of the direct line of sight of the router.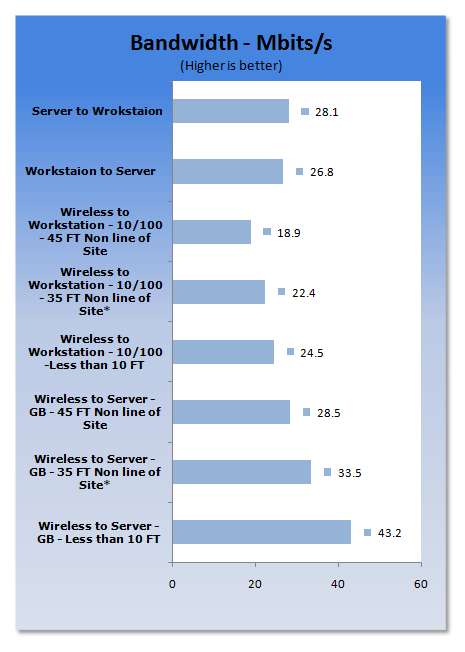 *signal travelling through wet wall and main house electrical panel
Final Thoughts
Well, color me impressed; the little inexpensive TPE-S44 provided me with more than enough power and bandwidth to run both of my IP cameras (one at 100 feet) and did not affect the rest of my Gigabit network. I have had 10/100 devices (switches and NICs) cause massive slowdowns when plugged into Gigabit networks, but this was not the case.
The TPE-S44 was also able to handle the traffic created when one of the TV-IP422W cameras was recording an event. Given the price of getting an electrician out to run outside grade power sockets to remote areas of your home, these PoE products from TRENDnet are a steal. You can run IP cameras out to just about any area of your home for the cost of a Cat-5 cable and a splitter if you need it.
If you are thinking about setting up a nice home security system and are worried about the costs, the TPE-S44, the TPE-112GS and even the TPE-111GI should definitely be on your shopping list.