Super Talent UltraDrive ME FTM28GX25H 128GB SSD
Super Talent has teamed up with Indilinx and has a new SSD that promises high speed and low cost.
Published Mon, May 25 2009 12:53 AM CDT
|
Updated Tue, Nov 3 2020 7:03 PM CST
Introduction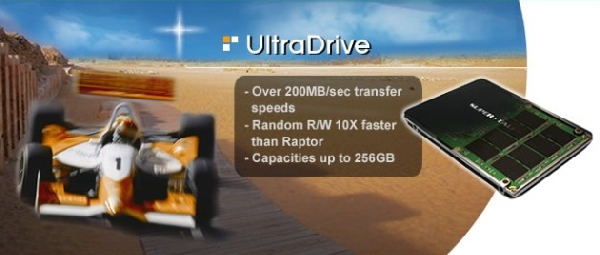 I am not getting calls at 2 am the night before a launch day review just yet, but the solid state wars are starting to look like the 3DFX, ATI, Matrox and NVIDIA battles of years past. The new battle fits Intel, JMicron and newcomer Indilinx in the ring. Intel currently has a product that is very fast and on these very pages has been called a product that is two generations ahead of the competition. JMicron filled a large price void where Intel has never been able to compete. Indilinx is the new kid on the block and has leap frogged over any advantage JMicron had with price while competing directly with Intel on the speed front.
We have already reviewed a few products that use the new Indilinx Barefoot controller and have been very pleased with the results. Not only has the new controller performed better than we could have expected, but the cost of the drives they control offers users higher capacity at lower prices than the Intel controller drives.
Today we are taking a look at one of Super Talent's new Indilinx controlled drives, the UltraDrive ME. Super Talent has two product lines that are powered by Indilinx, the consumer UltraDrive ME which uses MLC memory and the UltraDrive LE, the SLC enterprise version.
Today we are going to focus on the MLC based UltraDrive ME and see how it compares to the other MLC Barefoot drives we have tested so far to date. How will the UltraDrive ME compare on the price and performance front? Read on to find out.
Specifications, Availability and Pricing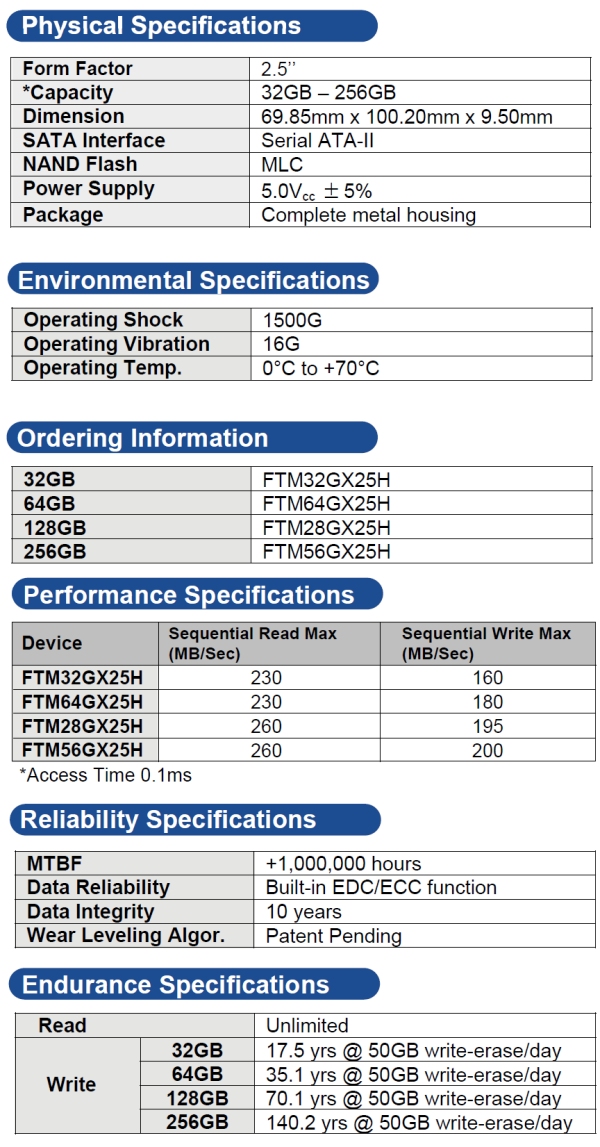 Super Talent does a really good job relaying their product specifications to the user. As you can see here, all of the bases are covered. The UltraDrive ME is available in four different models that differ in capacity and have a slight variation in transfer speed. All of the drives are 2.5" and use a standard SATA data cable.
Even though Super Talent has done a really good job getting the information in the hands of consumers, there are a few things that should be looked at that are not on the specifications list. Super Talent is helping end users get the most out of their products by releasing firmware updates and a piece of software called the UltraDrive Performance Refresh Tool. The UPRT is basically a SSD defrag tool that is designed to defragment solid state drives while retaining your data.
Price is always a concern when it comes to SSDs no matter how good they are. The UltraDrive series is priced fairly aggressively when compared to some of the other Indilinx controller products on the market. Looking at Newegg, the 32GB drive is currently available
for 135.00 USD
and the 256GB drive
is 619.99 USD
. Our sample 128GB drive can be had
for 369.00
with free shipping at this time.
The Packaging
Super Talent uses a generic package for all of their SSDs.
There is not a lot of information on the box, but a sticker that notes which drive is in the box.
The drive is held securely in place by a system of open cell foam that forms around the drive.
The Super Talent UltraDrive ME Indilinx SSD
Super Talent uses a unique case for their SSDs that has the company logo machined on the top of the drive.
On the bottom of the drive is where you will find the model and serial number for the product.
All of the typical screw holes are present and cut into a chromed piece of the case.
The power and data connectors are typical SATA and located where they should be.
The manual is nearly the same as the
last Super Talent SSD we reviewed
and it walks you through the installation process as well as giving a little background information on the technology.
Benchmarks - Test System Setup and ATTO
Test System
Processors
: AMD Opteron 2356 (2.3GHz Quad-Core) x2
Motherboard
: Tyan S2915-E (Supplied by
Tyan
)
Memory
: Kingston KVR667D2S4P5/2G x4 (Supplied by
Kingston
)
Graphics Card
: XFX 8800 GTX (Supplied by
XFX USA
)
Enclosure
: Lian Li V2000
Cooling
: Noctua NH-U12DO (Supplied by
Noctua
)
SATA Controller
: Areca ARC-1231ML (Supplied by
Areca
)
SAS Controller
: Areca ARC-1680i (Supplied by
Areca
)
Operating System
: Microsoft Windows Vista Ultimate X64
Today we are comparing the Super Talent UltraDrive ME SSD to other 2.5 inch drives that we've reviewed in the past.
All of the drives tested were performed on the listed system under identical conditions to ensure true apples to apples performance results for comparison.
ATTO
Version and / or Patch Used:
2.34
ATTO is used by many disk manufacturers to determine the read and write speeds that will be presented to customers.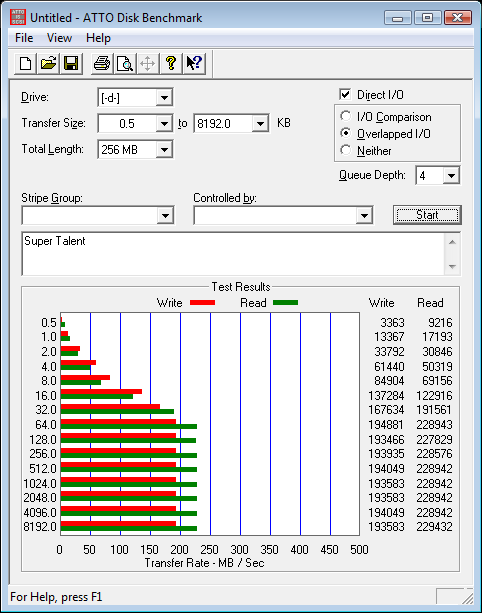 Here we see that under ideal conditions the Super Talent UltraDrive ME is capable of hitting nearly 230MB/s read and 190 MB/s write.
Benchmarks - HD Tune Pro
HD Tune ProVersion and / or Patch Used:
3.00
Developer Homepage:
http://www.efdsoftware.com
Product Homepage:
http://www.hdtune.com
HD Tune is a Hard Disk utility which has the following functions:
- Benchmark: measures the performance
- Info: shows detailed information
- Health: checks the health status by using SMART
- Error Scan: scans the surface for errors
- Temperature display
HD Tune Pro gives us accurate read, write and access time results and for the last couple of years has been gaining popularity amongst reviewers. It is now considered a must have application for storage device testing.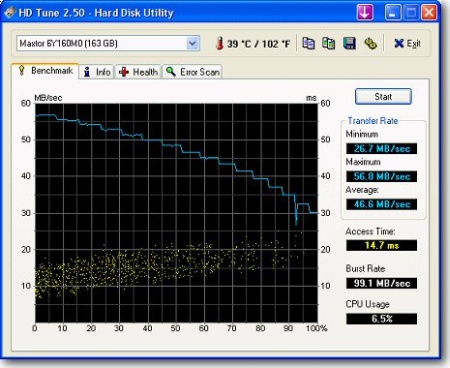 Read Tests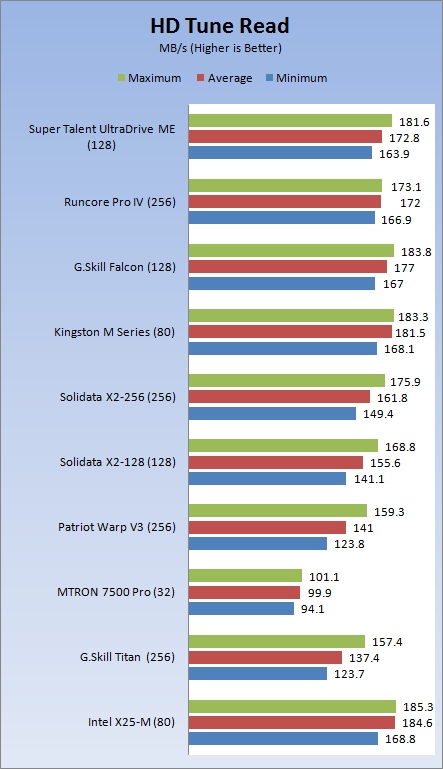 Here we see that the Super Talent UltraDrive ME is running very close to the Intel M-Series in our STR test.
Write Tests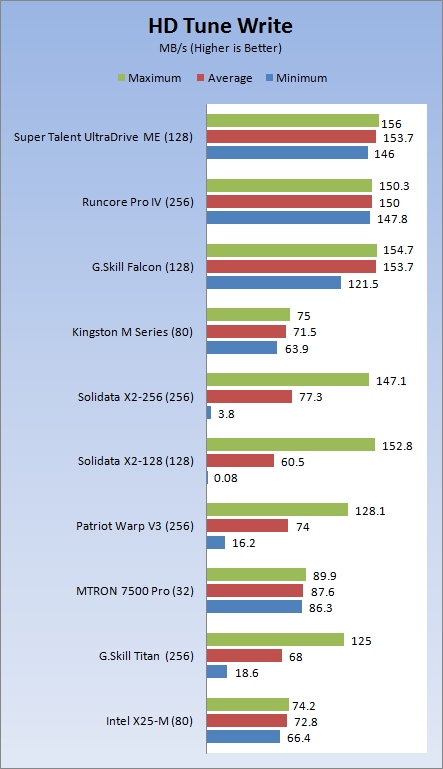 The synthetic write tests show the UltraDrive ME really doing a number on the Intel drives. Will it carry over in the real world tests? Read on.
Benchmarks - EVEREST Random Access Time
EVEREST Random Access TimeVersion and / or Patch Used:
4.60
Developer Homepage:
http://www.lavalys.com
Product Homepage:
http://www.lavalys.com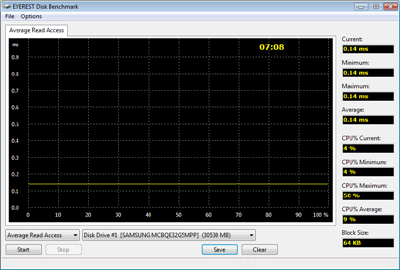 Everest Ultimate and Corporate Edition offer several different benchmarks for testing and optimizing your system or network. The Random Access test is one of very few if not only that will measure hard drives random access times in hundredths of milliseconds as oppose to tens of milliseconds.
Read Tests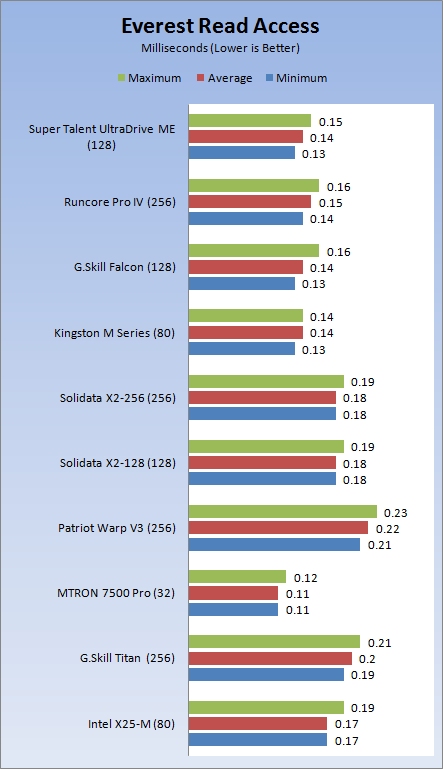 The average read access times of the UltraDrive ME are respectable and match the Kingston SSDNow Series X25-M which was
tested with Intel's latest firmware
.
Write Tests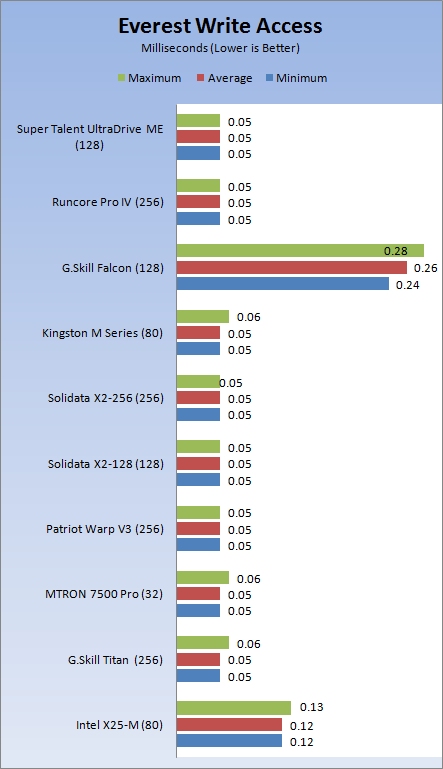 When I tested the G.Skill Falcon I was worried about the write access times of the Barefoot drives. It seems that the latest firmware to be released for the Barefoot controller has resolved the high access time issue.
Let's see how all of these synthetic benchmarks relate to real world applications.
Benchmarks - PCMark Vantage Hard Disk Tests
PCMark Vantage - Hard Disk TestsVersion and / or Patch Used:
1.0.0
Developer Homepage:
http://www.futuremark.com
Product Homepage:
http://www.futuremark.com/benchmarks/pcmark-vantage/
Buy It Here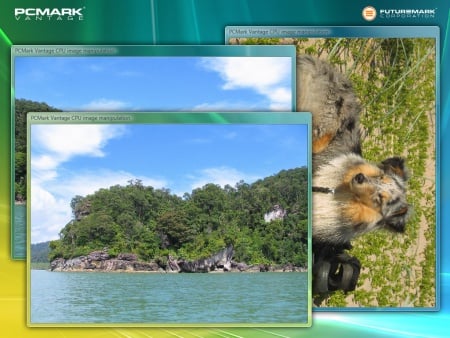 PCMark Vantage is the first objective hardware performance benchmark for PCs running 32 and 64 bit versions of Microsoft Windows Vista. PCMark Vantage is perfectly suited for benchmarking any type of Microsoft Windows Vista PC from multimedia home entertainment systems and laptops to dedicated workstations and high-end gaming rigs. Regardless of whether the benchmarker is an artist or an IT Professional, PCMark Vantage shows the user where their system soars or falls flat, and how to get the most performance possible out of their hardware. PCMark Vantage is easy enough for even the most casual enthusiast to use yet supports in-depth, professional industry grade testing.
FutureMark has developed a good set of hard disk tests for their PCMark Vantage Suite. These tests are based on real world applications that many of us use daily.

HDD1 - Windows Defender
HDD2 - Gaming
HDD3 - Windows Photo Gallery
HDD4 - Vista Startup
HDD5 - Windows Movie Maker
HDD6 - Windows Media Center
HDD7 - Windows Media Player
HDD8 - Application Loading
The Super Talent UltraDrive ME was able to run with the Intel X25-M drives and even beats them in a couple of tests.
Benchmarks - Passmark
Passmark Advanced Multi-User TestsVersion and / or Patch Used:
6.1
Developer Homepage:
http://www.passmark.com
Test Homepage:
http://www.passmark.com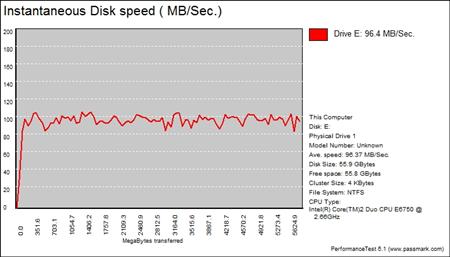 Many users complain that I/O Meter is too complicated of a benchmark to replicate results so my quest to find an alternative was started. Passmark has added several multi-user tests that measure a hard drives ability to operate in a multi-user environment.

The tests use different settings to mimic basic multi-user operations as they would play out on your server. Variances is read / write percentage as well as random / sequential reads are common in certain applications, Web Servers read nearly 100% of the time while Database Servers write a small amount of data.
The Workstation test is the only single user environment and will be similar to how you use your system at home.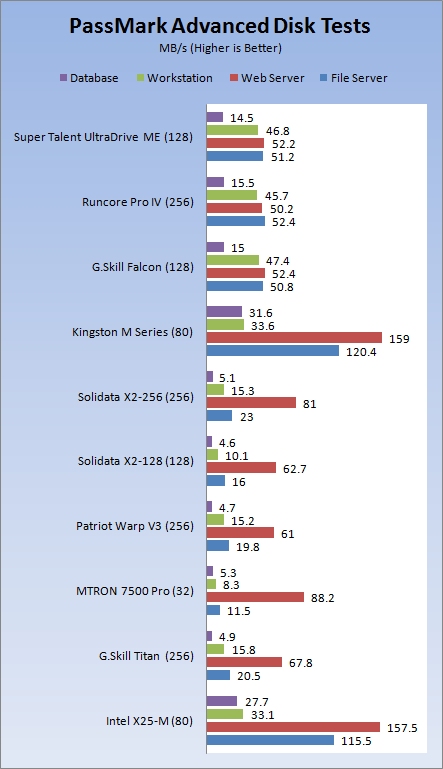 Super Talent isn't putting their UltraDrive ME in the mix for enterprise environments as that task goes to the UltraDrive LE. Still, the MLC based ME series looks to be a solid performer in the workstation test and to be honest does a pretty good job in the other tests as well when compared to platter based drives.
Final Thoughts
Super Talent has launched a remarkable product line with the UltraDrive Series. Today we looked at the consumer version UltraDrive ME in 128GB capacity and were once again overwhelmed at how well the Barefoot controller stacks up to Intel's SSD controller products that still cost considerably more for comparable capacity.
If you are a consumer then the UltraDrive ME is great value compared to the Intel drives. There are other Barefoot drives on the market that are cheaper than the UltraDrive ME, but you may have to search for them.
At 369.00 USD shipped from Newegg
you really can't go wrong with a 128GB drive. How much did you spend on that 150GB Raptor just a few years ago? Even the 256GB UltraDrive ME is a deal at 619.99 when compared to some of the other Barefoot drives. The Runcore 256GB drive we reviewed last week came with a 999.00 price tag.
For the last few days the UltraDrive ME took over storage duty in my notebook and I am happy to report the drive is awesome. Really, how else do you want me to explain instant Outlook access (with 12 email accounts) and boot times that have been cut in half? The stuttering issues that plagued the JMicron drives are now a thing of the past and with prices continuing to fall now is really a good time to purchase your first SSD.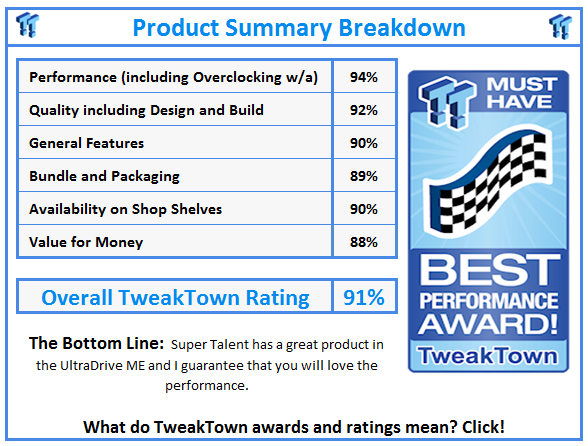 PRICING: You can find products similar to this one for sale below.

United States: Find other tech and computer products like this over at Amazon.com

United Kingdom: Find other tech and computer products like this over at Amazon.co.uk

Australia: Find other tech and computer products like this over at Amazon.com.au

Canada: Find other tech and computer products like this over at Amazon.ca

Deutschland: Finde andere Technik- und Computerprodukte wie dieses auf Amazon.de
We openly invite the companies who provide us with review samples / who are mentioned or discussed to express their opinion. If any company representative wishes to respond, we will publish the response here. Please contact us if you wish to respond.
Related Tags