Star Trek: The Wrath of Khan HD Movie Review
"KHAAAAAAAANNNN!"

Published
Producer / Publisher:

n/a
3 minutes & 51 seconds read time
When 1979's
Star Trek: The Motion Picture
saw restrained critical and commercial success, but with sufficient interest still alive in the franchise, buoyed by the continued interest in the sci-fi genre, spawned in part by franchise rival
Star Wars
, almost three years later Paramount released
Star Trek: The Wrath Of Khan
.
When the U.S.S Reliant is hijacked by banished super villain Khan Noonien Singh (Ricardo Montalban reprising his role from the 'Space Seed' episode of
The Original Series
) and set on a course to destroy the U.S.S. Enterprise, Captain Kirk (William Shatner) must band together the crew, both new and old, to thwart his plans. However, when tragedy befalls the crew, the need for Kirks revenge threatens to outweigh the needs of survival for himself and his crew.
Series newcomer Nicholas Meyer takes charge of the directorial reigns, in what most Trekkers consider to be the strongest entry in the
Star Trek
film franchise. With a brilliant villain, a heightened emotional pull and more action than its predecessor, I would agree with popular opinion. However, despite the return of a villain from
The Original Series
and being a sequel to a well established franchise,
Wrath of Khan
remains the friendliest entry to casual fans.
Of note is that again, Paramount have failed to reproduce the slightly longer directors cut of the film, instead presenting the original theatrical cut. The director's cut can, annoyingly, be purchased in the DVD boxset.
VideoStar Trek: The Wrath Of Khan
is presented in the widescreen aspect ratio of 2.35:1, encoded with the AVC codec.
Out of all the films in the
Star Trek
Blu-ray boxset,
Khan
has had the most restoration work - at the hands of DTS Digital Images, formally known as Lowry Digital. DTS consistently produce wonderful transfers from problematic, decaying material and this is no exception.
The Wrath of Khan
looks sharp as a tack, with a very fine amount of detail to every surface and object. Film artifacts are fleeting for live action material, but more pronounced in the baked-in composited effects shots. Some colour correction has been undertaken, which eliminates a hazy brown look to the film which crept in with age.
An extremely pleasing restoration, fans will be very impressed.
Audio
The main audio track here is a Dolby TrueHD 7.1 mix, at 24 bits.
Similar to
The Motion Picture
,
Wrath Of Khan
was originally released theatrically in Dolby stereo and remixed in 5.1 for the DVD release in 2001, the new Blu-ray release has gone back to the 5.1 mix and extrapolated it a little more.
With a stronger surround presence than
The Motion Picture
, with the films score by James Horner receiving particular aural attention, my only real criticism would be the quality of some of the dialogue which sounds at times poorly recorded, but more a factor of the films age and original recording methods than any fault of the transfer.
Overall, a pleasing effort from Paramount and a presentation which will please franchise fans and casual alike.
Extras
The first of the two
Audio commentaries
is provided by Director Nicholas Meyer, which is bought over from the previous DVD release. He is honest about his lack of previous Trek knowledge, which doesn't seem to have mattered one iota in hindsight. The second is a new track, again with Nicholas Meyer, but this time with Manny Coto, who has become a Star Trek writer and sometime producer. This seems to have been recorded more recently. There is a little overlap between the two commentaries, but overall I preferred the second commentary.
The Library Computer
feature returns again. Presented in the same method as for
The Motion Picture
, it's a cool BD-Java infused extra which overlays text information whilst watching the film. However, what makes it different to previous in-film text features is that users can select the information they want to view by pressing the enter button when the subject prompt jumps on the screen.
Next up we have quite a healthy collection of newly produced
Featurettes
:
'James Horner: Composing Genesis'
, is an interview with the composer who was at the time a Trek newcomer and his recollections of creating an entirely new score with little reliance for what came before it.
'Collecting Star Trek's Movie Relics
, is an extremely brief look at a collection of props which were used in various
Star Trek
movies and series,
'Starfleet Academy: The Mystery Behind Ceti Alpha VI'
, a continuation of the info-mercial series.
Continuing the featurette collection are the relics from the DVD release
'Captain's Log'
, which takes the tone of a brief making of documentary, with recent'ish cast and crew interviews,
'Designing Khan'
plays as a nice continuation of the previous featurette, but looking more specifically at wardrobe and weapons,
'Where No Man Has Gone Before: The Visual Effects of Star Trek II: The Wrath of Khan'
, a dissection on the films tricks in an era when CG was just coming along and tight budgets meant creative thinking and finally 'The Star Trek Universe: A Novel Approach', a slightly strange inclusion that does little to change the stigma of being a
Star Trek
nerd. The difference is these ones get paid to write about their passion.
The collection of
Original Interviews
is a compilation of cuts from the original press reel. Shatner comes off as a slightly sexist buffoon.
Lastly, we have the original
Theatrical Trailer
, presented in HD, as proof that revealing far too much of a movie in a trailer isn't a recent problem.
Overall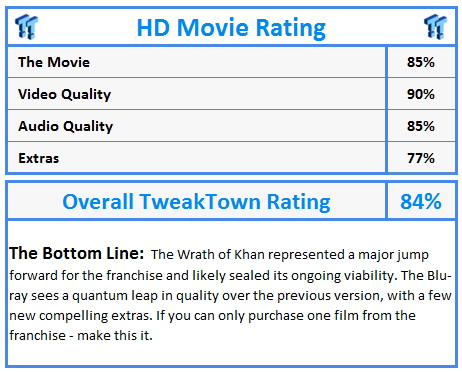 Review Equipment Used:
Display
: Sony KDL52X3100 LCD (1080p resolution/ 24p playback)
Player
: Sony BDP-S550 Blu-ray, PlayStation 3 (24p playback)
Sound
: Sony STR-DA5400ES Receiver (7.1 configuration), Sony SSX70ED front speakers (x2), Sony SSCNX70ED center speaker, Sony SSFCR7000 surround speakers (x4), Sony SAW3800 Subwoofer (Front), Sony SAWM500 Subwoofer (Rear)
PRICING: You can find products similar to this one for sale below.

United States: Find other tech and computer products like this over at Amazon.com

United Kingdom: Find other tech and computer products like this over at Amazon.co.uk

Australia: Find other tech and computer products like this over at Amazon.com.au

Canada: Find other tech and computer products like this over at Amazon.ca

Deutschland: Finde andere Technik- und Computerprodukte wie dieses auf Amazon.de
We openly invite the companies who provide us with review samples / who are mentioned or discussed to express their opinion. If any company representative wishes to respond, we will publish the response here. Please contact us if you wish to respond.