Introduction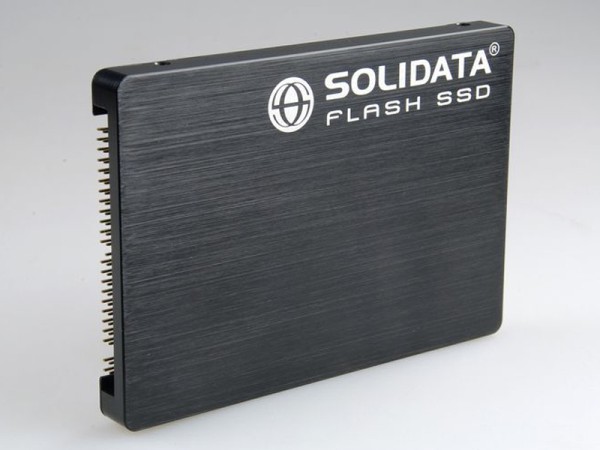 The race has been on for competing products to catch the Intel solid state drives. For consumers, the multi level cell (MLC) technology drives is where the action is. Intel shocked everyone when their X25-M was released because of the drives outstanding performance that left other manufacturers scratching their heads and wondering what they could do to improve their product lines.
DVNation
, the leading independent retailer of everything solid state has been working with TweakTown for over a year now, supplying us with the background technical knowhow to understand solid state technology and also the latest and greatest products to review before they are available to the general consumer. Last week DVNation sent us a trio of products from Solidata to evaluate and write reviews on.
We started out
with the new Solidata X2-128, a 128GB MLC SSD that showed great performance in the lab, but was unable to topple the Intel X25-M in terms of performance.
Today we are going to put the larger Solidata X2-256, the 256GB variant through its paces and see how it performs against the 128GB model as well as several other SSDs that have passed through our test lab. Could a larger SSD based on the same technology be faster than the X2-128 and will it be enough to dethrone the mighty Intel X25-M? Read on to find out.
Specifications, Availability and Pricing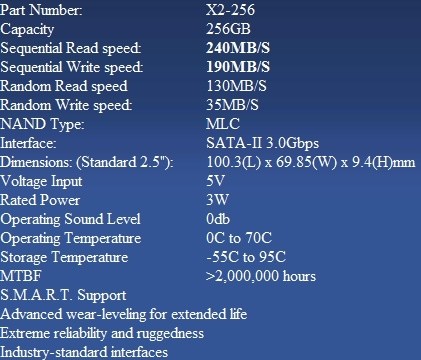 On paper the X2-256 has the exact same specs as the X2-128 other than the obvious capacity difference. All of the same features and benefits of SSD tech have made their way into the X2 Series; features like a wide range of operating temperatures, high resistance to shock and of course very high IOPS.
DVNation
, the sponsor of this review currently stocks the Solidata X2-256 and it has a cost of 1099.00 USD. Certainly the X2-256 won't be receiving a value award even if it does manage to outperform Intel's offerings. At this price point the X2-256 is well outside of the consumer space and is strictly an enterprise drive.
The Packaging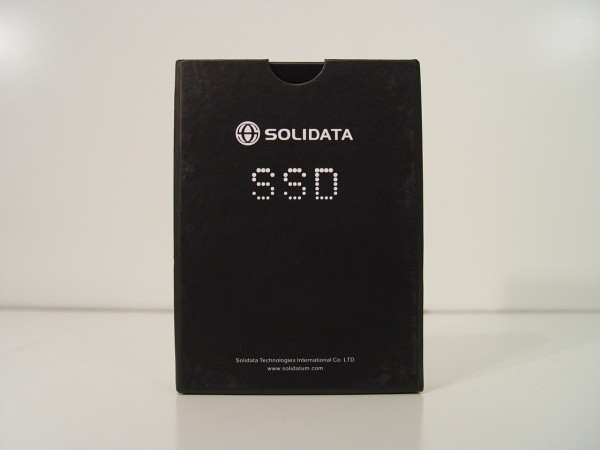 Solidata has a nifty little box for their products. They are not too retail friendly, but then again I doubt you will ever see the X2 Series sitting on the shelf anywhere due to the cost of ownership. The X2 Series all share the same packaging.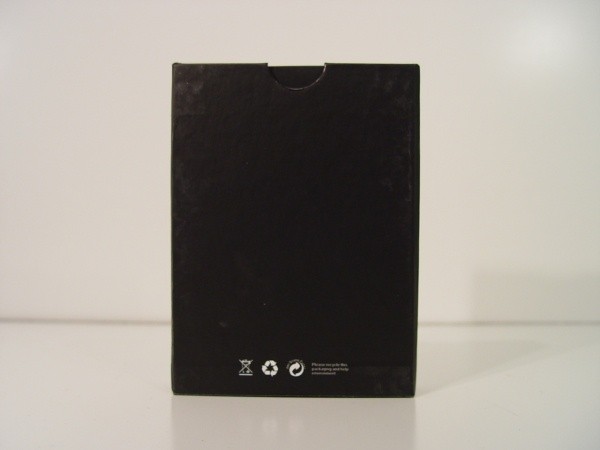 Here we see the back of the package; no specifications or other information of interest to you guys.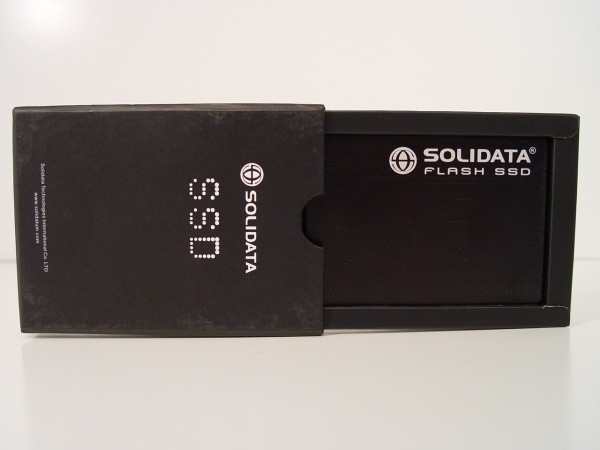 With the outer box removed we see that the drive sits inside of the inner box and has protection all the way around the drive.
The Solidata X2-256 SSD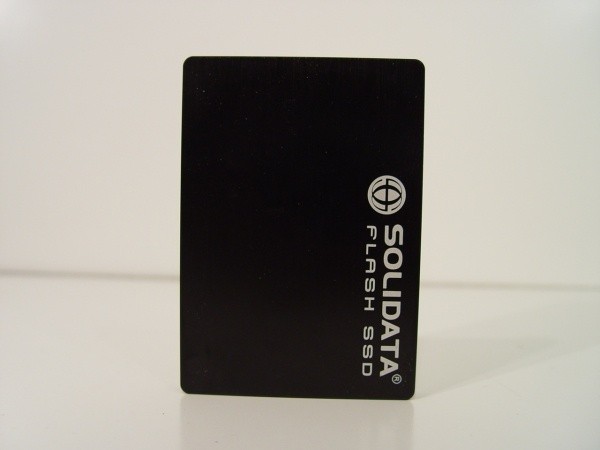 The Solidata X2 Series drives are housed in an aluminum casing that is brushed and then anodized black.
The back of the drive carries the label with the model and serial information.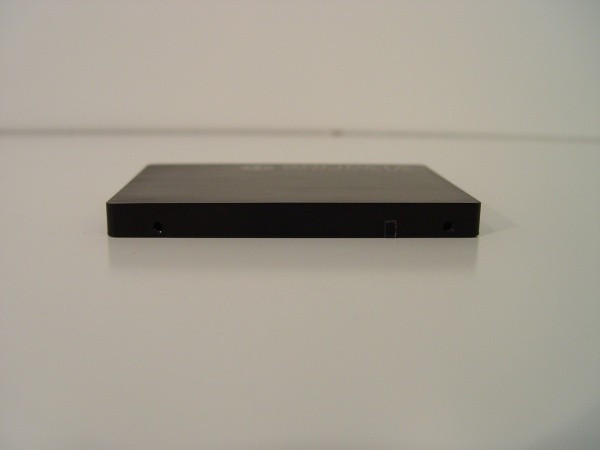 As you can see, the side of the drive is typical of the 2.5-inch SSDs.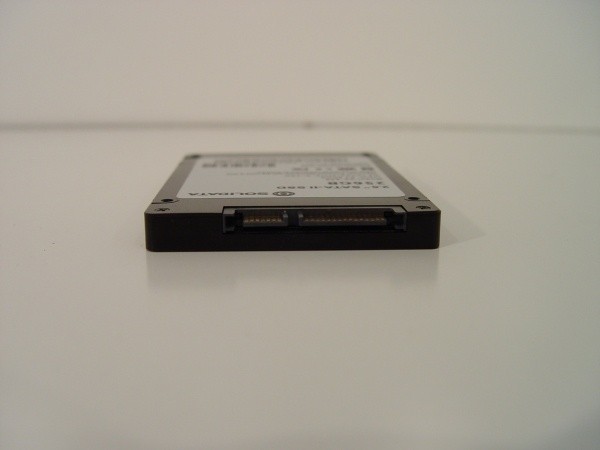 The data and power connectors are in the correct place so you will not have a difficult time using the drive in an adapter.
Test System Setup
Test System
Processors
: AMD Opteron 2356 (2.3GHz Quad-Core) x2
Motherboard
: Tyan S2915-E (Supplied by
Tyan
)
Memory
: Kingston KVR667D2S4P5/2G x4 (Supplied by
Kingston
)
Graphics Card
: XFX 8800 GTX (Supplied by
XFX USA
)
Enclosure
: Lian Li V2000
Cooling
: Noctua NH-U12DO (Supplied by
Noctua
)
SATA Controller
: Areca ARC-1231ML (Supplied by
Areca
)
SAS Controller
: Areca ARC-1680i (Supplied by
Areca
)
Operating System
: Microsoft Windows Vista Ultimate X64
Today we are comparing the Solidata X2-256 SSD with other 2.5-inch drives that we reviewed in the past.
All of the drives tested were performed on the listed system under identical conditions to ensure true apples to apples performance results for comparison.
Benchmarks - HD Tune Pro
HD Tune ProVersion and / or Patch Used:
3.00
Developer Homepage:
http://www.efdsoftware.com
Product Homepage:
http://www.hdtune.com
HD Tune is a Hard Disk utility which has the following functions:
- Benchmark: measures the performance
- Info: shows detailed information
- Health: checks the health status by using SMART
- Error Scan: scans the surface for errors
- Temperature display
HD Tune Pro gives us accurate read, write and access time results and for the last couple of years has been gaining popularity amongst reviewers. It is now considered a must have application for storage device testing.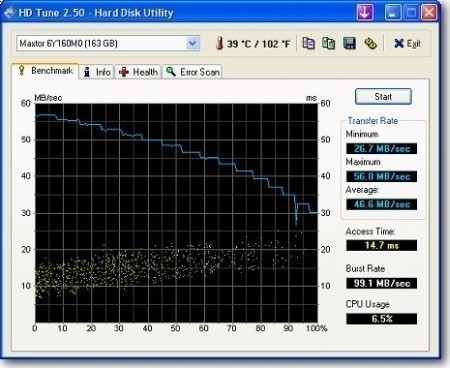 Read Tests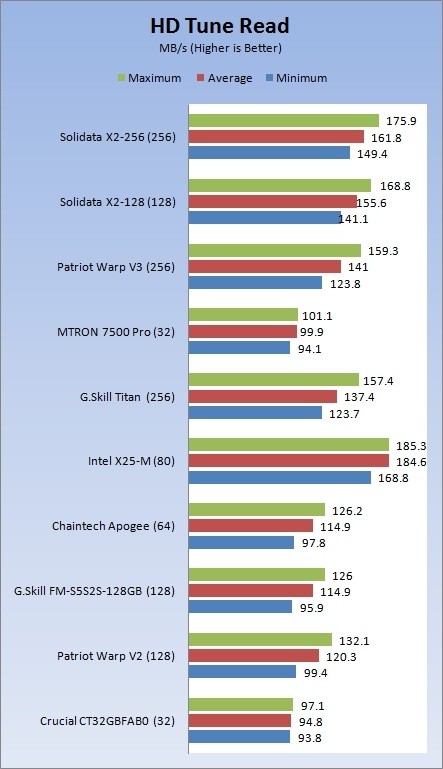 Right off the top we see that the X2-256 is around 6.2 MB/s faster than the X2-128. Unfortunately that still leaves it around 20MB/s slower than the Intel X25-M, the drive we are trying to knock off the top. The X2-256 is still the second fastest drive we have tested to date and it is more than double the capacity of the
X25-M we tested
a few months back.
Write Tests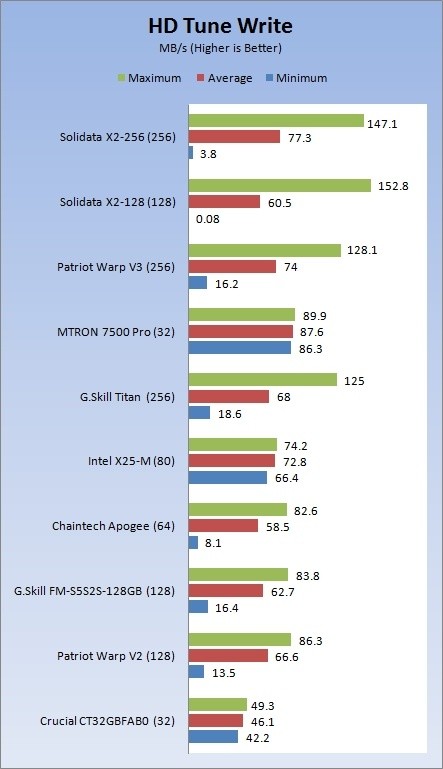 Our write speed test is complicated no matter which drive you compare the X2-256 against. Both of the Solidata X2 drives reign supreme when it comes to peak bandwidth. The 256GB model is able to move data on average faster than the X25-M, but the minimum transmission hurts the drive in the long run.
Benchmarks - EVEREST Random Access Time
EVEREST Random Access TimeVersion and / or Patch Used:
4.60
Developer Homepage:
http://www.lavalys.com
Product Homepage:
http://www.lavalys.com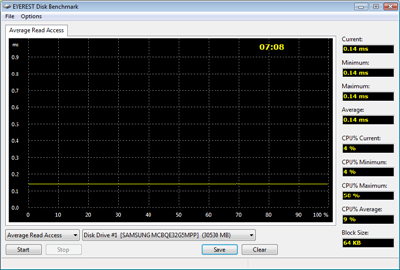 Everest Ultimate and Corporate Edition offer several different benchmarks for testing and optimizing your system or network. The Random Access test is one of very few if not only that will measure hard drives random access times in hundredths of milliseconds as oppose to tens of milliseconds.
Read Tests
Access times are where SSDs really show their might. Here we see no change between the two Solidata drives.
Write Tests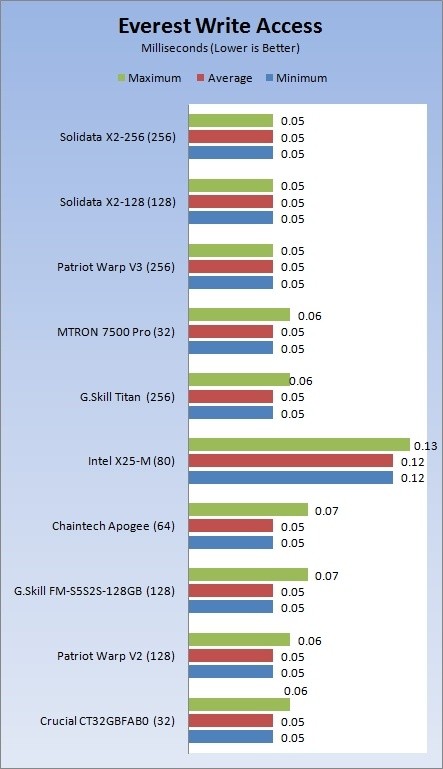 The same can be said about the write access times.
Let's see how all of these synthetic benchmarks relate to real world applications.
Benchmarks - PCMark Vantage Hard Disk Tests
PCMark Vantage - Hard Disk TestsVersion and / or Patch Used:
1.0.0
Developer Homepage:
http://www.futuremark.com
Product Homepage:
http://www.futuremark.com/benchmarks/pcmark-vantage/
Buy It Here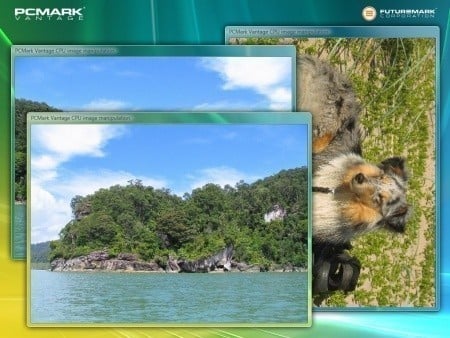 PCMark Vantage is the first objective hardware performance benchmark for PCs running 32 and 64 bit versions of Microsoft Windows Vista. PCMark Vantage is perfectly suited for benchmarking any type of Microsoft Windows Vista PC from multimedia home entertainment systems and laptops to dedicated workstations and high-end gaming rigs. Regardless of whether the benchmarker is an artist or an IT Professional, PCMark Vantage shows the user where their system soars or falls flat, and how to get the most performance possible out of their hardware. PCMark Vantage is easy enough for even the most casual enthusiast to use yet supports in-depth, professional industry grade testing.
FutureMark has developed a good set of hard disk tests for their PCMark Vantage Suite. These tests are based on real world applications that many of us use daily.

HDD1 - Windows Defender
HDD2 - Gaming
HDD3 - Windows Photo Gallery
HDD4 - Vista Startup
HDD5 - Windows Movie Maker
HDD6 - Windows Media Center
HDD7 - Windows Media Player
HDD8 - Application Loading
In our real world tests we see the two Solidata drives and the Intel drive battling it out for the crown. The good news is that Solidata was able to make a drive that is able to compete with Intel's MLC technology. We will talk more about this in the conclusion.
Benchmarks - Passmark
Passmark Advanced Multi-User TestsVersion and / or Patch Used:
6.1
Developer Homepage:
http://www.passmark.com
Test Homepage:
http://www.passmark.com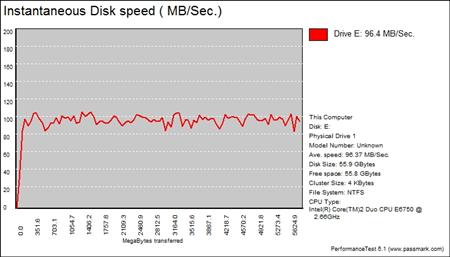 Many users complain that I/O Meter is too complicated of a benchmark to replicate results so my quest to find an alternative was started. Passmark has added several multi-user tests that measure a hard drives ability to operate in a multi-user environment.

The tests use different settings to mimic basic multi-user operations as they would play out on your server. Variances is read / write percentage as well as random / sequential reads are common in certain applications, Web Servers read nearly 100% of the time while Database Servers write a small amount of data.
The Workstation test is the only single user environment and will be similar to how you use your system at home.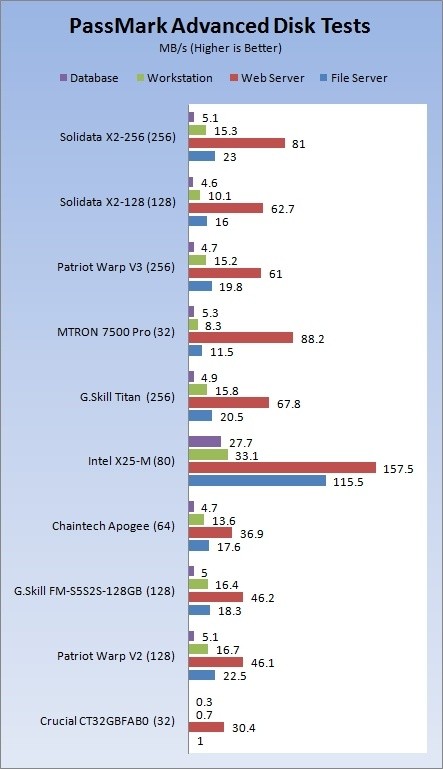 In our workstation and server tests we see that the X2-256 outperforms the X2-128 across the board. The Intel drive that we are comparing these two against still walks away from both drives in all tests.
Final Thoughts
It is clear that the Solidata X2-256 is a very fast drive and has enough capacity to make anyone happy. This is the first time we have seen a drive get so close to Intel's MLC performance to date and that is a good thing for everyone since it should help bring the cost of these uber performing drives down.
When it comes to solid state drives you should do yourself a favor and
visit DVNation.com
before making your purchasing decision. They provide a lot more information to the consumer about all of the products they sell than any other e-tailer I have visited to date. You can even take that a step further and ask them what product would best fit your data needs.
With that said, the main issue I see with the Solidata X2-256 is price. DVNation currently lists the drive for 1099 USD. The highest capacity Intel MLC drive to date is the 160GB model and although it is just a little faster in most applications there are a few that perform better than the Solidata drives. However, capacity is always a concern for datacenters and the added capacity of the X2-256 over Intel's largest drive will make a real difference when stacking racks of drives.