Introduction

I have to admit that when I originally saw the press release stating that Crucial was launching a new line of memory called the "Ballistix" series, I first thought it said "Ballstix". While I thought the name was weird, it wouldn't have surprised me with what some companies have called their products over the years.
With Crucial being a part of the Lexar group, which is part of Micron Technology; one of the leaders in actual chip manufacturing, you feel confident that you're buying a quality component here. You have to think that while Micron sell to many companies, they're going to give their own brand of memory some of the best chips on offer.
With the Ballistix line-up of performance memory having quickly grown, Crucial thought it was time to cater to a market that wanted a bit more show and shine from their memory. Thus, the Tracer series was created which packs some cool LEDs and a bit of a price hike to match.
Today we're going to have a look at the PC3-12800 (or 1600MHz) DDR3 6GB Tracer Blue kit from Crucial. We intend to find out if these modules are what an enthusiast should be looking at, or if they're simply for someone who wants to rent their computer room out as a nightclub every Friday night. But first, let's have a look at the package before we get stuck into the overclocking and performance side of things.
The Package and Modules
The Package
Looking at the package for these modules, Crucial hasn't done a whole lot here. We can see that the three modules all sit on top of each other with a cardboard wrap around them that lets you know it's a Crucial triple channel kit.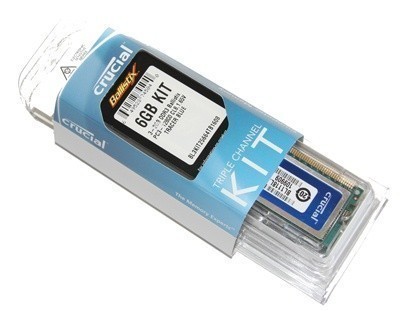 On the actual plastic we have a sticker that gives us more details on the modules and the size, which is of course 6GB. We can also see that there are three 2GB DDR3 Ballistix modules rated at PC3-12800, CL8 at 1.65V. This kit is labeled as "Tracer Blue" due to it being a part of the Tracer series and of course carrying a blue heatsink.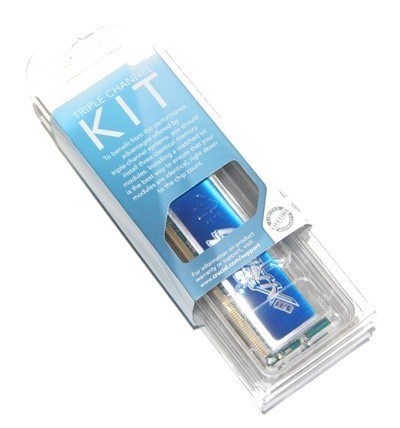 At the back we can see a bit of a blurb on the triple channel kit. We also have some information on where to go regarding support. Here we can also see a bit more of the module, including the blue heatsink.
The Modules
Taking the modules out of the packaging for the first time and you're not really greeted with any surprises. Crucial hasn't chosen to include massive heatsinks on the modules or anything else that stands out.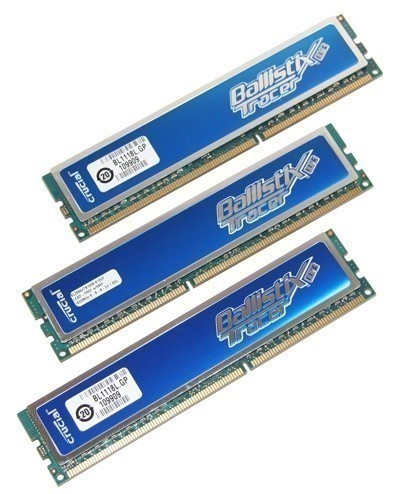 One thing that must be said about the modules, however, is that they look absolutely fantastic. The blue looks great and the quality of the heatsink is excellent. Being a fan of the color blue, these modules really tickled my fancy when I got up close and personal with them. We can see to the left we have the Crucial logo while the right has the Ballistix Tracer logo along with the mention that these modules are DDR3.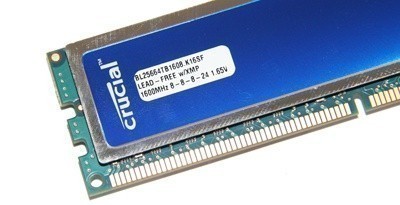 Having a closer look at the left side of the modules, we have a sticker that gives us the main specifications. In this case, they're rated for 1600MHz (PC3-12800), run at 8-8-8-24 using a voltage of 1.65v.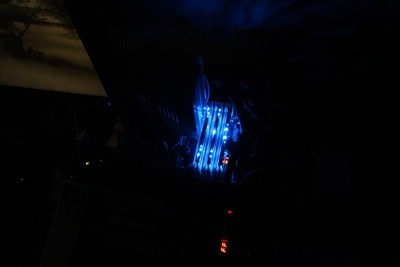 One of the coolest features of the Tracer modules from Crucial is the LED lights on top of the modules that love to do a bit of a dance when working hard. The blue LEDs are quite bright, but honestly, they do look very cool.
Overclocking
The reason to buy memory with a rated speed of 1600MHz is to overclock! - With that said, we took the time to see if we could get much more out of it. We thought we would relax the timings down to 9-9-9-24 versus the stock 8-8-8-24 and crank the voltage slightly to 1.68v.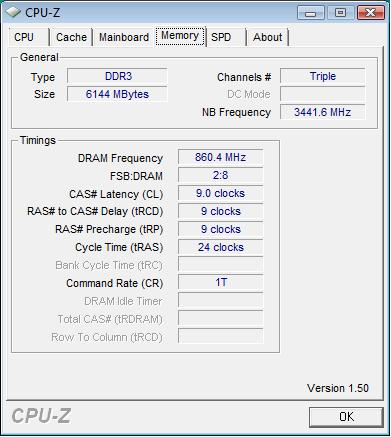 With a bit of fine tuning we ended up at 860MHz or 1720MHz DDR. This is a healthy 120MHz DDR above the rated speed, which is nothing to sneeze at. With that all said and done, though, let's see what happens when we place these modules into our testbed and start running some tests.
Important Editor Note: Our maximum overclocking result is the best result we managed in our limited time of testing the memory. Due to time constraints we weren't able to tweak the motherboard to the absolute maximum and find the highest possible FSB, as this could take days to find properly. We do however spend at least a few hours overclocking every motherboard to try and find the highest possible overclock in that time frame. You may or may not be able to overclock higher if you spend more time tweaking, or as new BIOS updates are released. "Burn-in" time might also come into play if you believe in that.
Test System Setup and wPrime
Test System SetupProcessor(s):
Intel i7 920 @ 3.2GHz (200MHz x 16)
Cooling:
Noctua NH-U12P (Supplied by
Noctua
)
Motherboard(s):
GIGABYTE EX58-UD5 (Supplied by
GIGABYTE
)
Graphics Card(s):
GIGABYTE GTX 285(Supplied by
GIGABYTE
)
Hard Disk(s):
Western Digital 300GB Velicorapter (Supplied by
Western Digital
)
Operating System:
Windows Vista SP1 64-Bit
Drivers:
ForceWare 182.06
Today we'll be taking the time to see how the Crucial PC3-12800MHz Tracer 6GB kit runs at its rated 1600MHz DDR 8-8-8-24 and also see what kind of performance boost we get when running them at 1720MHz DDR 9-9-9-24.
One thing worth remembering, though, is when we're running the modules at 1720MHz DDR, the CPU also gets a 240MHz bump. For this reason we try to keep the focus on synthetic memory benchmarks that let us know the raw speed that is being produced.
wPrimeVersion and / or Patch Used:
1.62
Developer Homepage:
http://www.wprime.net/
Product Homepage:
http://www.wprime.net/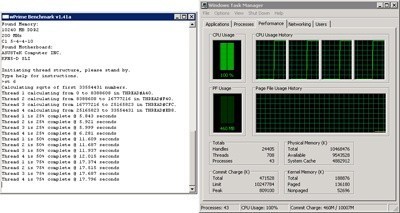 wPrime uses a recursive call of Newton's method for estimating functions, with f(x)=x2-k, where k is the number we're sqrting, until Sgn(f(x)/f'(x)) does not equal that of the previous iteration, starting with an estimation of k/2. It then uses an iterative calling of the estimation method a set amount of times to increase the accuracy of the results. It then confirms that n(k)2=k to ensure the calculation was correct. It repeats this for all numbers from 1 to the requested maximum.
The extra MHz on both the CPU and memory help give the 1720MHz DDR setup a nice little boost in performance under wPrime.
Benchmarks - EVEREST Ultimate Edition
EVERESTVersion and / or Patch Used:
Ultimate Edition
Developer Homepage:
http://www.lavalys.com/
Product Homepage:
http://www.lavalys.com/products/overview.php?pid=3&ps=UE&lang=en
Buy It Here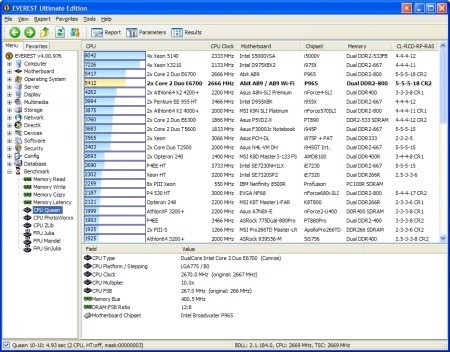 EVEREST Ultimate Edition is an industry leading system diagnostics and benchmarking solution for enthusiasts PC users, based on the award-winning EVEREST Technology. During system optimizations and tweaking it provides essential system and overclock information, advanced hardware monitoring and diagnostics capabilities to check the effects of the applied settings. CPU, FPU and memory benchmarks are available to measure the actual system performance and compare it to previous states or other systems. Furthermore, complete software, operating system and security information makes EVEREST Ultimate Edition a comprehensive system diagnostics tool that offers a total of 100 pages of information about your PC.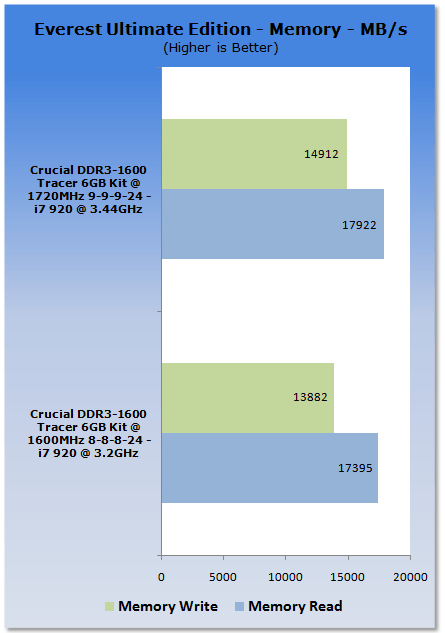 With an extra 120MHz on offer we see a nice little boost in theoretical performance under EVEREST.
Benchmarks - SiSoft Sandra
SiSoft SandraVersion and / or Patch Used:
Professional Home
Developer Homepage:
http://www.sisoftware.co.uk
Product Homepage:
http://sisoftware.jaggedonline.com/index.php?location=home&a=TTA&lang=en
Buy It Here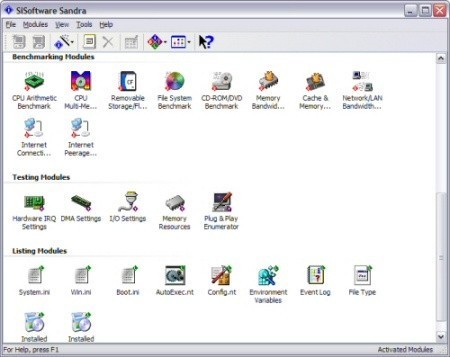 SiSoft Sandra (
S
ystem
AN
alyser,
D
iagnostic and
R
eporting
A
ssistant) is a synthetic Windows benchmark that features different tests used to evaluate different PC subsystems.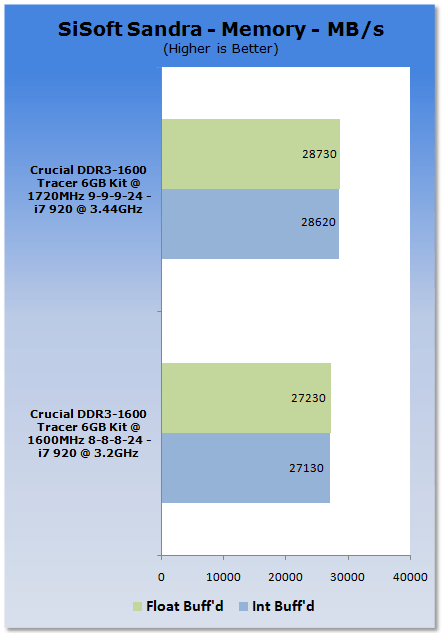 Under Sandra we again see that same little boost in memory bandwidth thanks to the extra MHz on offer when the modules are overclocked past their rated speed.
Benchmarks - Sciencemark
ScienceMark 2.0
ScienceMark 2.0 is a mathematical program designed to stress the memory subsystems of both desktop/workstation and server environments to determine the read/write latency as well as the overall memory bandwidth available between the CPU and the memory controller.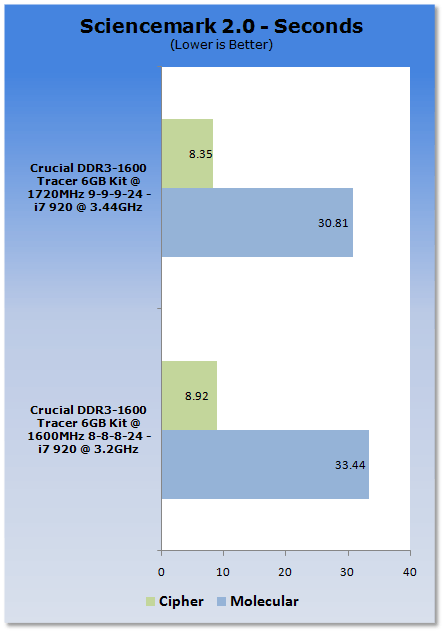 Under Sciencemark we see that the overclocked setup gives us a nice little boost in performance here. The gains for the molecular test are about 10% while the Cipher tests are a little under that.
Benchmarks - Far Cry 2
Far Cry 2Version and / or Patch Used:
1.01
Timedemo or Level Used:
Ranch Long
Developer Homepage:
http://www.ubi.com/
Product Homepage:
http://www.farcry2.com/
Buy It Here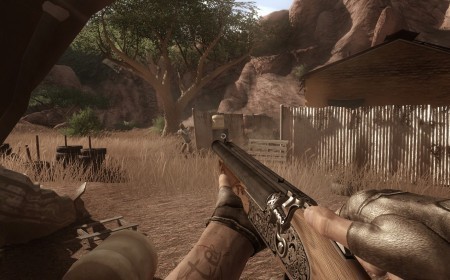 The Dunia Engine was built specifically for Far Cry 2 by the award-winning Ubisoft Montreal development team. It delivers the most realistic destructible environments, amazing special effects such as dynamic fire propagation and storm effects, real-time night-and-day cycle, dynamic music system, non-scripted enemy A.I. and so much more.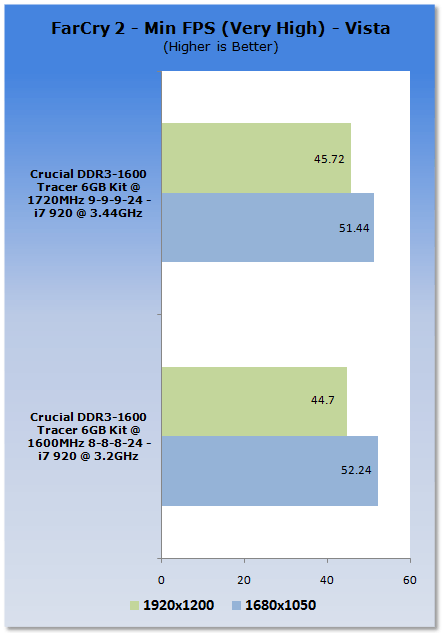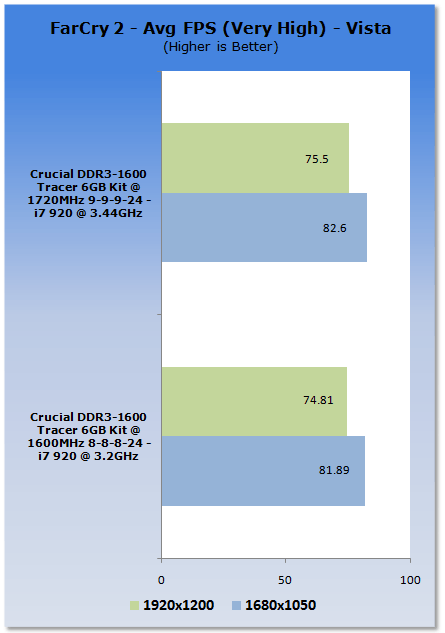 In the real world the extra 240MHz on offer from the CPU doesn't really do anything with a bit of fluctuation being seen. We can see the minimums are slightly up in the 1600MHz DDR setup, while the averages are slightly up in the 1720MHz setup.
Final Thoughts
The first thing that must be talked about is the price of these modules. At
320 U.S. Dollars from Newegg
they're far from cheap and considering that kits with similar specifications can be had for almost $100 less, you have to wonder how to justify all that extra expense.
Crucial is no doubt one of the top memory manufacturers, which helps. The other thing is the company's warranty is nothing short of fantastic. I've actually had a set of Crucial modules die on me here in Australia and the warranty process was so simple through the Crucial website.
Then there is the performance of the modules; not only do they perform well at their rated 1600MHz DDR, but they continue to run well for another 120MHz DDR after that. Then there is of course the bling; this costs money, too. The same modules without the "blinky lights" as NewEgg put it, come in at
289 U.S. Dollars
. Considering they're the same modules bar the lights and heatsink, they're an excellent choice for people wanting something from the Ballistix line who don't want to spend huge dollars.
If you're happy to spend the money and want something that looks great and feels like it's been manufactured extremely well, check out the Tracer Blue kit we have with us today. If you want to save some dollars then have a look at the non Tracer kit that offers the same specifications, but without the LEDs.
Crucial has put together a really good kit that performs great. While it would be nice if the price was a little lower, there are options to cater to that ordinance. The Tracer kits are not only for people who want great memory, but for people who want something that stands out from the crowd. If you want to rent out the room as a night club once a week, the option's there.