Introduction

Core i7 has now established itself as the high end processor to aspire to, while AMD has little to challenge it with so far. This means that boards and memory kits will be coming out to suit this new processing monster.
So far we have looked at a few DDR3 triple channel kits designed to take full advantage of the extreme speeds that Core i7 is able to produce, but one thing Intel has made very tricky with Core i7 is its memory voltage requirements.
The Core i7 QPI and memory controller uses a single voltage system that cannot exceed 1.65v, otherwise permanent damage to the QPI and memory controller is possible, which renders the CPU completely useless. For this reason, it provides new challenges to memory companies to get the best speed out of their modules while keeping the voltage as low as possible.
Today CSX claims to have made it possible to run this memory at 2000MHz on the Core i7 with only 1.65v fed to them. Let's see what they have in store for us.
The Package and Modules
The Package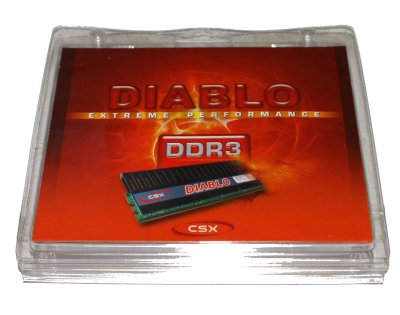 First off, CSX packages its modules in a plastic blister that is extremely easy to open and doesn't require any knives or blades; CSX, my hands thank you! - Each module comes in one of these packages and they all fit together to make a triple channel kit that looks modular, making it easier for CSX to sell them as single, dual or triple channel kits.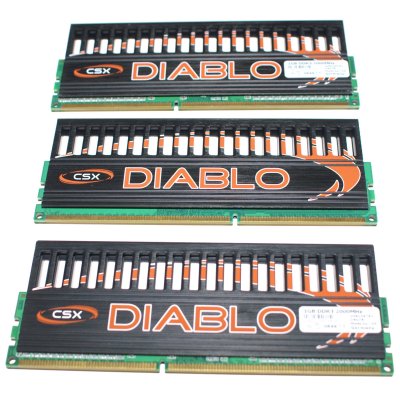 Upon removing the modules from the blister back, we get our first good look at the modules themselves. First off, the design of them is oversized; the heatspreader that the DIABLO uses is alloy in construction and sits above the modules to increase the surface area, allowing for a much better cooling setup.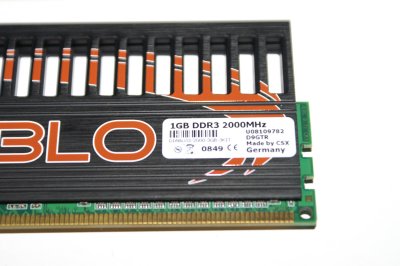 On one side of each module CSX has placed a sticker with some basic information on the modules. Unfortunately there is no detailed info on the timings or voltages and you need to go to the
Compustocx website
to get any meaningful data. But rather than making you go and look for the data, we sifted through the information and found the modules are rated for CL9 at 1333MHz using the JEDEC standard. Using Intel's XMP profiling, the modules run 7-7-7-24 when at 16000MHz at 1.6v and 8-8-8-26 at 2000MHz using the full 1.65v. This is extremely impressive, if it will in fact do those speeds. Let's now find out!
Overclocking
Overclocking the Modules
When it comes to overclocking, we aren't expecting there to be any with these modules. Now, before we crush any hopes, let me explain. While 2000MHz isn't actually recognised by JEDEC or Intel at this time as an official speed, the modules come out of the factory rated for this speed and that's exactly what we achieved with them during our testing.
However, trying to go past 2000MHz resulted in Windows locking up and we weren't going to put any more voltage into the memory to test; we do try to care for our donated hardware that is used on the test bed. But a fully tested and stable result of the rated 2000 MHz speed (which is the highest we have seen any triple channel memory kit operate at thus far) is quite an achievement. But performance like this comes at a price.
Important Editor Note: Our maximum overclocking result is the best result we managed in our limited time of testing the motherboard. Due to time constraints we weren't able to tweak the motherboard to the absolute maximum and find the highest possible FSB, as this could take days to find properly. We do however spend at least a few hours overclocking every motherboard to try and find the highest possible overclock in that time frame. You may or may not be able to overclock higher if you spend more time tweaking, or as new BIOS updates are released. "Burn-in" time might also come into play if you believe in that.
Test System Setup and EVEREST
Test System
Processor
: Intel Core I7 Extreme 965
Motherboard
: ASUS P6T Deluxe (Supplied by
ASUS
)
Hard Disk
: Intel X25-M 80GB SSD (Supplied by
Intel
)
Graphics Card
: GIGABYTE 9800GX2 (Supplied by
GIGABYTE
)
Cooling
: GIGABYTE 3D Galaxy II (Supplied by
GIGABYTE
)
Operating System
: Microsoft Windows Vista SP1
Drivers
: Intel INF 9.0.0.1008, Forceware 175.16
Today we throw the 2000MHz CSX memory against the A-DATA 3GB kit that we
recently reviewed
. This gives us a pretty good idea on a MB for MB rate as to how these very different kits perform.
EVEREST Ultimate EditionVersion and / or Patch Used:
2006
Developer Homepage:
http://www.lavalys.com
Product Homepage:
http://www.lavalys.com
Buy It Here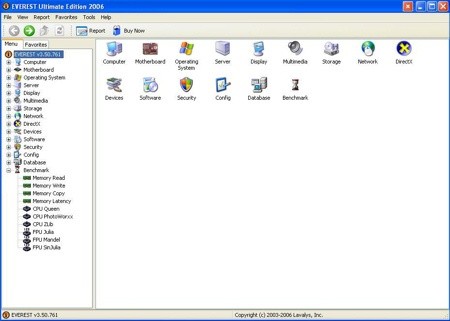 EVEREST Ultimate Edition is an industry leading system diagnostics and benchmarking solution for enthusiasts PC users, based on the award-winning EVEREST Technology. During system optimizations and tweaking it provides essential system and overclock information, advanced hardware monitoring and diagnostics capabilities to check the effects of the applied settings. CPU, FPU and memory benchmarks are available to measure the actual system performance and compare it to previous states or other systems.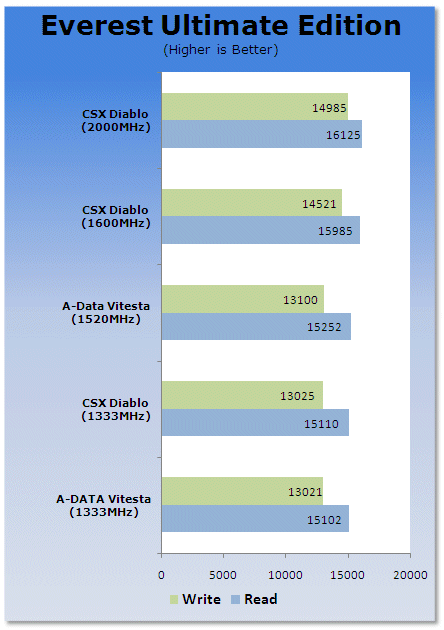 At stock speeds the A-DATA memory and the CSX manage the same speeds, but when we start to increase the speed the A-DATA falls behind, especially since it can't make the 1600MHz or 2000MHz mark.
Benchmarks - Sisoft Sandra
SiSoft SandraVersion and / or Patch Used:
2009
Developer Homepage:
http://www.sisoftware.co.uk
Product Homepage:
http://sisoftware.jaggedonline.com/index.php?location=home&a=TTA&lang=en
Buy It Here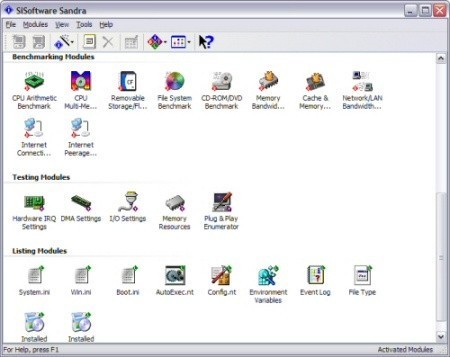 SiSoft Sandra (
S
ystem
AN
alyser,
D
iagnostic and
R
eporting
A
ssistant) is a synthetic Windows benchmark that features different tests used to evaluate different PC subsystems.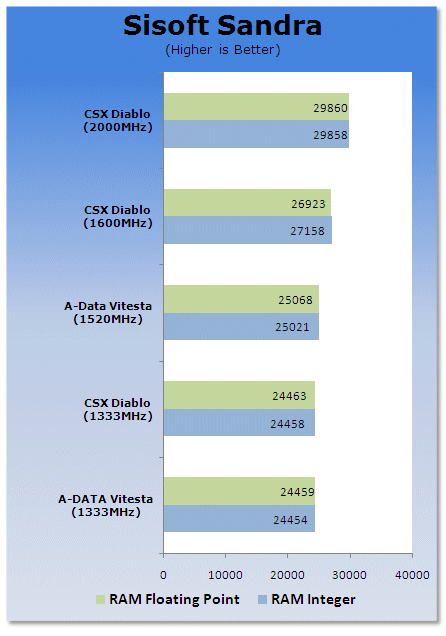 Using Sandra we get the same conclusions we saw with EVEREST.
Benchmarks - Sciencemark 2.0
ScienceMark 2.0
ScienceMark 2.0 is a mathematical program designed to stress the memory subsystems of both desktop/workstation and server environments to determine the read/write latency as well as the overall memory bandwidth available between the CPU and the memory controller.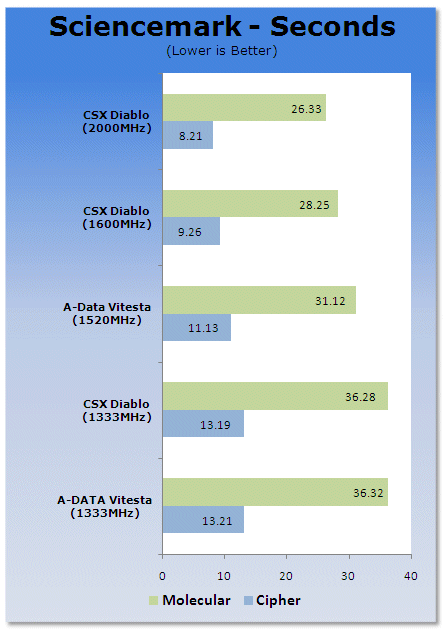 Latency and access times win it here; CSX managed to win at the higher clock speeds as it still manages to keep its timings quite low in comparison.
Benchmarks - Crysis
CrysisVersion and / or Patch Used:
1.1
Timedemo or Level Used:
Custom Timedemo
Developer Homepage:
http://www.crytek.com/
Product Homepage:
http://www.ea.com/crysis/
Buy It Here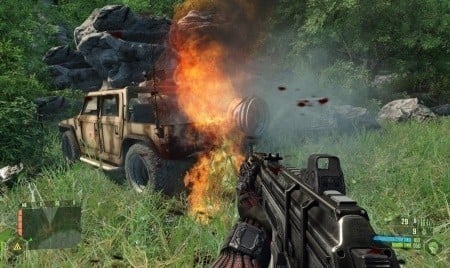 From the makers of Far Cry, Crysis offers FPS fans the best-looking, most highly-evolving gameplay, requiring the player to use adaptive tactics and total customization of weapons and armor to survive in dynamic, hostile environments including Zero-G.
Real time editing, bump mapping, dynamic lights, network system, integrated physics system, shaders, shadows and a dynamic music system are just some of the state of-the-art features the CryENGINE™ 2 offers. The CryENGINE™ 2 comes complete with all of its internal tools and also includes the CryENGINE™ 2 Sandbox world editing system.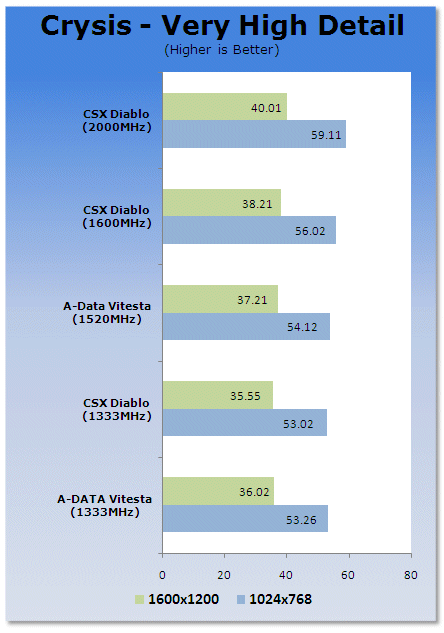 Moving to real world gaming, at 1333MHz both kits are near identical while at 1600MHz we don't see much of a difference either. However, when at 2000MHz the CPU clock and BCLK is increased and this will be the main reason for the CSX extending the lead here.
Final Thoughts
Core i7 hasn't taken off with massive sales, but given its performance profile it won't be far off before a bigger portion of the enthusiast crowd choose to embrace it. But then there's the financial crisis against its success in this regard as well; something very few people have control of at the moment.
That said, CSX has done a very impressive job with its 2000MHz triple channel kit and is deserving of attention from those looking for top end modules. But while fast, this speed comes at a price premium. As you would expect, DDR3 still sells at a higher cost than the same sized DDR2 modules. And with three of them in the kit, it's going to cost a bit to get these high clocked modules into your rig, that is if you can even find them.