A-DATA Vitesta DDR3-1333MHz 3GB Triple Channel Kit
With Intel saying a big goodbye to DDR2 memory, Core i7 and its tri-channel memory is on the move. Today A-DATA arrives.
Published Wed, Dec 3 2008 11:00 PM CST
|
Updated Fri, Sep 18 2020 10:50 PM CDT
Rating:

81%
Manufacturer: A-DATA
Introduction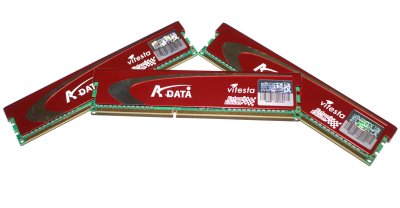 It's true that Intel has put a lot of hope into DDR3; it's Intel's second push with memory companies to get a new technology into the market place. DDR2 was their biggest push and it turned out a huge success along with Intel's extensive range of DDR2 chipsets. Further to that, AMD adopted it when they clearly said there was no need for it on the AMD K8 architecture. How quickly companies change their minds.
DDR3 has been around since the introduction of the P35 chipset and the Core 2 processors. The main reason it hasn't taken off when compared to DDR2 is a two-fold problem. Firstly, the yields; it has taken until now to get high clocking memory that is able to clearly outperform DDR2. On a clock-for-clock basis DDR2 is able to beat DDR3 in certain tests that rely on low latencies. The other problem is price. Compared to its replacement, DDR3 is quite a bit more costly and you can now easily get 4GB of DDR2 for around $100 AUD. But when it comes to DDR3, you're looking closer to $200 AUD; this is because of demand and lower yields.
While Intel was pushing for DDR3 as the memory of choice, their P35, P45, X38 and X48 didn't really help them as they had DDR2 memory controllers as well as DDR3, allowing the motherboard makers to choose. This keeps DDR3 on the backburners, but with Core i7 this has changed. Thanks to the on-chip memory controller, Intel is limited to a single type of memory and this is where Intel is pushing DDR3. If you want to use any of the current Core i7's or the upcoming LGA-1156 processors due next year, it's DDR3 or nothing. And with the LGA-1366 supporting three memory channels, we are seeing triple channel kits coming out for Core i7.
We have
already tested
the Corsair memory which was our memory of choice for our Core i7 CPU review. Today we look at A-DATA's Vitesta Triple Channel kit, rated for 1333MHz. How does it stack up? Let's find out.
The Package and Modules
The Package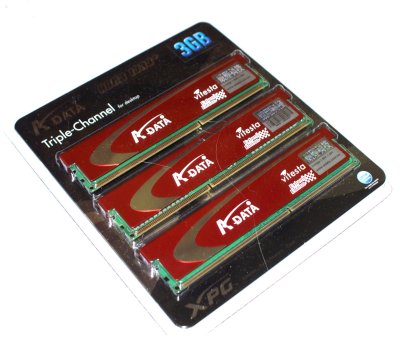 Compared to our Corsair kit we received
last week
, the A-DATA Vitesta kit was a full retail offering, so we were given the kit to evaluate which included the package that you will see in your local PC shops.
A-DATA has put the modules in one of the protective blisters that I like to call the 'hand shredder'; this requires you to use a stanley or razor blade to cut them out and usually I either put the blade into my hand, pushing too hard to cut the blister pack or end up not cutting enough to get through and then trying to rip it open which once again subjected my fingers to the full force of opening the package.
Through the front of the package A-DATA gives you a full view of the three memory modules.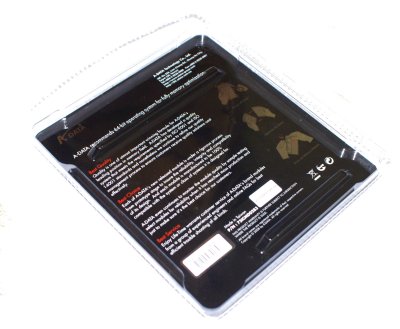 Since the front had a plastic blister that allows you to see the modules, there is no need for any pictures of the modules. Rather, a bunch of marketing hype and info are placed on the back; no real specs or anything, just basic company marketing hype to try and convince you A-DATA is the best in its class.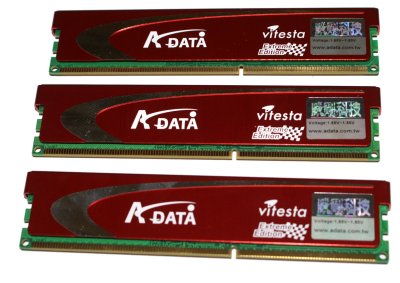 Removing the modules from the package (a very painful affair for me), we get to see the modules in hand. A-DATA has gone with using a red anodized heatspreader to remove the heat from the modules; they are quite attractive to say the least and are standard height DIMMS, so they are quite compact.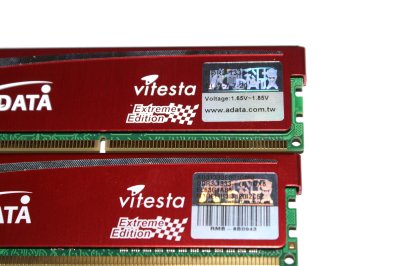 A-DATA has placed stickers on each side of the modules. One has the specs on it while the other has a simple hologram logo. The modules that were supplied in the kit were 1GB density, so a total of 3GB in this kit. These modules are rated for 1333 MHz using 7-7-7-20 timings which is quite low. However, its voltage rating is 1.65v to 1.85v. This presents a problem for Core i7 as 1.65v is the max this CPU can officially take without damage to the DRAM controllers; anything above this can result in permanent damage to the CPU.
Overclocking
Overclocking the Modules
Now to our favourite part, overclocking. With Core i7, overclocking is an interesting process in itself. We are still trying to master it; however, we have achieved some impressive results already.
For our A-DATA kit we were limited to 1.65v as we don't want to damage the CPU and this is what most users will not want to risk either, so we limit 1.65v for memory. To this end we managed to push the memory to a max of 1520MHz, however we had to reduce the timings to 8-8-8-20 to get it stable at 1.65v. At 1333MHz we had 1.6v for 7-7-7-20, so it's good to know that it will work at its designed speeds below 1.65v.
Important Editor Note: Our maximum overclocking result is the best result we managed in our limited time of testing the motherboard. Due to time constraints we weren't able to tweak the motherboard to the absolute maximum and find the highest possible FSB, as this could take days to find properly. We do however spend at least a few hours overclocking every motherboard to try and find the highest possible overclock in that time frame. You may or may not be able to overclock higher if you spend more time tweaking, or as new BIOS updates are released. "Burn-in" time might also come into play if you believe in that.
Test System Setup and EVEREST
Test System
Processor
: Intel Core i7 Extreme 965
Motherboard
: ASUS P6T Deluxe OC Palm (Supplied by
ASUS
)
Hard Disk
: Intel SSD X25-M80GB (Supplied by
Intel
)
Graphics Card
: GIGABYTE 9800GX2 (Supplied by
GIGABYTE
)
Cooling
: Stock Intel HSF
Operating System
: Microsoft Windows Vista x64 SP1
Drivers
: Intel INF 9.0.1.1007, Forceware 180.48
Once again we bring out the Core i7 Extreme test system, the same one we used for the
Corsair Dominator memory review
. Today's tests only include the A-DATA memory at 1066MHz, 1333MHz and its max speed of 1520MHz. Since the Corsair memory was of a large size, we didn't want conflicting results, but we will soon be doing a 3GB vs 6GB vs 12GB article.
EVEREST Ultimate EditionVersion and / or Patch Used:
2006
Developer Homepage:
http://www.lavalys.com
Product Homepage:
http://www.lavalys.com
Buy It Here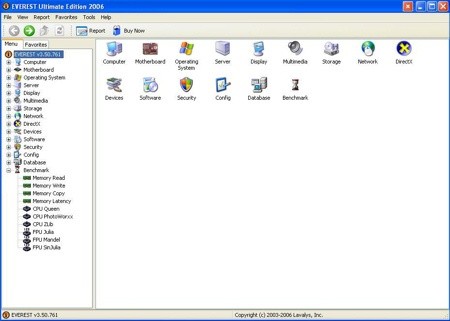 EVEREST Ultimate Edition is an industry leading system diagnostics and benchmarking solution for enthusiasts PC users, based on the award-winning EVEREST Technology. During system optimizations and tweaking it provides essential system and overclock information, advanced hardware monitoring and diagnostics capabilities to check the effects of the applied settings. CPU, FPU and memory benchmarks are available to measure the actual system performance and compare it to previous states or other systems.
First on the list; EVEREST. Here we see there isn't a huge amount of difference between 1066MHz and 1333MHz. It seems the gain isn't significant, but then it's only synthetic.
Benchmarks - Sisoft Sandra
SiSoft SandraVersion and / or Patch Used:
2009
Developer Homepage:
http://www.sisoftware.co.uk
Product Homepage:
http://sisoftware.jaggedonline.com/index.php?location=home&a=TTA&lang=en
Buy It Here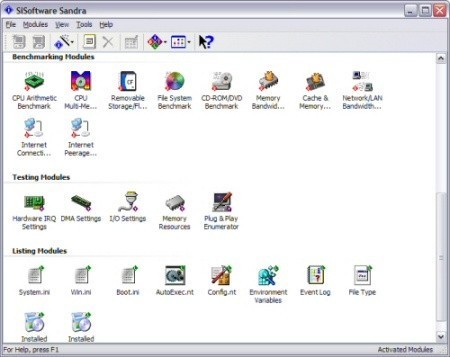 SiSoft Sandra (
S
ystem
AN
alyser,
D
iagnostic and
R
eporting
A
ssistant) is a synthetic Windows benchmark that features different tests used to evaluate different PC subsystems.
Again in the synthetics we see performance gains when moving along the speed line, but it's still only synthetic at this time.
Benchmarks - Sciencemark 2.0
ScienceMark 2.0
ScienceMark 2.0 is a mathematical program designed to stress the memory subsystems of both desktop/workstation and server environments to determine the read/write latency as well as the overall memory bandwidth available between the CPU and the memory controller.
Latency and access times win it here and we can see that the memory loses out at 1520MHz as its latencies increase.
Benchmarks - Crysis
CrysisVersion and / or Patch Used:
1.1
Timedemo or Level Used:
Custom Timedemo
Developer Homepage:
http://www.crytek.com/
Product Homepage:
http://www.ea.com/crysis/
Buy It Here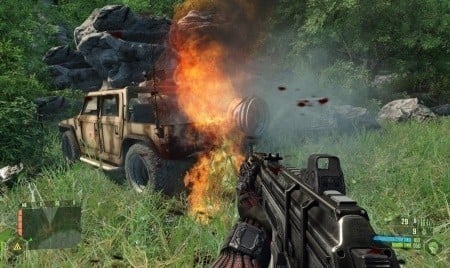 From the makers of Far Cry, Crysis offers FPS fans the best-looking, most highly-evolving gameplay, requiring the player to use adaptive tactics and total customization of weapons and armor to survive in dynamic, hostile environments including Zero-G.
Real time editing, bump mapping, dynamic lights, network system, integrated physics system, shaders, shadows and a dynamic music system are just some of the state of-the-art features the CryENGINE 2 offers. The CryENGINE 2 comes complete with all of its internal tools and also includes the CryENGINE 2 Sandbox world editing system.
Pressing into real world gaming; there is very little difference between 1066MHz and 1333MHz. We do get a slight lead at 1520MHz, but this is also because the CPU is clocked up.
Final Thoughts
Core i7 is truly the way that the CPU market will be leaning over the next few months. While Core 2 will get a few refreshes, it's certain that Intel will soon ramp up with Core i7, introducing new models, higher clock speeds and inevitably better prices to make it more attractive.
Where Core i7 really gets a lot of its power from is the triple channel memory controller and while we have shown that even dual channel
keeps it happy
, there is no better feeling than stuffing it with more memory bandwidth than it knows what to do with. Having said that, A-DATA provides an extremely impressive kit here for your consideration.
Compared to the Corsair 6GB kit, while it's half the size, it's also cheaper. DDR3 still costs more than DDR2 but we soon hope to see this change. The other major advantage of this kit is that being only 3GB in size allows it to fit within the 32-bit OS usable memory window. 4GB and above needs a 64-bit OS to take advantage of any extra memory, so you're safe for XP and Vista 32-bit here.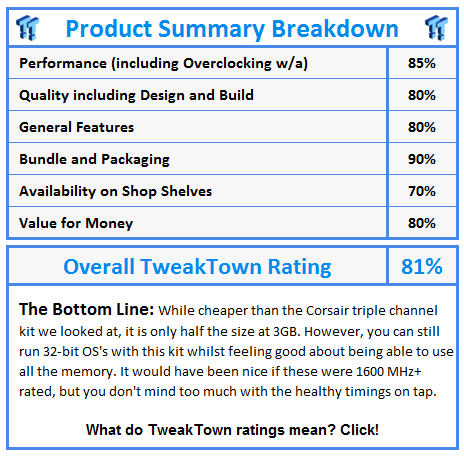 PRICING: You can find products similar to this one for sale below.
United States: Find other tech and computer products like this over at Amazon.com
United Kingdom: Find other tech and computer products like this over at Amazon.co.uk
Australia: Find other tech and computer products like this over at Amazon.com.au
Canada: Find other tech and computer products like this over at Amazon.ca
Deutschland: Finde andere Technik- und Computerprodukte wie dieses auf Amazon.de
We openly invite the companies who provide us with review samples / who are mentioned or discussed to express their opinion. If any company representative wishes to respond, we will publish the response here. Please contact us if you wish to respond.
Related Tags