Albatron Mini-ITX Evolves - KI780G On Display
Mini-ITX is sure getting its day in the sun and today we have Albatron's latest instalment armed with an AM2+ socket.
Published Wed, Dec 3 2008 11:00 PM CST
|
Updated Fri, Sep 18 2020 10:50 PM CDT
Introduction
Mini-ITX is sure getting its day in the sun. Ever since VIA brought this new standard for micro motherboards to the party, everyone has gotten in on it. Intel was extremely reluctant to bring Atom into the Mini-ITX market; in fact, they wanted a totally new standard board that would be 17.5x18cm, just to be different. However, through pressure from their partners Intel finally put Atom out as a Mini-ITX compliant offering, so now we have an industry standard that really packs a lot into a tiny board.
Albatron are no strangers to Mini-ITX, in fact we have already tested a couple of boards from them on a Mini-ITX format, including a Socket 754 based and an AM2 based board. Today, however, they are raising the stakes just a little higher. Phenom may not be the highest clocking kid on the block and it can't keep up with Intel on a clock-for-clock basis with Core 2, let alone Core i7, but where AMD lacks in the enthusiast market, they do have the goods in the power friendly market. Not only that, a top clocking Phenom X4 processor can also be had for cheap now.
Today Albatron have sent us their Mini-ITX KI780G board based around AMD's very popular IGP chipset, the 780G. Let's see just how well it's able to perform compared to VIA's Nano platform.
The Box and What's Inside
Package and Contents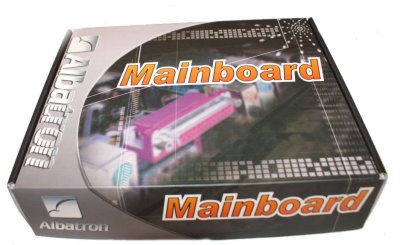 Albatron ships the KI780G in a standard Micro-ATX sized box, which is somewhat redundant since the board is only a mini-ITX design. However, we aren't complaining. The box has very little info on the front apart from the Albatron logo; there isn't any model numbers apart from an affix sticker that is placed on there during manufacturing.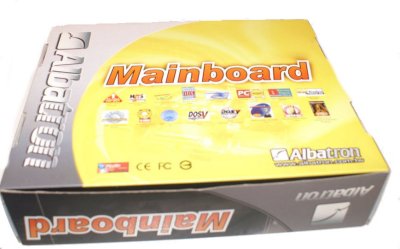 On the back there is even less. All you will find is marketing info and jargon, no real info on the board or any pictures, so you're going to be left in the dark on the boards features and specs.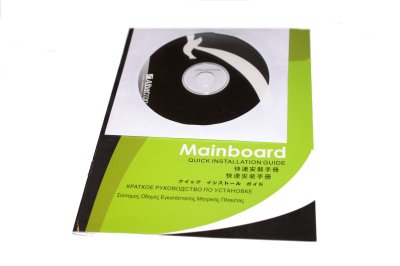 Albatron's documentation and software is quite good; a single users manual covers all the basics of the installation and BIOS as well as some info on the driver install and setup of the included software. The DVD included has drivers for XP and Vista in 32 and 64-bit versions, but there are no Linux drivers unfortunately.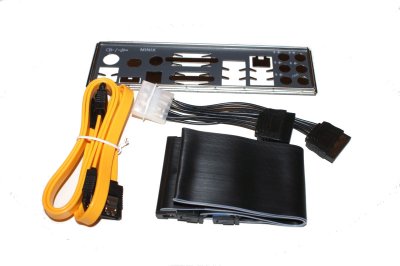 Being a basic board there is only a few cables and accessories included; amongst them is a single IDE cable with two device support, one SATA data and one SATA power splitter along with a rear I/O shield. And that's all she wrote.
The Motherboard
The Board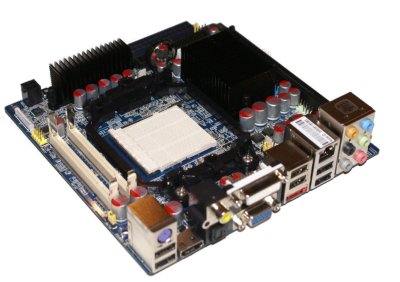 It's now time to move along to the board. Albatron has always favoured the blue PCB for its boards, just like GIGABYTE and they are almost identical coloured PCBs, though Albatron's looks a little darker in colour. Being Mini-ITX by design, it's extremely cramped and the CPU socket takes up a lot of the space. There is a 24-pin power connector and a 4-pin Aux power connector along the right hand edges of the board which is the bulk of the cables. The IDE port sits directly behind the 24-pin power connector.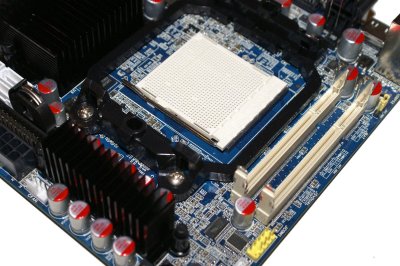 At the top of the board Albatron has gone with SO-DIMM memory to save as much space as possible. This gives the board dual channel support, though, thanks to two SO-DIMMS giving a grand total of 4GB of supported memory; more than enough for any setup. The CPU is fed its voltage through a 3 phase voltage system which is more than enough power to feed even the Black Edition Phenom X4's.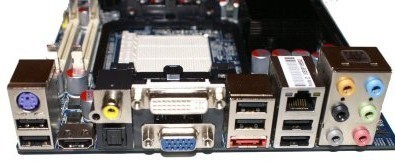 Albatron hasn't skimped on the rear I/O ports. The biggest loss is the PS/2 mouse port; there is only a keyboard port with two USB ports below it. A DVI and CRT port allow for dual display video along with a HDMI port, so it's ready for HDTV thanks to the AMD 780G's IGP powering the show. HD Audio is supported through 7.1 channels by the rear I/O or through the HDMI port. In all, it's a great array of ports on offer.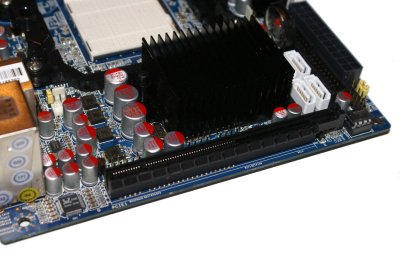 Lastly it's to the expansion system and this is extremely easy. There is only one slot and it's a PCIe x16 one physically, but only runs at x4 speed. This is a real mystery as the 780G Northbridge supports a x16 lane, so why it wasn't used, we aren't sure.
Test System Setup and Memory Performance
Test System
Processor
: AMD Phenom X4 9350 @ 2.0Ghz
Memory
: 2x 2GB DDR2-667Corsair Value Select SODIMM (Supplied by
Corsair
)
Hard Disk
: 500GB Western Digital SE16 (Supplied by
Western Digital
)
Graphics Card
: GIGABYTE 9800GX2 (Supplied by
GIGABYTE
)
Cooling
: GIGABYTE 3D Galaxy II (Supplied by
GIGABYTE
)
Operating System
: Microsoft Windows Vista x64 SP1
Drivers
: nForce Platform Driver, Hyperion Platform Driver, Forceware 18.42
Today we will be testing out the Albatron board against the VIA EPIA-SN with the Nano 1.8GHz CPU to determine what extra power can be had from this board compared to the VIA. We will be testing with the IGP as well as discrete graphics using our trusty 9800GX2.
EVEREST Ultimate EditionVersion and / or Patch Used:
2006
Developer Homepage:
http://www.lavalys.com
Product Homepage:
http://www.lavalys.com
Buy It Here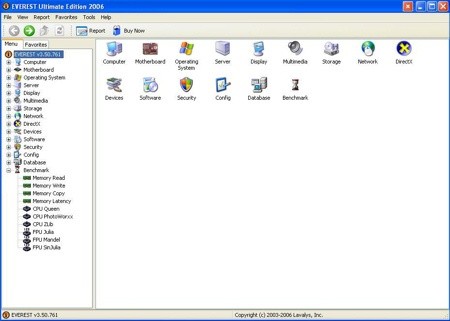 EVEREST Ultimate Edition is an industry leading system diagnostics and benchmarking solution for enthusiasts PC users, based on the award-winning EVEREST Technology. During system optimizations and tweaking it provides essential system and overclock information, advanced hardware monitoring and diagnostics capabilities to check the effects of the applied settings. CPU, FPU and memory benchmarks are available to measure the actual system performance and compare it to previous states or other systems.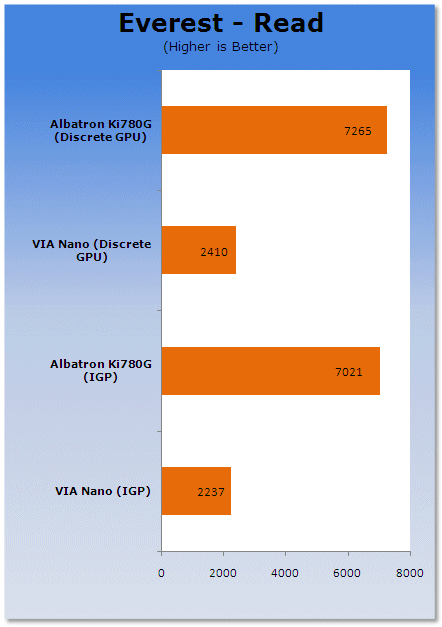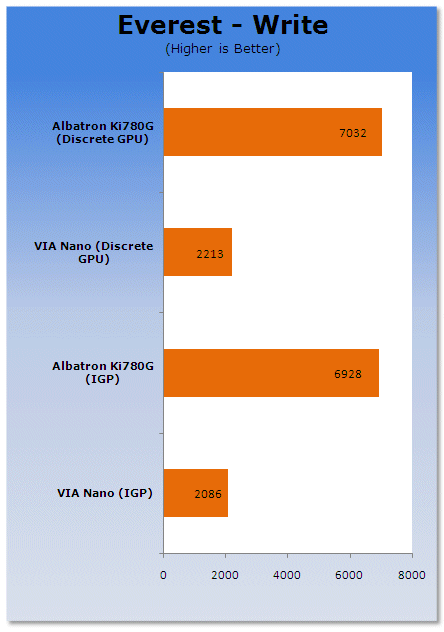 AMD's built in memory controller on the Phenom simply blows the Nano well out of the water here.
Benchmarks - PCMark Vantage
PCMark VantageVersion and / or Patch Used:
Unpatched
Developer Homepage:
http://www.futuremark.com
Product Homepage:
http://www.futuremark.com/benchmarks/pcmark-vantage//
Buy It Here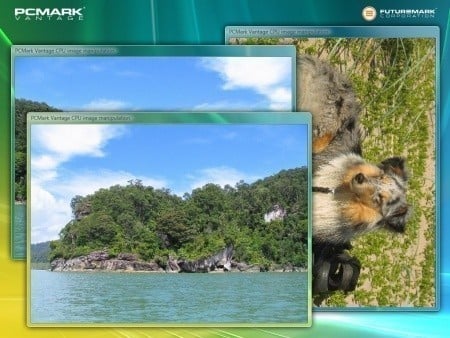 PCMark Vantage is the first objective hardware performance benchmark for PCs running 32 and 64 bit versions of Microsoft Windows Vista. PCMark Vantage is perfectly suited for benchmarking any type of Microsoft Windows Vista PC from multimedia home entertainment systems and laptops to dedicated workstations and high-end gaming rigs. Regardless of whether the benchmarker is an artist or an IT Professional, PCMark Vantage shows the user where their system soars or falls flat, and how to get the most performance possible out of their hardware. PCMark Vantage is easy enough for even the most casual enthusiast to use yet supports in-depth, professional industry grade testing.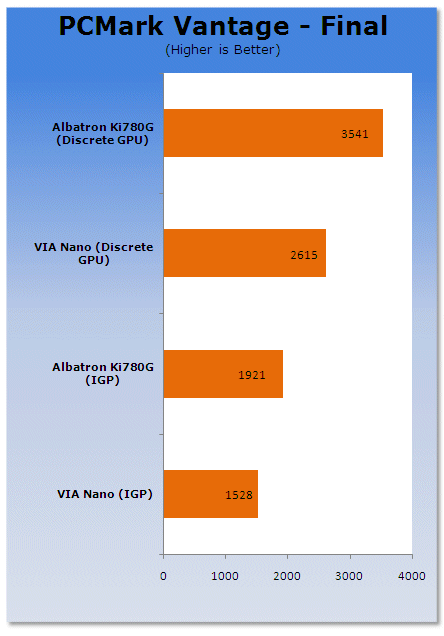 While VIA may have a lower power consuming CPU, it's simply not able to keep up with a CPU clocked only 200MHz higher in this application. When we go to discrete graphics we see AMD's full power unleashed with the IGP no longer sucking system memory.
Benchmarks - Media Playback
MPEG-2 Playback
For MPEG-2 playback tests we ran The Matrix DVD, a personal favourite of mine on each system with hardware acceleration enabled to check for smoothness of playback as well as CPU usage during the test. The result was with 30 minutes of playback and the CPU utilization is the average.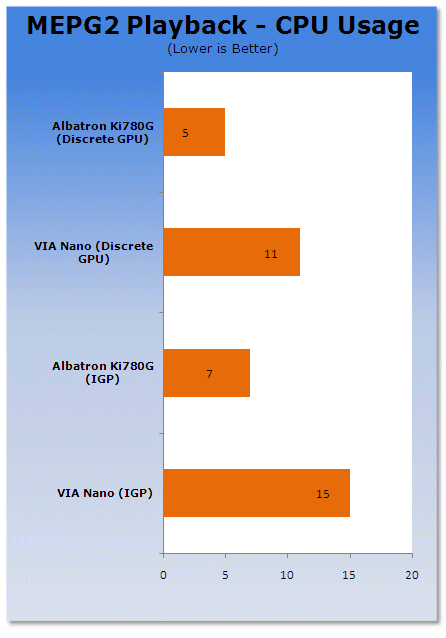 Here both platforms are able to handle MPEG-2 playback using the same amount of CPU usage. It seems like MPEG-2 is no longer hard for a CPU to work with.
MPEG-4 Playback
Playback for MPEG-4 was again done with the Matrix, only encoded down to an MPEG-4 DivX 6.8 codec. 30 minutes was the time run. Smoothness of playback, audio sync and CPU usage are the keys here once again.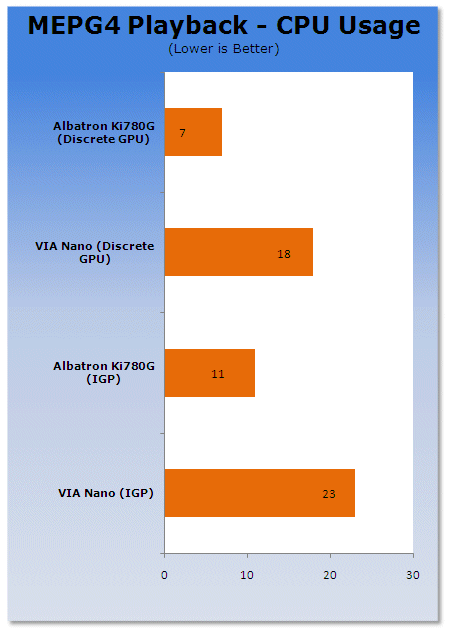 MPEG-4 playback was less intense on the AMD CPU in both instances here. AMD really has more power to play with on its CPU.
HD 720p Playback
This is the big one for the platforms. We downloaded a random 720p video to test out using Media Player 11. Again, quality of video playback, audio sync and CPU usage are the big things to focus on here.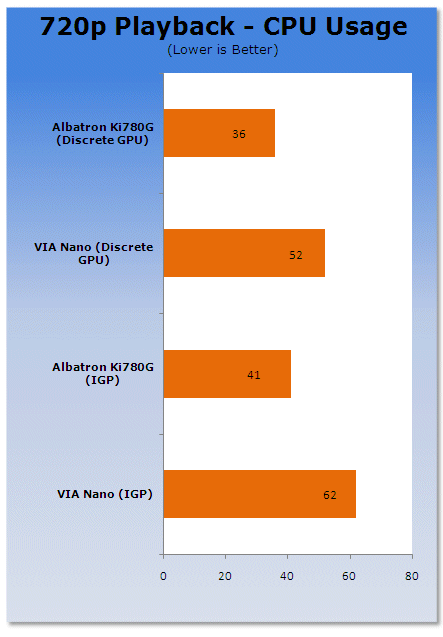 For our 720p playback results you can see the AMD CPU does a far better job here, keeping under 50% load both with and without discrete graphics. It's a lot smoother and you can still multi-task and open up web pages.
MP3 Playback
We decided to add another layer in our media playback and that is MP3 playback. If you're going to have a car PC it's usually to play movies and audio on, so it's fitting to add this to the list. A personal favorite of mine, War of the Worlds: the musical is played back and the CPU usage is recorded. Winamp is used to play back the audio.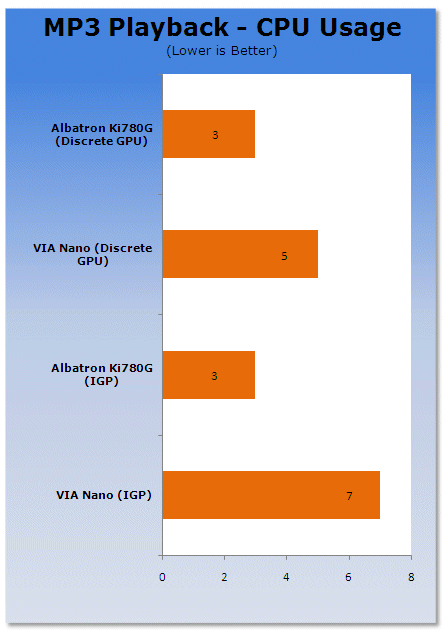 MP3 playback performance across both systems is identical and it's clear MP3s are simply no challenge for today's CPU's.
Benchmarks - Crysis
CrysisVersion and / or Patch Used:
1.1
Timedemo or Level Used:
Custom Timedemo
Developer Homepage:
http://www.crytek.com/
Product Homepage:
http://www.ea.com/crysis/
Buy It Here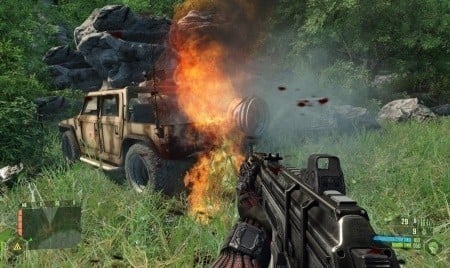 From the makers of Far Cry, Crysis offers FPS fans the best-looking, most highly-evolving gameplay, requiring the player to use adaptive tactics and total customization of weapons and armor to survive in dynamic, hostile environments including Zero-G.
Real time editing, bump mapping, dynamic lights, network system, integrated physics system, shaders, shadows and a dynamic music system are just some of the state of-the-art features the CryENGINE 2 offers. The CryENGINE 2 comes complete with all of its internal tools and also includes the CryENGINE 2 Sandbox world editing system.
We ran Crysis with low detail for today's tests. With the IGP's only, AMD is just able to play it at 1024x768, but even then it had jitters. VIA simply couldn't keep up, however, it was playable with a 9800GX2 installed, but AMD still got the win here.
Power Usage
Power Consumption
We are now able to find out what kind of power is being used by our test system and the associated graphics cards installed. Keep in mind; it tests the complete system (minus LCD monitor, which is plugged directly into an AC wall socket).
There are a few important notes to remember though; while our maximum power is taken in 3DMark06 at the same exact point, we have seen in particular tests the power being drawn as much as 10% more. We test at the exact same stage every time; therefore tests should be very consistent and accurate.
The other thing to remember is that our test system is bare minimum - only a 7,200RPM SATA-II single hard drive is used without CD-ROM or many cooling fans.
So while the system might draw 400 watts in our test system, placing it into your own PC with a number of other items, the draw is going to be higher.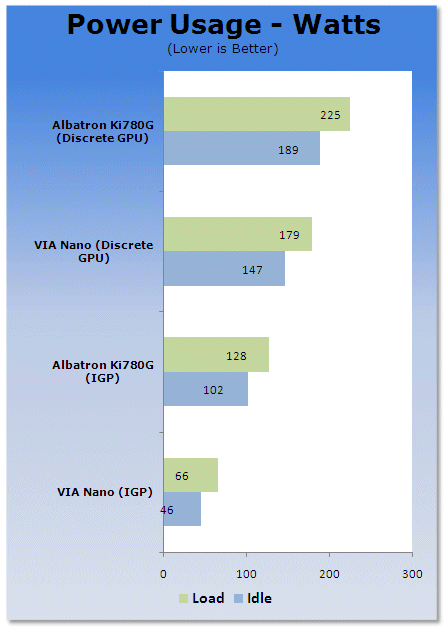 Power wise, AMD can't compete with the VIA platform which is simply designed for efficiency above all else.
Final Thoughts
With Mini-ITX hotting up, it's no wonder that companies are starting to grab hold of it with both hands. And Albatron isn't a stranger to it, in fact they have sent us a couple of boards in the past and they haven't disappointed. With the latest investments in the IGP market, it's of no surprise to see things heating up in this market segment.
While VIA may have invented the Mini-ITX market, they sure don't own it and with boards like the KI780G things are looking good. Compared to an EPIA board, you can choose you own CPU, memory and it's just that simple. Upgrading is possible on the Albatron board while the CPU is a fixed feature on the VIA board. Where the VIA board is more suited to a car PC that you set and forget, the digital PC and home theater option is more the Albatron KI780G's aim.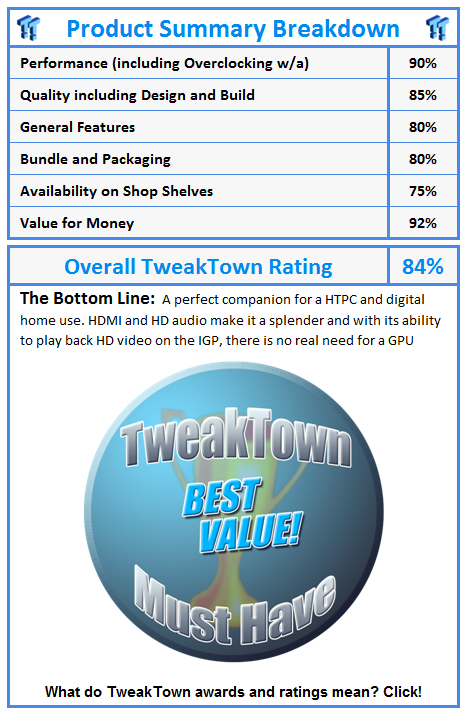 PRICING: You can find products similar to this one for sale below.
United States: Find other tech and computer products like this over at Amazon.com
United Kingdom: Find other tech and computer products like this over at Amazon.co.uk
Australia: Find other tech and computer products like this over at Amazon.com.au
Canada: Find other tech and computer products like this over at Amazon.ca
Deutschland: Finde andere Technik- und Computerprodukte wie dieses auf Amazon.de
We openly invite the companies who provide us with review samples / who are mentioned or discussed to express their opinion. If any company representative wishes to respond, we will publish the response here. Please contact us if you wish to respond.
Related Tags