MSI IM-945GSE-A Mini-ITX Fanless Atom Motherboard
Taking a break from the desktop side of things, MSI sends us their industrial Atom motherboard. We check it out today.
Published Tue, Dec 2 2008 11:00 PM CST
|
Updated Fri, Sep 18 2020 10:50 PM CDT
Rating:

82%
Manufacturer: MSI
Introduction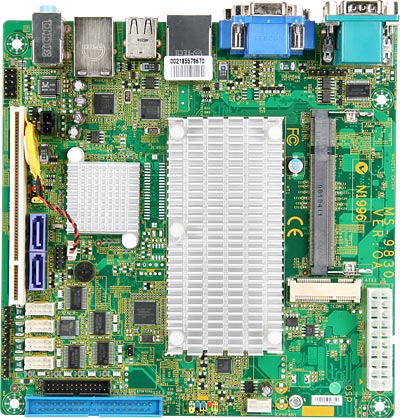 While we like to look at all the high-end motherboards at TweakTown, we also like to focus on some of the smaller, more budget oriented choices that come to the scene. It's not the large enthusiast based hardware that manages to make it into the average mainstream or HT PC and you won't find any ATX boards in car PC's or project PC's, it's most always the mini that gets all the action.
Since VIA introduced to us the Mini-ITX motherboard factor through its EPIA based PC's all those years ago, it's been an untapped market; that is until now. With VIA's Nano processor really pulling all the stops to be the most efficient and best performing low power CPU, along with Intel right on their heals with Atom, Mini-ITX is really getting some heat.
Today we have something you may not consider for your desktop PC, but more for the digital setup unit or a car PC. MSI has sent us their Industrial IM-945GSE-A Mini-ITX board to see just what we can get out of it.
The Motherboard
The Board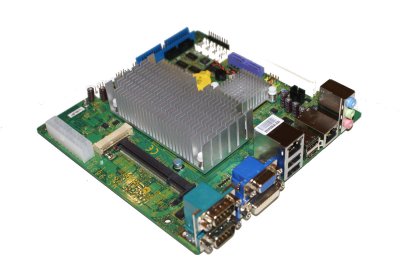 The Mini-ITX format doesn't allow for a huge array of features and that's mainly because of its extremely small size. However, there is quite a lot to be found on the MSI board. First off, the PCB is of the 17x17cm Mini-ITX standard, so it will fit into just about any Mini-ITX standard case. MSI hasn't gone for a special coloured PCB and the older generic green is used, so this isn't a dressed up unit; what you see is what you get.
The 20-pin ITX power connector is placed on the far left side of the board along with the IDE port located at the bottom left. The two SATA ports that the board is equipped with are located just above the expansion slot. While the ICH7DM that the board is equipped with supports six SATA ports, as it's based on the Mini-ITX standard, two is more than enough; one for a HDD and one for an ATAPI DVD unit.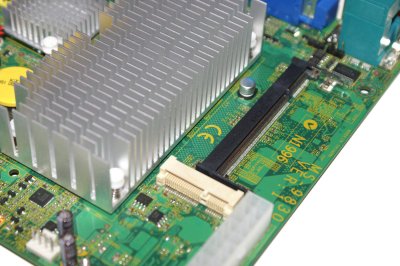 At the top of the board MSI has placed the single memory slot. To keep things as compact as possible, a single 200-pin DDR2 SO-DIMM slot is used for the system memory and this gives you a total system memory size of 2GB using today's standard SO-DIMM. Just to the left of the DDR2 memory slot there is a single mini-PCIe slot; this is the same as you get in laptops and is extremely helpful as you can use this to plug in a laptop wireless mini-PCIe card, leaving the single expansion slot free for other devices.
The CPU that powers the show is Intel's new pride and joy for the power conscious market, the Atom N270. This CPU is definitely not for everyday desktop users. Compared to the Core 2 or Phenom processors, it's a
lot
slower and despite having Hyper Threading, it's not able to keep up with any real programs like Paint Shop or video editing tasks. However, it's able to do your basic web browsing and video playback.
Backing up the N270 is the Intel 945GCM chipset. This is the only chipset that Intel is allowing Atom to be paired up with. This chipset is old compared to the 3 and 4 series chipset and it lacks any real 3D acceleration on the IGP, so it's really just a basic system.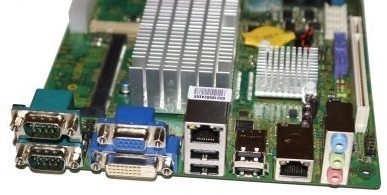 Now we turn our attention to the rear I/O. MSI has gone almost legacy free here; there is no PS/2 ports, so if you want to use a keyboard and mouse it's got to be USB based. Why we say
almost
legacy free is that a single Serial port is included. Since this board is industrial based, it's aimed for POS machines that still use COM ports for connecting certain devices. While Intel is against people using DVI video ports on Atom based boards, MSI has ignored any complaints Intel has and gives you CRT and DVI ports. So if you have a TV or LCD that supports DVI, you can connect it up and this also plays well for the car PCs which are now using DVI ports to connect 7 and 10" touch screens.
Apart from the Mini-PCIe slot at the top left of the board, MSI has a single PCI slot for expansion. Since Intel is using ICH7 Southbridge's on the Atom based system, we would prefer to see a PCIe x1 or x4 slot, or even a x16 since it has this option through the Northbridge.
Additional features include HD audio provided by an Alcatel HD audio controller chip, however, it's limited to 5.1 sound since the rear I/O has to share audio ports with the Line in and Mic ports. Two Ethernet chips from Marvell supply the board with Dual Gigabit Ethernet compatibility. Unfortunately there is no FireWire controller on the board, so if you want digital FireWire connectivity you're going to need to put a FireWire card in the PCI slot, removing any other expansion options.
Test System Setup and Memory Performance
Test System
Platform 1
: GIGABYTE GA-GC230D Atom Board
Platform 2
: VIA EPIA SN2 Nano Board
Platform 3
: MSI IM-945GSE-A Atom Board
Memory Capacity
: 2GB (1x 2GB Stick for Atom, 2x1GB for Nano)
Today we will be pressing into a different set of benchmarks than what we normally use for motherboard reviews. Since these boards aren't designed to play video games or handle multiple applications at once, we have catered the benchmarks to better demonstrate what they are designed for; desktop experience, video playback, audio playback and the basic systems that you would find in a Car PC.
EVEREST Ultimate EditionVersion and / or Patch Used:
2006
Developer Homepage:
http://www.lavalys.com
Product Homepage:
http://www.lavalys.com
Buy It Here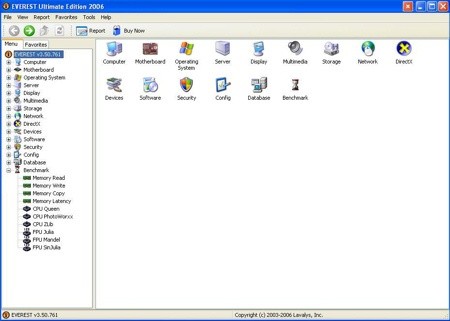 EVEREST Ultimate Edition is an industry leading system diagnostics and benchmarking solution for enthusiasts PC users, based on the award-winning EVEREST Technology. During system optimizations and tweaking it provides essential system and overclock information, advanced hardware monitoring and diagnostics capabilities to check the effects of the applied settings. CPU, FPU and memory benchmarks are available to measure the actual system performance and compare it to previous states or other systems.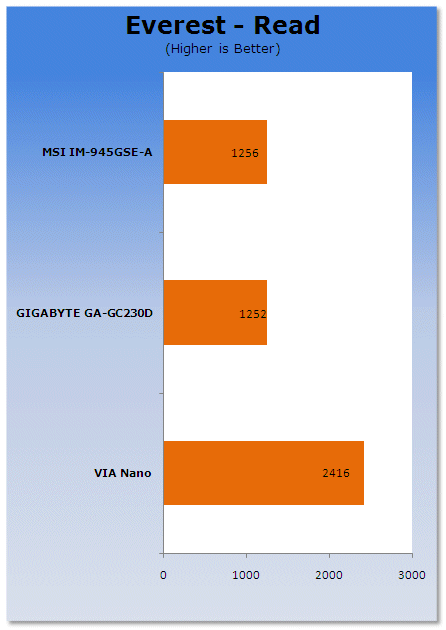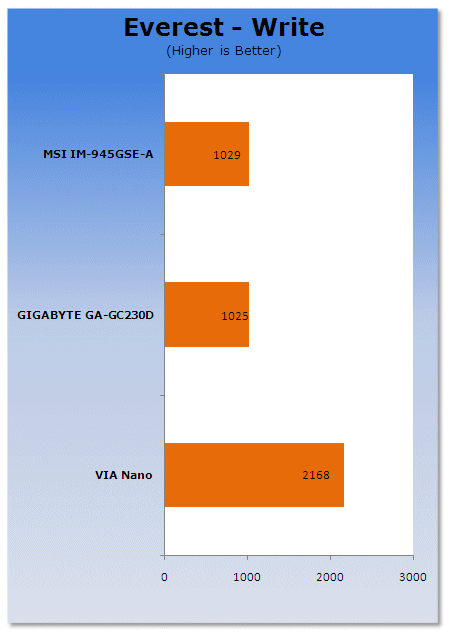 We see here that thanks to the same spec layout of the Atom platform, the GIGABYTE and MSI boards perform identically. Nano, however, manages to give the two a beating thanks to its dual channel memory controller.
Benchmarks - PCMark Vantage
PCMark VantageVersion and / or Patch Used:
Unpatched
Developer Homepage:
http://www.futuremark.com
Product Homepage:
http://www.futuremark.com/benchmarks/pcmark-vantage//
Buy It Here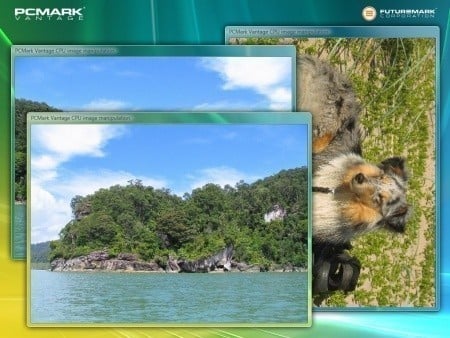 PCMark Vantage is the first objective hardware performance benchmark for PCs running 32 and 64 bit versions of Microsoft Windows Vista. PCMark Vantage is perfectly suited for benchmarking any type of Microsoft Windows Vista PC from multimedia home entertainment systems and laptops to dedicated workstations and high-end gaming rigs. Regardless of whether the benchmarker is an artist or an IT Professional, PCMark Vantage shows the user where their system soars or falls flat, and how to get the most performance possible out of their hardware. PCMark Vantage is easy enough for even the most casual enthusiast to use yet supports in-depth, professional industry grade testing.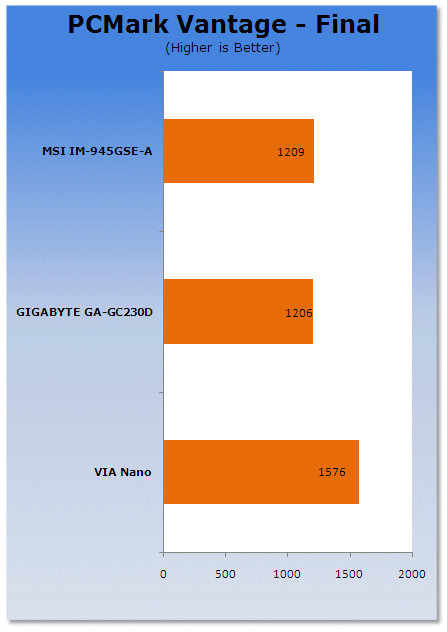 PCMark Vantage gives us a general idea on how well the platforms are able to handle the Windows environment. We see GIGABYTE and MSI right at each other once again, while VIA is able to keep well ahead of the game.
Benchmarks - Media Playback
MPEG-2 Playback
For MPEG-2 playback tests, we ran The Matrix DVD, a personal favourite of mine on each system with hardware acceleration enabled to check for smoothness of playback as well as CPU usage during the test. The result was with 30 minutes of playback and the CPU utilization is the average.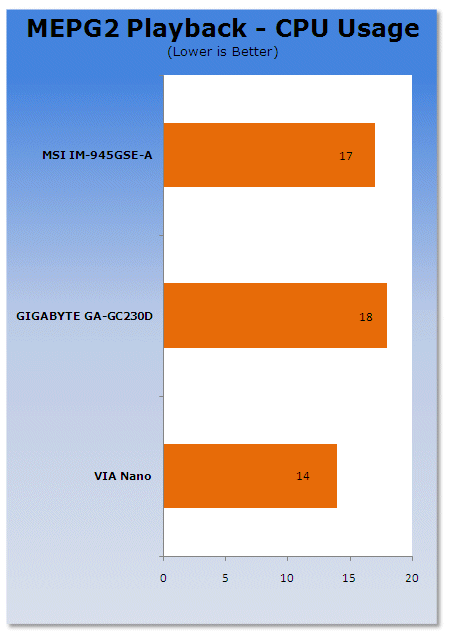 MPEG-2 playback is flawless on the Atom and Nano platforms, thanks to the IGP's handling the decoding. The VIA CPU, however, was able to keep its usage lower than the Intel Atom.
MPEG-4 Playback
Playback for MPEG-4 was again done with the Matrix, only encoded down to an MPEG-4 DivX 6.8 codec. 30 minutes was the time run. Smoothness of playback, audio sync and CPU usage are the keys here once again.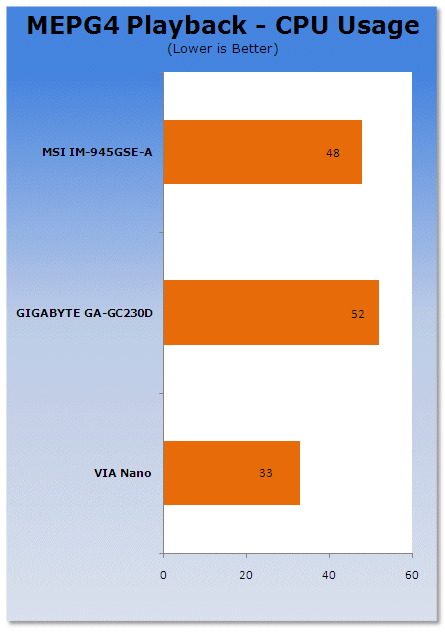 MPEG-4 playback on the two Atom platforms were nearly identical with both using a similar amount of CPU usage. However, the Atom's CPU usage was a lot higher than VIA's Nano since the CPU has to do all the decoding on the Atom while the Chrome9 IGP on the Nano handled DivX with no problems.
While the Atom still played back fine, when we tried to open up a webpage with Firefox we noticed lag and slowdowns; it seems that even HT isn't able to keep up.
HD 720p Playback
This is the big one for the platforms. We downloaded a random 720p video to test out using Media Player 11. Again, quality of video playback, audio sync and CPU usage are the big things to focus on here.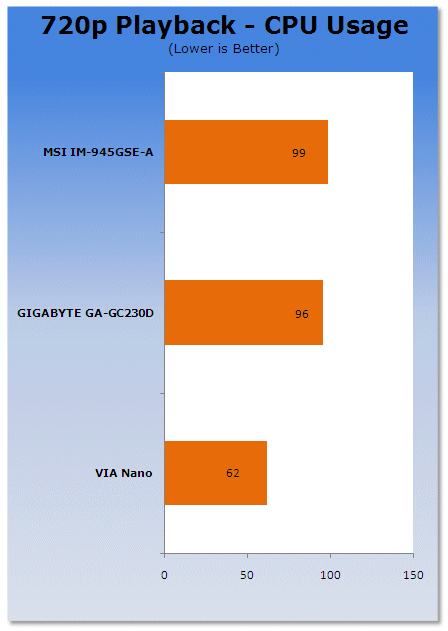 This is where Intel Atom really lacks; 720p playback was a non-event. The system stuttered and jumped and it was totally unwatchable on both the GIGABYTE and MSI boards. VIA gets the win thanks to the 720p decoding built into the Chrome9 IGP.
MP3 Playback
We decided to add another layer in our media playback and that is MP3 playback. If you're going to have a Car PC, it's usually to play movies and audio, so it's fitting to add this to the list. A personal favorite of mine, War of the Worlds, the musical is played back and the CPU usage is recorded. Winamp is used to play back the audio.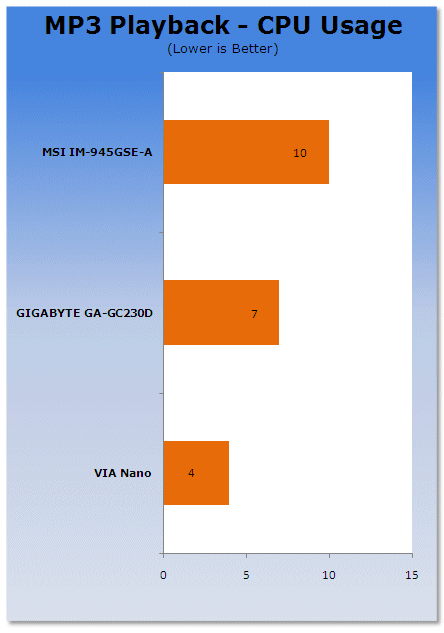 Here we see that all three platforms handle MP3 playback without breaking a sweat. The GIGABYTE board, however, shows itself to perform the task a little more efficiently than the MSI board this time around.
Final Thoughts
Mini PC's are the go these days; we can see this with the release of Atom aimed at Nettops and UMD's. Atom is truly a CPU for this market, but it is a somewhat limited CPU. Compared to the Nano, Intel still has a lot to improve upon. Nano does more, costs the same and is more adept at running Windows without any major delays.
We have started to see some interesting ideas come out, but Intel's limitations put on the Atom platform for its partners really limits what Atom is capable of. Pair it with some dual channel memory along with a better IGP and you may see some HD movie playback as well.
MSI's industrial board is extremely good for what it has to work with; it has the potential for a great car PC platform as it allows for the use of all the major features you will have in a car such as USB GPS, WiFi through the mini PCIe as well as TV playback with an add-in PCI tuner card.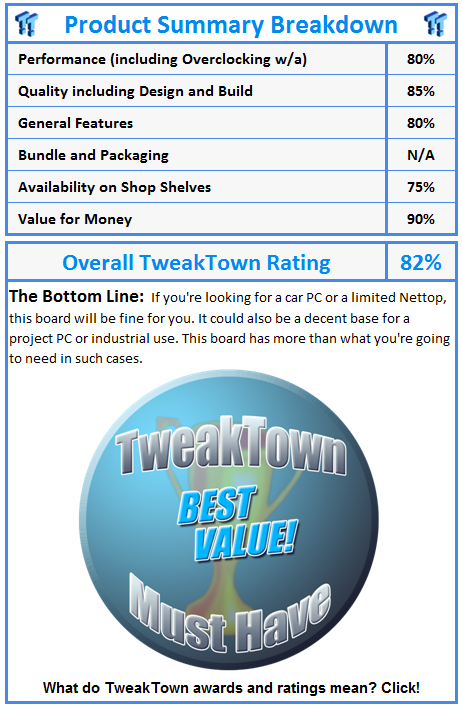 PRICING: You can find products similar to this one for sale below.
United States: Find other tech and computer products like this over at Amazon.com
United Kingdom: Find other tech and computer products like this over at Amazon.co.uk
Australia: Find other tech and computer products like this over at Amazon.com.au
Canada: Find other tech and computer products like this over at Amazon.ca
Deutschland: Finde andere Technik- und Computerprodukte wie dieses auf Amazon.de
We openly invite the companies who provide us with review samples / who are mentioned or discussed to express their opinion. If any company representative wishes to respond, we will publish the response here. Please contact us if you wish to respond.
Related Tags