Patriot Xporter Magnum 64GB Pen Drive - When Size Matters
Patriot Memory takes its Xporter Magnum series of flash drives to a new level with a whopping 64GB capacity.
Published Mon, Dec 1 2008 11:00 PM CST
|
Updated Fri, Sep 18 2020 10:50 PM CDT
Introduction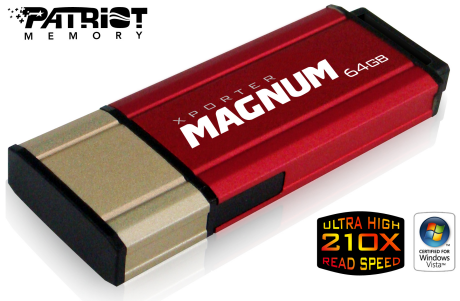 Mine is bigger than yours - 64GB pen drive FTW!
It was not that long ago that we all got excited about 2GB and 4GB pen drives, but as flash memory continued to develop and become cheaper, we continually saw improvements in the amount of storage space we see in portable devices.
Only a short while ago the usual suspects started releasing 32GB pen drives, but that portable storage milestone was short-lived - and has since been smashed. Patriot Memory continues to push the boundaries by releasing one of the first high-performance 64GB pen drives to the market, just in time to be a stocking filler or ideal geeky gift for Christmas this year.
Imagine being able to carry around your entire MP3 collection - around 13,000 songs or so - or 15 of your favorite 720p HD movies, all in your pocket? If this was your dream, it no longer has to be.
The Xporter Magnum USB pen drive comes under the
Extreme Performance Line
from Patriot and promises to offer not only a bucket load of storage space in your pocket, but also top-of-the-line performance, too. Coming configured in dual-channel format, it uses MLC (Multi Level Cell) flash memory, which is slower than SLC (Single Level Cell) flash, especially in the write speed department. Even still, Patriot guarantee up to 210x or a little under 31MB/s read speeds.
Read on as we put the Patriot Xporter Magnum 64GB USB pen drive through its paces and see if it is worthy of the cause of carrying your important data and up to those 210x speed claims.
Specifications, Availability and Pricing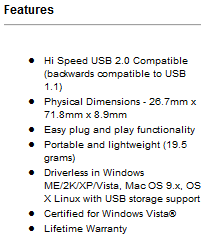 Patriot didn't list the specifications of its PEF64GMNUSB model 64GB pen drive on its website, but after speaking to our contact at the company, we learned that it is based on dual-channel technology and uses MLC flash memory.
The Magnum pen drive is basically the same length and height as most other pen drives on the market, but it is about double width of most, coming in at 26.7mm wide. It also weighs a tad more at about 20 grams, but it is still super light.
It doesn't use a capless design, but the cap is very solid and clicks onto the drive very well and in a secure manor. The pen drive is very stylish with its soft metallic grey, red and black appearance - it is also very solid using a metal shell covering some parts that are made of plastic.
As far as availability goes, it is still a little hard to find, since it is a brand new product. We found it listed at $169.99 USD at a couple popular online retailers in the United States. Comparatively, it is quite a bit more expensive than Kingston's DT150 64GB DataTraveler and only a little more expensive than Corsair's Flash Voyager 64GB drive. Patriot includes a lifetime warranty in case sometimes goes bad.
The Packaging
Here we get our first look at how Patriot package the pen drive and what comes inside.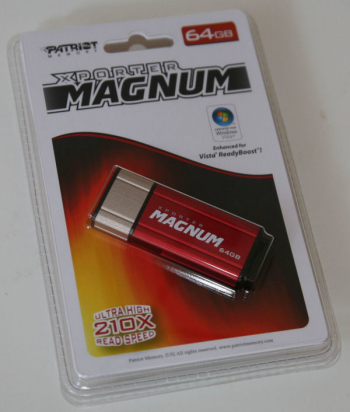 As you can see above, on the front of the package we see the 210x read speed claim as well as a Windows Vista certified logo and claims that this pen drive is enhanced for Vista ReadyBoost.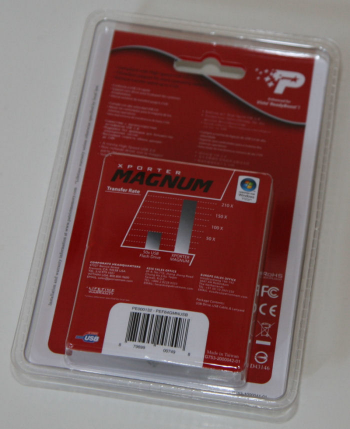 There is nothing too exciting on the back of the retail pack, besides some speed claims against slower pen drives.
Now we are onto the package itself and as is typical with all pen drives on the market, the package is very slim - probably not as slim as it could be, though.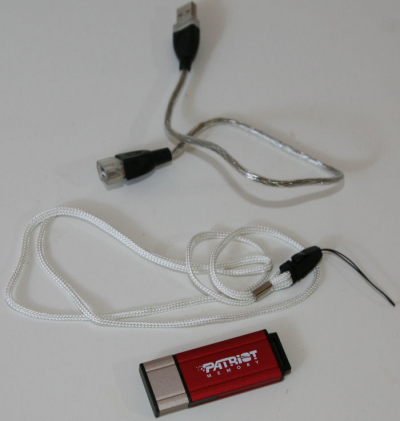 Patriot packs a USB extension cable as well as lanyard into the package. There is no driver CD included, but you're only going to need that if you are using Windows 98. If you are, it's probably time you thought about upgrading, eh?
Patriot Xporter Magnum 64GB
Here we get our first look at Patriot's Xporter Magnum 64GB pen drive.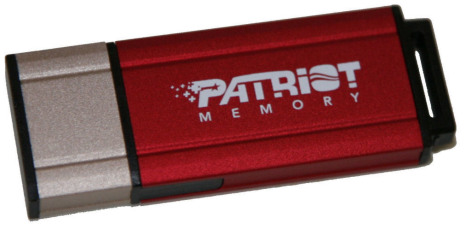 Above you can see one side of the pen drive, which is simple yet elegant with its shiny metallic paint job - the photos don't do it quite enough justice. Trust me when I say, though, it looks great and also feels very smooth.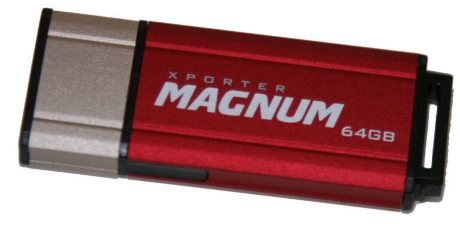 The reverse side shows the amount of storage inside as well as the Xporter Magnum branding.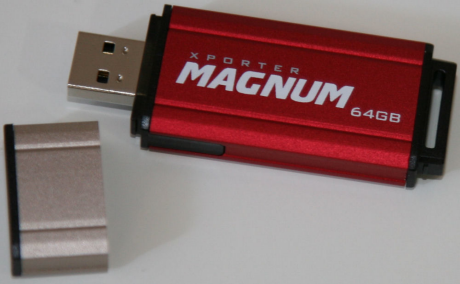 With cap removed, we end up with the above.
Top marks on design and styling Patriot, but let's see how she performs now, shall we?
Testing
We decided to compare the Patriot Xporter Magnum 64GB USB pen drive against OCZ's slightly older but still current model Rally2 4GB pen drive as well as an older Sony Vaio Microvault 2GB pen drive (USM2GJ-B to be exact), which we had kicking around.
Each drive was freshly formatted before testing, using its default settings (file system and default allocation size). Likewise, all testing was completed with no other USB devices plugged into the test system, besides keyboard and mouse.
As we mentioned earlier, Patriot's Xporter Magnum 64GB drive uses MLC flash memory, which doesn't typically suffer any read speed slowdowns, but can suffer sometimes when it comes to writing. OCZ's Rally2 uses faster and more expensive SLC flash memory - it will be interesting to see how both compare as each use dual-channel technology. We are not sure on the exact details with the Sony 2GB drive.
We used both HD Speed (for read and burst) and CrystalDiskMark (for write) to perform the testing. Ideally we would have used HD Tune Pro for all testing, but that software requires partitions to be removed and we couldn't remove the partition on the Patriot Xporter Magnum 64GB USB pen drive, no matter what we tried.
- Average Read Speeds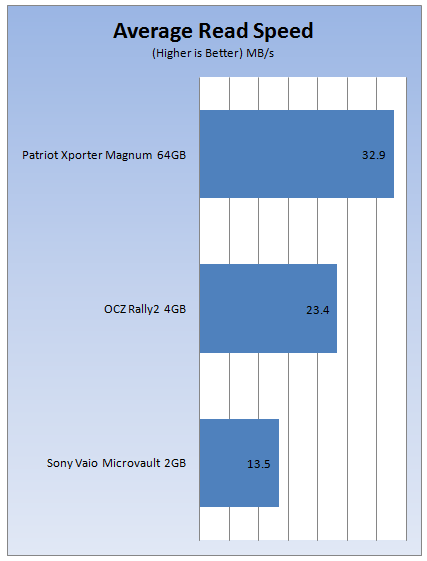 In our first test which focuses on read speed, we can see that the new Patriot Xporter Magnum 64GB is well out in front of the OCZ Rally2 and completely killed the older Sony pen drive.
This is a good indication of the performance increase you can see by investing some dollars in buying the latest pen drives on the market.
- Sequential Write Speeds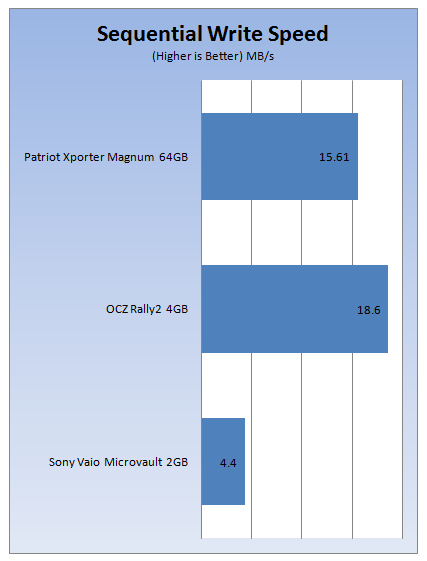 In this test we used CrystalDiskMark for writing testing. Even though the OCZ Rally2 pen drive is probably almost two years old now, it managed to beat the Patriot Xporter Magnum 64GB here. We put this down to the fact that the OCZ drive is using SLC flash versus the Patriot drive, which is using cheaper MLC flash memory.
Since SLC is considerably more expensive than MLC, this type of result should turn out being typical for these very large pen drives. But as SLC is too costly for the average consumer, it's not really an ideal choice.
- Read Burst Speeds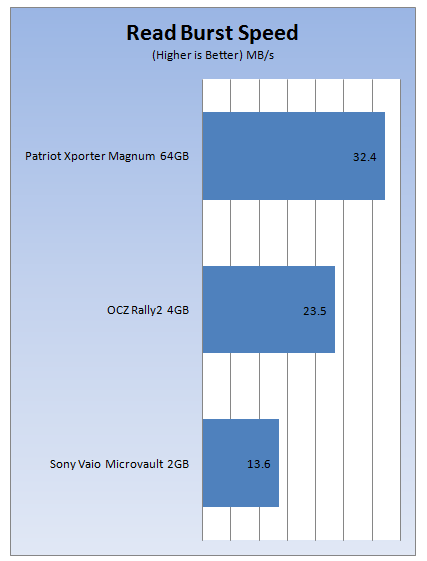 More or less just for interest sakes, we ran some read burst speed tests and these results pretty much mirror the average read speed tests we saw above.
Final Thoughts
Once I received word from our contacts at Patriot Memory that they were sending me out a 64GB pen drive over for review, I got excited. After all, who doesn't like having the latest and greatest gadgets and gizmos to play with? This, indeed, is one great little toy and it is going to get a lot of use around here. It will definitely make a great geeky Christmas gift.
It is a little on the pricey side at around $170 USD, but when you want the latest and greatest in technology, price is just something you need to deal with.
As far as performance goes, read speeds are really impressive hitting up to 33MB/s. Write speeds, while still impressive at up to 16MB/s, were let down a little by the fact that this pen drive uses MLC flash memory, rather than SLC. The OCZ Rally2 pen drive was able to beat it in write tests by 2MB/s since it uses SLC. The Xporter Magnum 64GB was able to smash an old Sony pen drive to pieces in both read and write tests and that shows the value in buying a new pen drive and the type of performance gains you can expect to see. During our testing the Xporter Magnum 64GB had no issues working under Windows Vista x64 and worked well with ReadyBoost, as claimed on the packaging.
The bundle that comes with the drive is a little boring, but at the same time, what else are we to expect? It is just a pen drive after all. Some pen drives come with fancy security software for encrypting your data or even hardware locking and so forth. If you want that type of thing, you buy a pen drive with all those features (good luck finding it in 64GB, though). If you want a simple pen drive with plenty of brilliant build quality and styling, oh and a
HUGE
amount of storage space, you buy the Patriot Xporter Magnum 64GB USB pen drive.
It gets our seal of approval and it will be getting plenty of use around here - oh, that is until it is replaced by 92GB or 128GB flash drives.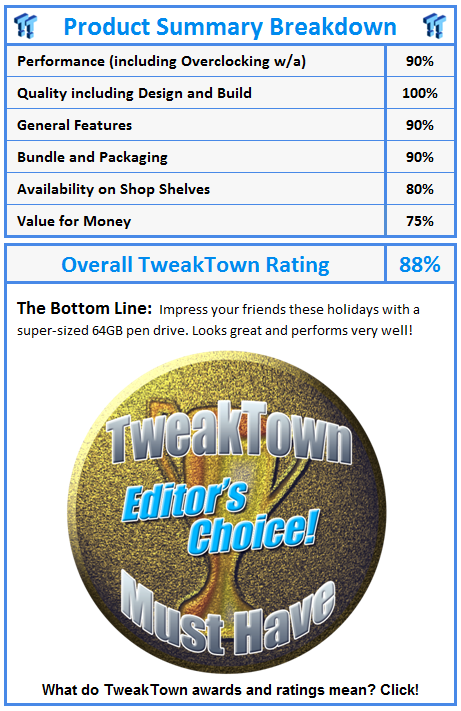 PRICING: You can find products similar to this one for sale below.
United States: Find other tech and computer products like this over at Amazon.com
United Kingdom: Find other tech and computer products like this over at Amazon.co.uk
Australia: Find other tech and computer products like this over at Amazon.com.au
Canada: Find other tech and computer products like this over at Amazon.ca
Deutschland: Finde andere Technik- und Computerprodukte wie dieses auf Amazon.de
We openly invite the companies who provide us with review samples / who are mentioned or discussed to express their opinion. If any company representative wishes to respond, we will publish the response here. Please contact us if you wish to respond.
Related Tags