ZOTAC NITRO - Graphics Card Overclocking Made Easy
ZOTAC want to make overclocking graphics cards a little easier. We find out if the Nitro is up to the task.
Published Sat, Nov 29 2008 11:00 PM CST
|
Updated Fri, Sep 18 2020 10:50 PM CDT
Rating:

86%
Manufacturer: ZOTAC
Introduction

Overclocking a graphics card isn't really a hard task. With programs like Rivatuner you can find yourself overclocking your core and memory within minutes of setting up your graphics card.
For this reason, it does make us wonder why ZOTAC would take the time and effort to release a device that lets you do it without having to use software. Really, there was only one way to find out; get one and take it for a spin to see exactly what we have going on here.
What we'll do is have a look at the package and then take a closer look at how the device works. Once we've done that we will overclock our GTX 280 to see what we can achieve and run it through some benchmarks.
So, with that all said and done let's get stuck into the package before firing it up and seeing if there are any specialties here.
The Package
Thanks to the clear design on the front of the package, we can see the actual device that we're testing smack bang in the middle. A sticker lets us see what kind of information is shown on the device.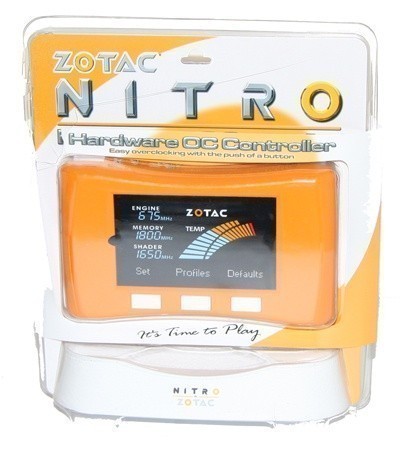 At the top of the package we can see the ZOTAC logo along with the NITRO one. Across the bottom we can see a motto and below that we have a dock that the device sits in.
Turning the box over, we again see the ZOTAC and NITRO logo while the bottom shows us the rear of the dock. In the middle of the package we can see a USB cable along with a bit of information explaining what is what on the NITRO.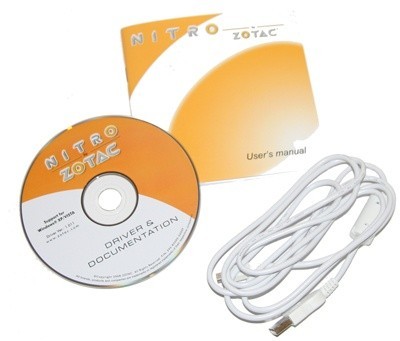 As far as extras in the package go, there isn't a whole lot. Apart from a manual and driver CD, we have a USB cable that helps connect the device to your computer.
Using the NITRO
Setting up the device is pretty simple. With the USB cable in hand we plug the device into our testbed; we then use the CD included in the package and install the drivers needed to get the device up and running. Once it's up and running we open up the Firestorm software that then chucks the information we need onto our NITRO.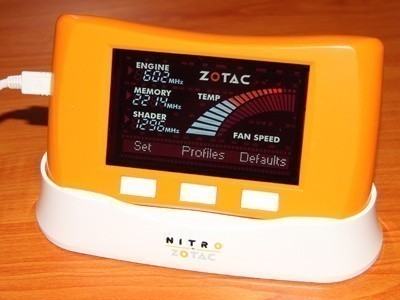 With the device now ready for action, we can see the buttons across the bottom correspond to different settings. The furthest sets our clocks to defaults, the middle lets you go to any profiles you have setup and the first one let's you set the speeds.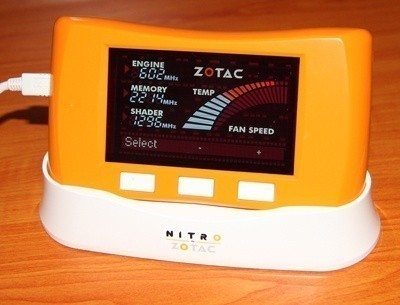 With the
set
button pressed we then have the option to select what we what to change. We also have a + and - symbol that let us increase or decrease the clocks. What we do is press
select
twice to get us down to the shader clock.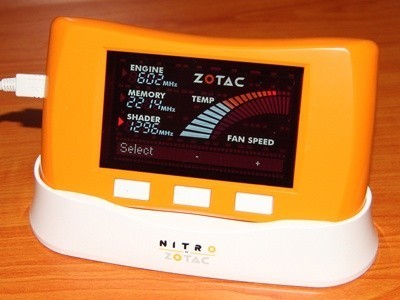 We then press the + button a few times and we can see the shader has been increased to 1311MHz from the original 1296MHz.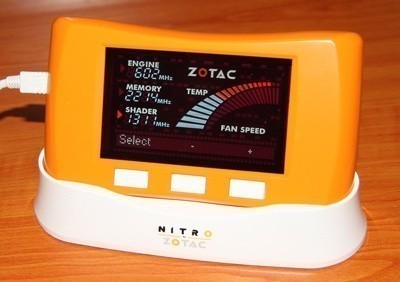 The whole device really is very easy to use with the same steps being taken to increase both the engine and memory clock.
Test System Setup and 3DMark Vantage
Test System SetupProcessor(s):
Intel i7 920 @ 3.8GHz (190MHz x 20)
Cooling:
Noctua NH-U12P (Supplied by
Noctua
)
Motherboard(s):
GIGABYTE EX58-UD5 (Supplied by
GIGABYTE
)
Memory:
3 X 2GB OCZ Technology PC-12800 DDR-3 8-8-8-24 (OCZ3G1600LV6GK)
Hard Disk(s):
Western Digital 300GB Velicorapter (Supplied by
Western Digital
)
Operating System:
Windows Vista SP1 64-Bit
Drivers:
Catalyst 8.11
With a GTX 280 in hand, it was time to see what exactly we could do with the NITRO. After mucking around with the device and trying to find the right clocks, we come to the point where we settled at a core of 647MHz, up from 602MHz, a shader clock of 2350MHz, up from 2214MHz and a memory clock of 1401MHz, up from 1296MHz.
3DMark VantageVersion and / or Patch Used:
1.0.1
Developer Homepage:
http://www.futuremark.com
Product Homepage:
http://www.futuremark.com/products/3dmarkvantage/
Buy It Here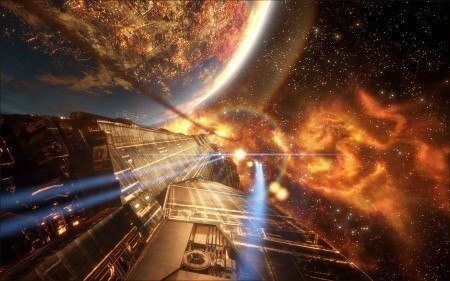 3DMark Vantage is the new industry standard PC gaming performance benchmark from Futuremark, newly designed for Windows Vista and DirectX10. It includes two new graphics tests, two new CPU tests, several new feature tests, and support for the latest hardware.
3DMark Vantage is based on a completely new rendering engine, developed specifically to take full advantage of DirectX10, the new graphics API from Microsoft.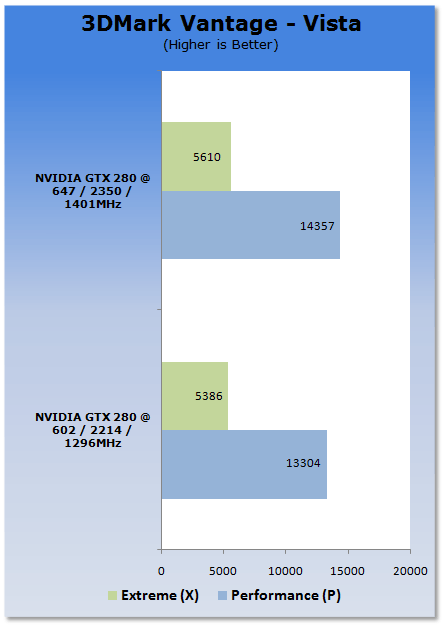 Under Vantage, our first test shows that the increase in clocks give us a boost in both the Performance and Extreme benchmarks.
Benchmarks - World in Conflict
World in ConflictVersion and / or Patch Used:
1.0.0.5
Timedemo or Level Used:
Built-in Test
Developer Homepage:
http://www.massive.se
Product Homepage:
http://www.worldinconflict.com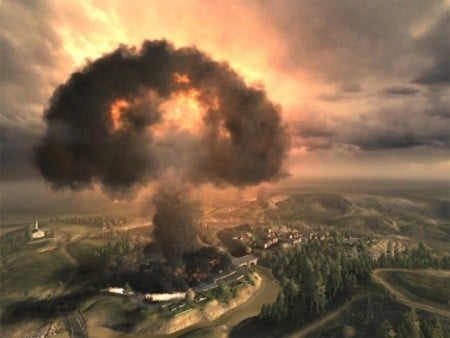 World in Conflict is a real-time strategy video game by Massive Entertainment and to be published by Sierra Entertainment for Windows (DX9 and DX10) and the Xbox 360.
The game is set in 1989 where economic troubles cripple the Soviet Union and threaten to dissolve it. However, the title pursues a "what if" scenario where, in this case, the Soviet Union does not collapse and instead pursues a course of war to remain in power. It is an intensive new game is sure to put plenty of stress on even the latest graphics cards and we use the built-in benchmarking for our testing.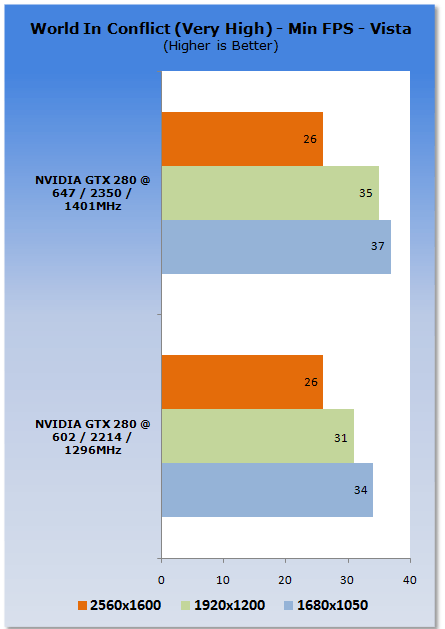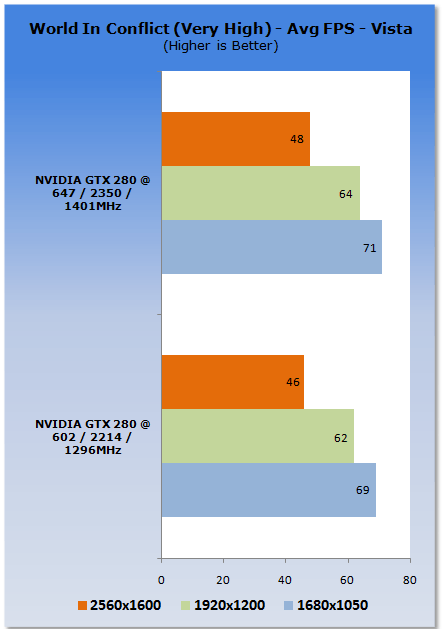 WIC also manages to see some increases in both the minimum and average department across all resolutions.
Benchmarks - Crysis Warhead
Crysis WarheadVersion and / or Patch Used:
unpatched
Timedemo or Level Used:
Airfield
Developer Homepage:
http://www.crytek.com
Product Homepage:
http://crysiswarhead.ea.com/
Buy It Here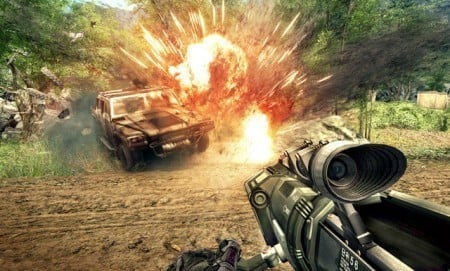 Crysis Warhead updates and refines the gameplay of the original game through a sidestory plot involving Psycho, one of previous protagonist Nomad's allies. The game is a parallel story that follows Sergeant Michael "Psycho" Sykes, a character from the original Crysis, as he faces his own trials and challenges on the other side of the island during the time period of the first game.
It also showcases a new, enhanced and optimized version of CryEngine 2 using full DX10 extensions and is the first game developed by Crytek's Budapest studio.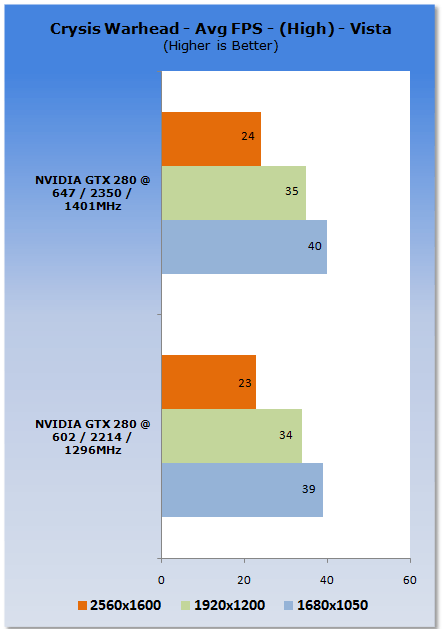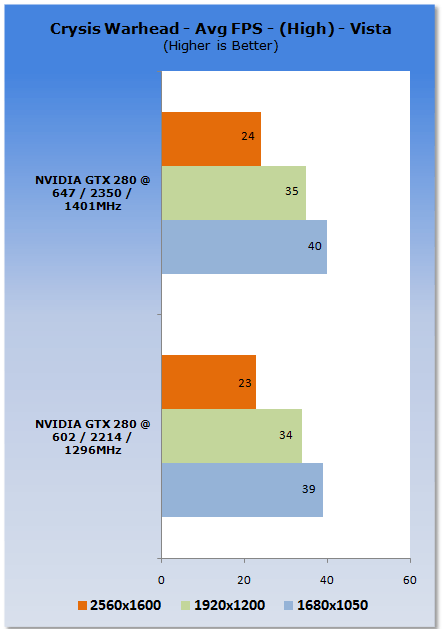 We again see a little bump in performance under Crysis Warhead. It's only a small increase across all resolutions; nothing to get too excited about.
Benchmarks - Far Cry 2
Far Cry 2Version and / or Patch Used:
1.01
Timedemo or Level Used:
Ranch Long
Developer Homepage:
http://www.ubi.com/
Product Homepage:
http://www.farcry2.com/
Buy It Here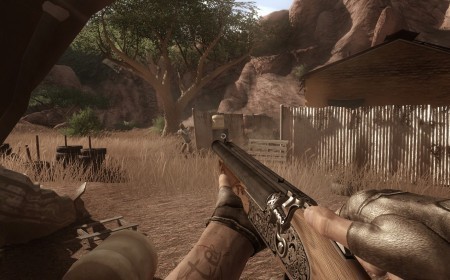 The Dunia Engine was built specifically for Far Cry 2 by the award-winning Ubisoft Montreal development team. It delivers the most realistic destructible environments, amazing special effects such as dynamic fire propagation and storm effects, real-time night-and-day cycle, dynamic music system, non-scripted enemy A.I. and so much more.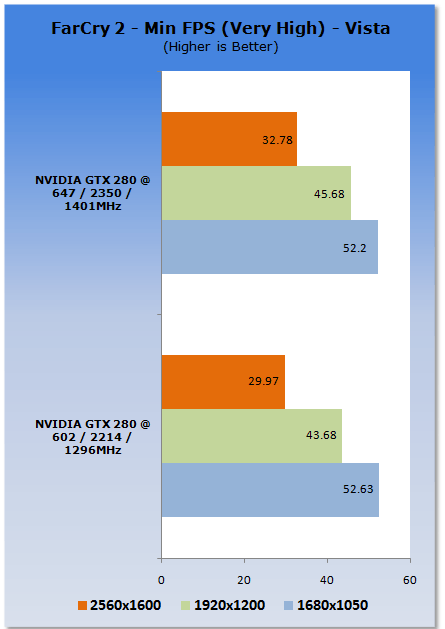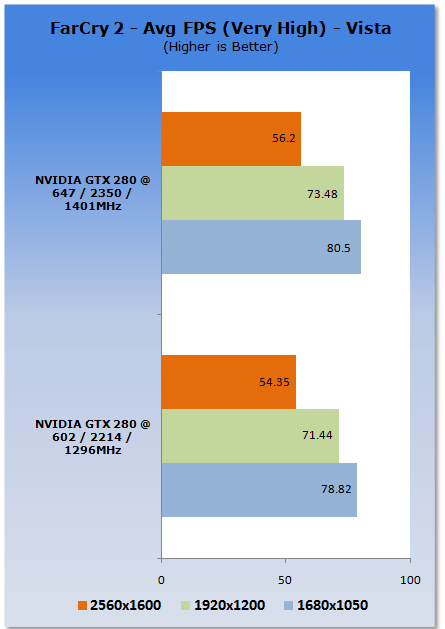 Far Cry 2 also manages to see a small increase at all resolutions, but once again it's nothing to get too excited about.
Benchmarks - Left 4 Dead
Left 4 DeadVersion and / or Patch Used:
Latest Steam Update
Timedemo or Level Used:
Custom Timedemo
Developer Homepage:
http://www.valvesoftware.com/
Product Homepage:
http://www.l4d.com/
Buy It Here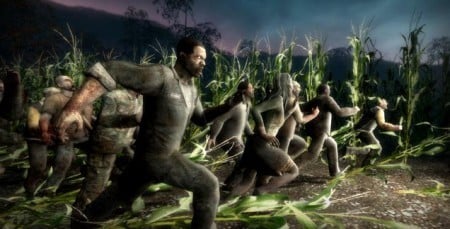 Left 4 Dead uses the latest version of Valve's Source engine, with improvements such as multi-core processor support and physics-based animation to more realistically portray hair and clothing, and to improve physics interaction with enemies when shot or shoved in different body parts. Animation was also improved to allow characters to lean realistically when moving in curved paths.
Rendering and artificial intelligence were scaled up to allow for greater number of enemies who can navigate the world in better ways, such as climbing, jumping or breaking obstacles. Lighting has been enhanced with new self-shadowing normal mapping and advanced shadow rendering that is important to convey information about the environment and player actions.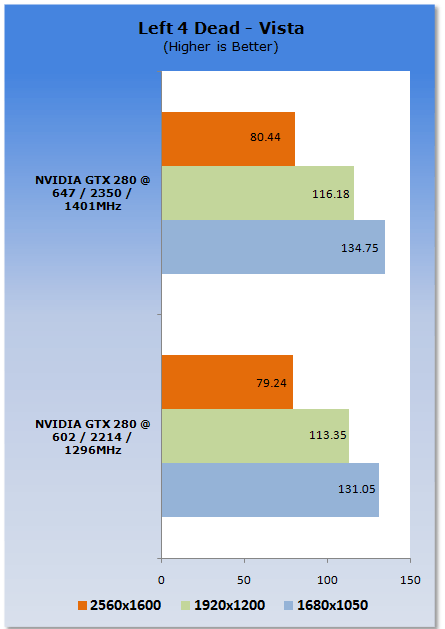 Like all our other games, Left 4 Dead sees a small increase in performance with the extra clocks.
Benchmarks - High Quality AA and AF
High Quality AA and AF
Our high quality tests let us separate the men from the boys and the ladies from the girls. If the cards weren't struggling before they will start to now.
Far Cry 2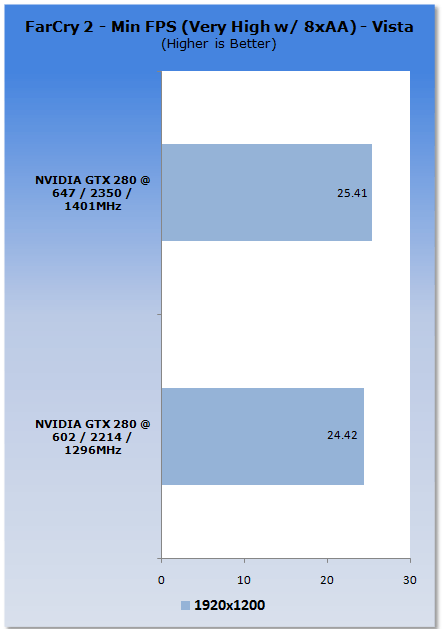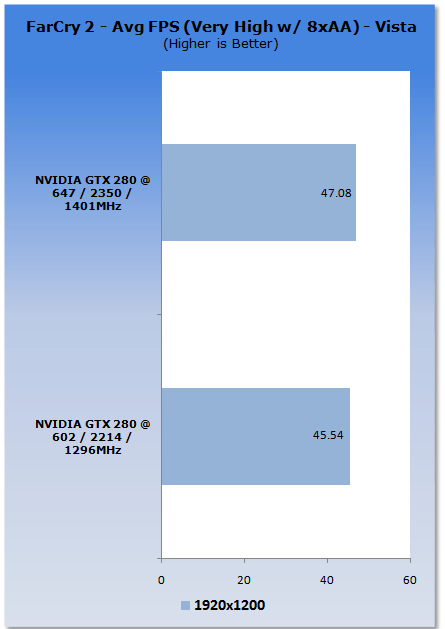 Turning on AA and AF, we again see a small increase in performance under FC2.
World In Conflict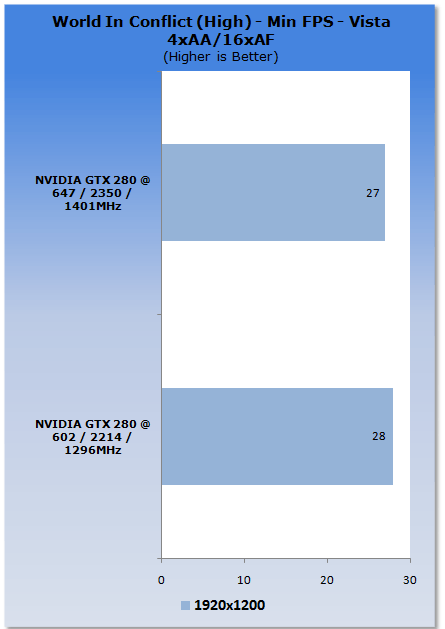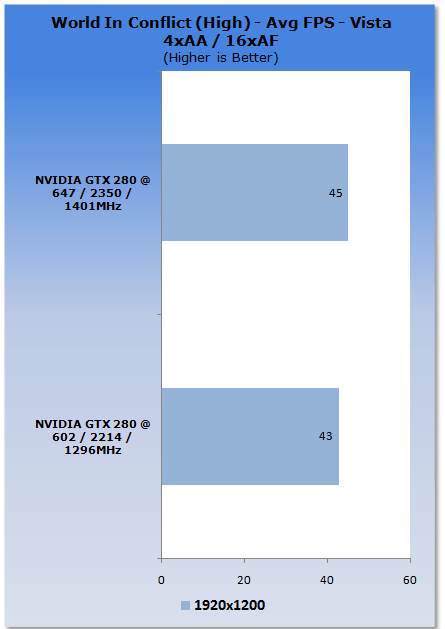 WIC shows a slight gain in the average department, while only a single FPS is seen in the minimum department with the higher clocked card actually being the lower one.
Left 4 Dead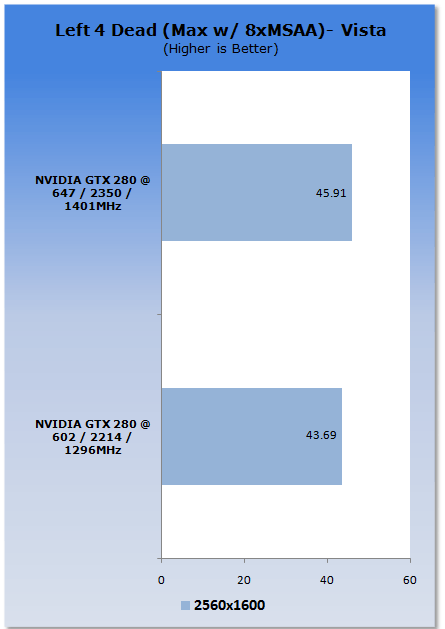 Left 4 Dead manages to see a very small gain in performance, like most of the games we've seen here today.
Final Thoughts
There isn't a whole lot to the NITRO. Really, the device does exactly what it's supposed to do, so you can't really fault it in that regard. We have to wonder, though, who is really going to want the device? Anyone who really wants to overclock is probably already using something like Rivatuner.
While the device is apparently only for ZOTAC based NVIDIA cards, we had no problems with the device running on our GIGABYTE GTX 280 and we were able to change all clock speeds without any issues. With that said, if you do run into a problem where the FireStorm software spits out an error, if you hold the shift key while pressing the OK button the device will work as it should.
Ultimately, the NITRO is one of those devices which doesn't have anything wrong with it. However, there's just nothing that really stands out. Overclocking these days isn't really a hard task and we're not sure who really wants to have their clocks on display at all times.
It will be interesting to see what ZOTAC do with the device over the coming months. Hopefully we will see it bundled with some of their cards or a newer version come out that offers more features.
PRICING: You can find products similar to this one for sale below.
United States: Find other tech and computer products like this over at Amazon.com
United Kingdom: Find other tech and computer products like this over at Amazon.co.uk
Australia: Find other tech and computer products like this over at Amazon.com.au
Canada: Find other tech and computer products like this over at Amazon.ca
Deutschland: Finde andere Technik- und Computerprodukte wie dieses auf Amazon.de
We openly invite the companies who provide us with review samples / who are mentioned or discussed to express their opinion. If any company representative wishes to respond, we will publish the response here. Please contact us if you wish to respond.
Related Tags