Corsair Dominator 1600MHz 6GB Triple Channel DDR3 Memory Kit
Now that Core i7's the new trend for enthusiasts, Corsair's Dominator series memory returns in triple channel flavour.
Published Tue, Nov 25 2008 11:00 PM CST
|
Updated Fri, Sep 18 2020 10:50 PM CDT
Introduction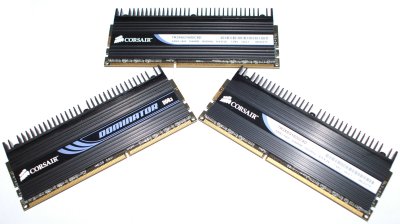 With Core i7 now officially on the market for sale, it wasn't going to be long before boards and memory came out to support it. In fact, boards were on the shelves even before the CPU was officially launched on the Intel site. Memory kits are now starting to show themselves on the market as well, with companies announcing new kits just about every day.
Thanks to the maturity of DDR3 memory, it's not hard for high quality modules to start showing up at speeds of 1600MHz and even beyond with the latest wafers. Intel's Core i7 officially signs off Intel's support for DDR2 memory, with P45 being the last chipset that will come from Intel with any DDR2 memory support. Any further chipsets for Core 2 will be DDR3 based, so it's now time to start looking into high speed DDR3 for your Intel systems.
Today we have Corsair's Dominator triple-channel memory kit aimed at the Core i7 range with three DDR3 memory modules designed for 1600MHz at the rated 1.65v max that Intel recommends for the Core i7. How will it perform? Let's find out.
The Modules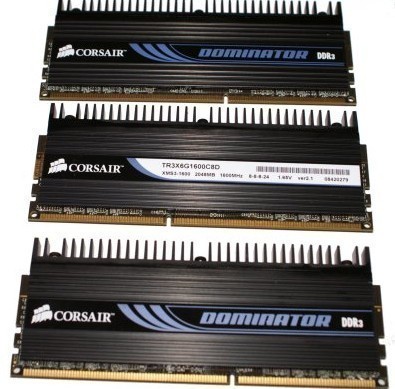 With the early nature of the kit we received, Corsair didn't supply any retail packaging. In fact, these were the modules we used for our initial Core i7 processor review. While they came in protective blisters, these aren't what the retail market will see them shipped with. For this reason we didn't take any pictures as we don't want to confuse you.
The modules sprout the DHX memory heatspreader designed for maximum cooling, allowing for even the smallest air flow profile to help cool the modules. The raised fins on the top allow for the heat to be transmitted away from the modules and up higher; this keeps the memory cells cooler and allows for higher clock speeds. When combined with the Dominator fan unit you can keep the modules even cooler.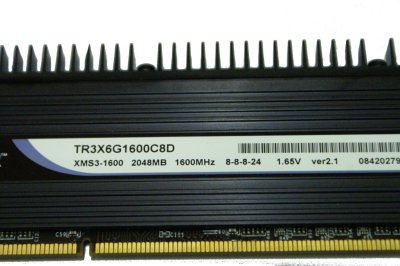 On one side of each module Corsair placed a sticker with the specs. The kit sent to us comprised of three memory modules with 2GB capacity, totalling 6GB. Speed wise, they are rated for 1600MHz using an 8-8-8-24 timing profile and a maximum voltage of 1.65.
Now, while these modules are based around the same cells that we have seen do 1.9v or 2.0v, Corsair has tuned them down and for a good reason. Intel has stated that the on-die memory controller gets its power from the QPI voltage rail and this is limited to 1.65v. If you attempt to go above this you risk permanent damage to the memory and QPI, rendering the CPU totally useless.
Overclocking
Overclocking the Modules
Now we move onto overclocking the modules and with Core i7 it's a whole new adventure. However, we are always up to the task, but unfortunately with 1.65v max voltage we are somewhat limited.
We managed to hit 1600MHz using this and went just a bit higher with 1650MHz max clock using the 8-8-8-24 profile. Lowering the profile didn't help any with these modules.
While it's not much above stock, for the Core i7 it's a good start and we give a big pat on the back to Corsair for their early work.
Important Editor Note: Our maximum overclocking result is the best result we managed in our limited time of testing the motherboard. Due to time constraints we weren't able to tweak the motherboard to the absolute maximum and find the highest possible FSB, as this could take days to find properly. We do however spend at least a few hours overclocking every motherboard to try and find the highest possible overclock in that time frame. You may or may not be able to overclock higher if you spend more time tweaking, or as new BIOS updates are released. "Burn-in" time might also come into play if you believe in that.
Test System Setup and EVEREST
Test System
Processor
: Intel Core i7 Extreme 965 (24x133MHz)
Motherboard
: ASUS P6T Deluxe OC Palm (Supplied by
ASUS
)
Hard Disk
: Intel SSD X25-M80GB (Supplied by
Intel.
)
Graphics Card
: GIGABYTE 9800GX2 (Supplied by
GIGABYTE
)
Cooling
: Intel Stock Cooling
Operating System
: Microsoft Windows Vista X64 SP1
Drivers
: Intel INF 9.1.0.1007, Forceware 178.24
Today's tests see us using the Core i7 again with the ASUS P6T Deluxe motherboard. This board is impressive to say the least and has proven to overclock if need be. With this being our first and only DDR3 triple channel kit, we haven't anything to really test it against, so we will be doing it alone for this round.
For our stock tests we used a 1066MHz clock which is the highest JEDEC standard that the Core i7 supports; Intel hasn't used 1333MHz specs on the Core i7. We then move up to the XMP profile on the modules which is 1600MHz and finally we clock manually to our highest speed which was 1650MHz using the XMP timings.
EVEREST Ultimate EditionVersion and / or Patch Used:
2006
Developer Homepage:
http://www.lavalys.com
Product Homepage:
http://www.lavalys.com
Buy It Here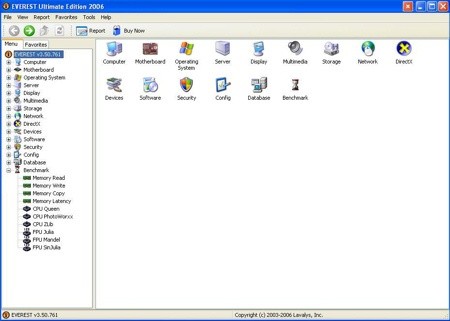 EVEREST Ultimate Edition is an industry leading system diagnostics and benchmarking solution for enthusiasts PC users, based on the award-winning EVEREST Technology. During system optimizations and tweaking it provides essential system and overclock information, advanced hardware monitoring and diagnostics capabilities to check the effects of the applied settings. CPU, FPU and memory benchmarks are available to measure the actual system performance and compare it to previous states or other systems.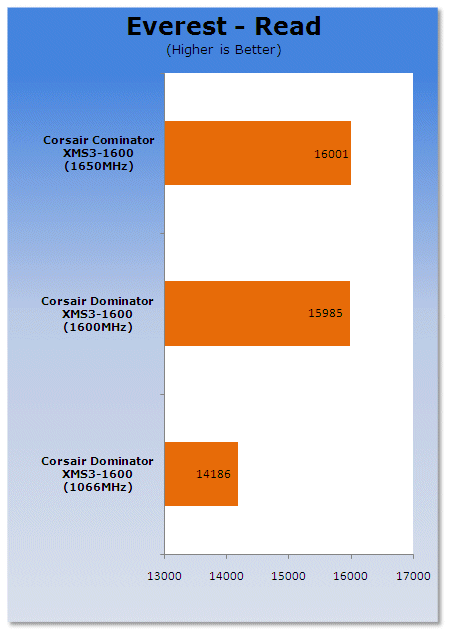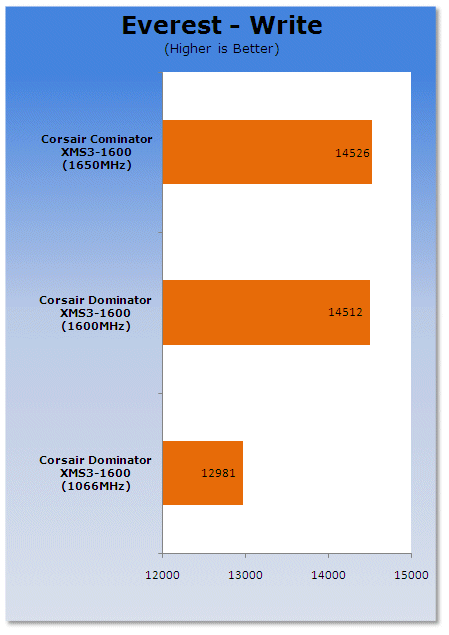 Starting off with EVEREST we see that the Core i7 really loves memory bandwidth, thanks to its on-package memory controller. Moving from 1066MHz to 1600MHz we see a bit of a boost in the synthetic memory performance. However, when going from 1600MHz to 1650MHz there is almost no improvement.
Benchmarks - Sisoft Sandra
SiSoft SandraVersion and / or Patch Used:
2009
Developer Homepage:
http://www.sisoftware.co.uk
Product Homepage:
http://sisoftware.jaggedonline.com/index.php?location=home&a=TTA&lang=en
Buy It Here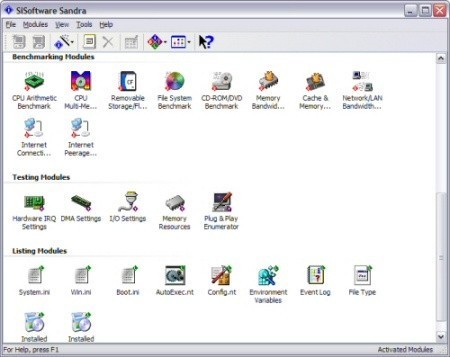 SiSoft Sandra (
S
ystem
AN
alyser,
D
iagnostic and
R
eporting
A
ssistant) is a synthetic Windows benchmark that features different tests used to evaluate different PC subsystems.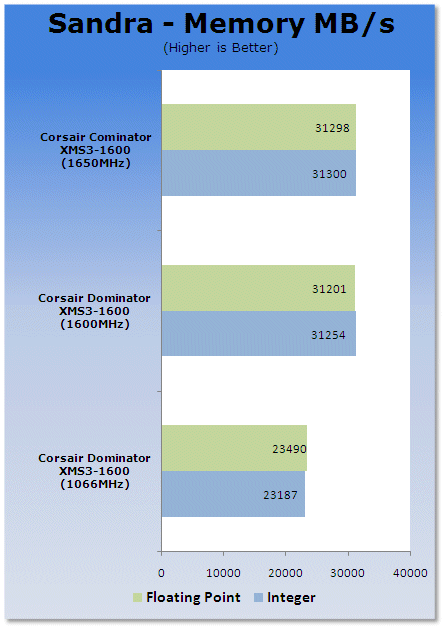 Moving into Sandra, we see a similar result to EVEREST. However, Sandra shows a slightly better gap between 1066MHz and 1600MHz. At 1650MHz there is less than 200MB/s difference.
Benchmarks - Sciencemark 2.0
ScienceMark 2.0
ScienceMark 2.0 is a mathematical program designed to stress the memory subsystems of both desktop/workstation and server environments to determine the read/write latency as well as the overall memory bandwidth available between the CPU and the memory controller.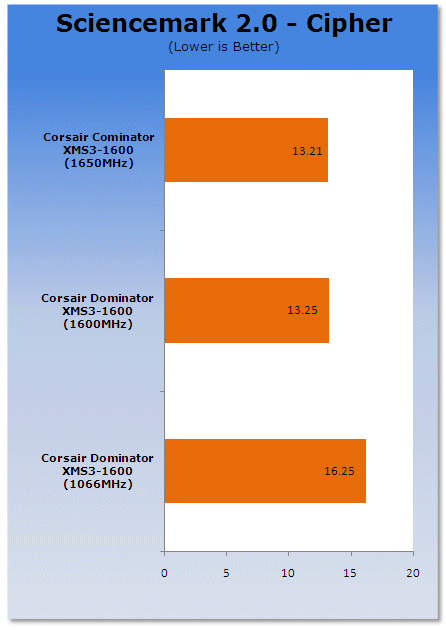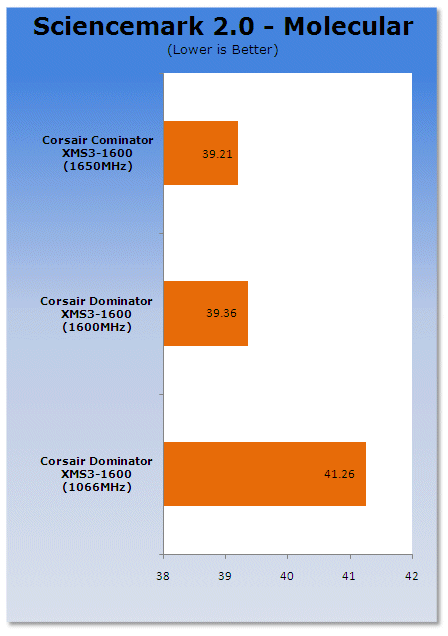 Latency and access times win it here. Since the move to an on-package memory controller we see latency times drop quite a bit.
Benchmarks - Crysis
CrysisVersion and / or Patch Used:
1.1
Timedemo or Level Used:
Custom Timedemo
Developer Homepage:
http://www.crytek.com/
Product Homepage:
http://www.ea.com/crysis/
Buy It Here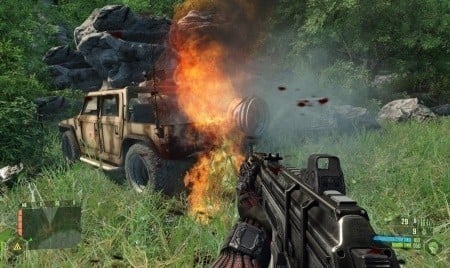 From the makers of Far Cry, Crysis offers FPS fans the best-looking, most highly-evolving gameplay, requiring the player to use adaptive tactics and total customization of weapons and armor to survive in dynamic, hostile environments including Zero-G.
Real time editing, bump mapping, dynamic lights, network system, integrated physics system, shaders, shadows and a dynamic music system are just some of the state of-the-art features the CryENGINE 2 offers. The CryENGINE 2 comes complete with all of its internal tools and also includes the CryENGINE 2 Sandbox world editing system.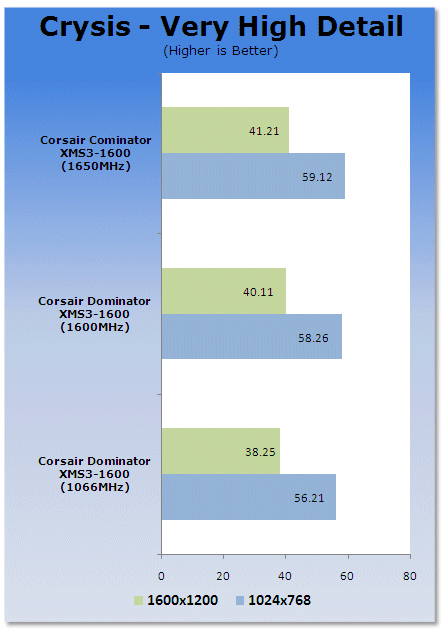 Pressing into real world gaming, we see only a few FPS difference between 1066MHz and 1600MHz. It seems that real world applications don't benefit much here. 1600MHz and 1650MHz shows practically no difference what-so ever.
Final Thoughts
Core i7 is here and its performance is undeniable. One thing that has come from all this new technology is that finally Intel has gotten the message; kill the FSB and move the memory controller onto the CPU. With that happening we finally have the ability to take full advantage of DDR3's increased bandwidth.
Corsair's Dominator kit is extremely impressive; with a total of 6GB capacity you're not going to run out of any system memory for games or applications and even 4GB is more than enough.
The only real problem with this kit is the price. DDR3 is still more expensive than DDR2 and when you're packing three modules into a kit rather than two, you're up for more cash again.
PRICING: You can find products similar to this one for sale below.
United States: Find other tech and computer products like this over at Amazon.com
United Kingdom: Find other tech and computer products like this over at Amazon.co.uk
Australia: Find other tech and computer products like this over at Amazon.com.au
Canada: Find other tech and computer products like this over at Amazon.ca
Deutschland: Finde andere Technik- und Computerprodukte wie dieses auf Amazon.de
We openly invite the companies who provide us with review samples / who are mentioned or discussed to express their opinion. If any company representative wishes to respond, we will publish the response here. Please contact us if you wish to respond.
Related Tags