Smooth Creations Smoothbook DR Notebook
Looking for a notebook in the desktop replacement category? Check out the beast that is the Smoothbook DR inside.
Published Wed, Nov 5 2008 11:00 PM CST
|
Updated Fri, Sep 18 2020 10:50 PM CDT
Introduction

Every once and a while you will get a sample that comes along which you will just fall in love with straight away. As someone who mainly does graphics cards, that doesn't happen too often. Since stretching my arms out to systems, I've fallen in love with literally every piece of kit that comes through my door.
The latest sample to come waltzing through had me head over heels from the second the box was opened. There's just something about Smooth Creations that put them above the rest when it comes to systems.
Today we're looking at a notebook, although it's more an encyclopedia collection than a single book when it comes to size. This is due to the fact it's a desktop replacement; what this means is you get the ability to lift the unit up and move it around with you while still having the power of a full blown computer.
Getting back onto opening the box; instead of being greeted with your new notebook in a piece of plastic, we find ourselves looking at a briefcase with the Smooth Creations logo on it. This isn't a cheap brief case either; it's strong, sturdy, nice looking and packs some serious weight.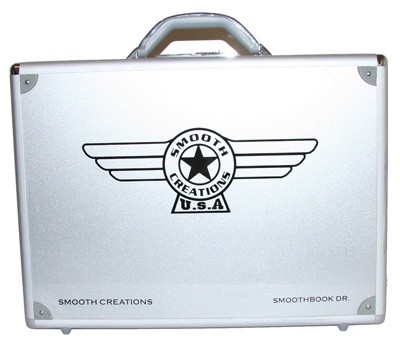 What happened once we opened the case? Let's move onto the next page and find out.
The Outside
Like the Asylum system
we looked at
not that long ago, upon pulling the beast that is the Smoothbook DR out of the briefcase, your jaw hits the ground faster than the speed of light. Like the Asylum, the Smoothbook DR is sporting one of those fancy airbrushed paint jobs, which is nothing short out astounding to look at in the flesh.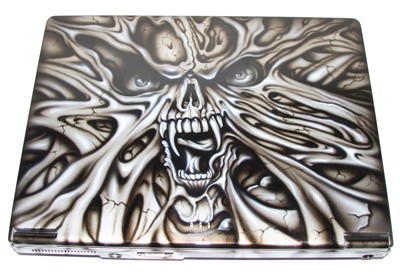 Up the top of the Smoothbook DR we have a skull face that looks like it's about to attack you. It's hard to explain exactly what's going on with the paint job, so it's easiest to simply let the pictures do the talking. The only other noticeable piece on the top here is three LED indicator lights that tell you when the power is on, if it's running off the battery and other useful information.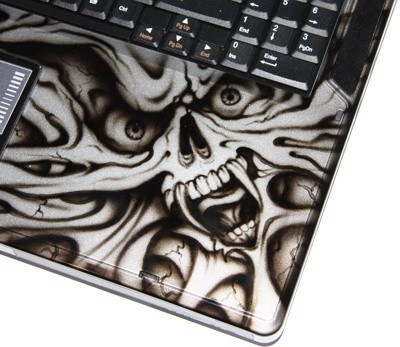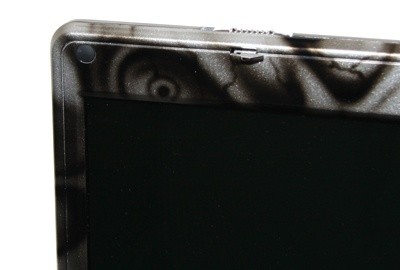 Smooth Creations has done more than just paint the top of the notebook and leave it at that. Looking around the outside, we can see that the paint job is literally everywhere it can be. This really helps tip the paint job over from a quick slap on top to a professional finish like we're seeing here today.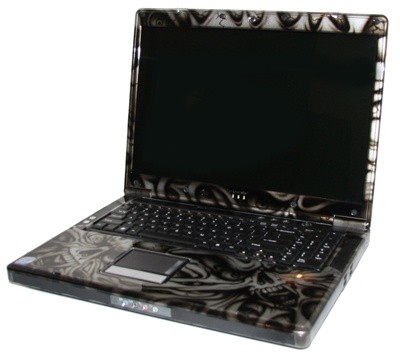 The paint job doesn't just stop there; upon opening the notebook to reveal the massive 17" screen that sports a 1920 x 1200 resolution, we find the skull themed paint job cover the notebook from top to bottom.
With the paint job looked at, let's have a quick look at what's on offer on the outside. The left side of the notebook gives us VGA out, S-Video out, CATV connectivity, phone line, network port, mini FireWire, PCMCIA and a card reader.

Spinning around to the front, we have some speakers along with a few audio jacks that cover headphones and a microphone.


The right hand side of the notebook gives us four USB 2.0 ports, while the back gives us a DVI port and power point.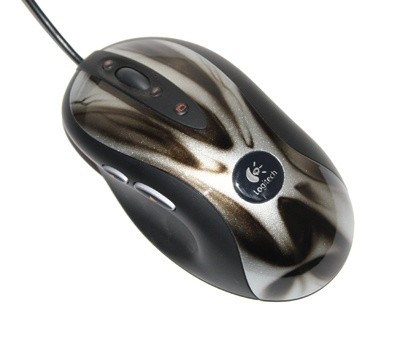 Also included in the package is a Logitech mouse that follows the same paint scheme as the notebook. What good is a notebook that is aimed at gaming which forces you to to use the touchpad out of the box.
The Specifications
With such a large foot print, the Smoothbook DR is aimed as a desktop replacement. Sure, you could carry it around with you, but it probably wouldn't take long to get sick of carrying the weight around.
What makes a good desktop replacement, however, is the specifications. When you go for such a large notebook, it's a huge waste to turn around and put a Celeron in it and an 8400 GS.
This is where Smooth Creations have done their homework. The specs of the notebook really go from good to great as you go through the list. Off the bat you find yourself looking at a quad core Q9550 processor that's accompanied by 4 GB of DDR2 800MHz RAM, coming in the form of two 2GB Crucial modules.
Video performance is done with not only the help of just one 8800M GTX, but two in SLI. You will also be finding yourself getting full use of the impressive screen, thanks to an included Blu-ray ROM drive.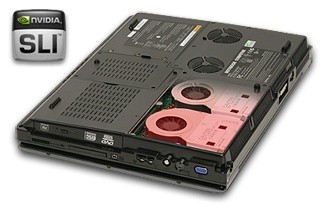 The thing that managed to clinch the deal for me was the decision for Smooth Creations to opt for a RAID 0 SSD setup with the help of two 64GB G.Skill drives. What's particularly good about the G.Skill drives are that they're based on the SLC platform, which make them a drive that is truly better than a standard 7200 RPM hard disk.
This all comes at a cost and what a cost it is. Priced at just over $6,000, it's not cheap by any means. Performance never is, though. You have to remember that this is a notebook that not only looks impressive on the inside, but is simply immaculate on the outside with the paint job they've done to it.
So with that said, let's get into the benchmarks and see exactly what this desktop replacement is capable of.
Test System Setup and 3DMark06
TweakTown Test System SetupProcessor(s):
Intel Core 2 Quad Q6600 @ 3GHz (333MHz x 9)
Motherboard(s):
GIGABYTE X48-DQ6 (Supplied by
GIGABYTE
)
Memory:
2 X 1GB Kingston PC6400 DDR-2 3-3-3-10 (KHX6400D2ULK2/2G) (Supplied by
Kingston
)
Hard Disk(s):
Seagate 250GB 7200RPM SATA-2 7200.10 (Supplied by
Seagate
)
Graphics Card(s):
Diamond HD 4870 XOC Black Edition
Smooth Creations Asylum Test System Setup
Processor(s):
Intel Core 2 Extreme QX9650 @ 3GHz
Motherboard(s):
Foxconn P45-A
Memory:
2 X 2GB G.Skill MQ 6-6-6-18
Hard Disk(s):
Western Digital Raptor 150GB
Graphics Card(s):
Diamond HD 4870 XOC Black Edition
Smooth Creations Smoothbook DR Test System SetupProcessor(s):
Intel Core 2 Quad Q9550 @ 2.83GHz
Memory:
2 X 2GB Crucial So Dim 800MHz
Hard Disk(s):
2x 64GB G.Skill SSD in Raid 0
Graphics Card(s):
2x 8800M GTX
Operating System:
Windows Vista SP1
Drivers:
Catalyst 8.9 / ForceWare 175.32
The Smooth Creations notebook wasn't going to get off lightly today with it being placed against two very impressive setups, the first is our current testbed, the other the very impressive Smooth Creations Asylum PC. Both systems back a HD 4870 and an impressive lineup of specifications.
3DMark06Version and / or Patch Used:
Build 110
Developer Homepage:
http://www.futuremark.com
Product Homepage:
http://www.futuremark.com/products/3dmark06/
Buy It Here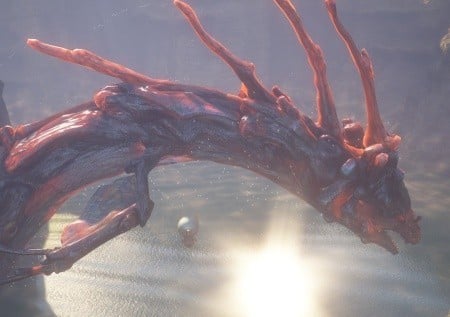 3DMark06 is the worldwide standard in advanced 3D game performance benchmarking. A fundamental tool for every company in the PC industry as well as PC users and gamers, 3DMark06 uses advanced real-time 3D game workloads to measure PC performance using a suite of DirectX 9 3D graphics tests, CPU tests, and 3D feature tests.
3DMark06 tests include all new HDR/SM3.0 graphics tests, SM2.0 graphics tests, AI and physics driven single and multiple cores or processor CPU tests and a collection of comprehensive feature tests to reliably measure next generation gaming performance today.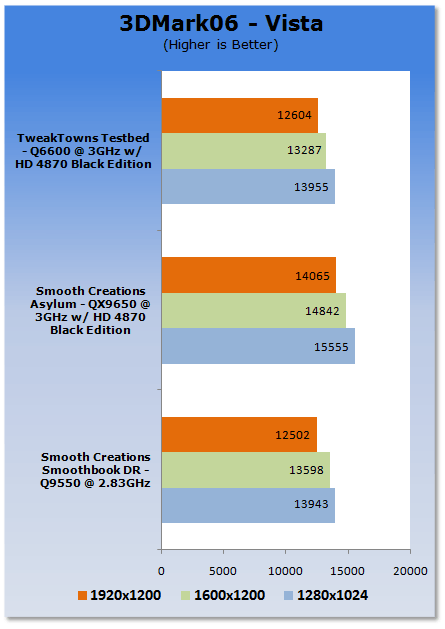 Across the resolution board we can see that our testbed and the Smoothbook DR sit very close to each other. Both manage to take the lead at one point or another.
Benchmarks - 3DMark Vantage
3DMark VantageVersion and / or Patch Used:
1.0.1
Developer Homepage:
http://www.futuremark.com
Product Homepage:
http://www.futuremark.com/products/3dmarkvantage/
Buy It Here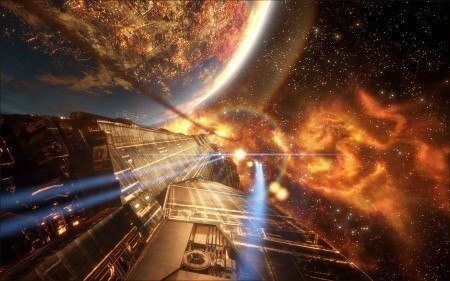 3DMark Vantage is the new industry standard PC gaming performance benchmark from Futuremark, newly designed for Windows Vista and DirectX10. It includes two new graphics tests, two new CPU tests, several new feature tests, and support for the latest hardware.
3DMark Vantage is based on a completely new rendering engine, developed specifically to take full advantage of DirectX10, the new graphics API from Microsoft.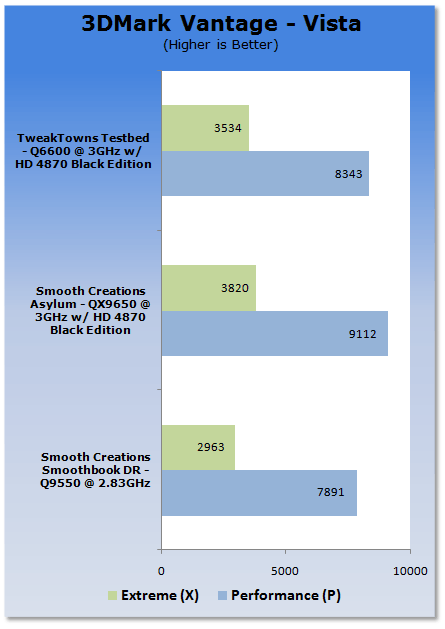 Getting a bit more intensive, we can see that the Smoothbook DR does sit slightly behind our testbed.
Benchmarks - PT Boats: Knights of the Sea
PT Boats: Knights of the SeaVersion and / or Patch Used:
Benchmark Demo
Developer Homepage:
http://en.akella.com/
Product Homepage:
http://www.pt-boats.net/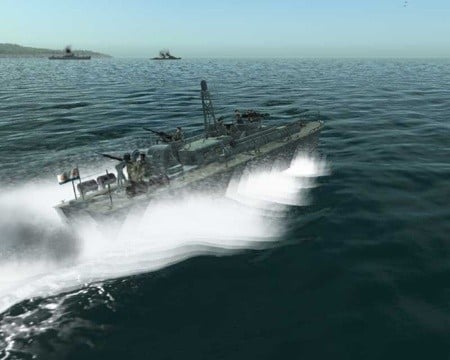 PT Boats: Knights of the Sea is a naval action simulator that places gamers in charge of a mosquito fleet of the Allied Forces, Russia or Germany during the height of World War II.
Using the latest Direct X 10 technology PT Boards - Knights of the Sea manages to apply a lot of stress to the components of today which in turn gives us quite an intensive benchmark.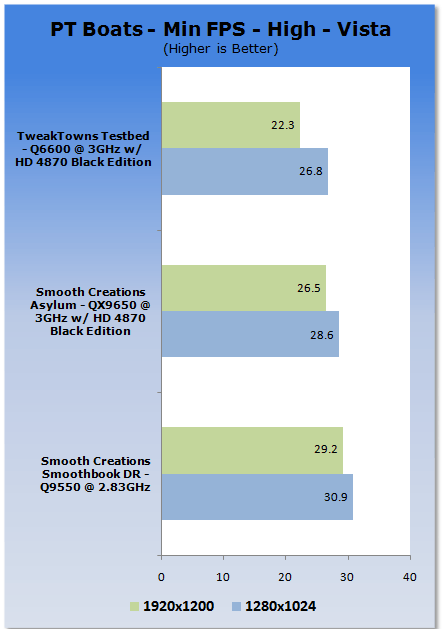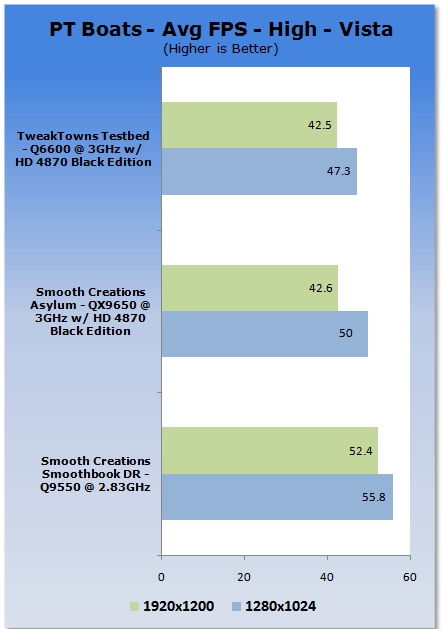 Under PT Boats, a game that tends to favor NVIDIA based cards, we can see that the Smoothbook DR and its 8800M GTX cards are able to come out in front and offer some good performance at the notebooks native resolution of 1920 x 1200.
Benchmarks - CINEBENCH R10
CINEBENCH R10Version and / or Patch Used:
Release 10
Developer Homepage:
http://www.maxon.net/
Product Homepage:
http://www.maxon.net

CINEBENCH is a real-world test suite that assesses your computer's performace capabilities. MAXON CINEBENCH is based on MAXON's award-winning animation software, CINEMA 4D, which is used extensively by studios and production houses worldwide for 3D content creation. MAXON software has been used in blockbuster movies such as Spider-Man, Star Wars, The Chronicles of Narnia and many more.
MAXON CINEBENCH runs several tests on your computer to measure the performance of the main processor and the graphics card under real world circumstances. The benchmark application makes use of up to 16 CPUs or CPU cores and is available for Windows (32-bit and 64-Bit) and Macintosh (PPC and Intel-based).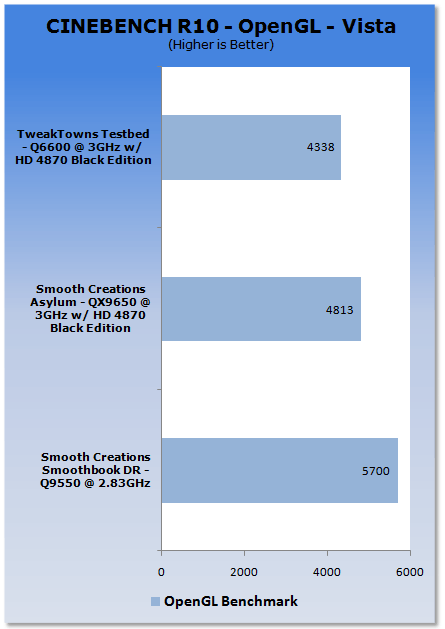 Under CINEBENCH we can see that the Smoothbook DR is again able to come out ahead, offering some impressive numbers here.
Benchmarks - World in Conflict
World in ConflictVersion and / or Patch Used:
1.0.0.5
Timedemo or Level Used:
Built-in Test
Developer Homepage:
http://www.massive.se
Product Homepage:
http://www.worldinconflict.com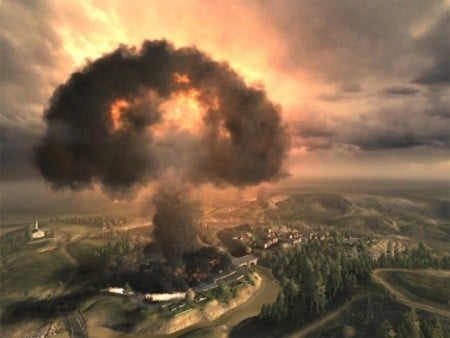 World in Conflict is a real-time strategy video game by Massive Entertainment and to be published by Sierra Entertainment for Windows (DX9 and DX10) and the Xbox 360.
The game is set in 1989 where economic troubles cripple the Soviet Union and threaten to dissolve it. However, the title pursues a "what if" scenario where, in this case, the Soviet Union does not collapse and instead pursues a course of war to remain in power. It is an intensive new game is sure to put plenty of stress on even the latest graphics cards and we use the built-in benchmarking for our testing.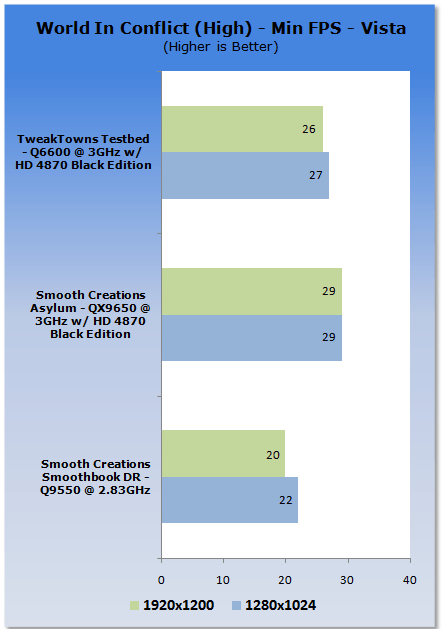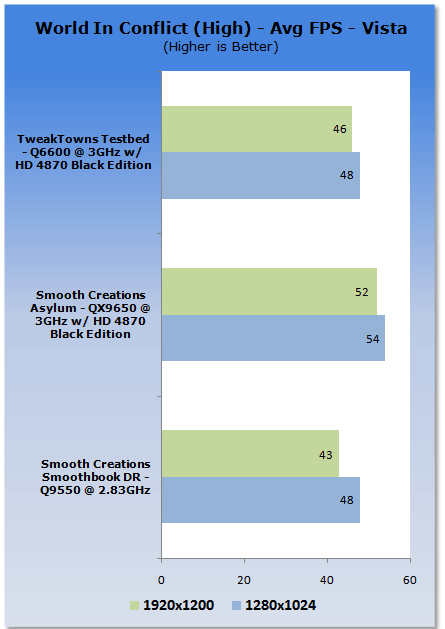 In WIC we do see the notebook come back a bit, but none of the machines offer that 30FPS minimum we like to see. Changing to medium settings, though, should achieve a smooth experience at 1920 x 1200 on the Smoothbook DR.
Benchmarks - Unreal Tournament 3
Unreal Tournament 3Version and / or Patch Used:
1.1
Timedemo or Level Used:
Developer Homepage:
http://www.epicgames.com/
Product Homepage:
http://www.unrealtournament3.com/
Buy It Here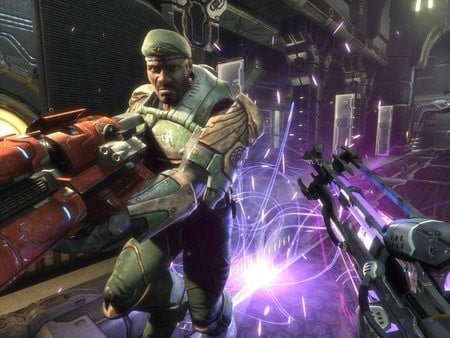 Following the formulae that made Unreal Tournament so great the third installment to the series has hit us recently with better than ever graphics. The games uses the latest Unreal Engine which like most modern day games when maxed out puts the pressure on our lineup of graphics cards.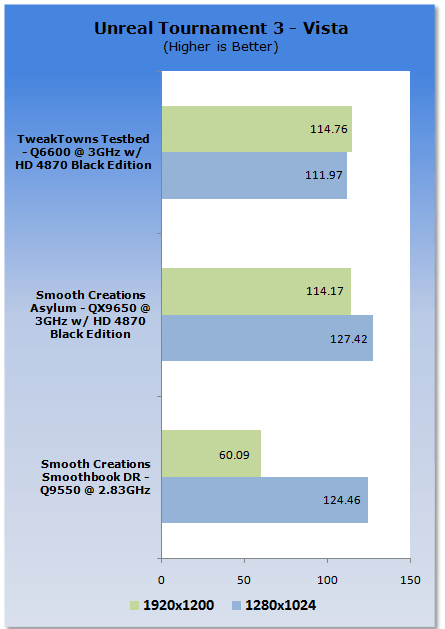 At the lower resolution we can see the three machines perform very close. At 1920 x 1200, though, UT3 doesn't seem to be making any use of the SLI technology, putting its FPS around the 60 mark. The good news is that this is still playable. To smooth it up a little bit more, you could just mess around with some of the settings.
Benchmarks - High Quality AA and AF
High Quality AA and AF
Our high quality tests let us separate the men from the boys and the ladies from the girls. If the cards weren't struggling before they will start to now.
3DMark06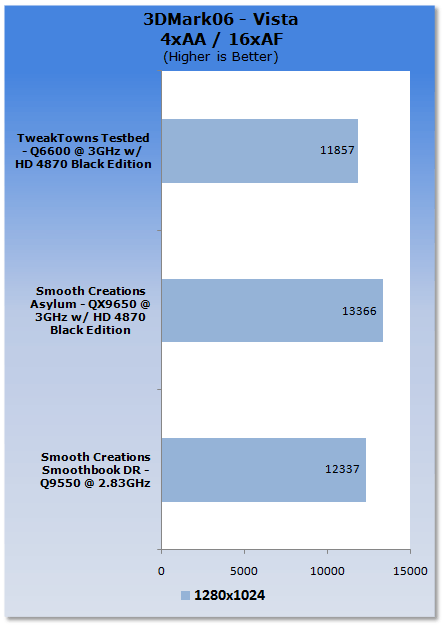 With AA and AF on, we see the Smoothbook DR again beat out our testbed, offering some impressive results.
Benchmarks - wPrime
wPrimeVersion and / or Patch Used:
1.62
Developer Homepage:
http://www.wprime.net/
Product Homepage:
http://www.wprime.net/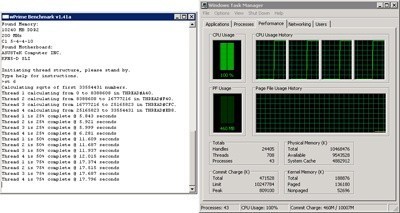 wPrime uses a recursive call of Newton's method for estimating functions, with f(x)=x2-k, where k is the number we're sqrting, until Sgn(f(x)/f'(x)) does not equal that of the previous iteration, starting with an estimation of k/2. It then uses an iterative calling of the estimation method a set amount of times to increase the accuracy of the results. It then confirms that n(k)2=k to ensure the calculation was correct. It repeats this for all numbers from 1 to the requested maximum.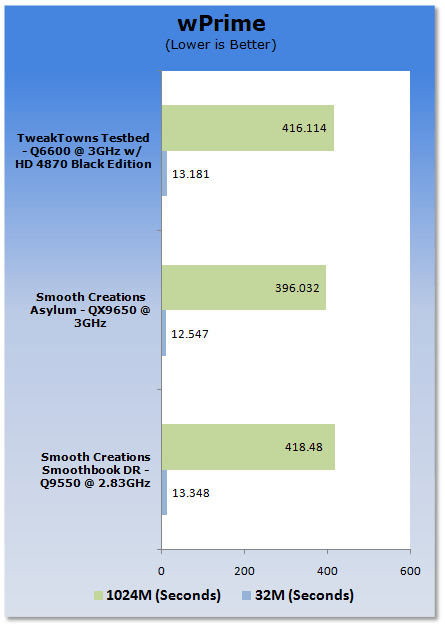 With the slowest CPU here it's no surprise that the Smoothbook DR does fall back a little. Compared to our testbed, though, it's ever so little.
Benchmarks - EVEREST
EVERESTVersion and / or Patch Used:
Ultimate Edition 4.5
Developer Homepage:
http://www.lavalys.com/
Product Homepage:
http://www.lavalys.com/products/overview.php?pid=3&ps=UE&lang=en
Buy It Here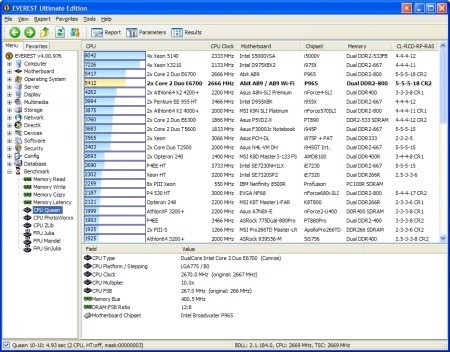 EVEREST Ultimate Edition is an industry leading system diagnostics and benchmarking solution for enthusiasts PC users, based on the award-winning EVEREST Technology. During system optimizations and tweaking it provides essential system and overclock information, advanced hardware monitoring and diagnostics capabilities to check the effects of the applied settings. CPU, FPU and memory benchmarks are available to measure the actual system performance and compare it to previous states or other systems. Furthermore, complete software, operating system and security information makes EVEREST Ultimate Edition a comprehensive system diagnostics tool that offers a total of 100 pages of information about your PC.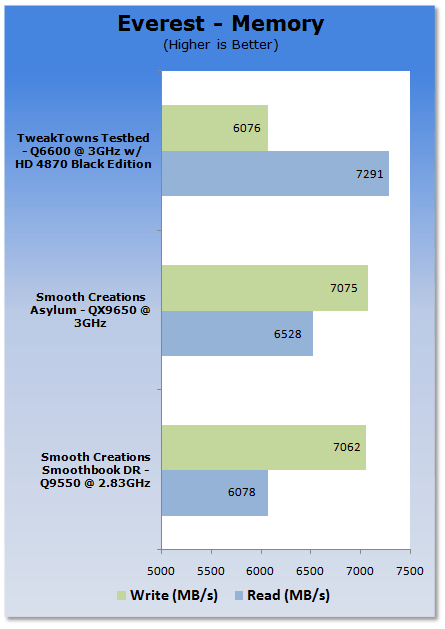 Memory performance on a whole is pretty impressive for the SO-DIMM modules.
Benchmarks - HD Tune Pro
HD TuneVersion and / or Patch Used:
PRO 3.1
Developer Homepage:
http://www.efdsoftware.com/
Product Homepage:
http://www.hdtune.com/>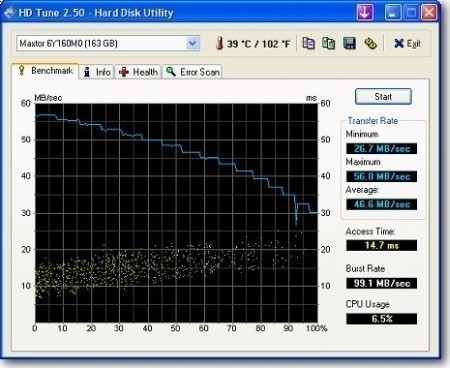 HD Tune is a Hard Disk utility which has the following functions:
Benchmark: measures the performance
Info: shows detailed information
Health: checks the health status by using SMART
Error Scan: scans the surface for errors
Temperature display
HD Tune may also work with other storage devices such as memory cards, USB sticks, iPods, etc.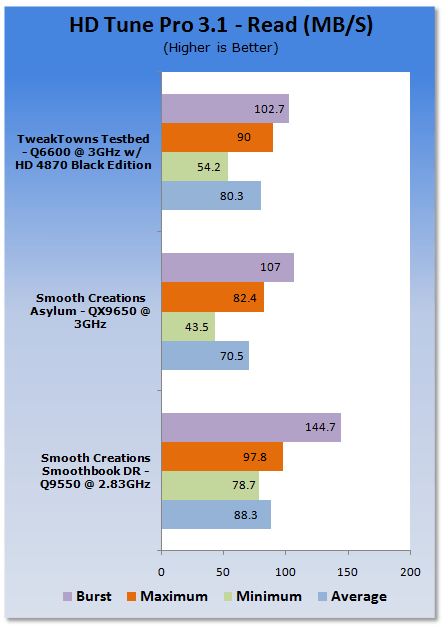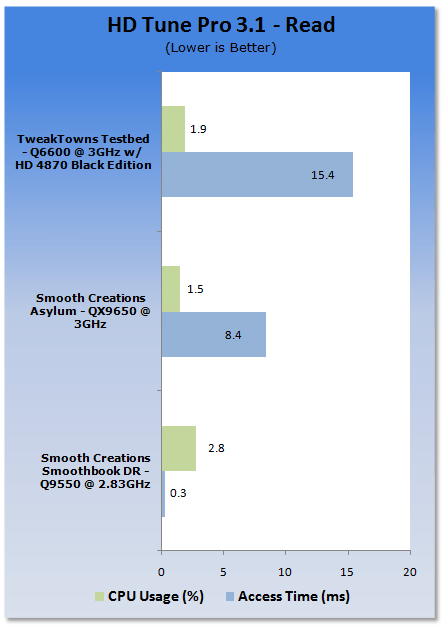 It does come as no surprise that across the board we see the RAID 0 G.Skill SSD setup beat out the traditional hard drives.
Power Consumption Tests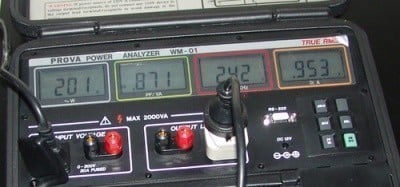 Using our new PROVA Power Analyzer WM-01 or "
Power Thingy
" as it has become quickly known as to our readers, we are now able to find out what kind of power is being used by our test system and the associated graphics cards installed. Keep in mind; it tests the complete system (minus LCD monitor, which is plugged directly into AC wall socket).
There are a few important notes to remember though; while our maximum power is taken in 3DMark06 at the same exact point, we have seen in particular tests the power being drawn as much as 10% more. We test at the exact same stage every time; therefore tests should be very consistent and accurate.
The other thing to remember is that our test system is bare minimum - only a 7,200RPM SATA-II single hard drive is used without CD ROM or many cooling fans.
So while the system might draw 400 watts in our test system, placing it into your own PC with a number of other items, the draw is going to be higher.
We really find some serious power getting drawn out of our power point at both load and idle; this would explain the 42 minute battery life when running 3DMark06 in looped mode.
Final Thoughts
There really are some outstanding points to this desktop replacement we have with us today. The first would have to be the paint job; it's the most noticeable thing about the notebook. As someone who wears a large gold bracelet at all times, my paranoia levels of scratching the paint were through the room. The thing is, though, the quality of the paint protection on the product is second to none. It really takes no time for you to feel confident in using the notebook as you should, without worrying that the paint work is going to get scratched.
The other thing is if you're not a fan of this particular paint job, there are a number of options out there. There is no doubt going to be a paint job that you will like. Sure, it costs extra, but it really separates you from the pack. That stainless steel finished Macbook next to you is going to look extremely boring next to one of these things. The whole unit is a head turner and really does bring peoples jaw to the ground.
Then of course we have the specs of the notebook. Smooth Creations really know what they're doing when it comes to decking out a beast. Quad core CPU, 4GB of RAM, Blu-ray and SSD in RAID 0 all make this notebook stand out from the competition.
You have to wonder that if this is what Smooth Creations has done with the Core 2 line-up, we can only imagine what they're going to do when it comes to the new Core i7 line-up.
As usual, Smooth Creations really have a top notch product that anyone would be happy to have. The price is no doubt going to be hard for some people to swallow, but if you have the money and want the power, we say why not!
While the notebook represents a small group of people, it's nice to see just what exactly Smooth Creations are capable of, be it a system housed in a full tower or a notebook. If you don't want something as powerful or with such a full-on paint job, airbrushed notebooks on the same platform begin at just under $3,000. As for this one we looked at today, if you can get over the price then this is one piece of hardware that is going to bring a smile to your face for a very long time.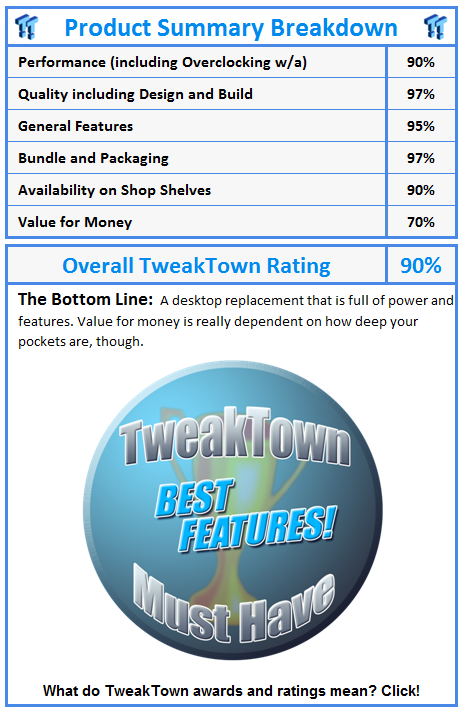 PRICING: You can find products similar to this one for sale below.
United States: Find other tech and computer products like this over at Amazon.com
United Kingdom: Find other tech and computer products like this over at Amazon.co.uk
Australia: Find other tech and computer products like this over at Amazon.com.au
Canada: Find other tech and computer products like this over at Amazon.ca
Deutschland: Finde andere Technik- und Computerprodukte wie dieses auf Amazon.de
We openly invite the companies who provide us with review samples / who are mentioned or discussed to express their opinion. If any company representative wishes to respond, we will publish the response here. Please contact us if you wish to respond.
Related Tags