Intel Core i7 - Nehalem Arrives and FSB Departs
Intel Core i7 has been the talk of the town lately. Today its arrival brings a smile to enthusiasts everywhere.
Published Sat, Nov 1 2008 11:00 PM CDT
|
Updated Fri, Sep 18 2020 10:50 PM CDT
Rating:

94%
Manufacturer: Intel
Introduction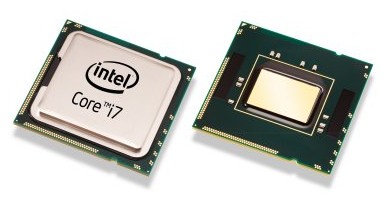 For the last five years Intel has completely dominated the CPU market with the Core architecture. When Intel finally put the Pentium processor out to pasture, it was a shock to see a new name finally hit the market. After all, Pentium was the first processor that really put Intel ahead of the rest of the CPU market.
Intel's Core architecture first made its appearance in the notebook field; with low power consumption, higher memory bandwidth and IPC (Instructions Per Clock) compared to the Pentium 4 series processor, the writing was on the wall for the Netburst architecture.
Core 2 finally made its debut to the desktop in the form of the Core 2 Duo which was Intel's first true dual core processor. Rather than having the two cores having to communicate along the FSB and back to the chipset like the Pentium D or Pentium Extreme Edition, Core 2 was actually able to do direct core-to-core synchronising through the shared L2 cache on the processor. While new by design, the processor still used the same LGA775 socket as well as the QDR FSB of the Pentium 4, meaning it still had a weakness compared to the AMD K8 and K10; its memory controller was simply not able to keep up with the CPU.
Today Intel's CPU, formally known as
Nehalem
arrives and with it comes a new architecture along with a new bus. Welcome Core i7!
Intel Nehalem Architecture
Intel "Nehalem" Core i7 Architecture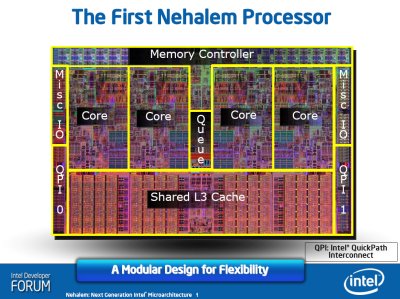 Intel's latest addition to the Core architecture is the Core i7 series, which is based on the same architecture that made the Core 2 series so popular, but with a few major changes to the design.
Bye Bye FSB - Hello QPI
The first and foremost change is the removal of the FSB from the processor. Since the introduction of the processor, the CPU is connected to its Northbridge through the Front Side Bus. This is a communication bus that runs at a set MHz and is determined by the architecture used. This bus allows the CPU to send data to and from the system memory.
To replace the aging FSB, Intel has designed a new point-to-point communication protocol which is known as Quick Path Interconnect or QPI. Intel's first generation of QPI is a 20-bit interface with bi-directional communication running at either 4.8GT/s for the Core i7 range or 6.4GT/s for the Core i7 Extreme range of processors.
Integrated Memory Controller
This design had a major advantage, it allows for the CPU to be paired with different memory technologies. We have seen the Core 2 support DDR2 and then upgrade to DDR3 by changing the memory controller on the Northbridge. While it does allow an easy upgrade path, there is a major drawback, that being bandwidth restrictions. In order for the CPU to communicate with the memory, it first has to transmit a request through the FSB to the Northbridge. The Northbridge then needs to change that request into something the memory can understand; the request is then sent along the memory bus and onward to the modules.
Core i7 follows the example that AMD set out with the Athlon 64 processor and that is to move the memory controller on to the CPU die. The major advantage this brings is direct access for the CPU to the memory, allowing for a much higher bandwidth than possible using the FSB method. AMD proved this by having higher memory bandwidth using just 800MHz DDR2 memory, where Intel needed XMP 1600MHz to come close to AMDs memory performance.
While moving the memory controller on to the CPU package, Intel has decided to do the one up on AMD. Rather than just using dual channel memory, Intel has put a triple channel memory controller onto the CPU. With Core i7 we see Intel finally wave goodbye to DDR2 memory altogether. Core i7 supports only a single memory controller and the memory of choice is DDR3; so for those hoping Core i7 will support your older DDR2 modules, you're out of luck and will need DDR3 to get started.
Cache Increases
One of the ways that Intel has been increasing performance is by adding extra features, one of them is by increasing cache sizes. Core 2 saw quite a few different cache sizes, from 2MB all the way up to 6MB (12MB on quad cores with 2x6MB). Core i7 has been granted three levels of cache. Each of the four cores in the Core i7 gets 32K of L1 Data and 32K L1 Instruction cache; in total, 256KB of L1 cache. Next, rather than a shared L2 cache, each core gets 256KB L2 cache to itself, totalling up 1MB. Lastly, the CPU has a shared L3 cache to help increase overall performance; the cache size is 8MB shared amongst all four cores.
HT makes a comeback
Hyper Threading was Intel's first attempt at creating a Multi-Threading CPU. This was introduced on the Pentium 4 Northwood core series from 2.4GHz all the way to the end of the Pentium 4 series. While it was dropped on the Pentium D series, it made a return on the Pentium Extreme Edition, giving the CPU two cores with two logical units or four threads. HT has already made its appearance in the form of the Atom processor, allowing it to process two threads on a single core. Intel has seen fit to revive Hyper Threading on the desktop series by giving each of the four cores a HT system. So what we experience under Windows XP or Vista are eight cores; four physical and four threads.
New Instruction Set
SSE4 has been Intel's latest addition to their multimedia instruction sets. SSE4 was broken up into two different packages; SSE4.1 was introduced on the Penryn 45nm Core 2 series processors and consisted of 47 new instructions. SSE 4.2 is the latest addition and makes its debut on the Core i7. SSE4.2 consists of seven new instructions aimed at media acceleration.
New Platform, New Chipset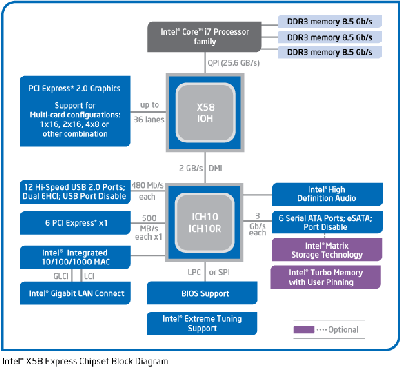 Because of the re-design of the Core i7, Intel has needed a new chipset in order to handle it. Keeping with the current naming system, Intel has for its chipsets the first generation of the 5 series making its debut with Core i7. X58 is a totally new design chipset from Intel. All of Intel's chipsets until now have had the memory controller as part of the chipset, which spawned the name Memory Controller Hub or MCH. The X58 chipset is the first from Intel to be naked of the memory controller; since it has been integrated to the CPU, there is simply no need for one on the X58.
X58 shares the same amount of PCI Express lanes as the X48 series, 36 in total. This allows for the system to be configured with either two PCIe x16 slots running off the Northbridge or configured in a 16/8/8 array for 3-way graphics. The X58 is paired with the ICH10 ICH so there is no new interface connecting the Northbridge to the Southbridge; it's simply using the same 2GB/s DMI that Intel has used since the ICH4. While we are on the subject of the PCIe configuration, X58 is the first chipset to come out with native support for SLI and Crossfire. Well, in theory; let's have a little background here first.
Over the last 3-4 months prior to launch, Intel has been desperately trying to get SLI certification for the X58 platform. NVIDIA told Intel that if they wanted to get SLI, the OEMs would have to install one or two of the nForce 200 PCI Express bridge chips. This caused quite an uproar amongst the motherboard manufacturers; not only is the NF200 chipset extremely expensive just to give SLI support, but it takes up quite a bit of real estate on the PCB just for one, let alone two. And the amount of energy one of these chips uses is higher than the X48 MCH alone. For these reasons, quite a few motherboard companies told NVIDIA in no uncertain terms that they would not be using their chipsets and they would have to work on another premise.
NVIDIA finally gave in and said that X58 boards will have to be submitted to NVIDIA for the validation of SLI. If it passes the tests, the company would be given a SBIOS code to install into all the BIOS' of that series of board, which would allow the NVIDIA ForceWare drivers to enable SLI on the X58 chipset. So unless it says it has SLI on the box, it won't support it, as it needs an SBIOS code rather than a driver hack. As for Crossfire support, AMDs open platform allows the X58 to simply plug in any Crossfire certified cards and run Crossfire in dual or quad GPU arrangements; whatever the user wants.
Intel Core i7 Platform
The Core i7 Platform

Now that we have taken a look at a bit of the theoretical, it's time to take a look at what it all comes down to in real world terms. Here we have the three big contenders on the market. On the left we have the new Core i7 processor with the Core 2 Quad snuggled next to it and the AMD Phenom X4 processor at the end. While the Core i7 is manufactured on the same 45nm wafer that the Penryn CPU first made famous, the actual CPU package has grown quite considerably.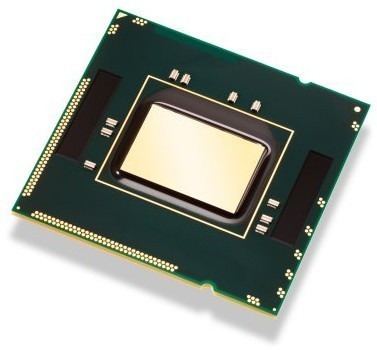 Using Intel's own images, we wanted to show you what the CPU looks like without a heat spreader. Compared to the Core 2 Quad 45nm series, the die is huge. However, this is because Intel needed to squeeze 731 million transistors onto the package. Not only are there four physical cores, but also a QPI interconnect, memory controller, system request queue (what all of the cores use for inter-core communications) as well as a new 8MB L3 cache; we can't expect it to be smaller when so much more is added.

Comparing all three CPUs from the back side, the Core i7 while larger, looks somewhat similar to Core 2. This is because Intel has done away with pins on the processor since the Pentium D series of CPU. I can personally vouch for killing one or two 478-pin test bed processors because of having to remove and insert them into boards for reviews. If you accidentally pull too hard on the heatsink when removing it from the board, you could easily bend or break a pin.
Core i7 uses a Land Grid Array of 1366 pins, that's 591 new pins. Intel needed to add extra pins for the QPI connector as well as extra pins for the memory module traces as the modules now connect directly to the CPU. This is a far cry from AMD who still use pinned processors in the desktop market which are prone to bending and breaking. It's harder to ruin the pins on the board compared to the CPU. Ever since using LGA775 CPUs in test beds, we haven't bent a single pin on any board we have had.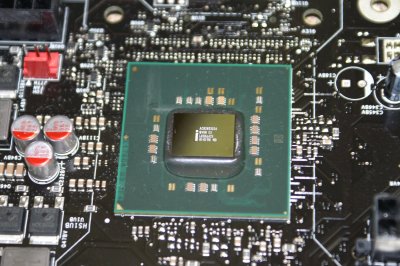 The X58 chipset looks like Intel's older 900 and 800 series chipsets which used a FC-BGA arrangement; this made them look like Socket 370 Pentium 3 processors. X48 and X38 had their own Integrated Heat Spreaders, but X58 revives the old tradition and is laid bare. For a chipset with no memory controller, its die is extremely large. I'm not sure why this is, unless QPI needs more die space?
Intel Core i7 Platform - Continued
The Test Board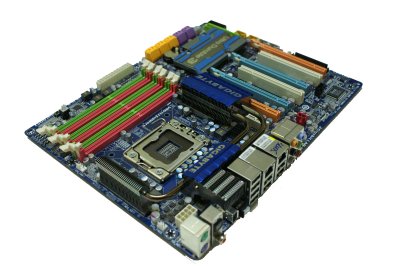 While Intel supplied us with the DX58SO reference board, we decided to be somewhat different in our approach. Rather than a reference board, we decided to go with a retail offering. Thanks to GIGABYTE we received the EX58-UD5 motherboard, designed around Intel's X58 chipset. While this isn't a review of the board itself, rather just a board supporting the X58 chipset, we will still have a bit of a look at the design.
First off, the EX58-UD5 is part of the new Ultra Durable 3 range from GIGABYTE, which means it shares the same 2oz copper running through the PCB in order to keep it cool. The size is still a full ATX 30x24cm design and it's still only 6 layers. When it comes to placements, GIGABYTE has it all covered. The 24-pin ATX power connector is located behind the six DDR3 memory slots. As you can see, there are three green and three pink slots. Since the board supports triple channel memory, there are two banks of three, totalling six. This means you can have up to a max of 12GB of DDR3 memory modules. The 4/8 pin power connector is located behind the PS/2 tower ports and yes, if you have only a 24/4-pin PSU, you can run the Core i7 without any problems. It will support this, providing the PSU can deliver up to 500 watts.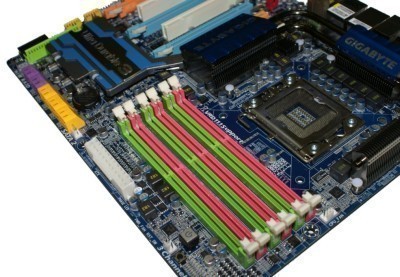 Along the right hand edge, GIGABYTE has placed 10 SATA ports; six yellow and four purple. The yellow SATA ports are run off the ICH10R Southbridge while the purple ones are run by two Silicon Image chips with two Jmicron controllers. The Silicon Image chips are bridged to allow all four drives on the purple ports to be set in one large RAID array, or as one array for the host and the other as backup; a very intelligent design without compromising speed.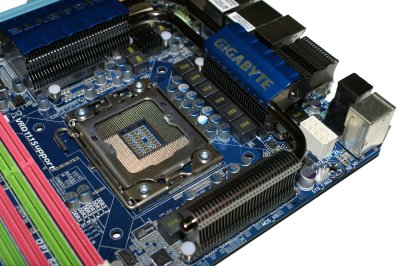 As part of the Ultra Durable 3 range, the board supports GIGABYTE's DES Advanced system to help conserve power. The DES Advanced controls a virtual 12 phase voltage system with the ability to shut down the board to just one phase (a total of two with one of each phases working) as well as a 2 phase regulation system for the memory and QPI, since they're not integrated to the CPU. A word of warning from Intel is if you plan to use high performance DDR3 modules, you're going to have to look for ones that use less than 1.65v. If you use memory modules above 1.65v you can burn out the integrated memory controller and the QPI controller on the CPU, as they are on the same core chip, or
Integrated Northbridge
as we know it.
The board uses Japanese solid state capacitors, Ferrite chokes and driver lowESR mosfets. The CPU area is a little cramped as it's surrounded by a heat-pipe assembly that cools not only the Mosfets, but also the X58 and ICH10R chips. Some of the fins are routed to the rear I/O to allow excess heat to be vented through the rear I/O slot.

On the subject of the rear I/O, the design looks exactly the same as the EP45-Extreme motherboard which allows for venting excess heat through the rear I/O, as mentioned above. There are no eSATA ports as GIGABYTE likes to include PCI cover slots that have the eSATA ports in them; a better way, in theory. The inclusion of a rear I/O clear CMOS button is nice, which allows failed overclocks to be wiped from the BIOS without having to open the case and remove the battery or short any jumper pins.
Lastly, we have the expansion slots on the board. GIGABYTE has a huge array of PCIe slots on this board; you will find a total of three PCIe x16 slots; two blue and one orange. The two blue slots are full speed 16 lane slots designed for 9800GX2 or HD Radeon X2 series cards if you want to run quad GPU mode. If you want to go with 3-way SLI mode, you simply put a graphics card in the orange x16 slot and eight lanes from the bottom blue slot are taken and diverted to the orange slot, giving a 16/8/8 arrangement.
Above the first blue PCIe x16 slot is a universal x4 slot; it has no back on it, allowing x4 or x8 cards to be used. You can't put an extra VGA card in due to it being too close to the Northbridge heatsink assembly and running afoul on the heat-pipe, but it does allow you to run x4 or x8 SAS and SATA controllers. The universal slot is run off the Southbridge's four spare lanes. Lastly, there is a x1 slot. However, if you decide to use the x4 slot, the x1 is disabled.
CPU-Z Details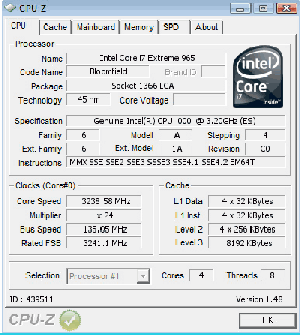 Here we have the CPU-Z details of our two stars. Unfortunately, our choice of board prevented any overclocking. Even the Intel board didn't allow for much leeway, apart from multiplier changes. The GIGABYTE board wouldn't allow us to raise the FSB above standard; any settings other than stock would cause endless BIOS loops and required CMOS resetting.
So, now that is said and done, we'll have a look at the CPUs themselves. From the data between the two, we can see that both the standard Core i7 920 and Extreme Edition 965 share the same core, only the Extreme gets a 540MHz bump in clock speed. Also, to help get the Extreme Edition further ahead, it uses a 3.2GHz clocked QPI link, while the 2.66GHz uses a 2.4GHz clocked QPI.
Test System Setups
Phenom Test SystemCPU
: AMD Phenom X4 9850 2.5GHz (12.5x200MHz)
Motherboard
: ASUS M3A32-MVP (Supplied by
AMD
)
Memory
: 2x1GB DDR2-1142 Aeneon Xtune
Hard Disk
: Intel SSD X25-M 80GB (Supplied by
Intel
)
Graphics Card
: GIGABYTE 9800GX2 (Supplied by
GIGABYTE
)
Cooling
: GIGABYTE 3D Galaxy II (Supplied by
GIGABYTE
)
Operating System
: Microsoft Windows Vista 64
Drivers
: Forceware 178.15
Core 2 Test SystemCPU1
: Intel Core 2 Duo E8500 3.16GHz (9.5x133MHz)
CPU2
: Intel Core 2 Quad Q9770 3.2GHz (8x400MHz)
Motherboard
: GIGABYTE EP48T-DQ6 (Supplied by
GIGABYTE
)
Memory
: 2x1GB DDR3-12280 OCZ XMP1600
Hard Disk
: Intel SSD X25-M 80GB (Supplied by
Intel
)
Graphics Card
: GIGABYTE 9800GX2 (Supplied by
GIGABYTE
)
Cooling
: GIGABYTE 3D Galaxy II (Supplied by
GIGABYTE
)
Operating System
: Microsoft Windows Vista 64
Drivers
: Intel INF 9.0.0.1008, Forceware 178.15
Intel Core i7 Test SystemCPU1
: Intel Core i7 920 2.66GHz (20x 133MHz)
CPU2
: Intel Core i7 Extreme 965 3.2GHz (24x 133MHz)
Motherboard
: GIGABYTE E58-UD5 (Supplied by
GIGABYTE
)
Memory
: 3x2GB Corsair XMP-1600 Tri Channel
Hard Disk
: Intel SSD X25-M 80GB (Supplied by
Intel
)
Graphics Card
: GIGABYTE 9800GX2 (Supplied by
GIGABYTE
)
Cooling
: Stock Intel Cooler
Operating System
: Microsoft Windows Vista 64
Drivers
: Intel INF 9.1.0.1007, Forceware 178.15
Now, this looks interesting. Today we have the two top Intel Core processors in the E8500 Duo and the Q9770 Quad series along with the top Phenom X4 that AMD has out in the 9850 running 2.5GHz. Today we will be testing the Core i7 against the older generation in a series of tests that compares several aspects of the new platform.
Benchmarks - EVEREST Ultimate Edition
EVEREST Ultimate EditionVersion and / or Patch Used:
2006
Developer Homepage:
http://www.lavalys.com
Product Homepage:
http://www.lavalys.com
Buy It Here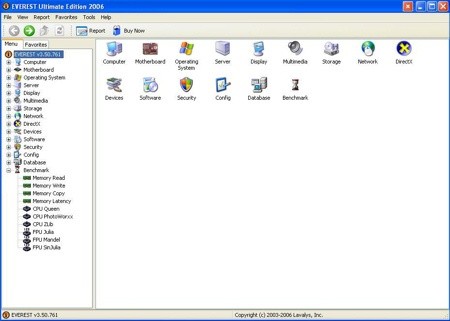 EVEREST Ultimate Edition is an industry leading system diagnostics and benchmarking solution for enthusiasts PC users, based on the award-winning EVEREST Technology. During system optimizations and tweaking it provides essential system and overclock information, advanced hardware monitoring and diagnostics capabilities to check the effects of the applied settings. CPU, FPU and memory benchmarks are available to measure the actual system performance and compare it to previous states or other systems.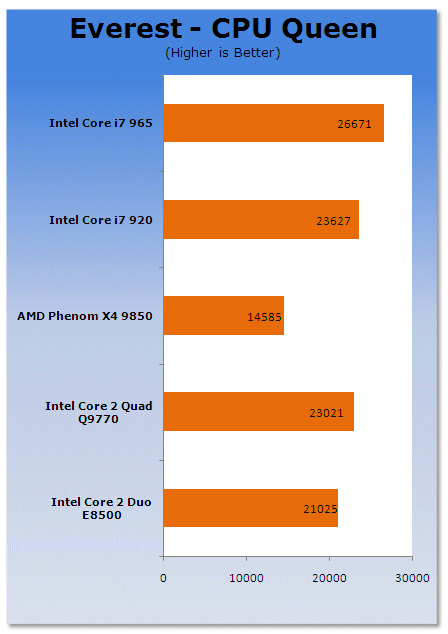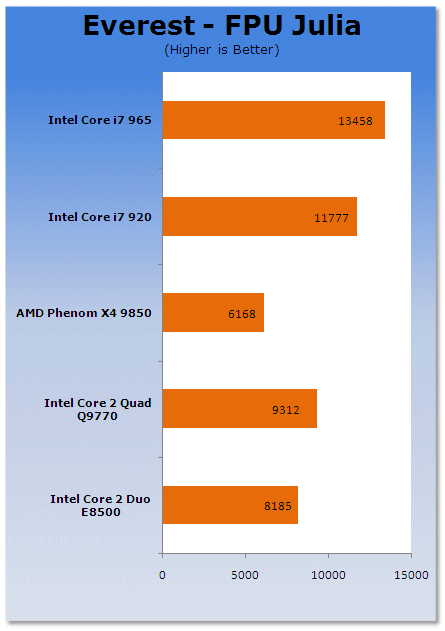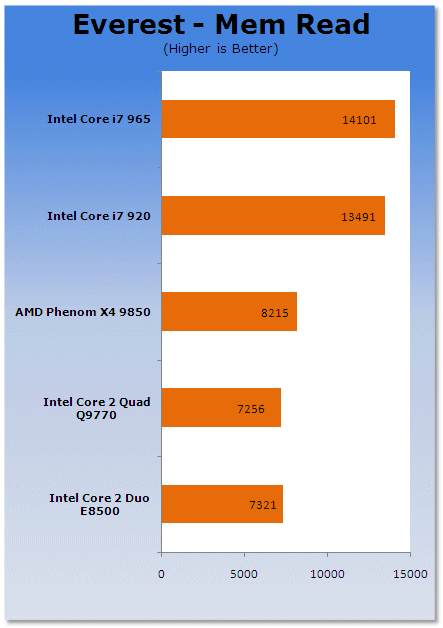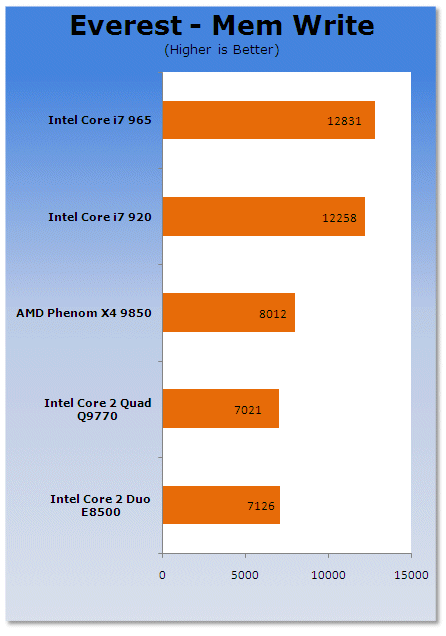 First on our list is EVEREST. While we normally use this only to test the memory, today we added in two extra benchmarks; one for the CPU ALU and one for the Floating point. First, we can see that the Core i7's new integrated memory controller has a ridiculous amount of bandwidth. Moving into the CPU tests, we see Core i7 has really got some extra power over the Core 2.
Benchmarks - Sisoft Sandra
SiSoft SandraVersion and / or Patch Used:
2009
Developer Homepage:
http://www.sisoftware.co.uk
Product Homepage:
http://sisoftware.jaggedonline.com/index.php?location=home&a=TTA&lang=en
Buy It Here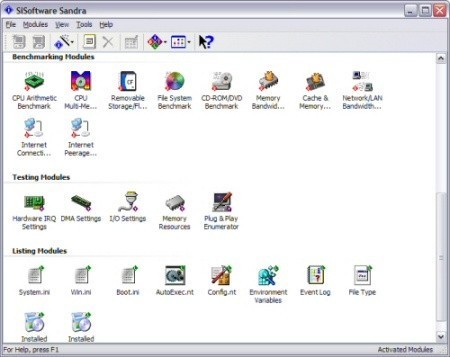 SiSoft Sandra (
S
ystem
AN
alyser,
D
iagnostic and
R
eporting
A
ssistant) is a synthetic Windows benchmark that features different tests used to evaluate different PC subsystems.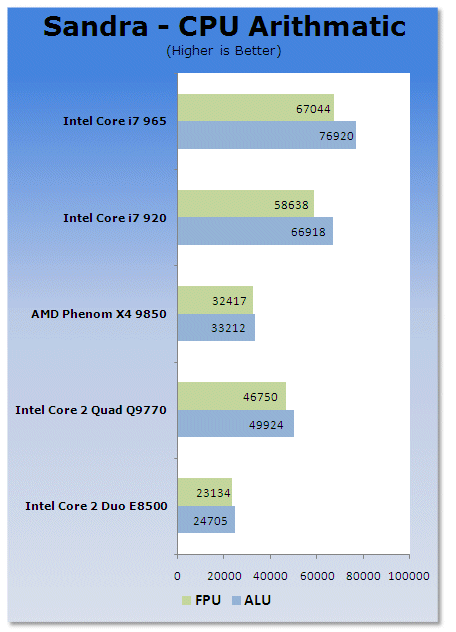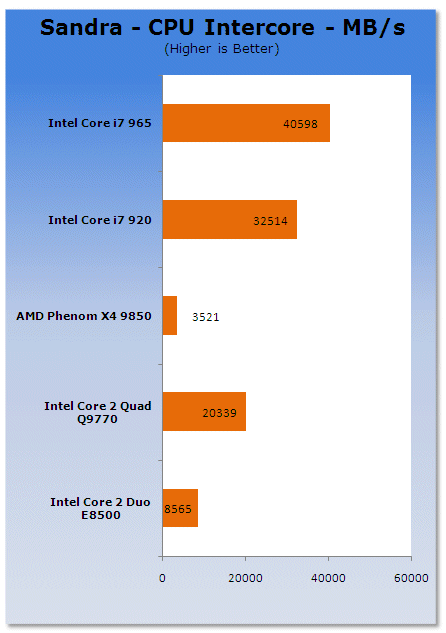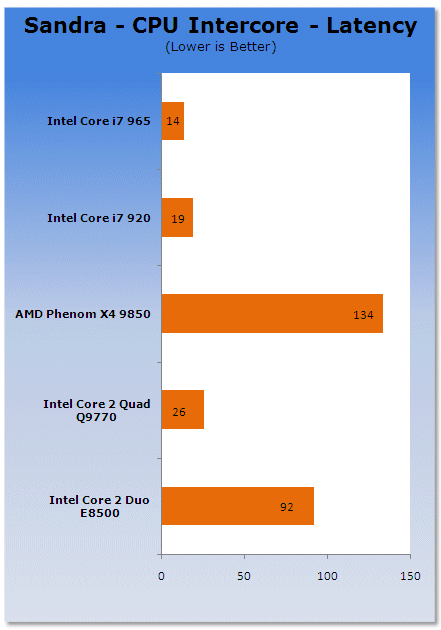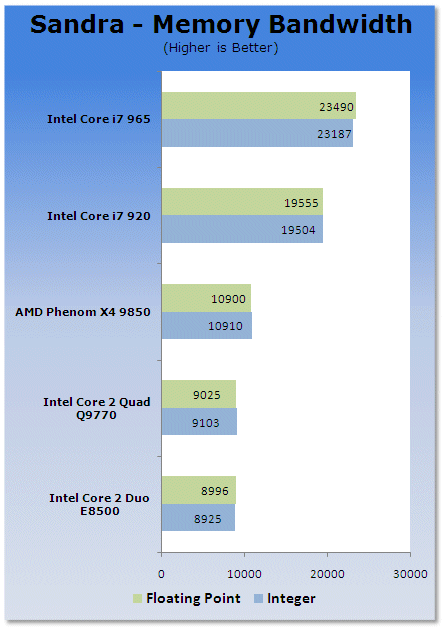 Adding in Sandra for the first time in quite a while, we get another view of the memory performance. Intel has nailed it with the Core i7's on-die memory controller. When it comes to CPU performance, Core i7 indeed has much more improved ALU and FPU performance. When testing inter-core communications, we see Core i7 well in front of the AMD and Intel Core 2 platforms.
Benchmarks - Super Pi
Super PIVersion and / or Patch Used:
1.5 Mod
Developer Homepage:
http://pw1.netcom.com/~hjsmith/Pi/Super_Pi.html
Product Homepage:
http://pw1.netcom.com/~hjsmith/Pi/Super_Pi.html
Developed by some folks from the University of Tokyo (yes, Japan), Super PI is a small utility that does just as the name implies. It figures PI to a set number of decimal places. Since PI is an infinite number to the right of the decimal point, the utility measures the time it takes to figure a set number of places. It runs the calculations a set number of times and gives a time for the completion of the task. This is a simple and effective way to measure the raw number crunching power of the processor being used to compile the results.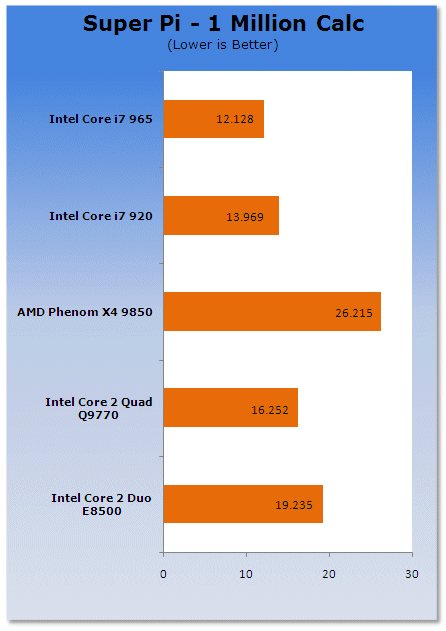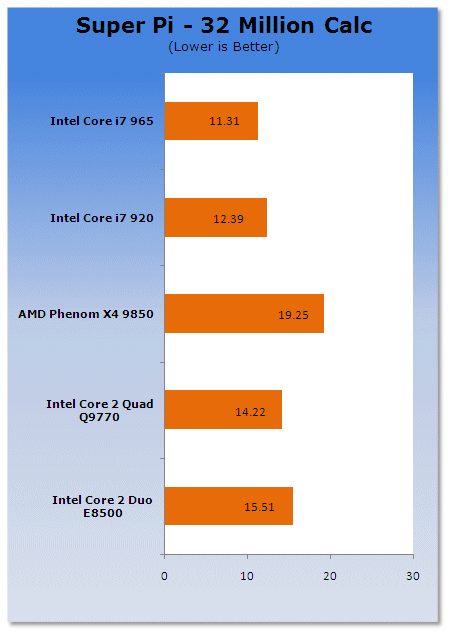 Now we move into raw CPU performance through Super Pi. Here we can see that the Core i7 has managed to knock a bit of time off the 1 million place time. However, it's the 32 million place time that has dropped by quite a bit.
Benchmarks - PCMark Vantage
PCMark VantageVersion and / or Patch Used:
110
Developer Homepage:
http://www.futuremark.com
Product Homepage:
http://www.futuremark.com/benchmarks/pcmark-vantage//
Buy It Here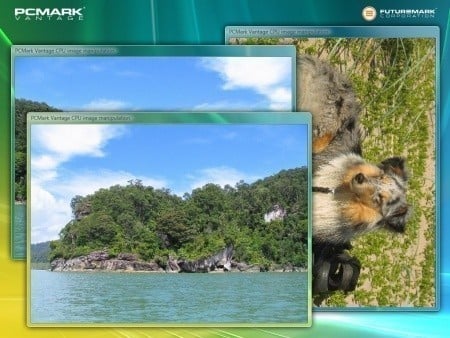 PCMark Vantage is the first objective hardware performance benchmark for PCs running 32 and 64 bit versions of Microsoft Windows Vista. PCMark Vantage is perfectly suited for benchmarking any type of Microsoft Windows Vista PC from multimedia home entertainment systems and laptops to dedicated workstations and high-end gaming rigs. Regardless of whether the benchmarker is an artist or an IT Professional, PCMark Vantage shows the user where their system soars or falls flat, and how to get the most performance possible out of their hardware. PCMark Vantage is easy enough for even the most casual enthusiast to use yet supports in-depth, professional industry grade testing.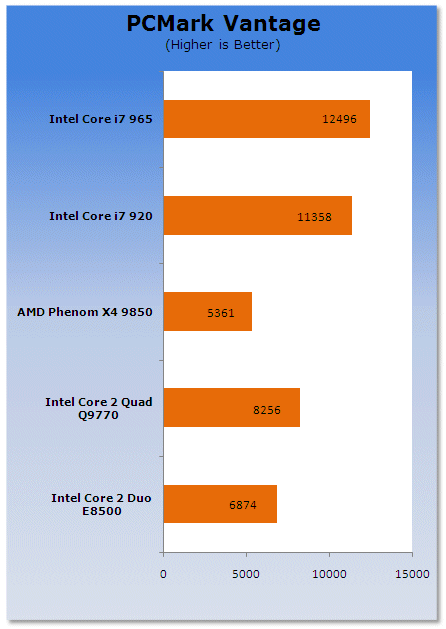 Moving into PCMark Vantage, we see a huge boost in performance over the Core 2 platform. This is likely due to the extra memory capacity and bandwidth that Core i7 is able to generate.
Benchmarks - SYSmark 2007 Preview
SYSmark 2007Version and / or Patch Used:
1.04
Developer Homepage:
http://www.bapco.com/
Product Homepage:
http://www.bapco.com/products/sysmark2007preview/>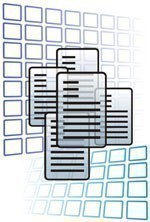 SYSmark 2007 Preview is the latest version of the premier performance metric that measures and compares PC performance based on real world applications.
SYSmark 2007 Preview extends the SYSmark family, which has been widely accepted by IT Managers, PC OEMs, press and analysts worldwide to support Windows Vista.
SYSmark 2007 Preview allows users to directly compare platforms based on Windows Vista to those based on Windows XP Professional and Home.
The new release also incorporates numerous new features and enhancements such as an improved GUI allowing streamlined start-up and run along with a heads-up-display (HUD) and automated error reporting.
SYSmark 2007 Preview is an application-based benchmark that reflects usage patterns of business users in the areas of Video creation, E-learning, 3D Modeling and Office Productivity. This new release includes a robust and refreshed set of applications.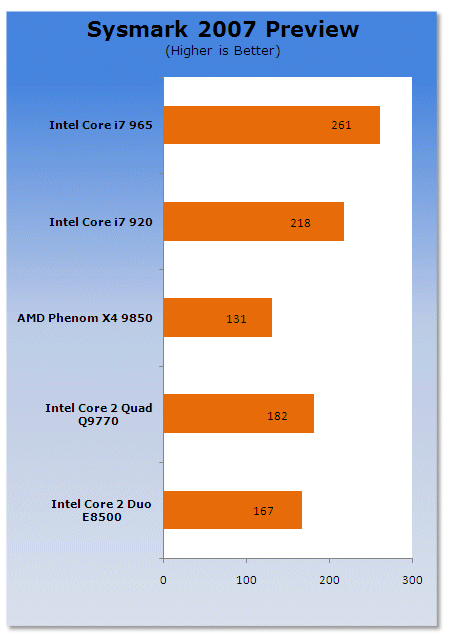 Under SYSmark 2007 we see that Intel has really put a huge amount of power into the Core i7 processor.
Benchmarks - Adobe Premiere Elements 4
Adobe Premiere Elements 4.0Version and / or Patch Used:
4.0
Developer Homepage:
http://www.adobe.com
Product Homepage:
http://www.adobe.com/products/premiereel/
Buy It Here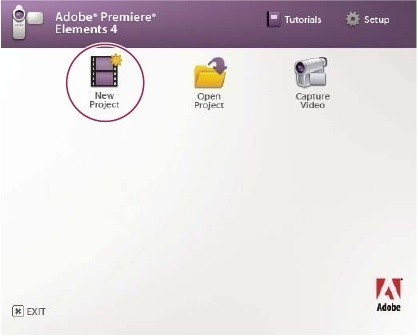 Our test with Adobe Premiere Elements 4.0 is performed with a raw two hour AVI file. It is then compressed into DivX format using the latest version codec. We measure the time it takes to encode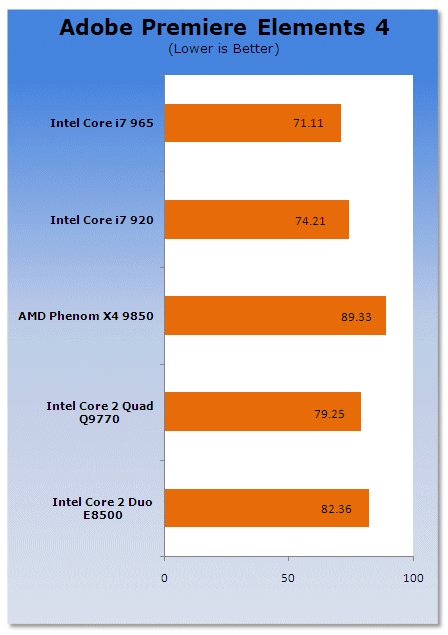 Premiere Elements 4 gives us a real world look at the performance of the three different platforms. Thanks to the higher clock speeds and memory bandwidth of the Core i7 platform, we see that encoding timings have been reduced by quite a bit over the Core 2. It does a great job of chewing through the task.
Benchmarks - 3DMark Vantage
3DMark VantageVersion and / or Patch Used:
101
Developer Homepage:
http://www.futuremark.com
Product Homepage:
http://www.futuremark.com/products/3dmarkvantage/
Buy It Here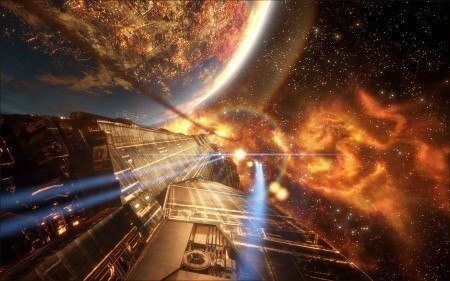 3DMark Vantage is the new industry standard PC gaming performance benchmark from Futuremark, newly designed for Windows Vista and DirectX10. It includes two new graphics tests, two new CPU tests, several new feature tests, and support for the latest hardware.
3DMark Vantage is based on a completely new rendering engine, developed specifically to take full advantage of DirectX10, the new graphics API from Microsoft.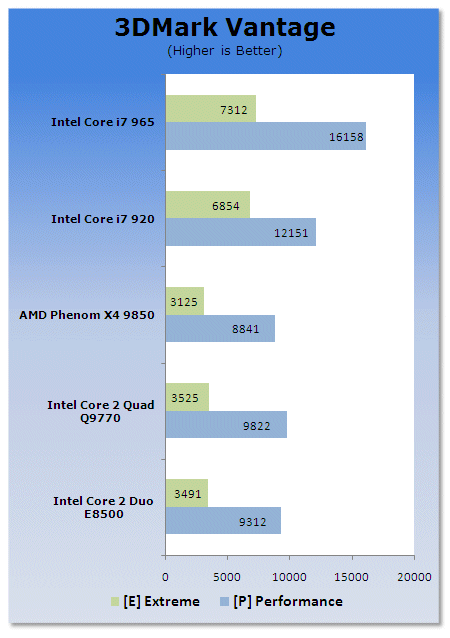 In our synthetic gaming test through 3DMark Vantage, here we see that Core i7 really does bring a huge boost over the Core 2 series.
Benchmarks - Crysis
CrysisVersion and / or Patch Used:
1.2.1
Timedemo or Level Used:
Custom Timedemo
Developer Homepage:
http://www.crytek.com/
Product Homepage:
http://www.ea.com/crysis/
Buy It Here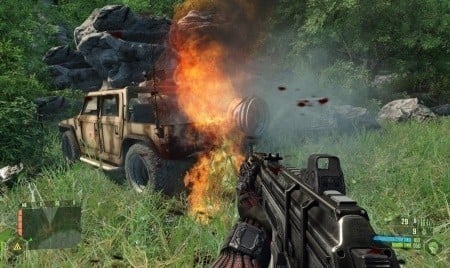 From the makers of Far Cry, Crysis offers FPS fans the best-looking, most highly-evolving gameplay, requiring the player to use adaptive tactics and total customization of weapons and armor to survive in dynamic, hostile environments including Zero-G.
Real time editing, bump mapping, dynamic lights, network system, integrated physics system, shaders, shadows and a dynamic music system are just some of the state of-the-art features the CryENGINE 2 offers. The CryENGINE 2 comes complete with all of its internal tools and also includes the CryENGINE 2 Sandbox world editing system.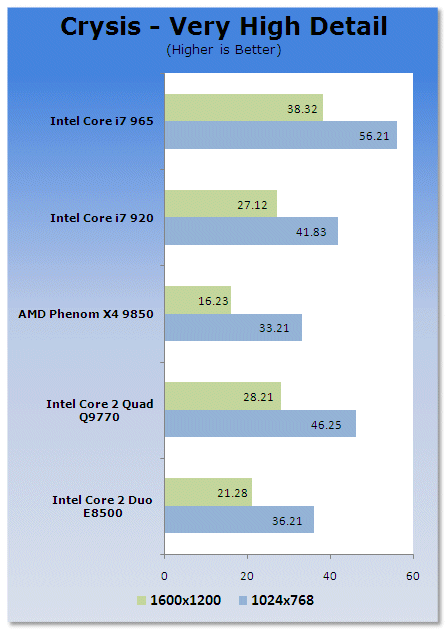 Lastly, we have our real world gaming tests with Crysis. This allows us to see just what we can expect when playing games. With Core i7 we expected to see a decent jump in performance here. However, the 3.2GHz Core 2 managed to beat the 2.66GHz Core i7. But the Core i7 Extreme managed to take the top prize.
Final Thoughts
Intel has gone from strength to strength in recent years, unlike Pentium 4 which really should have been put to bed after the Northwood core. In our eyes it was the only good core as it was a good overclocker and brought with it the first dual channel DDR memory for Intel. Now that Intel has left Rambus in its tracks and embraced DDR memory, we have seen the Core architecture really flourish. The Core 2 series CPU topped out Intel's popularity and it was hard to think of where it could go from there. And would the next processor be as good or has Intel reached its limits?
Well, we are happy to say in our opinion Core i7 is how Core 2 could and should have been from the start. AMD's experimentation with on-chip memory controllers proved it could work and work well. Memory speeds were never as good for Intel as AMD K8, thanks to an extremely fast memory access time and bandwidth. Thankfully, Core i7 followed this tradition; but to really stick the nail in AMD's coffin, triple channel memory has pushed the Core i7 to the brink of insane memory bandwidth. And because of the direct CPU to memory interface, each core has access to this extreme amount of memory bandwidth and is able to share it equally when needed through the QPI and the Request Queue that the CPU's use for core-to-core communication.
Overall, the Core i7 is definitely a CPU you will want to own, but it comes at a cost. A new board, new CPU and if you're a DDR2 fanboy, those sticks now have to be binned in favor of DDR3 modules as well. Pricing will no doubt be quite steep for a while, so if you're wanting some i7 action right now, be prepared to reach deep into those pockets.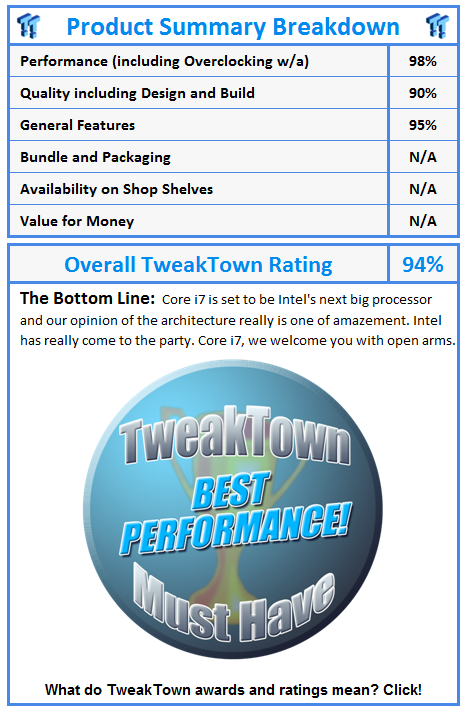 PRICING: You can find products similar to this one for sale below.
United States: Find other tech and computer products like this over at Amazon.com
United Kingdom: Find other tech and computer products like this over at Amazon.co.uk
Australia: Find other tech and computer products like this over at Amazon.com.au
Canada: Find other tech and computer products like this over at Amazon.ca
Deutschland: Finde andere Technik- und Computerprodukte wie dieses auf Amazon.de
We openly invite the companies who provide us with review samples / who are mentioned or discussed to express their opinion. If any company representative wishes to respond, we will publish the response here. Please contact us if you wish to respond.
Related Tags