Xigmatek NRP-MC651 650 watt Power Supply
We know when it comes to coolers, Xigmatek has the goods. Now it's time to see how they fair in the world of PSUs.
Published Mon, Oct 27 2008 11:00 PM CDT
|
Updated Fri, Sep 18 2020 10:50 PM CDT
Introduction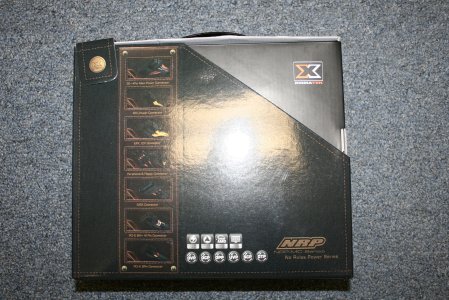 Xigmatek is a relatively new company that has only been around since 2005. They made a splash in the enthusiast market with their vaunted HDT heatsink, but few knew they had plans of expanding their product line to include both air and water cooling components as well as thermal compounds and power supplies. Today we will dig into one of their more modest power offerings, the NRP-MC651.
Since model designators often have a meaning, it was interesting to note that the "NRP" prefix does have a meaning; No Rules Power. This falls into the concept of enthusiast based products and we will stress it out in a bit to see if it can show itself to be a worthy contender in a modern system.
So relax for a bit as we delve into what is commonly being referred to as the mid range of power supplies with this latest offering from Xigmatek. We will take a look at features, aesthetics, and most importantly, performance.
In The Box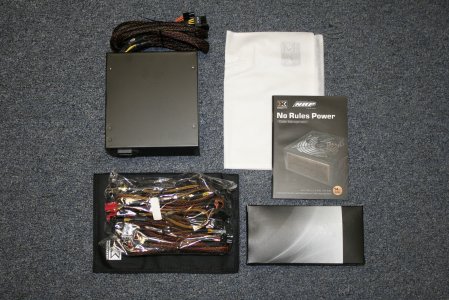 Once we make it through the Velcro snaps on the outer shell of the packaging, we are able to get into the box and note that most of the items are exactly what we would expect to see. It is good to note that the folks at Xigmatek realize that we care about our components as they have included a fiber bag that protects the exterior surface of the power supply when it is not in use and stored away.
Beyond this we see a bag of modular cables, a nylon case to store them in (yes, you will have to do this yourself), a small manual and a box with a cord and mounting screws. Nothing fancy here, but everything we need to get down to business.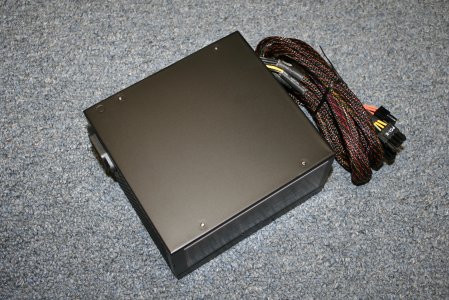 The primary housing is a little different in appearance in that it does not have a shiny coating like is very common. Instead, it is primarily a flat black in color and should have no problems in fitting in with pretty much any interior case design.
The power supply is mostly modular in design with only the primary and 4-pin supplemental power cable harnesses as well as a two PCI-E6+2 cables being native to the unit. All other connectivity will be attached with modular cables that allow you to use only what you need for your own system. This is always a pleasant addition since it makes cable management, and also airflow, much easier to address.
As far as power is concerned, the NRP-MC651 has four 12v rails, each of which is rated at 18A of draw with a maximum draw from the 12v subsystem rated at 52A or 524 watts. With the vast majority of modern systems being 12v intensive, this allows most of the power to be drawn from that rail system without having an adverse effect on the other rails, or for that matter your other components. The 5v rail is rated at 28A and the 3.3v rail is rated at 30A, so there is still going to be enough beef here to handle older systems that still need a strong 5v rail. It should also be noted that the 650 watt power rating is the
sustained
power draw for this product and not a peak level. This means that if you begin to get close to the maximum threshold, you won't have to worry about frying your system components just because you were in the ball park.
Looking deeper into the manufacture of this power supply shows it's OEM creator to be Channel Well Technology, a company that is designated by most sources as a Tier 3 manufacturer. CWT has a reputation of creating quality components that are generally up to the task of handling a load for years on end. While we are off to a good start, past reputations will have no real meaning since we will stress out this PSU ourselves to see if it can handle the load.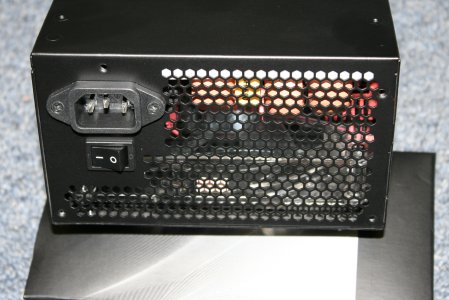 The external panel is very minimalistic, which has become almost the standard. There is a power port, a toggle switch to manually turn off the power supply, and a lot of mesh material that allows for ample airflow to keep all those internal capacitors nice and cool.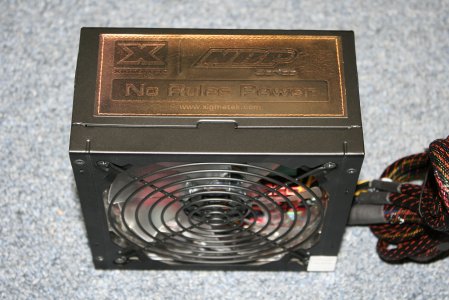 To provide the airflow through that external mesh panel, the NRP-MC651 uses a large 140mm fan to produce more than enough airflow to get the job done. When running at idle conditions, you will not hear this fan. Even under stress, the noise levels were hardly heard even when set away from the main noise producing fans in the system itself. While not silent, there is very little fan rumble coming from this unit.
From this angle you also get to see the side panel of the power supply. The little placard has the appearance of leather and advertises the No Rules Power theme of the product line. It should also be noted that the fan in this product makes use of a blue colored LED lighting scheme. While this may not be a factor in your buying decisions, it is best to be informed beforehand in case you are using another color inside your current build.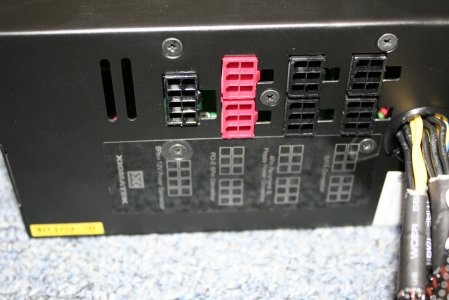 As noted earlier, this is a modular power supply. For those who have never played with this variety of component before, be advised right up front to prepare yourself for a lot less time needed for cable management. Since you only use the cabling required for your specific system, you don't need a lot of extra zip ties for snugging those wasted cables away from your airflow pathway. This means that you get more air moving
properly
through your enclosure, so you will keep everything as cool as possible.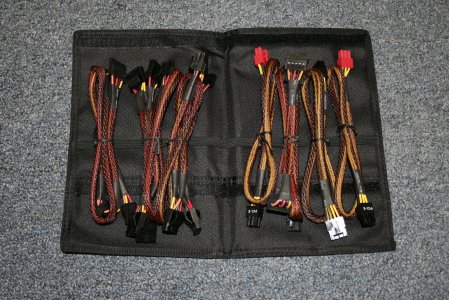 Cables included in the modular package include connectors for 2x PCI-E devices, 6x SATA devices, 1x FDD device and 7 Molex powered devices. Additionally, there is a 4+4 pin auxiliary power connection for motherboards that require this type port. Though not mentioned above, the primary power coupling is of the 20+4 pin variety, so you will be set regardless whether you are running a newer or older system board.
With everything included, you will end up with a lot of flexibility when building your new toy. Power supplies of the past had to have a lot of connectivity to be successful, but that has gone away with the advent of modern motherboards that have so much to offer. It is good to see, however, that Xigmatek has decided to maintain that high level of quality and leave the decisions of power to us, the builder.
Testing
When it comes to testing a power supply, there are two courses to travel. One takes you down a path using a device to stress out the PSU and provide data regarding the power levels across all three rails. The second, and the one I make use of, utilizes an actual test system to give a more real-world account of what the power supply is capable of. While both methods have their merits, I prefer to use an actual computer to more closely resemble the manner of use that you, the potential customer, will put the product through.
That said, let's take a quick look at the test system. I have continued to beef up the system to put a more realistic strain on the power supply.
MSI X48C Platinum motherboard (Supplied by
MSI
)
Intel Core 2 Duo E6600 processor
2x 1024MB Corsair XMS2-8500-C5 memory (Supplied by
Corsair
)
Sapphire HD 2900XT graphics board (Supplied by
Sapphire
)
Western Digital 250GB SATA hard drive
2x Western Digital 160GB SATA hard drives
Western Digital 80GB hard drive
Sony 52x CD-ROM optical drive
Samsung 16x DVD-R optical drive
1x 200mm fan
2x 120mm fans
While this isn't a monster graphics setup, we are certainly in the realm of having a system that is going to put a significant power drain on any power supply in this range. The HD 2900XT board is capable of pulling close to 250 watts of power. Testing will consist of checking the power levels across all three rails at idle and again while the system is under load. This should give us a good look at the capabilities of the power supply being tested.
Results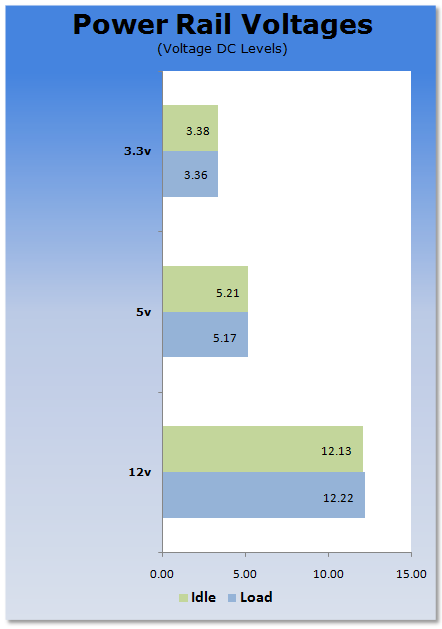 Since this particular power supply is a mid range product, we removed one of the XT2900 video boards. Even so, the single board is capable of drawing a lot of power that can often cause problems with power supplies that are not of a reasonable level of quality. This Xigmatek unit, however, had no issues at all during our testing phase. No matter the load, this thing just kept providing very stable power to all rails.
I also noted that the drop in voltage under load was less than many other power supplies that have been tested in the past. This bodes well for those who want a stable platform for their system. There is plenty of power available and nearly no fluctuation in voltage. During the stress test (system under load), I saw a fluctuation of 0.01v across the 5v rail and no other movement at all in voltage readings.
Final Thoughts
With so many power supplies available today, it can be difficult to decide on what we need. Most of us will be needing something in the realm of the mid range power supply, with only a few diehards really having a need for those models offering a kilowatt or more of power. But even when we narrow it down even further to the 500-700 watt range, there are still a lot of choices. So we begin looking at features, connectivity and the ability to run a system in as stable a manner as possible.
The Xigmatek NRP-MC651 offers you a lot of stable power for your upgrading dollars. All voltage rails were rock solid and even under load the rails did not drop to a point where you would begin to worry about stability. The modular design also gives you the ability to maximize the airflow in your enclosure. While not everyone worries about this, we enthusiasts do and the addition of a modular concept is always a big plus.
Connectivity is also plentiful with enough power going to where you need it to give you the ability to build either a simple home system or a nice gaming rig. The choice is yours and yours alone, and won't be influenced to not having enough ports to get the job done.
As far as price is concerned, you can expect to shell out in the realm of $110US for this product. While this falls into the middle of the price range for this type of power supply, it falls very close to the bottom when you consider only
quality
power supplies. With CWT being the manufacturer of the unit, you are off to a good start due to the company's reputation of building a sound product from the ground up. When you consider the numbers produced during testing, the reputation is confirmed in this Xigmatek 650 watt PSU.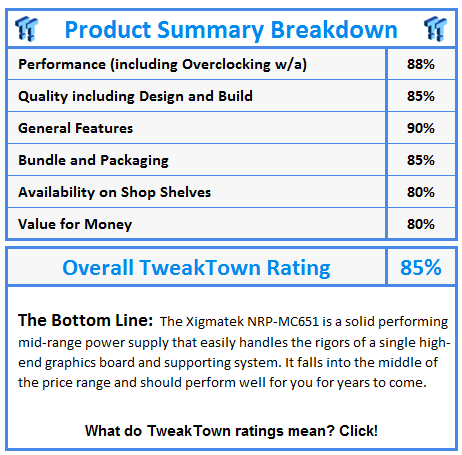 PRICING: You can find products similar to this one for sale below.
United States: Find other tech and computer products like this over at Amazon.com
United Kingdom: Find other tech and computer products like this over at Amazon.co.uk
Australia: Find other tech and computer products like this over at Amazon.com.au
Canada: Find other tech and computer products like this over at Amazon.ca
Deutschland: Finde andere Technik- und Computerprodukte wie dieses auf Amazon.de
We openly invite the companies who provide us with review samples / who are mentioned or discussed to express their opinion. If any company representative wishes to respond, we will publish the response here. Please contact us if you wish to respond.
Related Tags