G.Skill FS-25S2-64GB 2.5inch Solid State Disk Drive
G.Skill sends their latest SLC based retail SSD offering to Chris for a round of testing.
Published Wed, Oct 22 2008 11:00 PM CDT
|
Updated Fri, Sep 18 2020 10:50 PM CDT
Introduction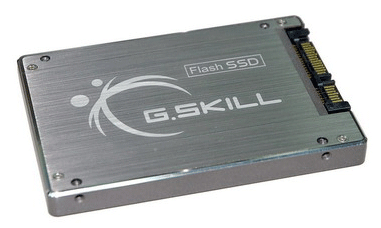 This is hard drive appreciation week here at TweakTown, or so it seems. Over the next few days we will have a slew of platter and flash based drives reviewed on the site that are all designed for notebook systems. Yesterday we started off with the
Crucial SLC based 32GB SSD
and are following it up today with another SLC based drive from G.Skill.
G.Skill is known for their high performance enthusiast memory, but like many "memory" companies, when RAM became unprofitable they looked to broaden their product lines. One area that many of these companies made a straight line for was expanding their flash memory products. This eventually led to solid state drives and ultimately caused the price of these drives to start to fall rapidly.
As it sits now, the score is 10 to 7 in the favor of the consumer. The companies are able to make a little bit of profit on the SSDs and more consumers are able to afford the technology, thanks to the cycle of increased production, decreased costs. Essentially, everything we predicted in
the State of Solid State
article is happening on the timeline we said it would.
Today we are looking at the G.Skill 64GB SLC drive. The drive is a rebadged Samsung drive like
the four we reviewed
in various levels of RAID back in June for
DVNation.com
. The difference between then and now is that the G.Skill 64GB drive cost just a little more than the 32GB model did when that article was written. At that time, the 32 and 64GB Samsung drives were the fastest hard drives available, an area we will cover over the next week after reviewing the latest and greatest SLC and MLC drives to be released over the last two months. Today we are covering the G.Skill FS-25S2-64G in detail; let's have a look and see how she performs.
Specifications, Availability and Pricing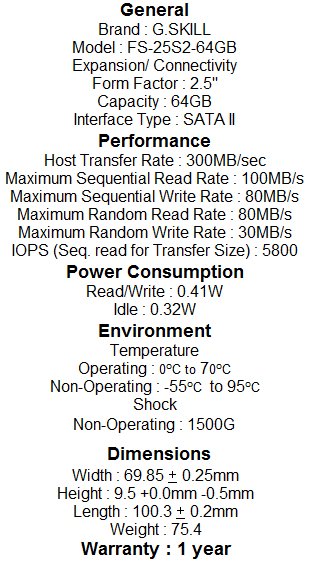 All of our benchmark software lists the G.Skill FS-25S2-64GB as a Samsung drive without any mention of G.Skill by name. If you have never seen the packaging and the drive came in an OEM system, you may never know it came from G.Skill at all. Some may take offence to this, but since I have
already tested
the Samsung MCBQE32G5Mpp-0VA00, Samsung's 32GB version of the FS-25S2-64GB, I already know the performance of the drive and don't look down at the practice at all. G.Skill offers this drive in 32, 64 and 128 GB capacities.
When it comes to specifications, the 100 MB/s read speed stands out as does the 80 MB/s write speed. There are other advantages to SSDs besides their high sustained read and write speeds. The biggest advantage over platter based drives is the access times for both read and write speeds along with advanced shock protection and a wide range of operating temperatures.
By using the TweakTown Shopping Channel, we were able to find the G.Skill FS-25S2-64GB for as low as 625 U.S.D. at Newegg. This is lower than the competing Samsung product which lists for 699 Dollars at Newegg. OCZ uses the same drive as their SLC offering and it is listed at 779 Dollars, so the G.Skill version is quite a bargain when compared to others in this category. Going through the list of 64GB drives at Newegg, there are some competing products that may give the FS-25S2-64GB a run for the money. But you will have to check back to see how they perform over the coming weeks.
The Packaging
Our sample arrived in the retail packaging. As you can see G.Skill places a circle sticker over the capacity size check box you so can clearly see which model is inside of the package.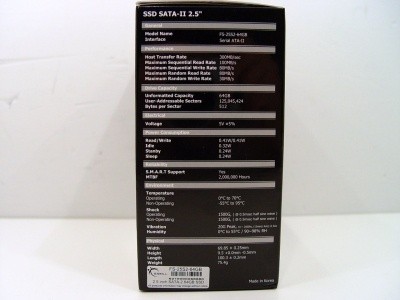 The side of the package lists all of the specifications.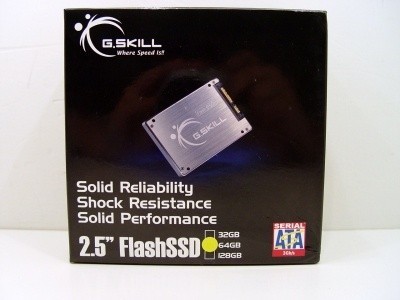 The back of the package is exactly like the front side.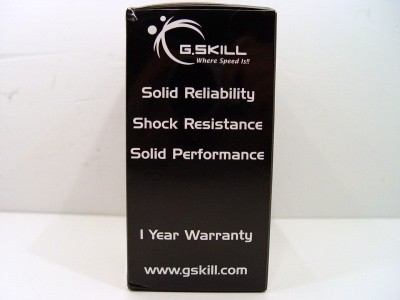 A small feature lists is shown on the other side.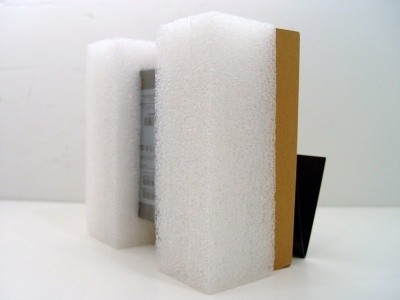 Once everything is pulled from the package we see that the drive is secured very well in the box and with plenty of room for the accidental shipping company drop.
The G.Skill FS-25S2-64GB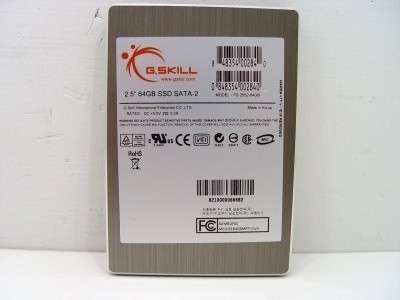 Here we see the top of the drive and G.Skill's label. The drive is clearly labeled as a 64GB drive which came in very handy when swapping drives around here at the lab.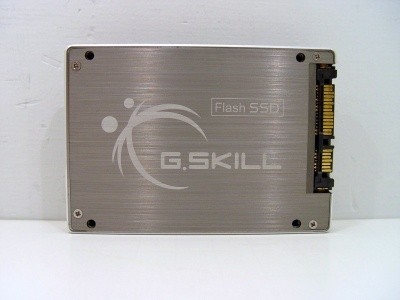 It is very difficult to show the level of detail of the laser engraving on the bottom of the drive, but it is absolutely stunning.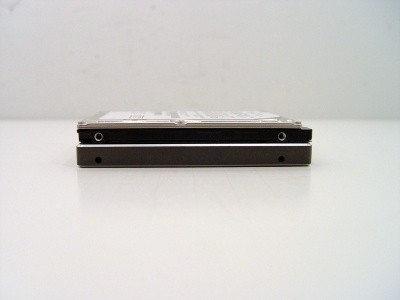 The side of the drive has all of the mounting holes where they should be located. The drive on top is a standard platter based notebook drive, 9.5mm tall.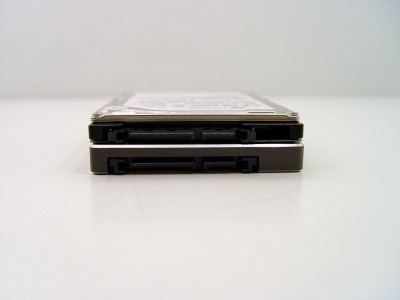 On the back we see the SATA and power connectors where they should be. This is important since some users will want to mount this drive in a desktop or server using a backplane.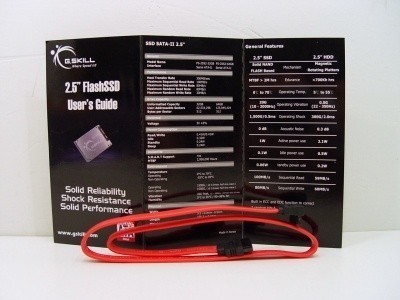 Here we see the manual and sole accessory that comes with the G.Skill SSD.
Test System Setup
Test System
Processors
: AMD Opteron 2356 (2.3GHz Quad-Core) x2
Motherboard
: Tyan S2915-E (Supplied by
Tyan
)
Memory
: Kingston KVR667D2S4P5/2G x4 (Supplied by
Kingston
)
Graphics Card
: XFX 8800 GTX (Supplied by
XFX USA
)
Enclosure
: Lian Li V2000
Cooling
: Noctua NH-U12DO (Supplied by
Noctua
)
SATA Controller
: Areca ARC-1231ML (Supplied by
Areca
)
SAS Controller
: Areca ARC-1680i (Supplied by
Areca
)
Operating System
: Microsoft Windows Vista Ultimate X64
Today we are comparing the G.Skill FS-25S2-64GB to a couple of other 2.5 inch drives that are either widely used in the industry or previously reviewed here at TweakTown.
Hitachi 7K100
: The 7K100 is a 100GB notebook hard drive that was used by several notebook manufacturers. This is the drive that came with my Lenovo T60.
Hitachi 7K500
: The 7K500 is the first 500GB notebook drive to hit the market. Unfortunately the drive is 12 millimeters tall and can only be used in a small number of notebooks. A standard notebook drive is only 9.5mm tall.
Western Digital Scorpio Black
: The WD Scorpio Black is
a past award winner
here at TweakTown and we found it to be one of the best platter based notebook drives available. At the time of review the 320GB version was the fastest platter based 2.5 inch notebook drive on the market.
Crucial CT32GBFAB0
: The Crucial SLC SSD is one of the early technology solid state drives and will provide a great example of just how far solid state has progressed.
Benchmarks - HD Tune Pro
HD Tune ProVersion and / or Patch Used:
3.00
Developer Homepage:
http://www.efdsoftware.com/
Product Homepage:
http://www.hdtune.com/>
HD Tune is a Hard Disk utility which has the following functions:
- Benchmark: measures the performance
- Info: shows detailed information
- Health: checks the health status by using SMART
- Error Scan: scans the surface for errors
- Temperature display
HD Tune Pro gives us accurate read, write and access time results and for the last couple of years has been gaining popularity amongst reviewers. It is now considered a must have application for storage device testing.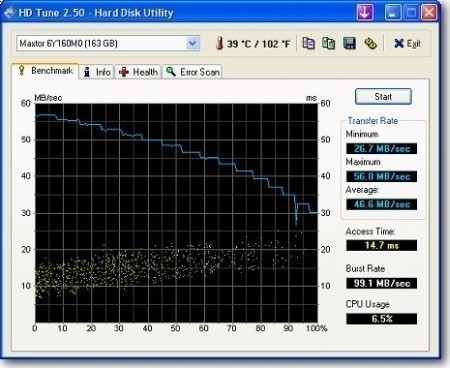 Read Tests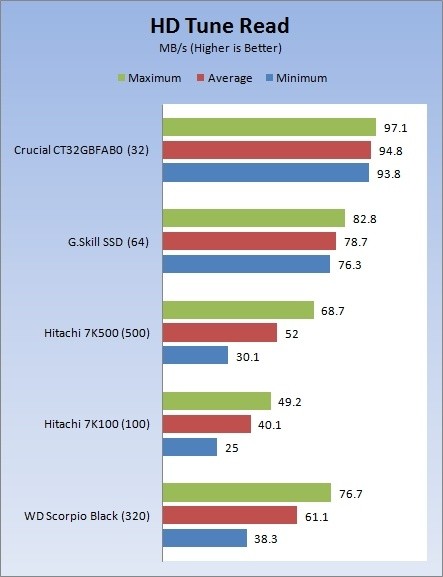 The Crucial CT32GBFAB0 was quite a bit quicker than the G.Skill SLC drive in the STR Read test. If you have already read the Crucial review, you'll know this doesn't exactly carry over to real world performance.
Write Tests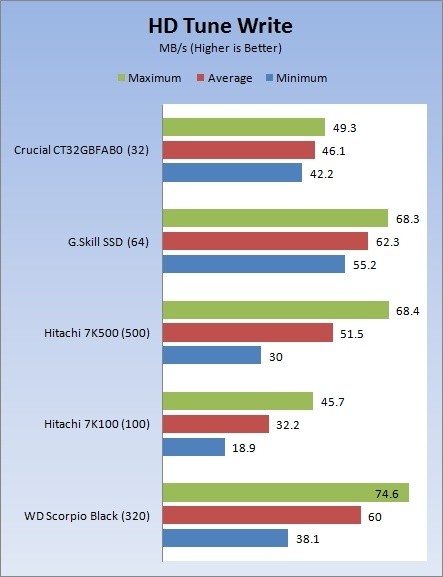 In write speed the G.Skill was able to keep up with the fast platter based drive and put a hurting on the Crucial SLC drive. In the all important minimum write speed the G.Skill drive showed its dominance against all competitors.
Benchmarks - Everest Random Access Time
Everest Random Access TimeVersion and / or Patch Used:
4.60
Developer Homepage:
http://www.lavalys.com/
Product Homepage:
http://www.lavalys.com/ >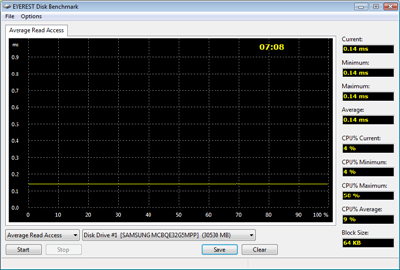 Everest Ultimate and Corporate Edition offer several different benchmarks for testing and optimizing your system or network. The Random Access test is one of very few if not only that will measure hard drives random access times in hundredths of milliseconds as oppose to tens of milliseconds.
Read Tests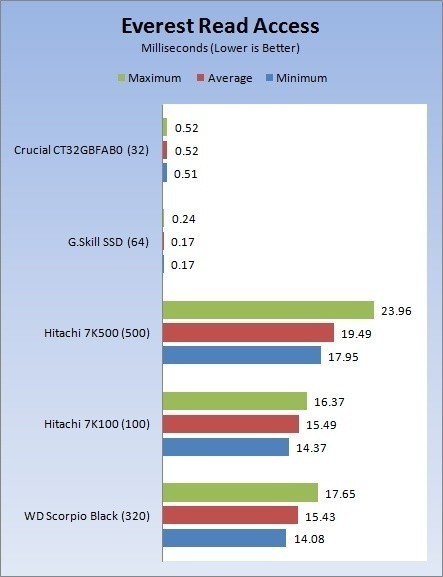 Access time is a where solid state drives excel and here the G.Skill outperformed the Crucial drive by a large margin, even when scaled down to SSD levels.
Write Tests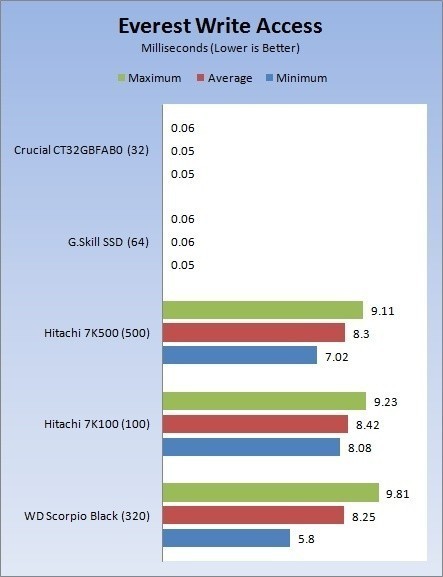 Access Write brought the two SLC based SSDs a little closer. Let's see how all of these synthetic benchmarks relate to real world applications.
Benchmarks - PCMark Vantage Hard Disk Tests
PCMark Vantage - Hard Disk TestsVersion and / or Patch Used:
1.0.0
Developer Homepage:
http://www.futuremark.com
Product Homepage:
http://www.futuremark.com/benchmarks/pcmark-vantage//
Buy It Here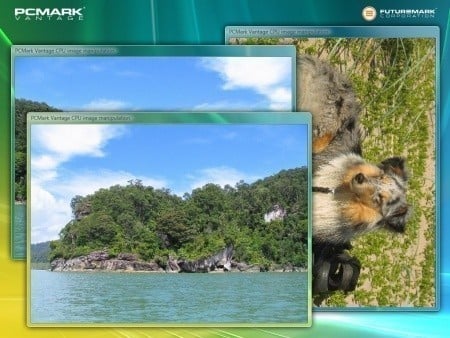 PCMark Vantage is the first objective hardware performance benchmark for PCs running 32 and 64 bit versions of Microsoft Windows Vista. PCMark Vantage is perfectly suited for benchmarking any type of Microsoft Windows Vista PC from multimedia home entertainment systems and laptops to dedicated workstations and high-end gaming rigs. Regardless of whether the benchmarker is an artist or an IT Professional, PCMark Vantage shows the user where their system soars or falls flat, and how to get the most performance possible out of their hardware. PCMark Vantage is easy enough for even the most casual enthusiast to use yet supports in-depth, professional industry grade testing.
FutureMark has developed a good set of hard disk tests for their PCMark Vantage Suite. These tests are based on real world applications that many of us use daily.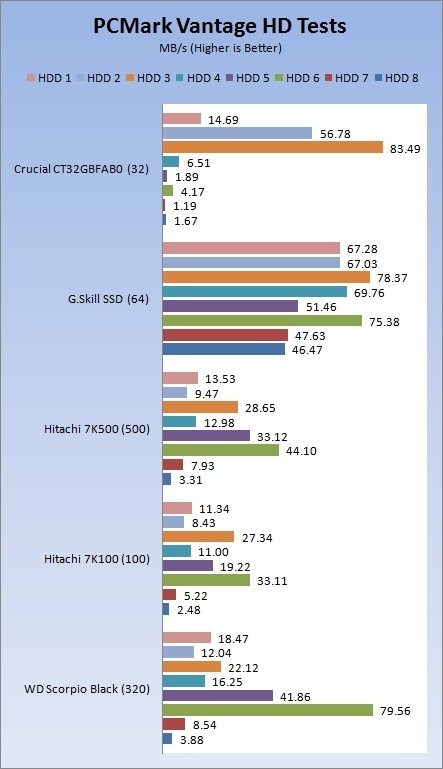 HDD1 - Windows Defender
HDD2 - Gaming
HDD3 - Windows Photo Gallery
HDD4 - Vista Startup
HDD5 - Windows Movie Maker
HDD6 - Windows Media Center
HDD7 - Windows Media Player
HDD8 - Application Loading
The G.Skill SSD is an all around butt kicker. While the other drives are able to excel at one or two benchmarks, the 25S2-64GB shows great performance in everything.
Benchmarks - Passmark
Passmark Advanced Multi-User TestsVersion and / or Patch Used:
6.1
Developer Homepage:
http://www.passmark.com/
Test Homepage:
http://www.passmark.com/ >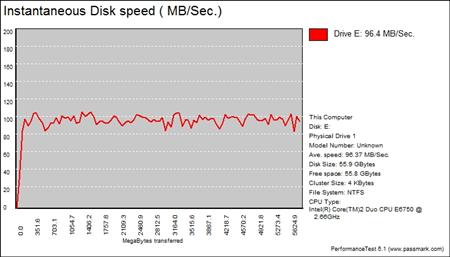 Many users complain that I/O Meter is too complicated of a benchmark to replicate results so my quest to find an alternative was started. Passmark has added several multi-user tests that measure a hard drives ability to operate in a multi-user environment.

The tests use different settings to mimic basic multi-user operations as they would play out on your server. Variances is read / write percentage as well as random / sequential reads are common in certain applications, Web Servers read nearly 100% of the time while Database Servers write a small amount of data.
The Workstation test is the only single user environment and will be similar to how you use your system at home.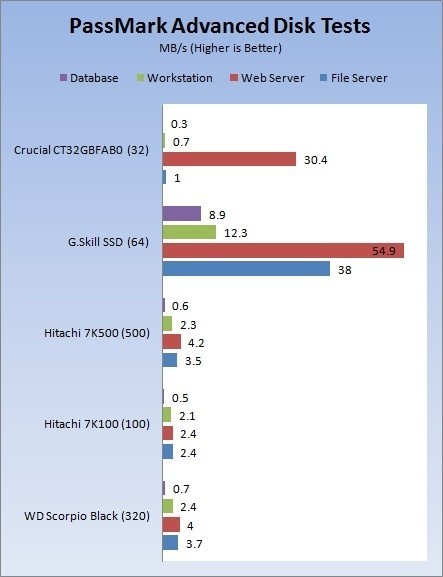 The Samsung version of this drive is considered and sold as an enterprise drive. As you can see, that level of performance has carried over to G.Skill's offering. The G.Skill 25S2-64GB gave us the best workstation / server benchmark scores to date.
Final Thoughts
Let's knock the OEM / ODM thing out first. There are several companies that are selling the Samsung drive, including Samsung. This is common in the computer hardware world and easy to sort out for the end user and hardware reviewer. Basically, what the end user will want to do is, if the product is deserving, purchase the one that has the lowest cost and the longest warranty. Luckily the G.Skill variant has the lowest cost when compared to the Samsung and OCZ drives and by a large amount.
When it comes to performance the G.Skill SLC based drive is the benchmark in which all others should be compared. The drive is fast in all of our benchmarks, a task that is not exactly easy to do, as we proved in the
Crucial SLC review
. It isn't going to matter if you are running a large database or installing this drive in your notebook, the drive is simply fast and everything you run off of it will benefit from faster load times and overall "snappiness".
The only real downfall is in the price. Just as SSDs are guaranteed to have very low access times, they are also guaranteed to cost more per Gigabyte them their platter based competitors. To extend that, the SLC drives cost a great deal more than the MLC drives but offer a longer lifespan and in most cases faster performance.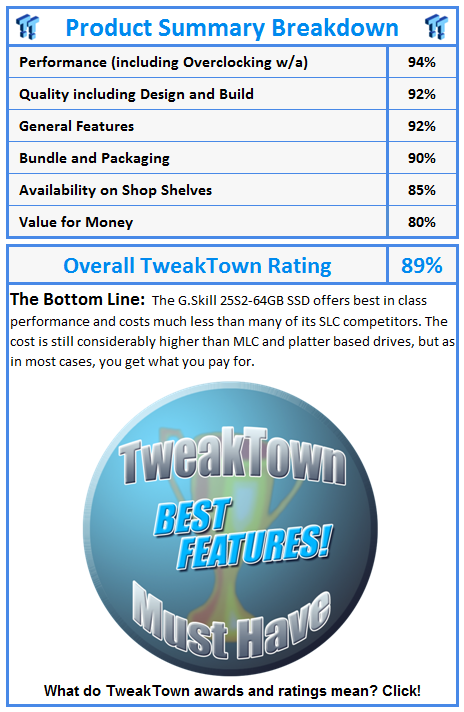 PRICING: You can find products similar to this one for sale below.
United States: Find other tech and computer products like this over at Amazon.com
United Kingdom: Find other tech and computer products like this over at Amazon.co.uk
Australia: Find other tech and computer products like this over at Amazon.com.au
Canada: Find other tech and computer products like this over at Amazon.ca
Deutschland: Finde andere Technik- und Computerprodukte wie dieses auf Amazon.de
We openly invite the companies who provide us with review samples / who are mentioned or discussed to express their opinion. If any company representative wishes to respond, we will publish the response here. Please contact us if you wish to respond.
Related Tags