Crucial 32GB 2.5inch Solid State Disk Drive
Crucial sends their latest SLC based retail SSD offering to Chris for a round of testing.
Published Tue, Oct 21 2008 11:00 PM CDT
|
Updated Fri, Sep 18 2020 10:50 PM CDT
Introduction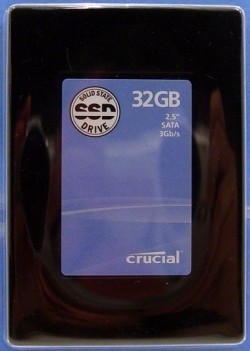 It doesn't matter if you are a home user, network administrator or enthusiast; when you think of memory, Crucial always comes to mind. As you are well aware by now, memory makers are using their expertise and producing storage drives based on non-volatile flash memory. This category is divided into two types, SLC and MLC. The Crucial CT32GBFAB0 we are looking at today uses SLC memory which is considered to be the fastest of the two memory types.
The CT32GBFAB0 is Crucial's first SSD offering and it is important to remember that many other companies have already released three and four different SSDs. I have always found Crucial to be a company that takes their time when releasing their products and unlike some of the others would not start to sell a drive and revamp it a month later. Crucial is just more careful about the products they release.
Today we are looking at what can be considered an early SSD on the SSD Timeline. Even though the drive is currently listed and sold, the technology inside is actually starting to age when compared to other drives that are now on their third and fourth revision. That said, let's dive in and see how the drive performs.
Specifications, Availability and Pricing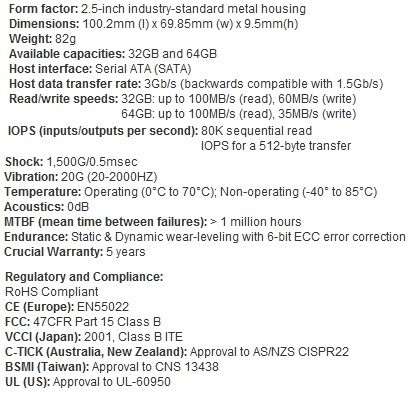 The Crucial CT32GBFAB0 is a 2.5 inch drive designed for high performance notebook and enterprise markets. From the specifications the drive looks to be a good performer in In/Out Per Second (IOPS) so it should fair very well in our advanced disk testing that simulates workstation and server loads.
As stated previously, all of Crucial's current solid state drives use Single Level Cell memory as opposed to the lower cost MLC. Crucial lists the CT32GBFAB0 at 349.99 but using the TweakTown Shopping site I was able to find the drive at Mwave for 330.00.This is quite a bit lower compared to some of the other SLC drives we have looked at with 32GB of capacity. If 32GB is not quite enough for you, Crucial also offers a 64GB model for just under 700 U.S.D.
Packaging and the Crucial CT32GBFAB0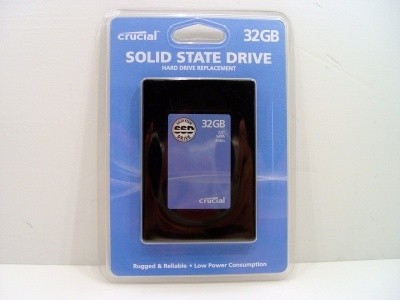 The Crucial retail packaging is similar to what I see memory modules sold in. I was a little surprised by this; imagine buying a 300 or 700 Dollar SSD and it arriving in a vacuum package. The good thing is the drive has a very high resistance to shock.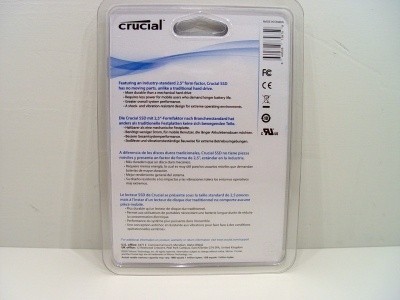 The rear of the package lists several of the drives features in several languages.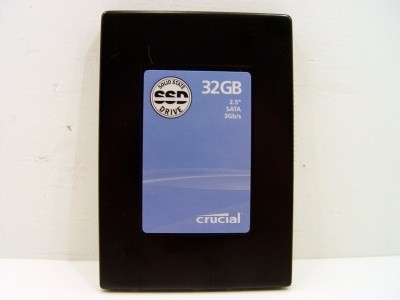 The drive itself is void of any pizzazz and looks a little boring from the outside. But as with many computer components, the flash is on the inside.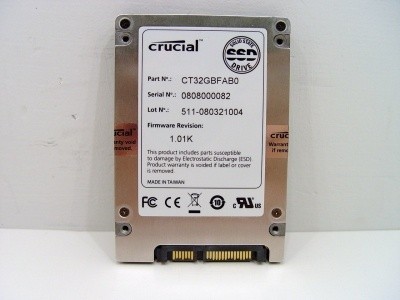 The underside of the drive shows the model and serial number.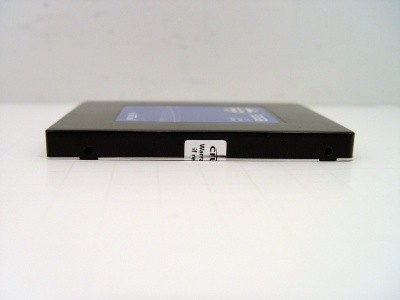 The side of the Crucial CT32GBFAB0 is like many standard 2.5 inch drives and notebook users will be happy to hear that the drive is only 9.5mm tall, so it will fit into any notebook.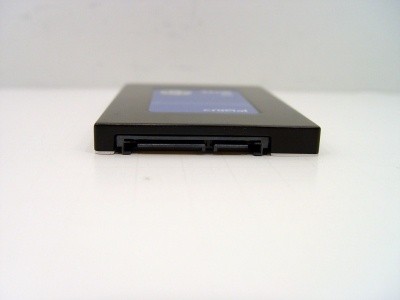 Here we see the standard SATA power and data connectors. This will allow the drive to work in your desktop or enterprise storage enclosure.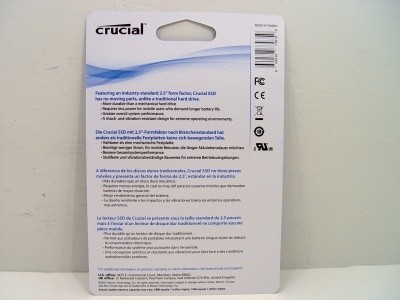 Another thing that surprised me was the lack of documentation with the CT32GBFAB0. Installing a hard drive is a simple affair, but most companies at least give a warranty card with their product.
Test System Setup
Test System
Processors
: AMD Opteron 2356 (2.3GHz Quad-Core) x2
Motherboard
: Tyan S2915-E (Supplied by
Tyan
)
Memory
: Kingston KVR667D2S4P5/2G x4 (Supplied by
Kingston
)
Graphics Card
: XFX 8800 GTX (Supplied by
XFX USA
)
Enclosure
: Lian Li V2000
Cooling
: Noctua NH-U12DO (Supplied by
Noctua
)
SATA Controller
: Areca ARC-1231ML (Supplied by
Areca
)
SAS Controller
: Areca ARC-1680i (Supplied by
Areca
)
Operating System
: Microsoft Windows Vista Ultimate X64
Today we are comparing the Crucial CT32GBFAB0 to a couple of other 2.5 inch drives that are either widely used in the industry or reviewed here at TweakTown.
Hitachi 7K100
: The 7K100 is a 100GB notebook hard drive that was used by several notebook manufacturers. This is the drive that came with my Lenovo T60.
Hitachi 7K500
: The 7K500 is the first 500GB notebook drive to hit the market. Unfortunately the drive is 12 millimeters tall and can only be used in a small number of notebooks. A standard notebook drive is only 9.5mm tall.
Western Digital Scorpio Black
: The WD Scorpio Black is a
past award winner
here at TweakTown and we found it to be one of the best platter based notebook drives available. At the time of review the 320GB version was the fastest platter based 2.5 inch notebook drive on the market.
G.Skill FS-25S2-64GB
: The GSkill SLC based SSD was manufactured by Samsung and it considered the benchmark for comparing SLC solid-state drives to.
Benchmarks - HD Tune Pro
HD Tune ProVersion and / or Patch Used:
3.00
Developer Homepage:
http://www.efdsoftware.com/
Product Homepage:
http://www.hdtune.com/>
HD Tune is a Hard Disk utility which has the following functions:
- Benchmark: measures the performance
- Info: shows detailed information
- Health: checks the health status by using SMART
- Error Scan: scans the surface for errors
- Temperature display
HD Tune Pro gives us accurate read, write and access time results and for the last couple of years has been gaining popularity amongst reviewers. It is now considered a must have application for storage device testing.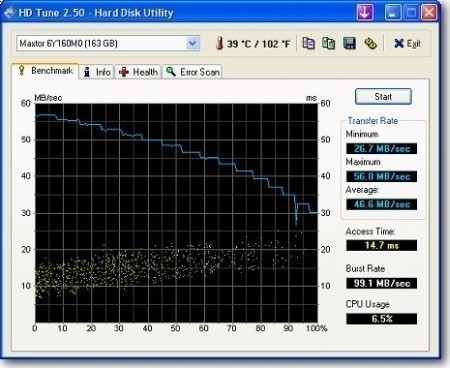 Read Tests
The Crucial CT32GBFAB0 put a hurting on the other drives in this Read Test and was just shy of hitting the claimed 100 MB/s read speed.
Write Tests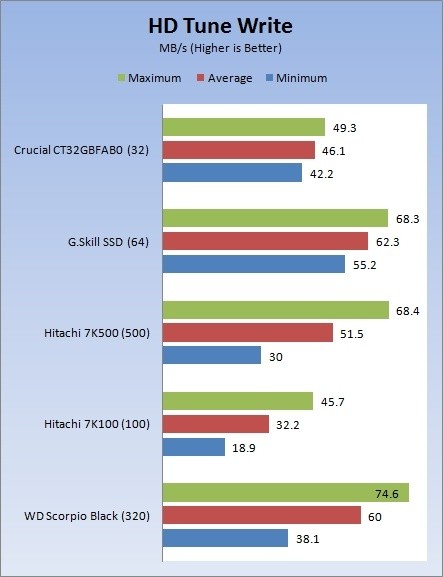 In write speed the CT32GBFAB0 performed more like an MLC drive and had a difficult time, even with the platter based drives.
Benchmarks - Everest Random Access Time
Everest Random Access TimeVersion and / or Patch Used:
4.60
Developer Homepage:
http://www.lavalys.com/
Product Homepage:
http://www.lavalys.com/ >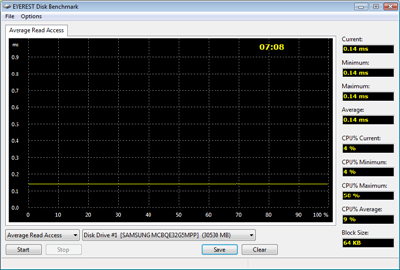 Everest Ultimate and Corporate Edition offer several different benchmarks for testing and optimizing your system or network. The Random Access test is one of very few if not only that will measure hard drives random access times in hundredths of milliseconds as oppose to tens of milliseconds.
Read Tests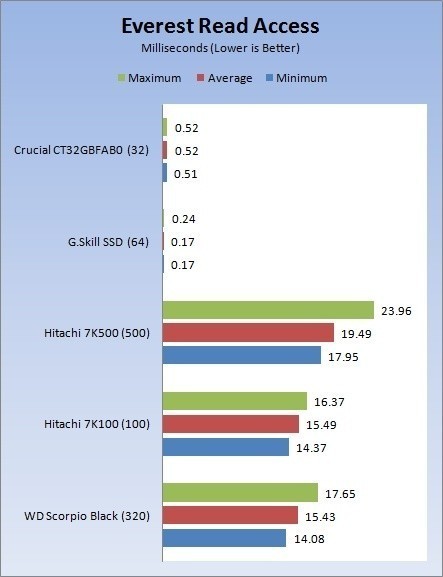 Access time is a where solid state drives excel and the Crucial drive doesn't disappoint us here. The drive ran circles around the platter drives as expected, but was a little slower than the G.Skill (Samsung) SLC drive.
Write Tests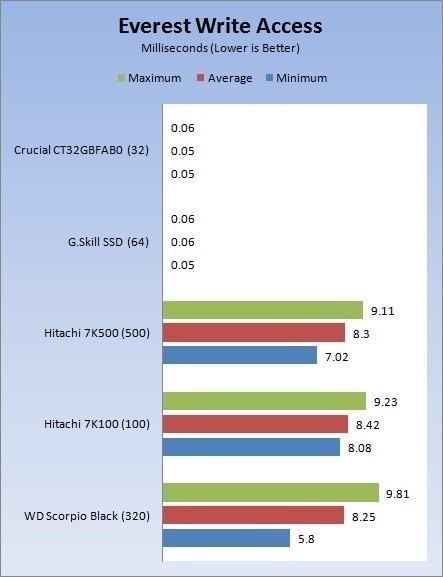 The two SLC drives performed very well in write latency; this time the Crucial drive was able to out run the G.Skill by a small but rewarding margin.
Benchmarks - PCMark Vantage Hard Disk Tests
PCMark Vantage - Hard Disk TestsVersion and / or Patch Used:
1.0.0
Developer Homepage:
http://www.futuremark.com
Product Homepage:
http://www.futuremark.com/benchmarks/pcmark-vantage//
Buy It Here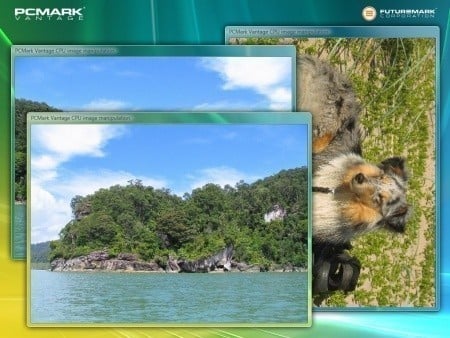 PCMark Vantage is the first objective hardware performance benchmark for PCs running 32 and 64 bit versions of Microsoft Windows Vista. PCMark Vantage is perfectly suited for benchmarking any type of Microsoft Windows Vista PC from multimedia home entertainment systems and laptops to dedicated workstations and high-end gaming rigs. Regardless of whether the benchmarker is an artist or an IT Professional, PCMark Vantage shows the user where their system soars or falls flat, and how to get the most performance possible out of their hardware. PCMark Vantage is easy enough for even the most casual enthusiast to use yet supports in-depth, professional industry grade testing.
FutureMark has developed a good set of hard disk tests for their PCMark Vantage Suite. These tests are based on real world applications that many of us use daily.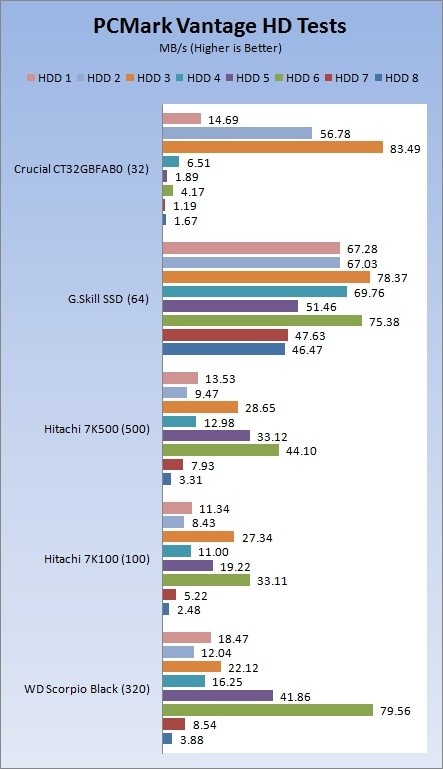 HDD1 - Windows Defender
HDD2 - Gaming
HDD3 - Windows Photo Gallery
HDD4 - Vista Startup
HDD5 - Windows Movie Maker
HDD6 - Windows Media Center
HDD7 - Windows Media Player
HDD8 - Application Loading
The first in our real world tests shows that the Crucial SSD performs very well in some tests, even taking top honors in Windows Photo Gallery. Still, other tests have us concerned with the drives ability to perform in a typical environment. The low write speed certainly plays a big role in the results we see in these tests. Let's see how the drive performs in the workstation and server tests.
Benchmarks - Passmark
Passmark Advanced Multi-User TestsVersion and / or Patch Used:
6.1
Developer Homepage:
http://www.passmark.com/
Test Homepage:
http://www.passmark.com/ >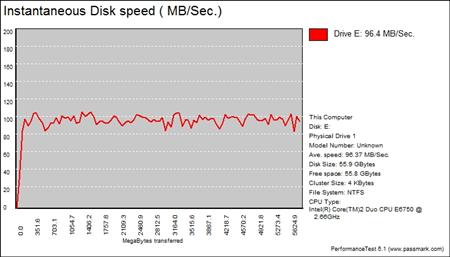 Many users complain that I/O Meter is too complicated of a benchmark to replicate results, so my quest to find an alternative was started. Passmark has added several multi-user tests that measure a hard drives ability to operate in a multi-user environment.

The tests use different settings to mimic basic multi-user operations as they would play out on your server. Variances is read / write percentage as well as random / sequential reads are common in certain applications, Web Servers read nearly 100% of the time while Database Servers write a small amount of data.
The Workstation test is the only single user environment and will be similar to how you use your system at home.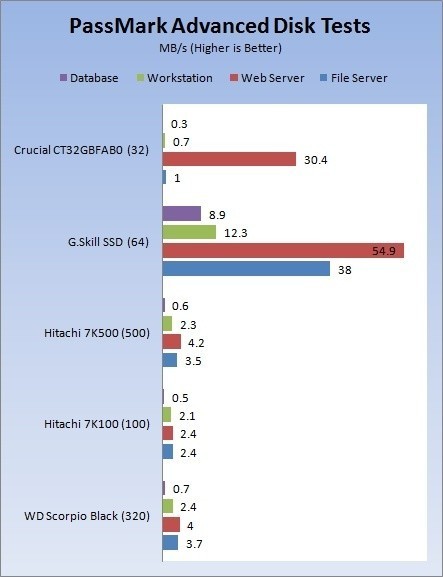 The high read speed led to the Crucial drive performing fairly well in the Web Server category, but many of the other tests had the drive sitting at the bottom of the barrel.
Final Thoughts
Shocked? Me too, so shocked by the low performance in real world testing that I ran the Crucial CT32GBFAB0 on several systems and came up with the same results, every time. At that point I spent a considerable amount of time looking around the web at various reviews of the same drive to see if others were getting the same performance. The results of my search were also just as shocking; time after time the Crucial CT32GBFAB0 received praise and awards from just about every one of the reviews that I read. All of these reviews were based off of simple "Read / Write" tests with absolutely no real world application other than forum bragging rights to a number that has been proven time and time again to mean absolutely nothing.
The good news is that the CT32GBFAB0 is Crucial's first run at an SSD offering. There are a few other companies that are on their third and fourth SSD release with many trial and error sessions in their first two generation products. Crucial and their parent company Lexar have already announced their follow up solid state drives that we should see before the holidays. The claimed speed of the new drive is comparable to the fastest drives on the market now which are solely marketed for enterprise users and carry an enterprise price. Hopefully Crucial is able to keep their new drives price as low as the CT32GBFAB0 and it should be a great product.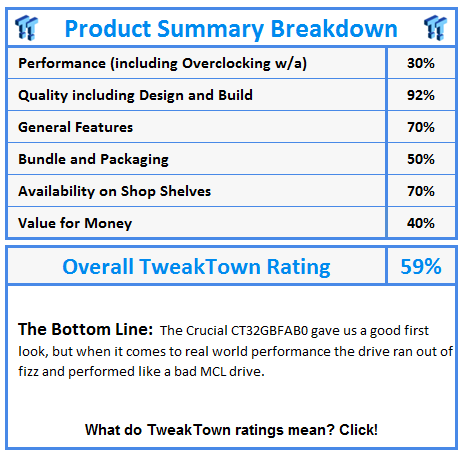 PRICING: You can find products similar to this one for sale below.
United States: Find other tech and computer products like this over at Amazon.com
United Kingdom: Find other tech and computer products like this over at Amazon.co.uk
Australia: Find other tech and computer products like this over at Amazon.com.au
Canada: Find other tech and computer products like this over at Amazon.ca
Deutschland: Finde andere Technik- und Computerprodukte wie dieses auf Amazon.de
We openly invite the companies who provide us with review samples / who are mentioned or discussed to express their opinion. If any company representative wishes to respond, we will publish the response here. Please contact us if you wish to respond.
Related Tags