Iron Man HD Movie Review
"Give me a scotch. I'm starving!"
Published Tue, Oct 7 2008 11:00 PM CDT
|
Updated Fri, Sep 18 2020 10:50 PM CDT
Rating:

93%
Producer / Publisher:

none
Introduction, Video and Audio
Comic book translations have been Hollywood's staple for a few years now, since 2000's
X-Men
made them hip again. It makes sense; especially from a fiscal point of view; tap into pre-existing awareness and fond memories and fans will likely go see it, regardless of how good or bad pre-release word is - if only just to see how bad it could be. But while cinema goers with even just an avid interest in comic books were looking forward to
The Dark Knight
,
Iron Man
came out of nowhere, with barely a trailer to telegraph its imminent arrival. Word of mouth spread about the surprising quality of the film and the killer casting of reformed Hollywood bad boy Robert Downey Jr. By the end of the theatrical showings,
Iron Man
had smashed assumptions and became the surprise hit of the summer, both financially and creatively.
Billionaire Industrialist Tony Stark (Robert Downey Jr.), is head of Stark Industries, the number one weapons manufacturer in the world. Whilst in Afghanistan to demonstrate the latest in missile defense, Stark is kidnapped by terrorists and forced to construct a weapon for them under duress. Instead, Stark constructs an iron shell for his body, filled with all the weapons necessary to facilitate an escape from his cave cell. Upon his arrival back in the United States, Stark embarks on a plan to right the wrongs of his companies weapons dealing and make the world safer by donning the iron shell, on a much more technologically advanced scale.
Iron Man
was a major financial and critical gamble. The debut of the new Marvel films studio rested on its shoulders. Robert Downey Jr., whilst a gifted actor has a very chequered past and hadn't had a starring role in years. The director, Jon Favreau has only two films to his name; the Will Ferrell comedyElf and the financially disappointing
Zathura
.
However,
Iron Man
works for a few reasons. First off, it's a pretty darn good story. Second, Robert Downey Jr. is fantastic in the role, part arrogant, part humorous and wholly likeable. Third, the film is a lot of fun. It diverges from the re-imagined
Batman
franchise where everything is bleak and glib and feels the need to explain everything. And unlike other comic book franchises, such as
Fantastic Four
, which reek of trying too damn hard,Iron Man encourages you to step into the world and enjoy the ride. Whilst the film does have its flaws (the suit is just a little too technologically convoluted to linger on its construction, and the battle climax almost reaches
Hulk
like ridiculousness), the rest of the film carries itself so well that it's hard to begrudge its rare transgressions.
Iron Man
is the most welcome surprise I have enjoyed since reviewing for TweakTown. And as you will see, has fast become my new Blu-ray demo of choice. What's more, see why I have selected this Blu-ray to become the first to be adorned with the Editors Choice badge.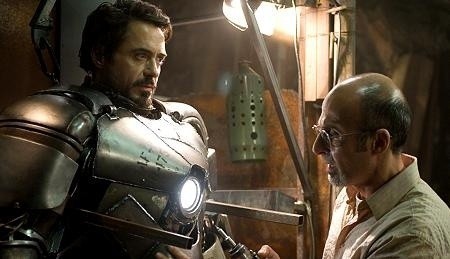 VideoIron Man
is presented in the widescreen scope aspect ratio of 2.35:1, encoded in MPEG-4 AVC.
From the get go, it was apparent that
Iron Man
was going to have a stellar video transfer and it didn't disappoint. With bright and bold primary colours, perfectly rendered, the look of the film is vibrantly pleasing. Every frame bursts with visible detail, often with a three dimensionality that draws the viewer in. For a film of such recent vintage, the absence of film artifacts was not surprising, but the exclusion of video nasties such as aliasing, macroblocking and noise reduction were extremely welcome.
The video encode is certainly helped by the absence of terribly hard to encode scenes, and its big blocky coloured nature, however I have no qualms about recommending
Iron Man
as grade A demo material.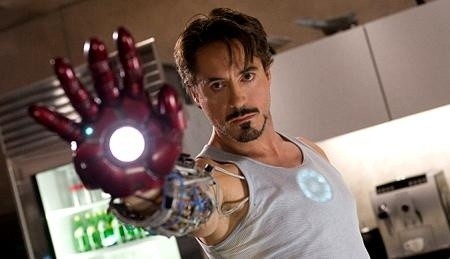 Audio
The main audio track here is an English Dolby TrueHD, encoded at 24 bits.
Wow. I am so damn impressed by the soundtrack to
Iron Man
, it almost single handedly justifies the cost of home theater. Whatever equipment you have, this film will squeeze the maximum potential from it, with a track so constantly buzzing with activity in every channel. Dialogue was clear and intelligible throughout, and music was mixed at a suitable range. Very occasionally, I thought the bass was mixed in a tad too strong, however this is compared to my normal reference settings, so your findings may differ. Surround channel usage was extremely high, with many fantastically placed surround effects that created an extremely convincing soundscape. Most importantly, what is on offer is a very pleasing mix that despite its sonic prowess didn't grate or become hard to listen to.
Iron Man
is a reference quality audio track, and will more than likely be my new home theater demo movie.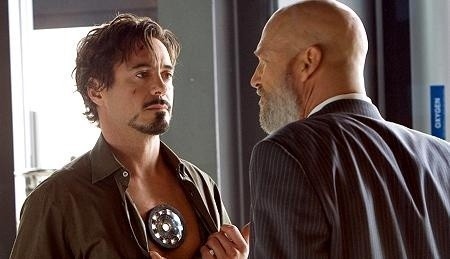 Extras and Final Thoughts
Extras
Paramount weren't content to just offer Blu-ray fans a superlative audio visual experience; oh no, they've packed two discs full of extras, so lets jump in to see what's here. Of note, all the extras are included in full high definition.
The centerpiece of the extras collection is the nearly two hour long
I Am Iron Man documentary
. Cut into seven pieces, but with a handy 'play all' function, the documentary takes viewers right to the start of production, chronicling the making of the film from concept through to completion. The documentary is very similar to 'The Beginning' documentary on the
Phantom Menace
DVD, and is of such a high quality that is rarely seen accompanying studio films anymore and reminds me of the more honest early days of the DVD format (maybe they thought no one was watching back then). Of note, is probably one of, if not the last, on camera interview with special effects legend Stan Winston before his untimely death earlier this year. While his studio still stands, the man himself will sorely be missed.
Next up is
Wired: The Visual Effects of Iron Man
documentary, which takes a lengthy look (40 odd minutes) at the visual effects for the film, from crude animatics, to final film. Whilst there is a lot of CG elements to the film, I certainly admire the high practical element to the film, which despite its rather outlandish plot, certainly helps to ground the film in at least a heightened sense of reality.
The Invincible Iron Man documentary is a comic book based history lesson on the Iron Man character, that helps to bring non fans, and new fans alike, up to speed with the mythology of the Marvel comics creation. Much like the careful handling of the X-Men franchise (well at least until the third film anyway), I am sure the devotion to the source isn't lost on fans.

Next up is a collection of 24 minutes worth of deleted scenes. The most notable extension is an addition to the final fight which would have slowed the climax down somewhat and is certainly better for its absence. It's interesting to see how the re-edit of that footage can salvage the momentum.

Robert Downey Jr's screen test leaves little to the imagination, but is certainly fascinating to see the footage that nabbed him the role. These multiple scenes, obviously shot over a prolonged time period, underscores an initial lack of confidence of him in the role, but one which was massively rewarding.

The actors process featurette is a fascinating, yet short behind the scenes snippet which shows the collaboration, and improvisation of the director and actors. It also goes to underscore Downey Jr's high personal involvement in the film.

Hall of Armor is a nice little BD Java enhanced extra which allows users to take a 3D look at the Iron Man armor, alongside annotated technical information. A nice touch, but one that will hardly be returned to.

Stills Gallery presents hundreds of photos under four headings. I have never understood the appeal of these, there's something inherently unappealing about pressing the forward button a couple of hundred times for little return on investment. Others may disagree.

'The Onion: Wildly popular Iron Man Trailer to be adapted into full-length film' featurette is a pretty funny, tongue in cheek satire of the popularity surrounding the films trailers.

BD Live IQ Test is a cool use of the fledging technology whereby fans can interact and create IQ tests on Iron Man lore. This is the first BD Live feature to be implemented so far, however over time more features will be made available. I vote for an in film trivia track.

Finally, we have four Theatrical Trailers. Presented in 1080p with Dolby 5.1 sound, these are very well made and evidently worked well to drum up interest in the film. Why so many discs leave these off is a mystery to me.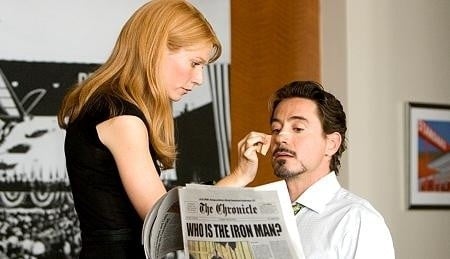 Overall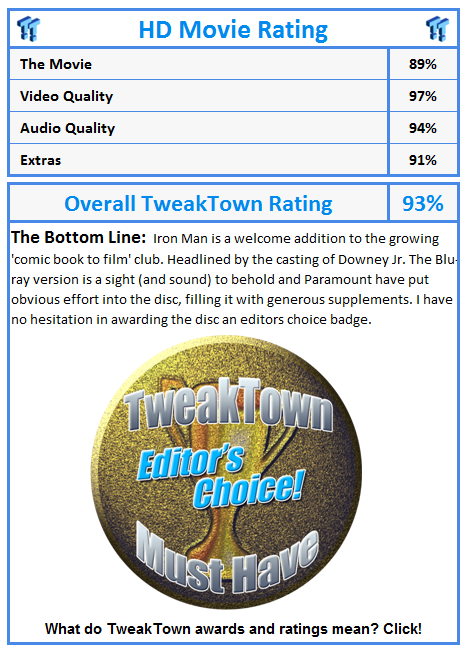 Review Equipment Used:

Display: Sony KDL52X3100 LCD (1080p resolution/ 24p playback)
Player: Sony BDP-S500 Blu-ray, PlayStation 3 (24p playback)
Sound: Sony STR-DA5300 Receiver (7.1 configuration), Sony SSX70ED front speakers (x2), Sony SSCNX70ED center speaker, Sony SSFCR7000 surround speakers (x4), Sony SAW3800 Subwoofer, (Front) Sony SAWM500 Subwoofer (Rear)

PRICING: You can find products similar to this one for sale below.
United States: Find other tech and computer products like this over at Amazon.com
United Kingdom: Find other tech and computer products like this over at Amazon.co.uk
Australia: Find other tech and computer products like this over at Amazon.com.au
Canada: Find other tech and computer products like this over at Amazon.ca
Deutschland: Finde andere Technik- und Computerprodukte wie dieses auf Amazon.de
We openly invite the companies who provide us with review samples / who are mentioned or discussed to express their opinion. If any company representative wishes to respond, we will publish the response here. Please contact us if you wish to respond.
Related Tags